---
Jim, Thank you for your help in finding Jones and Stone Townships. I quickly found them on p. 7 of the 1906 Atlas. I hadn't paid attention to the names of townships. Can you tell me their origin? Thanks very much.
~Sandie regarding Okie's story from Vol. 11 Iss. 15 titled UNTITLED
That was such a sweet comment for you to make [more]...
~Karel regarding Okie's story from Vol. 6 Iss. 25 titled UNTITLED
---
Queen Mother's Letter
It isn't everyday that you get an email from a "Queen Mother" ... That is the Queen Mother of the Red Hat Ladies of Orlando Florida (a.k.a 25 Royal Court Ladies). Here's a special "Hello" to all those Red Hat Ladies, especially the Okie Dokies of Alva, Oklahoma that we talked about in The OkieLegacy, Vol. 6, Iss. 4.

Now... I really feel like I have been touched by royalty with a note from the Queen Mother in Orlando. We think you will find some interesting items in this week's newsletter/ezine. NOW... you can check to see if some of your ancestors lived in the Dacoma (Oklahoma) area in 1947? Rod Murrow has transcribed the 1947 Edition of the Dacoma (Oklahoma) Telephone Directory into a pdf file -- placing it on his own website. Thanks, Rod!

Also... Check out Bat Masterson's Last shootout at the age of 27, Dodge City, Kansas, 17 April 1881 when an innocent bystander and "Al Updegraff" were wounded.

Does anyone out there remember when there was a water tower located on the southside of the Alva railroad tracks, west of the depot? We are not quite sure when that water tower was torn down? Was it in the 1970's?

Put Your Email & Mind At Ease... This is to ease the mind of those who are sensitive about displaying their primary Email addies online and want to protect their privacy. When you click on the Write Comments under each feature story -- fill in the boxes -- the Email box is NOW Optional! You may leave this box blank if you wish. The database has been instructed to fill that field with our own Email addy... if left blank. We hope this will make more readers feel more at ease about using our "Write Comments" form. Also... There are lots of free web-based email services out there (like Yahoo!) where you could get an email addy that you can use for signing online forms, guestbooks, etc... Then you can secure the privacy of your primary email addy for your personal friends. View/Write Comments (count 0) | Receive updates (0 subscribers) | Unsubscribe
---
Washington Elementary in Alva
We connected with a former NW Oklahoman this week that was remembering growing up in the small rural town of Alva (Oklahoma) until about the third grade. He attended 1st-grade at Washington Elementary school in 1952. The mention of Washington Elementary jogged some memories of my own days at Washington Elementary. Was it 1954 when I started 1st grade in Ms. Gill's class? Let me see now... If Mrs. Gill was 1st grade, then 2nd grade was Iris Van Pelt; 3rd grade was Parthena McCrady; 4th grade is still vague (BUT... was there a Mrs. Brown back then); and my 5th & 6th grade teacher was Mrs. Wilma Coffman. Can you remember who your Elementary teachers were? I can, except for one.

You would think I would remember the 4th grade teacher, because that is the beginning of the school year that the point of a rock collided with my left eye -- I missed the first few weeks of school that year. That little incident was brought about by a scrap between my baby sister and myself over who was going to watch the vegetable stand at our ranch north of Waynoka on hwy 14. I picked up a rock and through it at her while I was walking away from the vegetable stand. I was a lowsy thrower. My baby sister was a better thrower than me. Her rock made a point... right into my left eye. Dad "flew" me by car to Dr. Traverse in Alva. Then it seems like we borrowed a plane from someone and Dad flew me to Dr. Shield in Enid. I was lucky! I didn't loose the sight of that eye. You can still see the remnants of scar tissue that remains. I did learn my lesson, though! DO NOT throw rocks at people! DO NOT throw the first stone! AND... Rocks can make a traumatic point! I have always wondered, though, if my baby sister ever learned a valuable lesson that day! View/Write Comments (count 2) | Receive updates (0 subscribers) | Unsubscribe
---
On the Road Again
This coming Sunday will find us on the road to the NW corner of Oklahoma on family business for a week. Maybe we will get to see some of you while we are there. BUT... Duchess will not be making the trip. She will be visiting a friend of hers for the week. Yes! I finally gave her a week off. You know what... I just realized that Duchess has never spent the night away from home before without me being closeby. I will miss her sweet, little brown-eyed face staring quietly at me in the wee morning hours as she maneuvers her sweet pug face close to mine as if she is nearsighted and needs a better look to see if I'm alive and breathing. It just brings a smile to my face every morning and cracks me up. She is a sweet delight! Sometimes I have to remind myself that she is a "DOG". I guess I am one of those humans that treats their pet like a member of the family. I hope she misses me just a little bit while I'm on the road without her. I know I will. View/Write Comments (count 0) | Receive updates (0 subscribers) | Unsubscribe
---
Is Spring Just Around the Corner
I am told that Friday's temps rose to around 42.6 degrees Friday afternoon in the higher elevations of the San Juan Mountains of Colorado causing a heavy duty melting. I think our temps in the lower valley ranged in the mid-40s. This Saturday morning around 9 o'clock A.M. I looked up from my computer and noticed the snow flakes drifting down and the Stone Mountains off in the distance were banked in with clouds, fog or snowfall. BUT... nothing accumulating so far this morning.

Have the March Winds been making their way through your neck of the woods? Did you dust off the old kite & string to see if it would still fly? Did you have to tape up the torn areas... or did you just go buy a NEW improved model kite?

We hear that the March winds have been stirring up things all over the state of Oklahoma. AND... Earlier in the week there was a small wildfire in Southern Oklahoma, north of Ardmore (if I remember correctly). We hear that some of you fishermen got stuck in the soggy, bottom pastures of a local farm pond in the pastures of NW Oklahoma because of all the moisture they have had this Winter. View/Write Comments (count 0) | Receive updates (0 subscribers) | Unsubscribe
---
Alpha G. Updegraff of NW Oklahoma
We were wondering if... this Alpha Updegraff of the Freedom and NW Oklahoma is the same "Al Updegraff" who was injured in a Bat Masterson's last shootout, April 17, 1881, Dodge City, Kansas?

We do know that our "Alph" of NW Oklahoma was born in 1856 and would have been 25 years of age in 1881. That's one of the things we discovered when we looked up the UPDEGRAFF family history in our copy of the "Pioneer Footprints Across Woods County" history book, pages 706-707. The article on Alpha Gordon Updegraff was written by Nancy Groalman Berlowe.

What brought this question to mind was because of an Email we received asking us if the Alpha Updegraff of Freedom, Oklahoma was the same Al Updegraff in the Dodge City, Kansas shootout April, 1881. This Al Updegraff (sometimes spelled Updegraph) was a brother-in-law of A. J. Peacock. Peacock was a partner in a dance hall in Dodge City with Jim Masterson (brother of Bat Masterson). Al Updegraff was the bartender at the dance hall in 1881.

It seems from what I've read so far that Jim Masterson was having trouble with his partner, A.J. Peacock, and Bat Masterson came from Arizona by train -- arriving in Dodge City, Kansas at noon, April, 1881 to aid, fight his brother (Jim's) battles. This was also Bat Masterson's last gunfight in which Al Updegraff was wounded in the lung, but survived. It was uncertain whether it was a bullet from Bat Masterson's gun, or if Updegraff was shot from behind from someone inside the dancehall.

There was one other bystander that was also wounded when a bullet meant for Bat Masterson ricocheted off something and hit the innocent bystander. There were no mortalities and Bat Masterson (age 27) was fined $8 and took the next train out of Dodge.

There are links to other websites in the Mailbag Corner below with more of the story of Bat Masterson and his last gunfight. What we would like to know is if "Alpha Updegraff" of NW Oklahoma was the same man as "Al Updegraff" that was injured in a gunfight at Dodge City, Kansas. View/Write Comments (count 0) | Receive updates (0 subscribers) | Unsubscribe
---
Moundridge & Lookout Photos (ca. 1938-39)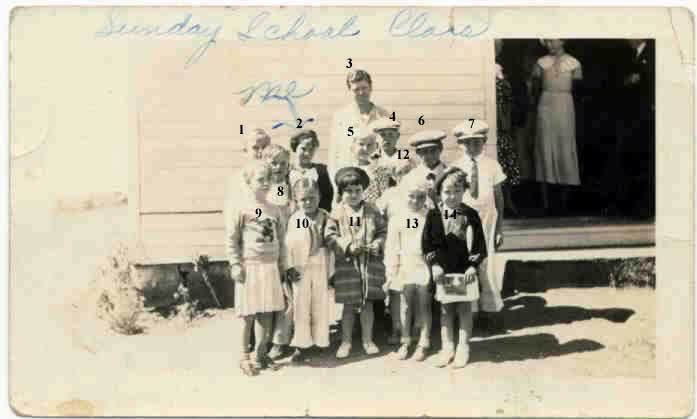 We identified another student in the Moundridge school and Lookout Sunday school photos taken around 1938 or 1939. The little girl on the frontrow, number 13 is Colleen (Hackney) Nixon, a former resident of Freedom, Oklahoma and now living in Enid. You can view more of the Moundridge school students on our webpage at Moundridge Photos. Marty, you are the one that sent those photos to me awhile back? View/Write Comments (count 3) | Receive updates (0 subscribers) | Unsubscribe
---
Connecting Pins On A Map
When we first got connected to the internet back in the Spring of 1995 and built my first webpage that Fall, we started collecting pins in a map of the different areas that we connected with. Well! During the years we got a bit side-tracked and got way behind sticking those pins on the map. We have come along ways from those first few webpages back in 1995. We hope for the better.

What brought this up is an email from a former NW Oklahoma now residing in Bangkok, Thailand. Does anyone out there remember Jim Traywick? Jim was searching online for "Washington Elementary school" and found our website. Jim mentioned that he began first grade at Washington Elementary school in 1952 with Ms Gill as the teacher. Jim also mentioned that one of his friends was Johnny Crawford. View/Write Comments (count 1) | Receive updates (0 subscribers) | Unsubscribe
---
WWII List - German POW's In Oklahoma Lagers
Is there anyone out there who can guide us to a list of German POWs that were in the Oklahoma Lagers during WWII? A person in the Mailbag Corner below is doing research and looking for a "Michael Raster" whom was very sick at the time he was in the Oklahoma POW camps. He was also exchanged back to Germany because of his sickness. View/Write Comments (count 1) | Receive updates (0 subscribers) | Unsubscribe
---
Summary of Last Week's Comments, Vol. 7, Iss. 10
A few of the Comments made by a few of you last week gave us more insight to the COLES buried in the Freedom Cemetery; Some may be in the Lookout Cemetery. there were some who wished that the Freedom Cemetery records were online or have some kind of print out of it; and some who said they might try to get around to seeing what they can do about the Freedom Cemetery list this summer. We also learned that the book "Woods County Rural Cemeteries" is just that - rural cemeteries. AND... Freedom, Waynoka and Alva cemeteries were not included. View/Write Comments (count 1) | Receive updates (0 subscribers) | Unsubscribe
---
Red Hatted Eagle In Florida
"I stumbled on your Red Hat Page. Enjoyed reading it so much. I am the Queen Mother Aquila in Orlando FL. Red Hatted Eagle - Wish my ramblings were as good as yours. I'm 69 and married. My (Red Hat Society) group is 25 Royal Court Ladies. Need to get more pics for my site. Happy Hatting to all of you. Enjoyed the poem. I have a dog too. I would love to get your newsletters. Go to http://redhattedeagle.com to see my site I am building." -- Aquila Shaw View/Write Comments (count 0) | Receive updates (0 subscribers) | Unsubscribe
---
1947 Edition of Dacoma Telephone Directory
"I have come into the possession of a 1947 edition of the Dacoma Telephone Directory and have made a transcription available online (in PDF format, 10 pages). I have included the advertisements in the directory as well as the rules of service for telephone subscribers, as well as the alphabetized directory. The URL for the directory is: 1947 Edition - Dacoma Telephone Directory." -- Rod Murrow View/Write Comments (count 0) | Receive updates (0 subscribers) | Unsubscribe
---
1% Inspiration, 99% Perspiration
"I don't know about the 99% perspiration because once I came up with the idea, it was relatively the easiest programming that I have ever done. It took me about 1-2 hours to develop this with few bugs to work out.

I also made it flexible enough to place this same utility for the West Texas Food Bank. You can see OUR new online newsletter at www.wtxfoodbank.org/full-scoop

If you like this utility, I can help YOU implement it. All I ask is that you contact your local Food Bank in your community and see how you can get involved in making sure no children have to go to bed hungry or that older adults have to choose between medicine and food. View/Write Comments (count 0) | Receive updates (0 subscribers) | Unsubscribe
---
Alpha UPDEGRAFF - Freedom & Woodward (Oklahoma)
"Is the Alpha Updegraff of Freedom and Woodward (Oklahoma) the same man who was shot in a shootout with Bat Masterson in Dodge City in 1881?" -- Roger Myers - Email: rmyers1953@myfam.com View/Write Comments (count 0) | Receive updates (0 subscribers) | Unsubscribe
---
1881: Bat Masterson's Last Shootout
".....For several years, Masterson drifted around the West. Early in 1881, news that his younger brother, Jim, was in trouble back in Dodge City reached Masterson in Tombstone, Arizona. Jim's dispute with a business partner and an employee, A.J. Peacock and Al Updegraff respectively, had led to an exchange of gunfire. Though no one had yet been hurt, Jim feared for his life. Masterson immediately took a train to Dodge City.

When his train pulled into Dodge City on this morning in 1881, Masterson wasted no time. He quickly spotted Peacock and UPDEGRAFF and aggressively shouldered his way through the crowded street to confront them. I have come over a thousand miles to settle this, Masterson reportedly shouted. I know you are heeled [armed]-now fight! All three men immediately drew their guns. Masterson took cover behind the railway bed, while Peacock and Updegraff darted around the corner of the city jail. Several other men joined in the gunplay. One bullet meant for Masterson ricocheted and wounded a bystander. UPDEGRAFF took a bullet in his right lung. The mayor and sheriff arrived with shotguns to stop the battle when a brief lull settled over the scene. UPDEGRAFF and the wounded bystander were taken to the doctor and both eventually recovered. In fact, no one was mortally injured in the melee, and since the shootout had been fought fairly by the Dodge City standards of the day, no serious charges were imposed against Masterson. He paid an $8 fine and took the train out of Dodge City that evening....." -- Highlights of April 16 - 1881: Bat Masterson's Last Shootout & Two Tree Place View/Write Comments (count 0) | Receive updates (0 subscribers) | Unsubscribe
---
Pictures of My Dad's Plant - Clivia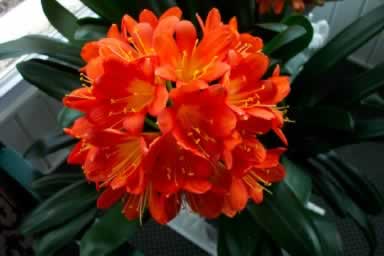 "Thought I would send you a day brightener. My dad was featured on the front page of the Features section of the Courier-Journal last March for his Clivia. This is what the blooms look like this year. They were so pretty I just wanted to share. My dad is 80 years old and used to garden extensively until about 2-years ago when the doctor told him he could no longer use the rototiller. He still has a greenhouse where he grows these and many other plants. He especially likes growing the Clivias and Amaryllises that he has grown from seed. Daddy bought the seed for the Clivias at my urging 25-years ago when Mark and I returned home from college. I had seen a huge Clivia growing in a green house in Murray, Kentucky, and thought it was a gorgeous plant. Daddy bought 5 seeds from Park Seed Co. for about $8 and the rest is history. These are definitely plants that I can pass on to my children that were grown by their grandfather." -- Brenda S. - Photo 1 Photo 2 Photo 3 View/Write Comments (count 0) | Receive updates (0 subscribers) | Unsubscribe
---
Let Us NOT Forget New Jersey
"I know you are into Oklahoma lore, but if you are going to quote Thomas Edison in your new news letter format as the Wizard of Menlo Park, you should include Menlo Park, New Jersey. That's David's (another WAGNER) birth state. (Little old New Jersey doesn't have many other things to be proud of, after all.)" -- Lou Wagner View/Write Comments (count 0) | Receive updates (0 subscribers) | Unsubscribe
---
Lookout Community Students
I had a call from Colleen Nixon (Freedom native now living in Enid) and she was inquiring about an old photo of students in the Lookout community. (May have been church or school, not sure which)... The children were numbered and she says she (Colleen [Hackney] Nixon) is number 13. Do you have any idea of which photo she may be referring to? She agreed to write the names down for me... then I'll return the list to you for the e-zine." -- Rod View/Write Comments (count 0) | Receive updates (0 subscribers) | Unsubscribe
---
EDITOR's NOTE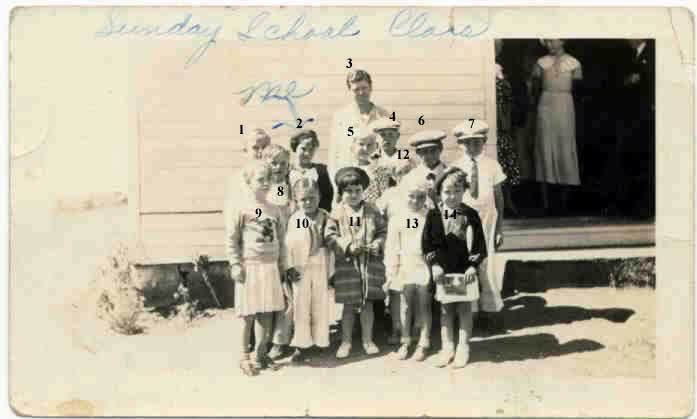 I believe I know the Lookout students that Collen Nixon is speaking of... SEE Moundridge School LINK for the 1938 or '39 Lookout Sunday School and Moundridge School students. This is a photo of the Lookout Sunday School class that someone sent me with some Moundridge School photos. If you go to - Moundridge Photos - you can find the Moundridge photos and the Lookout Sunday school photos. I am thinking that Marty Myers sent me the photos. Am I correct, Marty? Here's the numbered list of the known/unknown students of the Lookout Sunday School Class - 1938 or 1939... 1. ?; 2. Mathesia (Knabe) Myers; 3. Mrs. Roy Carlson; 4. Kenneth Bliss; 5. Marjorie Bliss; 6. ?; 7. ?; 8. ?; 9. Mary Ellen Hackney; 10. DeWayne Hodgson; 11. Beagley; 12. ?; 13. Colleen Nixon; 14. ?. View/Write Comments (count 0) | Receive updates (0 subscribers) | Unsubscribe
---
Looking for Michael Raster - German POW In Oklahoma Lagers
"Does anyone have the list of names of the German POWs in the Oklahome Lagers? I am looking for information on a Michael Raster that was in one of the Oklahoma Lagers. He was very sick at the time and was subsequently exchanged back to Germany. My daytime telephone is 303-492-5532." -- Rudolph J. Dichtl - Email: dichtl@nsidc.org View/Write Comments (count 0) | Receive updates (0 subscribers) | Unsubscribe
---
Bat Masterson's Last shootout in Dodge - 1881
"..... At the Long Branch Saloon, Bat spent many nights gambling with poker pals Doc Holliday, Wyatt Earp and Luke short. In 1880, Bat was living with nineteen-year old Annie Ladue and was no longer sheriff. He then followed Wyatt Earp, the Earp brothers and Doc Holliday to Tombstone, Arizona. After a brief stay, in April 1881 he traveled back to Dodge City in response to his younger brother, Jim, Dodge's marshal and co-owner of a dancehall. Jim had got into a scrape with his partner A.J. Peacock, and the man they employed as bartender, Al Updegraph. Bat arrived by train at noon on April 16. Fighting his brother's battle, Bat was in a gunfight with Updegraph. An unknown man shot Updegraph from behind, the shot possibly coming from inside the saloon. Bat was fined eight dollars for shooting his pistol in the street, and then rode the evening train out of town. This would be his last gunfight, at the age of 27....." -- Bat Materson, Lawman - by Lady Belle View/Write Comments (count 0) | Receive updates (0 subscribers) | Unsubscribe
---
Al Updegraff's Letter - Ford County GLOBE, May 10, 1881
"THE TRUE STATEMENT OF THE SHOOTING AT DODGE CITY - MEDICINE LODGE INDEX - Dodge City, Kansas, April 21, 1881 -- "Editor Globe: There having been several statements published relative to the shooting that occurred here, in which I (UPDEGRAPH) was wounded, and as my relatives and friends live in your city, I desire to make a brief statement of the affair for the purpose of correcting the erroneous statement heretofore published, that all concerned may know that I am not entirely to blame for it all. When I arrived here from Medicine Lodge I went into the employ of Peacock & Masterson, as bar-keeper....."

The Peacock mentioned as the owner along with James P. Masterson (later a deputy U. S. marshal down in Oklahoma, former city marshal of Dodge City and brother of Bat Masterson) was said to be Updegraff's brother-in-law. Peacock was a long time resident of Dodge City and a county commissioner for a number of years. Maybe this connection to Updegraff can help sort it out." -- Roger View/Write Comments (count 0) | Receive updates (0 subscribers) | Unsubscribe
---
Poem by Alexander McFadden
"You have a poem out there by Alexander McFadden who is my Great-Grandfather. There apparently is family history put together by Zellamae Longfellow? She would be my Grandmother (on my moms side). Any information would be greatly appreciated. Thank you." -- Kurt Amend - Email: kamend@insideoregon.com

[Editor's Note: You can read Alexander McFadden's Poem in the Mailbag Corner - Vol. 6, Iss. 20, Thow'er June (dated May 7, 1933)] View/Write Comments (count 0) | Receive updates (0 subscribers) | Unsubscribe
---
1910 Paddy's Day Postcard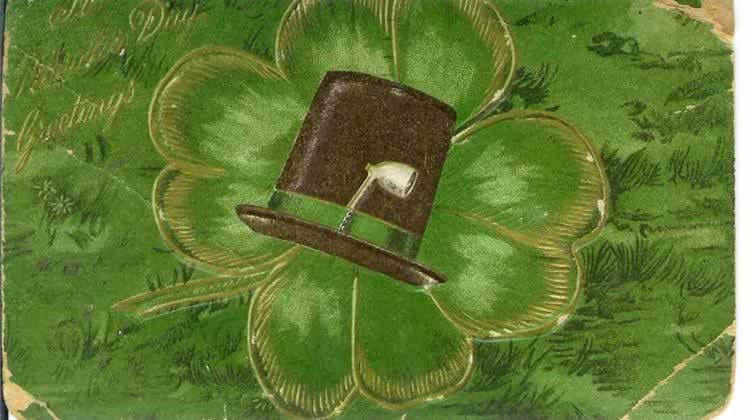 "Here's wishing you had a wonderful St. Patrick's Day! Below is a copy of a St. Patrick's day card John Andrew Martin sent his brother Hugh. The front just says, A St. Patrick's Day Greeting. Backside of Paddy Day Card

It was sent from Washington DC, the capitol, in 1910. It was addressed to Hugh Martin /Alva, Okla. / Sheriff Woods Co. This would have been during John's first term as a U.S. Congressman, as well as Hugh's first term as a sheriff. The message, as I read it is:

'Dear Hugh, Got all your cards down to KC (Kansas City-CMC) and glad to hear from you & hope you rode on the front of ferry boat & saw N.Y. (New York) by night. John.'

Although I have read this before, I never realized that apparently Hugh had been in New York City. I did know that he once went back East somewhere to pick up a prisoner, and made a stop in Pennsylvania, where his wife's ancestors had lived, to view a monument dedicated to one of them. Perhaps this was the same trip.

At any rate these sons of Irish immigrants were doing well, and remembering the land of their parent's birth to each other. This is the first time in several years that my wife Martha, nee Murphy, has not served me corned beef and cabbage, along with Irish soda bread baked in the shape of a shamrock, on this day." -- Charlie View/Write Comments (count 0) | Receive updates (0 subscribers) | Unsubscribe
---
Washington Elementary - 1952
"I am really impressed with your web site. I came across it while looking to see what I could find on Washington Elementary School there in Alva. I started the first grade there in 1952 and have fond memories of the place although feint at best these days.

I popped over to your Indian Recipes and was laughing at the fried grasshoppers. You see that's a tried and true fun snack right here in Thailand. If you walk out in the streets you won't walk long and there will be a vendor out there with fried bugs of various assorted types. Grasshoppers, silk worms, grubs, and other little critters I dare say would make the Orkinman cringe. The one I have real trouble with is the fried scorpions! That I can't understand. I really don't get that Lobster Thermidor feeling about that..

My wife and I live in Bangkok and I work with an agency here that does a lot of work with the Royal Thai Military and for me specifically the Royal Thai Air Force. It's a lot of fun and I love this city. Bangkok is a far cry from Oklahoma..

My family lived in two places in Alva. One was by a car repair place, a small apartment on the side of a big house that an old lady lived in by herself. She also had an upstairs apartment rented by some people my parents liked and I remember the lady liked to give me raisin bread which I wouldn't eat because the raisins looked like bugs. The old lady was a small portly lady as I recall and she always kept a big jar of mints on the floor next to her chair. Strange that memories come back like that..

The second place was at 1108 Mill St - probably not even a house any more and certainly not the one we lived in. It was old then. There was a kid down the street I knew well and his name is Johnny Crawford. We used to play in the wheat fields across the street from his house. I also remember my Dad digging the storm shelter and then bricking the walls or blocks maybe. That was eons ago..

My youngest brother was born there in Alva in 1953. He hasn't ever been able to get back there, though. Just wanted to say hello and give you that BANGKOK PIN (for your map)! Best Regards." -- Jim Traywick - Email: contact@thailand-korat.com - Webpage: www.thailand-korat.com View/Write Comments (count 1) | Receive updates (0 subscribers) | Unsubscribe
---
Looking For A PARIS
"My name is James Paris and I'm from Mint Hill North Carolina. Next to Charlotte, NC. I'd like to know where are the PARIS' from? I've been told Ireland by my Daddy (Harbert PARIS). Also, I'd like to know if anyone sknow anything about the PARIS I'm from in North Carolina. As far as I've gone back is to Great-Grandfather John Edwards PARIS, born 3/10/1884, died 10/5/1956. His nickname was John P. On his grave at Philadelphia Church at Mint Hill. His name is PARRIS. My Daddy and Great-Aunt May (who is still alive at 85) say they did the marker wrong. His wife Minne Rushing PARIS died Oct 26, 1975 is beside him. His Dad name was Row are Monrow. Everyone called Him Row? Thank you for Time." -- James Paris - Email: JRJPARIS@wmconnect.com View/Write Comments (count 0) | Receive updates (0 subscribers) | Unsubscribe
---
Alpha Gordon Updegraff - by Nancy Groalman Berlowe
On page 706 and continuing onto page 707 of the Pioneers Footprint history book you can read the following, "A true Pioneer loves the land in which he chooses to settle, and he is dedicated to helping that land become a secure and welcome home for other settlers. Alpha Gordon Updegraff can be placed in this ideal of a pioneer as he dedicated much of his life and abilities to helping this area progess from a homesteaded territory to a county in Oklahoma. He first came to what is now Woods County in 1872, and was part of its history and development until his death in 1929. Updegraff had moved here from Topeka, Ks, where he was born on May 13, 1856, and became a cowboy near Ash Grove, just north of where Alva is located now. He worked cattle for several years on the drives to Kansas and Texas, and by 1886 had become the foreman of the Major Drumm Ranch, or the T-5 Ranch, located at the mouth of the Medicine River....." READ MORE ABOUT UPDEGRAFF View/Write Comments (count 0) | Receive updates (0 subscribers) | Unsubscribe
---
nwOKTechie
Create Your Badge