WIRange - Home Comfort Cookbook & Manual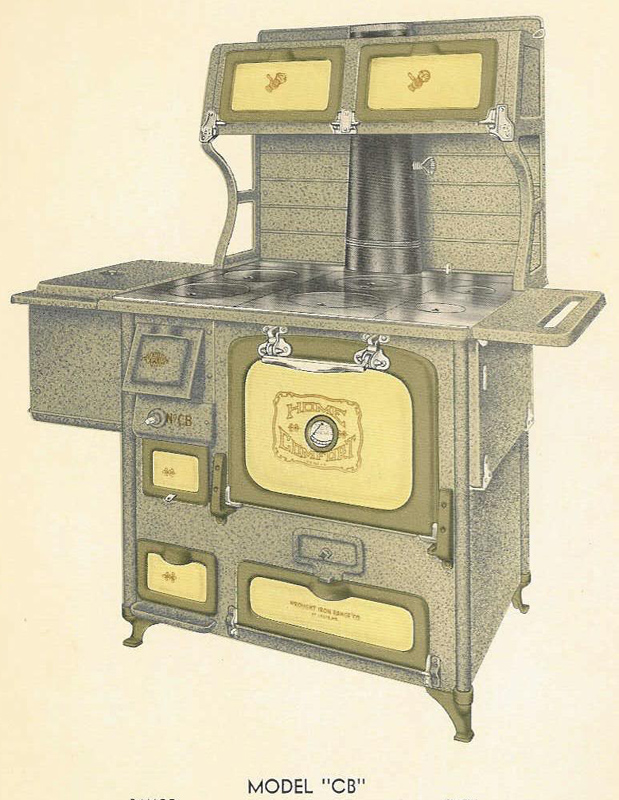 Two (2) pdf files (33mb each) - 1934 Wrought Iron Range Cookbook & Manual
History of the Wrought Iron Range
A few years ago I found a 1930's Wrought Iron Range Home Comfort Cookbook at a garage sale in my hometown of Alva, Woods County, Oklahoma. So I grabbed this old Home Comfort Cookbook to add to my other antique collectibles. It was not only a cookbook, but a manual for the Model CB Wrought Iron Stove that was heated by wood or coal in the 1930's (approx. 1934).
The Home Comfort Cookbook that I have came with the Model "CB" range and showed instructions for using, installing and cooking on the range. It also has pictures listing the parts for the Wrought Iron Range. I am assuming that this book dates back to around the 1934 time period. My copy of the book has handwritten personal recipes that someone had written on the inside of the front and back covers of the cookbook.
The Model "CB" Wrought Iron Range was considered to be of sturdy, rugged construction with modern, trim appearance. It had gleaming verluc enamel inside and out. Except for the cooking-top and oven. It had an adaptive color to any kitchen. It had a draft control, effecting rapid heating, even baking and economy of fuel.
The dimensions of the range were as follows: top cooking surface, 34 inches by 28 inches; height was 33 inches; extreme height of range was 62 inches; extreme width of range was 55 inches.
The dimensions of the Oven part were as follows: height was equal to 14-1/2 inches; width equaled 18-1/4 inches; and depth was 21-1/4 inches. The approximate shipping weight was 520 pounds.
It had a full floating six-hole cooking-top with malleable iron, unrestricted expansion and greater durability. It was of a duplex grates; for coal or wood. It even had it's own reversible reservoir (waterback) for an abundant supply of hot water.
It was electrically welded, arch-reinforced oven with rounded corners, extra heavy bottom, hammer hardened, adjustable oven-door spring and heat indicator. It had a lower warming closet, a mantle warming closet and asbestos insulated flues. What more could or would you need in this 1930's modern Wrought Iron Range?
Established in 1864, by three Culver brothers, the Culver Company of St. Louis, Missouri began making Wrought Iron Ranges and giving away these manual/cookbooks with each range.
The Ohio born brothers, Henry Harrison Culver, William Wallace Culver and Lucius Lewellyn Culver began their collaborative careers as traveling salesmen for Farmer Cook Stoves in 1864. Traveling door-to-door with mule-drawn wagons loaded with cast iron stoves, each had a different trade territory to cover. Within a decade the trio had garnered enough financial resources to move to St. Louis, establish an office, expand into more states and hire a sales crew. Difficulty obtaining replacement parts for brittle cast iron castings produced by the Farmer Cook Stove Company prompted the Culvers to start manufacturing their own product in a city blessed with nearby coal and iron deposits.
The three founders died around the turn of the century, Culver sons (and Later grandsons) took over the thriving business and family philanthropies including the Culver Military Academy established in 1894 in Culver, Indiana. The Culver Military Academy was located on Lake Maxinkuckee, Culver, Indiana as a preparatory school for boys between the ages of 10 and 18.
In 1910, Wrought Iron Range bought a large tract of land near the city limits and began construction in 1901 of a 250,000 square foot modern fireproof plant at 5661-81 Natural Bridge Road. Designed by Baker & Knell of St. Louis with construction by Murch Brothers, the project was estimated at $180,000. Included in the programming for the new plant was an area devoted to the production of miniature ranges. Correct to the last detail, the small-scale models for traveling salesmen allowed each salesman to be equipped with a horse-drawn buggy rather than the old heavy wagons. Showrooms remained in the old factory on Washington Avenue.
The Wrought Iron Range Company, incorporated with $30,000, opened for business in a modest factory at 9th Street and Christy Avenue in 1881. Breakage problems associated with the competitor's cast iron stoves were solved by adding wrought iron sheets to the body and the oven of the brothers' trademark Home Comfort Stoves. New features included increased cooking top surface and built-in ovens. By the spring of 1883, the company had increased capital stock to $1 million and moved operations west to a new plant at 19th and Washington Avenue. It would cover an entire city block.
Home Comfort Ranges were more thoroughly sold throughout the Middle and Western states than any range on the market. The company's first Home Comfort Cookbook, issued during the St. Louis Fair of 1891, offered admonitions as well as recipes. Published regularly by the company, the cookbooks provided fascinating commentary on contemporary tastes, advertising trends and the physical layout of the corporate showrooms. The one from 1896 included a full-page view of the vast Hotel Kitchen Outfitting Department.
Part of the Wrought Iron Range Company building still stands at 1901-37 Washington Avenue, and is listed on the National Register of Historic Places. Included in the boundary of the St. Louis Central Business District, it occupies the entire city block bounded by Washington Avenue to the south, 19th Street to the east, Lucas Avenue (an alley) to the north and 20th Street to the west.
It was designed for the Wrought Iron Range Company in 1925 by St. Louis architect Albert Knell, the building's rectangular footprint has three divisions that are unified by a continuous and cohesive design scheme. This elongated two-story steel frame and brick Tudor Revival building features a stucco half-timbered second story, a hipped clay-tiled roof containing a series of cross gables, tall brick piers (posing as chimneys) and an elaborate primary entrance surround with an arched hood molding. I am not sure when the Culver Company went out of business.
In the foreward of the book it mentions it was beginning it's 70th year in operation for the Wrought Iron Range Company, established in 1864, St. Louis, Missouri by the three Culver brothers. There is no copyright listed with the book and it was given away free with the purchase of the Wrought Iron Range. I am assuming the cookbook, manual for the Model CB range dates back to around 1934