---
Thanks! This NW Okie has been corrected and her memory refreshed. So... our water was hauled from Waynoka, Oklahoma on a flat-bed truck leaving a washed road look behind. I never knew that part of the story. Thanks for sharing.
~NW Okie (a.k.a. Linda Wagner) regarding Okie's story from Vol. 8 Iss. 5 titled UNTITLED
Hello Okie Legacy...In regards to Judge James Pinkerton: His oldest daughter was Nancy Minerva born in 1854 [more]...
~James Harold Leiper regarding Okie's story from Vol. 7 Iss. 31 titled UNTITLED
---
NW Okie's Journey
I remember the Reagan era presidency of the 1980s over 30 years ago)? You know, the "trickle down," "Reaganomics" that did not trickle down and caused the market crash of 1987? We as American citizens went from a "B" movie star in the 1980s to a "B" reality star in the 21st century 2016! What has our democracy come to? What are we going to do about it? Fall into a deep sleep ... Or ... organize the grassroots (locally thru county, district, state to federal) to resist the "trump tyranny?"

It was under Reagan unemployment rates reached double digits during his presidency. The gap between rich and poor increased under his watch and it was his policies that essentially led to the stock market crash of 1987. While rightly complaining that excessive government interference leads to misallocation of resources, "Reaganomics" conveniently forgets that excessive reliance on private markets leads to misallocation in the form of large-scale speculation. Speculations and get rich quick schemes become the way of life — exactly how the excesses of Wall Street we see today began under President Reagan. It is not a coincidence that China's progress started during Reagan presidency. It was Reagan who started the process of deregulation that ultimately resulted in American jobs being outsourced all over the world and by the end of his era, there was a large increase in crappy jobs for Americans.

The most annoying fact: it was Reagan who legitimized deficit spending. It was under Reagan's watch that the US deficit ballooned from $997 billion to $2.85 trillion dollars — more than all prior presidents combined. It is preposterous to ignore the origins of the issue and blame the sorry state of affairs on the Democratic party.

The next time Republicans talk about deficits and outsourced jobs, ask them to look at the Reagan era and, hopefully, the sensible ones (republicans) will realize the folly of their actions.

"Buckle-up, Buttercup!"
View/Write Comments (count 0) | Receive updates (0 subscribers) | Unsubscribe
---
Sweet Silly Spunky Sadie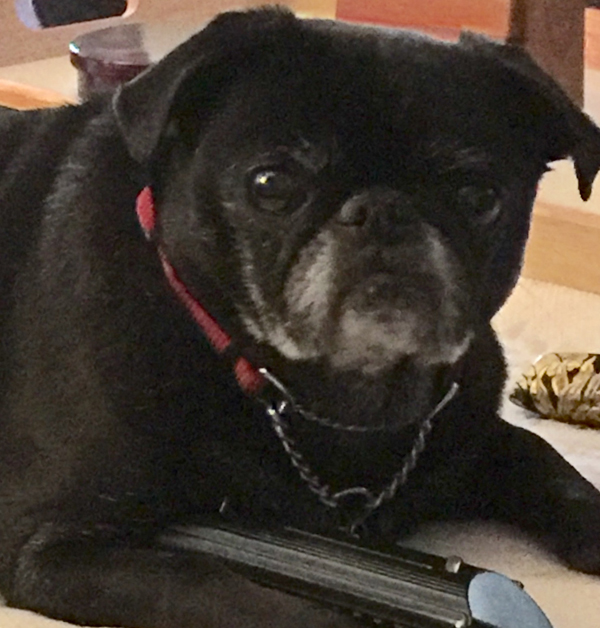 Remember when precinct meetings drew largest crowds in history for Democratic party in the 1960s, especially in Oklahoma? Why can't we do that again? What can we do to accomplish that? Was this about the same time the rural communities, precincts in Oklahoma was awaken to have their voices heard over the larger cities?

Found on Newspapers.com

It was in The Ada Weekly News, out of Ada, Oklahoma, dated 18 February 1960, Thursday, page 1, we found this 1960 headlines: "McGill Appears Leader Here As Precinct Meetings Draw Largest Crowds in History."

In 1960, the zany world of Democratic politics burst upon the Pontotoc county scene on a Friday evening as precinct politics scurried to their respective voting places in record numbers to organize for the impending "family feud." I suppose they were talking about the democratic party feud between Gov. Howard Edmondson and the grassroots democratic party supporting Gene McGill.

That year the State's two "Big M's" were battling it out in fifty-six precincts in the county with the results surprising few observers. Pat Malloy, Gov. Edmondson's choice for state chairman, won a few battles int eh unpredictable city precincts, but Gene McGill, outspoken administration foe appeared to have won the war with an overwhelming majority of rural boxes.

This was by far, the largest precinct organization turnout in the county's recent political history the battle lines were drawn as predicted. McGill appeared to make unexpected inroads in the city while Malloy and his supporters came up with only a few surprises int he country.

The precinct meetings were merely to select precinct chairmen and other officers who would, in turn, meet February 20th to choose county officers.

What it boiled down to in Pontotoc county was an all-out struggle between foes and friends of the controversial young governor as separate slates of candidates for county offices were announced Friday morning. J. I. Jones of Allen and Mrs. Joe Robnett of Roff were on the McGill side of the fence and Monte Bell and Dorothy Higginbotham, both of Ada, were avowed candidates who favored Edmondson and Malloy.

There was no official listing of the instructed delegations from the precincts that was released by Martin Clark, county Democratic chairman, but a representative survey by the NEWS and others came up with the following tablulation: Malloy apparently carried 11 of the city's boxes with McGill running first in 9 and 2 others completely neutral in outward appearance. In the county, the count would read something like 18 for McGill, 5 for Malloy and 10 on the undecided list.

That gave McGill an overall lead of 27 to 17. Of course, the survey taken into account some boxes whose delegations would go to the central committee meeting uninstructed, but whose officers were known to favor one candidate or the other.

The bulk of the Malloy support in Ada came in wards one and two while McGill held his own in three and four.

In the county, McGill led all the "big" precincts such as Allen, Stonewall, Roff and Latta while Malloy managed to capture a few delegates in such places as Valley View, Country Club and other precincts.

Some, or several precinct decisions possibly missed in the survey, but these appeared to be the "sure" city boxes.

In ward one, precinct three, thirteen people attended and an unusual occurrence was marked. Jake Blevins, administration official, was selected as precinct chairman and also made a motion his precinct go on record as favoring the nomination of Lyndon B. Johnson for president.

One of the sore points of the campaign had been the claim that administration forces were cool to Johnson and were for Sen. John Kennedy of Massachusetts. In fact, this was mentioned in several precincts as the prime reason the voters did not want Malloy for state chairman.

Other precincts, such as the one which met at Ada High School, also instructed its delegates to express their preference for Johnson.

The effect of the anti-administration organization was evident from the results. The "sure" boxes, the ones in which the delegates were definitely instructed were almost all pro-McGill and pro-Jones, while the Malloy-Bell supporters were mostly uninstructed. It was in Ward one, precinct one, meeting at the courthouse, Dr. Sam A. McKeel was selected chairman and Esther Turner was chosen for co-chairman. The delegation was not instructed, but precinct committeeman W. G. Massey said the sentiment seemed to favor "Local government," indicating support for Jones and McGill would probably emerge. In ward one, precinct three, at Hayes School, the trend was in the other direction as Blevins was chosen chairman and his wife was tabbed co-chairman. About thirteen people attended and the favor was definitely pro-Malloy.

The first instructed delegation encountered in the survey came from the First Presbyterian Church box, ward one, precinct six. G. G. Folger was elected chairman and Mrs. Aubrey Kerr vice chairman. Seventeen attended the meeting and the delegation would go to the central committee meeting with two votes for Jones and McGill.

In ward one, precinct five, the administration apparently gained, but no instructions were given to the delegates. J. N. King was the chairman and Mrs. Tom Watson would serve as co-chairman. The issues of the state chairman's campaign didn't arise, but at least it was not anti-administration.

Ward two appeared more solidly behind Malloy and Bell.

In W2-P2, Les Younger was chosen chairman and his wife would serve as c0-chairman. The feeling here ran favorable to Malloy.

The first case of an instructed delegation for Malloy and Bell came in W@-P5 where Homer Belew was elected chairman and Lena Yagol vice-chairman. The delegation was instructed to support the Malloy slate at the central committee meeting.

L. D. Kite became chairman in W2-P4 and the reports had it that all nine present were unanimous in support of McGill and Jones.

Few reports came in from ward three, but it was believed McGill dominated the voting there, at least in the first two precincts.

At least one ward three ballot as hopelessly divided. That one was at Irving School (W3-P3) where T. J. Jared was named chairman and Dorothy Higginbotham vice chairman.

Miss Higginbotham was not he slate with Bell, supporting the candidacy of Malloy. A vote showed the seven Democrats present were split, so no instructions were given.

Ward four saw at least on instructed delegation elected. That one came at the Ada High School box where the delegates were told to support McGill and Jones. Lester Lanier was selected as chairman and Vernon Roberts' motion to support Jones was approved by and 8-4 vote. Sixteen attended the meeting and, apparently, the main issue at stake was the question of Johnson vs. Kennedy.

One voter, Harrell Allen, urged no instructions, but the "ayes" had it by four votes. The biggest turnout was on South High School, the voting place for W4-P5. There 45 people gathered and the feeling was definitely anti-administration.

C. S. Williams, veteran chairman of the precinct, said practically all present were for McGill although the delegation would be uninstructed.

Williams commented, "I had the dubious distinction of presiding over the liquidation of the Edmondson-Malloy forces. In addition, I had the honor of presiding over the largest precinct meeting ever held in Ada. I had thought the governor should have a friendly slate chairman, but my cause was sunk without a trace."

Williams' feeling were reflected in many other areas where the anti-administration forces made their presence felt overwhelmingly. The pro-Edmondson-Malloy-Bell voters were apparently somewhat more subdued in support of their favorites.

McGill swept the countryside. Delegations from Allen's two precincts headed by the candidate Jones and Guy Pegg were instructed to cast their votes for the McGill slate. Homer's delegations, J. C. Hands and Janie Phillips, were given similar instructions, as were the Fittstown delegates headed by chairman W. E. Snyder. Those representing Roff, Stonewall and Latta would also cast their lots with the anti-administration forces.

It was believed Saturday Malloy made some headway in the Union Valley, Center, Valley View, Country Club and Colbert boxes, but this could not be verified.

At the Country Club box, Dick Roberts became chairman, Dee Burdine was chosen as chairman at Center.

The turnout Friday night ranged from 45 in the ward four precinct to a single citizen at ward four, precinct one (city hall).

That night was a rousing night of political shuffling and one thing definitely emerged from all the hullaballoo ... there was more interest in the grassroots of the party that ever before with all precincts setting up organizations of the first time in the history of Pontotoc county.

1960 "Old Guard" Not Backing McGill
The Miami Daily News-Record, out of Miami, Oklahoma, dated 10 January 1960, Sunday, page 1, reported that Carl LaGere, 4th district Democratic chairman, labeled himself as a member of the "old guard" and said not all veteran Democrats were supporting state party chairman Gene McGill.

It seems LaGere of Chandler was miffed when McGill appointed J. I. Jones of Allen as Pontotoc county chairman without first consulting him. LaGere charged that McGill bypassed him because he was the only one of three district chairman who voted for Pat Malloy of Tulsa, Gov. J. Howard Edmondson's choice for the post then held by McGill.

LaGere didn't think McGill had the support of all the "old guard."

Good Night! Good Luck!
View/Write Comments (count 0) | Receive updates (0 subscribers) | Unsubscribe
---
First U.S. Presidential Inauguration of January 20th
In 1937, Franklin D. Roosevelt became the first president to be inaugurated on January 20. Previous presidents (including FDR for his first term) had traditionally been inaugurated on March 4, but the 20th Amendment, passed in 1933, stipulated a January 20 inauguration.

The Oath of Office is traditionally administered by the Chief Justice of the Supreme Court, though not required. There is also no requirement that it occur in Washington, D.C., or that the president place his hand on the Bible. The only thing prescribed by the Constitution is that the president take the Oath of Office.

Chief Justice John Marshall administered the Oath of Office the most number of times: 9 times to 5 men. Chief Justice Roger Brooke Taney administered it to the most presidents: 7 times to 7 men.

A total of four March inauguration dates fell on a Sunday (1821, 1849, 1877, 1917); the swearing-in ceremonies in these cases were all postponed until the next day. Three January inauguration dates have fallen on a Sunday: 1957 (Dwight D. Eisenhower), 1985 (Ronald Reagan), and 2013 (Barack Obama); these three presidents were sworn in privately on the 20th and then a public ceremony was held the next day.

The shortest and longest inaugural addresses were given by George Washington and William Henry Harrison, respectively. Washington's second inaugural address was only 135 words long. William Henry Harrison's inaugural address was 8,445 words long.

Due to a major snow storm, John F. Kennedy's 1961 inaugural parade was only possible because of a major mobilization of snow plows and other equipment.

Multiple inaugural balls are held throughout Washington, D.C. The new president and first lady make appearances at all official parties.

Barack Obama took the Oath of Office four times: twice each time he was elected. He took it twice in 2009 because there was some concern it wasn't properly administered at the formal swearing-in, so he took it again the next day. He took it twice in 2013 because January 20 fell on a Sunday, so there was a small swearing-in ceremony on the 20th and then the public ceremony on the 21st.

2017 will be the nation's 58th formal presidential inauguration ceremony.
View/Write Comments (count 0) | Receive updates (0 subscribers) | Unsubscribe
---
Battle of Cowpens (January 17, 1781)
In the early morning of January 17, 1781, in South Carolina, American troops under Brigadier General Daniel Morgan defeated a force under British Lieutenant Colonel Banastre Tarleton in one of the more decisive victories for the Americans in the south during the Revolutionary War.

In late 1780, the American commander-in-chief of the southern theater, Nathanael Greene, made the daring decision to split his already limited number of troops in the face of a superior force under British Lieutenant General Charles Cornwallis. Accordingly, part of Greene's force was given to Daniel Morgan. The British saw Morgan's troops as a threat to some crucial posts, so Cornwallis sent troops under up-and-coming commander Banastre Tarleton to take on Morgan.

When word reached Morgan of Tarleton's approach, he decided to face his enemy in a cow pasture called Cowpens rather than risk being overrun while trying to cross the Broad River. Knowing Tarleton favored frontal attacks, Morgan deployed his infantry troops into three lines—meant to exhaust the energy and resources of the British—with his dragoons positioned in reserve behind the third line.

When Tarleton's men arrived, they were met by fire from riflemen in Morgan's first line, who after a few shots withdrew to join the second line, composed of militia. Morgan had instructed the militia to fire two volleys at the approaching British and then retire, which they did. Seeing the American militia appearing to flee, Tarleton sent dragoons after them, but they were met by the American dragoons, led by Lieutenant Colonel William Washington.

The British infantry had been stunned by the fire from the American's first two lines and now faced the third line, predominately composed of experienced Continental troops overseen by Lieutenant Colonel John Howard. Meanwhile, Tarleton sent his reserve infantry and additional dragoons to try to outflank their opponents on the Americans' right. The Americans on that side were commanded to turn to face the British, but the order was misunderstood, and they instead began marching to the rear, triggering a retreat in neighboring parts of the line. The confusion was corrected, however, and they turned to face the British in time. Those Americans were joined in the fight by the militia of the first and second lines, who had circled around the back of the American position.

Morgan's near-genius plan worked, and the Americans decimated the British. Although the two forces were relatively evenly matched, with roughly 1,000 men each, the British sustained 110 killed and 830 captured or wounded, while the Americans had 12 killed and 61 wounded. The battle wiped out nearly all of Tarleton's force, striking a serious blow to Cornwallis's army.
View/Write Comments (count 0) | Receive updates (0 subscribers) | Unsubscribe
---
1781 Battle of Cowpens, Scene In the Revolution
Do you remember your high school history classes? Did they ever teach us the "why" and "what" and "where" concerning the "Battle of Cowpens?" I don't believe they ever did in my small rural Oklahoma high school. Did they in yours?

Here is the story of the Battle of Cowpens as written in 1843 April 8, The Columbia Democrat, Bloomsburg, PA, page 1:

Found on Newspapers.com
It may with truth be said, that in no battle of the American revolution was the contest more unequal, or the victory more signal and complete, than that of the Cowpens. The British army was superior in numbers, in discipline, and in every thing that can constitute an army, having the soul and spirit of the soldier, and the noble daring of the officer. In Infantry they were five to four, and in cavalry as three to one! The American army under Gen. Morgan, was a retreating detachment, without artillery, without proper arms, and without baggage or provisions. In the language of a distinguished historian of that period, the earth was their bed, the heavens their covering, and the rivulets which they crossed, their only drink.

The battle ground of the Cowpens was in Spartanburg District, about 17 miles north of the Court Houses and four or five miles from the North Carolina line. The surrounding country was a beautiful and almost perfect plain, with a fine surrounding growth of tall pines, oak and chestnut.

On the memorable 17 January 1781 the entire country for miles around the battle ground, was one vast untouched forest. The inhabitants of the lower part of the district, had been in the habit of driving their cattle into this part of the country for the purpose of grazing, and had erected pens in the neighborhood for the purpose of salting the marking them. Hence the origin of the battle ground. The field of the battle ground was about two miles distant from the Cowpen; but in as much as there was no other or nearer known place in the neighborhood, it was called 'the Battle of the Cowpens.' The night previous to the battle, the American army had encamped on the grounds. The position was a favorable one and lay immediately between the head waters of Suck Creek, a branch of Buck Creek, which were not more than two or three hundred yards apart. The forces under Gen. Morgan were drawn up about day light, on the bridge extending from one of these spring branches to the other. These branches, at that time, were well lined with cane and small reeds, which made it exceedingly difficult to cross over them. General Morgan was retreating to North Carolina, and had determined to give battle on the other side of the broad River, but General Picks informed him if they crossed the river the militia could not be kept together. A large portion of them had joined the army the day previous, and were under no regular discipline. This determined the commanding General to wait for Tarlton, whose forces had been marching all night to overtake the American army before they could get over Broad River. The North and South Carolina militia, under the command of Gen. Pickens, were posted one hundred and fifty or two hundred yards in advance of the continental troops, under Col. Howard. Col. Bronton's regiment was placed on the left of the road leading from the Union District into N. Carolina, and the regiments of Colonels Thomas and Roebuck on the right. They were ordered to stand the fire of the enemy as long as possible and then retreat and form again on the right and left of the continental troops.

It was about sunrise the British army appeared in sight, and marched within one or two hundred yards of the American lines, and then displayed on the right and left, with a corps of cavalry on each wing. Gen. Picks ordered the militia not to fire until the enemy came within thirty paces of them. They were also permitted to shelter themselves behind trees, which was at least a prudent, if not scientific mode of fighting. The British, when formed, rushed forward with a shout and a huzza, as if in anticipation of an easy victory. The horse of Colonel Bronton was shot down under him; and his regiment immediately fired on the enemy, in violation of their orders to await until he had approached within thirty paces. The regiments of Colonels Thomas and Roebuck soon commenced also a brisk and destuctive fire. The enemy then made a charge with fixed bayonets, and the militia gave way. The brunt of the battle was bravely born by the regular troops while the militia rallied in the rear and rewed the engagement. Three hundred of the British were killed and wounded, and five hundred taken prisoners. The remnant of Tarleton's cavalry was pursued by Col. Washington fifteen or twenty miles to Goudelock's where he was informed the British were out of his reach. This was a false statement, made by Mrs. Goudelock in order to save the life of her husband, whom Tarleton had just pressed into his service to pilot him across the Pacolet. This good lady supposed that if Col. Washington overtook the British that an engagement would necessarily ensue and her husband might be killed in the action. She therefore suffered the feelings of a wife to prevail over this of patriotism and morality. For the fact was Tarleton had just got out of sight as Washington rode up. Had the American cavalry continued their pursuit fifteen minutes longer, the remnant of the British troops could have been either captured or killed.

The next day after the battle, a promotion of the militia was despatched to bury the dead. Three places of burying were now to be distinctly seen. The largest was near the chimney of a cabin some hundred yards above the battle ground. The second was fifty to one hundred yards distant and the third on the spot where the battle took place. One of the soldiers who assisted at the burying, observed, at the celebration before alluded to, that the dead were found in straight lines across the battle ground, and that it gave them a most singular appearance when seen at distance. The only vestiges of the battle, then to be seen, were the trees which had been cut for bullets. Some of these cops were twenty feet high - an evidence of bad shooting by one or the other of the parties. A great many of the bullets were yet to be found in the trees. Lead being scarce, some good Whig had made the best substitute in his power, at the expense of his table, and the convenience of his family. At the time the battle was fought, there was no undergrowth on the ground, and objects might be seen a great distance through the woods; but since that time bushes and saplings had sprung up and destroyed, in a great measure the beauty of the forest.
View/Write Comments (count 0) | Receive updates (0 subscribers) | Unsubscribe
---
George Washington's Inauguration (April 30, 1789)
Let us look back at the Presidential inaugurations of the past decades where the inauguration took place in April and March, and not in January! We found the following in Daily Milwaukee News,, dated 12 March 1869, Friday, page 2:

Found on Newspapers.com

The inauguration of Washington took place at New York, April 30, 1789. He arrived there from Mt. Vernon on the 23rd; from the 23rd to 30th, remained at his house on the corner of Pearl and Cherry streets, and received addresses from public bodies. At 9 a.m., on inauguration day, prayers were offered up for the preservation of the president in all the churches. At noon Washington was escorted to the Federal State house on Wall St., where the U.S. sub-treasury now stands, when he was received in form by congress. Accompanied by the members, he proceeded to the balcony in front of the building facing Broad St., and took the oath of office, as administered to him by chancellor Livingston. At the close of the ceremony the chancellor exclaimed, "Long live Gen. Washington," which was taken up and repeated by the immense concourse of people who witnessed the proceedings. The president returned to the senate chamber, and there delivered an address, at the close of which all went to ST. Paul's church and listened to a sermon by Rev. Samuel Prevost. The day's festivities were concluded with balls and fireworks. Washington wore a suit of black broadcloth of home manufacture. His second inauguration was at Philadelphia, March 4th, 1793. M. C.'s, heads of departments, justices of supreme court and foreign ministers assembled in the senate chamber at noon, where the oath of office was administered by judge Cushing of the supreme court. The event was announced to the people by salvos of artillery. Washington then delivered his inaugural address, and was escorted to his house by a large military procession. The "republican court" was then in its glory.
View/Write Comments (count 0) | Receive updates (0 subscribers) | Unsubscribe
---
President Jefferson (March 4, 1801)
Here is another presidential inauguration that occurred in March 1801 that was described in the Daily Milwaukee News, dated 12 March 1869, Friday, page 2, concerning Thomas Jefferson.

Found on Newspapers.com

President Thomas Jefferson was inaugurated at Washington, March 4, 1801. He discarded the pomp which characterized the ceremonies of his predecessors' nd rode to the capitol with an unpretending escort. Neither Mr. Adams nor Mr. Sedgwick were present at the proceedings, both having left for Massachusetts before they began, and the great concourse of people, which had served to make the previous inaugurations imposing, was wanting, the traveling facilities of those days being too limited to admit of people coming to the capital from distant places.

Dressed in a plain suit, Jefferson entered the senate chamber alone and took the seat of vice president Burr. The oath was administered by chief justice Marshall, and the event was celebrated by the discharge of artillery. In the evening he gave a reception, over which Mrs. Madison presided. His second inauguration, 1805, was more brilliant. Among the lions present was commodore Preble, who had returned from his bombardment of Tripoli. Chief justice Marshal administered the oath.
View/Write Comments (count 0) | Receive updates (0 subscribers) | Unsubscribe
---
Presidential Inauguration & 20th Amendment (1930s)
Prior to the passage of the twentieth amendment in the early 1930a, inauguration day was always March 4, the anniversary of the Constitution first taking affect in 1789. The twentieth amendment changed the date of inauguration day to January 20, unless that falls on a Sunday, in which case the date is moved to January 21. The following is taken from The Times, San Mateo, California, 9 Jan 1937, Saturday, page 16:

The presidential oath of office stipulates, in Article II, Section I: "Before he enter on the execution of his office, he shall take the following Oath or affirmation: - 'I do solemnly swear (or affirm) that I will faithfully execute the office of president of the United States, and will to the best of my ability, preserve, protect and defend the Constitution of the United States.'"

The second inauguration of Franklin D. Roosevelt (32d president) would be the first to take place on January 20th, 1937, the new inaugural date, as prescribed by the 20th ("Lame Duck") Constitutional Amendment. Roosevelt's inauguration would follow in general form the first inauguration in the United States, that of George Washington, in 1789.

While the first presidential inauguration was held in New York City, the second and third were held in Philadelphia. Beginning with the fourth inauguration, that of Thomas Jefferson, they had been held in Washington, D.C.

Washington, Jackson and most early presidents proceeded tot he nation's capital for their inauguration by carriage, stage, boat or horseback. Later presidents had used the trains. Abraham Lincoln spent two weeks en route by train from his home in Illinois to Washington, the major part of the time having been used for speech making tot he thousands of admiring citizens who greeted him every day. No president has yet traveled to his inauguration by airplane.

Inaugural visitors watched Washington and most presidents up to and including Wilson ride in the inaugural procession from their place of residence to the capitol building in a carriage. Thomas Jefferson walked to the capitol because bad storms and ice in the rivers prevented the delivery of his horses and carriage. President William H. Harrison rode a horse in his inaugural procession. The automobile made its first appearance as the president's inaugural vehicle in 1921, when President Harding rode in a touring model. After 132 years of carriages this was an unprecedented event.

From the time of the first inauguration up to and including the inauguration of Woodrow Wilson, only a few people close to the inaugural stand could actually hear the president's voice during the ceremonies. In 1921 a loud speaker was installed for president Harding's use and his voice reached a greater number. Calvin Coolidge was one of the most quiet presidents, yet the number of people reached by his voice broke all previous records, as his words were heard throughout America by means of the first inaugural radio broadcast. The fourth inaugural broadcast would be heard in the homes throughout the nation on January 20th, when President Roosevelt's inaugural speech would be sent over the air.

The first inauguration was the only one that was ever late or postponed, except when the 4th of March (1789) had occurred on Sunday the president had taken the oath of office that day, and the public ceremonies had been held on March 5th.

It seems the first inaugural ceremonies were set for March 4, 1789, but because Congressmen were late in convening to count the electoral ballots, returns of the election were not announced until April 6th. Then it was an eight day journey from New York, the government headquarters, to Mount Vernon to notify George Washington of his newly elected office. Since it required more than a week for the president-elect to reach New York, the inauguration could not be held before April 30th, 1789.

Washington's journey to New York was virtually one long procession. Everywhere people met him, cheered and made merry. Flowers were strewn in his path, wreaths were place over his shoulders, pretty girls sang and recited poetry in his honor. Arriving at the Hudson River, Washington crossed to New York City in a barge beautifully decorated in red and blue, the oarsmen being dressed in white. Other vessels in the harbor were gayly adorned with flags and bright colors.
View/Write Comments (count 0) | Receive updates (0 subscribers) | Unsubscribe
---
nwOKTechie
Create Your Badge