---
Hi, my Warrick is also a decendant through Wyatt Warrick: Thomas Warrick 1770 NC-? NC spouse Rachel Pipkin 1776 NC-? Jesse D. Warrick 1804 NC-? spouse Martha Ann 1814 NC-? Jesse Wilson Warrick 6-18-1849 Tn- 12-24-1927 Tx spouse Levisa Jane Lynn 10-10-1853 Tn- 6-20-1923
~Connie Bryant Mounsey regarding Okie's story from Vol. 7 Iss. 18 titled UNTITLED
Barbara Walters, I also attended Longfellow 1936, 1st grade, under Mrs Summers. You may remember a little boy getting in lots of trouble, thats me. also my grandfather Huff ran in the "Run' settled 4 miles south of Capron, friends and neigbors of the Fash,s. small world?
~Bobby Lee Huff regarding Okie's story from Vol. 8 Iss. 11 titled UNTITLED
---
It's All About Winter
It's all about Winter -- tsunamis in Thailand -- ice storms in Oklahoma -- Christmas snow in Galveston TX -- snow storms in Colorado! 2005 and Winter are finally here! From what our sources tell us there are ice storms playing havoc in NW Oklahoma -- In Colorado, multiple inches of powdery snow began falling again on Friday, 6:00 PM. By 2:07 PM, Saturday, we had almost 9-inches or more here in the valley of Southwest Colorado. I don't know about you, but... snow, mountains and the gorgeous scenes that the snow creates... brings the little kid out in this NW Okie in SW Colorado. What's it doing in your neck of the woods? View/Write Comments (count 0) | Receive updates (0 subscribers) | Unsubscribe
---
Duchess & The Snow...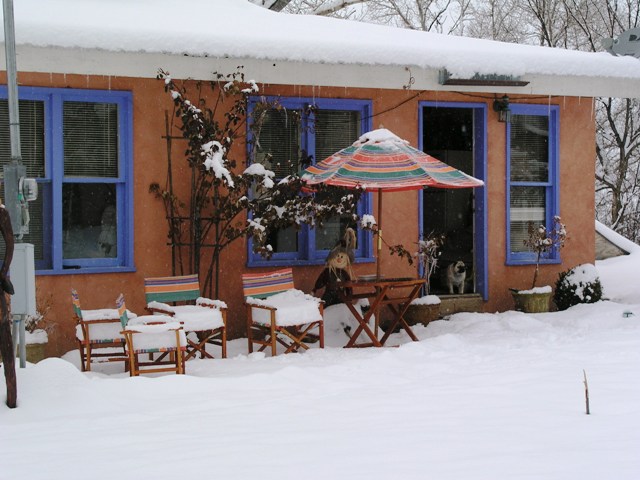 Duchess took her regular morning outage this Saturday morning sinking upto her knees and scrapping her belly in the white, fluffy snow. When she squatted this morning to make her yellow spot... her belly was barely clearing the approximate 5-inches of new snow.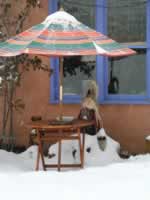 As the morning snow progressed, the inches accumulated and Duchess was plowing a path with her "Mae West" chest making the way through the snow. She loves the snow, but is reluctant at times to venture out in it! AND... For the birds, we fixed a round, redwood-type table outside with a bowl of bird seed for the birds that stayed for the Winter. This morning, though, that bowl of seed was covered with snow. Since then, we repossessioned the umbrella over the center of the table -- shading the birdseed from the continuing falling snow. NOW... the birds are happy and eating as our seated Scarecrow watches on! That is NOT Duchess seated by the scarecrow... it's only a stone Pug with snow piled on his head and around his body.

A Few Days Ago... or was it only yesterday morning that a "mountain peasant" with a "pitchfork" informed some of us lower valley residents, "You call that snow! We have 20-some inches up here."

AND... this was before the snow started to fall Friday evening (7th of January). We talked with that mountain peasant again Saturday morning to see HOW MUCH snow they had accumulated. They reported, "On the south side of the front porch it was standing about 2-feet above the floor of the front porch (which is about 4-steps high, I think). NOW... We call that SNOW!"

View/Write Comments (count 0)

| Receive updates (0 subscribers) | Unsubscribe
---
Before the Latest Snows...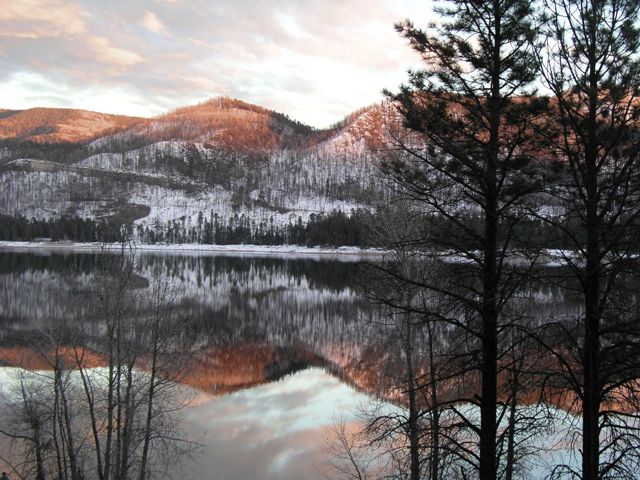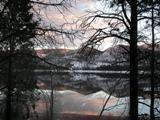 We were driving up at Vallecito Lake and stopped -- grabbed our camera -- snapped these shots on the 28th of December 2004. We could not resist the magnificent reflection of these majestic mountains presenting their mirror-image in Lake Vallecito. These photos were taken before the 20-something inches and the additonal snow accumulating right now as we speak. We have not made it back up that way to see the majestic mountain views that this Winter Snow of 2005 has brought, BUT.... we will... eventually... After the snow settles!
2nd of January 2005...
Let us not forget these 2005 Winter scenes taken the second day of the New Year as we were standing on the eastside of Vallecito Lake looking back towards the northwest mountains (photo on the left) -- we are positioned on the North Bridge that crosses Vallecito Creek, looking south down the creek at the sun's reflection (photo on the right). The National Weather Service says we have another Winter storm waiting on the horizon. This is what is great about the Winter snows... the Photographic Scenery. NOT the ice storms that are plaguing Oklahomans right now.

View/Write Comments (count 0)

| Receive updates (0 subscribers) | Unsubscribe
---
Duchess' Friend , Nelson...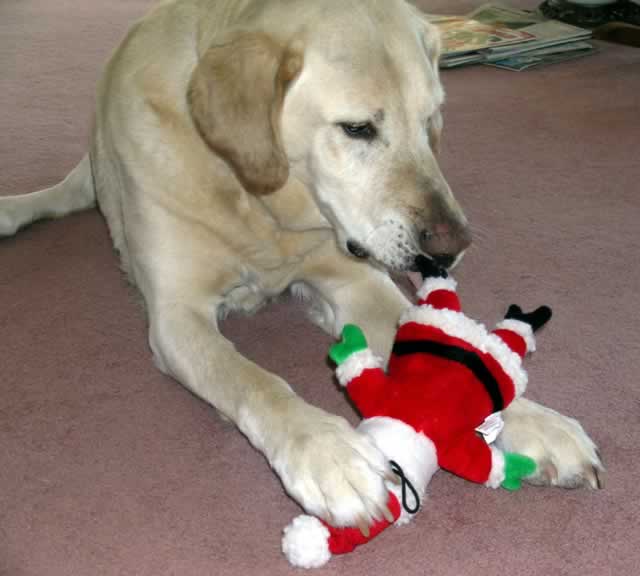 Duchess couldn't resist and has been bringing me all sorts of her favorite toys so I would finally give in and share the laptop computer with her so she could get in her two-cents worth. She wanted to share a picture of her good friend Nelson as he proceeds to explore his After-Christmas present that Santa Duchess brought him. OR... is that the REAL Santa Elf captured while sneaking down the chimney? View/Write Comments (count 0) | Receive updates (0 subscribers) | Unsubscribe
---
Strickland/Horner Airport & Flying School...
Catch up on the Strickland/Horner Airport & Flying School that was located about 7-miles East of Alva, southside of the highway, in the mid-1930's. I believe my Dad (Gene McGill) was one of those that took flying lessons out at Stricklands. I am told that Bud Clark was one of those that wanted to take flying lessons at Stricklands, but his dad told him to keep his feet on the ground (or something to that effect).
Speaking of Stricklands Airport east of town, there were also two communities, Ashley and Short Springs. Ila Wessells sent us some interesting history, information on the towns of Ashley and Short Springs 8-miles east of Alva, Oklahoma along highway 64. Short Springs has a community building and cemetery still standing -- Ashley's grain elevator is a guiding landmark for all those traveling highway 64.
Have you had a chance to see the Christmas snowman that found it's way to Galveston, Texas and it's beaches on Christmas day? Thanks to you all for sharing your Okie legacies and photos.
View/Write Comments (count 0)
| Receive updates (0 subscribers) | Unsubscribe
---
Strickland Airport & Flying School East of Alva...
"I ran across an article about Leo and Roscoe Horner's airport (on the Strickland homestead) which celebrated the airports 3rd. birthday.

It was started January 2, 1938 by Leo (Strickland) and Roscoe (Horner) with 2 brand new 40 Horsepower Piper Cubs. I'm sure that your dad could relate to that information. I remember it well, they went back to Lock Haven Pennsylvania and purchased the two airplanes, flying them to Oklahoma. By buying two, they became Piper Cub dealers. I've forgotten the price, but believe it to have been somewhere around Six to Eight hundred dollars each.

For a number of years the large hanger there had a big picture of a Piper Cub on the side facing Hwy. 64. I had my first airplane ride about this time there. I spent much of my summer's at the airport and had many rides with both Leo and Rex Strickland and Roscoe as well as other instructors employed there. However I didn't really take up flying until some thirteen years later. At that time I concentrated on it and had enough time and ratings to be hired by an Airline three years later.

My grandmother lived at 714 4th. St. in Alva for many years, until her death at near the age of 97. Her name was 'Ottie.' My Grandfather died at that address at the age of 76 from Cancer. He had farmed 7-miles East of Alva on the family homestead until he retired and turned the farm over to his son, Leo Strickland. My grandfathers name was: I. T. (Isaac Thomas) Strickland. He ran in the Cherokee Strip Race -- homesteaded 7-miles East of town on the south side of the road (later Highway 64). Isaac Thomas Strickland's funeral was held in the Ashley United Brethren Church. He passed away just a few weeks short of his 76th. birthday. He was a Missouri native and at one time started an organization of Missouri native residents of Alva and surrounding area. He was very active in the Church there as well.

Later just prior and during the War (WW II) my Uncle Leo ran an airport and flying school on the homestead property for some years. After the War ended moving the operation to the Alva Municipal Airport, which was built on the old prisoner of war camp. I spent much of my time as a kid at the airport, running errands and getting in the way.

My mother, her sister and two brothers (Leo, Rex, Flossie and Girty) all graduated from the college there. I believe in those day's it was a two year course for acquiring a teaching certificate and was called a [Northwestern State] Normal School. This was prior to the big fire. I remember my Uncles coming home after helping fight the fire and telling us about it.

Grandmother Strickland returned to school in her 60's and achieved a higher degree, later working at the College in the Library for some time. This would have been around the 1940's or so. My grandmother's maiden name was ARNDT and her family ranches to this day at the family homestead near Freedom, OK. My mother married (Clifford M. VICKERS) a Navy man, in 1925, who was based at the Navy base in New York and I was born in New York City. After my dad was discharged he worked in the City for a short time and then they moved back to Alva. His family farmed near Jet at the time. A couple of my brothers were born in Alva, the other two in Wichita Kansas.Total of 5 boys in the family. Four still alive at this writing.

Times were tough in the depression and we moved often. Dad always looking for another job. I attended school in Alva and also in Medford, OK as well as Wichita, KS, where I graduated. Attending college there for some time. My dad had a brother who lived in Alva around the 1930's. Ben was married and later divorced from a lady named, Ruth. They had 2 children, Beverly Ann and Eugene. Eugene is living in the Washington, DC area and we correspond via email often. Beverly passed away in 1975 and is buried in the Alva Cemetery along with her mother. I believe that Uncle Ben is buried with other members of the VICKERS family at a cemetery near Jet, Oklahoma.

Most of the STRICKLAND's are buried at a small Cemetery about 8-miles East of Alva, just East of the Horner farm, I believe. Uncle Leo married a HORNER daughter. I had an Aunt on the VICKERS side who married an ARGANBRIGHT, her name was Silvia and she married H. ARGANBRIGHT. He was a cattle buyer and trader in the Alva area for many years. They had a son and a daughter, "Billy' lived in Alva until his death. I always remember Billy A. with a big cigar -- a big car -- a big laugh when he heard something funny. Their daughter (Noradean) now lives in El Reno, Oklahoma. Noradean was/is a beautiful lady

Papa, (I.T. Strickland) wrote often for the Alva Record, later I find that he was writing for the Alva Review Courier, as of Feb. 4, 1931. His by-line seems to be mostly Over Woods County by I. T. Strickland and he wrote of his and others early days in the Strip and Oklahoma. Mother wrote under a pen name of Journal by a Mother in the Record Newspaper. I was able to find one column dated November 19, 1938 by her. She also wrote a number of times under her own name and was published by the papers in Alva. Papa travel around the country with Grandmother Ottie in his car talking to old timers in the area. Then he would write about their stories. He also wrote about his auto trips to Colorado and Death Valley among others. Many of his published stories had to do with him and his brothers entering and hunting in what later became Oklahoma. I believe at the time he lived in Medicine Lodge. He also wrote about a trip with his second wife, (my grandmother Ottie) to visit relatives down around the Texas border and their encounters with Indians on the trip. Horse drawn, wagon type of trips.

I had friends in High School there, one was killed in the Battle of the Bulge, Jimmy Appleman. I think that his father ran the pharmacy in the Hotel Bell for some years. Max McAlester (sic), Jimmy and I were the 3 musketeers for some time back in the early '40's. Max's father worked for the Post Office there in Alva for many years.

I have in my possession many of these writing's and will pass them down to my daughter and her children. It's nice to read the items about Alva and it's history. I still think about the town often. Best regards." -- Max Vickers - Email: mvickers7@cox.net View/Write Comments (count 3) | Receive updates (0 subscribers) | Unsubscribe
---
Alva's Ice Storm 2005...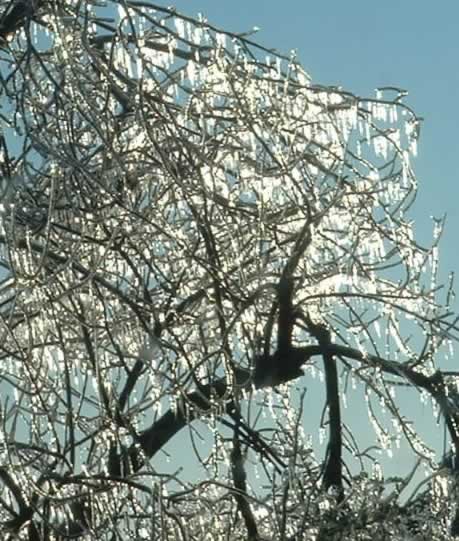 "Alva took a pretty hard hit in an ice storm that began late Tuesday night and went on through Wednesday. Large limbs and even a few whole trees have been snapped off all over town and the city looks like a war zone. Naturally there were some power outages and our gas line froze up, but overall we're okay and so is the town. We were lucky and didn't get a whole lot of tree damage. But you can see from the attached pictures that there was a very heavy layer of ice on the trees. The ice layer was about a half inch thick on every branch and limb, plus there were icicles standing off of that as well, so the larger trees must have been carrying tons of additional weight. Some of the worst damage was on the Northwestern State University campus, where many of the large old American and lace-bark elms took hard hits. The large old tree near the street in front of the president's house was almost completely destroyed. Take care." -- Jim View/Write Comments (count 0) | Receive updates (0 subscribers) | Unsubscribe
---
Maps of Ghost Towns...
"Thank you for the maps of these ghost towns. They help locate where these places. I have been looking for a long time to find them. I would like a large map that show these counties combined to get a complete idea of there distance from one another." -- John Crawley - Email: journeyhome@ll.net View/Write Comments (count 0) | Receive updates (0 subscribers) | Unsubscribe
---
Looking for Indians of the Area...
"Quite interesting. Was really looking for Indians of the area when I accessed your site. Thanks. I will use one of those okra recipes." -- Ron View/Write Comments (count 0) | Receive updates (0 subscribers) | Unsubscribe
---
Looking for Bierox Recipe & Found OkieLegacy...
"Enjoyed your web-site. I was looking for a bierox recipe just to see if anyone makes them different than I do. But enjoyed all other aspects of your site. I am an Okie at heart... born there and lived there all my life until I married and we moved to Alaska. I was born in Ft. Supply, Oklahoma and went to school in Camargo, Vici and Arnett. My sister and her husband lived in Beaver, Oklahoma and I lived with them after I graduated from high school and worked in restaurants there. I traveled many times through Slapout as we went to Camargo to visit our parents. Frank Lemmons and his wife (Judy is deceased now) operated the service station there. Judy and I were very good friends and we kept in touch until she passed away. It is a small world. I could go on & on about living in that part of Oklahoma. I now live in Washington state after spending 31 years in Alaska with my husband. Someday we may return to Oklahoma. Probably to the Vici or Woodward area. Our family (sister's and their families) still live in the western Oklahoma area. I would enjoy e-mail from anyone in that area." -- Linda (Turner) Waldon - Email: hlfwaldon1@earthlink.net View/Write Comments (count 0) | Receive updates (0 subscribers) | Unsubscribe
---
Ashley & Short Springs Towns...
"Short Springs (town) - According to Oklahoma towns and places this was a town because it had a post office. Short Springs was named for the Short brothers, George and Young, who were members of the Cherokee Outlet Livestock Association before 1893. The cattlemen rented pastureland from the Indians before the Cherokee Outlet opened to homesteaders. A natural springs lies in the area south and across the road of where the Short Springs school now stands on Highway 64. This watering hole quenched the thirst of cattle driven from Texas to Kansas along the Kiowa Trail....." -- READ MORE -Wessell Family - Email: gwessels@akslc.net View/Write Comments (count 0) | Receive updates (0 subscribers) | Unsubscribe
---
Knowledge Test...
"The knowledge test was great." We had a lot of discussion and much laughter. 20 was the most correct and 13 was the lowest. We had a thunderstorm last night! I can never remember a thunderstorm on Jan 1st.in all of my 70 years. Last week it was -16, -30 wind-chill and yesterday it was 52 degrees. After the thunderstorm, the temperature fell and we have a inch of ice on everything today. I wish you and all of your loved ones a Happy New Year." -- Jeanine View/Write Comments (count 0) | Receive updates (0 subscribers) | Unsubscribe
---
Ice Storm In Alva - 4 January 2005...
"We're in a major ice storm at the moment. We lost electricity for about an hour and 45 minutes this afternoon (Wednesday), but it came back on and has stayed on so far (11:00 PM). It continues to rain down ICE...it is beautiful but deadly! I have my charger plugged in, hoping to get some pix with my digital camera tomorrow. Will see how that fares. If anything is worth sending, I'll forward to you. Condolences to you and your family on the passing of Verlin Paris. We've been out of town the past week and just read his obituary in the Alva paper upon our return home. He was a fine gentleman, one who was good friends with my grandfather, A. L. 'Lute' Murrow. I have a nice photo taken of the 'elders' at one of the Murrow Reunions (Waynoka, I believe) and it includes Lute, Blanche, Lionel, and Frank Murrow, with their cousin May Paris. I think that was Mary Katherine (Murrow) Paris, known as 'May' or 'Mae'." -- Rod View/Write Comments (count 0) | Receive updates (0 subscribers) | Unsubscribe
---
Connection - William P. & Isabelle (McClure Johnson) McGill...
"In researching my family tree was pleased to see it appear on a site, yours . We've a mutual ancestor/relative, at least someone on the tree limb. William Pearson McGill & Isabelle McClure Johnson. His father is my Great-Great-Grandfather David McGill. Nncy McKelvey Pearson, his wife, being my great-great grandmother. Gets a bit heavy .... I come down through Zackery Taylor McGill, his brother... have a nice day." -- David McGill - Email: bennoah@earthlink.net View/Write Comments (count 0) | Receive updates (0 subscribers) | Unsubscribe
---
Christmas Snow in Galveston, TX...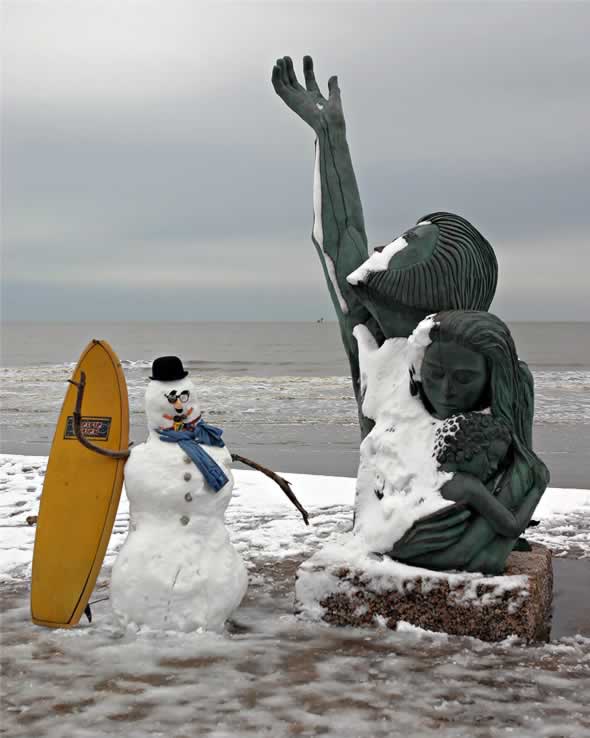 "We did get a lot of snow, some places 4 to 6 inches very unusual. Sending you a look at Galveston Island , don't think they've ever had snow and if so was 100 years ago."

EDITORS NOTE: Denner - 2nd Runner-up to Miss America '58... "I knew you had made a mistake on that one when I read it, but let me tell you... I was a 12-year-old kid working at the Rialto and even at that young age she was stunning when she came to the show. I've always remembered how beautiful she was. Any idea what she's doing these days?" -- Randy View/Write Comments (count 0) | Receive updates (0 subscribers) | Unsubscribe
---
Oakie Stands Corrected...
In 1958, the local Alva, Oklahoma young lady (Nancy Denner) was only a 2nd Runner-up to the REAL Miss America, Marilyn Van Derbur of Denver, Colorado. Thanks to those who sent me an email to correct me. I really do appreciate it very much. We have also corrected it in the Okie Legacy archives - Issue 51. View/Write Comments (count 0) | Receive updates (0 subscribers) | Unsubscribe
---
Kind of Embarrassing...
"Isn't in kinda embarrassing when you make a mistake like that? I do that sometimes too, and Readers sure bring it to my attention. Yes! You really are kind of a perfectionist. But this ok. That is one reason your work is so good. You don't do anything half way." View/Write Comments (count 0) | Receive updates (0 subscribers) | Unsubscribe
---
Miss America '58...
"I don't mean to burst your bubble, but I think Nancy Denner was only the first runnerup [Editor's Note: Denner was 2nd runner-up] in the 1958 Miss America pageant. I believe Jane Jayroe of Laverne was the first Miss Oklahoma to become Miss America." -- Terry View/Write Comments (count 0) | Receive updates (0 subscribers) | Unsubscribe
---
Alva Memories...
Already been to the site and got caught up. Sure miss that thing when I don't get it. None of my family history starts in Alva until about 1947, but it is interesting to read about people that I have known. By the way, my Mother has just moved from Alva after having lived there for 57 years. I hated to steal her away but it is so nice to have her here in Elk City with us. She remembers your Dad [Gene McGill] so well as she cared for Gene some when he was sick. She always speaks so highly of him. I love the memories I have of him at the airport and will always remember the skill he demonstrated with an airplane. Anyway, enough of the memories for now. Looking forward to the next E-zine. Thanks." -- Larry View/Write Comments (count 0) | Receive updates (0 subscribers) | Unsubscribe
---
Greetings From Ohio...
"We spent Christmas in Florida with our son, who is stationed down there. It was great as a large snow storm covered Ohio just behind us. We were glad to get out of it's way and headed to a warmer climate. It left about 18-inches of snow on the ground and rained on top of that plus added some on top of the rain. Needless to say, ice blocks were chopped off driveways and parking lots as well as the streets. Plowing here is second nature and life goes on as usual no matter what. We enjoyed spending time on the white sandy beaches with my metal detector (found some coins) and sightseeing while in Florida but glad to be back home. Also saw damage still left by hurricanes (downed trees, houses with roofs being repaired, trees bent in half, as well as homes with only the sides standing and nothing inside. It was all quite scarey and we're glad we didn't have to go through what they did. Peace and blessings to all." -- Jenni
---
Old Opera House Murder... "The Old Opera House Murder is a fascinating story. I have just read N.L. Miller's testimony. Have a couple of questions... Was Oklahoma Dry then? Were the Black Glove letters for real? If Miller wasn't the father of her baby, who was? Anyhow, I just want to say that I am really enjoying your website. Thanks for sharing. Happy New Year." -- Deana Sprouse - Email: annslater_99@yahoo.com

EDITORS NOTE: Check out this Initiative & Referendum Institute at Southern California website... ".....On the 1910 ballot, voters rejected an initiative to allow liquor sales in cities, which had been prohibited in Oklahoma's original constitution. It was the first of several Prohibition-repeal initiatives. The Oklahoma humorist Will Rogers would later say, 'Oklahomans vote dry as long as they can stagger to the polls.' Indeed, liquor was so plentiful that voters in 1914 passed an initiative to make 'drunkenness and excessive use of intoxicating liquors' cause for the impeachment of elected officials....." -- Initiative & Referendum Institute - Oklahoma

View/Write Comments (count 0)

| Receive updates (0 subscribers) | Unsubscribe
---
Ice Storms In NW Oklahoma...
That photo to the left was taken 7 January 2005 by an Alva reader on our Okie Legacy mailing list. It gives you just a slight hint of the ice storm's havoc with trees limbs down -- some dangling in mid-air. This is a view showing the southwest of our residence at the corner of 11th and Maple in Alva.

We are told that the ice storms ravaging NW Oklahoma, particularly Woods County, has caused the County Commissioners to declare Woods County a disaster area. With temporary generators on their (Alva's) water wells -- loss of electricity for eight hours or so for some -- huge electrical poles being brought down between the Dacoma road and Cherokee, in Alfalfa County -- trees/tree limbs up-rooted and scattered on the streets and highways -- Not to forget the long hours of the OG&E and other utility employees that have been out working to restore power to this northwest community and surrounding areas. Not being there in person, we can only imagine what kind of "war-zone" it must resemble. I am told it is worse than the ice storm that hit NW Oklahoma a couple of years ago. Meanwhile, the Valley South of the San Juan Mountains - Colorado... We have been getting snow accumulations close to 3-inches or more over the past week. BUT... this weekend's Winter Storm Warning has added approximately another 9-inches or more by mid-afternoon, Saturday. AND... the inches continue to accumulate since 6 PM (MST) last night (Friday, 7 January 2005) -- continuing into Saturday -- perhaps even into Sunday... with more on the way, they say.

View/Write Comments (count 0)

| Receive updates (0 subscribers) | Unsubscribe
---
Great Wrap-up of 2004...
"A great wrap-up of 2004, minus the sordid election campaign and the wicked tsunami which closed the year. A wonderful, happy, healthy, and peaceful 2005 to you, Linda, David, and Duchess plus all your equines! Have truly enjoyed being in touch with you. Miles are insignificant, it is the smiles that count! Hope that you enjoy Colorado as much or more than you have found pleasure and success in Oklahoma!" -- Joel and Lanie View/Write Comments (count 0) | Receive updates (0 subscribers) | Unsubscribe
---
nwOKTechie
Create Your Badge