---
Here's a link to the NewsOK.com story about Harley & hadley Hintergardt's station closing in OKC, at 3601 50th Street - Hintergardt's OKC Station closes.
~NW Okie regarding Okie's story from Vol. 10 Iss. 22 titled UNTITLED
I am confused [more]...
~mike regarding Okie's story from Vol. 8 Iss. 2 titled UNTITLED
---
Oakie & Duchess' SW Corner
Pioneers, Peasants, Peanuts and Christmas holidays... What do they have in common? We are still researching those possibilities for future items of interest. By the way, did you all try out the Texoma Peanut Company of Madill, Oklahoma -- Order Your Oklahoma Peanuts Today! We ordered some Raw peanuts from them last Friday or was it Saturday. Anyway, it takes about 5 to 6 working days for shipping. We received our order yesterday just in time to try them out in the recipe that our cousin Stan Paris sent us a few months back. You can check out that Peanut Brittle recipe in our ParisTimes Pioneers Cookbook - Sweets Section.
A year sure does past quickly around here, doesn't it. In two weeks -- on a Saturday, no less, Christmas begins for the most part. BUT... we only have three (3) weeks left of 2004. What can we do to make the most of it and get ready for the great things that 2005 promises to bring? Is it time to reflect back at where we've been and make adjustments before we head on into the future? You know.... New Year Resolutions and those kind of things! OR... do we just enjoy each day as it comes and have faith in what we conjer up for our own futures -- Trusting that it doesn't affect others in a negative, bad way. Just a little food for thought.
A Blanket of Snow Falls...
The valleys and mountains in southwest Colorado got a blanket of snow last weekend. It made some skiers happy. We believe it was last Sunday that we awoke to two-inches of that white, fluffy, wet stuff covering the grounds, cars and pastures here in the valley of SW Colorado. BUT... the higher elevations got more. We did get a few more snow scenes and wildlife shots for those of you who like to look at the snow, but don't like to be in it. We have been seeing small herds of deer and wild turkeys grazing in our front yard/pasture this week. Most of the week was cold, cloudy with a warming showing up on Thursday afternoon and reaching near 50 degrees. We had most of our snow until then... when the melting began. AND... it's continuing to melt through the weekend up here.
Our sources tell us that Oklahoma had a dry week that helped dry up the muddy, soggy ground and roads. AND... the Winter wheat is looking good. I hear it was in the mid to upper 60's several days this week, but by Friday the temps are droppin in some places.
Expecting NEW Birth in horse family... It was last January 11, 2004 that our three-year-old mare, Cassie, was flirting and messing around in the corral with the stud, Hustler. If we counted right, this weekend, December 11, 2004, Cassie should be bearing her first offspring out at Clark's horse farm. We haven't heard any news as of this Saturday morning, but will kept you posted. I did hear from my Oklahoma sources that the weather in Oklahoma promises to be in the 60s and nice, though.
What Else Happened This Week?...
1926 NSTC Seniors... We connected once again with some more family members of a couple of 1926 Senior graduates of Northwestern State Teachers College. It concerns Beckham & Channel. To be more specific... Wycliff G. "Wick" Beckham and Gladys Channel Beckham.
63 Years Ago... Mid-week we past the 63rd anniversary of Japan's surprised raid on Pearl Harbor on 7 December 1941. We checked back to see where our Uncle Bob's (McGill) WWII Timeline placed him during this time. On 7 Dec. 1941 -- Pearl Harbor was bombed when Japan surprised Pearl Harbor. Then on 8 Dec. 1941 -- the USA declared War on Japan. It was Dec 19, 1941 -- Uncle Bob had sent his mother (Constance) an air-mail letter. Bob was on the train from Leesville (Louisiana) headed west towards San Francisco and passing through New Mexico at the time. He gave Constance instructions about his car, keys, insurance, etc that he left in Leesville with a Lt. Robert Kalbfell at 753 tk bn. Bob's brother, Merle (a.k.a Gene), or whoever goes down after the car in Leesville needed to call the post and ask for Kalbfell at 179 before 4:00p.m. or 383 after 4:00p.m. Kalbfell will tell him what to do. As to New Mexico, when he traveled thru in his officers pullman car, he wondered where the living are... it was really the wide and open spaces. He expected to be in California by morning. He wrote in letter, ".....doubted very seriously if we will have any time off before sailing time but if we do, I expect to go to San Francisco and spend a couple of days. .....getting tired of riding in pullman car and needing to get up and walk around." That was after the time when the train went through Oklahoma along the way from Louisiana that Uncle Bob's father, WJ McGill, tried hard to meet Bob. Bob was rerouted and didn't come through Alva. This next date... sometime in December 1941, WJ got a cable from Hawaii telling him Bob got there Okay. It was Christmas time in Hawaii that found Uncle Bob sending this V-Mail Christmas card dated 25 Dec 1941 to his mother, Mrs. WJ McGill, in Alva, Oklahoma. Uncle Bob's address back then was listed as -- Lt. Robert L. McGill, 0389481, 193 Tank Bn APO 957. He signed it, "Mele Kalikimaka" Merry Christmas. (No date on V-Mail, but think it fits in here on the timeline)
Back to Now... Mid-week, 7 December 2004, finds deer grazing in our yard/pasture here in SW Colorado. Before we head out of here for the weekend, we would like to leave you with these thoughts of a curious nature... What do Pioneers, Peasants and Peanuts have in common? Why I asked was because we are working on another extension of our OkieLegacy sites over at Prairie Pioneer News which is one of those "Coming Soon" type of websites. Are you curious yet as to what will develop? .... LOL... as some might say! Stick around and Help us develop this future website.
See Y'all next Saturday evening with more Okie Legacies! ~~ Linda "oaKie" & Duchess ~~ View/Write Comments (count 0) | Receive updates (0 subscribers) | Unsubscribe
---
1941, December 1941, Pearl Harbor Attack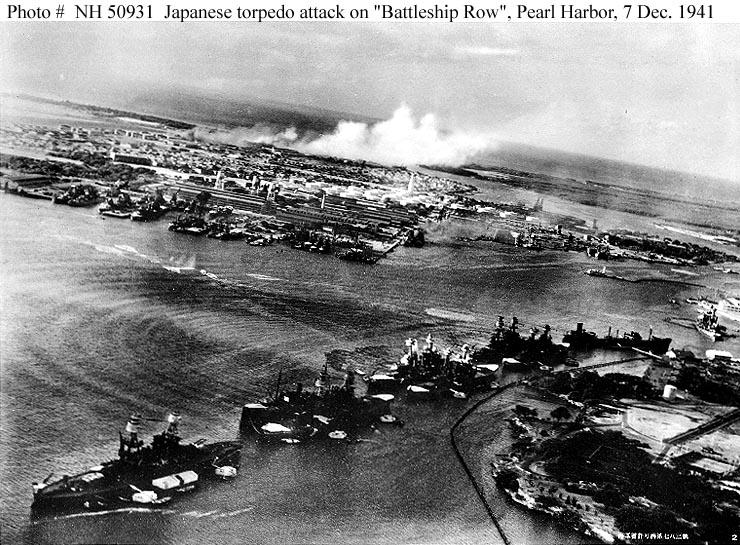 Vol 16, Iss 42 Pearl Harbor, HA - The image is a view of Japanese torpedo attack on Battleship Row, Pearl Harbor at about 0800 on 7 December 1941. Views from a Japanese aircraft. Ships are, from lower left to right: Nevada (BB-36) with flag raised at stern; Arizona (BB-39) with Vestal (AR-4) outboard; Tennessee (BB-43) with West Virginia (BB-48) outboard; Maryland (BB-46) with Oklahoma (BB-37) outboard; Neosho (AO-23) and California (BB-44). West Virginia, Oklahoma and California have been torpedoed, as marked by ripples and spreading oil, and the first two are listing to port. Torpedo drop splashes and running tracks are visible at left and center.

White smoke in the distance is from Hickam Field. Grey smoke in the center middle distance is from the torpedoed USS Helena (CL-50), at the Navy Yard's 1010 dock. Japanese writing in lower right states that the image was reproduced by authorization of the Navy Ministry.

73 Years Ago, 7 Dec. 1941, Sunday, 7 December 2014, marked the 73rd anniversary of the Japanese surprise attack against the American naval base at Pearl Harbor, Hawaii, on 7 December 1941 that struck a critical blow against the U. S. Pacific fleet and drew the Untied States irrevocably into World War II.

It was reported that diplomatic negotiations with Japan had broken down, President Franklin Roosevelt and his advisers knew that an imminent Japanese attack was probable, but nothing had been done to increase security at the important naval base at Pearl Harbor.

That Sunday morning, 7 December 1941, many military personnel had been given passes to attend religious services off base. At 7:02 a.m., two radar operators spotted large groups of aircraft in flight toward the island from the north, but, with a flight of b-17s expected from the Untied States at the time, they were told to sound no alarm. Thus, the Japanese air assault came as a devastating surprise to the naval base.

It was reported 73 years ago, the day after Pearl Harbor was bombed, President Roosevelt appeared before a joint session of Congress and declared, "Yesterday, December 7, 1941 . . . a date which will live in infamy . . . the United States of America was suddenly and deliberately attacked by naval and air forces of the Empire of Japan." After a brief and forceful speech, Roosevelt asked Congress to approve a resolution recognizing the state of war between the United States and Japan. The Senate voted for war against Japan by 82 to 0, and the House of Representatives approved the resolution by a vote of 388 to 1. The sole dissenter was Representative Jeannette Rankin of Montana, a devout pacifist who had also cast a dissenting vote against the U.S. entrance into World War I. Three days later, Germany and Italy declared war against the United States, and the U.S. government responded in kind.

Click this link for more information, images and overview of the Pearl Harbor Attack, 7 December 1941.
View/Write Comments (count 0) | Receive updates (0 subscribers) | Unsubscribe
---
The Day Japan Bombed Oregon (Sept. 1942)
Vol 12, Iss 24 Oregon - The Day Japan Bombed Oregon (Sept. 1942) Have you ever heard the WWII story concerning the day that Japan bombed Oregon? Is this for real?

Ellis Raymer submitted this interesting article about the only submarine launched Japanese bombing of the U.S. mainland during WWII. There was a special on PBS a few weeks back concerning that the Japanese had a plan after major naval losses that they planned to build super submarines that carried aircraft and could airlift bombs to a target and return to the sub. Then the planes would be put back into the sub and it would submerge and be hidden for it's next attack. The Japanese had plan to build fleets of these subs, but only three (3) were ever completed.

The Day Japan Bombed Oregon written by Norm Goyer "September 9, 1942, the I-25 class Japanese submarine was cruising in an easterly direction raising its periscope occasionally as it neared the United States Coastline. Japan had attacked Pearl Harbor less than a year ago and the Captain of the attack submarine knew that Americans were watching their coast line for ships and aircraft that might attack our country.

"Dawn was approaching; the first rays of the sun were flickering off the periscopes lens. Their mission; attack the west coast with incendiary bombs in hopes of starting a devastating forest fire. If this test run were successful, Japan had hopes of using their huge submarine fleet to attack the eastern end of the Panama Canal to slow down shipping from the Atlantic to the Pacific.

"The Japanese Navy had a large number of I-400 submarines under construction. Each capable of carrying three aircraft. Pilot Chief Warrant Officer Nobuo Fujita and his crewman Petty Officer Shoji Okuda were making last minute checks of their charts making sure they matched those of the submarine's navigator. The only plane ever to drop a bomb on the United States during WWII was this submarine based Glen.

"September 9, 1942: Nebraska forestry student Keith V. Johnson was on duty atop a forest fire lookout tower between Gold's Beach and Brookings Oregon . Keith had memorized the silhouettes of Japanese long distance bombers and those of our own aircraft. He felt confident that he could spot and identify, friend or foe, almost immediately. It was cold on the coast this September morning , and quiet. The residents of the area were still in bed or preparing to head for work. Lumber was a large part of the industry in Brookings, just a few miles north of the California Oregon state lines.

"The aircraft carried two incendiary 168 pound bombs and a crew of two.

"Aboard the submarine the Captain's voice boomed over the PA system, "Prepare to surface, aircrew report to your stations, wait for the open hatch signal" During training runs several subs were lost when hangar door were opened too soon and sea water rushed into the hangars and sank the boat with all hands lost. You could hear the change of sound as the bow of the I-25 broke from the depths, nosed over for its run on the surface. A loud bell signaled the "All Clear."

"The crew assigned to the single engine Yokosuki E14Ys float equipped observation and light attack aircraft sprang into action. They rolled the plane out its hangar built next to the conning tower. The wings and tail were unfolded, and several 176 pound incendiary bombs were attached to the hard points under the wings. This was a small two passenger float plane with a nine cylinder 340 hp radial engine.

"It was full daylight when the Captain ordered the aircraft to be placed on the catapult. Warrant Officer Fujita started the engine, let it warm up, checked the magnetos and oil pressure. There was a slight breeze blowing and the seas were calm. A perfect day to attack the United States of America. When the gauges were in the green the pilot signalked and the catapult launched the aircraft. After a short climb to altitude the pilot turned on a heading for the Oregon coast.

"The "Glen" was launched via catapult from a I-25 class Japanese submarine. "Johnson was sweeping the horizon but could see nothing, he went back to his duties as a forestry agent which was searching for any signs of a forest fire. The morning moved on. Every few minutes he would scan low, medium and high but nothing caught his eye.

"The small Japanese float plane had climbed to several thousand feet of altitude for better visibility and to get above the coastal fog. The pilot had calculated land fall in a few minutes and right on schedule he could see the breakers flashing white as they hit the Oregon shores.

"Johnson was about to put his binoculars down when something flashed in the sun just above the fog bank. It was unusual because in the past all air traffic had been flying up and down the coast, not aiming into the coast.

"The pilot of the aircraft checked his course and alerted his observer to be on the lookout for a fire tower which was on the edge of the wooded area where they were supposed to drop their bombs. These airplanes carried very little fuel and all flights were in and out without any loitering. The plane reached the shore line and the pilot made a course correction 20 degrees to the north. The huge trees were easy to spot and certainly easy to hit with the bombs. The fog was very wispy by this time.

"Warrant Officer Fujita is shown with his Yokosuka E14Y (Glen) float plane prior to his flight.

"Johnson watched in awe as the small floatplane with a red meat ball on the wings flew overhead, the plane was not a bomber and there was no way that it could have flown across the Pacific, Johnson could not understand what was happening. He locked onto the plane and followed it as it headed inland.

"The pilot activated the release locks so that when he could pickled the bombs they would release. His instructions were simple, fly at 500 feet, drop the bombs into the trees and circle once to see if they had started any fires and then head back to the submarine.

"Johnson could see the two bombs under the wing of the plane and knew that they would be dropped. He grabbed his communications radio and called the Forest Fire Headquarters informing them of what he was watching unfold. "The bombs tumbled from the small seaplane and impacted the forests, the pilot circled once and spotted fire around the impact point. He executed an 180 degree turn and headed back to the submarine.

"There was no air activity, the skies were clear. The small float plane lined up with the surfaced submarine and landed gently on the ocean, then taxied to the sub. A long boom swung out from the stern. His crewman caught the cable and hooked it into the pickup attached to the roll over cage between the cockpits. The plane was swung onto the deck, The plane's crew folded the wings and tail, pushed it into its hangar and secured the water tight doors. The I-25 submerged and headed back to Japan.

"This event ,which caused no damage, marked the only time during World War II that an enemy plane had dropped bombs on the United States mainland. What the Japanese didn't count on was coastal fog, mist and heavy doses of rain made the forests so wet they simply would not catch fire.

"This Memorial Plaque is located in Brookings, Oregon at the site of the 1942 bombing.

"Fifty years later the Japanese pilot, who survived the war, would return to Oregon to help dedicate a historical plaque at the exact spot where his two bombs had impacted. The elderly pilot then donated his ceremonial sword as a gesture of peace and closure of the bombing of Oregon in 1942." View/Write Comments (count 0) | Receive updates (0 subscribers) | Unsubscribe
---
64 Years Ago, December 7, 1941...
Vol 7, Iss 49 It was "A day in infamy" -- 64 years ago, December 8, 1941 that President Franklin D. Roosevelt addressed a joint session of Congress stating, "Yesterday, December 7, 1941 - a date which will live in infamy - the US of America was suddenly and deliberately attacked by naval and air forces of the Empire of Japan." -- President Roosevelt's Address to Congress, Dec. 8, 1941

It was a time when America officially took that first step and entered into World War II. Have we forgotten!

It was Dec 19, 1941 when our Uncle Bob McGill sent his mother (Constance) an air-mail letter. Bob was on the train from Leesville, Louisiana headed west towards San Francisco and passing through New Mexico at the time. He was giving his mother instructions about his car, keys, insurance and other items that he left in Leesville with Lt. Robert Kalbfell at 753 tk bn. As to New Mexico, when Uncle Bob traveled through in his officers pullman car, he wondered where the living are... it was really the wide and open spaces. He expected to be in California by morning. He wrote in letter, ".....doubted very seriously if we will have any time off before sailing time but if we do, I expect to go to San Francisco and spend a couple of days. Getting tired of riding in pullman car and needing to get up and walk around." Sometime in December 1941, Bob's father (Wm. J. McGill) got a cable from Hawaii telling him that Bob arrived okay. It was Christmas time in Hawaii that found Uncle Bob sending a V-Mail Christmas card dated 25 Dec 1941 to his mother, Constance McGill, in Alva, Oklahoma. Uncle Bob's address back then was listed as -- Lt. Robert L. McGill, 0389481, 193 Tank Bn APO 957. He signed it, "Mele Kalikimaka" Merry Christmas.

Help us preserve some of those lost moments of WWII and the bombing of Pearl Harbor. If you have Pearl Harbor memories to share, don't be shy! Share with us your WWII & Pearl Harbor stories in the "Comments" section of this feature. Thanks for sharing! View/Write Comments (count 0) | Receive updates (0 subscribers) | Unsubscribe
---
67 Years Ago Today
Vol 10, Iss 49 67 years ago today the Oklahoma City newspaper had the following headlines in The Oklahoman, dated Dec. 7, 1941, page 85, and the headlines read: "Japanese Attack Hawaii and Manila From Air." Where were your ancestors during this 1941 strike on the Hawaiian islands 47 years ago today? See my Uncle Bob's WWII Timetable.

Washington, Dec, 7, 1941 -- Japanese air attacks on the American stronghold at Pearl harbor, Hawaii, and on defense facilities at Manila were announced Sunday by the White House.

Only this terse announcement came from President Roosevelt immediately, but with it there could be o doubt that the far eastern situation had at last exploded, that the United States was at war, and that the conflict which began in Europe was spreading over the entire world.

A brief presidential statement disclosing the attacks was dictated to news agencies and press associations by Stephen Early, WHite House secretary. I said: "The Japanese have attacked Pearl Harbor (in Hawaii) from the air and all naval and military activities on the island of Oahu, the principal base in the Hawaiian islands."

The White House announced at 3:35 p.m. EST, Sunday that the army had just received word that an American vessel, believed to be a cargo ship, had been sending out signals of distress approximately 700 miles west of San Francisco. Whether it had been torpedoed was immediately learned.

At least two Japanese bombers, their wings bearing the insignia of the Rising Sun, appeared over Honolulu at about 7:35 a.m. (12:o5 p.m. Oklahoma time) Sunday and dropped bombs.

Unverified reports said a foreign warship appeared off Pearl harbor and began firing at the defenses in that highly fortified post. Reports say that the Japanese bombers scored two hits, one at Hickam field, air corps post on Oahu island, and another at Pearl Harbor, setting an oil tank afire. Some aerial dogfights were in progress in the skies over Honolulu. At least two nine-plane formations of four-engined black bombers flew over Honolulu and Pearl Harbor. Each plane bore Japan's Rising Sun insignia. There was a report from persons who came past Pearl harbor that one ship there was lying on its side in the water and four others were on fire. -- 67 Years Ago Today - Headlines In The Oklahoman & Publication: The Oklahoman, dated Jan 25, 1942, Page 29, "Pearl harbor Inquiry Board Accuses Two Commanders" and "Kimmel and Short Censured For Lax Action on December 7 (1941)
View/Write Comments (count 1) | Receive updates (0 subscribers) | Unsubscribe
---
WWII (1942-1945) Balloon Bombs In America
Vol 17, Iss 3 USA - In the waning days of the Pacific War Japan tried a last ditch ploy to hit the United States with a terror weapon. That weapon was the Balloon Bomb, or Fugo. It was supposed to set fire to the West Coast and drop anti-personel bombs randomly on the U.S. In research after the war it was found that the Japanese built 15,000 of them but only launched 9,300.

A little over 300 Balloon Bomb incidents occurred in the U.S. and Canada. The only casualties were a woman and five kids in Bly, Oregon on a church picnic, who found and moved one. It exploded killing them all.

The Japanese have been using balloons in war since the 1800s. At Port Arthur they were used for observation of troop movements. The Japanese air force came out of the balloon society.

When the US first heard about the balloon bombs they didn't believe it. After a few were found things changed. They were considered a threat and they outlined it well in an unpublished manual called BD-1.

The Japanese Navy made the Type B balloon out of rubberized silk. It carried a radio for telemetry but no weapons. The Army version (Type A) was constructed of six hundred pieces of mulberry paper and filled with hydrogen gas. It carried five incendiary bombs and one high-explosive anti-personnel bomb. It was hoped that the incendiaries would start vast fires in the great forests of the western parts of the U.S. and Canada.

However, in the winter months when the prevailing winds were best suited to carry the balloons to their destination most of the target area was damp and/or covered with snow.

Officially, no forest or grass fires were started by Fugos. There was also the real threat of chemical and biological warfare agents being released by these primitive ICBMs but none appear to have been used. Although, they were developed at the infamous Unit 731.

Some of the air balloons did contain a celluloid container holding 1120cc of a greenish-turbid liquid. A major concern by Intelligence Officers was that the containers of liquid were, in fact, biological bombs that could spread cancer and bubonic plague in humans and foot & mouth disease in animals.

The U.S. Public Health Service, Department of Agriculture and the Canadian equivalent, conducted testing on this substance by injected it into mice, guinea pigs and a calf. Charles A. Mitchell, Dominion Animal Pathologist from the Animal Research Institute in Hull, Quebec, Canada reported in a letter dated July 12, 1945, that no evidence of an infective agent was found (Report on Specimen #21 from Fort Ware, B.C.). A broth was also made out of sand bag contents and tested on animals. Again, with no infective agents were found.

If the Japanese had known of their success with the balloons it is possible that the greenish liquid found in the celluloid containers may have been replaced with disease causing bacteria.

On January 4th, 1945, the Office of Censorship censored the air balloon topic. The purpose of the censorship was to avoid panic and to assure that the Japanese had no knowledge of their success. Everything about the Japanese air balloons - the landings, or even deaths should one occur - would fail to reach the public eye.

Discouraged at not hearing any reports of destruction and death on the American continent, and with other war concerns demanding thy're dwindling resources, the campaign was abandoned in the spring of 1945 until the very last days of the war.

There may have been as many as 15,000 or more of these balloons built and up to 10,000 launchings. Including Canada and Mexico where there were over 300 incidents reported.

The only casualties I have found occurred May 5, 1945 when a woman and five children on a church picnic were killed after a balloon bomb they had drug from the woods exploded. These were the only known fatalities occurring within the U. S. during WWII as a direct result of enemy action.

None caused stoppage of war related activity, except for one case where a balloon landed on a power line at Cold Creek in Washington State. It caused the first SCRAM in history, taking down the first reactor used to make plutonium. The launch of this intercontinental threat was a carefully planned act of retaliation in response to the Doolittle raid.

The Japanese first tried attacking North American forests with incendiaries by launching two bombing attacks with submarine launched seaplanes over the state of Oregon.

The Doolittle raid, better known as "30 seconds over Tokyo", was lead by Lieutenant Colonel James H. Doolittle who led sixteen B25 bombers on a surprise attack on Tokyo, Japan on April 18, 1942. This attack was in response to Japan's bombing of Pearl Harbor.

Without enough fuel to return to their launching sites, these airplanes, after dropping their bombs, flew into unoccupied China where they were able to bail out or crash-land. Doolittle was the first to fly a land-based bomber off of a carrier ship for a combat mission.

In all, the results on North America were inconsequential. Designing a way to get high explosive bombs into the heart of North America became their focus.

The result - "Pieces of Paper" (the North American code word used regarding the balloon bombs) - had the ability to succeed. By luck and timing, it didn't.
View/Write Comments (count 0) | Receive updates (0 subscribers) | Unsubscribe
---
More WWII POW Stories
Vol 17, Iss 3 Kiowa, Kansas - Kiowa, Kansas Veteran Talks of WWII POW Experience - (story from the Alva Review Courier, Nov. 10, 1995, by Yvonne Miller) -- As a prisoner of war in Germany, this American Lt. (Mike Rose) lost 100 pounds in his 100 days of captivity. "There was lots of marching and very little eating," Rose said as he recalled those horrid days.

When the POWs did eat, Rose said it was usually on a very thin, unseasoned soup made from barley or whatever was available to the Germans. Larvae floated atop the soup which Rose admitted he ate in a desperate attempt to take in some protein.

"They also fed us meat from horses that had been dead and bloated for quite awhile," he recalled in disgust.

"We slept on the ground or in old buildings just like hogs and dogs."

The Road That Led To Rose's Captivity As a 1937 graduate of Kiowa High School, Rose was one of eleven children, eight of whom were boys. Two of the brothers served in WWI while two of them fought in WWII.

Rose entered the US military in the later part of 1940 as one of the first drafts to attend camp in Little Rock, Arkansas, where he earned $21 per day. He trained on the West coast and at "Little West Point" in Georgia where he graduated fourth in his class and was named lieutenant. He entered the 9th Armored Division at Ft. Riley, Kansas, where he became a company commander. At Ft. Knox, KY, Rose became a first lieutenant. He returned to Ft. Riley where he commanded Company L which consisted of 300 men and seven officers.

When his company heard of the bombing of Pearl Harbor, Rose said, "We knew we were finally in." They left for New York, their port of embarkation to go overseas.

He commented that he was thrilled to death to set sail and was in love with what he was doing. Aboard the Queen Mary, Rose and his men made a six-day trip across the Atlantic, landing at a bay area known in Europe as the Firth of Clyde.

The troops journeyed across England. "From the white cliffs of Dover to South Hampton the sky was covered with all types of US fighter planes. The sight had hair standing up on my neck," Rose recalled.

In a storm on the channel, his company landed on the Omaha Beach of Normandy in liberty ships. He remembers braving water chest high from the ship to the beach. They were there at the tail end of the Normandy mess and were there to clean up.

Rose admitted, "Anyone who has been in that kind of mess cannot say they weren't scared." He said there was "comfort in numbers," but he lost even more men going further inland.

After crossing the "Sigfried Line" he led his men into enemy territory to spy under the cover of darkness.

Meeting General Patton...

Rose had the privilege to set across the table from renowned General Patton during a strategy session over the Battle of the Bulge. Rose described General Patton as the finest officer and man and he tried to pattern himself after him.

After the strategy session with General Patton, Rose said his company was given a tank destroyer battalion, medium and light tanks, engineers and medics. By the cover of darkness they traveled 18 kilometers northeast of Bastogne, Germany.

That's when they met a German 3rd Panzer Division that stormed and bypassed them. They were annihilated and lost lots of men. The survivors took off in every direction hiding wherever they could. He and one other soldier hid in a manger in an old cow shed, but the Germans found them anyway.

"It was snowing . . . a blizzard," Rose remembered as German soldiers led eight American POWS to an unknown destination. Eventually they joined a group of nearly 300 POWS of both American and British descent.

One POW recommended they run for it. Rose vehemently disagreed because he feared the consequences of being shot as they ran. The two leaders fought. "The one leader was going to have me court marshaled," Rose said. Most agreed with Rose, and none of the soldiers ran.

The POWS marched up a mountain following a snow plow deeper into German territory. "We met a bunch of German tanks and those 'krauts' actually waved at us because we waved at them."

All of a sudden American P38s flew overhead and fired, not realizing they were killing their own. Rose said once those pilots understood what they had done they often flew in low "to check on us." "Hitler Youth" took charge of the POWs.

General Patton's son-in-law Colonel Waters was taken as a POW so Patton sent in troops. Rose said the troops shot the guards and "liberated the camp." Soldiers scattered everywhere.

Rose left with two other POWs. They traveled on a main road Germans used to go to the front. "We followed them in line and hid in the bushes when needed," Rose said. That worked for a while, but finally the Germans figured them out. They were transported in old trucks to another POW camp.

The POWs were in sorry condition ... "We were covered in lice," Rose said. The men were actually thankful to arrive at the next POW camp. An old bakery building that was heated had been converted into the camp. There the men were stripped of their clothing and their heads were shaved. The clothes were baked in the ovens to kill the lice.

For the first time in nearly three months, Rose was able to take a shower, but it was in ice cold water. The soap burned his skin and they dripped dried.

The Germans strictly told the men not to go outside the barracks. "One guy went outside to the latrine and got shot in the head," Rose said grimly.

Although he was still a POW, Rose said he felt good as he started out on another march, this time to Mooseburg, Germany to a different camp. To his surprise a man came looking for him. It turned out to be Tom Logan, a classmate from Kiowa who was also a POW.

A German who spoke fluent English approached Rose, who was then a Captain. The Germans were picking out American officers to be in charge of their peers because soon the camp would be liberated. The time was 1945 and the war was about over. "The Germans wanted us to be organized," Rose said.

During those days before liberation, Rose remembers playing poker with the Germans. "We played for cigarettes," he said with a chuckle. "On the day of liberation when the US flag went into the air, we cried like babies," Rose said. With a very big friend at his side, Rose talked a German officer out of his new pair of boots and his saber.

Finally free, the Americans traveled to Camp Lucky Strike in France in preparation to go home. Rose was in charge of taking 150 high point enlisted men and 150 POW officers home to Leavenworth, Kansas. Aboard the S. S. Daniel Heister, the Americans sailed for 31 days. Rose said the food was bountiful, but after their starvation ordeal, they had to learn to eat again.

Upon seeing the Statue of Liberty, the men cheered. Rose said there were "bands and beautiful women" waiting to greet the soldiers. The group endured a two-day train trip to Leavenworth which Rose said "seemed to take forever."

When we finally returned home, Rose anxiously threw his arms around that son who was already two years old. "we got to be pretty good pals," he said of his son who as an adult lost his life to cancer.

Rose was in the service station business until his retirement. Before his release from the military, Rose became a Major. He wished his military career could have advanced further, but thinks his time as a POW hindered his advancement.
View/Write Comments (count 0) | Receive updates (0 subscribers) | Unsubscribe
---
1930s Civilian Conservation Corp (CCC)
Vol 12, Iss 23 United States - The Depression and Dust Bowl era of the 1930s had the Civilian Conservation Corp (CCC) that gave young men guidance, hope and pride. Many of those CCC workers went into the armed forces during WWII. The CCC workers and their families brought about a pride in our environment and preserving it. Do we need something of this sort of Corp today?

The Civilian Conservation Corps (CCC) was a public work relief program for unemployed, single men age 18-24, providing unskilled manual labor related to the conservation and development of natural resources in rural areas of the United States from 1933 to 1942. As part of the New Deal legislation proposed by President Franklin D. Roosevelt (FDR), the CCC was designed to provide relief for unemployed youth who had a very hard time finding jobs during the Great Depression while implementing a general natural resource conservation program on public lands in every U.S. state, including the territories of Alaska, Hawaii, Puerto Rico, and the U.S. Virgin Islands.

The CCC became the most popular New Deal program among the general public, providing jobs for a total of 3 million young men from families on relief. Implicitly the CCC also led to awareness and appreciation of the outdoors and the nation's natural resources, especially for city youth. The CCC was never considered a permanent program and depended on emergency and temporary legislation for its existence. On June 30, 1942 Congress voted to eliminate funding for the CCC, formally ceasing active operation of the program.

During the time of the CCC, volunteers planted nearly 3 billion trees to help reforest America, constructed more than 800 parks nationwide that would become the start of most state parks, developed forest fire fighting methods and a network of thousands of miles of public roadways, and constructed buildings connecting the nation's public lands.

The legislation and mobilization of the program occurred quite rapidly. Within ten days after being introduced to Congress the ECW Act was signed on 31 March 1933; on 5 April Director Fechner was appointed and War Department corps area commanders were given task to commence enrollment; the first CCC enrollee was selected 7 April and subsequent lists of unemployed men were supplied by state and local welfare and relief agencies for immediate enrollment.

The typical enrollee was a U.S. citizen, unmarried, unemployed male, 18â??20 years of age. Normally the family was on local relief. Each enrollee volunteered, and upon passing a physical exam and/or a period of conditioning, was required to serve a minimum six month period with the option to serve as many as four periods, or up to two years if employment outside the Corps was not possible. Enrollees worked 40 hours a week over five days, sometimes including Saturdays if poor weather dictated. In return he received $30 a month with a compulsory allotment $22â??25 sent to a family dependent, as well as food, clothing and medical care.

Decline and Disbandment 1941-1942 - Although the CCC was probably the most popular New Deal program, it never became a permanent agency. The program had been reduced in operations as the Depression waned and employment opportunities improved. Fewer eligible young men were available after conscription commenced in 1940.

Following the attack on Pearl Harbor in December 1941 all federal programs were revised to emphasize the war effort. Most CCC work, except for wildland firefighting, was shifted onto U.S. military bases to help with construction. The CCC disbanded one year earlier than planned, as the 77th United States Congress ceased funding, causing it to conclude operations formally at the end of the federal fiscal year on June 30, 1942.

Some former CCC sites in good condition were reactivated from 1941 to 1947 as Civilian Public Service camps where conscientious objectors performed work of national importance as an alternative to military service. Other camps were used to hold Japanese internees or German prisoners of war. After the CCC disbanded, the federal agencies responsible for administration of public lands organized their own seasonal fire crews, modeled after the CCC, which performed a firefighting function formerly done by the CCC and provided the same sort of outdoor work experience for young people. View/Write Comments (count 0) | Receive updates (0 subscribers) | Unsubscribe
---
WWII Heroes & Movie Stars
Vol 10, Iss 45 I believe that this list missed a couple (perhaps more) but the one British actor who I remember (I think he was killed while flying for the R.A.F., perhaps in a "Spitfire") was the number two male lead in "Gone With The Wind", Leslie Howard. And then there was Oklahoma's own Dale Robertson who was 'discovered' by a Hollywood agent who saw his photo (in uniform) on display in a California photography shop.

I knew this because his brothers-in-law and the rest of his in-laws were my next-door neighbors and I sat with them in the Ritz Theatre in Britton to see his very first performance (as "Billy The Kid") in a Randolph Scott western. Later, Dale bought one of "Lassies" pups (after it had appeared in a "Lassie" movie) and gave it to the boys, where they raised it on the family farm (just west of Lake Hefner) where they later moved when their dad retired as 'line chief' from South-Western Bell.

This page lists but a few, but from this group of only 18 men came over 70 medals in honor of their valor, spanning from Bronze Stars, Silver Stars, Distinguish Service Cross', Purple Hearts and one Congressional Medal of Honor.

Real Hollywood Heroes: Most of these brave men have since passed on.

Alec Guinness (Star Wars) operated a British Royal Navy landing craft on D-Day.


James Doohan ("Scotty" on Star Trek) landed in Normandy with the U. S. Army on D-Day.


Donald Pleasance (The Great Escape) really was an R. A. F. Pilot who was shot down, held prisoner and tortured by the Germans.


David Niven was a Sandhurst graduate and Lt. Colonel of the British Commandos in Normandy.


James Stewart Entered the Army Air Force as a private and worked his way to the rank of Colonel. During World War II, Stewart served as a bomber pilot, his service record crediting him with leading more than 20 missions over Germany, and taking part in hundreds of air strikes during his tour of duty. Stewart earned the Air Medal, the Distinguished Flying Cross, France's Croix de Guerre, and 7 Battle Stars during World War II. In peace time, Stewart continued to be an active member of the Air Force as a reservist, reaching the rank of Brigadier General before retiring in the late 1950s.


Clark Gable (Mega-Movie Star when war broke out) Although he was beyond the draft age at the time the U.S. Entered WW II, Clark Gable enlisted as a private in the AAF on Aug. 12, 1942 at Los Angeles. He attended the Officers' Candidate School at Miami Beach , Fla. And graduated as a second lieutenant on Oct. 28, 1942. He then attended aerial gunnery school and in Feb. 1943 he was assigned to the 351st Bomb Group at Polebrook where flew operational missions over Europe in B-17s. Capt. Gable returned to the U.S. In Oct. 1943 and was relieved from active duty as a major on Jun. 12, 1944 at his own request, since he was over-age for combat.


Charlton Heston was an Army Air Corps Sergeant in Kodiak.


Ernest Borgnine was a U. S. Navy Gunners Mate 1935-1945.


Charles Durning was a U. S. Army Ranger at Normandy earning a Silver Star and awarded the Purple Heart.


Charles Bronson was a tail gunner in the Army Air Corps, more specifically on B-29's in the 20th Air Force out of Guam, Tinian, and Saipan.


George C. Scott was a decorated U. S. Marine.


Eddie Albert (Green Acres TV) was awarded a Bronze Star for his heroic action as a U. S. Naval officer aiding Marines at the horrific battle on the island of Tarawa in the Pacific Nov. 1943.


Brian Keith served as a U.S. Marine rear gunner in several actions against the Japanese on Rabal in the Pacific.


Lee Marvin was a U.S. Marine on Saipan during the Marianas campaign when he was wounded earning the Purple Heart.


John Russell: I n 1942, he enlisted in the Marine Corps where he received a battlefield commission and was wounded and highly decorated for valor at Guadalcanal.


Robert Ryan was a U. S. Marine who served with the O. S. S. in Yugoslavia.


Tyrone Power (an established movie star when Pearl Harbor was bombed) joined the US . Marines, was a pilot flying supplies into, and wounded Marines out of, Iwo Jima and Okinawa .


Audie Murphy, little 5'5" tall 110 pound guy from Texas who played cowboy parts: Most Decorated serviceman of WWII and earned: Medal of Honor, Distinguished Service Cross, 2 Silver Star Medals, Legion of Merit, 2 Bronze Star Medals with "V", 2 Purple Hearts, U.S. Army Outstanding Civilian Service Medal, Good Conduct Medal, 2 Distinguished Unit Emblems, American Campaign Medal, European-African-Middle Eastern Campaign Medal with One Silver Star, Four Bronze Service Stars (representing nine campaigns) and one Bronze Arrowhead (representing assault landing at Sicily and Southern France) World War II Victory Medal Army of Occupation Medal with Germany Clasp, Armed Forces Reserve Medal, Combat Infantry Badge, Marksman Badge with Rifle Bar, Expert Badge with Bayonet Bar, French Fourragere in Colors of the Croix de Guerre, French Legion of Honor, Grade of Chevalier, French Croix de Guerre With Silver Star, French Croix de Guerre with Palm, Medal of Liberated France, Belgian Croix de Guerre 1940 Palm.
View/Write Comments (count 1) | Receive updates (0 subscribers) | Unsubscribe
---
nwOKTechie
Create Your Badge