---
Eva Welch, great-grandma & owner of RUSTIC WEAVER?S ESPRESSO COFFEE SHOP Would like to introduce her newest little COFFEE BEAN: Charles Wayne Shafer THIS LITTLE BEAN WAS PLUCKED FROM THE COFFEE TREE AT: 5:37 pm Lightly roasted With a full bodied aroma He came in a 8 .08 lb, 19 ? inch package THIS SHIPMENT ARRIVED ON: Oct [more]...
~Judy Weaver regarding Okie's story from Vol. 8 Iss. 40 titled UNTITLED
The Rose Creamery building was on the north side of Choctaw Street in the 500 block. I think it was about the first building east of the old Hackett house where Jim Scribner lives today. That house is at the corner of College (6th Street) and Flynn.
~JIM regarding Okie's story from Vol. 11 Iss. 9 titled UNTITLED
---
Kemper Military & Kentucky University 1937-1940s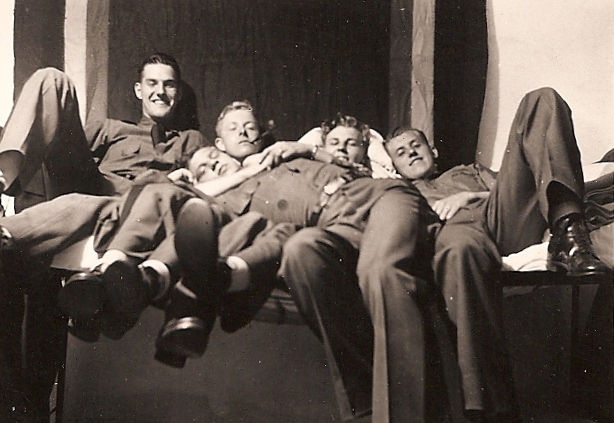 Vol 12, Iss 1 We heard from a descendant of another 1937-1939 Kemper Military student this last week. It is a small world with this media, isn't it?

NOW ... I need to look back through Uncle Bob McGill's old Kemper Military photos and album and see if he crossed path with Clyde W. Garrett. Meanwhile ... You can view some of Uncle Bob's Kemper classmates and Kentucky University classmates by Clicking HERE.

As I said earlier, towards the end of the photos are a few photos taken at Kentucky University where Uncle Bob McGill did his tank school training before going overseas in World War II.
View/Write Comments (count 0) | Receive updates (0 subscribers) | Unsubscribe
---
Duchess' Snowy Domain
Vol 12, Iss 4 As we round the last corner of January 2010, we have had a couple or three days of reprieve from snow storms here in the San Juan mountains of Southwest Colorado, but it has been downright chilly with temps in the high 20s and low 30s during the day and dropping to negative figures at night. BUT . . . Isn't that to be expected during Wintertime?

Last Monday evening the snow began to fall here in the San Juan mountains of Southwest Colorado. With twelve hour breaks, it snowed for the next four days, adding an additional twenty-six (26) inches of fresh snow North of Bayfield. Our snow gauge at the end of Friday evening and into Saturday measured a total of 43 inches, of which 17 inches was the compacted base of the December 2009 snow. Do I have you confused yet?

Anyway . . . as of Sunday our 43 inches of snow compacted down to 38 inches. Thursday and Friday's snow were of the heavy, wet variety. There were some reports of avalanches and short power outages around Vallecito, and others areas near Durango.

They say that the 35 inches that fell in Durango is also Durango's total for January, which is more than twice the average January snowfall of 16.9 inches.

The historical record for snowfall in January occurred in 1916 when 74 inches fell. The 2nd- and 3rd-highest snowfalls for January occurred in 1980 when 58-inches fell -- in 1957 when 58 inches fell.

The photo above, taken by Robert L. Wagner, 22 January 2010, shows a panorama view from the backside of a cabin up at Vallecito Lake where the snow slid down the cliffs onto the back patio blocking the occupants from opening the backdoor.

There were other avalanches around here and near Durango, Colorado as well. On County Road (CR) 500, south of what some referr to as Wits Ends there was an avalance of snow measuring eight feet deep and 800 feet length that blocked CR 500.

The sun did come out, finally, Saturday, Sunday and Today, Monday. Looks like we have another snowstorm waiting on the horizon for Wednesday of this week. Southwest Colorado's average snowfall for January is usually around 16.9 inches. So . . . We have practically doubled that amount so far and January is not over yet. The skiers and resorts are loving, though.

As to this week's OkieLegacy ezine, we are exploring and sharing some history of that famous "Westpoint of the West," known as Kemper Military School, that our Uncle Robert Lee McGill attended in 1937 and 1938 before he advanced to University of Kentucky.

By the way, one of the students during that time was from a town in Oklahoma called "Wolco." Where is/was Wolco, Oklahoma? In Osage county? This NW Okie had never heard of Wolco. Can someone enlighten us and share some legacies of Wolco, Osage county, Oklahoma? Thanks for your help!
View/Write Comments (count 8) | Receive updates (1 subscribers) | Unsubscribe
---
Vol 8, Iss 9 Opening of the northwest corner of the Old Castle on the Hill campus. In other words... only the rubble remains of the women's dorm (Oklahoma Hall) on the norhtwest corner of NWOSU's campus, in Alva, Oklahoma. What a sight! This photograph was taken last week by R.L. Wagner. Thanks, Robb!

As to our progress of inputting back issues of "The OkieLegacy Ezine" into our database, we are up (or back) to Vol. 6, Iss. 33 so far. We still have some mailbag features for those issues to fill in yet. We thank you for your patience and understanding while we slowly tredge along.

Seems to this writer that we jogged a few memories again last week. You can review last week's comments through the links in our Mailbag corner - "The Rest of the Story."

We learned of one of the professors (John Cameron) that taught the air cadet pilots at NSTC, in 1944. AND... several have stated that, "Yes!" Shirley Temple's husband was stationed as a training pilot at Northwestern in Alva, Oklahoma around that time.

AND... The 92nd College Training Detachment was the last group to be trained at NSTC in 1944. It was July, 1944 that they were shipped out to Fredrick, Oklahoma before going to San Antonio Aviation Cadet Center. This information came from Tom McCarrick of California. McCarrick also mentioned that he played trumpet and led the dance band at the "Cadet Club" for the St. Patricks Dance, March 14, 1944.

That bit of information reminded me of my Uncle Bob McGill that played the trumpet in a dance band back around the time of 1938 when he was going to school at Kemper Military, in Booneville, Missouri. AND... a group of that same band played on a voyage to Europe aboard the ship Europa, during the Summer of '38.

Enough of memories for now! As February passes to March this last week -- Fat Tuesday, Mardi Gras and Ash Wednesday were ushered in like a lamb around the valley area of SW Colorado. What have you given up for Lent for the next 40-some days?

View/Write Comments (count 0) | Receive updates (0 subscribers) | Unsubscribe
---
Floyd Huddleston Info
Vol 11, Iss 26 We heard from a son of Floyd Huddleston this week, "Well! Being that my dad is Floyd Huddleston, I have quite a bit of info on him."

The reason NW Okie is so interested in Floyd Huddleston is because back in 1938 he played in the same swing band from Kemper Military School that our Uncle Bob McGill played in during that time. We have included a photo of the band above and on the left.

This photo shows: Wm. Nelson Gibbens, Oklahoma City, OK, backrow, sax; Phillips Brooke "PB" Gentry, piano, Clarendon, TX; Floyd Houston Huddleston, left-front sax, Leland, Miss.; William Olus Greer, front-center, sax; and Robert McGill (on left-front, coronet). These fellas also played in a dance swing band in third class & tourist with my Uncle Bob aboard the "Ship Europa" during the Summer of '38 voyage to Europe.

Back in Vol. 11, Iss. 2, OkieLegacy ezine we heard from a Bob Adams who stated, "My name is Bob Adams. Floyd Huddleston and my Mom were first cousins. My Mom is still living and I am copying the picture and info that you have posted so that I might show it to her. Have you any more information on him? I knew that he had attended Kemper and that he had a fairly lucrative career in the music business. Other than that, details are sketchy. Thank you."

Bob Adams did not leave his email address. So ... we are hoping he might read this article and make a connection with Huston Huddleston @ Lummoxdung@yahoo.com.
View/Write Comments (count 0) | Receive updates (0 subscribers) | Unsubscribe
---
NW Okie's Uncle Bob
Vol 8, Iss 43 We are reminded that this July, 1951 photo of Uncle Bob McGill was taken Orizaba Acapulco.

Uncle Bob had undergone some treatments for his lung cancer and they thought that they had conquered it. Bob and Felicia (Monfort) McGill were on a much needed vacation courtesy of Bob's mother (Constance McGill). Felicia and Bob McGill had been married about a year by this time.

These notes of Bob McGill were written in the Winter of 1916 & 1917 by Bob's father, Bill McGill. We discover that Bob McGill turned 5-months old in January, 1917, weighing in at 15-1/2 pounds, 27-inches tall, head and chest both measuring in at 17-inches. Bob was sitting up in his high chair; laughing great big, but only loud once in awhile at something extra.

December 15, 1916, Bob felt his Aunt Lulu McGill's face all over; felt his mama's face a few days before. It was the third week of January, 1917 that saw the first cold week of January.

Jan. 15, 1917 Bob could not get enough to eat so his mama decided to feed him "jersey milk" with sugar and tonic water. Bob seemed to like it very much. Bob's mama (and Bob) were sleeping out on sleeping porch all winter.

On January 25, 1917 the Ranger basketball team returns from their trip to the coast, Professor Wyatt was the coach.

January 27, 1917, Bob's older brother, Gene M. McGill was turning 25 months old.


Going through some of Grandma's treasures, we found this June/July 1938 cruise, Special Student Sailing of 1938, on the ship, S.S. Columbus, souvenir program. The student orchestra/band from Kemper Military School of Boonville, Missouri performed aboard that ship with W. N. Gibbens (leader), P. B. Gentry, W. O. Greer, B. L. "Bob" McGill, F. H. Huddleston. Page two of souvenir program page three of program
View/Write Comments (count 1) | Receive updates (0 subscribers) | Unsubscribe
---
Independence Weekend...
Vol 7, Iss 26 It is time again, July 4th... 229 years earlier our ancestors declared their independence when in the course of human events, it became necessary for the thirteen colonies to dissolve the political bands which connected them with another -- to assume among the powers of the earth, the separate and equal station to which the laws of Nature and of Nature's God entitle them, a decent respect to the opinions of mankind -- to declare their independence. That takes us to the time, in 1776, when the Continental Congress met -- drew up, signed a unanimous Declaration of the thirteen united States of America for the purpose of declaring their causes for separation from the system of government of King George III of Great Britain.

From this Independence weekend to a Classic Alva High Goldbug Reunion in NW Oklahoma -- to Kirkbride apartments near downtown Alva in the early days -- to connecting with some of the "Old Boys" of Kemper Military Academy of Booneville, Missouri. That is where our memories will be jogged this weekend in NW Oklahoma.

AND... wouldn't you know it! When we come back to NW Oklahoma it gets hot and muggy. BUT... just before we head back to SW Colorado along comes a bit of coolness and much needed rain around the end of June and the first of July. You don't suppose someone up there is trying to tell me something, do you?!

Someone mentioned to me the other day, "You should come back more often and leave just as quickly!"
Anyway... Have a Happy & Safe 3rd & 4th of July! See you all next weekend!
View/Write Comments (count 0)
| Receive updates (0 subscribers) | Unsubscribe
---
1937-38 Kemper Military Photos...
Vol 7, Iss 18 We recently found, scanned some of our Uncle Bob's (McGill) Old Kemper Military School Pics that were among Uncle Bob's treasure chest AND... Kemper military days in Booneville, Missouri back in the years 1936 thru 1938. This picture shown here is one of Bob's buddies, Willie Gibbens, that played in a "swing band" aboard the ship "Europa" during the "Summer of '38."

In 1936 Bob McGill was at the Junior College at Kemper Military School, in Booneville, Missouri as a member of the Junior College Graduating Class of 1937-1938; he was First Sergeant; member of Military Honor Society; member of Special Drill Platoon; Letter in Varsity Swimming; Letter in company Football; Captain of Swimming Team; Member of K Club; member of Band; member of Orchestra; and member of General Honor Society. He graduated 7th May 1938 with an Associate of Commerce Degree. From Kemper at Booneville, Missouri, Uncle Bob went onto Kentucky University.

Some of his classmates that left notations on their photos mentioned Uncle Bob as "Mister Swingman McGill." Where there were names written on the photos, we have placed those under the photos. AND... there were quite a few from Oklahoma, Kansas, Missouri, Texas besides other places.

Anyway, maybe you know of someone whose ancestors went to Kemper Military during the mid to late-1930's. We understand that the Kemper Military School in Booneville, Missouri is no longer in operation -- it is in the process of selling its buildings, grounds to a private group. Hope this helps someone make a connection out there. View/Write Comments (count 3) | Receive updates (0 subscribers) | Unsubscribe
---
NW Okie's Corner
Vol 15, Iss 7 Alva, OK - Back during the beginning of World War II lots of young men and ladies were getting married just before the men were sent overseas to war. Lots of those marriages did not last, and many ended in divorce after World War II. Just another casualty of war, you ask? Probably! My Uncle Bob McGill was one of those young people getting married.

The Soper-McGill, WWII Wedding took place, June 1, 1944, between Helen Louise Soper and Captain Robert Lee McGill. The wedding Announcement read: "Capt. Robert L. McGill and Helen Louise Soper (Bob's 1st wife) were married 1 June 1944. Helen Louise Soper's parents were Dr. & Mrs. E. M. Soper of Enid, Oklahoma. The marriage was solemnized the first of June in home of the bride-elect's sister, Mrs. W. E. Hackett, Alva.

"Miss Soper attended the Enid schools and was graduated from Enid High School. She was active in dramatics, appearing in several of the school's dramatic productions, and during her senior year was May Queen of Enid High School. She attended the University of Oklahoma where she was an art major. She also attended Hill's Business College, Oklahoma City, and Enid Business College. She was a member of Delta Theta Sorority and while at OU pledged Gamma Phi Beta Sorority. For the fifteen months before the wedding she had been employed at the Enid Army Air Field in the medical department.

"Capt. McGill was graduated from Alva high school, Kemper Military Junior College, Boonville, Mo., and received his degree in business administration from the University of Kentucky. While at Kemper as a member of a small dance orchestra he was given a trip and toured Europe. He is a member of the Scabbard and Blade and Sigma Alpha Epsilon fraternity. Capt. McGill was a reserve officer and was called into the army as a second lieutenant four years ago. He has served sixteen months overseas and is now stationed at Fort Sam Houston, Texas. The couple made their home at Fort Sam Houston."

Uncle Bob got to spend 5 months with Helen Soper-McGill until he was shipped overseas during war during WWII.

Helen Louise Soper and Uncle Bob McGill were divorced 22 June 1948. These are a few of the letters Bob wrote to Helen in 1945:

April 1945, Letter to Helen (Wife), postmarked 24 April '45 but written earlier before 19 April 1945. "You know, honey, I haven't the faintest idea what the date is but I'm sure that it doesn't matter. I'm all relaxed in a very nice cozy place. Honey you should see it. Really "snozy". Radio and everything. Although, I did have to call the electrician over to make a few adjustments on the radio so it would work. I am down south of the Ruhr now up in the mountains and darling it is simply beautiful. Of course we have the most comfortable place in the countryside and really it is pretty swell -- of course yours truly got his thumb in on one of the nicest of the bunch."

15 April 1945, V-Mail, Germany, To: Mrs. Robt. McGill, Alva, Okla. From: Capt. Robert L. McGill, 75 Div HQ APO 451. "I'm having lots and lots of hard work where I expected a rest, but that's the way it usually goes. Well maybe the darn thing will be over within the next four or five years and I can relax for awhile. Really its not as bad as I imply, honey. Nothing that you couldn't cure in just a few days, or actually just a few moments...."

19 April 1945, Letter to Helen, also postmarked 24 April 1945, Germany.

20 April 1945, V-Mail, Germany, To: Mrs. Robt. McGill, Alva, Okla. From: Capt. Robert L. McGill, 75 Div HQ APO 451. He writes, "Well honey, it looks like your husband is going to _____ in a big way for awhile. In fact I'm as far behind the front lines now. I'm almost in communication zone. All the fighting is over here now as you must already know and the Ruhr is all over...."

23 April 1945, V-Mail, Germany, To: Mrs. Robt. McGill, Alva, Okla. From: Capt. Robert L. McGill, 75 Div HQ APO 451. "Lots of excitement around here. I guess the place wasn't as dull as I expected when I first arrived. I suppose by now all you are getting are bunches of my letters telling you to go to work etc. Well, honey, I still mean it, because I'm quite sure you won't be seeing me for a good long time yet. I've reaching the point when I occasionally wonder if I will be able to make the next anniversary that we will have on June 1946."

Five years after World War II had ended, Uncle Bob married a second time after his divorce in June, 1948, to Dr. Felicia Monfort, 21 June 1950, and remained married until Bob's death, 21 February 1954, at the age of almost 38 years, give or take a few months. You can read more about Captain Robert McGill and is WWII Timeline by clicking the link.

Good Night & Good Luck throughout your Life! View/Write Comments (count 0) | Receive updates (0 subscribers) | Unsubscribe
---
NW Okie's Corner
Vol 14, Iss 4 Bayfield, CO - Megan Murrow Cooper commented and reminds us of a horrible death of 4 February 1904 that appeared in the following newspaper of Wapanucka, Johnston county, Indian Territory.Where was Wapanucka, Johnston county, Indian Territory and why did it report about a fire death of 4 year old girl in Whitehorse, Woods County, Oklahoma Territory?

Megan says, "Appears in The Wapanucka Press 4 February 1904, Wapanucka, Johnston County, Indian Territory, now Oklahoma. CHILD BURNED TO DEATH. Guthrie: During the absence of her parents, Bessie, the 4 year old daughter of Frank McMullin of Whitehorse, in Woods County, climbed into the stove hearth to warm her hands and her dress caught fire and she was burned to death." -- Vol. 10, Iss. 21, The OkieLegacy, dated 2008-05-25

For those interested in acquiring a copy of the Kemper Military scanned images of WWII airmen, go to the link below that takes you to the pages and "Right Click," then "Save As" to your computer.


VOL. 12, ISS. 4 Feature #4782 -- Carrie says, "I saw a photo on your Uncle Bob's legacy page of some WWll airmen. One was S/Sgt Marion Boren Missing in action 6-14-1943. This is a relative of mine. Do you have any other info on him? Is there any way I could get a copy of that original photo. It is the only one we have found of him. I would really appreciate anything you could share with me. I did find out his plane went down in the English Channel and his body was never recovered. He was flying in the B-17F "Visiting Fireman". He was part of a ten man crew on that plane. Thank you."

Good Night and Good Luck researching your ancestry! View/Write Comments (count 0) | Receive updates (0 subscribers) | Unsubscribe
---
Kemper Military School Legacy & Alumni
Vol 12, Iss 4 The official Kemper Military School Alumni and College Alumni association website. -- Kemper Military school was a private military academy located in Boonville, Missouri. Kemper filed for bankruptcy and closed in 2002. The school's motto was "Nunquam Non Paratus" (Never Not Prepared).

According to Wikipedia Kemper Millitary School, on June 3, 1844, Frederick T. Kemper gave his first lesson at the Boonville Boarding school, an all male school designed to educate the sons of the frontier west. It started as a one room schoolhouse on the corner of Spring and Main Streets, and opened with just 5 students. The Fall of 1844 it had 50 students. The south wing of the lon time administration building constructed in 1845 and was utilized as both a boarding school and a classroom.

Names of Kemper Through the Years:
Boonville Boarding School, 1844-1845.
Boonville Male Collegiate Institute, 1845-1854.
Kemper Family School, 1854-1856.
Kemper and Taylor's Institute, 1861-1865.
Kemper's Family School, 1865-1874
Kemper Family School, 1874-1896.
Kemper School, 1896-1899.
Kemper Military School, 1899-1923.
Kemper Military School and Junior College, 1923-2000.
Kemper Military School, 2000-2002

In 1856 the school closed when Professor Kemper accepted a teaching, administrative position at Westminster College in Fulton, Missouri.

In 1861 Professor Kemper returned to Boonville and reopened the school as the Kemper & Tayllor Institute in partnership with his wife's brother, Edwin H. Taylor. It was one of only a few schools in the state to remain open during the Civil War, partly due to professor Kemper's willingness to accept female students for the first time.

After the civil war, Taylor left and the school again became all male and was known as Kemper Family School until Kemper's death in 1881.

After Kemper's death, Thomas A. Johnston was named as the president and placed in control of the school. Johnston guided the school through its largest period of growth and established its national reputation and Johnston over saw the transition to a military school. The school officially changed its name to Kemper Military School in 1899, and began to advertise itself as "The West Point of the West".

Oklahoma's Will Rogers attended the school in the 1890's and went on to gain worldwide fame as an actor, humorist, political commentator and performer until his untimely death in a plane crash in 1935.

An unprecedented expansion of the campus occurred from the period of 1900 through 1925. In 1904 the physical plant began when "B" barracks was enlarged; then Math Hall was built in 1906 originally as a gymnasium; A barracks was erected in 1909; D barracks in 1917; and the Johnston field house and the indoor pool were constructed in 1924.

It was during World War I when enrollment soared, peaking at 502 students in 1918 -- almost more than the school could handle. Enrollment remained strong, in the mid-1930's. That is also the time when my Uncle Robert Lee McGill attended Kemper, 1937-1938.

Wikipedia also states, "The Kemperite was first published in 1912. Kemper's Standard of Honor was introduced in 1915. A formal ROTC program was begun in 1916, and in 1923, a junior college was added. By that time, the annual football game with rival Wentworth Military Academy and College in Lexington, Missouri had become a huge event on Thanksgiving, with both corps of cadets boarding trains and sometimes meeting on a neutral field in Sedalia or Marshall, Missouri. The Kansas City and St. Louis newspapers referred to the gridiron battle as the "Little Army-Navy Game", and gave front page coverage to the outcome."

In 2003, the Kemper facilities were auction and bought by the City Boonville and known as Frederick T. Kemper Park. The park contains 46 acres and 10 buildings on what was formerly the Kemper campus. The City currently has plans to retain ownership of the T. A. Johnston Field House and of 30 acres of open space. Johnston Field House is currently home to the Boonslick Heartland YMCA and contains a cardio theater, weight room, aerobics room, 25-yard indoor pool, indoor batting cage, office space and 3 basketball courts.

The Park also contains a regulation football field, soccer fields, lake and two baseball fields. The city hopes to rehab the five tennis courts. Additional development will be deferred until a Master Plan is conducted to determine the best use of the space. The remainder of the core campus is being marketed by Boonville's Industrial Development Authority. The campus is on the National Register of Historic Places.

In September and October 2007, Kemper's abandoned campus was used for location shots of the movie, Saving Grace, about a little girl's trip back to Boonville in the summer of 1951, the year of the great Missouri River flood.

Many downtown Boonville buildings were used for filming, with Kemper used as an asylum. The movie was directed by Connie Stevens and stars Penelope Ann Miller, Tatum O'Neal, Joel Gretsch, Piper Laurie and Michael Biehn. The movie was released in 2008.
View/Write Comments (count 0) | Receive updates (0 subscribers) | Unsubscribe
---
Looking Back At 2005...
Vol 7, Iss 52 January 2005 -- Tsunamis in Thailand -- ice storms in Oklahoma -- Christmas snow in Galveston TX -- snow storms in Colorado! snow started to fall Friday evening (7th of January)

Strickland/Horner Airport & Flying School... Catch up on the Strickland/Horner Airport & Flying School that was located about 7-miles East of Alva, southside of the highway, in the mid-1930's. Leo and Roscoe Horner's airport (on the Strickland homestead) which celebrated the airports 3rd. birthday. It was started January 2, 1938 by Leo (Strickland) and Roscoe (Horner) with 2 brand new 40 Horsepower Piper Cubs.

By Mid-January There were reports that the approximate total snowfall accumulated over the first couple of weeks of January was 67-inches up at Vallecito, Colorado. The newspapers reported that they had to close Wolf Creek Pass SW (Colorado) due to 10-feet of snowfall.

One of our readers sent us some items that appeared in Renfrews Record, dateline - Dec. 12, 1913, Alva, Oklahoma. 2 stories written by I. T. Strickland which were published in one or more of the early day newspapers of Alva. Dateline is Alva, Woods County, Oklahoma, Friday December 12, 1913. The contents are about hunting and Indian encounters on the trip's. Also copied were several other articles in the paper on the front page. These are news items of Alva. One concerns a hearing in court of a man named Charlie Bower being held for murder in Cherokee (Oklahoma). He was being charged with murdering a man named Jay French near Ashley on the night of November.

Towards the last of January, 2005 we were searching for whatever happened to Kenneth Root. Here's the rest of the story: Kenneth Root (17 years of age in 1941). Kenneth shot a Donald Benson (22 or 23 years of age in 1941). I am assuming that this Benson worked at the Alva Flour Mill and had a sister that Kenneth was dating back then. There was this dinner at the Rose Hill School that Kenneth and Benson were at when the shooting occured. Kenneth Root was arrested by Sheriff Ken Greer and charges were filed against Root by County Attorney Bill Gruber. The presiding judge was JJ Gaiser and the defense attorney was CH Mauntel. We are told that after the trial Kenneth went free.

Ernest Martin's Fathers Legacy website and paintings touched, left impact on others... "Thank you. It has been a wonderful journey through your life and paintings. I started on the internet to find a picture of a dirt road to go in my church bulletin with the writing 'Dirt Roads' and with God's help, I found your site. Your work is wonderful and your writing made me homesick for my home town of Tarboro, North Carolina and I wanted to see my Grandmother even though she has passed away (15 yrs ago). I wish you had sketches or paintings to go with your writings. I can picture my growing up places with your words and I just want to go home! Your painting of the 'Farm' is the type of place that I would love for my 7-year-old grandson to grow up. Thank you for touching my heart and soul today. Your work has meant a lot to me."

February 2005 - Ashley Baseball Team... Beginning of February we were asking,"Whether it be derogatory or the term 'Okie' carried proudly amongst though of us who want to share, preserve our memories of this great Okie heritage that has been passed down from one generation to another."

We were searching for information on a fire in Woods County, perhaps in Cedar Twp, about 1918. Three children were believed killed in that fire (maybe others). The known names are: Melvin, Alice and Galen OSBURN. Have seen the surname as OSBORN, also. These children, along with their father George (spelled Gorge on his headstone) Harvey OSBURN, siblings Dollie, Oscar and Dazie are buried in White Horse Cemetery.

Dacoma, OK was losing a business icon with the closing of Dacoma's Cowboy Grill, in the rural community of Dacoma (Dakoma), Oklahoma. Billy and Floy Whittet are finally retiring and closing down the Cowboy Grill after 80 some years in their lives.


Dacoma (Dakoma) & Jot-em-Down Store� "Murrow's Jot-em-Down Store, Dacoma, Oklahoma "I received three photos of the old Jot-em-down Store (the original Murrow's Grocery in Dacoma, Oklahoma) from Patti Kilbourne. She 'retrieved' them with her digital camera from an album of photos owned by Billy and Floy Whittet in Dacoma - who are in the process of closing down the Whittet's Store & Cowboy Grill.

The majority of OkieLegacy readers were proud to be called "Okie"

We learned about history of the Faulkner's was taken from the "Pioneer Footprints Across Woods County", pgs 213-215, as told by Greta Faith and Opal French. Charles Fredrick Faulkner was born 7 Aug. 1864, Springville, Virginia; died 5 Apr. 1910, Alva, Oklahoma. Mattie A. Greear was born 7 July 1869, Grant, Virginia; died 23 Oct. 1944, Alva, Oklahoma. Charles and Mattie married at the GREEAR home, 18 July 1888, Grant, Virginia. Charles was a farmer and blacksmith for 5 years in Virginia. About 1893 they loaded their family of six children, father and mother into a wagon & team -- headed westward for greater opportunities and adventures. They sold their Virginia home and headed west to Taneyville, Missouri (first stop on their westward adventure).

We learned Hugh T. Donnan that had a photography studio in the Alva, Oklahoma and Kiowa, Kansas area in the late 1800s and early 1900s. We also know that Hugh Donnan married Lilla Wilhite, April 18,1899, in the home of Fanny and Frank Hatfield in Alva, Oklahoma.

We were remembering the Air Tour, June 1, 1946, in Waynoka, Oklahoma? AND... Remember the Green Cars of NYC? The Green Cars Tours started from Hotel Bartholdi, Broadway & Twenty-third Street in NYC."

March 2005 -- The OkieLegacy was reborne and merged into its interactive database with the help of our son, Michael. Enabling readers, viewers to leave comments after each feature.

This was also the year that We heard from a lady in California whose family has had two framed Sketches of John Jacob WARWICK and Mary Jane VANCE WARWICK that her husband's father had picked up at an auction. It has been hanging on their wall for 40 years or so and they are looking for some WARWICK family to sell it to.

We also learned about the Man who invented the 'Okie' term dies in California -- Named an 'honorary Okie' in 1968 - By S.E. Ruckman, Staff Writer - Posted October 27, 1997 TEMPLETON, Calif. -- Newspaper publisher Ben Reddick, credited with coining the term 'Okies' when he was a freelance writer during the Depression, died Thursday. He was 82." - SEE Ardmoreite News dated 10/27/97: The Daily Ardmoreite - dated 10/27/1997 - Headlines -- Named an 'honorary Okie' in 1968.

Alva, Oklahoma had another NEW mural in the 600 block of Barnes Avenue, in downtown Alva. It depicts the Hot Rod Days of Alva, Oklahoma. behind that building is about where McGill Bros. Swimming pool once resided. We believe now it has been filled in and no longer exist.


1938-39 Lookout (Oklahoma) Sunday School Students were identified. Thanks to Rod... we have identified all the Sunday School Students in the old Lookout, Oklahoma photo. They are: 1 - Frank Neukirch; 2. Mathesia (Knabe) Myers; 3. Mrs. Roy Carlson; 4. Kenneth Bliss; 5. Marjorie Bliss; 6 - Alfred Beagley; 7 - Earl Hackney; 8 - Ray Neukirch (brother of Frank); 9. Mary Ellen Hackney; 10. DeWayne Hodgson; 11. Beagley; 12 - Joy Neukirch (cousin of Frank and Ray); 13 - Colleen Hackney (sister of Earl); 14 - Shirley Neukirch (Joy's sister, also cousin of Colleen Hackney Nixon). Scroll down to the Mailbag Corner to click on the photo.

We saw where 2 years ago (2003) at this time that our OkieLegacy visitor counter clocked a total of 200,000 visitors. We believe our counter for December 2004 clocked in with 325,000+. As for December, 2005, we took a look at our OkieLegacy counter to find it over the 400,000 mark (436,697).

We were wondering if... this Alpha Updegraff of the Freedom and NW Oklahoma is the same "Al Updegraff" who was injured in a Bat Masterson's last shootout, April 17, 1881, Dodge City, Kansas?

April 2005 -- March went out like a "lion." Bellowing it's last few breathes of Winter Wednesday and Thursday with April on the horizon -- making it's debut on a sunny, calm Friday morning here in the valley of SW Colorado.

We learned that in 1937 (two years after the burning of the Castle on the Hill) that the small, rural community in Northwest Oklahoma gathered, organized for the Dedication of Jesse Dunn Hall that replaced the old Castle on the Hill, at Northwestern State Teachers' College, in Alva, Oklahoma. That was not the only building they were dedicating on Northwestern's campus. Across campus to the west was Horace Mann Hall. two-day dedication, Thursday, March 11 & Friday, March 12, 1937. Even the First Lady, Eleanor Roosevelt, made an appearance on this special dedication ceremony, 12 March 1937.

We traveled back to 1947 to take a gander at Alva's Senior Class of '47. According to The Alva Review-Courier, dated Wednesday, May 21, 1947, the frontpage headlines of the Annual Graduate Edition 1947.

Jim filled us in about the present high school (14th & Flynn Avenue) that sits on the land once occupied by the Alva Golf and Country Club. The Country Club purchased the land north of Alva for the new course sometime in the mid 1950's. The northeast corner of the old course was the corner of 13th and Flynn. The old course was sold to the Alva School District and the new building was ready for classes in the fall of 1956 (Jim said he was in the first class that graduated from that building in the Spring of 1957). Jim couldn't remember how far south the course ran, but thinks it must have been fairly close to the old hospital. The old country club building was used as the high school industrial arts building for several years.

May 2005 -- We shared some of our Uncle Bob McGill's "Old Kemper Military School Pics" that were among Uncle Bob's treasure chest AND... Kemper military days in Booneville, Missouri back in the years 1936 thru 1938.

We passed the 60th Anniversary of VE-Day (May 8, 1945) in May, 2005.

1947 - Wrecks Kill Two Collegians... Taken from The Alva Review-Courier, dated 21 May 1947 - Oklahoma City, May (UP) -- "Two college students returning home for the weekend were killed in automobile accidents last night and early today to raise Oklahoma's May traffic total above the month's record last year. ack Lyon, 20, Wichita, was killed last night when a car driven by Gilbert Valdes, 21, also of Wichita, left U.S. Highway 77 north of Perry in a driving rain and overturned. Sheriff Merl Harmon, who investigated the accident, said both men were war veterans and students at Oklahoma A. and M. college. Valdes was not injured in the accident. Albert Jackson Harris, whose wife was a local newspaper reporter until recently, was found dead in the wreckage of his automobile at 5 a.m. today. The machine had crashed into a bridge abutment on a county road norhteast of here.

Around the last week or so, we were also transcribing an old July, 1937, Alva Review Courier newspaper.

We were searching for information on a fire in Woods County, perhaps in Cedar Twp, about 1918. Three children were believed killed in that fire (maybe others). The known names are: Melvin, Alice and Galen OSBURN. Have seen the surname as OSBORN, also. These children, along with their father George (spelled Gorge on his headstone) Harvey OSBURN, siblings Dollie, Oscar and Dazie are buried in White Horse Cemetery.

Dacoma, OK was losing a business icon with the closing of Dacoma's Cowboy Grill, in the rural community of Dacoma (Dakoma), Oklahoma. Billy and Floy Whittet are finally retiring and closing down the Cowboy Grill after 80 some years in their lives.

View/Write Comments (count 1) | Receive updates (0 subscribers) | Unsubscribe
---
Kemper Military Memories On Webshots - by ewingftw
Vol 12, Iss 4 We did a search online at Webshots.com and found the following Kemper Military School Pictures from friends and fun photos on Kemper Military School Webshots published by ewingftw.
View/Write Comments (count 0) | Receive updates (0 subscribers) | Unsubscribe
---
Kemper Military School Class of '38
Vol 12, Iss 3 For those family genealogists searching proof of their ancestors that went to Kemper Military school, high school and junior college, in Boonsville, Missouri during the 1938 time period, you might want to run down the list of students that we have transcribed of the Class of 1938, 1939 thru 1943 classes.

We did find a mention and photograph of Clyde Winston Garrett, of Eastland, Texas listed in the Class of 1940. We do not have all the photos scanned as of yet, but we are still working on them for later issues of the OkieLegacy ezine. Thanks for bearing with us!

The names read from left to right, starting at the top and moving down each row.

Class of 1938:
Top Row:
Richard Rowe Anwyl, Valley Junction, IA;
Bernard Opison Arado Bailey, Newton, IA;
Sargent Buckingham Barnes, Decatur, IL;
James Griffith Barney, Cape Girardeau, MO.;
Frank Richards Becker, OKC, OK;
William Wilson Beckett, Kansas City, MO;
Conrad William Bischof, St. Louis, MO;
Howard Norman Bischof, St. Louis, MO;
Roy Logan Boals, Fairbury, NE;

2nd Row:
Henry Joseph Boehner, Chillicothe, MO;
J. Philip Boerstler, Henryetta, OK;
Allen Markel Boggs, Plain Dealing, LA;
Joe Mark Bower, Tulsa, OK;
Fred Brinkop, St. Louis, MO;
Ronald Earle Britton, Atlantic, IA;
Dale Eldon Buchanan, Chanute, KS;
Gordon Fulton Burnett, Fargo, ND;
Birn Cardner, Byers, TX;

3rd Row:
J. Lee Carter, Wellington, KS;
Gilbert Irving Clark, Eastland, TX;
Richard Cain Colby, OKC, OK;
Harry Ray Cook, OKC, OK;
Matthew Ervin Culp, Duncan, OK;
Howard J. Curry, Ava, MO;
I. Thomas Curry, Lebanon, MO;
William Frederick Dahlstrom, Bloomfield, NE;
John Robert Davidson, Mount Vernon, IL;

4th Row:
Russell Loury Davies, Kansas City, MO;
Gilbert Arthur Dourlass, Storm Lake, IA;
Gray Hartwell Doyle, CArbondale, IL;
Herbert Halliday Ewing, Cairo, IL;
Maurice Leroy Filson, Wewoka, OK;
Charles William Finley, McLean, TX;
Newton Gates Flippen, Dallas, TX;
James Byrne Francis, Dallas, TX;
Billy Valega Freeman, OKC, OK;

5th Row:
Donald Francis Gordon, Chillicothe, MO;
William Olus Greer, Kansas City, MO;
William Edward Greiner, Dallas, TX;
J. D. Hostetter Haley, Bowling Green, MO;
Dominic Hart, Fort Worth, TX;
Jack Monroe Haus, St. Louis, MO;
John Jacob Helfrich, Wichita, KS;
James Shackelford Herring, Glasgow, Mo;
Daniel Robert Hopkins, Topeka, KS;

Bottom Row:
Lyle Edward Jones, Slater, Mo;
Wilbur Lincoln Kent, Caruthersville, MO;
Henry Floyd Kinyon, West Plains, MO;
Edwin Newton Kittrell, Tyler, TX;
Sturat Bateman Lambert, Lesingon, OK;
Carl Emil Lauer, Port Arthur, TX;
Walter Carey McClelland, Des Moines, IA;
Bob Lee McGill, Alva, OK;
George Walker Macpherson, Joplin, MO.
View/Write Comments (count 2) | Receive updates (0 subscribers) | Unsubscribe
---
Kemper Military Academy Memories
Vol 12, Iss 2 K. Racette (email: diamondfire1947@yahoo.com) says, "My cousin, the late Edward S. May, son of the late Stanley & Louise May of Alva, Oklahoma, also attended Kemper Military Academy ? somewhere between 1937-1939. He was also a graduate of Alva High School, but I'm not positive about the year ? somewhere in this time frame. His sister, the late Jean (May) Garvin told me she thought he attended Kemper about 1939.

NW Okie (that's me, Linda) dug out an old Kemper Annual of that period (1937-39) and will try to figure a way to scan those pages into a pdf file. the thin annual is like a thin, magazine and does not quite fit my 8x11 inch scanner. We shall see what we can get done to share it with everyone out there.
View/Write Comments (count 0) | Receive updates (0 subscribers) | Unsubscribe
---
Kemper Military School - Class of 1939
Vol 12, Iss 4 We left off last week with the Class of 1938-39 of the Kemper Military School, in Boonseville, Missouri. This week we shall share the Class of 1939 and some of 1940.


Top: Ward Eugene Benkelman, McDonald, KS; Franklin Pierce Berry, Shreveport, LA; William Biles, Pender NE; Theodore Judson Bodwell, Kansas City, MO; Grover Cleveland Bolin, Springdale, Ark; Edwin Russell Booth, Longview, TX; John Henry Burke, Helena, MT; Oliver Case Buschow, Mena, Ark; Harold Michael Chargot, Detroit, MI.

2nd: Charles Fowler Clark, Wakeman, OH; Calvin Nelson Clyde, Tyler, TX; Andrew Aaron Cochran, West Plains, MO; William Lois Cohen, Fredericktown, MO; Harold Thomas Connor, Daingerfield, TX; James Martin Corner, Blue Hill, NE; Thomas Hunter Crary, Deadwood, SD; John Floyd Croup, Sheridan, WY; William Lusk Davidson, Jefferson City, MO.

3rd: Stephen Meek Davis, Plattsmouth, NE; Frank Rolland Dehner, Omaha, NE; John Alfred Dinsdale, Palmer, NE; James Elwood Durham, Okeene, OK; Paul Eugene Evans, Rapid City, SD; William Leroy Evans, Ft. Worth, TX; Carl Bussey Everett, Gladewater, TX; Waldorf Clauson Eyman, Knox City, MO; Edmond Sterling Fauth, DeSoto, MO.

4th: Howard Martin Fender, Ft. Worth, TX; Elbridge Gerry Fish, Salina, KS; Robert Lee Fish, Overland Park, KS; Harold Dene Floyd, Boonville, MO; Henry Lee Foster, Longview, TX; Roy MacFranks, OKC, OK; Oscar Eugene Franz, Ouray, CO; John Adair Fraser, Springdale, Ark; Frank Eberle Fulkerson, Jerseyville, IL.

5th: Wesley Edens Fuller, Beaumont, TX; Richard Neil Gentry, Chicago, IL; William Nelson Gibbens, OKC, OK; Ferd Marvin Gilmore, East Prairie, MO; George Weber Gilmore, East Prairie, MO; Nelson Thomas Grisamore, Chicago, IL; Jimmie B. Haden, Ft. Worth, TX; Eugene Hicks Hall, Amoret, MO; Warren Weiant Hamford, Aurora, OH.

Bottom: Harley Doyte Hartung, Bozeman, MT; Vaughn LaClerque Hartung, Bozeman, MT; Norman Theodore Hartzell, Omaha, NE; Ralph Orville Heatly, Mangum, OK; Richard Kaichen Heldman, Cincinnati, OH; Raymond Edward Hendricks, Ft. Worth, TX; Jack Aiken Hewitt, Superior, NE; Robert H. Hickman, Centerville, IA; Joe Martin Higginbotham, Dallas, TX.
View/Write Comments (count 3) | Receive updates (1 subscribers) | Unsubscribe
---
Kemper Military School - Class of 1938 & 1939
Vol 12, Iss 3 Here is more of the Class of 1938 & 1939 (Mehew to Wyche & Adams to Bell, NE, respectively)

Top Row:
Fred Mehew, Kingfisher, OK;
Max Earl Meyer, Alliance, NE;
Harold Frederick Monson, St. Joseph, MO;
Robert Max Montagomery, Clay Center, KS:
Lester Taylor Mooney, Norman, OK;
Homer Gail Moore, Benton, IL;
Brady Lee Mootz, Gallipolis, OH;
Carl Edwin Morgan, Jasper, TX;
Russell Dale Mott, Des Moines, IA;

2nd Row:
Warren Harding Newton, Kansas City, MO;
Charles Joey Nitz, West Point, NE;
Ruskin Curry Norman, Ava, MO;
Edward Kellerman Owen, Lebanon, MO;
James Ward Owen, Lebanon, MO;
Joseph Asa Phelps, Clinton, IL;
James William Porter, Festus, MO;
Akbert Byron Potter, OKC, OK;
Joe Davis Powell, Kansas City, MO

3rd Row:
Roy Sylvester Randerson, OKC, OK;
Ed Dickens Reynolds, Dallas, TX;
James Dean Rickman, Wichita, KS;
Claude Elmo Riley, Wichita Falls, TX;
John Howard Roberts, Dodge City, KS;
Herbert Robinowitz, Rosenberg, TX;
William Edward Samuel, Tyler, TX;
Randolph Eugene Schmidt, Boonville, MO;
Earl Spiker Schofield, Belleville, IL

4th Row:
Fred William Schroeder, Abilene, TX;
Frank Garver Searcy, Webster Groves, MO;
LeRo Arnold Skinner, Webb City, MO;
Elliott Wilcoxson Smith, Fayette, MO;
George Allen Smith, Fayette, MO;
George Aflred Smith, Kansas City, MO;
Henry Douglas Smith, Amarillo, TX;
Robert Nelson Smith, Fort Scott, KS;
Thomas Burbank Soddy, Calumet, MI

5th Row:
Joseph Ray Southwell, OKC, OK;
William Sanford Steffen, Sheridan, WY;
Frank Joseph Storm, Amarillo, TX;
Ephriam Brevard Walker, Mobile, Ala;
Jack Harold Walker, Sprindale, Ark;
Earl Alexander Wells, Henryetta, OK;
Kenneth fRancis Webley, St. Louis, MO;
John Livingston Werner, Mount Vernon, IL;
Aylmer M. Wyche, Benton, LA;

Bottom Row:
Jim Val Adams, OKC, OK;
Jim Turman Alston, Bogalusa, LA:
Philip Ryder Anwyl, Valley Junction, IA;
John Vernard Ash, Bastrop, TX;
Benjamin Rush Barns, Columbia, MO;
Rex Parker Barrett, Columbia, MO;
Arthur Murray Beardsley, Cape Girardeau, MO;
Harry Charles Beaumont, Decatur, IL;
Ned Emmons Bell, York, NE
View/Write Comments (count 2) | Receive updates (0 subscribers) | Unsubscribe
---
Kemper Military Memories of 1937-39
Vol 12, Iss 1 Dan Garrett(email: dpgarrett390@hotmail.com) states, "My Dad attended Kemper Military Academy in the late 30's (37-39 I believe). His name was Clyde W. Garrett from Eastland,Texas. He was the son of the U.S. Congressman Clyde L. Garrett.

"My Dad was the fullback on the unbeaten Kemper football squads during these years. I have several photos of him at Kemper, write ups on their games from the Booneville paper, and his football letter.

"He served in WWII flying 29 combat missions in the Army. Please feel free to contact me if I can share copies of the photos, etc. My Dad loved Kemper. He went on to the University of Texas and then to law school after the war, but his days at Kemper were very fond ones."
View/Write Comments (count 1) | Receive updates (0 subscribers) | Unsubscribe
---
KMS - Class of 1939 (Cont.)
Vol 12, Iss 4 Here is a second batch of the Class '39 Kemper Military School. Reading from the Top to Bottom, left to right.

Top: Joseph Russell Holland, North Little Rock, Ark; Preston Lee Hooper, Ft. Worth, TX; Floyd Houston Huddleston, Leland, MS; Harry Louis Johnson, Waukesha, WI; Robert Clinton Johnson, Perryton, TX; Herbert Joseph, Laurel, MS; Bernard Keller, Poplar Bluff, MO; Thomas Emmett Kearney, OKC, OK; John Lewis Keller, Iowa City, IA.

2nd: Fred Ely Kent, Algona, IA; William Russell Kern, Traer, IA; Frank Donald Kinne, Cody, WY; Samuel Lewis Lane, Webster Groves, MO: Roy Edward Lee, Rushville, IN; Gerald Johnston Leuty, Knoxville, IA; Albert Cole Leverenz, Chanute, KS; Alfred Lindgren, Salina, KS; Emil Achard Lockwood, Ottawa, IL.

3rd: Jorge Jaime Lopez, Mexico, D.F.; Lemuel Robert Loving, Corpus Christi, TX; James Baker Low, OKC, OK; Giles Connell McCrary, Ft. Worth, TX; Shirley Alton McDougall, Indianapolis, IN; Jack Alexander McGorray, Warrensburg, IL: Mason Rankin McNutt, St. Louis, MO; Vernon Woodrow Mackay, Elmhurst, IL; Charles Giles Maier, Akron, OH.

4th: John Albert Majors, Dallas, TX; Roy McMurray Martin, Benton, IL; Terry Cameron Martin, Amarillo, TX; Robert Allen Mayo, Dallas, TX; Hiram Allison Messmore, Beatrice, NE; Richard Kewenige Miller, Kimball, NE; Frank Moyle, Oglesby, IL; John Robert Murphy, Sioux City, IA; James Berry Oakley, Wolco, OK.

5th: Forrest Benard Ohlson, Hardtner, KS; Jule William Parks, Monroe, LA; Frank Allan paul, Panhandle, TX; Don F. Pollock, Fremont, NE; Thomas Smith Price, Longview, TX; Harry Cady Purcell, Borken Bow, NE; Edward Quick, Mascoutah, IL; John Morrison Raines, Little Rock Ark; Courtney Teddy Rambach, Taylorville, IL.

Bottom: Roy Preston Rogers, Detroit, MI; William Austin Romine, Keota, IA; Richard Benjamin Royse, Middletown, OH; John Freeman Schmitt, Louisiana, MO; Richard McLaughlin Schramm, Chicago, IL; Eugene Dewey Schultz, Augusta, KS; James Arthur Schultz, Augusta, KS; Sam Blake Scott, Prescott, Ark; John LeRoy Sharrer, Hanna, WY.
View/Write Comments (count 0) | Receive updates (0 subscribers) | Unsubscribe
---
1937 Kemper Yellowjacket Grid Squad Championship Team
Vol 12, Iss 3 In 1937 the yellowjacket Grid Squad of Kemper Military School were Champions of the Missouri Junior College Conference. They were also known as the "A" Company Intramural Grid Champs.

At that time there was a principal unit in Kemper's $50,000.00 improvement program which included stadium, football, field and track, complete with modern detail of design of construction in 1937-38 school year.
View/Write Comments (count 0) | Receive updates (0 subscribers) | Unsubscribe
---
KMS - Class of 1939 & 1940
Vol 12, Iss 4 We end this week of Class of 1939 Kemper Military School cadets with a easer of the Class of 1940 to be continued next week.

Top: Keith Walker Sheldon, Scottsbluff, NE; John Norval Sherman, Chanute, KS; clyde Gordon Smith, OKC, OK; Lawrence Raymond Smith, Lyndon, KS; Frank Campbell Sneed, Lawton, OK; Robert Lynn Snyder, Lubbock, TX; Charles Tipton Soule, Huntsville, Ark; Otto Duncan Stallard, Dallas, TX; George Steinmeyer, St. Louis, MO.

2nd: John Martin Stephens, Tyler, TX; Irvin Marcus Sternberg, Ft. Smith, Ark; John Warren sTewart, Keota, IA; Albert Gobin Stout, Dallas, TX; Robert Sealy Swope, Beaumont, TX; Darue Carhill Tegley, Burr Oak, KS; Thomas Fontaine Terrell, Pocatello, ID; Charles Ruffin Tidwell, Monroe, LA; Maury Gano Tucker, Dallas, TX.

3rd: Hugh E. Tyson, OKC, OK; Earl Borman Van Valkenburg, Elmhurst, IL; Wilson Wilder Vaughan, Mineral Wells, TX; Hans von Unwerth, Kansas City, MO; Roy Crossland Warfield. Souix City IA; Richard Hammond Weeks, Lake Charles, LA; Richard James White, Kansas City, MO; Ewing Merrill Winsett, Amarillo, TX; Harold Roberts Wooldridge, Altus, OK.

4th: Richard Clay Wooldridge, Gainesville, TX; Hal Clay Worcester, Roodhouse, IL; Dave Henry Youker, Waukesha, WI; Ted Jones Alkire, Lubbock, TX; John Otis Allen, Topeka, KS; William Ashley Ash, Cordell, OK; James Leander Atkins, North Little Rock, Ark; William Joseph Barnhart, OKC, OK; William Lowell Barr, Mambulao, Cams. Norte, P. I.

5th: Homer Marvin Bastian, Atwood, KS; Frederick Jack Becker, Eldorado, KS; Keith Harold Bell, Lamoni, IA; John George Billings, Enid, OK; Myron Geer Blalock, Marshall, TX; Robert Lloyd Brandt, Douglass, KS; James Wallace Buck, Wichita KS; Charles Lewis Burnett, Ada, OK; James Crisswell Burtner, Wooster, OH.

Bottom: Frank Crockett Byers, Cedar Rapids, IA; David Parker Christie, Omaha, NE; Bourley Hughes Clanton, OKC, OK; Robert Mackle Clark, OKC, OK; Fielding Clayton, Ft. Worth, TX; Edwin Thome Colton, New Orleans, LA; Loyd Earl Craig, Olathe, KS; Gordon Eugene Crosby, Eldon, MP; Leonard Marcus Dean, Dallas, TX.
View/Write Comments (count 0) | Receive updates (0 subscribers) | Unsubscribe
---
Kemper Class of 1940 - KMS
Vol 12, Iss 5 Last week we end with the class of 1939-40 (Alkire to Dean, LM), of the Kemper Military School (KMS) at Booneville, Missouri. This week we continue with the Class of 1940, Diehl to Sewing. On the top row, second from the right, is listed a clyde Winston Garrett, of Eastland, Texas. A descendant of Clyde W. Garrett had shared a few things in the OkieLegacy ezines a few weeks ago. Now we see a photo of his ancestor this week.

Class of 1940, Kemper Military School, Boonville, Missouri:
Top Row, Left to Right: Arthur Andrew Diehl, Ft. Worth, TX; Herschel Mills Duncan, Houston, TX; Dick DuVall, Missoula, MT; Wilber Duane Eckert, Woodstock, IL; Edmund Barber Edwards, Columbia, MO; Ralph Gilvert Effner, Wichita, KS; Offie Lew Ford, OKC, OK; Clyde Winston Garrett, Eastland, TX; Russell Clyde Gibson, Benjamin, TX.

2nd Row, Left to Right: David hyde Glenn, Columbia, MO; Robert Wilson Haines, Whitefish, MT; Everett Finley Hale, Chicago, IL; Roy Adrian Hales, Decatur, IL; Herbert Richard Hall, Maywood, NE; Harold Mason Halliday, Cairo, IL; Jack Elmer Halsey, Des Moines, IA; Arthur Gloster Harral, Ft. Stockton, TX; Edward Thoedore Harris, West Frankfort, IL.

3rd Row, Left to Right: Arnold Norman Hellesmark, Livingston, MT; Larwence Clark Henderson, St. Paul, MN; Jerome Rex Henry, Fremont, NE; Alfred Hicks, Denver, CO; Richard Eugene Hobson, Akron, OH; Leo Thomas Hood, Fort Crook, NE; paul Winchester Howe, Kansas City, MO; Ralph Murray Kamman, Rapid City, SD; Harold Brice Kenney, Decatur, IL.

4th Row, Left to Right: Robert Kirk Kingsbury, Sioux city, IA; Courtney Bushrod Kingsland, Amarillo, TX; Arthur Kliwer, Abilene, KS; George Knittel, Panhandle, Tx; Henry Bremerman Krohn, Houston, TX; James Burch Kuhns, Ponca city, OK; John Croom Lattimore, OKC, OK; Dan Turner Laughter, Abilene, TX; James Henry McQueeny, Chicago, IL.

5th Row, Left to Right: James Harvey McVey, Cleveland Heights, OH; James West Matthews, Decatur, IL; William John Mayhall, OKC, OK; Thomas Bailey Meeker, Britton, OK; Walter Leslie Mendenhall, Cambridge, Mass; Paul Chsley Murphey, Waco, TX; Rafael Nieto, Celaya, Gto, Mexico; John Alfred Nixon, Omaha, NE; Jesse Ulin Overall, Dyersburg, TN.

Bottom Row, Left to Right: Charles Merritt Pearce, OKC< OK; Ricahrd Leight Persons, Quincy, IL; Herman Randle, Manchester, IA; Henry Keane Robert, Springfield, IL; Neil Raph Rowe, Wooster, OH; Thomas Pitkin Russell, Hayti, MO; William Milton Sale, Longview, TX; Harry Martin Secrest, Fort Smith, Ark; John Edward Sewing, St. Louis, MO.
View/Write Comments (count 0) | Receive updates (0 subscribers) | Unsubscribe
---
2nd Week In January 2009 Summary
Vol 11, Iss 52 During the second week of january 2009 we experienced a big, bright Full Moon that really lit up the whole San Juan snowy mountains. AND ? Our NWTechie was incorporating a random selection of our photos into each OkieLegacy Issue that change time you view the page. You might have notice these larger photos around the OkieLegacy Statistics area and business cards Ads submitted for viewing on down the page.

It was the 2nd week of January 2009 we connected with a descendant of Floyd H. Huddelston that our Uncle Robert "Bob" McGill had gone to school with at the Kemper Military school in Boonesville, Missouri in 1938 and also played in a dance swing band in third class tourist aboard the Ship Europa during the Summer of 1938 to Europe. It is always fascinating to hear from those connected through our ancestors. Thanks to everyone for letting us come into your life through the OkieLegacy eZine.

We also learned a little bit about the Wichita Mountains of SW Oklahoma ? where the Pawnee moved to Oklahoma in 1876 and were given a reservation in the North ridge of hills in southwestern Oklahoma called the Wichita Mountains.

Fletcher, Oklahoma was another northeastern Comanche county, in Oklahoma that we learned a little bit about. The post office was established, May 10, 1902. Named for Fletcher Dodge, local early day resident. According to Wikipedia, Fletcher is a town in Comanche County, Oklahoma with a population that was 1.022 at the 2000 census. It is included in the Lawton, Oklahoma Metropolitan Statistical area.

We also learned that Indian Territory was home to other Native American tribes, including Apache, Choctaw and Comanche. These tribes had to share their land and resources with the Cherokee. The white encroachment on Indian lands was spreading further and further West. Sam and Belle Starr also settled in the Briartown area, naming their homestead Younger's Bend. Younger's Bend became a haven for outlaws. Ironically, Frank West lived only a few miles away. Sam and Belle were arrested in 1882 when deputy marshalls found stolen horses in their stables. Sam was arrested on many counts of hold-ups of US Mail hacks and post offices. Belle was indicted for Larceny in stealing horses and robbery. She often wore mens clothing in her raids and was dubbed "gang leader" after a robbery in Cache of horses and about $40.

Speaking of the legendary Belle Starr (1848-1889, Belle developed a reputation as a "Bandit Queen" of the Old West. Belle was an expert rider who could handle a gun and was associated with famous outlaws such as Frank and Jesse James. Many accounts of her life conatind more legend than fact, though. She has been credited with a long list of spectacular crimes, but it appears she did little more than steal some horses and harbor some fugitive friends.

Belle Starr was born as Myra Maybelle Shirley on February 5, 1848, in Jasper County, Missouri, near Carthage. Her parents were John Shirley and Eliza (Pennington) Shirley, who called their daughter Belle. John Shirley, married three times, was the black sheep of an affluent Virginia family. Pennington, his third wife, came from the Hatfield family of the famous Hatfield-McCoy feud. In 1839, Shirley moved his family to southwest Missouri, where he became wealthy raising wheat, corn, horses, and livestock.

This last year (2009), the 2nd week of January, we wrote about the James Gangs $2 million Gold treasure hidden in Oklahoma and wondered if anyone had ever discovered it in the Wichita Mountains of South west Oklahoma near Old Fort Sill and the Keechi Hills. The source of the fabled gold and its final place of burial have often varied. BUT ? all stories lead to the Wichita Mountains and most often begin with the year 1876. As the story goes, the most wanted outlaw of the West, Jesse Woodson James, painfully pounded the letters into an old brass kettle: "This, the 5th day of March 1876, in the year of our Lord ...."

Each member of the infamous outlaw band was bound to secrecy about a golden treasure's hiding place. Jesse carefully chiseled the names of twelve deadly outlaws below the contract and then buried the brass bucket and its secret. The place was Tarbone Mountain, a roughhewn granite colossus easily approached from the north in the Wichita Mountains, in what was then Indian Territory. Jesse worked out a clever plan that no other outlaw of his time had devised. It had all resulted from the winter before.

It all began somewhere in northern Chihuahua, Mexico, not far from the southwestern settlement of El Paso, Texas, when Jesse and Frank and ten members of their gang surprised a detail of Mexican guardsmen driving eighteen burros transporting gold bullion. The brigands led the heavily laden pack-train across the Rio Grande and over the plains of central Texas.

Their destination was Indian Territory, a haven for wanted men and a region already familiar to both Jesse and Frank. When the outlaws entered the Wichitas, they were greeted by a severe winter blizzard. For three and a half days they traveled with little rest through snow almost a foot deep. Jesse and his men were cold and weary, and Jesse knew that the gold had to be buried. It was now obvious that their exhausted animals could travel little farther.

It was after almost three hours of slow, arduous travel east of Cache Creek, that Jesse and Frank agreed to bury the golden cargo and burn the packsaddles to warm their chilled bodies.

At the head of a small arroyo the gang of outlaws untied the packs from the burros and watched as the gold bars sank into the snow-covered ravine. After concealing the Mexican treasure with rocks and boulders and kicking the half frozen earth off the side of the arroyo with their boot heels, the horsemen gathered round the packsaddles and set them afire. One lame burro was shot, while the others were set free to wander.

Jesse made two final but lasting signs to the gold. A burro shoe nailed into the bank of a tree served as one. Into a nearby cottonwood Jesse emptied both his six shooters for a second mark. They would do until the day when the men could return to plant their gold in a much safer place. March 5, 1876 Jesse had made up his mind about what to do with part of the two million dollars, plus other proceeds the gunmen had gathered while terrorizing banks and trains from Missouri to Mexico.

As Jesse carved the contract into the brass kettle, he thought to himself that neither he nor any of his cohorts would ever want for money ... If and when they were taken by the law. But if anyone violated the "brass bucket pact," that fellow would personally answer to him. With that, Jesse James placed the brass bucket beneath a rock ledge on the side of Tarbone Mountain.

The brass bucket with its secret treasure code was never to be retrieved by Jesse or any of his men, even though several would try years later. Only six months later almost to the day, the notorious James gang was shot up and dispersed while attempting to rob the Northfield, Minnesota bank. Jesse and Frank were among the few to escape.

Finally, on April 3, 1882, Jesse James met his death by the hand of a "coward" in St. Joseph, Missouri. Frank later stood trial and was acquitted of his past crimes. Frank had not forgotten the hidden gold down in Indian Territory. He was waiting only for the right time to return as inconspicuously as possible.

Frank James in 1898, before he returned to his Oklahoma haunts to settle on a farm near Fletcher. Frank spent most of the remaining years of his life seeking outlaw gold in the Wichitas and the nearby Keechi Hills.

We also learned about the Cole younger search for the Brass Bucket that Jesse James left behind in the Wichita mountains of SW Oklahoma. His name would also appear on the "brass bucket contract." Cole Younger had just completed a twenty-five year sentence for his part in the Northfield, Minnesota bank robbery. When he was released from prison, Cole made tracks for the Wichitas.

In December 1903, Younger was in Lawton, Oklahoma, a frontier boom town barely two years old. Cole was not particular about what he told the press. One paper reported in November that Younger was in Ardmore visiting a relative and planned to visit Dallas and the Texas Panhandle and then return home to Lee's Summit, Missouri about December 1st.

BUT... Cole changed his mind. On December 1st 1903 he was in Lawton. The papers reported, "Cole Younger was in the city Friday and Saturday with a view to locating there. Reports have it that he will go into the newspaper business. He was given a reception by the citizens and is pleased with the city." How long Cole Younger visited is not known, but apparently Frank was not convinced that he found much.

Then there was the meeting of Billy Royce and Frank James. The two men had met almost forty years before. Yet neither had forgotten that accidental run-in so many miles away up in Montana Territory. It was early in the 1870's, remembered Royce, that Frank, Jesse, and five others were making tracks between them and the law. After a long day's ride the brothers ran into a group of buffalo hunters.

One long-haired sharpshooter recognized Frank and called out to him. Frank placed his hand close to his six shooter and then almost instantly recognized the hunter as William F. "Buffalo Bill" Cody himself. That evening they camped together. Cody's cooks served a hot meal of venison and wild turkey. One of the cooks was Billy Royce, then only a tousled haired youth of fourteen. Billy was the son of an Irishman who had served as a doorkeeper at the White house when Lincoln was president.

Billy Royce homesteaded in the Keechi Hills, the very place where Frank and Jesse had hidden part of their booty and holed up on more occasions than Frank cared to recall.

As to James retrieving the caches of gold, the story goes that from the time Frank retrieved the cache of gold, Royce became a persistent treasure hunter of the Keechi Hills. In a newspaper article about him in 1932 the eighty-year-old settler reported that within only a few days a niece of Frank James and some male companions were due to arrive on a mysterious hunt.

What they found has never been learned, but the story of Frank's niece turns up time and again in as many locations over the Wichita Mountains of what she was seeking. She kept to herself and divulged very little with people she talked to. There was at least one other cache that Frank removed successfully from its secret depository, and there are stories of still others. There is no question that Frank James dug up two caches hidden near the Wichita Mountains. There were rumors that he recovered more, each carefully guarded by landmarks known only to him or Jesse.

Even though Frank recovered a portion of the outlaw loot, he did not retrieve it all, because he did not find the "brass bucket with the outlaw contract" carved into it. Nor did he find the "iron teapot," which he must have walked over a thousand times in the Keechi Hills while searching Belle Hedlund's and Billy Royce's farms.

When Frank James finally left his Oklahoma farm about 1914 (a year before he died), he must have thought often of the brass bucket pact and the two million dollars in gold hidden during that bitter winter of 1875, so many years before. Perhaps it was his niece who came back to find them, with Frank's final instructions. She was no more successful than Frank James, though. It was after 30 years had passed since the border gold was hidden during the bitter winter of 1876, when Frank James made known his return this old stomping grounds of SW Oklahoma.

In 1907 he and his wife, Ann, settled two miles north of Fletcher on a 160 acre farm between the Wichita Mountains and the Keechi Hills, the latter where Frank was later to dig up a least six thousand dollars of the outlaw loot.

Years before, Frank had hung up his guns for a final time. He was no longer the surly, gentlemanly, outlaw whom so many had read about. At sixty-four and balding, he remained soft spoken and took no pleasure in recounting the past. His objectives he now kept mainly to himself. The news of Frank's purchase of the farm spread fast when papers announced the story in November, 1907. Frank was then building his new home and planned to move in during the spring. Frank was also busy helping celebrate Oklahoma's statehood.

On Frank's sandy farm land he built a frame house, worked a plot of ground, and planted a grove of peach trees. Just before his mother died, in February, 1911, she visited Frank and his wife at their farm. She died in Oklahoma City while en route back to Missouri. It was reported by old timers that say Frank James wore out six horses riding the trails, searching for landmarks to put him back on the road to the golden treasure. But the country had now been fenced and plowed. The Kiowa-Comanche-Apache Reservation had been opened to white settlement in August, 1901. Miners had swarmed into the Wichita Mountains to seek their own fortunes. Towns had grown up overnight, and new roads were traveled. The old trails were not called by the names the outlaws had known them. Frank hoped that the old landmarks would help him recall his secluded haunts of thirty years before, the treasure code Jesse had laid down, and the brass bucket somewhere on Tarbone Mountain.

It was one of Frank's day after day rides that attracted the eye of Dr. L. C. Knee, a highly respected physician of early Lawton. While paying house calls near Apache, Dr. Knee observed every day for a week or more that Frank had ridden to the top of a hill about four miles east of Apache. There he sat astride his mount, facing south, staring as if in a kind of trance.

One day, out of curiosity, Dr. Knee drove his buggy up to Frank James. After the usual comments about the weather, Dr. Knee dismissed his manners and said, "I don't want to seem inquisitive, Frank, but why do you sit in that saddle up here for so long, just staring at the bald prairie? What is it you're looking for?"

It was not known what Frank replied, but it was not many weeks later that the doctor and two local men arrived with teams and fresno scrapers and dug out a portion of a small canyon. Their search yielded the proper clues, for they had not dug long when they uncovered the skeleton of a burro, and not far away they found a burro shoe firmly embedded in a large tree. But it was their last clue, and after spending more than four thousand dollars, Dr. Knee gave up in disgust.

Frank had once explained that the eighteen burros had traveled so slowly after they forded Cache Creek in the winter of 1875 that it would take him only about a fifteen minute ride on a good horse to cover the same distance to where they had unloaded the heavy golden cargo.

Dr. Knee may have known the old Fort Sill stage driver, Holsey Green Bennett, who one winter day early in 1876 spotted seventeen burros grazing at the base of Mount Scott. Bennett had thought it strange, for o military animals were allowed to roam that far from the fort, and the animals he saw carried no government brand.

One piece of property just east of Cement in the Keechi Hills, attracted Frank James. It was the farm of a teacher, Mrs. Belle Hedlund. In 1907, Frank inquired about an old spring and some symbols etched on a rock and asked Mrs. Hedlund whether he could look over her land.

The schoolteacher was curious and walked along with the stranger (Frank James) as he poked an iron rod into the ground in an inviting spot. She showed him the only spring she knew about, at the foot of a lone knoll with a natural cave through one side, known as Buzzard Roost.

Frank pointing to a nearby rock as he bent down to reach under a stone and pulled out a rusted spoon, declared, "If this is the right place, this was Jesse's Kitchen."

As Frank continued his search, he confided in Mrs. Hedlund that he was seeking sixty-four thousand dollars that Jesse had taken during a robbery at Independence, Missouri.

Jesse had carved a map and directions on a large rock and turned it upside down. That rock Frank believed was on Mrs. Hedlund's farm, near the spring, where the outlaws had camped on many an occasion. Frank revealed that Jesse drew a similar map on his boot, later transferred it to paper, and gave it to his mother.

Some time later Frank found some of the markings he was seeking. At the foot of "Buzzard Roost" he found the carving of a pair of crossed rifles cut deeply into a rock. The barrel of one pointed east to an aged tree, on which were etched the letters "M. O. O." and below, the letter "Y." Beneath the carvings was a "mule shoe nailed into a blaze."

Not far from that tree Frank unearthed a copper kettle with a crock cover containing six thousand dollars -- or so he said. One old settler who was sure that Frank's claim was true was Uncle Billy Royce, who owned the farm adjacent to Mrs. Hedlund's. Billy Royce knew that the kettle of loot was not all that Frank was seeking. One day while Frank was in Cement buying supplies, Royce first spotted him. He took a double look and then hollered out, "Hello, Frank!" The old outlaw wheeled around, staring, as if trying to remember where he had seen him before.

To read more about the treasure trail beginnings, you can go to our "Archives" for Vol. 11, January 2009, click on the second issue of Volume 11.
View/Write Comments (count 0) | Receive updates (0 subscribers) | Unsubscribe
---
Kemper Alumni...
Vol 7, Iss 26 "We love Uncle Bob's Legacy-! "I would like to put his excerpts on our web Page - Would that be alright? Thanks." -- Mark Farrell, Secretary Kemper Military School Alumni Association - Email: tashuntka@hotmail.com
Kemper Alumni - this one is where I'll put links, and the Kemper story.
Kemper Alumni Forum - Here's our Current messageboard.
Kemper1844 - An old one that might be helpful as well. View/Write Comments (count 0) | Receive updates (0 subscribers) | Unsubscribe
---
KMS: Ross
Vol 8, Iss 47 Calling all Kemper Military School (KMS) "Fellow Old Boys"... "I received this from Jim Ewing, and I know that I have heard stories from some of you about this man. I don't know exactly what years he was there, so I am sending this out on the 'Mass Mailing' list. He is sure that hearing from some of you would be a real boost to his moral." -- Ray Kendeigh, KMS 77-80

"In about 1944, there was a room called Room M at Kemper. This was were the secretaries were assigned to reproduce Mimeograph reports, tests, etc. for all of Kemper. I was a young Cadet at the time and this is where I met Carol Burk, the wife of Ross Burk who was away in the Army during World War II. I guess she felt sorry for me (a little kid a long way from Texas) and invited me to Sunday dinner several times. When Ross returned from the war, we all became good friends and have maintained that friendship even to this day. Carol passed away several years ago. Ross was in the National Guard in Boonville and at some point joined Kemper in the Commandant's Office. Many of the Cadets in later years remember him as "Rubber Soles" Burk or something like that. Well, I talked to Ross earlier this week. He has moved to Sugar Land, Texas near where his daughter lives. He is not in the best of health. I hope that any of you that remember Ross would send him an e-mail. I know he would appreciate it." -- submitted by Ray Kendeigh & Jim Ewing of KMS - Ross Burke's Email: rossburk@windstream.net
View/Write Comments (count 0) | Receive updates (0 subscribers) | Unsubscribe
---
Welcome Old Boys of Kemper
Vol 7, Iss 8 This is for all those who might have had a family member that attended Kemper Military school, in Boonville, Missouri, in 1937. It's a Football Homecoming program for the 29th Annual Grid Contest, between Wentworth Military Academy Red Dragons vs. Kemper Military School Yellowjackets, that was held Thursday, November 25, 1937, Kemper Field - Boonville, Missouri, 2:00P.M. To see more of the '37 Homecoming Football Program - Click HERE. It is a large pdf file and you will need Adobe Acrobat Reader to view it. Robert McGill attended Kemper during '37 and '38 before he went on to Kentucky University. View/Write Comments (count 0) | Receive updates (0 subscribers) | Unsubscribe
---
Kemper Military Memories...
Vol 8, Iss 26 "Kemper Military - My uncle James M. Haver, went to KMS after Bob. From 45-50. I attended from 68-72. I found his journal inspiring." -- M.A. Haver (KMS 68-72) - EMAIL: mahaver5@cox.net
View/Write Comments (count 0) | Receive updates (0 subscribers) | Unsubscribe
---
OkieLegacy Guestbook
Vol 8, Iss 41 10/13/2006 - Robert Lee McGill - Email: bogey76@verizon.net -- "Interesting my name is Robert Lee McGill and have an old brother named Gene (Merle Eugene McGill). Small world."

10/12/2006 - Scott Bumgarner - Email: sooner1944@verizon.net -- "Love anything about the great state of Oklahoma, the state of my birth."

10/12/2006 - DeWayne Shepard - Email: dshepard@aisd.net -- "Beautiful land... I recently met a beautiful young lady from Osage. I was fascinated with her heritage (half Osage Indian) and started researching her homeland online when I stumbled onto this website... I read so many fascinating stories and saw so many beautiful pictures of the land, I can't wait to come to Osage County to do some bicycle touring. Who knows, maybe I'll be able to bring that beautiful young lady with me."

10/9/2006 - Ben Beard - Email: brbeard@comcast.net -- "Kemper Military School Alumni lunch... Attention all Cadets, We will be holding our Kemper Alumni lunch on the 16th of October 2006 in Salem, Oregon. We will be lunching at the Olive Garden. Off I-5 (exit 256) go east on Market about two stop lights and turn right/south, the Olive Garden will be on left hand side about one to two blocks. The wives are always welcome, bring them along so they can enjoy the crowd of Cadets. If there are any other Cadets that you know of in the area, please feel free to invite them and there wifes. From the Alumni Director of Oregon. Ben Beard (503) 6125-5047

10/9/2006 - Keith Grady - Email: kgrady5@cox.net -- "Appreciate those who combined this historical information. Thanks for keeping history alive!"

10/5/2006 - Lance Ingham -- "Texhoma Memories... So many fond memories in my younger years in and around Texhoma. Hard to believe family finally moved away after a century."

10/4/2006 - Ace Johnson - Email: acej39@yahoo.com -- "Very nice website. I have not seen one like it. I attended Kemper 54-57."

9/29/2006 - Deb Groves - Email: tgroves@bresnan.net -- "It was great to find family information on your site. Thanks."
View/Write Comments (count 0) | Receive updates (0 subscribers) | Unsubscribe
---
Old Boys - Kemper Military School
Vol 8, Iss 35 "Hello to all my fellow Old Boys. I have recently assumed the running, and maintenance of the Alumni Website (Kemper Military School). First I want to thank Mark Farrell KMS 81-83, He has ran this site for several years, and as I learned to become "Computer Literate" the hard way. Mark Thanks. I have spent the last week up dating, and up grading the site. It is now easier to access all Kemper related sites. We have a section on how to access and retrieve school and ROTC transcripts. Pictures, ETC... Also over the period of several years I have provided a newsletter. Due mainly to the volume, and the eventual size. It became impossible to send it via the internet, but need not fear. ECHO Company now has a downloadable newsletter. It is a very professionally done paper, and contains allot more information then I could have put out from my home. Their site can also be access from the Alumni Site.Please check out this site. It is for your free use, and contains, and will contain important information in the coming years. I hope that all will enjoy, and contribute to this site. Thank You." -- Ray Kendeigh, KMS 77-80 & KMS Webmaster (Cool Title)
View/Write Comments (count 0) | Receive updates (0 subscribers) | Unsubscribe
---
Kemper Military Alumni...
Vol 6, Iss 30 "My name is Raymond Kendeigh. I attended Kemper Military in 1977-80. Since then our school has been forced to close it's doors. The Alumni group has started a newsletter, and will be starting a Web Site. I was wondering if I could have permission to copy the list of names of WWII Alumni, and also the photo's for future use on the KMS website. Since the closing of our school, and the auctioning off of items, access to photographs and information is limited. Thank you for your time, and any help would be appreciated. I have attached a copy of our latest newsletter. It's not much but we are just getting started " -- Ray Kendeigh, KMS 77-80 View/Write Comments (count 0) | Receive updates (0 subscribers) | Unsubscribe
---
Kemper Military Alum - 1910
Vol 8, Iss 43 "Hello fellow Old Boys of Kemper Military School. If any of you can be of assistance. I have a letter from a KMS Alumni family member. He is interested in find out some information about his Grandfather. If you can be of any help in identifying anyone in the pictures. Please respond to: Eden Weber at the EMAIL: edenweber@aol.com. I can only make out that the pictures appear to have been taken on the A Barracks steps. The staff member and other cadets are unknown." -- Ray, KMS 77-80

"Here are Some old photos I have from Kemper. I?m looking for someone who may be able to identify these three photos belonging to my grandfather, Raymond A. Weber, who attended Kemper (ca. 1910). I?d also like to find out anything possible about my grandfather?s time at Kemper. I?ve already contacted the University of Missouri regarding his transcript (I?m not even sure how long he attended or if he graduated), but would love additional info on my grandfather?s tenure. I?ve included the photos and a photo of my grandfather (ca. 1917). He died in 1950, long before I was born, so I hardly know anything about him. Thank you." -- Eden Weber - EMAIL: edenweber@aol.com
View/Write Comments (count 0)
| Receive updates (0 subscribers) | Unsubscribe
---
2nd Papoose Bowl (1947)
Vol 10, Iss 51 The 2nd Papoose Bowl game was between Northeastern A&M of Miami, Oklahoma & Wentworth Military Academy of Kansas. The Oklahoman, dated Nov. 29, 1947, page 26, headlines read: "Papoose Bowl Elevens Win" ... "Both teams scheduled to appear in Oklahoma City's Papoose bowl game December 6 rolled to easy victories Thursday in their final warmups as Northeastern Oklahoma A&M of Miami, Oklahoma, pounded Joplin, Missouri, junior college, 40-0, at Miami, and Wentworth Military Academy trounced Kemper, 47-0, at Lexington, Missouri.

"Northeastern scored in every period, racing to its eighth triumph in 11 starts. End Buck Victor caught touchdown passes from Bill Watkins and Frank Mobra to lead the scoring, and the tough Norsemen defense never allowed the Joplin attack to carry past the 20-yard line.

"Wentworth, playing before a homecoming crowd, won its traditional 'Little Army-Navy' game from Kemper Military academy, a game that has become an annual Thanksgiving day classic for the two schools.

"Halfback Booby Price sparked the Red Dragons' assault with three tallies, while Wesley Hultquist scored twice and fullback Bobby Gadt and end Verlyn Roskam chipped in one each.

"If comparative scores are any indication, the Papoose Bowl should have two evenly matched teams for its second annual game. Last week, Wentworth defeated Joplin, 47-7, for the same 40-point advantage piled up by Northeastern Thursday. -- NW Okie
View/Write Comments (count 0) | Receive updates (0 subscribers) | Unsubscribe
---
Kemper Military Alumni...
Vol 6, Iss 25 "I am an 'Old Boy.' My brother and uncle attended Kemper Military School in 1944-46, and myself in 1968-72. Alot of us, as well as your family, have very deep roots to Kemper. Its very sad all that history is no longer with us, as the school was sold a few years ago. Sincerely." -- Michael A. Haver, Phoenix, Arizona - Email: mahaver5@cox.net
View/Write Comments (count 0) | Receive updates (0 subscribers) | Unsubscribe
---
nwOKTechie
Create Your Badge