---
Short Answer: Enid General Hospital is now Integris Bass Baptist Health Center, 600 S [more]...
~Al Weigand regarding Okie's story from Vol. 10 Iss. 32 titled UNTITLED
What's with that ornery Sadie? No thanks from her?
~SBW regarding Okie's story from Vol. 8 Iss. 35 titled UNTITLED
---
What's Happening...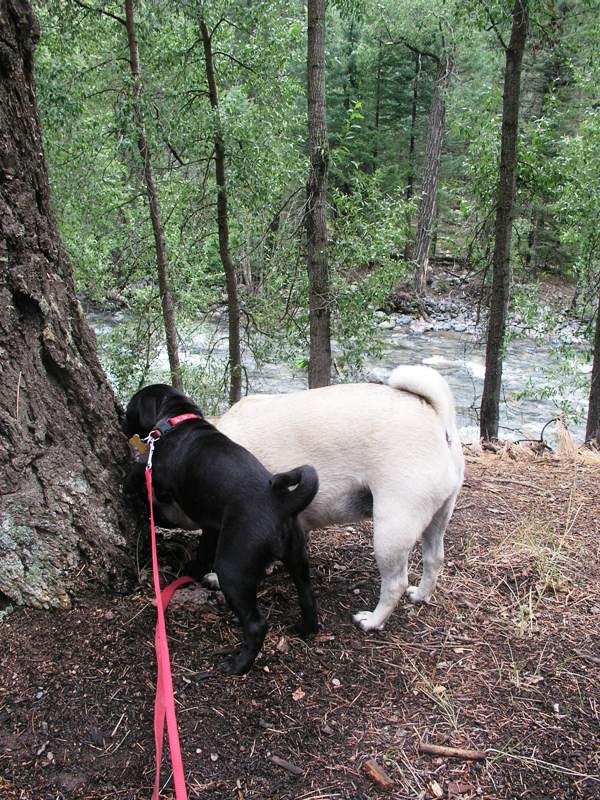 From finding a shady spot on Main Street in Durango -- to the San Juan mountain streams, creeks & Vallecito River at the far North end of the Vallecito Reservoir, these Pug Sisters (Duchess & Sadie) did some resting, sniffing and exploring in SW Colorado last weekend.

Does anyone out there have one of the Woods County Atlas Books (1906) that was published a few years back. One of our readers is very willing to pay the cost of the book and shipping. It has lands descriptions and information on her husband's family (John STUART and John Irve HAMILTON). Her Email is located in "Oakie's Mailbag" below. Thanks!

There is also some information concerning the latest Gray/Mitchell family reunion that was held at the farm home of the former Everett and May Carberry.

Have you heard about the Britton-Oklahoma City merger that took place sometime in the 1950s? There are some other folks who are wondering how it came about and why the folks voted the way they did? Were the Older citizens encouraged to vote... or NOT? Was it in the best interest of Britton? Did Britton lose its identity?

Also... we have heard this week from a descendant of the STUTZ family that settled near Ames, Cimarron and Waukomis, Oklahoma.

Have you ever run across a heavy, enameled "well bucket/pail" made by the Wrought Iron Range Company, St. Louis, Missouri? One of our reader has one FOR SALE!

Does anyone out there remember the Deluxe Motel in Alva, Oklahoma? We heard from a new subscriber, Gary Tanner, whose family used to own it. I'm still trying to place where exactly it was located. I remember the name, but not the location.

As you can see we did NOT make it back to NW Oklahoma and Freedom for the Rodeo and Cowhand Reunion. We wish we could be there to catch the big Saturday reunion and afternoon staged bank robbery & shootout performed by the Freedom citizens, BUT... it wasn't in the cards this week. Maybe someone out there reading this will get some Old Cowhand, shootout and Rodeo pictures -- send our way to share with you all out there. (Hint! Hint!) View/Write Comments (count 1) | Receive updates (0 subscribers) | Unsubscribe
---
Weaselskin's Gold Mine...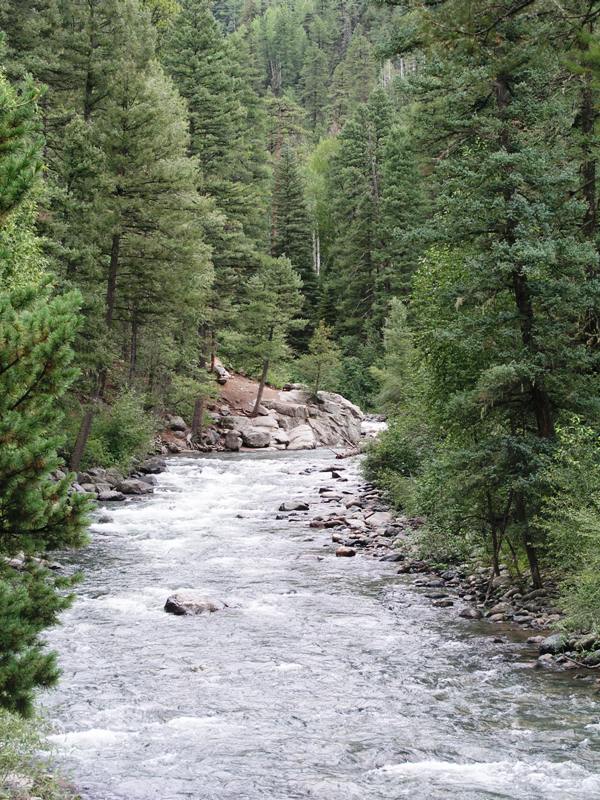 This photo is a picture of Vallecito River looking North, in the San Juan National Forest at the North end of Vallecito in the campground.

Somewhere located where Weaselskin Creek empties into Vallecito River, just North of the present Vallecito campground, to the North of the lake, there is purportedly a much talked about legendary Weaselskin Gold mine that belonged to Old (Jim) Weaselskin (a Ute Indian born 1850) & his extended family. Weaselskin acquired his name from numerous weasel skins he always wore.

Summers would find the Weaselskin family packing and beginning their long hike up the steep trail to Endlich Mesa (high mountain mesa that sets above and to the west of Vallecito River Valley). Endlich Mesa was dotted with tiny lakes, rock formations, random patches of trees and located above the tree line. The white men that settled Vallecito River Valley named one of Endlich Mesa's swift running streams Weaselskin Creek in honor of the Old Indian who used this location as a summer pasture for his horses for many years.

Besides a creek and bridge named after him, Weaselskin's claim to fame was the legendary Weaselskin Gold Mine. The Gold mine was said to have nuggets by the handfuls. Exactly where it was located, we haven't found it ... Yet! BUT... many have tried!

As the Story has been told... On their trip to and from the mountains, the Weaselskins & extended Ute Indian family became well acquainted with the few settlers who lived along the way. They got to know the Charlie Waldner family who owned a ranch far up the Florida (Flo-re-dah) River above the present Lemon Reservoir just over the mountain to the west of Vallecito. Weaselskin often stopped there on his journeys to Durango, and the Waldners fed him a meal in order to cultivate his friendship. At this time the Indians still instilled a certain amount of fear in the settlers, and they figured it was safer to be on good terms with them.

The visits became a routine. As Weaselskin made his way from his mountain camp to Durango, he would stop by the Waldner ranch and have a meal. As he prepared to leave, he would give them a gold nugget to repay them for their kindness.

After a time, Mr. Waldner started thinking that he wasn't being fair, taking all these nuggets for just a few meals. He might cause Weaselskin to run out of his best trading commondity. On the next visit, when Weaselskin tried to pay, Waldner offered to give some of the gold back, but Weaselskin refused. He was happy with the arrangement. The white man's food was worth every nugget.

Weaselskin and some of his companions ventured into a store in Durango one day and found that the owner of the store had just boiled up a pan of wieners. The proprietor generously handed out a number of them to the eager group, and then was quite surprised when they gave him gold nuggets to repay him for the kindness he had shown them.

For many years the Utes continued to come up to their favorite hunting and herb-gathering spot, but after the white settlers started to settle on the Los Pinos and Vallecito Rivers, things started changing. It became increasingly difficult to get onto their choicest grounds and the Utes graduallly lost their freedom to roam at will. Old Weaselskin died during the influenza epidemic in 1918 while living on his land allotment near the Sunnyside Bridge on the Animas River. This was the bridge that was later re-named "Weaselskin Bridge" in his honor. [Story taken from Vallecito Country, pg. 22, written by Dottie Warlick.]

Next week we will get into some history concerning the Vallecito Dam. View/Write Comments (count 2) | Receive updates (0 subscribers) | Unsubscribe
---
The Okie Legacy Mailing List...
We are trying something NEW this week! If you haven't already noticed the NEW Links on the front-page of The Okie Legacy eZine, under Oakie Highlignts at the bottom (under "eMail Notices"), there are two links: Receive Email Updates and Unsubscribe Email Updates.

For those of you who have subscribed and are already on our mailing, we have input your Email addresses into our Subscribe database. You do NOT need to do anything unless you want to Unsubscribe!

For those of you who sould like to Unsubscribe (using the Email address you used to subscribe), you can NOW Click the "Unsubscribe Email Updates" to Remove your Email from the mailing list.

Each Saturday when a NEW edition is published, our mailing list database will automatically send out an email notification with a link to the next edition of The Okie Legacy. All this will be done without using our email software program that we have been using for the past seven years.

This is the first weekend we are trying this. So... we would like to hear from you (by way of Email or Comments) if you received your copy of this weekend edition. We need your input to see if it is working the way that our oldest son designed it to work.

Also... Let us know (Good or Bad) what you think of our NEW format & updated database! Thanks for your input, patience and understanding. We couldn't do this without you! We love hearing from ALL of you out there! View/Write Comments (count 2) | Receive updates (0 subscribers) | Unsubscribe
---
California Anna's & Ruby Throats (hummingbirds)...
"I have been receiving the letter for a couple weeks now and just want to say thank you. It's a joy to read the various entries sent in by the readers. Since you have broached the subject of Hummingbirds, and seem to have struck a chord in the heart of one of your Atlanta readers, I suppose that I had better enter one from the state of California. Just so y'all will know, we are not all idiots who live here.

"The majority of the loud mouths live down in the lower section of the state with a few in and around the large cities 400 miles north of L.A. and Thank God they haven't chased the Hummingbirds away. We have Anna's and Ruby Throats who play tag in the evenings. I have no way of making movies or digital photos yet. But perhaps soon I'll be able to send some pictures of the little feathered terrors. Between them and the Cat birds or Mockingbirds, my cats are traumatized. Thanks again for your great letter." -- L. Ray Baum View/Write Comments (count 1) | Receive updates (0 subscribers) | Unsubscribe
---
GRAY-MITCHELL Family Reunion...
"This might be of interest to some people around the Freedom area that knows the CABERRYs. The Annual GRAY-MITCHELL Family Reunion was held at the farm home of former Everett and Mary CARBERRY by there children and grandchildren.

Warren CARBERRY, San Antonio, TX; Austin and Carol CARBERRY, Sparks, OK; Twila BARRETT, Stamford, TX; Don and Sandra CAIN, Meeker, OK; Sheryl RUDOLPH and Kathryn, Midwest City, OK; Austin CARBERRY Jr. and Seth, Meeker, OK; Cathy MITCHELL and Devon, Stamford, TX. Randy and Sarah SWENSON and Waylon, Alva, OK.

The Verne GRAY family represented by Ellen GRAY SIZEMORE, Cordell, OK and Phil and Paula JOHNSON, Burns Flat, OK.

Those representing the Dave and Alice MICHELL SULLIVAN family were Deloris HATCHER and Zella Rae WAREHIME, Evans, CO. Harold and Idonna FALK, Greeley, CO. Claude and Irene LONG, Bartlesville, OK.

From the Earl and Mamie MITCHELL GRAY famly, Harold and Etha BENSON, Bennie and Kelly BENSON, Alva, OK; Esten GRAY, Fultom, MO. Leora HOLLAND, OKC. David WOMACK and Vickie SMITH, Choctaw, OK; Terry and Trina PRATZ, Edmond, OK.

The George and Nellie MITCHELL GRAY family was represented by, Reta Jackson, Alva; Neta KIMBRELL, Capron; Oneal and Joy GRAY, Medford, OK; Olen and Joy GRAY, Capron; Nellie O HILL, Adran, MO.; Duane and Sherrill JACKSON, Burlington, OK; Michael and Cara JACKSON, Enid, OK; Evan JACKSON, Weatherford, OK; Rich and Pam SCHMIDT, N.Newton, KS; Mark GRAY and Andrew, Alva; Delbert and Kari GRAY, Cyndy and Jake, Tonkawa, OK; Nancy CAPENTER, Blake and Mason, HALSTEAD, KS; Steven GRAY, OKC.

From the Ted and Addie MITCHELL JACKSON family were Glenda MARDOCK, Overland Park, KS; Wayne and Barbara JACKSON, Show Low, AZ; Gene and Deanna JACKSON, Alva; Lois GUillory, Johnstown, CO. Lavina MITCHELL Jackson of Ringwood OK.

The only remaining living descendant of the Joel Andrew and Florence Lavinia MITCHELL there with her family, Paul and Debbie JACKSON and Mary A. Ringwood, OK and Mary E JACKSON, Bartlesville, OK.

We were honored also to have with us Daughters of Lela MITCHELL REEDY, a sister of Grandpa MITCHELL. Martha REEDY, Lytle and Grace REEDY SMITH, both from Butler, MO. Other guests were Juanita BREWER and granddaughter Erika from Carthage, MO." -- Reta Jackson View/Write Comments (count 5) | Receive updates (0 subscribers) | Unsubscribe
---
Bombing of Boise City -- WWII...
"I was browsing the site and having a great time when I came across the mention of the bombing of the Boise City. When we lived in the Panhandle, we were told that and I just laughed, thinking they were just kidding. Apparently, the Air Force Base in Dalhart (TX) had a practice range for bombers and they guys got confused and thought the courthouse lights were the bombing practice range lights. (I hope they didn't bomb Switzerland thinking it was Germany!) I have done a few searches and it appears what we were told was accurate. Hope that my epistle of knowledge helps." -- Dulcie View/Write Comments (count 0) | Receive updates (0 subscribers) | Unsubscribe
---
Deluxe Motel & Tanner's...
"I'd like to subscribe please. I lived in Alva from 1950 - 1961, and graduated from Alva High in 1960. My family owned the Deluxe Motel in Alva, and I was a charter member of the Neuman's Boy's Choir. Thanks." -- Gary View/Write Comments (count 3) | Receive updates (0 subscribers) | Unsubscribe
---
Hummingbirds...
"Just had to send this picture along. Today we bought the fourth, 25# sack of sugar this season. The wife presently has 7 feeders, for a total of 32 feeding stations, and refills them about every other day. Early in the morning, and evenings are when they are the busiest, with times when all feeding stations are full, and some are waiting. I find it interesting that at these times everyone seems to get along much better, during the day we become very possessive." View/Write Comments (count 0) | Receive updates (0 subscribers) | Unsubscribe
---
Britton & OKC Merger...
"I would like to see more information on the merger of Britton, Oklahoma into Oklahoma City. I managed two theatres in Britton, 1949-1951. I always believed it was a big mistake Britton citizens made when they voted to be annexed. They really lost their identity when that merger happened.

Roy Kendrick, worked for me when I managed the theatres in , Britton from '49 to '51, it sure is a small world, I am the same one that is owned by the two pugs, Little Mack & Blackie. So hello again to You, Dutchess, Sadie, and last but not least Oakie." -- Homer Lee "Pug" Hawkins - email:homerhwk@aol.com View/Write Comments (count 3) | Receive updates (0 subscribers) | Unsubscribe
---
Ouray or the Highway...
"I know you will like this... Wiesbaden Hot Spring sounds really nice.
SOUTHWEST COLORADO - Ouray or the Highway
Crystalline waterfalls, multi-hued wildflowers, century-old mining ruins and 13,000-foot-tall ridges ribbed with snow come standard on Jeeping trails in the San Juan Mountains. Details: Ouray, Colo. View/Write Comments (count 0) | Receive updates (0 subscribers) | Unsubscribe
---
FOR SALE: Wrought Iron Range Item - Well Bucket/Pail...
"Hello! Todd Plough here. I recently came across a unique well bucket/pail very heavy and enameled, marked Wrought Iron Range Company, St. Louis, Missouri. So thought to do a little research and your site came up. I am going to sell this item, but wondered if anyone you know might want to bring it back home? I'll be happy to send pics." -- Todd Plough, Little Valley, New York - Email: tsawmill@localnet.com View/Write Comments (count 0) | Receive updates (0 subscribers) | Unsubscribe
---
Stutz of Ames, Oklahoma...
"My great-great-grandparents, Edward and Christina Stutz, are buried in Ames Cemetery along with their son Norman Stutz. My great-grandfather, William Stutz, lived in Cimarron Township with his family from 1908-1917, and two of his children were born in Ames. My grandfather, Willard Stutz, used to also live in Waukomis and play with his favorite cousin Elmer Stutz. I am also related to the Weibel family in Enid who used to own a dairy near by. I was wondering if anyone knows about Ames Methodist Church, because it is mentioned in Edward and Harry Stutz's obituaries." -- Katie Stutz-Soto - Email: shadykatie@netzero.com View/Write Comments (count 0) | Receive updates (0 subscribers) | Unsubscribe
---
Britton High School Reunion - 27 August 2005...
"The Britton Highschool Reunion is next weekend (from 4:30 to 8:30 P.M., Saturday, August 27 at the Hometown Buffet in NW Oklahoma City). Anyone who ever attended BHS (which closed its doors in 1950 to send its students to the NEW John Marshall High) will come together again to talk over old times and perhaps get some answers to long forgotten questions." View/Write Comments (count 0) | Receive updates (0 subscribers) | Unsubscribe
---
SW Colorado Gas At the Pumps...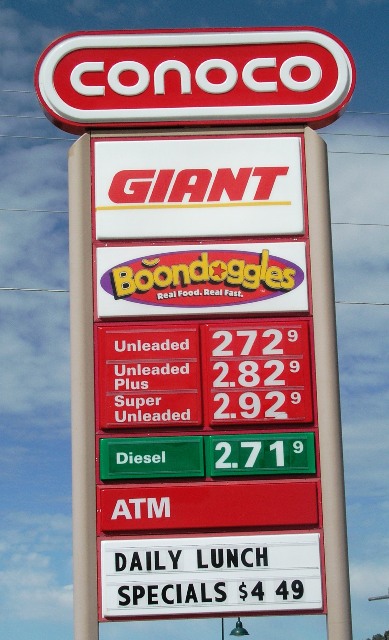 We are going to try to give you each week a glimpse of the Gas prices in SW Colorado. IF you take a digital photo and want to share Gas prices in your neck of the woods, please send us a JPG file to share with ALL our readers. Thanks!

Here's what Gas prices are in Bayfield, Colorado, at the Conoco (Giant) this week (per gallon):
Unleaded = $2.72
Unleaded Plus = $2.82
Super Unleaded = $2.92
Diesel = $2.71.
The Daily Lunch Special = $4.49 - I wonder if the Lunch Special was Per Gallon? View/Write Comments (count 1) | Receive updates (0 subscribers) | Unsubscribe
---
Hamilton's & 1906 Woods County Atlas...
"Sandi Olson from the Woods County, Waynoka Historical Society gave me your address in hopes that we could find one of the Woods County Atlas Books (1906) that was published a few years back. We are very willing to pay the cost of the book and shipping. It has lands descriptions and information on my husbands family ---- John Stuart and John Irve Hamilton's. His land patent was in dated on 1906 in Woods County.
I have been to your website, but didn't see anything about HAMILTON's in that era of time. Do you have any information on the HAMILTON's or know of anyone that would have pictures, news articles, any information would help?" -- Teresa Hamilton in Colorado - Email: dth43@msn.com View/Write Comments (count 1) | Receive updates (0 subscribers) | Unsubscribe
---
nwOKTechie
Create Your Badge