---
Uh-oh...I think I made a mistake...my site is okietourist.com, without that second s. Oops!
~Regina Garvie regarding Okie's story from Vol. 11 Iss. 36 titled UNTITLED
Johnny Standley was a member of the "Standley Family Players" growing up and in later years I had the pleasure of appearing on stage with his sister, Martha (Standley) Knott at the Mummer's Theatre (in the round) in Oklahoma City [more]...
~Roy Kendrick regarding Okie's story from Vol. 11 Iss. 29 titled UNTITLED
---
Duchess' Shadow...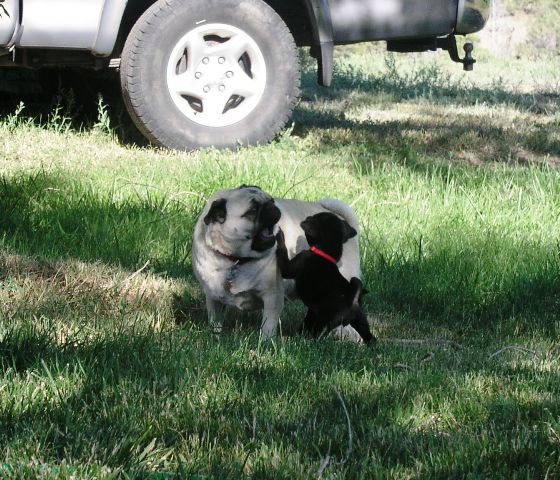 Ever since Oakie got back to SW Colorado Last Sunday I have had this black, little shadow following me around... wherever I go. AND... It was great to have Oakie back where she belongs. She's been cuddlin' me ever since she's been home.

Some have asked how Sadie got her name. Well! It seems that Oakie named her for a character in the movie, Funny Girl, (Sadie, Sadie, married lady). Oakie was thinking about naming this new little puppy after Oakie's Great-Grandmother Warwick (calling her Siggie B for short), BUT... that just didn't seem to fit. So... Sadie, Sadie slipped into the picture, because this little pug is a funny girl.

Sadie sure is an energetic little puppy weighing in at 3.5 LBS. At least that is what she weighed at the Vet's a couple of days ago when we took her in for her monthly checkup and shots.

I have been teaching Sadie to drink from the small irrigation and mountain streams here in SW Colorado. The other day I jumped over the narrow irrigation stream. My shadow tried the same thing. BUT... plopped right in the middle of the stream. Good thing it wasn't running swiftly downstream. Looks like I'm goin' have to teach this puppy how to jump, huh?

I do get some rest once in awhile and lots of love and cuddling from Oakie. I escape to the couch or chair, because Sadie can't quite leap that high ... yet! Sadie does listen to me when I try to tell her a few things... such as what toys, bones she can and can not play with. View/Write Comments (count 0) | Receive updates (0 subscribers) | Unsubscribe
---
Alva High Class of 66...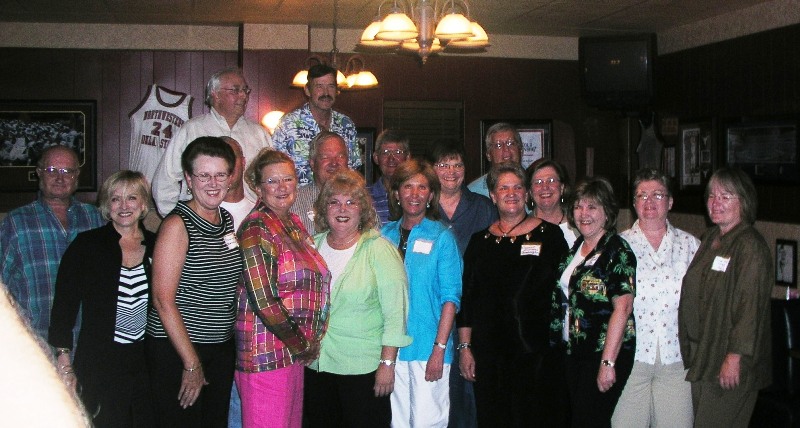 Last Saturday evening the '66 Classic Bugs & Bugettes of Alva High met at "Champs Bar & Grill" in Alva, Oklahoma with the Classes of '64 & '65 for their Class Reunions.

These are the Class of '66 that showed up for their 39th Reunion. There were some of the female's married names that have slipped our memories for now. BUT... if you can help us out, you could enlighten us and leave a comment below. Their maiden names are in parenthesis. Not pictured are Jan Little and Carolyn (Deinlein) Sample.
Front-row, left to right... Kathy (Kamas), Carolyn (Graves), Johnette (Scribner) Beagley, Linda (Hada) Murphy, Connie (Henderson) Woodson, Gwenell (Johnson), Linda (Leeper) Leist, Jean (McGuire), Linda (McGill) Wagner;
Second-row, left to right... Jim Scribner, Tom Blue, Allan Wilson, Hadley Hintergardt, Patsy (Hager) Headlee, Stan Kline, Rhonda (Meredith) Stephenson;
Back-row, left to right... Kirk Fisher, Jim Harrington.

See MORE July, 2005 AHS Reunion Photos at NW OkieLegacy Webshots View/Write Comments (count 2) | Receive updates (0 subscribers) | Unsubscribe
---
1920 Pow Wow Yearbook & Floris Patterson...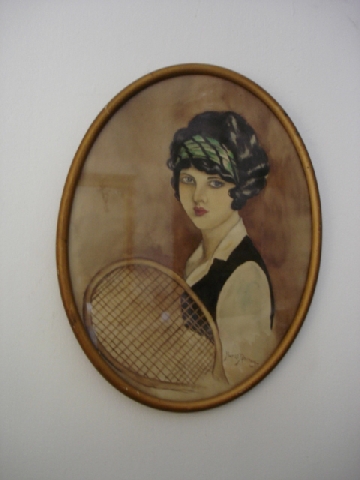 We heard from another lady recently concerning a 1924 portrait painted by Floris Patterson.

Remember back to an October 25, 2003 Issue of "The Okie Legacy? We had scanned, compiled an old 1920 Alva High yearbook called - "Pow Wow" and placed on our website. One of the senior class girls mentioned in the yearbook was Floris Patterson. Evidently, she was an inspiring artist.

We have heard from another lady who has this old portrait that Floris Patterson painted back in 1924. We would like to find family members of Floris to see if they would like to have it. Can anyone out there help us located descendants of Floris Patterson? View/Write Comments (count 5) | Receive updates (0 subscribers) | Unsubscribe
---
German Prisoner of War Camps at Alva...
"I searched out Prisoner of War Camps of Alva, Oklahoma and most sites came from your web site, all saying Alva was a German Prisoner of War Camp." -- FRANCIS R. MELKUS

POW Facts
OK POW Camps
Kiowa County Oklahoma View/Write Comments (count 0) | Receive updates (0 subscribers) | Unsubscribe
---
Home Comfort Range Family Ranges...
Home Comfort Range Family Ranges... "We have learned that we are inheriting my husband's great-grandmother's Home Comfort from early 1900. She was married in 1905 in Idaho, and got the stove not long after, we think. Don't have any info, so welcome any. It has been a barn for years. Thanks." -- Jen View/Write Comments (count 0) | Receive updates (0 subscribers) | Unsubscribe
---
WWII POW Camps...
"As the North African Campaign began, increasing numbers of German and Italian soldiers were captured stretching the capacity of the British Government to handle them. The British asked their ally, the United States, to take over the internment of some of these captives. Our government agreed and another crash building program began. Permanent P.O.W. camps were built, and most of the enemy alien camps were converted, as the detainees were shifted to other locations. The major POW camps were concentrated in the sun belt of the United States, in Oklahoma, Texas, Arkansas, Louisiana, Alabama, Georgia, South Carolina and Florida....." -- OK POW Camps View/Write Comments (count 0) | Receive updates (0 subscribers) | Unsubscribe
---
POW Camps & County Locations...
Woods County, ALVA -- This camp held the Nazi and Nazi sympathizers that were known or segregated from the general prison populations of other camps. These were the "hard liners". It was located a mile south of Alva on the west side of highway 281, and security was much greater than at the other camps. The first prisoners arrived July 31, 1943. The capacity of this camp was 6,000, but the population grew to only about 4,850. The camp closed Nov. 11, 1945, and the land now is used for the airport and fairgrounds. Reports are 21 escapes from this camp, and 5 POWs died while interned there, including Emil Minotti, who was shot and killed while attempting an escape.

WAYNOKA -- This was a branch camp of Alva, located at the Santa Fe Railroad Yards ice plant. There were about 100 prisoners housed here, that operated the ice plant for the railroad. It opened Aug. 30, 1944 and closed Sept. 1, 1945. One escape recorded.

Alva Review-Courier, Alva OK - Aug. 2, 1943- Oct. 18, 1945- Jan. 16, 1926, Reported escapes: Karl Heinz Zigann (2 times), Heinz Aulenbacher, Werner Wolf, Heinz Roth, Max Wolff (2 times), Franz Holm, Bergmann von Schweinicher, Hienz Homme, Eberland Wilms, Paul Zahn, Heinz Schulz.

Woods County Enterprise, Alva, OK- Jan. 25, 1945 Reported escapes: Fritz Puescha, Anton Sheffer, Erich Wulf. -- OK counties POW Camps

OK Counties & Locations... Woods Co - Alva, Waynoka; Kiowa Co. -- Hobart; Tilman Co. - Tipton; Comanche Co. - Ft. Sill; Grady co. - Chickasha; Canadian Co. - Ft. Reno; Kay Co. - Tonkawa; Oklahoma Co. - OKC; Garvin Co. - Pauls Valley; Carter Co. - Gene Autry; Marshall Co. - Madill, Powell; Johnston Co. - Tishomingo; Pontotoc Co. - Hickory; Seminole Co. - Konawa, Seminole, Wewoka; Okfuskee Co. - Okemah; Hughes Co. - Wetumka; Bryan Co. - Caddo; Atoka Co. - Stringtown; Pittsburgh Co. - McAlester; McIntosh Co. - Eufaula; Okmulgee Co. - Glennan General Hospital, Okmulgee, Morris; Tulsa Co. - Bixby; Mayes Co. - Pryor; Wagoner Co. - Porter; Muskogee Co. - Haskell, Braggs; Sequoyah Co. - Sallisaw; Adair Co. - Stilwell. View/Write Comments (count 0) | Receive updates (0 subscribers) | Unsubscribe
---
Another Member of the Class of '65 - Alva High...
"You were talking about shyness. Remember me? Cacoon is right. I think it was the times we lived in that added to a lot of us being shy. Now it is much better, since I got married and traveled all over these United States and Japan with my husband in the Air Force. Since none of us knew each other from Base to Base, we learned to open up and become one family quickly. This helped my 'eagle wings' spread and well as other stuff. Ha! Ha!

Age has a way of playing jokes on us. Unable to make it for the 40th reunion but got out my old scrapbook and Year Book and thought of all the people I had known. Those were fun times. Wish we could have those type of times back. It's so hard to raise kids these days with all that goes on. Our big gettin'-into-trouble was car racing and a little beer. Anyway, hope you all had a GREAT 4th of July. Pray for our guys overseas and those yet to fight for us all.

Could you do me a favor and see if you can find out how I can get in touch with someone about ordering a 1965 class ring with the Goldbug inside of it. I would appreciate it. If it's only a phone number to the High School, maybe they can help me. Thanks ahead of time." -- Genevieve (Cook) Latza - Email: gwc4445@intergate.com View/Write Comments (count 0) | Receive updates (0 subscribers) | Unsubscribe
---
Looking for Floris Patterson Family...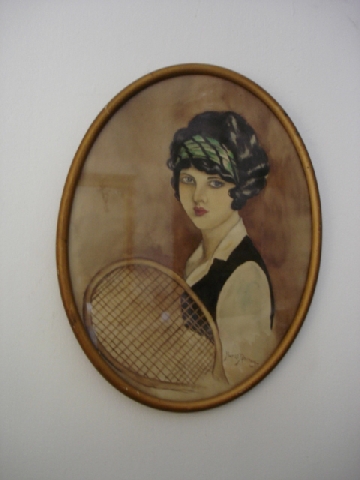 "I found your address connected to an article I looked up from October 2003 Newsletter (1920 Pow Wow Alva High Album). In it references a Floris Patterson. In cleaning out my mother's things I found a painting dated 1924 by Floris Patterson. I was wondering if you might know who some of her relatives would be. I thought the painting might mean something to them and would like to return it. I am attaching a photo of the painting. My mother was an artist and I was just hoping to find someone who might treasure this painting. It is in a round wood frame. That would be great if you could put something in your newsletter. Maybe someone will know the family. Thank you!" -- Tami Conn - Email: tamidconn@yahoo.com View/Write Comments (count 0) | Receive updates (0 subscribers) | Unsubscribe
---
Alva High Class of '64 - 41th Reunion...
We did not get all the names of the Class of 64 that showed up July 2, 2005, in Alva, Oklahoma at their 41st Class Reunion. We only know a few of those in this picture. If you could help us identify the rest of them, we would forever be grateful to you.

We now know those '64 classmates in the photo. Thanks goes to Terry Smith. They are (Left to right): J.D. Irons, Johnny Jones, Johnny Valdiaso, Larry Anderson, Vickie Crenshaw, Ron Mooreland, Angela Isenbart, Austin Quinn, Doug Kranz and Nick Farris. View/Write Comments (count 1) | Receive updates (0 subscribers) | Unsubscribe
---
Another Beautiful Pug...
"What a cute picture! Poor Duchess looks so regal but also like she is really pooped! That is a great pose though! The tiny white triangle on Sadie's chest is cute and looks like that is the only other place she has any other color besides black. How unique! Glad they are doing so well together. Bet this is really going to be fun for Duchess and give her something to do while you are busy (don't know how she is going to juggle writing the ezine and taking care of Sadie and you guys - snicker). Sadie, of course, will have fun with anything around or moving for a few more months and then she'll 'get serious' and start acting like a lady (tee hee).

Does Duchess tolerate the teething Sadie probably wants to do on her also? Sounds like her collar tag is more intriguing for Sadie right now... how funny. Better watch out, Sadie may chew on the tag enough so the information on it is illegible... snicker.

Since we are sharing pics, I'll enclose one of Gunner. I took this one while getting ready to leave - which means Gunner is on constant alert in case I let him go with me. In this case, he wanted to be prepared for anything ... me wanting to play with him (notice 2 toys are 'on him' just in case) and he's keeping one eye on me to make sure I don't slip away. He's made his 'nest' on hubby's side of the bed... which is why the big mess there. Anyway, just thought you might enjoy. BEAUTIFUL babies!! Thanks for sharing." Karel View/Write Comments (count 0) | Receive updates (0 subscribers) | Unsubscribe
---
Vera Mae Eversole...
"Have you read the latest news about the late Vera Mae in the Summer issue of FINDINGS, from the Oklahoma Medical Research Foundation (OMRF? According to her Alva attorney, Edward Sutter, Vera Mae donated half of her entire estate to OMRF. Apparently it is of significant value. I will mail this page to you."

Article in Alva Review Courier, dated 6/20/2005 - Alva Woman Leaves a Quiet Legacy of Generosity to Medical Research View/Write Comments (count 0) | Receive updates (0 subscribers) | Unsubscribe
---
Doggies.com - Pugs...
According to Doggies.com... The Pug has a square, stubby and compact body... "a big dog in a small package". It has deep wrinkles on its forehead and a soft, open, distinctive expression. The Pug dog will communicate with people by making nasal noises. This affectionate dog breed makes an excellent family pet. The Pug originated in China. Male Pugs range from 12 inches to 14 inches. Female Pugs range from 10 inches to 12 inches. Male Pugs range from 13 to 20 pounds. Female Pugs range from 13 to 18 pounds. Pugs colors are typically silver, apricot-fawn or black, with clearly-defined black markings on the face. Pugs have soft and smooth coats. Relatively easy to maintain with some shedding, Pugs require brushing only once or twice a week. The temperment of the Pug: Playful and happy, dignified and funny. Pugs do well with visitors, children and other pets. Although sometimes stubborn, the Pug is more typically pleasant and anxious to please. A show-off....." -- http://doggies.com/Pug/ View/Write Comments (count 0) | Receive updates (0 subscribers) | Unsubscribe
---
Searching MAGILL/GROOM...
"I am searching the family of Emmaline/Emeline MAGILL and John L. GROOM, married April 2, 1846 in Clay County, Missouri. Emmaline was the daughter of John MAGILL and Phoebe HEAD and John was the son of Amos GROOM (born 1803)." -- Juanita Baker - Email: raccoon@scottsbluff.net View/Write Comments (count 0) | Receive updates (0 subscribers) | Unsubscribe
---
Durango, Colorado Profile...
City Profile -- "Durango came into existence after the Denver & Rio Grande Railroad built a depot just south of the bustling agricultural community of Animas City, after the railroad's demands were turned down by the Animas City fathers. The gold fever in 1874 resulted in the early mining settlement of Silverton, 50 miles north of what was to become Durango, and the narrow-gauge railroad would connect Silverton to the south. The first stake was driven in 1880, and Durango became the transportation hub of the area. Although tourism drives the economy of Durango today, its colorful past includes agriculture and mining and smelting operations. The narrow-gauge tracks, built more than 120 years ago to haul ore from the mineral-rich San Juan Mountains, is still used today as an excursion train for tourists." View/Write Comments (count 1) | Receive updates (0 subscribers) | Unsubscribe
---
Pagosa Springs, Colorado Profile...
City Profile -- "Pagosa Springs is A Paradise for all Seasons. It continues to be a rapidly growing community in a beautiful setting east of Durango and west of Wolf Creek Ski Area. It is the gateway to Colorado's largest wilderness area - the Weminuche Wilderness, with 492,418 acres of stunning scenery. The Anasazi Indian ruins of the Chimney Rock Archaeological Area are 17 miles west of Pagosa Springs, and the fire lookout tower at Chimney Rock offers a panoramic view of the San Juan Mountains. The town derives its name from the Ute Indian name Pagosah which roughly translated means healing or boiling waters. The Utes discovered the healing powers of the hot springs, and Pagosa Springs still welcomes travelers looking to soak in the mineral water. The San Juan River courses through town and offers Kayaking, rafting and fishing." View/Write Comments (count 0) | Receive updates (0 subscribers) | Unsubscribe
---
Bayfield, Colorado Profile...
City Profile -- "Bayfield is a charming, friendly, small town just 18 miles east of Durango. The town was named for William A. Bay, who laid out the town in 1898 and established it in 1906. Bayfield has continued to serve as a supply town and social center for the surrounding farmers and ranchers. The town has grown rapidly in the past 30 years from 320 residents in 1970 to around 1,700 now. This pretty area is a mix of the old and the new of a small ranching town in the beautiful Pine River Valley. It sits downstream from Vallecitio Lake on the banks of the Pine River. The earliest residents of the Pine River Valley were the Ute Indians, and it wasn't until the late 1800s that the valley was settled by non-Indians. The first cattle were brought to the valley in 1875 and the valley opened up as ranchers discovered the fertile land." View/Write Comments (count 0) | Receive updates (0 subscribers) | Unsubscribe
---
Silverton, Colorado Profile...
City Profile -- "Silverton, at its high altitude, is surrounded by colorfully streaked peaks of the San Juan Mountains that soar skyward. The town is located on the Upper Animas River and has retained its original Western character of wide streets and old hotels. It is also the turnaround point for the Durango & Silverton Narrow Gauge Railroad, which originates in Durango, 47 miles to the south. The entire town has been designated a National Historic District by the U. S. Department of the Interior. Recreational activiites include hiking, backpacking, fishing, hunting, mountain biking, horseback riding and photography. Driving into Silverton from the north over spectacular Red Mountain Pass, or from the south over Molas Pass, is a sighseer's joy. Silverton also offers a wealth of old buildings that are worth seeing." View/Write Comments (count 0) | Receive updates (0 subscribers) | Unsubscribe
---
nwOKTechie
Create Your Badge