---
If there are any McClure descendants out there from Illinois related to John C [more]...
~NW Okie regarding Okie's story from Vol. 11 Iss. 20 titled UNTITLED
United Way of Acadiana Hurricane Katrina Relief Fund KATC TV-3 1103 Eraste Landry Rd. Lafayette, LA 70506.
~Punkin from Lafayette regarding Okie's story from Vol. 7 Iss. 36 titled UNTITLED
---
Duchess Corner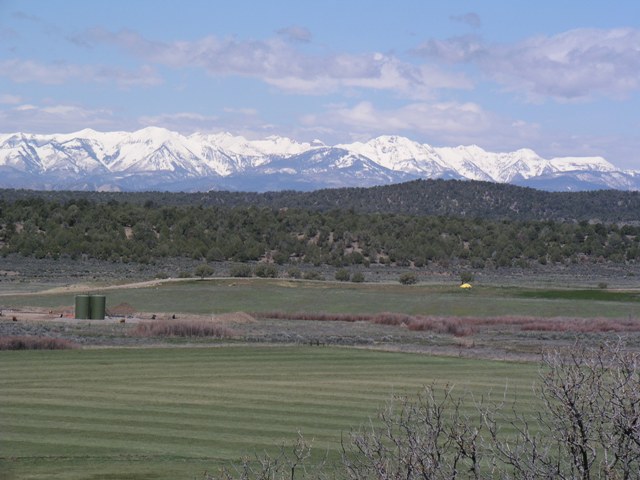 Vol 7, Iss 17 Another week has passed! It is the last weekend of April, 2005 filled with April showers for some of us -- snow for the higher elevation mountain folks. Here in the Valley of SW Colorado things are greening up -- the birds are chirping, singing -- you can hear the gobbling of the turkeys in the early morning daylight hours.

We have had a wet week around here in the valley beginning on Monday. BUT... if you go up into the higher elevations -- mountains, you might catch a few inches of fresh snow that has melted about as fast as it accumulated this week. I am told that around 5 inches of snow had fallen in the mountains a few evenings ago -- overnight. Maybe Spring has sprung calendar-wise, BUT... not in the higher Rocky Mountains of Colorado!

Our travels this week take us back in time to 1947, NW Oklahoma via an aging, yellow newspaper dated 21 May 1947, The Alva Review-Courier. It was the Annual Graduate Edition 1947 -- listing 81 Seniors and their pictures from the Alva High School Class of '47. We have started scanning some of those photos and have a few of them put up on our OkieLegacy Photo Gallery - AHS '47.

We have more information about the Old Alva Golf & Country Club that was on the westside of Alva before the mid-1950s when the NEW Alva High school was built (1956). We know our grandpa Bill McGill played at that old golf & country club, but haven't located a picture of it yet. Maybe someone out there has a photo they would like to share with us. We also have a turn of the century cowboy photo that one of our readers sent us this week. You can see that old photo in the Mailbag Corner. AND... Yes! We have most of our PARIS / MCGILL / WAGNER Family data inputted into our family tree program. If some of our family stops by and can help us fill-in some missing/misplaced family information, we would love to hear from ALL of you. View/Write Comments (count 0) | Receive updates (0 subscribers) | Unsubscribe
---
Old Opera House Mystery The Coroner's Inquest - November 10, 1910
Vol 2, Iss 2 Woods County Case #612 Filings
The last we left you in suspense with Nelson Miller was sitting on the old stage of the Old Opera House while the sheriff and justices were investigating and gathering people off the street for an Inquest, November 9, 1910, for the death of our young victim Mabel Oakes (23 years, single woman) who was found allegedly strangled to death in the back of the Old Opera House, Alva, Oklahoma.

Warrant Filing - 9 Nov., 1910 - State of Oklahoma, County of Woods: ìWhereas, complaint in writing , under oath, has been made in the County Court of said County before the Judge thereof by George W. Oakes and it appearing that there are reasonable grounds for believing that on the 9th day of November, 1910, in Woods County and State of Oklahoma, N. L. Miller, did then and there, willfully, purposely, without authority of law, feloniously, with malice aforethought, and with the premeditated design to effect the death of another human being, to-wit: Mabel Oakes, by means of a scarf which he placed and wound around the neck of her, the said Mabel Oakes choke and strangle her until she died, as was intended by said N. L. Miller that she should do and that therefore by the manner and means aforesaid, at said time and place he the said N. L. Miller did kill and murder her the said Mabel Oakes, contrary to the form of the statute in such case made and provided, and against the peace and dignity of the State of Oklahoma. Received, Executed on the 11 November 1910.


Information Filing, 10th day of Nov., 1910, State of Oklahoma, County of Woods, vs. N. L. Miller:
"That in the County of Woods, State of Oklahoma, on the 9th day of November 1910, N. L. Miller did then and there, willfully, purposely, without authority of law, feloniously, with malice of aforethought, and with the premeditated design to effect the death of another human being to-wit: Mabel Oakes, by means of a scarf which he the said N. L. Miller then and there held in his hands, which he placed and wound around the neck of her, the said Mabel Oakes, choke and strangle her until she died, as was intended by said N. L. Miller that she should do and that therefore by the manner and means aforesaid, at said time and place he the said N. L. Miller did kill and murder her the said Mabel Oakes. Signed and dated November 10, 1910 by George W. Oakes, in front of the clerk of the county court, and first duly sworn on his oath says that he has read and knows the statements and allegations contained in the within information and that the same are true."
Witnesses for the State: George W. Oakes, Hugh Martin, Dr. Templin, Dr. E. Grantham, Dr. G. N. Bilby, Hugh Martin, George Crowell, Mrs. Carrie Oakes, Dr. Saffold, Dr. Gregg, C. O. Green and Kent Eubank.

Three local doctors, G. N. Bilby, O. E. Templin and Elizabeth Grantham, were called in to do an autopsy. The following is a list of the coroner's jury impaneled by Judge Lawhon, acting coroner: T. B. Roby, J. T. Herold, G. W. Crowell (foreman), R. B. Dugan, C. R. Moore, W. M. Goebel. The Coroner's Inquest was adjourned November 9, 1910 until November 10, 1910 to hear the doctor's report. The jury adjourned until nine o'clock, Thursday morning, November 10, 1910, to await the report of the physicians.

During the autopsy the doctors examining the deceased lifeless body stated, "Rigor mortis had not set in when examined. The body was not stiff. Mabel's lungs were not normal but were very black."

Several of the doctors also stated, "This young, innocent, defiled, beautiful young lady was robust and had a perfectly normal heart, but others stated that the right heart had filled with blood of a dark color. The deceased was also found to be 4 to 5 months pregnant."

Dr. Bilby delivered the stomach purporting to be the stomach of the deceased (Mabel Oakes) to Dr. Edwin DeBarr (head chemist of the State University) so he could make an analysis of the stomach. Dr. Barr reported that the purported stomach of the deceased contained an ecchymotic condition (ecchymosis - escape of blood into the tissues from ruptured blood vessels).

Dr. Barr also detected an odor of whiskey in the stomach. There was also morphine, strychnine found in the stomach but not sufficient to produce death. The inner coating of the stomach was congested with little spots where blood had collected.

The doctors testified that the organs were all in normal condition. Dr. Templin said that the heart was in the best condition of any that he had ever examined. Their testimony was unanimous upon the fact that the stomach was practically empty, and this organ showed no signs of any drug having been taken that would either aid in an abortion, or assist in an attempt at suicide, and the testimony of these physicians removed any and all suspicion that any attempt at suicide had been made.

The three physicians appointed by Judge Lawhon to do the autopsy all agreed that the heart and other internal organs were in perfectly healthy condition and Mable Oakes would have been a mother in the course of four or five months if she had lived. No other evidence of violence was produced other than the scarf that could have caused the death of Miss Oakes.

The three doctors came to the same conclusion: The death resulted from strangulation, caused by the silk scarf being drawn so tightly about the neck that suffocation followed; the victim could not have caused her own death and placed her hands across her breast as the body was found; Another person or persons had evidently caused the death of Mabel Oakes.

November 10, 1910, Thursday morning - The morning of the Coroner's Inquest, the district court room was crowded the morning of 10 November 1910, Thursday, with the shocked citizens of the city ( Alva , Oklahoma ) and vicinity. Every one was hoping that something would arise to show that no murder had been committed in their little community.

Justice of Peace Isaac B. Lawhon began holding the inquest in the crowded district court room. The only spectators not allowed were the students of Northwestern Normal School , because President Grant B. Grumbine decided that the young people should be protected from the unmoral circumstances of Miss Oakes death.

County Attorney Claud McCrory conducted the inquiry and examined the witnesses.

George W. Oakes, the father of the victim, testified for about an hour before Judge Lawhon adjourned the inquest until one o'clock p.m. This was practically the testimony up to the hour at which the coroner's jury adjourned for dinner.

Mr. Oakes' testified that his daughter (Mabel Oakes) had been in the employ of Miller for some time, and that in the months that had gone by he had kept careful note of her condition. That she had up to a certain time showed that the female functions were performing their usual duties, and that he discovered the date in which they stopped.

Mr. Oakes testified that further noting the appearance of Mabel's neck, Oakes and his wife commenced an investigation, charging their daughter with her condition, but found that she strenuously denied that there was anything wrong. He then went to Nelson Miller, and the latter also denied that he was responsible for Mabel's condition.

However, while Miller attempted to put the father off by saying that he had a gun that would shoot as straight and as often as any that could be found, he also called the father in one day and said that he intended to procure a divorce, and that he and Mabel would soon be married.

Mr. Oakes further testified he was out on a search for his daughter after lunch, November 9, 1910, with his first stop at Miller's office around 1:00 p.m. Mr. Oakes also testified that he opened the front door of Miller's office and stuck his head inside, but no one seemed to be there. Mr. Oakes did not check the other rooms of the Old Opera House.

Later that afternoon around 3:00 p.m., Mr. Oakes did find Miller waiving his hand at him, to come to his place, and heard Miller say to hurry up. When Oakes arrived Miller took him into the room where the dead body of Miss Oakes lay. Mr. Oakes also noticed that Miller was under the influence of liquor.

Mr. Oakes testimony was the most damaging testimony introduced, outside of the evidence of the physicians, as it showed that Miller practically confessed that there were reasons why he should marry the girl.

After the Adjournment the court was called and the jury retired. Thirty minutes later the jury returned the following verdict for the State of Oklahoma , County of Woods :

"Before I. B. Lawhon, Justice of the Peace of the City of Alva, Woods County, Oklahoma, acting coroner: We, the jury impaneled, charged and sworn to inquire into the cause of death of Mabel Oakes, do upon our oaths find that the said Mabel Oakes is dead, that she came to her death on the 9th day of November, 1910, in Woods County, Oklahoma, and that said death was caused by violence, to-wit: By strangulation, with a scarf in the hands of another person with intent to kill and murder the said Mabel Oakes, and from the evidence before us, we believe said person to be N. L. Miller. Jurors: Geo. W. Crowell, Foreman; J.T. Herold; C.R. Moore; T.B. Roby; Wm. Goebel; Russell Dugan.

Justice N. L. Miller was ordered held in jail without bail for his safety and for the Preliminary hearing scheduled for December 1, 1910, in the Woods County District Court.

Between November 10 and December 1, 1910, community outcries and newspaper articles filled the Woods County citizens' daily lives. Some local newspapers reported that the verdict was generally approved as a ìbrave and honest verdictî in ìaccordance with the evidence produced.î

Other local newspapers reported, ìThe previous reputation of the accused will not help to weaken the verdict. The sympathy of the entire community is with his estimable family, which is in nowise responsible for this crime for which the husband and father stands charged by a jury of his fellow citizens.î

Older citizens consensus was, ìThat for seventeen years, notwithstanding that we were living in a new country, filled with pioneers, and from which could not be kept a certain element that follows the boundaries of pioneer settlements, that no murder had ever disgraced the annals of our city, and each and every one hoped that this would not prove to be the first.î

C. O. Green Testimony... Mr. Green testified to having seen Justice N. L. Miller enter his office between noon and one o'clock on the day on which Mabel Oakes' body was found in the Old Opera House adjoining Miller's office.

© 2018 All Rights Reserved. ℅ LK McGill Wagner (NW Okie), PO Box 619, Bayfield, CO 81122 Contact Me

View/Write Comments (count 0)

| Receive updates (0 subscribers) | Unsubscribe
---
Old Opera House Mystery - Black Hand Letters of Death
 (Morals, Miller, Mabel & Murder)
Vol 2, Iss 1 By - LK McGill Wagner, the OkieLegacy

What does 1910, Old Opera House, Law Enforcement League, Black Hand Letters, Alva , Oklahoma , Mabel Oakes and Justice of Peace Nelson L. Miller have in common?

This was a time when female purity was regarded as a virtue to be protected. Social standards and dress were according to what was expected and morally correct in society. Women still wore the tight fitting, laced corsets that scrunched their insides,. There was a change, debate in the air as to if it was a healthy, safe garment for women to wear, confining, restricting their upper torsos. The skirts were to the ground; the coats were below the knees; and the blouses necklines were up around the neck. The "Law Enforcement League" was established, funded for the purpose of enforcing local moral standards, whether they dealt with booze, kissing in motion pictures, separation of races, or investigating backgrounds of newcomers to be sure they were morally acceptable to ruling town fathers.

On 9 November 1910, considerable excitement was buzzing through government square of Alva, Woods County, Oklahoma. Those favorable to the democratic cause were keeping their eyes, ears glued to the election postings at "Jesse Jackson's Cigar store," on the west side of the square, College Avenue, North of Monforts Drugs. On the North side of the square, those favorable to the republican cause were doing the same, upstairs in the two-story building of the "Woods County Citizens Union Bank," northeast corner of 5th Street & Flynn Avenue.

This 1910 fall day was to go down as "A Day of Black Infamy" for this northwest community. Sometime between the hours of 12:00 p.m. and 3:00 p.m., November 9, 1910, Mabel Oakes was found dead in the "Old Opera House" around 3:30 p.m. by Justice Miller. Memories of that fall day will linger in the archives, with Mabel Oakes' side of the story buried with her in the Alva cemetery. Was it Suicide? Was it Murder?

Mabel Oakes was a young, country girl (23 years of age) living on Barnes Avenue, four blocks east of the southeast corner of the square, with her parents, George & Carrie Oakes, and a younger brother, Clarence (15 years).

Through testimony, transcripts we find that Miss Oakes was a large, sturdy, supposedly healthy woman of that time weighing around 160 to 165 pounds and also five-months pregnant. She wore a tight fitting corset and a scarf wrapped tightly around her tall neck. Miss Oakes explained to others the reason for the scarf tightly around the neck as a throat problem. 

In 1910, Miss Oakes was known for her fainting spells for which she took prescribed medication of strychnine and morphine tablets. Did these fainting spells cause her broken arms, black eyes and bruises about her face. Or her pregnancy? Or were the fainting spells brought on by a heart condition? Or did a tight fitting corset used by Miss Oakes to conceal her pregnancy that began in the Summer of 1910? Or were Mabel's unfortunate accidents of broken arms, black eyes and bruises the cause of "Black Hand Letter" threats? 

Only Mabel Oakes' memories of that time will tell us the whole truth. AND ... those memories lay underneath the northwest Oklahoma soil, in the Alva Cemetery , in the Oakes family plot.

It was the Spring of 1909, when Mabel began to work for Justice Miller as a stenographer at his offices in the Old Opera House. Mabel did various work learning to write on the typewriter, answering correspondence, drawing up other legal papers for Miller. Miss Oakes worked for Miller on and off. At her father's insistence, Mabel quit three weeks before her death.

In the Spring, Summer 1910, Miss Oakes began receiving ìBlack Hand letters' (40-50) anonymous threats. Mabel would share these threatening letters with Justice Miller for safe keeping and protection. This is just a sampling of the threatening letters Mabel received: "To show you that they are so brave, one of our friends is keeping watch tonight, acting as a spy. That is all right, for we were well represented too and it was a case of spy watch spy. You were followed when you left home tonight. If my full force had been with me you never would have seen or went home again at least not alive. Now get you we will. Dead or Alive. The crowd will not amount to anything when we have finished. Don't be surprised at anything at anytime now. We mean business. Tell Shaw he had better find a better hiding place for his booze. Remember we will get you if it takes all summer and several lives. -- Signed Ananmous"

Did all these "Black Hand letters" lead up to the death of Mabel Oakes?

On Wednesday, November 9, 1910, Mabel left her parents home before 11:00 a.m. and says, "Mamma, I will be back pretty soon. I am going down to see Mr. Miller. I will be back pretty soon." That is the last time Mabel was seen alive by her mother. Mabel's father, George W. Oakes, last saw his daughter alive, November 9, 1910, a little before 9:00 a.m. at home. At eleven o'clock that same morning, Mabel arrived at Justice Miller's offices in the "Old Opera House" to collect past wages that he had promised her after she had quit work.

Later that same day, Mabel complained to Miller that she was not feeling well. Mabel allegedly asked Miller for a tablespoon of whiskey. Miller gave her a small shot glass, less than half full, and told her to take his horse & buggy and go home. Mabel did not want to go home. She refused to go home. She said "Papa wouldn't like that a bit."

Miller asked her why? Mabel said "He absolutely don't want me in your company any more." She said she would be all right in a little bit and that she would go home then. This was the last time Miller saw Mabel alive.

Nelson L. Miller
In 1910, Miller was head of household residing in Alva, Oklahoma . On September 5, 1888, Miller (born 1859), married Rachel (born 1863). The Miller family consisted of: Lois, born 1888, Kansas ; Eva, born 1891, Kansas ; Minta, born 1892, Kansas ; Bert L., born 1898, O.T.; and George, born 1902, O.T.

Let's journey through time to September 1911, to the Woodward County courthouse and see if we can catch an interview with Nelson Miller and get his side of the story.

"Justice Miller, we have heard about Miss Oakes sinking spells. When was the first time you heard about them?" a news reporter asked.

Miller replies, "The first time I knew of Mabel's sinking spell was during the time she was getting well from her first broken arm in the winter, 1909."

The reporter followed with, "What are these Black Hand letters we've heard so much about and was there anything sexual between you and Mabel on that infamous spring 1910 buggy ride?"

Miller explained as to the letters, "Mabel would often bring one or two of them to me in the morning when she would come to work, and say that they had been left sticking in the pump or the door of her home. The first few, I attached so little importance to and stuck them down in a coat pocket, they naturally wore out. Finally, Mabel suggest that there ought to be something done. At that time I began to save them and keep them in a big envelope in my office. Those are the ones I delivered to my attorney, Erskine W. Snoddy, at the time when I was arrested."

"As to that infamous Spring 1910 buggy ride between myself and Miss Oakes," Miller's explanation was,"Let me begin by saying, it was as early as March 1910. Some clients came to me wanting me to arbitrate a matter of a division fence west of Alva, six miles west to the first corner from the Normal School, striking the southeast corner of the section. In order to know the situation I had to go out there. I selected the next day, Sunday, to go out and view the situation. They were to meet me out there at 3:00 p.m. Mabel was in the office and knew all about that conversation. She wanted to know if it would be all right if she went out in the country with me. She said she had been housed up all summer and had not been out of town."

Miller continues, "I told Mabel that would not do, and it would make people talk. Mabel didn't see how people could talk about riding any more than sitting in the office."

"At exactly at 2:00 p.m., Mabel came down town towards the Rock Island Depot as I was going to the post office, and I went down the street and picked her up. We went out past the mill, into the country from there. We viewed the line fence and we got back about sundown that evening."

Miller gave testimony of who stopped by his office the day of the murder, "S. B. Share was there about the noon hour and asked me about some court business I had on my docket; J. C. Snoddy was there talking over the election news with me; and Mabel Oakes came in about 11:00 a.m. and we talked about 12:15 p.m. Cook Snoddy drove up and came into my office about half past noon. We talked a little while, and we went out and got in his buggy and drove up to my house. We stayed at my house about five or ten minutes while I ran inside. I came back out, got in the buggy and we drove back to my office. When we left the office Mabel was sitting in a chair at the typewriter. When we came back she wasn't in the office, but was standing in the door, the partition going through from the back room of the office to the little open room that had no roof on it. She was right at the wall standing, leaning up against the door. I went up to her. I saw that somebody else was there. I don't know whether I knew who it was then or not. I never spoke to him nor saw him since that time. I left her standing there at that door when I went out. Mr. Snoddy followed me."

Miller continues on, "I took my horse and buggy and drove directly to Jesse Jackson's cigar store where they were issuing bulletins on the election returns. I would say that it was about 12:30 p.m. It might have been as late as 12:45 p.m. There was quite a crowd at Jackson's, and I only remember the people that I talked to. I possibly knew all of them. I talked to James Roller, Fred Frederickson and Fred Crosner. I was there from thirty minutes to an hour. From there I went North around the square, turning east to republican headquarters. I might have stopped at a poolroom located along the north side of the square. Then I went over to republican headquarters and got the election results and talked with quite a good many people. I was there probably fifteen or twenty minutes. I saw George Oakes, Mr. Kent Eubank and Mr. Enlow. Along about 2:00 or 2:15 p.m., I went home to dinner for possibly 30 or 45 minutes. I drove right back to my office and tied up my horse and buggy before I proceeded over to the republican headquarters again." Miller continues, "After I checked the returns, I went downstairs, across the street to the poolroom on the north side of the square, west of republican headquarters. I walked as far as the poolroom, and then went back up to the republican headquarters. Shortly after that, I picked up a wheel on the street and went west from republican headquarters down to Jackson's. When I left Jackson's, I went back to the republican headquarters again for another fifteen to twenty minutes. I entered the headquarters, talked with several people. One of those times at republican headquarters I talked with C. H. Mauntel about the returns, general election. I met Emel Rauh down at the foot of the stairs. In fact, he and I came down the stairs together or pretty near together. I went right across the square to my office. I opened the door, went in and sit down in my office chair at my desk."

Miller continues, "I wanted a drink, so I headed to the back room to get a bottle of whiskey I had hidden the night before. When I came through that door, the door to the small room was standing wide open. The minute I entered this little triangular room I saw Mabel laying there. I could see her very plain, because it was perfectly light in there. The window had a curtain on it at one time, it was located a little west of her head towards the south, within two or three feet of her. And the bottom part of that window had either one or two windows lights broken out. This curtain blew back and forth until it had frayed out at the bottom. That let the light and the air in, as if there was no curtain there at all. I found her in this condition, her left hand lying across her face hiding her eyes, with her handkerchief clasped in her hand. First I stood in the door and said 'Mabel' twice and she didn't move. I then went over to her, kneeled down, picked up her hand that lay on her face and felt of her pulse. I saw the minute I raised her hand that something was awfully wrong. Of course, I thought it was one of her sinking spells. I felt her pulse and concluded that she was dead. I took the handkerchief out of her hand and wiped off her face or eyes. I smoothed her hair down. I looked at her eyes and they were about a third open, I think. I could see what I would call a death stare. I was convinced that she was dead."

Miller continues on, "I felt the need of a stimulant more than I ever did in my life. I went up on the stage, found my bottle of whiskey I had hid the night before and took a drink. I put the bottle back, went down to the front, meditating in my mind what was the proper thing to do. I had acted as coroner a great many times. I understood the law in a case of this kind. I decided to call someone. I went out through the office door, left the door open and stepped out on the sidewalk to see if I could see anyone or anybody I could call."

Miller says, "I saw Mr. Oakes coming along the east side of the street in front of a Livery Stable, 'Nowell Livery Stable.' It is cater-corner across the street from my office. I stepped out on the sidewalk, hollered at Oakes and he looked up but didn't seem to make any particular effort to come. I admit I was very excited. I undertook to holler and my voice absolutely failed me. I made another effort and said, 'Come quick,' and by that time Oakes had turned off the sidewalk and was walking across the street."

"I went into the office and Mr. Oakes followed me. We went through the office and I told him to come with me as I had something to show him. We walked through the door, out through another door. When we arrived at the door to the small, triangular room, I said, 'There is Mabel. I am sure she is dead.' "

Mr. Oakes said, "How long has she been there?"

"I said I don't know about that. I found her here a few minutes ago." Miller tell Oakes, "That is exactly the way I found her, except I felt of her pulse and found her dead before I found you."

"Mr. Oakes then says to me, "Go call Hugh Martin and Claud McCrory. There will have to be a Coroners Inquest." I agreed with Oakes that was the right thing to do. I asked Mr. Oakes if he wanted to take Mabel's body up to the front or leave it here where it was lying. Oakes says, "By all means, just as she lays now."

In the testimony and the interview, Miller stated that he and Oakes passed on through the big building, into Miller's office. Miller went to the telephone and called the sheriffs office, but got no answer. Miller told Oakes that someone will have to go notify them. Oakes was the one that left to get Sheriff Hugh Martin. Miller explained, "Judge Lawhon was walking up the sidewalk from up town, I called him and we talked until the crowd came from the court house."

That concluded the private interview with Nelson Miller during the court break.

Coroner's Inquest & Autopsy
Justice of the Peace, I. B. Lawhon, coroner, called in three local doctors: Dr. G. N. Bilby, Dr. O. E. Templin and Dr. Elizabeth Grantham to do an autopsy, November 9, 1910, between 3:00 and 4:00 that afternoon. Dr.'s Bilby, Templin and Grantham autopsy reported that rigo-mortis had not set in when examined. The body was not stiff and the lungs were not normal but were very black. Death resulted from strangulation, caused by the silk scarf drawn tightly about the neck. The doctors removed Miss Oakes five month old fetus, preserving it for future evidence. Miss Oakes death was estimated between the hours of 12:00 a.m. to 3:00 p.m.

Claud McCrory conducted the Coroner's Inquest, Thursday, 10 November 1910, 9:00 p.m., with the jurors: George W. Crowell (foreman), R. B. Dugan, C. R. Moore, W. M. Goebel. Miller was charged with murder, bail was set at $5,000. Miller refused bail saying, he fear the people of town would attack him if he appeared on the streets.

The community, prosecution and defense attorneys began lining up for battle for a trial set for 7 September 1911, in Woodward County , case #714. For the prosecution we have Sandor James Vigg, county attorney; J. N. Tincher from Medicine Lodge, Kansas, hired by George Oakes, father of the deceased Mabel Oakes; and Moman Pruiett, famous criminal lawyer from Oklahoma City, hired by the Law Enforcement League.

For Miller's Defense team in the Woodward County , case #714, we have Judge L. T. Wilson; C. H. Mauntel, whom stepped down after the change of venue; J. P. Grove; and Charles J. Swindall, Woodward attorney.

© 2018 All Rights Reserved. ℅ LK McGill Wagner (NW Okie), PO Box 619, Bayfield, CO 81122 Contact Me View/Write Comments (count 0) | Receive updates (0 subscribers) | Unsubscribe
---
Memories At boot Hill
Vol 1, Iss 8 Boot Hill, KS - It was August, Thursday, 1999, when NW Okie wrote this following piece, "Memories at Boot Hill (Ancestors, Drifters, Troublemakers & Unknowns)."

It isn't everyday that Oakie finds a possible ancestral lead at famous Boot Hill Cemetery in Dodge City, Kansas. This Memorial weekend I had the opportunity to search a famous cemetery for a link to an alleged ancestor who was buried at Boot Hill.

We arrived in Dodge around 6:00 p.m. with two hours to spare before they closed at 8:00 p.m. I walked out into what was left of the original NW Corner of the graveyard. I glanced to the left. The first marker that I spotted stuck out and grabbed my attention with the following inscription, "A buffalo hunter by name of 'McGill' who amused himself by shooting into every house he passsed. he won't pass this way again. He died March 1873.

The first thing we saw when we drove into Dodge City on hwy. 400 were the "Boot Hill Museum & Exhibits." this "Old Buffalo (Longhorn) Town" was winding down it's celebration of the "Annual Cowboy heritage Festival" for the third straight year on may 29 & 30, 19999 held at the Boot Hill Museum Complex, Dodge City, Kansas.

According to a "Boot Hill Museum Publication" written by Darleen Clifton Smith, there were thirty-four (34) drifters, troublemakers and unknowns buried between 1872 and 1878. Most of those drifters and troublemakers were buried with their boots on. hence, the name "Boot Hill."

The publication also states that Dodge City had no extablished cemetery of it's own and only those with money and families were buried at the Fort Dodge Cemetery. All the other drifters, troublemakers and unknowns were buried west of town on a hill covered in buffalo grass, prickly pear and soapweed. There were no markers, no ceremonies and wolves would come along later and dig up the graves.

If you get a chance to walk through the remaining section of the Boot Hill cemetery, these are some of the other names that you will find on the engraved markers. Maybe one of these drifters and unknowns could be an ancestor of yours and add some character to your family tree.

Surnames represented on the other markers scattered throughout the NW Corner included the names of J. M. Essington, Barney Cutten, Edward Hurley, Charles "Texas" Hill, Edward Williams, McDermott, John Wagner and Alice Chambers.

Alice was supposedly the only woman buried on Boot Hill and the last burial May 1878. Casey (friend of Ed Hurley) killed McDermott February 1873. Wagner died of wounds from "Texas Hill" and Ed Williams in a dance hall February 1873. Cutten (railroad employee) and Hurley was killed during a shooting spree in the saloon January 1873. The cook shot Essington (carpenter and part owner of the Essington Hotel) Nov. 1872.

Today only the original NW Corner of the cemetery exists with wooden markers engraved from documented 1873 newspaper stories of those that died during 1872 through 1878. It remains as a symbol of our heritage. Wooden markers are the only reminders of those drifters, troublemakers and unknowns who had passed through Dodge City between 1872-1878. In 1879 the City Council ordered the remaining bodies to be removed to make room for a 3rd ward school. In 1916 most of Boot Hill was excavated to make room for a city swimming pool.

Every community has a Boot Hill of unknowns and drifters. On the East End of Main Street in Freedom (small, rural cow Town in NW Oklahoma) there is a "Freedom Boot Hill" just next to the jail and the U. S. Marshal's office.

Speaking of Freedom, Oklahoma -- Plans are currently underway for the 62nd Annual Freedom Rodeo and Old cowhand Reunion to be held August 19-21, 1999. Y'all come and experience the "Biggest Little Rodeo" in Northwest Oklahoma.
View/Write Comments (count 0) | Receive updates (0 subscribers) | Unsubscribe
---
Duchess & Sadie's Domain
Vol 13, Iss 16 Bayfield, Colorado - Well! From a Pug's point of view, it has been a bit warmer here in the SW Colorado San Juan mountains this last week. I am not complaining, though. I love sitting on a mound by my owners pickup and watching the wildlife.

We hear Tornadoes and Red Flag warnings are blowing through Oklahoma and neighboring states. Is that so?

Many of you sent messages of "Thanks" for the beautiful Northwest Oklahoma sunsets in last week's OkieLegacy eZine. Thanks to Robert L. Wagner for submitting those photos!

Can someone out there in Northwest Oklahoma help the following person find directions to the "Old Farry High School?" One of our readers left the following OkieLegacy Comment, concerning, Feature #801 -- "I am trying to find directions to the old Farry High School. I remember going to the family farm (John and Gladys Smith) and going by the old school house after it burned. Any help can be sent to Email: dandaspringer@zianet.com. My dad was Gerald Smith, who died in 1972."

Before this Duchess Pugster turns this over to NW Okie to publish this week's newsletter, we would like to wish an early "Happy Birthday" to Amber McGill Colon with the below musical, birthday video we made up.

An Early Birthday Wish! -- Happy Birthday, Amber! Someday your wishes will all come true, but Today we are simply wishing you a "Happy Birthday" and wishing you many more to follow!



Good Day! Good Luck! AND for ALL having a birthday this week, . . . HAPPY BIRTHDAY! View/Write Comments (count 0) | Receive updates (0 subscribers) | Unsubscribe
---
Duchess & Sadie's Domain
Vol 13, Iss 13 Bayfield, CO - [Another photograph taken by Robert L. Wagner, Alva, Oklahoma.] -- As the sunsets four miles west of Alva, Woods, Oklahoma, on the 25th March, we were rounding the corner of the last weekend of March, 2011.

We hear from some of you in northeast Kansas that the chilly, cold weather has caught the tulips and daffodils in their awakening of Spring. Did the blooming spring flowers survive?

This weekend we took the following video of Weaselskin creek flowing towards the last weekend of March 2011. For those of you who can not make it this way and/or do not have a mountain stream or creek nearby to watch and listen to for relaxation, then we share this little video with you all.



Here comes April and another birthday for J. L. "Bud" Clark the latter half of this coming week. If you see my "Bud," please give a Happy Birthday from this Duchess & Sadie Pugsters!

The McGill Wagner's wish you a Happy Birthday, Bud! View/Write Comments (count 0) | Receive updates (0 subscribers) | Unsubscribe
---
Duchess & Sadie's Domain
Vol 12, Iss 48 Bayfield, Colorado - When bedlam college football comes around this time of year, these pugs and other dogs out there might want to retire to another room other than the TV viewing room. Those humans can should get loud, excited when their favorite NCAA football teams battle it out, especially in Stillwater, Oklahoma.

Humans ain't so bad, though! We do get our little perks and treats! Our human counter parts regained their respect from us when they shared some small morsels of turkey with us Pugs on Thanksgiving! Sadie and I thought that was delicious!

NW Okie has been doing some website cleaning on her Family genealogy over at Paris Times Pioneers - powered by PhpGedView, which reads our GED files. NW Okie has her PARIS, MCGILL, WARWICK and WAGNER family genealogy updated on that site. So if you do not have a subscription to login into Ancestry.com - paristimes, then you can check out our genealogy at "Paris Times Pioneers."

This is the Duchess' stress reducing motto all us Pug dogs work under, "If you can't eat or play with it, pee on it and walk away."

Good Day & Good Luck! View/Write Comments (count 0) | Receive updates (0 subscribers) | Unsubscribe
---
Millennium Edition
Vol 3, Iss 1 Slapout, Oklahoma - Here it is a week into the New 21st Century! Thanks for all the memories you have sent in the past Volumes of "Oakie's HTH." I am working on some Slapout, Oklahoma 2001 photos I took this week and hope to have them ready for you next week. Send me some history and memories of Slapout... If you get a chance.

We ate our good luck black-eyed peas in Buck's Hoppin John Recipe on New Years Eve for good luck to follow us into the New Millennium. I have stuck the recipe link below just in case someone wants to check it out.BucksHoppinJohn.doc

New Years Day found this Oakie on the road again back to Oklahoma, January 1, 2001. As to New Years traditions & black-eyed peas... Scott says, "My family always ate black-eyed peas on New Year's Day. Why? I haven't a clue."
< br /> My family also ate black-eyed peas on New Years for good luck. I don't know why or when the black-eyed peas tradition started. Does anyone out there have any clues to this mystery?

Some of you NW Oklahomans and Paris family relations out there might remember my Uncle Alvin. On our way back through Colorado to Oklahoma, we stopped and visited with my mother's older brother, Alvin Paris. Alvin worked with the McClure Loans & Insurance Company, in Alva back in the 1930s. Alvin & Naomi married in 1935 and lived in the Monfort Apartments before moving to 718 4th Street. I'm not quite sure where the Monfort apartments were located, but Alvin and Naomi moved from those apartments to the 718 4th Street home sometime shortly after the Castle on the Hill burned down. Does anyone have any clues to where the Monfort Apartments were located? Alvin and Naomi also lived in the two-story, framed, white house on the southeast corner of Choctaw & Third Street, across the street south from the Old Armory. Alvin Paris was born 1 Nov. 1912; married Naomi Warren (b. 1910), 3 February 1935. They will be celebrating their 66th anniversary, Feb. 3, 2001. Alvin is the next to the oldest of nine siblings of Ernest Claude Paris and Mary Barbara Hurt. Of the nine siblings (Leslie, Alvin, Vernon, Vada, Zella, Kenneth, Sam, Geneva and EJ)... the three remaining are Alvin (88, in Colorado Springs, CO), Sam (76, in Sand Pointe, ID) and Geneva (72, in Chester, OK).
OkieLegacy/image/alvin-naomijan01-01.jpg

Everyone knows about Pikes Peak and Colorado Springs, but what about the Cave of the Winds. These caverns are located near the small community of Manitou west of Colorado Springs, Colorado. You use a steep, winding, corkscrew mountain road to reach the entrance of the Cave of the Winds. The caverns have been around for over one hundred years.

They were temporarily lighted with electric lights 11 October 1904. On 4 July 1907 a new electric light system with arc lights were installed in the larger rooms of the cave for the first time. The entrance building was built in the spring of 1906 with a veranda for views of Williams Canyon and Manitou.
caveofthewinds.com/cave2000/timeset.htm

We stopped to take the tour so I could walk in the footsteps of my grandmother Constance Warwick who took the same tour in the early 1900s (1907-1909) before she married my grandfather, Bill McGill. I found this great old photo of the "Cave of the Winds" taken sometime during the early 1900s. There were NO names or dates written on the photo. The only clues to the dated items in photo are the long skirt and white blouse worn by the lady; the two horse drawn carriages in the sloping foreground; and the sign on the front of the building over the steps that reads, "Brilliantly Electrically Lighted." OkieLegacy/image/cavewinds.jpg
< br />You can view a January, 2001 view of the "Cave of the Winds" for comparison. OkieLegacy/image/cavewinds-jan01a.jpg OkieLegacy/image/cavewinds-jan01b.jpg OkieLegacy/image/cavewinds-jan01c.jpg OkieLegacy/image/cavewinds-jan01d.jpg

Nearby is a free public park called "Garden of the Gods." It has towering sandstone rock formations against a backdrop of snow-capped Pikes Peak and blue skies. In 1909, Charles Elliott Perkins' children conveyed his 480 acres to the City of Colorado Springs. It was/is known as the 'Garden of the Gods' and free to the public and maintained as a public park.
gardenofgods.com/history.htm
< br /> I did get a few shots of the 'Garden of the Gods' when we traveled through there January, 2001. If you look really hard, you might spot this Oakie leaning on a rock wall with the sandstone formations in the background at one of the overlooks.
OkieLegacy/image/gardengods1.jpg OkieLegacy/image/gardengods2.jpg

For the week of January 1 thru January 5... from SW Colorado to Oklahoma, the gas pump prices ranged from $1.55 (Durango, CO) all the way down to $1.19 at a Texaco, in central Oklahoma. The first of the week in Colorado Springs gas prices were $1.39. Boise City, out on the very tip of the Oklahoma panhandle, saw a $1.39 gas as did Guymon, OK. The gas prices in Alva during the mid-week came in at $1.35. Ames, OK which is southeast of Ringwood and norhtwest of Hennessey, Kingfisher and Okarche all sported a $1.34 price tag. A Texaco gas station in NW Oklahoma City showed a price of gas on Friday, January 5, 2001, at $1.19. What are the gas pump prices doing in your neck of the woods?
< br />Next week I will try to get the pictures of Slapout, Oklahoma ready for you to see what it looks like today. If anyone out there has any old photos, history or memories of Slapout to share, just attach them to an email and send along to Linda at mcwagner.lk@gmail.com. View/Write Comments (count 0) | Receive updates (0 subscribers) | Unsubscribe
---
Duchess' Snowy Domain
Vol 12, Iss 4 As we round the last corner of January 2010, we have had a couple or three days of reprieve from snow storms here in the San Juan mountains of Southwest Colorado, but it has been downright chilly with temps in the high 20s and low 30s during the day and dropping to negative figures at night. BUT . . . Isn't that to be expected during Wintertime?

Last Monday evening the snow began to fall here in the San Juan mountains of Southwest Colorado. With twelve hour breaks, it snowed for the next four days, adding an additional twenty-six (26) inches of fresh snow North of Bayfield. Our snow gauge at the end of Friday evening and into Saturday measured a total of 43 inches, of which 17 inches was the compacted base of the December 2009 snow. Do I have you confused yet?

Anyway . . . as of Sunday our 43 inches of snow compacted down to 38 inches. Thursday and Friday's snow were of the heavy, wet variety. There were some reports of avalanches and short power outages around Vallecito, and others areas near Durango.

They say that the 35 inches that fell in Durango is also Durango's total for January, which is more than twice the average January snowfall of 16.9 inches.

The historical record for snowfall in January occurred in 1916 when 74 inches fell. The 2nd- and 3rd-highest snowfalls for January occurred in 1980 when 58-inches fell -- in 1957 when 58 inches fell.

The photo above, taken by Robert L. Wagner, 22 January 2010, shows a panorama view from the backside of a cabin up at Vallecito Lake where the snow slid down the cliffs onto the back patio blocking the occupants from opening the backdoor.

There were other avalanches around here and near Durango, Colorado as well. On County Road (CR) 500, south of what some referr to as Wits Ends there was an avalance of snow measuring eight feet deep and 800 feet length that blocked CR 500.

The sun did come out, finally, Saturday, Sunday and Today, Monday. Looks like we have another snowstorm waiting on the horizon for Wednesday of this week. Southwest Colorado's average snowfall for January is usually around 16.9 inches. So . . . We have practically doubled that amount so far and January is not over yet. The skiers and resorts are loving, though.

As to this week's OkieLegacy ezine, we are exploring and sharing some history of that famous "Westpoint of the West," known as Kemper Military School, that our Uncle Robert Lee McGill attended in 1937 and 1938 before he advanced to University of Kentucky.

By the way, one of the students during that time was from a town in Oklahoma called "Wolco." Where is/was Wolco, Oklahoma? In Osage county? This NW Okie had never heard of Wolco. Can someone enlighten us and share some legacies of Wolco, Osage county, Oklahoma? Thanks for your help!
View/Write Comments (count 8) | Receive updates (1 subscribers) | Unsubscribe
---
Who Was St. Nicholas? Sinterklaas? Santa Claus?
Vol 11, Iss 51 With just four days before christmas, have you ever wondered ... WHY? What is the real meaning of Christmas? Who was St. Nicholas? How does that relate to our Santa Claus of today? How did the Santa Claus tradition begin?

From the information we have gleaned online, it appears that the true story of Santa Claus begins with Nicholas, who was born during the third century in the village of Patara, a Greek area that is now on the southern coast of Turkey.

The historical Saint Nicholas is represented with a full, short white beard, and wearing the red cape of a bishop over white priestly robes. He carries a crosier, or elaborate shepherd's crook, and wears a red bishop's mitre, or pointed hat. In Eastern Orthodox iconography, he is often shown holding a book of the Gospels, with Jesus Christ over one shoulder and Theotokos, the Greek name for Mary, Mother of Jesus, over the other.

As the story goes ... Nicholas' wealthy parents raised him to be a devout Christian. His parents died in an epidemic while Nicholas was still young. Obeying Jesus' words to "sell what you own and give the money to the poor," Nicholas used his whole inheritance to assist the needy, the sick, and the suffering. He dedicated his life to serving God and was made Bishop of Myra while still a young man.

Bishop Nicholas became known throughout the land for his generosity to those in need, his love for children, and his concern for sailors and ships.

It was under the Roman Emperor Diocletian, who ruthlessly persecuted Christians, that Bishop Nicholas suffered for his faith and was exiled and imprisoned. The prisons were so full of bishops, priests, and deacons, there was no room for the real criminals-murderers, thieves and robbers. After his release, Nicholas attended the Council of Nicaea in AD 325. He died December 6, AD 343 in Myra and was buried in his cathedral church, where a unique relic, called manna, formed in his grave. This liquid substance, said to have healing powers, fostered the growth of devotion to Nicholas. The anniversary of his death became a day of celebration, St. Nicholas Day, December 6th (December 19 on the Julian Calendar).

There have been many stories through the centuries -- legends have been told of St. Nicholas' life and deeds. Perhaps these accounts will help us understand his extra-ordinary character and why he was so beloved and revered as protector and helper of those in need. Perhaps this is what Christmas Day or St. Nicholas Day is really about!

There is one story that tells of a poor man with three daughters. In those days a young woman's father had to offer prospective husbands something of value - a dowry. The larger the dowry, the better the chance that a young woman would find a good husband. Without a dowry, a woman was unlikely to marry. This poor man's daughters, without dowries, were therefore destined to be sold into slavery.

Mysteriously - on three different occasions, a bag of gold appeared in their home-providing the needed dowries. The bags of gold, tossed through an open window, are said to have landed in stockings or shoes left before the fire to dry. This led to the custom of children hanging stockings or putting out shoes, eagerly awaiting gifts from Saint Nicholas. Sometimes the story is told with gold balls instead of bags of gold. That is why three gold balls, sometimes represented as oranges, are one of the symbols for St. Nicholas. And so St. Nicholas is a gift-giver. Does this sound familiar yet?

One of the oldest stories showing St. Nicholas as a protector of children takes place long after his death. The townspeople of Myra were celebrating the good saint on the eve of his feast day when a band of Arab pirates from Crete came into the district. They stole treasures from the Church of Saint Nicholas to take away as booty.

As they were leaving town, they snatched a young boy, Basilios, to make into a slave. The emir, or ruler, selected Basilios to be his personal cupbearer, as not knowing the language, Basilios would not understand what the king said to those around him. So, for the next year Basilios waited on the king, bringing his wine in a beautiful golden cup. For Basilios' parents, who were devastated at the loss of their only child, the year passed slowly, filled with grief. As the next St. Nicholas' feast day approached, Basilios' mother would not join in the festivity, as it was now a day of tragedy. However, she was persuaded to have a simple observance at home with quiet prayers for Basilios' safekeeping. Meanwhile, as Basilios was fulfilling his tasks serving the emir, he was suddenly whisked up and away. St. Nicholas appeared to the terrified boy, blessed him, and set him down at his home back in Myra. Imagine the joy and wonderment when Basilios amazingly appeared before his parents, still holding the king's golden cup. This is the first story told of St. Nicholas protecting children which became his primary role in the West.

Saint Nicholas - Wikipedia says, "(Greek: Άγιος Νικόλαος , Agios ["saint"] Nikolaos ["victory of the people"]) (270 - 6 December 346) is the common name for Nicholas of Myra, a saint and Bishop of Myra (Demre, in Lycia, part of modern-day Turkey). Because of the many miracles attributed to his intercession, he is also known as Nicholas the Wonderworker. He had a reputation for secret gift-giving, such as putting coins in the shoes of those who left them out for him, and thus became the model for Santa Claus, whose English name comes from the Dutch Sinterklaas. His reputation evolved among the faithful, as is common for early Christian saints.[3] In 1087, his relics were furtively translated to Bari, in southeastern Italy; for this reason, he is also known as, Nicholas of Bari."

Are we getting close to the origins of our Santa Claus (or ... Sinterklaas) ... yet?

They say that the historical Saint Nicholas is remembered and revered among Catholic and Orthodox Christians and is also honoured by various Anglican and Lutheran churches. Saint Nicholas is the patron saint of sailors, merchants, archers, and children, and students in Greece, Belgium, Romania, Bulgaria, Georgia, Russia, the Republic of Macedonia, Slovakia, Serbia and Montenegro. He is also the patron saint of Barranquilla, Bari, Amsterdam, Beit Jala, Siggiewi and Liverpool.

It was in 1809 that the New-York Historical Society convened and retroactively named Santa Claus the patron saint of Nieuw Amsterdam, the Dutch name for New York City.

My Ancestors, Couwenhoven (a.k.a Conover) were some of those Dutch settlers that settled in Nieuw Amsterdam (NYC). You follow the above URL and following URLs to scroll through our family tree of Couwenhoven / Conover Dutch ancestors that married into our PARIS lineage.

This is the Couwenhoven/Conover Lineage down to NW Okie:
* gerrit jansz couwenhoven
* wolphert gerritsz2 van kouwenhoven (1579-1662)
* gerret wolfersen van kouwenhoven (1610-1648)
* willem gerretse couwenhoven (1636-1723)
* jan "john" willemse couwenhoven (1681-1756)
* dominicus covenhoven (1724-1778)
* peter conover (1769-1835)
* jonathan coombs conover (1797-1859)
* peter conover (1822-1900)
* sarah frances conover (1848-1924)
* ernest claude paris (1879-1959)
* vada eileen paris (mcGill) (1916-1992)
* Linda Kay McGill (Wagner) (1948-living)

BUT ... Back to what brought this all about - the talk of Sinterklaas. Sinterklaas was also a patron of the Varangian Guard of the Byzantine emperors, who protected his relics in Bari. A nearly identical story is attributed by Greek folklore to Basil of Caesarea. Basil's feast day on January 1 is considered the time of exchanging gifts in Greece.

St. Nicholas Day is all about the "Spirits of Giving Around the World." In the Netherlands, Sinterklaas or St. Nicholas can be found wearing traditional bishop's robes, as he rides into towns across Holland on a white horse where he is typically greeted with a parade. Each year, Dutch television broadcasts the official arrival of St. Nicholas live to the nation.

The children of Holland look forward with excitement to his arrival on the evening of December 5, putting out carrots and hay for his horse. In return they receive gifts, candies, cookies, fruit and nuts. The children sometimes get letters from St. Nick filled with clever poetry.

To some -- To me, St. Nicholas Day and Christmas is not about the celebration of a birth, but is about the "Spirit of Giving Around the World."

It is perfectly alright with me if you want to celebrate Christmas as a birth, though. I have no problem with that. I prefer to celebrate Christmas as a season for giving of yourself and your particular talents! WHY can't we all be like St. Nicholas - known for our generosity and giving! -- People Helping People!
View/Write Comments (count 0) | Receive updates (0 subscribers) | Unsubscribe
---
Duchess Deer Domain
Vol 11, Iss 47 HAPPY THANKSGIVING! ... Welcome to our Evening eZine/Newspaper! Seems like NW Okie has left this Duchess Pug with a heavy load the past few weeks. I'm goin' take a long snooze afterwards with my wildlife creatures in my Deer Domain ? AND ? GO ON STRIKE!

By the way ? Have you met my friend Mr. Buck pictured on the left while he was grazing on fallen wildbird seed mix?

Mr.Buck and other deer have been grazing in our backyard the past few weeks waiting for another cold front to come through here sometime after and around the Thanksgiving holiday weekend. Mr. Buck says, "Hello!"

NW Okie is in the process of merging the Warwick McGill Paris Wagner families into one tree over at our ancestry.com family website. If you are already an ancestry.com member -- I have sent you a "Guest" invite to our family genealogy, come over and check it out -- leave a comment -- a family story -- help me refine the information that I have gathered so far.

NW Okie says, "If you don't mind the mess, drop over and see our 3980 family tree of our Paternal Maternal Wagner surnames.

NW Okie would also like to send you an invite to McGill-Paris-Wagner on ancestry.com, a place where we can learn more about our family history and share what we discover, together. You can view and print this family tree as well as historical records, images, stories, etc. that are attached to it.

If she has NOT already sent you a "Guest" invite and you are interested, let us know your email address so we can send you a "Guest" invite so you can view, comment on our family genealogy.

Ancestry.com allows you to participate by in our family genealogy by:
* Commenting on people, images, and stories
* Adding photos and stories
* Adding, editing, and deleting names

Did I mention this before ? The family tree already has 3980 people, 8 photos, 0 stories and 563 historical records. More old photos will be added later.
View/Write Comments (count 0) | Receive updates (0 subscribers) | Unsubscribe
---
Duchess' Domain
Vol 11, Iss 33 Can you remember what you were doing 40 years ago, during the Summer of '69, August 15-18, 1969 to be exact? Were you one of those 450,000 rock-n-roll music lovers, hippies making their way to the "Peace & Love" Woodstock Festival at White Lake, New York? Lots was happening the Summer of '69!

This Duchess NW Okie was from that era of America Rock N Roll, but was stuck in Alva, Oklahoma, and had been a newly wed for a couple weeks and David was still either at National Guard summer camp at Ft. Sill or coming home.

The NW Okie did not make it to Northwest Oklahoma and Freedom's PCRA Rodeo and Old Cowhand reunion.

If someone out there in northwest Oklahoma has a copy of the Freedom Rodeo Program, NW Okie would love to have a copy for her archives. Send us a copy c/o Linda Wagner, PO Box 619, Bayfield, CO 81122.

We would love to see how our full-page AD for "The OkieLegacy" and "McGill Sisters L & C Corporation" turned out in the Freedom Rodeo program with a 1908 photo of Constance Warwick, McGill Sister's 1908 Old Cowhand.
View/Write Comments (count 0) | Receive updates (0 subscribers) | Unsubscribe
---
Happy St. Patricks Day!
Vol 11, Iss 11 Yep! The wearing of the emerald-green for some of us Irish is just around the corner. Tuesday to be exact! I am thinking about wearing my green into Durango and partaking of some Irish stew and green beer on St. Patricks Day.

We have gotten back to working on our Warwick family genealogy, somewhat -- following friends on Twitter and Facebook and setting up a Facebook - Warwick Genealogy Group on our Facebook site. For all those savvy Facebook addicts, you can Facebook Linda McGill Wagner and Twitter With OkieLegacy.

The reason I have been gathering Warwick family information is because someone asked me if I would write a story about the McGill Ranch North of Waynoka. To do the story justly, I need to take you back to when my Great-Grandparents John R. and Signora Belle (a.k.a Sigga B.) Warwick made the Run of 1893 in the Cherokee Strip of Oklahoma Territory. That is just one of the projects that I have on my full plate of "To Dos."

I am remembering bits and pieces of our family trip back to the Virginia in 1960 or so ... It seems as though we visited, I think, Sam Lindsay, in West Virginia, and he had grown these huge tomatoes on stakes. I donot know if it was the virginia variety, or what, BUT ... they were gigantic in size. The tomatoes were bigger than my one hand could hold. I am hoping my sister will read this and help me out with more of those memories of the early 1960 trip to Virginia.

Anyway ... My dad brought some of the tomatoes and seeds from those tomatoes back to Oklahoma to plant in his vegetable garden out at the Ranch. Not sure the tomatoes ever got as big as they did in West Virginia, though!

A couple of weeks ago, Louise in Waynoka mentioned, "We need some rain, everything is trying to green up, but we have a moisture problem."

I Hope you NW Okies finally got some moisture along with a quick cold front this week. We hear it turned cold this week in the northwest parts with snow and ice."

The Balmer Fund has placed a FREE AD in our "Classifieds" that reads: "PEOPLE PERSON? ?Sell ads for Prairie Connection, flexible hours. Contact: iread@prairieconnect.com." If you are in the area of Harper, KS and NW Oklahoma, you might give the Balmer Fund a shout and check out this job opportunity.

Someone always seems to ask me, "How much are the subscriptions to the OkieLegacy newsletter?" In reply I write back and tell them this is a FREE weekly online newsletter! There is NO CHARGE! It is a labor of love and devotion to publish this OkieLegacy ezine each week. If it helps one person out there make a connection in their genealogy records, then that is all the reward I need!

Here are some Crossword Puzzle instructions for those who have not figured it out on your own:
* Select a clue from the clue list to activate the puzzle space, then type in your answer.
* If you want to pencil in a temporary answer, click the pencil button on the left column, fill-in the answer.
* To reveal a letter, select the space on the puzzle you want revealed, then click the reveal letter button.
* To reveal a word, select the clue you want answered, then click the reveal button.
* To reveal the entire puzzle, click the solution button.
* To revert back to an empty puzzle, click the revert button.

Happy Coming St. Patricks Day!
View/Write Comments (count 0) | Receive updates (0 subscribers) | Unsubscribe
---
Pugs & SW Colorado Cooler, Drier Air
Vol 10, Iss 22 Well! What these horses hear from those SW Coloradians is, "We (NW Okie, David & The Pugs) left northwest Oklahoma early last Thursday morning and arrived at Bayfield, Colorado around 6:30 p.m. MDT after about a 12 hour drive through, western Oklahoma, southwestern Kansas and southeast Colorado."

They reached the 70 degree temperatures around Walsenberg, Colorado on Hwy 160. We hear the gas prices ranged from $3.81.9 in Alva, OK to $3.95.9 on westward through Kansas and Colorado. The highest gas price was at the Springfield, Colorado station on the south edge of town -- in the $4 range for regular. maybe they should have driven to the north edge of Springfield, Colorado and found the gas prices a few cents below the $4 dollar mark.

Memorial Weekend In Oklahoma
NW Okie spent last week's Memorial weekend placing red roses on her ancestors McGill/Warwick gravestones, especially her great-uncle Wilbur Warwick (Grandmother Constance Warwick McGill's younger brother) who had died at the age of one year in 1896. Wilbur is buried in Block eight of the Alva Cemetery with other young babies who died at a young age.

Horses @ Fairvalley
One our readers told me last week, that she really enjoys seeing photos of our horses. So... for those horse enthusiasts, you can check out our OkieLegacy YouTube site for a short movie files of our horses getting a squirt of spray to control the small flies buzzing them this while we up there last week. If that link doesn't get you there, then try Horses at Fairvalley, OK.

Scissortail Flycatchers In NW OK
A few days ago, our youngest son, Robert L. Wagner, took some movie clips of a Scissortail Flycatcher that likes to frequent Alva's northend of the park down by the pond. Robert says the Scissortail is quite friendly and likes posing for the camera. Have you been to Alva's park lately?

Alva High Reunions
While we were in Alva, OK last weekend, we hear that the Alva High Class of '63 held their reunion out at the VIP Club, South of town. AND... it seems the Class of '88 Goldbugs also met that same weekend. Are there any '63 or '88 Goldbugs out there that have more information on those class reunions held last weekend?

Colorado Hummingbirds
As to the SW Colorado hummingbirds had been without hummingbird juice for the couple of weeks that NW Okie was gone. The hummingbirds are slowly coming back, but most have gone to a more productive feeder.

Duchess says, "I love this cool, drier climate, 'cause this pug doesn't have to breathe so hard to cool off here in Colorado."
View/Write Comments (count 1) | Receive updates (0 subscribers) | Unsubscribe
---
On the Road To Oklahoma
Vol 9, Iss 45 We hear NW Okie is "On the Road to Oklahoma" this weekend. somewhere in Garden City, Kansas this Saturday evening -- heading towards Northwest Oklahoma for it's Centennial Celebration next weekend, November 16, 2007.

That good-looking palomino gazing over the fence is me, "Nugget." Some people back in Northwest Oklahoma used to call me "Trigger," but NW Okie renamed me after her dad's old palomino stallion that Gene McGill raised from a colt when NW Okie was just a small child.

Anyway... that spotted paint horse grazing on hay behind me is NW Okie's painthorse, "Quoti." That is short for the Cherokee name, "Diquoti."

The youngest mare in this pasture is Maggie. She is somewhere around here. I thinks she is out in the pasture watching the dozen or so deer grazing as the 4-point buck stands guard a little ways up the sloping hill to the south pasture.

David and Duchess are watching over us while NW Okie and Sadie are on the road to Oklahoma.

NW Okie wanted me to run this past everyone and see how some of you might feel if we moved our "OkieLegacy Ezine" to Monday, instead of Saturday. We will be thinking seriously about it for the next few weeks to see what the majority of the readers feel about it. Email NW Okie at mcwagner.lk@gmail.com. Thanks!

Hi! Ho! Silver! As they say in the old TV western movies! Remember that western on the telly?
View/Write Comments (count 6) | Receive updates (0 subscribers) | Unsubscribe
---
Duchess Corner
Vol 8, Iss 30 Everyone needs a Rainbow shining in their lives now and then! So -- let us share this southwest Colorado rainbow that we captured the other evening after a light thundershower. We don't know if the picture does it justice, but hope we captured the beautiful full colors that we saw with the naked eye.

This week we have come across some information concerning the 1910 Woods county attorney, Claud McCrory, that resigned from that possession around January, 1911. It seems McCrory's health and the stress of prosecuting the "Old Opera House Murder Trial" had taken its toll on McCrory -- that being one of the reasons that he resigned in 1911 (according to the McCrory family legacy).

Another thing we are in search of is Northwestern's song that was titled "Old Northwestern" or "Castle On the Hill." We found a "Castle On the Hill" poem written by Thelma Meyers that appeared in the 1938 Ranger Yearbook. Could this be the lyrics to the "Old Northwestern" song?

Happy 37th Anniversary to David & Linda (McGill) Wagner, July 30, 2006!
View/Write Comments (count 4) | Receive updates (0 subscribers) | Unsubscribe
---
Vol 8, Iss 9 Opening of the northwest corner of the Old Castle on the Hill campus. In other words... only the rubble remains of the women's dorm (Oklahoma Hall) on the norhtwest corner of NWOSU's campus, in Alva, Oklahoma. What a sight! This photograph was taken last week by R.L. Wagner. Thanks, Robb!

As to our progress of inputting back issues of "The OkieLegacy Ezine" into our database, we are up (or back) to Vol. 6, Iss. 33 so far. We still have some mailbag features for those issues to fill in yet. We thank you for your patience and understanding while we slowly tredge along.

Seems to this writer that we jogged a few memories again last week. You can review last week's comments through the links in our Mailbag corner - "The Rest of the Story."

We learned of one of the professors (John Cameron) that taught the air cadet pilots at NSTC, in 1944. AND... several have stated that, "Yes!" Shirley Temple's husband was stationed as a training pilot at Northwestern in Alva, Oklahoma around that time.

AND... The 92nd College Training Detachment was the last group to be trained at NSTC in 1944. It was July, 1944 that they were shipped out to Fredrick, Oklahoma before going to San Antonio Aviation Cadet Center. This information came from Tom McCarrick of California. McCarrick also mentioned that he played trumpet and led the dance band at the "Cadet Club" for the St. Patricks Dance, March 14, 1944.

That bit of information reminded me of my Uncle Bob McGill that played the trumpet in a dance band back around the time of 1938 when he was going to school at Kemper Military, in Booneville, Missouri. AND... a group of that same band played on a voyage to Europe aboard the ship Europa, during the Summer of '38.

Enough of memories for now! As February passes to March this last week -- Fat Tuesday, Mardi Gras and Ash Wednesday were ushered in like a lamb around the valley area of SW Colorado. What have you given up for Lent for the next 40-some days?

View/Write Comments (count 0) | Receive updates (0 subscribers) | Unsubscribe
---
Giving Thanks & Genealogy Info
Vol 10, Iss 47 As a dry, cold front settled through Southwest Colorado by mid-week we encountered gas prices falling below the $2 mark in Durango, Colorado.

Also... Nugget, Quoti and Maggie were caught on film this week with friends at Clark's West Ranch in Northwest Oklahoma.

Meanwhile, NW Okie has been busy updating and moving her genealogy database to a new site. We deleted our Gencircles.com genealogy database.

NOW... Our Paris-Conover-Hurt (Geneanet.org) can be found at these two links - myheritage.com (Paris Family Site).

When you click the MyHeritage site link you will be able to pick between the "Paris-Conover-Hurt" pages and the McGill-Warwick-Gwin-Hull & Wagner-Williams-Zimmerman .

I also received this week some Louthan family history and information from Tom Fetters in Illinois. I haven't got it all transcribed yet, but I am still working on merging that information into my maternal genealogy data for the Paris/Conover/Hurt family file.

There are two different genealogy sites we are trying out, the MyHeritage site, which allows photos and comments, and the Geneanet.org site which has the traditionally, indented family tree form -- which makes for easier viewing and navigating.

See what you think and let me know which one you like the best. If you have a genealogy site that doesn't cost an arm and a leg to use, we would love to hear from you.

HAPPY THANKSGIVING is just around the corner. Take a few moments and reflect on things around you, and for what you are thankful for this year.
View/Write Comments (count 2) | Receive updates (0 subscribers) | Unsubscribe
---
Alva High Class of 66...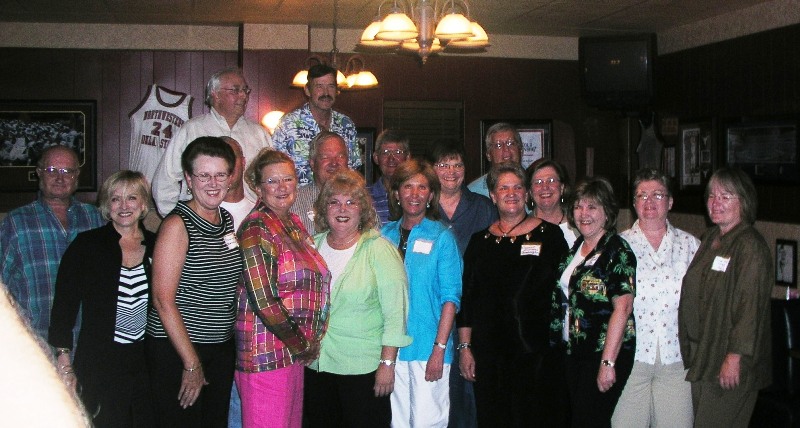 Vol 7, Iss 27 Last Saturday evening the '66 Classic Bugs & Bugettes of Alva High met at "Champs Bar & Grill" in Alva, Oklahoma with the Classes of '64 & '65 for their Class Reunions.

These are the Class of '66 that showed up for their 39th Reunion. There were some of the female's married names that have slipped our memories for now. BUT... if you can help us out, you could enlighten us and leave a comment below. Their maiden names are in parenthesis. Not pictured are Jan Little and Carolyn (Deinlein) Sample.
Front-row, left to right... Kathy (Kamas), Carolyn (Graves), Johnette (Scribner) Beagley, Linda (Hada) Murphy, Connie (Henderson) Woodson, Gwenell (Johnson), Linda (Leeper) Leist, Jean (McGuire), Linda (McGill) Wagner;
Second-row, left to right... Jim Scribner, Tom Blue, Allan Wilson, Hadley Hintergardt, Patsy (Hager) Headlee, Stan Kline, Rhonda (Meredith) Stephenson;
Back-row, left to right... Kirk Fisher, Jim Harrington.

See MORE July, 2005 AHS Reunion Photos at NW OkieLegacy Webshots View/Write Comments (count 2) | Receive updates (0 subscribers) | Unsubscribe
---
600 Block of Barnes Avenue - Alva, OK...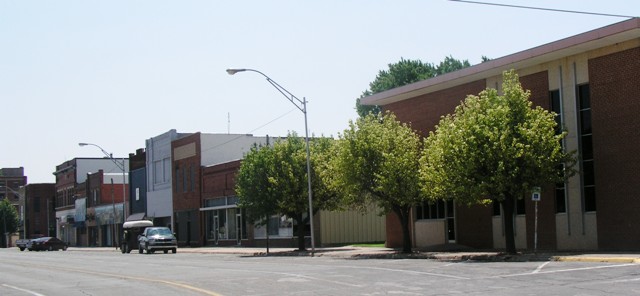 Vol 7, Iss 25 We have been reading in our Footprints Across Woods County history book -- looking for information on the Pribble Hotel, DeGeers Grocery Store, Illinois Cigar Store and Alva Body & Fender Works.

We didn't find anything yet about DeGeers Grocery store, but did find some information about Charles Frazer Grocery Store that was located on the North side of the square at 506 Flynn, in Alva, Oklahoma.

As to the Alva Body & Fender Works... In 1937 it was owned and operated by Harry & Del Brunsteter at 630 Barnes Avenue. In 1946 the Packard contract was accepted and created a need for more space -- so a new building was constructed at 401 Barnes and by December 6, 1946 the move was made. In May 1961, Del Brunsteter sold the business to Raymond Rhodes.

Remember Brunsteter's Illinois Cigar Store? In 1918 it was owned and operated by W.E. "Earl" Brunsteter as an oasis for recreation and noted for its carpeting, marble fixtures, polished spitoons, and respectability. In 1926 Earl sold the cigar store to Bill Brand who operated and maintained it through the 1950s.

Someone told me the beginning of this week that the DeGeer General Store might have been in the 600 block of Barnes Avenue about two doors west of the old McGill Brothers swimming pool. The old swimming pool has since been filled, AND... the building two doors or so west of it may still be there. BUT... which building was Brand's Cigar Store? If there is anyone else out there that could enlighten us concerning the DeGeer Grocery Store, don't be shy. Leave us a comment here or email Linda at EMAIL: mcwagner.lk@gmail.com. Thanks! Here is a link to NW OkieLegacy Webshots - 600 Block of Barnes Ave, Alva. View/Write Comments (count 1) | Receive updates (0 subscribers) | Unsubscribe
---
Wednesday Morning Backing on Maple Street...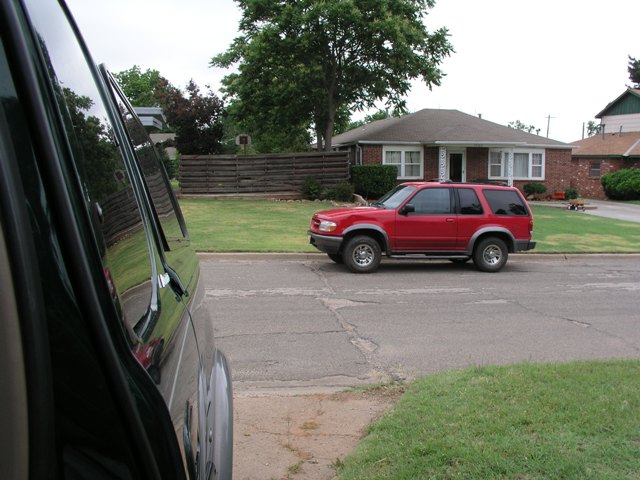 Vol 7, Iss 21 Well! Oakie is at it again! Trying to put the blame on me and my friend, Ruff! It wasn't this Pug and Ruff that was backing out of the driveway Wednesday morning. It was Oakie!

Here's How It Really Happened: It was the morning of 25 May 2005, about 9:15 a.m., Wednesday morning. The Go-dogs (Duchess & Ruff) were minding their own business in the house. If you listen to Oakie's story it would sound like, "it was all Duchess' doing ... coaxing poor Ruff into taking her for a cruise around the block and to the coffee & donut shop."

Anyway, Oakie was backing out of the driveway of 1027 Maple, Wednesday morning, around 9:15 a.m., at approximately 2 or 3-mph. Oakie was looking over her right shoulder and straight back through to the back window of the Toyota TUNDRA while backing into the westbound lane, in the 1000 block of Maple Street when she bumped something behind that was allegedly in her blindspot. She stopped! She pulled forward and stopped again -- got out to check the damages -- got back in the Toyota TUNDRA (pickup) -- pulled back into the driveway. She then proceeded to gather her license, insurance form and digital camera. She proceeded across the street to the neighbors house to find the owner. With Insurance verification, drivers license information, Oakie offers to exchange information with the owner of the parked '98 Ford Explorer Sport. The young girl, whose vehicle was parked facing West along the north curb of Maple Street, decides to call her father. The father instructs her to call the police for this minor backing incident.

SO... while we wait for what seems like 15 to 20 minutes for the police to arrive on the scene, Oakie is out taking digital photos of the two vehicles for her insurance company. We didn't just get one police officer, but two... arriving in two vehicles for this backing incident with probably only less than $500 to $600 damages.

One of the frontpage sub-headlines in the local newspaper stated a few days later: "WEDNESDAY MORNING ACCIDENT -- Around 9:15 a.m. Wednesday morning, Linda McGill Wagner, 57, of Alva, driving a green 2001 Toyota Tercel, backed into a parked red 1998 Ford Explorer owned by Tony Reed, also of Alva. Reed's Ford was legally parked facing west in the 1000 block of Maple. Wagner backed from north out of a driveway across the eastbound lane into Reed's vehicle, hitting Reed's Explorer in the driver's side front fender at approximately 10 mph. Safety equipment was in use in the accident. Reed's Explorer received approximately $500 damage. Wagner's Toyota sustained damage estimated at $600. No citations were issued in the accident. Officer Michael Eckhardt noted Wagner for improper backing."

Oakie was thinking that they got her age wrong, but that was about the only thing that was correct. AND... We believe there is a BIG difference between a Toyota TERCEL (as stated in the newspaper) and a Toyota TUNDRA, which Oakie drives! AND... the speed wasn't 10-mph, but only about 2 or 3-mph. View/Write Comments (count 0) | Receive updates (0 subscribers) | Unsubscribe
---
Our Family Genealogy Database...
Vol 7, Iss 16 This Genealogy & Family Tree stuff is like "A Neverending Story" ... There is NEVER a Finishing point. Meanwhile our work on updating our genealogy files to our family database is progressing rapidly on our MCGILL / PARIS / WAGNER Family Tree. We spent the week inputting our PARIS/CONOVER (our mother's side of the family) into the database. We still need to input our HURT family. There are CONOVER / COUWENHOVEN / KOUWENHOVEN / VAN KOUWENHOVEN ancestors that date back to the mid-1500s, in Holland (Netherlands). Our PARIS family tree has over 1500 persons so far. Stay Tuned for Updates in the next few weeks! View/Write Comments (count 0) | Receive updates (0 subscribers) | Unsubscribe
---
Our NEW Grand Niece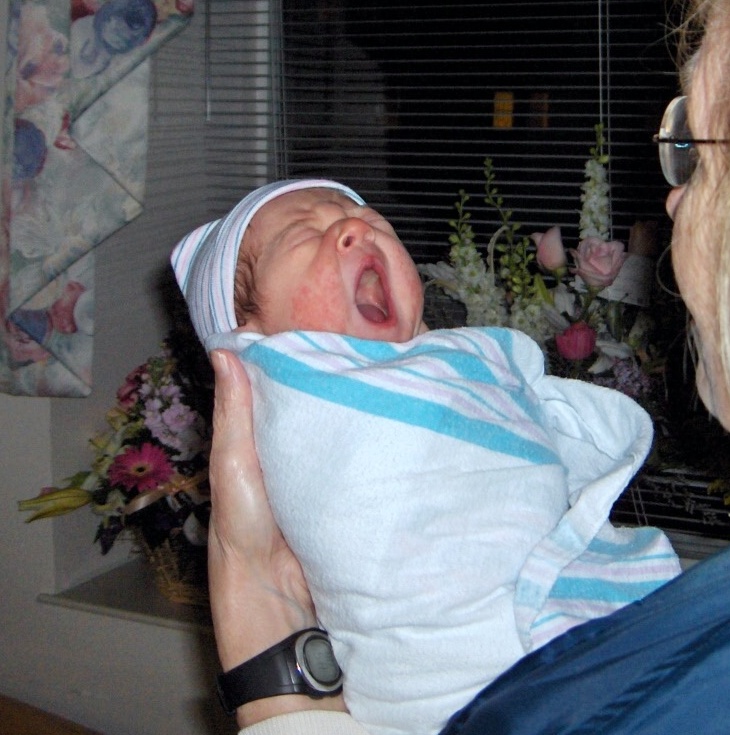 Vol 7, Iss 13 March 24, 2005 we received news that our NEW grand niece made her appearance known. That's our grand-niece on David's side of the family. Erin Lillian was born 0743 EST, March 24, 2005, in Atlanta, GA, weighing in at 6lb. 14 oz., 21 inches. We hear that Mother and baby Erin are doing well. Welcome, Erin, into our family!

That has spurred this family historian to dust-off the family genealogy program and do some updating. BUT... I have had to start from scratch to rebuild the family genealogy database. Since I've changed computers over the last few years, I can't seem to find any of my "gedcom" files. I've had to print out my webpages and start inputting families in from scratch -- starting with my "Family Tree Legend" -- GenCircles.com -- MCGILL Genealogy. I'm hoping to get the WARWICK, HULL/HOHL, GWIN/GUINN/GWINN, PARIS, HURT & WAGNER families added in the coming weeks. I know there are programs (ged2html) out there that translate gedcom files to gendex.txt files to use on your webpages. BUT... is there any program out there that will translate the gendex.txt files back to gedcom files? It seems like a few years ago there was something like that. It would sure help about now in the rebuilding the family genealogy database. View/Write Comments (count 0) | Receive updates (0 subscribers) | Unsubscribe
---
Walking With Sweet Silly Sadie
Vol 18, Iss 27 Alva, OK - I know my human has been a little distracted this last week, 'cause during my Doctor Vet annual wellness checkup, we found out this eleven year old Pug has the beginning of cataracts in both of my eyes. I Know some humans use seeing eye dogs to get around. I guess this "Sweet Silly Sadie" is going to use NW Okie as her seeing eye human.

This weeks OkieLegacy Ezine/Tabloid is a mixture of the Warwick family lineage of NW Okie, and how much she has compiled over the years. Plus other items from the 1912 Republican & Progressive Bull-Moose split and Pres. Teddy Roosevelt's campaign fora third term as President.

Major Jacob Warwick (1743-1826)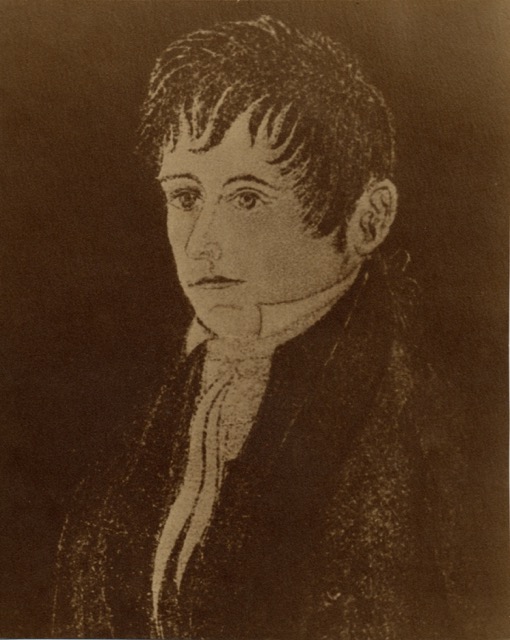 From the Historical Sketches of Pocahontas County, West Virginia, by William T. Price, page 234, we found this Warwick legacy of Jacob Warwick, who is the 6th Great Uncle of NW (Linda Mcgill Wagner).

The compiler of these memorials, deeply impressed that something should be attempted to perpetuate the memory of these persons (Jacob Warwick and Mary Vance, his wife) had availed himself of such facilities as had been in reach. He was largely indebted to John Warwick, Esq., Judge James W. Warwick, and Mrs. Elizabeth McLaughlin for the information from which these sketches were compiled. All these persons have since died, at a very advance age. This article first appeared in the "Southern Historical Magazine for August, 1892. Mrs. McLaughlin, a daughter of William Sharp, lived with Mrs. Warwick at intervals, as a friend and visitor in the family, and for whom Mrs. Warwick manifested special attachment.

The father of Jacob Warwick came to Augusta County, from Williamsburg, Virginia, during colonial times, between 1740-50. William Warwick was a Lieutenant in the service of the British Crown, and was employed in surveying and locating land grants in Pocahontas County, which County included territory of which States have since been formed. Lieutenant Warwick located and occupied the Dunmore property for his own use. He married Elizabeth Anne Dunlap, near Middlebrook. He was one of the English entry whose families settled in Virginia in consequence of political reverses in England, and whose history was so graphically given in Thackeray's Virginians.

After operating extensively in lands; and securing the Dunmore property in his own name, Lieutenant Warwick concluded to visit England. He never returned, and being heard of no more, he was given up fro dead. Meanwhile, Mrs. Warwick settled on the Dunmore property, had it secured by deed to Jacob and afterwards married Robert Sitlington, but remained at Dunmore a number of years after her second marriage. Jacob Warwick seemed to have remembered but little of his own father, and always cherished the highest filial regard for Mr. Sitlington. When Jacob attained his majority, Mr. Sitlington moved to his own property near old Millboro, the estate now occupied by Mrs. Dickinson, daughter of the later Andres Sitlington. Upon her decease, Mrs. Sithointon left a bequest of one thousand dollars to Windy Cove Church the annual interest of which was to be paid to the pastor of that congregation. For a long while it was managed by the Messrs Sloan. In the hands of Stephen Porter it was finally lost through financial failure.

Upon reading legal age and coming into possession of his estate, Jacob Warwick was married and settled at Dunmore. When it was decided that Lieutenant Warwick was dead, the grandfather of David Bell, of Fishersville, Virginia, was appointed guardian of Jacob Warwick. William and James Bell were the sons of this guardian, and James Bell was the father of William A. Bell and David Bell well remembered citizens of Augusta County.

Dunmore was Mr. Warwick's first home after his marriage. His wife was Miss Vance, daughter of Col. John Vance, of North Carolina. He died on Back Creek, at Mountain Grove, Virginia. Col. Vance's family moved to the vicinity of Vanceburg, Kentucky, except Samuel Vance, Mrs. Warwick, and Mrs. Hamilton. The last named was the mother of Rachel Terrel, of the Warm Springs, and John Hamilton, Esq., of Bath County. Governor Vance, of Ohio, and Senator Zeb Vance, of North Carolina, were of the same family connection. The Vances, originally, from Ooecquon, near Winchester, Virginia.
,
Mr. Warwick remained at Dunmore a number of years. His children were all born there. He was industriously and successfully occupied in accumulating lands, and managing large herds of cattle and droves of horses. His possessions on Jacksons River were purchase from a certain Alexander Hall, of North Carolina. Mr. Hall owned from the Byrd place to Warwickton. One of his sons, being charged with horse theft, the penalty being death by hanging, refugees to Bath County. The elder Hall came to Dunmore to see Mr. Warwick, and proposed to sell this land to provide means to send his refugee son to Kentucky so as to elude arrest. Mr. Warwick had sent out one hundred head of cattle to be wintered in the cane brakes. This herd was taken by Hall as part payment for the Jackson River lands. The cattle rated at eight pounds a head (about $0). The Clover Lick from the east avoided hollows and ravines, keeping along high points and crests of ridges, so as to be more secure from ambuscades and Indian attacks. The original way out from Clover Lick, going east, after crossing the Greenbrier near the mouth of Clover Creek avoided Laurel Run, kept along the high point leading down to the river, and passed close by the McCutcheon residence. Mrs. Warwick had the first road cut out, up the Laurel Run, in order to bring the lumber for the new house from Woaoddell's in the Pine Woods, now Greenbank and vicinity. She gave the enterprise her personal attention.

Quite a number of interesting incidents were given by tradition illustrating the character of Mrs. Warwick. While renting Clover Lick, her husband and others were making hay. A shower of rain came up very suddenly and dampened their guns and horse pistols. Late in the afternoon the men fired them off, so as to load them with fresh charges. Someone hearing the report of firearms in quick succession brought word to Mrs. Warwick, at Dunmore, that the Indians were fighting the men at the Lick. She at once mounted a large black stallion, put a colored boy on behind, and went at fall speed and swam the swollen river in her effort to see what happened. This colored boy was old "Ben," sho died at Clover Lick, and was remembered by many of the older citizens.

Upon another occasion, when the Shawnees were returning from one of their raids to the east, forty or fifty of their warriors were sent by Clover Lick with the intention, it is believed, to pillage and burn. A scout from Millboro warned Mr. Warwick of their movements. With about twenty others he waited for them in ambush on the crew of the mountain south of Clover Lick. The fire was very effective, and every man killed or wounded his victim. The Indians in their surprise hastily retreated, and were pursued as far as Elk Water in Randolph County. Upon hearing of the result, Mrs. Warwick at once followed her husband and friends, attended by servants carrying provisions for them. She met them at the Big Spring on their return, and the weary hungry party were greatly refreshed by her thoughtful preparations.

She was eminently pious, and was a member of the Windy Cove Presbyterian Church. She never felt herself more honored than when ministers would visit her home and preach. The visiting minister would receive a nice horse, or something else as valuable, as a token of appreciation. She was conscientiously rigid in her domestic discipline. Her brother once made this remark, "Mary, I used to think you were too strict with your family, and you have been blamed for it. I see now you are right. You have not a child but would knee in the dust to obey you. I let my children have more liberties, and they do not care near so much for me."

The Rev. Aretas Loomis came from Beverly, for a time, every four weeks, and preached at the Warwick residence. She was highly emotional, and during the services often appeared very happy. As to her personal appearance she was toll, slender, and blue eyed, hair slightly tinged with auburn, and lithe and agile in her carriage. So she was distinguished for symmetry of person, beauty of feature, and force of character, all of which she retained even to an advanced age. She was very benevolent, and her kind deeds were done upon the principle of not telling the left hand what the right might be doing. Persons in her empty would always be overpaid. Polly Brown, whose lot it was to support her blind mother, received two bushels of corn every two weeks, and no one knew where the supply came from at the time. A person named Charley Collins, who was renowned as an athlete, and whose name was given to one of the meadows of Clover Lick, did a great deal of clearing. It was reported that he was but poorly paid, but before Mrs. Warwick was done with him his family was doubly paid by the substantial fights dispensed with her open hands.

Among her many other generous deeds, it was told how a rather worthless character, disable by frozen feet, was received into her house, clothed and fed until he could walk. His name was Bosier. This man afterwards died from the effects of burning tree falling on hi, against which he had made a fire, while on his way from Big Spring to Mace's in Mingo Flats. George See, a grandson of Mrs. Warwick, heard his cries and came to him. In his efforts to rescue him, he exerted himself so laboriously that he ws never well afterwards.

It should also be remembered, that Mrs. Warwick, in her old age, gathered the first Sabbath School ever taught in Pocahontas County. In the summer her servants would lift her on her horse, and she would then ride about four miles to a school house near where the Josiah Friel cabin stood, now in the possession of Giles Sharp. The exercises would begin at about nine o'clock. There was no prayer, no singing; but she would read the bible, talk a great deal, and five good advice. The scholars would read their bibles with her. The exercises would close at two int he afternoon. After this continuous session of fiver hours Mrs. Warwick would be so exhausted as to require assistance to arise and mount her horse.It was her custom to go to William Sharp's, dine and rest awhile, and then go home later in the day. To use the language of one of her scholars, the late Mrs. Elizabeth McLaughlin, who died near Huntersville in 1895, aged over ninety years, "She would give such good advice. If all would do as she told hem, how well it might have been. She was the best woman to raise girls I ever saw, if they would take her advice how to act and how to do. She has talked to me for hours, and its often thrown up to me that old Mrs. Warwick made me proud because I tried to do as she advised me."

The school was mainly made up of Josiah Brown's family, John Sharp's, William Sharp's and Jeremiah Friel's. The lamented Methodist preacher, Rev. James E. Moore, once belonged to her Sabbath school, and received from her his earliest religious instructions. By common consent it was agreed that he did more for his church than any two mindsets who had ever preached in this region.

Not a great while before her death, during one of Mr. Loomis' ministerial visits, she received the communion. Upon receiving the elements, her emotions became so great that her husband and children, fearing results, carrie her to her own room. For four weeks she was helpless from nervous prostration. All her children from Bath and Pocahontas were sent for. She died at the ripe age of eighty years, in 1823, at Clover Lick, and there she was buried. There were no services of any kind in connection with her burial.

Jacob Warwick was one of the persons who made permanent settlements in what was then Pocahontas and Bath counties, Virginia and West Virginia.

It had been already stated that he commenced his business life at Dunmore; purchased Clover Lick, where he resided for a time; then moved to his immense possessions on Jacksons River, and then returned to Clover Lick. In addition to these estates he acquired some equally as valuable. He endowed his seven children with ample legacies, and besides bequeathed a competency to ten or fifteen grandchildren.

Mr. Warwick was an alert and successful Indian fighter, and had a series of conflicts, narrowly escaping with his life on several occasions; yet he was never sure of killing but one Indian. Parties now living remember seeing a tree on the lands of John Warwick, near Greenback, where Jacob Warwick killed that Indian in single combat. It always grieved him that he had done it. Not very far from this place is the laurel thicket where Colonel Washington was killed in 1861.

Upon a subsequent occasion MR. Warwick went to Randolph County. It was night when he returned. His horse shied at something in the road, which he at once recognized as the fresh husks of roasting ear. The presence of Indians was at once suspected, and upon approaching the house cautiously hit was found that the row of cabins were burned and the premises ransacked. In their glee, the Indians had caught the chickens, picked all their feathers off and let them go. The place had been left in the care of a closed man named Sam and Greenbrier Ben, aged ten and twelve years. Sam made good his escape to the woods, but Ben hid in a hemp patch so near the cabin that when it was burned he could hardly keep still, his buckskin breeches were so hot. From his retreat Ben saw the Indians pick the chickens, leaving their tails and topknots, and laugh at their grotesque appearance. He saw them run the wagon into the fire, after the cabin near the spring had become a smoldering heap of coals. This wagon was the first that ever crossed the Alleghenies. It was brought from Mountain Grove, up Little Back Creek, about three miles above where the Hunersville road first crossed the stream going east; then across Knapps Spur, along by Harper's Mill; then straight across to Thorny Creek, through the Lightner place, past Bethel Church, to the Sunders place on Thorny Creek; thence up the ridge to the top, and then along down to the Knapp place on the Greenbrier River; thence to Clover Lick.

The most memorable event of his life was his being in the expedition to Point Pleasant, under General Andrew Lewis. The march from Lewisburg to Point Pleasant, one hundred and sixty miles, took nineteen days. It was most probable that he was in the company commanded by Captain Mathews. This conflict with the Indians was themes decisive that had yet occurred. It was fought on Monday morning, 10 October 1774. It was a matter of regret that the recorded history of this battle does not accord full justice to the memory of a very deserving person. It was conceded by all, so far as there was any record, that up to the time when there occurred a lull in the battle the advantage was with the Indians. The question arises, why should a warrior as skillful as Cornstalk call a halt in the full tine of success, and suddenly cease firing and pressing upon a receding foe, with victory just in his grasp?

Had it not been for this, no troops could have been safely detached for a flank movement. Flank movements were only a good policy for those who were pressing the enemy, and not for the retreating party. When Cornstalk ceased to press, the victory was decided in favor of the Virginians, and lost to him. Had the battle been lost to our people and the army sacrificed, unspeakable disasters would have befallen all settlements west of the Blue ridge mountains; the Revolution would have been deferred for all time, possibly, and the whole history of america far different from what had been.

How was that lull in the battle to be accounted for, which resulted in victory to the Virginians? Dr. Foote said, in his account, which is one of themes minute and extended of all in reach of the writer, "towards evening, Lewis seeing no signs of retreat or cessation of battle, dispatched Captains Shelby, Mathews, and Stewart, at their request, to attack the enemy in their rear. Going up the Kanawha, under the cover of the banks of Crooked Creek, they got to the rear of the Indians unobserved, and made a rapid attack. Alarmed by this unload for assault, and thinking the reinforcements of Colonel Christian were approaching, before whose arrival they had striven hard to end the battle, the savages became dispirited, gave way, and by sunset had recrossed the Ohio. Colonel Christian entered the camp about midnight, and found all in readiness for a renewed attack.

Colonel Kercheval, who claims to have derived his information from Joseph Mayse and Andrew Reed, of Bath County, stated on their authority "that about two o'clock in the afternoon Colonel Christian arrived on the field with about five hundred men, the battle was still raging. The reinforcements decided the issue almost immediately. The Indians fell back about two miles, but such was their persevering spirit, though fairly beaten, the contes was not closed until the setting of the sun, when they relinquished the field.

There were persons recently living in Bath almost in speaking distance of the residence where Joseph Mayse lived and died, who were certain that Mr. Mayse gave the credit of that cessation in battle and falling back two miles on the part of the Indians, to Jacob Warwick and the persons with him. According to Judge Warwick's statement, Mr. Mayse's statement was emphatically confirmed by Major Charles Cameron, a lieutenant in the battle. Mr. Mayse often repeated the fact that Jacob Warwick, an obscure price in the ranks, was detailed with a number of others, perhaps fifty or sixty in all, to bring in a supply of meat, that rations might be supplied for a forced march to the Indian towns, as Governor Dunmore had so treacherously given orders. These persons crossed the Kanawha about daybreak, and while at work in the hunting grounds and slaughter pens, they heard the firing beyond the limits of the camp, and so far up the Ohio they supposed it to be a salute to Governor Dunmore, who was expected at any time by the soldiers generally. But the firing continuing too long for this, it was surmised the troops were putting their arms in order for the contemplated march over the Ohio. Finally they suspected it was a battle. Mr. Warwick was one of the first to ascertain this to be so, and immediately rallied the butchers and hunters, in order to return to camp and join the battle. This was noticed by the enemy, and Cornstalk was of the option that Colonel Christian was at hand. He ceased in the reach of victory, and took measures to withdraw from the field, unobserved by our exhausted troops. For nearly two hours they had been falling back, and when the flank movement was made to communicate with the hunters, supposed to be Colonel Christian's advance to join them. What fighting occurred afterwards was with the rear guard of Cornstalk's retreating army of demoralized braves.

If all this be true, and considering the sources of information, the write of this book saw no reason to doubt its authenticity in the main, it illustrates how important results were sometimes made to depend, in the providence of God, upon fidelity to duty on the part of the most obscure, and it brings to light the leadings of God's hand in human affairs.

The reputed hero of Point Pleasant appears in bronze, an honored member of the group wherein stand Henry, Jefferson and Marshall, while the humble man whose hand turned the fortunes of that most eventful day sleeps in his obscure grave on the west bank of Jacksons River, six miles from the Warm Springs. Were it the grave of Campbell's "Last Man," it could not be in much less frequented place.

Major Warwick's sons and daughters were all born at Dunmore, Pocahontas County. The eldest daughter, Rachel, remembered when the settlers would fly to the fort near her home, when she was a little girl. The fort was near the spot now occupied by Colonel Pritchard's mill.

Good Night! Good Luck!
View/Write Comments (count 0) | Receive updates (0 subscribers) | Unsubscribe
---
Walking With Sadie
Vol 17, Iss 17 Houston, TX - Woof! Woof! We made it down to the Northwest parts of Houston, Texas, a few days ago. No flooding in our area and the rain has stopped, leaving sunshine as the first days of hurricane weather begins.

Our youngest son caught a video of a young bear making another appearance down the hill at the north end of Vallecito, in SW Colorado Rockies. Notice the bear getting startled towards the end and leaving the scene after hearing the banging of pots and pans.

Posted by Linda K Mcgill Wagner on Tuesday, June 2, 2015


We hope we have rounded up some interesting facts from 100 years ago concerning early baseball era, news of laborers looking for work in Oklahoma, and some interesting bits of information about one of NW Okie's favorite poets, Emily Dickinson.

Good Night! Good Luck! Woof! Woof!


View/Write Comments (count 0)

| Receive updates (0 subscribers) | Unsubscribe
---
Walking With Sadie
Vol 16, Iss 38 Bayfield, CO - My favorite human, RL Wagner, took these images of an eagle perched in the dead tree on the Northeast side of Vallecito Lake. Thought maybe you would enjoy viewing some precious mountain scenery, wildlife we encounter daily in our neck of the woods.

Golden Eagles are sometimes known as kings of the Colorado skies in some opinion. They are large, strong raptors that often cause other raptors to disperse. Large eagles will have wingspans that exceeds 7 ft! In Colorado, they are numerous in the western half of the state all year, and in the eastern half, are found mainly during the winter months.

Fledglings are very dark birds and young birds (0 to 4 years old) will have tail feathers that are typically white toward the base of the tail and some white at the base of their primary flight feathers. Mature birds (5+ years) will have a beautiful mix of brown, tawny, golden, and grey colors. Once you have seen a few of these birds, you will not mistake them for young Bald Eagles.

NW Okie wanted me to let you know that this week's OkieLegacy Ezine in a tribute to her Great Grand Uncle Robert Lee Warwick, who fought for the British Coast guard during World War I; her Uncle Major Robert Lee McGill, who fought overseas in World War II; and all veterans of all wars from those two wars to present day. Hey! I think she even had a great grandfather (Henry Clay Paris) that fought for the North during the Civil War (1861-65).

Woof! Woof! Good Night & Good Luck
View/Write Comments (count 0) | Receive updates (0 subscribers) | Unsubscribe
---
1926 Alva Businesses
Vol 6, Iss 39 Alva, Oklahoma - 1926 Alva Businesses - NW OkieLegacy Webshots - 1926 Ranger AdsLane's Confectionery
Crouch Studio
Marcum & Branson Tires
Schnitzner Market
Alva Laundry & Dry Cleaners
The Band Box Millinery
The City Bakery
Farmer's Independent Oil Co.
Winter Brothers
McHenry Cafe
Amsden Lumber Co.
Pribble Hotel
W. C. Wilkinson
Unique Confectionery
L. A. Wagner Cash Grocery
Rexall Drug Store
South Side Barber/Beauty Parlor
Bell's Ice Cream Co.
Carrell Music Co.
Alva Roller Mills
Ellis Studio
Kavanaugh & Shea
Weinrich Clothing Co.
Mountain Oil Co
J. C. Hess Ins.
Hurd Motor Co
Fettke & McHugh
Tanner Bros. Clothing Co.
E. W. Tanner Co.
The Tea Store
Crowell Bros.
Elk Barber Shop
Alva Storage Battery Co.
Oklahoma Cigar Store
Hughey & Kennon Ins.
Majestic Theatre
The Ranger Shop
Pullman Cafe
Cochran Drug Co.
Bynum's Hamburger Stand
W. W. Starr
The Alva Record
First National Bank
J. C. Penney Co.
Monfort Drug & Bookstore
High Grade Oil Co.
R. I. DeGeer Groceries
Monfort-Smith Jewelers
Tyree Brothers Clothiers
W. B. Fowitz Funeral Home
Palace Barber Shop
Dr. A. W. Clark Dentist
R. J. McCormick Jeweler
Pood's Shining Parlor
City Tailors
Alva Motor Co.
Bradbury's College Book Store
J. A. Renfrew & Co. Furniture
W. E. Eutsler Grocery
Schaefer-Doolin Mtg. Co.
The Bobbing Shoppe
New Racket Store
Maxwell Printing Co.
Hub Tailor Co.
Joe Edwards Motor Co.
McGill Bros. Furniture
McGill Swimming Pool
Illinois Cigar Store
Alva Motorcycle & Bicycle Shop
View/Write Comments (count 0) | Receive updates (0 subscribers) | Unsubscribe
---
Freedom, OK's 2008 Old Cowhand - Dean Wilson
Vol 10, Iss 34 We didn't make it back to Northwest Oklahoma last weekend for Freedom's Rodeo, Cowhand Reunion and Shootout. BUT... We read in this week's NW Oklahoma weekly newspaper, The Freedom Call, that Dean Wilson was the honored Old Cowhand this year (2008) at Freedom's Old Cowhand Reunion & Rodeo.

What we know of Dean Wilson from that article is that he married Betty Hackney, April 29, 1951. Both Dean and Betty worked for the Kamas Brothers Ranch; thereafter the young couple moved to Protection, Kansas to work for Betty's uncle, Lloyd Hackney. At this same time, family was blessed with the birth of daughter RoAnn and son Randy.

In 1954 the Wilson family headed to the Parker and Beely Ranch just north of the Kansas line and daughter Sharil was born.

From 1958 to 1961, the family worked the Gregg Ranch just southeast of Wimore, Kansas. There, Dean, enjoyed the kind of work he loved, but had a few more acres to ride. It wasn't all work. The family would stay busy with the birth of twins, Darol and Carol.

Finally in 1961, Dean rented 880 acres northeast of Mooreland, Oklahoma. He bought a cow herd, horses and a few hogs. While living in Mooreland, the late Darrel Eden approached Dean and ask him to manage the Freedom Propane Company. So in 1964 when the owner of the Mooreland acreage put it up for sale, the Wilson family gladly jumped at the chance to move back 'home' to Freedom.

All three of Dean and Betty�s daughters had been crowned Freedom Rodeo Queens, as well as serving as attendants. Even granddaughter Sabrina was crowned Queen in 2002.

Congratulations to Dean Wilson and his family from the OkieLegacy and McGill Sisters L&C Corporation (Dorthy & Linda).

If anyone out there has an extra copy of the <2008 Freedom Rodeo Program for the 71st Rodeo & Cowhand Reunion, I would sure love to have a copy. You can mail it to me: Linda Wagner, PO Box 619, Bayfield, CO 81122. Thanks!
View/Write Comments (count 0) | Receive updates (0 subscribers) | Unsubscribe
---
Share Bros. of Oklahoma Territory
Vol 9, Iss 24 I was doing some looking back at bits, pieces that I have gathered on the Share Brothers of Oklahoma Territory. Amongst the information, it looks like the Share brothers were native of Michigan and had a mercantile business in Harper, Kansas in what is known as the 'Buckeye building' before moving their mercantile business to Alva, Oklahoma Territory.


Charles C. Share was a native of Michigan, but engaged in the mercantile business at Harper, Kansas, for several years. He moved his stock of goods to Alva in 1901 and consolidated it with that of Sylvester B. Share & Bros' department store. Charles C. Share had been a cashier of that big institution in 1904. He was also in the class of Woods County progressive citizens.


J. D. Share was also a native of Michigan. He located in Wellington, Kansas, 1872, and engaged in the drygoods business until he came to Alva in September, 1895, where he was already had an interest with his brother, Sylvester B. They built the first brick business house in the city. Afterwards adding two more brick rooms, making the buildings combined 75 by 150 feet. They also built the Alva National Bank block of four business rooms, with offices upstairs, and later the post office building. Mr. Share was vice-president of the 'first commercial club,' and was always active in furthering any enterprise for the general benefit of the city. He served one year (1900) as a member of the 'Territorial Board of Education' for 'Normal Schools', and in 1901 was elected a member of the city council and was active in re-organizing Alva as a city of the first class, making its laws, among other things.


Sylvester B. Share was an Alva, Oklahoma pioneer native of Michigan. Sylvester B. Share came to Harper, Kansas, about 1884 and engaged in the mercantile business. Sylvester B. Share came to Alva, Oklahoma Territory in the spring of 1894 and opened a large general merchandise store. Sylvester B. Share was very liberal, enthusiastic in furthering the interests of the city. Like his brother, Sylvester served two terms on the city council, years of 1894-5. In 1909 he was of the firm of S. B. Share and Bros. large department store in Alva, Oklahoma Territory.

It seems as though the Share brothers and their descendants touched many lives in this northwest Oklahoma Territory and across the northern border into Kansas. Today many northwest Oklahomans will remember Charles Morton "Corky" Share as the son of Charles C. Share. "Charles Morton Share Trust has been used to build many businesses, new hospital, library, etc...

As a little girl living on the southwest corner of 7th & Church Street, in a two-story white, frame house, in Alva, Oklahoma, my family (including myself, a.k.a, & Linda Kay McGill) were neighbors of Charles "Corky" Morton Share.

To this impressionable, shy little girl in the 1950's, Charles 'Corky' Morton Share was a single, quiet, heavy set man, whom lived in the white frame house just south of us. Corky Share (Charles Morton Share) died June 13, 1959 and is buried in block A-086-07 of the Alva cemetery with his parents.

I do not remember much about the man and my neighbor as I was a rather shy, introverted, impressionable young thing in my early youth back then and things seemed to easily scare me. All that I remember about "Corky" Share was that he seemed to be a quiet, heavy set man that kept to himself and lived with his widowed mother. I don�t know if that is true or not. BUT... I kept to myself and really did not get to know him like I probably should have as a neighbor.

Corky seemed tall to this short shy neighborhood girl in her early youth. I can only speak for myself, Corky seemed a bit frightening. I don't know if it was the neighborhood kids that started the rumor or not, but we were told that if we went in his back yard all hell would break loose. Now that I have grown older and wiser, I see that the rumor may have been something that the kids in the block started because Corky kept to himself. It is always easier looking back and seeing what you would like to change, isn't it?

I remember the many fruit trees he had in his backyard. There was one year that Charles Morton Share let my baby sister, Amber, pick some fruit from his trees to make him a pie. I guess my baby sister was a bit more outgoing than I was. BUT... I think my mother made the pie for her.

Anyway, when Charles Morton Share died in 1959, he bequeathed a stuffed pelican to my baby sister, Amber. That pelican has long since been donated to the museum at Northwestern Oklahoma State University.

As we glance, read through the "Pioneer Footprints Across Woods County" history book, you get a glimpse of the many lives that were entangled with the Share Bros. businesses. BUT... there is no other family history of the Share brothers personal family life.

Who was Alva's benefactors, Charles "Corky" Morton Share? Charles C. Share; J. D. Share; and Sylvester B. Share?

If anyone out there has a more detail history of the liberal, enthusiastic benefactors (Share Bros.) that progressively help build northwest Oklahoma Territory and parts of Kansas to the North, we would love to learn more about these Michigan natives that stopped in Wellington and Harper, Kansas before moving on into northwest Oklahoma Territory. CONTACT: Linda McGill Wagner, PO Box 619, Bayfield, CO 81122 - Email: mcwagner.lk@gmail.com.
View/Write Comments (count 3) | Receive updates (0 subscribers) | Unsubscribe
---
Old Opera House Mystery Continues...
Vol 8, Iss 29 The continuing story of the Old Opera House Mystery - Part II has hit the newstands and mailboxes with the July/August edition of the "Prairie Connection." Have you received your copy yet? Look for it in your mailbox or on the newstands near you. If you don't subscribe, then you need to subscribe today! Check out Prairie Connection newly designed website for the subscription information.

If you have forgotten what happened as to the "Old Opera House Mystery", May, 2006 edition of The Prairie Connection, check out the May '06 link on the Prairie Connection website. OR... check out the OkieLegacy - Old Opera Mystery (1910). The September '06 edition of The Prairie Connection may be continuing the Old Opera House Mystery and getting into parts of the 1911 Trial in Woodward County. That is of course, IF the Prairie Connection readers want to hear more!

There is a request that we would like to ask of everyone out there. We are looking for any information on Claud McCrory, ex-county attorney of Woods County (1910). Where did McCrory vanish after resigning as Woods County's county attorney? Why couldn't the Law Enforcement League find McCrory? Who was helping him hide from subpeonas?

If you have any information about Claud McCrory, please send your information to LK McGill Wagner - paristimes@hughes.net. Thanks in advance!
View/Write Comments (count 0) | Receive updates (0 subscribers) | Unsubscribe
---
Kansas, Indians & 1867 Peace Treaty....
Vol 8, Iss 24 Have you ever wondered what the "Rest of the Story" was concerning the Medicine Lodge Creek Peace Treaty of 1867?

We recently learned about the horrors of the people of Medicine Lodge (Kansas) and how the Indians, especially the Comanche and Cherokee, were treated around the time of the signing of the "Peace Treaty." Most history books never mention this aspect or the indians side of the story. Were the Indians really caged like animals with inadequate food, shelter, and beaten? We also understand, realize that the majority of the history being published is the "white man's" version. We are in search of scholarly indian research that would give us BOTH sides of the story.

Did the Medicine Lodge "leaders" FORCE the signing of the Peace Treaty by the imprisonment of the native americans?

We don't know about you, but we would love to discover, share the "Rest of the Story." We need your help searching for any individual, research concerning the "Medicine Lodge Peace Treaty (1867)" that took place around Medicine Lodge, Kansas around the mid-1860s.

Are there any Native American history scholars or other scholars out there that might be able to provide us resources, research and point us in the right direction so the rest of the story can be told? We believe this is a story that needs to be preserved! We believe quite a few of those descendants live in Oklahoma now? Would you and knowledgeable Indian scholars, historians help us find the "Rest of the Story?" You may leave comments at the end of this feature and/or CONTACT: LK McGill Wagner - EMAIL: mcwagner.lk@gmail.com -- OR -- Rosalea Hostetler - EMAIL: wepreserve@balmerfund.org. Thanks for your help!
View/Write Comments (count 0) | Receive updates (0 subscribers) | Unsubscribe
---
About The NW Okie
---
2016, Letter to US Senators
Vol 18, Iss 30 Dear Senators:
As your constituent and someone who has paid into Social Security my entire working life, I am concerned about the agenda now underway in Washington to target Social Security with deep cuts.

Congress has created a Social Security crisis where there isn't one — currently the Social Security Trust Fund has a surplus of $2.8 trillion! Yet lawmakers have put Social Security on a collision course that will devastate this program and reduce the benefits that millions of Americans depend on to survive. One of those Americans is myself.

That's why I'm writing to you today to remind you:

--Social Security is our government's most successful and popular program, and any cut to benefits would endanger the well-being of millions of current and future recipients and their families.

--Social Security is an insurance policy that millions of American citizens deserve to receive if they cannot work because of a disability.

--Social Security is an earned benefit that American workers pay for throughout their productive lives. It is not an "entitlement" and it is not a handout.

At a time when more Americans than ever before are counting on their earned benefits for a secure retirement and a minimal safety net, Congress should be working to support, protect and strengthen Social Security. That's why I urge you to work closely with the National Committee to Preserve Social Security and Medicare as you consider legislation that could impact earned benefits.

Sincerely,
linda mcgill wagner
View/Write Comments (count 0) | Receive updates (0 subscribers) | Unsubscribe
---
Ranger Album 1917, NSN Societies & Local Pan Hellenic
Vol 18, Iss 22 This is a page showing the NSN Societies and Local Pan Hellenic organizations that were a part of Northwestern State Normal School, in Alva, Oklahoma.

Sigma Sigma Sigma (Founded at Farmville, Va., 1898) - Catharine Serviss (Pres.), Edna Conway, Neva Wilkinson.

X Chapter - Active member: Lenna Burr, Cleo Lewellen, Rose Walker, Dorothy Calloway, Edna Conway, Thelma Lambert, Henrietta Pyle, Ruth M. Miller, Neva Jane Hanford, Catharine Serviss, Ruby Skeen, Carre Phillips, Bell McCormick, Mae Hobbie, Hazel Ketchem, Katherine Monroe, Reed Loving Watt. 1916 Alumnae - Hazel Martin, Neva Wilkinson, Rachael McClure Vickers, Alta Dearing.

Active Chapters
Alpha - SNS, Farmville, Va.
Sigma Phi - Union U., Jackson, Tenn.
Kappa - Miami U., Oxford, Ohio
Zeta - SNS, Buffalo, NY
Phi - Ohio U., Athens, Ohio
Iota - SNS, Greeley, Colo.
Lambda - SNS, Indiana, Pa.
Mu - SNS, Kirksville, Mo.
Nu - SNS, Warrensburg, Mo.
X - SNS, Alva, Okla
Omicron - SNS, Ypsilanti, Mich.
Pi - SNS, Emporia, Kans.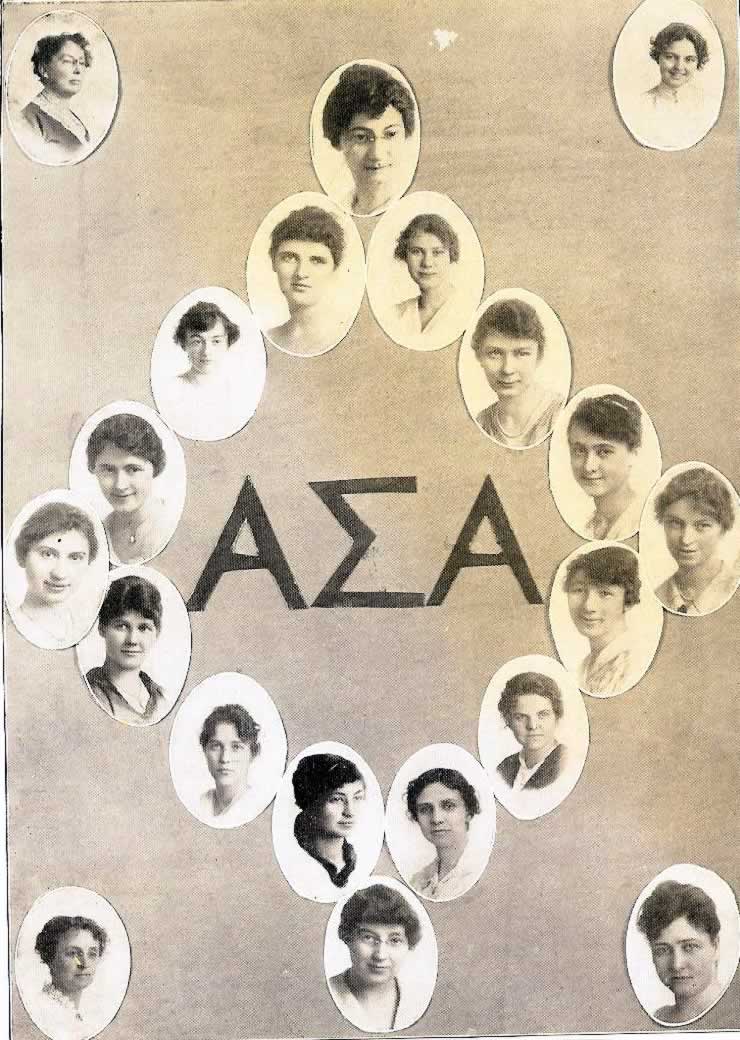 Alpha Sigma Alpha -(founded 1901) - Ada Titus, Grace Mauntel, Ada Smith

Chapter Roll
Alpha - State Normal School, Farmville, Va.
Alpha Alpha - Miami University, Oxford Ohio
Alpha Gamma - State Normal, Indiana, Pa.
Beta Beta - Teacher's College, Greeley Colo.
Gamma Gamma - State Normal, Alva, Okla.
Colors - pearl white, Crimson, Pale green, gold
Flowers - Astor, narcissus
Jewels - Pearl, Ruby
Open Motto - "Aspire, Seek, Attain"
Patron - Hermes
Insignia - Crown, Star, Palm Tree, Phoenix

Gamma Gamma Chapter Roll
Jennie Smith, Bess Davis, Mildred Foster, Nellie Cole, Blanche Rackley, Edith Harris
Alumnae - Mayme Spurrier, Jennie Vinson Fisk, Irene Rebber Quinlan, Ethel Feese, Louise Miller, Edith Heaton, Blanche Woolman, Ruth Long, Edna Brockway, Mary Bowling Wagner, Fern Clifton, Ada Smith, Gertrude Wetz, Ruth Pettit, Lorinda Mason
Ex-Schola - Helen Fitzgerald, Goldie Foster, Lucy Reed, Irene Rolf, Esther Delzell, Bernice Fitzgerald, Elsie Solf, May Grimm, Agnes Warriner, Stella Hunt
Faculty Advisor - Miss Minnie Shockley

Patronesses - Mrs. Frank Munson, Mrs. C. C. Share, Mrs. E. A. Haines


Pi Kappa Sigma (Founded Michigan State Norma, 1894) Alice Fennessey, Inez Beattie, Anne Wilke

Beta Chapter established 1900
Colors - Turquoise blue and Gold
Flowers - Forget-me-not and Jonquil
In Facultate - Saran Crumley, Nettie hardy, Isabell Vessey, Maude Reichman
In Urbe - Mrs. Guy Lisk, Mrs. W. E. Sloat, Phoebe McKeever, Mrs. Oscar Hampton, Mrs. M. C. Mason, Mildren Dauner, Edith Norris, Nellie Watson, Cora Wiggins, Mrs. Burdie Loventhal, Justine Harms, Carrie Schaefer, Mrs. Hurston Tuck, Mrs. C. S. Warren, Nellie Wiggins, Lois Wiggins, Marguerite Fennessey, Zelma Shilds, Ann Wilke

Members - 1917: Alice Fennessey, Edna Talbot, Della Brunstetter, Pearl Boling, Elizabeth Springer, Minnie Bridges, Velma Rae Dunn. 1918... Dora Curl, Inez Beattie, Ruth Greenlee.
Pledges - Margaretta Fulton


Delta Sigma Epsilon (Founded Miami University, 1914) - Nora Autsler, Fern Welsh, Maud Morris

Delta Chapter - established 1916
Colors - Cream and Pea Green
Flower - Tea Rose
Patroness - Mrs. Walter Ferguson
In Facultate - Pearl Ellen Crawford, Maude Morris, Pearl Esther Crawford
Members - Nora Eutsler, Irene Woodmansee, Marie McElhiney, Maude Every, Ruth Ranck, Eunice McCluney, Ruth Moyer, Mercedes Moyer, Veronica Hollen, Fern Welsh, Fern Williams, Beulah Hoffsommer, Jessie Hoefer, Elsie Lee Stein, Mable Willis, Edna Weeks
Pledges - Larkie Temple, Mable Cameron, Neola Hurt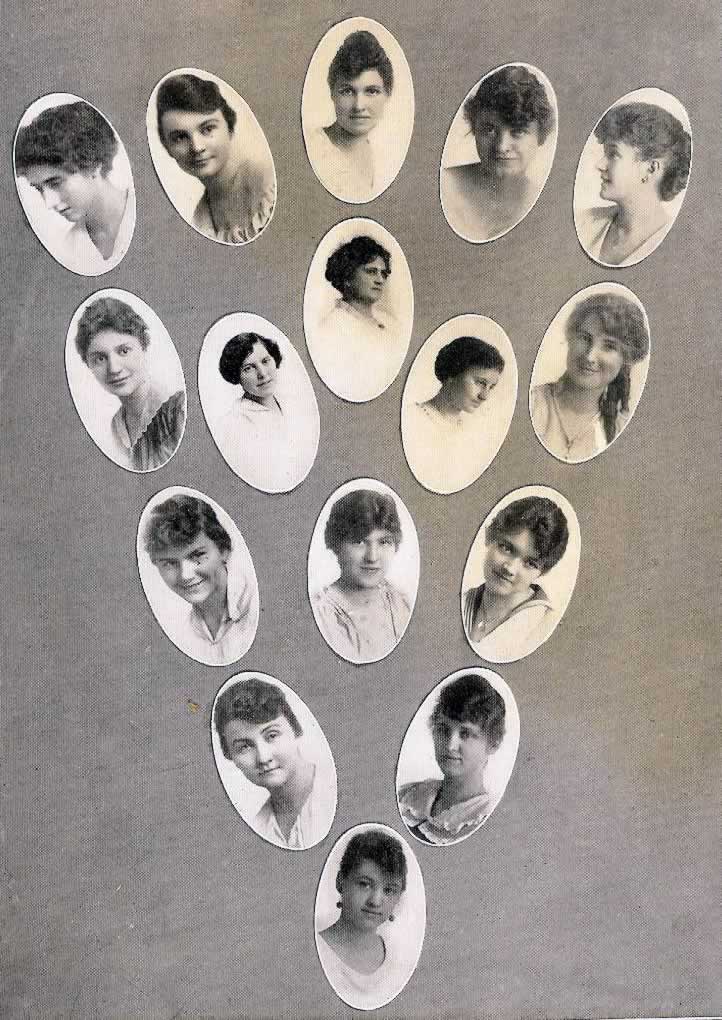 Saturday Night Club Organized 1906.

Colors: Sea shell pink and ashes of roses.
In Faculate - Grace Stegal & Sarah Crumley.

Members - Cora Davis, Vie Abbott, Inez Beattie, Eugena Huddleston, Pearl Boling, Margaretta Fulton, Mrs. Agnes Sloat, Luella Harzman, Dora Curl, Ruth Greenlee, Bernice Henderson, Rose Walker, Elizabeth Herold, Bertie Harney, Gladys Crawford, Etta Creech, Helen Smith.

Officers - Ine Beattie, President; Bertie Harney, Vice-President; Helen Smith, Secretary; Luella Harzman, Treasurer; and Ruth Greenlee, Reporter.


The Philomathean Club

The Philomathean Club is an energetic literary club of Northwestern. It has gained in membership and prestige ever since its organization. It has one of the most competent and most amiable members of the faculty, Mrs. Fallon, for its club Mother, and President Graves for Parliamentarian. It also recognizes the social side of things, and has its share of "stunts."
Members - Audrey Bainum, Lera Bainum, Lorena Bainum, Gladys Bingham, Marie Dale, Verda Dale, Bess Davis, Mrs. Fallon, Bernice Fogle, Marie Hartshorn, Nina Hopper, Viola Martin, Maud McMurtrey, Mildred McMurtrey, Letha Pryor, Sibyl Wilson.
Present Officers Bess Davis, Pres.; Audrey Bainum, Vice-Pres.; Gladys Bingham, Sec.; Viola Martin, Treas.; Nina Hopper, Chaplain; Verda Dale, Sergeant;Mrs. Fallon, Critic; President J. W. Graves, parliamentarian.



Parliamentary Debating Club Officers: Bert Raney, pres.; Harry Brown, Vice-pres.; E. A. Sandefur, Sec.; Joe Bagenstos, corresponding sec.; Wm. Eagan, Treas.; George McClure, Reporter; Critic, Ralph Beegle, Critic; Fant Word, parliamentarian;Chester Duncan, marshal; Sabin C. Perceful, coach of debate; V. C. Sheldon, coach of oratory. Club Colors - pink and green.

The Parliamentary Debate Club is the oldest organization of the kind in Northwestern and possibly in the state, and it has always held the debate honors of the club and school far above reproach, when given an opportunity to do so. This club now has hanging at its belt scalps from Oklahoma, Kansas, Missouri, and Texas. The Lone Star State was the last to fall a prey to the attack of the P.D.C. but they followed in the paths of all her other victims. This club has the remarkable record of having never lost a debate on its home floor in seventeen years. Among the schools with which the P. D. C. has held debates in the past are the Warrensburg State Normal of Missouri, the Emporia Normal of Kansas, Phillips University of Enid, Oklahoma, and the Original Tri-Angular. This club was one of the originators of the Original Tri-Angular and was the only organization.

The debate this year with the Methodist College of Clarendon, Texas, was the first debate the P.D.C. has had in three years, but it showed that the old debating ability was not lost. The debate was hotly contested at both places. The home team got a unanimous decision while the team which invaded the land of the longhorns carried off one judge, thus giving the club four out of the six judges, and making the P.D.C. the winner of the series. The men representing the club this year were Bob Lasley, Leonard Schaefer, Chester Duncan, and Elbert Mariatt.After the debate the leading social event of the season was celebrated by the club and its visiting friends. This seventeenth annual banquet was a great success. It consisted of a seven course luncheon.The banquet hall was elaborately decorated in pink and green, and while the banqueters dined Shaw's Orchestra furnished beautiful music.

At the close of the banquet the P.D.C. Octet rendered a few selections and the occasion closed by the singing of "The Star Spangled Banner," by the entire crowd.Not only does the P.D.C. take exceptional interest in their club and social work, but it is found that their members are among the foremost boosters of N.S.N. They support all worthy moves which are brought forth in the interest of Old Northwestern and are found on the firing line all the time when the interest of their Alma Mater is at stake.



N.S.N. Debating Club first row: Dunning, Kammerzell, Soliday, Arnote, Porter, Sockwell, Clark, Sears. Second Row: Watkins, Veatch, Smithson, Carey, Kuntz, Bruner, Graves. Third Row: Prentiss, Presnall, Coffman, Vinson, Coach, Baird, Ruggles, Mosshart,

Walker.Officers: Floyd Porter, Pres.; Harry Soliday, Vice-pres.; Everett Veatch, Sec.; Enos Walker, Assistant Sec.; Foster Stockwell, corresponding sec.; Frank Bruner, Tras.; Claude Baird, reporter; Carl Smithson, Marshal; Harry Dunning, Critic; Foster Stockwell, asst. Parliamentarian; A. G. Vinson, Parliamentarian. Club Colors - purple and gold.There is a spirit in every well balanced school which finds its expression in debating. The mental development gained from this practice of the science of argumentation is just as essential to the thorough education the individual as is the physical development furnished by athletics. To satisfy this need the N.S.N. Debating Club was organized in September, 1907, by a group of young men, students of Northwestern, who believed that there was enough material in school to support two debating organizations.The sound judgment of its founders has been proven by the record which the Club has made for itself in the ten years of its history.In 1913 it came off victor in the double debate with the Kansas State Normal School at Emporia, besides gaining the Normal School Championship at home by winning both the preliminary and final contests of the double Triangle of Oklahoma. In 1914, the inter-collegiate debates were thrown open to the school, and in that year the N.S.N. Club furnished seven of the eight debaters who handled the dual Emporia debate and the "Triangular" of Oklahoma. In 1915-16 the leading speakers of both Triangular teams were N.S.N. men and this year the four men selected for the State debate are all N.S. N.'s.The membership of the N.S.N. Debating Club consists of loyal, enthusiastic young men who are at Northwestern for the purpose of getting the splendid training afforded by this institution, and after graduation they are unanimous in the statement that more beneficial than any other one factor of their education is the training afforded them as members of the "N.S.N."Most notable among the social affairs given by the Club this year were: a Hallowe'en picnic, at which time the Club members and their friends motored to the bat caves twenty-five miles west of town, and the Seventh Annual Banquet of the Club, given on the evening of March 6.The successful record of the Club in the past has been due to the hard work and loyalty of every member. It now has among its members some of the most energetic workers and ablest debaters in the school, and as its coach Professor A. G. Vinson, whose capabilities are known throughout this part of the state. With these advantages the Club hopes to make its future even greater than has been its past, and invites the students of Northwestern to attend its meetings and lend their aid toward its further success.



Excelsior Literary Society - Standing: Martin, Green, Curtis, Caach Perceful, Clark, Callison, Karn, Grantham, Lambert. Sitting: Allen, Hurt, Hollen, Stone, Moyer, Ranck, Hollen, Coach Crawford, Moyer, Callison. Among the several clubs of Northwestern is one which was organized during the summer months of 1916. A band of about thirty teachers and students organized themselves into a club for the purpose of working out on general literary lines, as music, debate, public speaking, the study of authors, parliamentary law, etc. This was enjoyed so much by the young people, that they put on a play under the direction of Miss Crawford, at the Rex Theatre. Many of the members left school during the fall term to teach a various places over the state, but the few who remained worked diligently and at this time the club has sixteen members.Professor Perceful and Miss Crawford have been selected for the Club Coaches, and with their help, a debate team was able to enter the preliminary contest for the Triangular debate. We hold that the future has many things in store for this young society and though we have not the history of the past of which to boast, we will have in the future a club that will train both boys and girls along lines which will not only interest them, but will prepare them for their work outside of school.

The Ranger Rooter's Club
The "Rooters" club met and organized on Friday Sept. 2, 1916, nearly every student being present. A president was elected then yell leaders and various other officers. Much of the success of Old N.S.N.'s athletics, was due to the ardent support of this band of enthusiastic students. Every team which clashed in any sort of athletics with "The Rangers" on home grounds was always given a hearty reception by the "Rooters Club." All such courtesy speaks well for the school first and secondly it shows that each student is as a committee of one vitally interested in "Our" school. When the first "Ranger Basket Ball squad" left for the coast, they were given a sendoff, in which every student, who was physically able to attend; did so. This occasion will live only second in the memories of the students and townspeople in comparison to the grand reception given the quintette on their return home. The Rooters club supports as well, all forms of school activity, always having a grand majority of the students present at debate and reading contests. If it takes spirit and support to win, in school contests which we're sure it does, then the "Rooters Club" is an immense success.



The Science Club of N.S.N. The Science club was organized in 1906 by Professor G. W. Stevens who was chosen President of the Club and afterwards elected president each succeeding year as long as he remained in the school. Much interest was manifested and a great deal of work done under the leadership of Professor Stevens.During the present school year the Science Club was reorganized and the following officers were elected; T. C. Carter, President; Professor A. G. Vinson, Vice-President; Professor M.C. Mann, Secretary; Professor S. C. Perceful, Treasurer.The present active membership consists of about forty students and teachers who are interested in scientific work.Among those who have presented scientific papers recently are: Professor Perceful, Bert Raney, Professor Mann, Fant Word, Professor Geyer, Ben Rackley, Lleslie Wilcox, Frank Hess, Gladys Bingham, Carlos McGill and W. L Eagan.It has been the custom of the club to secure the services of a noted lecturer sometime during the year the proceeds being given to augment the "Students Loan Fund."The primary objects of this organization are to discuss subjects of scientific interest and for the encouragement of scientific research.

Y.W.C.A Cabinet
Audrey Bainum, Loine Floyd, Berice Fogle, Ione Clark, Nina Hopper, Etta Creech, Emma Donaldson, Luella Harzman, Ethel Albright.Among the many organizations which have helped to make school life at N.S.N. pleasant and worth while is the Young Womens Christian Association. While the sororities, clubs and classes have their distinct phases of work, it is the Y.W.C.A. which upholds Christian standards of the school. The intimate association with girls whose ideals are high, whose efforts are to attain the best in life for themselves and others, has an influence that is ennobling and which cannot be attained anywhere else in school.The Young Womens Christian Association is a world-wide movement.

In being a member of the Y.W.C.A. at Northwestern one is, first, a part of the Southwestern Field with headquarters at Dallas, Texas, then, the National Board of New York City, and lastly the Christian Federation of the World.The purpose of the Association is... "To unite the women of the institution in loyalty to Jesus Christ, to lead them to accept Him as their personal Savior, to build them up in the knowledge of Christ, especially through Bible study and Christian service, that character and conduct may be consonant with their belief. It shall thus associate them wit the students of the world for the advancement of the Kingdom of God.

It shall further seek to enlist their devotion to the Christian Church and to the religious work of the institution."

Y.M.C.A Cabinet
Walker, Julian, Baird, Schnitzer, Rackley, Raney, Stockwell, Sheldon.Among the many organizations that have helped the put N.S.N. on the map is the Y. M. C. A. The object of this society is to provide a home-like resort with good influences for young men. It advises its members to religious, social and moral advancement. Of all the forces for wise training and uplift for young men and boys, none have achieved a greater success than the Y.M.C.A. The close association with young men whose ideals are high, whose every effort is expended in the direction of higher and greater attainments for themselves and others, has an ennobling influence not to be found elsewhere in school life. The examples of young men and the high moral tone evidenced in school activities speak in clarion tones of the achievements of this band of young men.The support of the faculty has been of unspeakable help since the beginning of this association. Among the foremost are Pres. Graves, Professors Vinson, Carter and Sheldon.The present outlook for the coming year is brighter than ever with Dewey Mosshart, President; Claud Baird, vice-president; Enos Walker, Treasurer; and Everet Veach, Secretary, there is no reason why the Y.M.C.A. of Northwestern will not be one of the most active and helpful of any school association in the state.As no school can be ranked among the first without a Y.M.C.A., it is the duty of every loyal young man and student to get behind it and make what it stands for -- a developer of body, and and soul.
View/Write Comments (count 0) | Receive updates (0 subscribers) | Unsubscribe
---
NW Okie's Corner
Vol 14, Iss 51 Bayfield, Colorado - It was one week to go before Christmas Eve, and all through the house, some took a movie break, while the cat chased the mouse. Oh! Shucks! That is not quite right, but what the hey! We went dashing to town through the snow. What can I say!

We did go to an early Sunday afternoon matinee to see Spielberg's movie, Lincoln. The movie takes place in early January, 1865 with the House of Representatives debating the passage of the 13th Amendment, abolishing slavery, and ends with the assassination of Lincoln, on April 14, 1865, when John Wilkes Booth, a famous actor and Confederate sympathizer, fatally shot President Abraham Lincoln at Ford's Theatre in Washington.

I found myself comparing the Republicans and Democrats of 1865 to the two parties of today (21st century). There was a complete about face, switch of what each believed in back during the Civil War as the Republicans were what the Democrats are today, and vice versa.

Our next step was visiting the Chronicling America old newspapers dating back to January, 1865, for bits of news from that time period. We will include some of those stories in this week's OkieLegacy Ezine and future Ezine's to come.

Besides checking into some history of the 13th amendment, we have been doing some splitting family genealogy files for our Maternal, Paternal and Husband's ancestry, updating our Paris Pioneers Genealogy, where you can view our PARIS, MCGILL and WAGNER ancestry pioneers.

Good Night & Good Luck researching your family ancestry! View/Write Comments (count 0) | Receive updates (0 subscribers) | Unsubscribe
---
NW Okie's Corner
Vol 14, Iss 29 Bayfield, Colorado - Reading the History of Pendleton County, (W) Virginia and the beginning of the settlement, I found mention of my 6th great Grandfather, Frederick Keister (1704-1787), who had a son by the same name (Frederick Keister (1730-1815)). Frederick Keister, Jr. had a daughter named Esther (1767-1825) who married into the HOHL family.

The Keister-Hohl-Warwick-McGill Family Lineage:

Frederick Keister, I (1704 - 1787), my 6th great grandfather; married Hannah Green Batton Smith (1715-1790)
Frederick KEISTER, II (1730 - 1815) was born ca 1730 in Germany, Son of Frederick; married Hannah M. Dyer (1738-1819) about 1755, daughter of Roger Dyer (1699-1758) and Hannah Green (1706-1780). It is believed his family arrived at Philadelphia on Ship Virginia Grace 24 Sept 1737, and he pioneered on South Fork ca 1750. Roger and son William were killed in Ft. Seybert Massacre 28 April 1758; son James and daughter Sarah, widow of Henry Hawes, were captured. James escaped after two years and rescued Sarah when she had been captive about five years. Hannah Dyer, with daughters, Hannah Keister and Esther Patton, escaped harm as they were in Shenandoah Valley with relatives. Hannah Keister was devised 437 acres near Moorefield by her father. Frederick Keister was naturalized in 1762 along with other Germans neighbors. He was a Revolutionary War soldier serving as a Lieutenant in Rockingham County Company of Virginia militia in 1778, member of a band of Indian scouts and a 1st Lt. in 46th Regiment of VA militia in 1782. The Keister homestead encompassed the area of Brandywine village and part of the originial land is still in the family. Frederick and Hannah are buried on some of the originial land where the DAR placed a stone for Frederick with the dates of 1730-28 Nov 1815; Hannah's stone is chipped reading 1735-181_.
Esther KEISTER (1767 - 1825), Daughter of Frederick, II; married Adam Hohl (1754-1836)
Esther Hohl (1804 - 1853), Daughter of Esther; married Robert Craig Warwick (1801-1845)
William Fechtig WARWICK (1822 - 1902), Son of Esther; married Phebe Anthea Pray (1833-1905)
John Robert WARWICK (1857 - 1937), Son of William Fechtig; married Signora Belle Gwin (1860-1934)
Constance Estella WARWICK (1882 - 1968), Daughter of John Robert; married William Jacob McGill (1880-1959)
Gene M MCGILL (1914 - 1986), Son of Constance Estella; married Vada Eileen Paris (1916-1992)
And that leads us down to this NW Okie, Linda Kay McGill Wagner.

Enough of my ancestry, though. We had an OkieLegacy Ezine, Vol. 7, Iss. 6 -- 2005-02-12, concerning Danny Ray PARIS Family. Michele says, "I am your dad's older sisters daughter. My name is Michele Hewet and my mom is Virginia Paris Hewett. Have you found your dad? I have been trying to find him for a while now. He usually keeps in touch with my folks and we haven't heard from him in a while."

Good Night & Good Luck!

View/Write Comments (count 0)

| Receive updates (0 subscribers) | Unsubscribe
---
NW Okie's Corner
Vol 14, Iss 19 Bayfield, Colorado -
[images of Heaton/Clark family connection on the left and the McGill-Heaton connection on the right. Click images for larger view.]

There is a friend of mine back in Northwest Oklahoma that shares a 2nd cousin connection with Joseph "Joe" David Heaton. Joe D. Heaton died this past week, 2 May 2012. I have always teased my good friend, J. L. "Bud" Clark, about our ancestrial relationship, getting a slight grin and chuckle out of Bud as he denies any genealogical connection.

Our connection runs back to one specific person, Gladys P. McGill (1900-1988), as the key figure, who married Joseph William Heaton (1898-1965), settling near Capron, Woods, Oklahoma, raising three sons, John David (1924-2012), Richard Mac and Ronald Ray Heaton.

Gladys P. McGill was the daughter of Thomas David McGill (1862-1945) and Ida May Edwards (1867-1962). Thomas and Ida May (Edwards) McGill raised the following children were: Vella May (1890-1982; married Morton McKean), Glenna McGill (1891-1922), Carlos Leonardo (1894-1971; married Helen Ham), Mary Isabelle (1899-1900), Gladys P McGill (1900-1988; married Joseph Wm Heaton), Alba Rose(1909-1929).

My Great Uncle was Thomas David McGill, an older brother to my paternal grandfather, William Jacob McGill (1880-1959).

My Great Grandfather was William Pearson McGill (1835-1918), who married Isabelle McClure JOHNSON (1845-1926), raising the following children: Thomas David McGill, Wm Jacob McGill, Alice Elizabeth (1865-1929; married James D. Harris), Mary McKelvey (1869-1922; married Augustus Grant Vinson), James Acel (1872-1955), Charles Robert (1884-1971; married Elizabeth Nelson-Kidd), Lulu Belle McGill (1887-1975; married John Spencer Erskine).

My grandmother, Constance (Warwick) McGill would take us young kids to Gladys & Joseph W. Heaton's farm near Capron, Oklahoma to get eggs and chickens.

As it turns out, J. L. "Bud" Clark is this NW Okie's "1st cousin - 1x removed of husband of 1st cousin 1x removed." In other words ... Bud's mother Ida Cloe Heaton Clark (1889 - ?) married Joseph Lawrence Clark and they raised three children: Arvilla J, Jessie B, and J. L. "Bud" Clark, the youngest of three siblings.

Bud Clark's maternal grandfather was Jacob Cassleman Heaton (1863 - ), who married Minnie Laverne (unknown maiden name). Jacob Cassleman & Minnie Laverne Heaton raised the following children: Ida Cloe (married J. Lawrence Clark), Jacob Smith Heaton, Hallie C. Heaton, Berha M.Heaton, Eunice Heaton, Loyd T. Heaton, Liberty Heaton, Wyona Heaton.

Bud Clark's Great grandfather, Thomas Creighton Heaton (1833 - 1917), was from Fayette, Ohio; married Mariah Walker McNaught, raising the following children: Nathaniel C., Joseph Henry (1861-1944), Jacob Cassleman (1863-?), Ida May, Lyddie A., Edward Smith, Bertha Evaline, Agnes Maud, Homer C. Heaton.

Bud Clark's Great Uncle was Joseph Henry HEATON (1861 - 1944), born in Victoria, Knox county and died 12 January 1944, in Alva, Woods, Oklahoma. Joseph Henry Heaton married Talitha Louella Bachman and their children were: Pearl, Thomas Creighton, Edith, Clarence Earl, and Joseph William Heaton (1898-1965). Joseph William Heaton brings us to Bud Clark's relationship connection to Linda K. McGill Wagner (1st cousin - 1x removed of husband of 1st cousin 1x removed).

Tell the GOP, "Stop the War On Women"
Good Night & Good Luck searching your family ancestry! View/Write Comments (count 0) | Receive updates (0 subscribers) | Unsubscribe
---
NW Okie's Ancestrial Lineage
Vol 13, Iss 19 Bayfield, CO - In a past "OkieLegacy Ezine I mentioned that I am at a roadblock with my LUTTRELL / CRAIGHEAD ancestors that married into my MCGILL ancestors. I am presently doing research and searching books, memiors and family histories for the CRAIGHEAD (name also spelt CRAIGHEID, CRAGHEDE, CRAIGIE, CRAGGY, CREAGHEAD and CRAGHEAD) and the LUTTRELL's descendants to see if I can unblock these roadblocks. I did find where a possible Craighead connection married the sister of Benjamin Franklin. More about that next week.

I know that my LUTTRELL / CRAIGHEAD ancestors settled around Knox and Hamilton county, Tennessee. I have found a Agnes Nancy Craighead that married a George Dunlap, which would possibly connect the Craighead's to the Warwick ancestors. BUT . . . the Nancy Craighead I am searching shows, she may have married Edward LUTTRELL, and had a daughter, Anne Nancy Luttrell that married William Nathan McGill, Jr.

This is what I have so far in my MCGILL / CRAIGHEAD family lineage below for Nancy Craighead.

Nancy Craighead (1757-1867)

Nancy CRAIGHEAD, my 4th great grandmother; married Edward Luttrell; their daughter was Anne Nancy Luttrell (1787-1860), born in Virginia, died in Hamilton County TN;
Anne Nancy LUTTRELL (1787-1860) Daughter of Nancy Craighead and Edward Luttrell; Anne Nancy Luttrell (1787-1860) was born in Virginia, died in Hamilton county, TN; married William Nathan McGill, Jr. (1783-1832), 10 Mar 1807, Hamilton County, TN; Children were: Hugh McGill (1802-), Walter Marshall McGill (1807-1878); Elizabeth Betsy McGill (1812-); William McGill (1813-); Nancy McGill (28 Feb 1814-17 Nov 1898) (Linda Kay McGill Wagner's 2nd Great Grand Aunt), born in TN, married Samuel Geddes Craighead (1814-1889), son of William and Jane Gillespie Craighead; born 13 May 1814; married in 22 Feb. 1838 to Nancy McGill (born 28 Apr 1814-), resided at Sulphur Springs, Rhea County, Tennessee, Samuel Geddes Craighead was a part of the fourth generation of the Craighead family, Children: Beriah G Craighead (4 Aug 1846-); William H. CRAIGHEAD (6 Nov 1840-6 Dec 1840); Margaret E. CRAIGHEAD (22 Oct 1842-1867) married 6 Apr 1865 to William I Julia; Newton C. CRAIGHEAD (5 Apr 1849-10 Nov 1868;

Other children of Anne & William McGill were Newton McGill (1822-); Susannah Margaret McGill (1823-1894); Martin McGill (1825-); James McGill (1827-1839); Martha Ann McGill (1830-1848); John McGill (1831-1863)
David Milton MCGILL (1808 - 1850) Son of Anne Nancy Luttrell and William Nathan McGill, Jr. (1783-1832), born Monroe County, TN, died in Hamilton county, TN; married in 1834 to Anne Nancy McKelvy (1816-1908); Children: William Pearson MCGILL (1835-1918), Samantha Jane MCGILL (1837-1882), Newton Anderson MCGILL (1839-1929), John David MCGILL (1842-1849), James Abel MCGILL (1844-1844), Nancy McKelvie MCGILL (1846-1884), Zachary Taylor MCGILL (1849-1918)
William Pearson MCGILL (1835-1918), born in Soddy, Hamilton, TN, died in Alva, Woods, OK; Son of David Milton McGill and Nancy McKelvy Pearson (1816-1908); married 20 Nov 1861, TN to Isabelle McClure Johnson (1845-1926), daughter of Thomas C. Johnson (1815-) and Mary Ann Johnston (1816-1875); Children: Thomas David MCGILL (1862-1945), Alice Elizabeth MCGILL (1865-1929), Mary McKelvey MCGILL (1869-1922), James Acel MCGILL (1872-1955), William Jacob MCGILL (1880-1959), Charles Robert MCGILL (1884-1971), Lulu Belle MCGILL (1887-1975)
William Jacob MCGILL (1880 - 1959), born in Galva, McPherson, KS, died in Alva, Woods, Oklahoma; Son of William Pearson McGill and Isabelle McClure Johnson (1845-1926); married 23 Mar 1910 in Alva Oklahoma to (1.) Constance Estella Warwick (1882-1969); married in 1945 (2.) Blanche Rankin Miller; Children of Wm J. & Constance E. Warwick: Gene M McGill (1914-1986), Robert Lee McGill (1916-1954)
Gene M MCGILL (1914 - 1986), born and died in Alva, Woods, Oklahoma; Son of William Jacob McGill and Constance Estella Warwick; married 24 Mar 1940, Vada Eileen Paris (1916-1992); Children: Connie Jean McGill, Dorthy Eileen McGill, Linda Kay McGill, Amber Ann McGill
This week's OkieLegacy Ezine is dedicated to those searching their CRAIGHEAD Ancestors who settled in Tennessee. Good Day and Good Luck searching your ancestors!

View/Write Comments (count 3)

| Receive updates (0 subscribers) | Unsubscribe
---
NW Okie's Ancestrial Lineage
Vol 13, Iss 13 Bayfield, CO - Were the GWIN / GWYNN / GWYN / GUINN / GWYNNE / GUINN of Irish or Welsh descent? That is what I am trying to research now. From what I have come across so far, some reports say they could have been mostly Irish instead of Welsh descent.

The last couple of weeks we have shown you our CRAIG & VANDERVEER ancestrial lineage. This week We shall bring to light and share our paternal grandmother's GWIN / GWINN / GUINN / GWYN lineage.

My grandmother, back in the mid-1920's researched and did her DAR lineage to Capt. David GWIN. Grandmother Constance Estella WARWICK MCGILL ordered a coat of arms for the GWIN's but what I am reading that coat of arms was commonly sold to suspecting GWIN relatives, but was not a GWIN coat of arms.

At least one arms bearing GWYN family in Wales claimed Irish descent. As late as the 19th century, the GWYNs of Breconshire claimed descent from a 5th century Welsh king, Brychan Brycheiniog. Brychan was born in Ireland, the son of an Irish prince named Anlach and his wife, Marchel, heiress of the Welsh kingdom of Garthmadrun which later became known as Brycheiniog (Brecknock in English). The specific ancestry of Prince Anlach is unknown.

Claiming descent from Brychan, the GWYNs of Breconshire adopted the attributed arms of Brychan. You will often see these arms advertised by various companies as a coat-of-arms for all GWINN families which they are definitely not. Click the following URL for more information on King Brychan.

My GWINN Lineage:
1. "Sir" GWINN (1695 - ?), 6th great grandfather [I have seen some showing this as Sir Edward GWINN. I am still searching for more information on this GWINN to make a better connection.]
2. Robert GWIN (1720 - 1785), 5th great- grandfather
3. David (Capt.) GWIN (1742 - 1822), 4th great-grandfather
4. James GWIN (1774 - 1844), 3rd great-grandfather
5. Samuel GWIN (1825 - 1871), 2nd great-grandfather
6. Signora Belle Gwin (1860 - 1934), Great-grandmother
7. Constance Estella WARWICK (1882 - 1968), grandmother
8. Gene M MCGILL (1914 - 1986), Father
9. Linda Kay MCGILL (a.k.a. Linda McGill Wagner & NW Okie), daughter of Gene M McGill

Concerning the Irish Immigration to America, I found the following quote from a sermon delivered in the eighteenth century on the eve of sailing of a ship from Ulster to America. I forgot to list the Google books that I was reading it and can not find the exact quote right now.

BUT . . . Maybe someone out there has seen this quote that gives the reasons for the immigrants coming to the New World of America from Ulster, British Isles. The quote goes like this, "To avoid oppression and cruel bondage; to shun persecution and designed ruin; to withdraw from the communion of idolators; to have opportunity to warship god according to the dictates of conscience and the rules of his word."

Have we, in America, forgotten why our ancestors came to America? Why don't we have the tolerance for others religions since we should know through our history what our ancestors went through in their own countries that caused them to emigrate to America!

Good Night, and Good Luck searching your roots! View/Write Comments (count 0) | Receive updates (0 subscribers) | Unsubscribe
---
NW Okie's "The Good Old Days"
Vol 13, Iss 10 New Amsterdam ( - I have been working on my maternal and paternal ancestors over at Ancestry - paristimes, especially my maternal Dutch Ancestors of CONOVER / KOUWENHOVEN / COUVENHOVEN. I have found some interesting stories, legacies and information in my research.

The photo on the left shows my Great-Grandmother, Sarah Francis CONOVER (KOUWENHOVEN/COUVENHOVEN) (1848-1924), who married Henry Clay PARIS (1844-1918). Their children were (not sure of the order but believe Grandpa Ernest Claude Paris is standing, far right): Arthur Henry (may be seated, on the far right), Volney Peter (1872-1960), Myrtle Mae (1885-1965) (the only daughter) & Ernest Claude (1879-1959); seated in front, left to right is Sarah Francis CONOVER PARIS, Henry Clay PARIS and another son, Decatur Ray (1877-1947) (Decatur may be standing on the backrow).

My Dutch ancestors sailed from Amsterdam 17 February 1659. Some arrived in New Amsterdam before 5 May 1659.

From papers relating to the first settlement of New York by the Dutch containing a list of the early immigrants to New Netherland, it shows one of my maternal ancestors Cornelis Janse VanDerVeer arrived in New Amsterdam, in 1659.

For the record this is a 10th generation listing starting with my 7th Great Grandfather and moving down to this NW Okie's (Linda McGill Wagner) maternal family tree of PARIS and CONOVER side of the family:

1. Cornelius Janse VANDERVEER (1623 - 1703) - 7th great-grandfather

2. Jacoba Cornelisse VANDERVEER (1686 - 1735) Daughter of Cornelius Janse. 6th great-grandmother

3. Dominicus COVENHOVEN (1724 - 1778) Son of Jacoba Cornelisse. 5th great-grandfather

4. Peter CONOVER (1769 - 1835) Son of Dominicus. 4th great-grandfather

5. Jonathan Coombs CONOVER (1797 - 1859) Son of Peter. 3rd great-grandfather

6. Peter CONOVER (1821 - 1900) Son of Jonathan Coombs. 2nd great-grandfather

7. Sarah Frances CONOVER (1848 - 1924) Daughter of Peter. great-grandmother

8. Ernest Claude PARIS (1879 - 1959) Son of Sarah Frances. grandfather

9. Vada Eileen PARIS (1916 - 1992) Daughter of Ernest Claude. mother

10. Linda Kay MCGILL Daughter of Vada Eileen. NW Okie

The Kouwenhoven surname has gone through many different spellings over the decades. Such as VanKouwenhoven, COUVENHOVEN and CONOVER. I would love to discover the real story behind that surname spellings.
View/Write Comments (count 0) | Receive updates (0 subscribers) | Unsubscribe
---
NW Okie's R & R In San Juan Mtns
Vol 12, Iss 52 Bayfield, CO - We have put up some younger year photos of Dorthy & Connie McGill at the ranch, a few miles north of Waynoka, OK and at 703 7th Street, in Alva, Oklahoma. The photo on the left is a picture of the Ernest Claude & Mary Barbara (Hurt) Paris siblings. You can see a slideshow of the whole collection of Dorthy and Connie's earlier years in the slideshow below.



We would love to find someone who can identify some of the little friends of Dorthy and Connie in these earlier photos. If you go to our Picasa website albm and leave a comment of possible indenties, it would help a lot.

Here's counting down to January 1st, 2011, Saturday -- Wishing you all a Happy New Year 2011!

Good Day & Good Luck! View/Write Comments (count 0) | Receive updates (0 subscribers) | Unsubscribe
---
NW Okie's Ramblings
Vol 12, Iss 37 Alva, Oklahoma - Where has the month of September gone. I know it is only reaching mid-way, but why do the days past so quickly?

Only a little over a week plus a few days until Northwestern OSU has their Fall Homecoming 2010. How many homecoming does this make for NWOSU (a.k.a NTN, NSTC, NSC)? 1899? I have lost track, but know that I have run across the first homecoming somewhere in my notes and research. Maybe someone out there reading this could enlighten all us Northwest Oklahomans.

In less than two weeks we will be stomp, clapping to the school bands marching around the Alva downtown square. The YouTube video was taken 1 November 2008 of the marching bands.



According to our research on Northwestern, in Volume II, Issue 81, dated 21 October 2000, titled "A Homecoming Mystery Bands, Floats & Celebrations," a celebration with floats in a great parade was being planned as far back as 1 July 1899. Was this the first homecoming? July 1, 1899 -- The work on the building of the famous Castle on the Hill had so advanced that a committee began the preparations for laying the corner stone under the main tower in front. The program consisted of the usual ceremonies, led by the Masons. Governor Barnes and several other territorial officers, and Grand Master E. M. Bamford were present. President Ament introduced Governor Barnes as the first speaker. He was followed by Judge McAtee, S. L. Johnson and Hon. Temple Houston.

The following is a list of articles that were placed within the corner stone -- Roll of officers and members of the grand lodge and local lodge A. F. & A. M.; same of the Alva Commercial Club; same of the legislature 1897; copies of the Alva Pioneer, Courier, Review and Cleo Cheiftain; copy of program of the day's exercises and names of President Ament, Miss Bosworth and Mrs. DeLisle.

The day was one of general celebration, the businesses of the town being represented by floats in a great parade. The crowd present was guessed at 4000 to 6000. Some More Normal History can be found on our website at this link Northwestern Normal School, 1895-1935 - beginning & conception

Barry Kelsey remembers, "We used to call it Northwestern State Teachers College. When my Grandfather went there it was called something like Northwestern Normal School."

Monet Monfort Lion says, "Yes, I believe it started out as Northwestern Normal School. I have many photos of The Castle on the Hill and a painted plate depiction made for Monfort Drug Store's China department! Rod reminds us that, "The original title of the institution was Northwestern Territorial Normal School, founded in 1897, 10 years before Oklahoma's statehood."

Marvin Henry says, "There are probably others who remember attending NSC while still in elementary school and jr high school. During the time Washington School was being rebuilt, about 1945, my 3rd grade class was held in the upstairs, first room on the left in what was known as Horace Mann building, now the education building. Junior High, 7th & 8th grade was on the second floor of the Horace Mann building. Industrial Arts (Shop for the boys) ground floor and Home Ec (girls) second floor of the Fine Arts building."

Off the subject of NWOSU and onto our family genealogy that I have at MyHeritage.com - Wagner genealogy, the subscription runs out around October 10, 2010, and I have decided not to renew that genealogy site. BUT it will not be a loss, because I have that information over at my Ancestry.com family genealogy for the Warwick, McGill, Paris, Conover, Hurt and Wagner families.

Until November 21, 2010 our Paris-McGill-Warwick family genealogy will still be up for awhile at MyHeritage for the Paris-Conover-Hurt-Warwick-Gwin-McGill-Wagner Family. I may or may not renew this site in November, 2010, because a more updated version is over at my Ancestry.com genealogy site. We shall see!

David, the two Pugs and myself are going to try to make it back for Northwestern's Homecoming. While there we need to check out our new little 2010 filly, black and white paint horse that grazes with her momma paint horse at Clark's East Farm, in Alfalfa County, Oklahoma. I hear it is a beauty!

Happy and Best Wishes to your September and Northwestern Homecoming 2010! View/Write Comments (count 0) | Receive updates (0 subscribers) | Unsubscribe
---
Immigrants Make Up America
Vol 12, Iss 27 America - With the talk of Independence Day, and this being the day after the 4th of July 2010, We ask you, "Aren't we all immigrants or Descendants of Immigrants?"

America is a land of immigrants and Native Americans. What would America be today if immigrants from all ver the world had not set foot on the eastern shores of the 13th Colonies, pushing the Native Americans westward onto reservations. Killing and slaughtering their buffalo beyond extinction?

What part did my migrating ancestors play in the westward movement of the Native Americans? I did some searching back through my family genealogy to figure out where each of my ancestral immigrants came.

We start with our paternal ancestors. The Warwick ancestors were English. The Gwyn/Gwin/Guinn were from Wales. The Hull/Hohl ancestors came from Rhineland Palatinate (Rheinland-Pfalz), Germany. The McGill's were Scottish from Scotland, migrating to Ireland and finally making their way to the America's.

Our maternal ancestors were the Conover (VanKouwenhoven), Dutch and settling in New Amsterdam (also known as New York, Flatlands). The Paris/Parris were English. The Hurt/Hurtosci were from Czechoslovakia (Bohemia), known also as Austria-Hungary. That brings us to our Great Grandmother, Anna Wallman (1863-1902), who married our Great Grandfather, Joseph P. Hurt, who migrated from Czechoslovakia around 1876. I do not know much about her because she died at the young age of 39 when she was struck by lightning in 1902.


I always thought that our Wallman ancestors were also from Czechoslovakia, but I found a 1880 U.S. Census that shows an Anna Wallman (born 1863, Russia) the daughter of Jacob Wallman (born 1833, Russia) and Maria (born in Russia). Could this be another Anna Wallman or could it be my Great Grandmother Anna Wallman Hurt?


The 1900 US Federal Census shows Joseph P, and Anna Wallman Hurt (born in Bohemia) and their family living in Bishop, Woods, Oklahoma Territory.

Great Grandmother Anna Wallman arrived in the USA around 1876 or 1877 through Bremen, Germany. At the young age of 16, Anna married Joseph P. Hurt, in Nebraska, about 1879. As I said earlier, Anna Wallman Hurt died in 1902, in Bishop, Woods, Oklahoma Territory, at age 39 when she was struck by lightning. She is buried in the Hurt family cemetery, on the Martin property, North of Chester and West of the Orion Cemetery.

That brings us to my husbands ancestors, which includes Wagner's from Germany.

Have you ever looked back to see where your ancestors originated? Let us know your ancestral makeup. Thanks! View/Write Comments (count 0) | Receive updates (0 subscribers) | Unsubscribe
---
1938 NSTC Ranger Album
Vol 12, Iss 3 We have been sharing a scanned copy of the 1938 Ranger Album with family genealogists for awhile and thought perhaps some others might be interested in downloading a PDF file of the 1938 Ranger Album. It is a large file. You can either open it up in your web browser and save a copy to your computer -- OR -- right click on the link and "save as" to a folder on your computer for further genealogy research.

Here is the link for those of you looking for a copy of the 1938 Ranger yearbook, Northwestern State Teacher's College, Alva, Oklahoma, I have scanned it into a PDF file. Contact Linda McGill Wagner at email: mcwagner.lk@gmail.com and I will send you a link to the pdf file if you are having trouble viewing it in your browser and can not figure out how to "save as" to your computer. -- 1938 Ranger yearbook.
View/Write Comments (count 0) | Receive updates (0 subscribers) | Unsubscribe
---
Insight Into Grandma & Warwick's
Vol 11, Iss 43 With no more letters from john C. McClure, we assume that the communication of letters ceased to exist after August 1906 and Constance moved on to her next beau. Was it William J. McGill? We are not sure yet, but suspect as much.

NW Okie has been working on more of the Warwick census reports over at Ancestry.com and updating information in NW Okie's Genealogy pages for Warwick / McGill / Paris / Wagner Family and adding old photos to the Family Photo Albums at her genealogy site.


Meanwhile, while we leave you standing in the wings for more insight into Constance Estella Warwick McGill, we want to share this great old tintype photo we found of Constance's father and two of his brothers, Peter (Pete on left) and William N. Warwick (standing in back, center) and John Robert Warwick, the older brother is seated on the right.

Notice that Pete is holding in his left hand a pistol of some sort on his older brother John Robert Warwick. I love the old hats Pete and William are wearing. The old western shirt that Pete is wearing dates back to the 1880's and the civil war cavalry boots that Pete and John have on help date the photo, but not sure where the old tintype photo was taken.


This is another old tintype photograph that I just adore of my great-grandfather John Robert Warwick that shows him perhaps in his early twenties. I do not know the exact date or where, but assume it was taken in the Virginia's.


This other photograph is not a tintype, but is a photo mounted on cardboard and printed at McPherson, Kansas, C. Forell, Cabinet. Pete and John seemed to be dressed in their best farming duds with real cowboy boots instead of the civil war cavalry boots. You can tell John R. Warwick's hairline is reseeding and is holding an interesting looking hat in his hands. They both are sporting longer mustaches, but Pete's looks to have one of those handlebar mustaches without a pronounced, wax, curled ends like some did in those days.

Can anyone help identify/date when these photos were taken? Especially, the photo taken in McPherson, Kansas? Perhaps 1890s? What age would you suspect for Pete and John in this photo?
View/Write Comments (count 2) | Receive updates (0 subscribers) | Unsubscribe
---
Once Upon A Warwick
Vol 10, Iss 17
Once upon a time very long ago, William Fechtig Warwick was born 11 August 1822 in Augusta County, Virginia to Robert Craig & Esther (Hull) Warwick. [See WARWICK Genealogy.]

Sometime in William Fechtig Warwick's early thirties, he meet and married a young girl from the Pray (Prey) family, Phoebe Anthea Pray. Phoebe was born 3 May 1833 and died 1 May 1905.

To the union of William F. & Phoebe Anthea Warwick eleven children were born: Amelia E., born 16 July 1853; Paul McNeel, born 1856; John Robert, born 9 April 1857, Frost (Dunmore), Pocahontas County, WV; Charles Fechtig, born 31 August 1865; Amanda Gabrielle "Gabie", born 1871, marr. John Landis; James, Louisa Catherine; Nelson Pray; Peter "Pete" Hull, born 1862, in Virginia; Sallie.


From the third offspring born, John Robert Warwick, begins our journey from the Virginia countryside to Oklahoma Territory. BUT... First, the 25-year-old John Robert from Pocahontas County, WV, meets and marries a 22 year old girl from Vanderpool, VA. Signora Belle "Sigga" Gwin and John Robert Warwick were married 16 January 1882 in Harpers Ferry, WV. [See John R. Warwick's Obit]

Around nine (9) months later in Monterey, Virginia, John and Signora Belle's oldest child, Constance Estella Warwick, came into the world, 20 October 1882. About five years later a second offspring, Robert Lee, made his debute 5 November 1887, in Monterey, VA.

Sometime between the second child (1887) and the third child (1895), in 1893, John & Signora Warwick made their trek westward towards Kansas with a ten (10) year old daughter and a five (5) year old son. They settled around the Coldwater, Kansas area where John Robert Warwick was a teacher for a brief time before they settled permanently in the Cherokee Strip Outlet, known as Oklahoma Territory.

Eight years after their second child, a third child (Wilbur "William" Warwick) was born 13 October 1895, in Alva, Oklahoma Territory. John Robert "JR" & Signora "Sigga" Belle's third offspring, Wilbur, died in infancy, 26 May 1896 and is buried in the Alva Cemetery, Block 08-028-08, Woods County, Oklahoma. Wilbur's lonely little grave is located on the South & West side of the cemetery while his parents and siblings are buried on the South & East side of the Alva cemetery.


Of John & Signora's remaining two childern, Constance Estella Warwick, continued the Gwin/Warwick lineage when Constance, age 28, married William Jacob (John) "Bill" McGill, age 30, 23 March 1910, Woods County, Oklahoma.

After four years of marriage, William & Contance's oldest son, Gene M. McGill was born 27 December 1914, Alva, OK. Two years later a second son, Robert Lee McGill, was born 23 August 1916, in Alva, OK.

The marriage of William J. McGill & Constance E. Warwick lasted 30 years when they divorced and went their separate ways in 1940. Constance never remarried, but W. J. "Bill" McGill married his second wife Blanche Rankin Miller in 1945.

Bill McGill died at the age of 79 years, 7 August 1959, Alva, OK. Constance Estella Warwick McGill died 19 August 1968, two months short of her 86 birthday, in Alva, OK.


The youngest son of Bill & Constance McGill, Robert Lee McGill, was married twice, but no offsprings were born of either marriage. After serving in WWII, Robert L. McGill died of lung cancer, 21 February 1954, at the age of 37 years, in Alva, OK, while he was married to his second wife, Dr. Mariam Felicia Monfort (marr. 21 June 1950 'til Bob's death Feb. 21, 1954). Bob and is first wife, Helen Louise Soper (marr. 1 June 1944), were divorced 22 June 1948.


That brings us to the four daughters of Gene M. McGill & Vada Eileen Paris. I was the third daughter of four. My name is Linda Kay McGill Wagner (a.k. a. NW Okie). That is me on the left with Dorthy in the middle and baby Amber on the right.
View/Write Comments (count 0) | Receive updates (0 subscribers) | Unsubscribe
---
$50 Reward
Vol 10, Iss 20 We found this reward sign amongst our family treasures, but do not know what year it was offered. Evidently... it was offered when $50 was a lot of money in those days. Whatever days that was!

Do any descendants of the following Ranchers listed below from Northwest Oklahoma remember anything about this $50 Reward ... Or recognize any of the old ranchers? One of those "Old Time" Cattle Ranchers was "McGill & McGill" (my relatives).

The reward reads: "$50 Reward will be paid, until further notice, by each signer for information leading to the arrest and conviction of any person or persons stealing cattle from this place or places of any of the signers hereof.

SIGNERS: O. F. Eversole; W. C. Wynn; E. D. Drake: W. R. Lahr; M. B. Graves; Cedardale, Inc.; Willis and Pugh; G. F. Roark; M. J. Cook; McGill & McGill; E. F. Moore; C. O. Parker; R. B. Converse.

If you know or remember any of these "Old Time" ranchers and have any information concerning this $50 Reward for Cattle Rustlers in Northwest Oklahoma, please contact Linda at mcwagner.lk@gmail.com. Thanks!
View/Write Comments (count 0) | Receive updates (0 subscribers) | Unsubscribe
---
Old Opera House Mystery of 1910...
Vol 8, Iss 17 What are the talking about in the coffee shops in northwest Oklahoma and Southern Kansas? It must be the cover story that is making its debute in the May edition of the "Prairie Connection." This Harper, Kansas history newspaper hit the newstands this weekend. Do you have your copy yet?

The cover story this month is the 1910 murder mystery that occurred at the "Old Opera House" in downtown Alva, Oklahoma, written by this NW Okie, LK McGill Wagner. We began our story by setting the stage for 1910 in northwest Oklahoma. It was 9 November 1910, considerable excitement was buzzing through the government square of this northwest Oklahoma community, in Woods County. There had been a general election held just the day before. This November 9, 1910 was to be known as "A Day of Black Infamy." Sometime between the hours of 12:00 p.m. and 3:00 p.m., November 9, 1910, young Mabel Oakes was found dead in the "old Opera House around 3:30 p.m. by Justice Miller. The local papers jumped on this story to the extent that a changed of venue was granted to the neighboring county of Woodward to the west. The trial lasted from September 5 thru 12, 1911.

Mabel Oakes, was a young country girl (23 years) living at home with her parents, George and Carrie (Howard) Oakes and a younger brother, Clarence (15 years). Through testimony, transcripts we find that Miss Oakes was a large, sturdy, supposedly healthy woman of that time weighing around 160 to 165 pounds. Miss Oakes was also 5-months pregnant at the time of her demise. She wore a tight fitting corset and a scarf wrapped tightly around her tall neck. Miss Oakes explained away the reason for the scarf tightly around the neck as a throat problem.

In 1910, Miss Oakes was known for her fainting spells for which she took prescribed medication of strychnine and morphine tablets. Were these fainting spells the cause of her broken arms, black eyes and bruises about her face. OR... her pregnancy? OR... were the fainting spells brought on by a heart condition or a tight fitting corset used by Miss Oakes to conceal her pregnancy that began in the early Summer of 1910? OR... were Mabel's unfortunate accidents of broken arms, black eyes and bruises the cause of "Black Hand Letter" threats?

Only Mabel Oakes memories of that time will tell us the whole truth. AND... those memories lay underneath the northwest Oklahoma soil, in the Alva Cemetery, in the Oakes family plot.

Meanwhile, catch the "Old Opera House Mystery (Black Hand Letters of Death)" in the May edition of the "Prairie Connection." We would love to hear some feedback concerning our "Old Opera House Mystery" story of the 1910 murder of Mabel Oakes in Alva, Oklahoma. You can contact Linda at paristimes@earthlink.net - mcwagner.lk@gmail.com. We are presently working to put together a timetable of chronological events that happened around that infamous black day in November, 1910. Would you like to hear more about the "Old Opera House Mystery?" Stay Tuned!
View/Write Comments (count 0) | Receive updates (0 subscribers) | Unsubscribe
---
Jacob & Mary (VANCE) WARWICK's Sketches...
Vol 7, Iss 14 Jacob & Mary (Vance) Warwick's framed sketches have found a family home. A lady (Carolyn) in California contacted us this week. Her family is directly related to Jacob & Mary... 4th great-grandparents through Rachael Primrose WARWICK (daughter of Jacob & Mary).

Linda went back through her WARWICK's and find that Jacob & Mary Vance WARWICK were her 5th-Great Uncle & Aunt through Jacob's brother John (Linda's 5th great-grandfather). From there on down to Linda McGill Wagner it reads as such...
John Warwick - m. Mary POWELL (5th-Great-Grandparents)
William Warwick - m. Nancy Agnes CRAIG (4th-Great-Grandparents)
Robert Craig Warwick - m. Esther/Hester HULL (3rd-Great-Grandparents)
William Fechtig Warwick - m. Phoebe Anthea PRAY/PREY (2nd-Great-Grandparents)
John Robert Warwick - m. Signora Belle GUINN (Great-Grandparents)
Constance Warwick - m. Wm J. MCGILL (Grandparents)
Gene McGill - m. Vada PARIS (parents)
Gene & Vada's Daughters (Connie, Dorthy, Linda, Amber) - 1st cousin 6x removed from Rachel Primrose Warwick
Gene & Vada's Grandchildren
Gene & Vada's Great-Grandchildren
View/Write Comments (count 0)
| Receive updates (0 subscribers) | Unsubscribe
---
Pendleton County, (West) Virginia - Formation & Early Middle Period (1787-1818)
Vol 14, Iss 34 Pendleton Cty, (W) VA - As we learn more about our ancestors of Pendleton county, (West) Virginia, we have found many names listed below showing up in our paternal genealogy of the Warwick/Gwin/Eckard ancestors. Especial how the Poage/Poague family married into the Warwick family. I have tried to include in parenthesis those in my ancestry tree.

Abraham Eckard's relationship to this NW Okie is as a paternal grandfather of wife of great grand aunt (Reuhama Gwin). Such as, Abraham Eckard (1791 - ), relationship to me: paternal grandfather of wife of great grand aunt; Absalom Eckard (1825 - 1898), Son of Abraham; Job E Eckard (1847 - 1911), Son of Absalom; Reuhama "Hami" GWIN (1857 - 1921), Wife of Job E.; Samuel GWIN (1825 - 1871), Father of Reuhama "Hami"; Signora Belle Gwin (1860 - 1934), Daughter of Samuel; Constance Estella WARWICK (1882 - 1968), Daughter of Signora Belle; Gene M MCGILL (1914 - 1986), Son of Constance Estella Warwick McGill; and that leads to me, Linda Kay MCGILL Wagner, daughter of Gene McGill.

Between the Early middle period of 1788-1818 we find that the county of Pendleton began its separate existence as the ninth of the counties which now constitute West Virginia. It entered upon a long career of peaceful and steady development. The Redstone insurrection of 1794 and the war of 1812 were remote from its borders.

At the close of 1787 the population of Rockingham was nearly 7000, including about 700 slaves. Two fifths of its area lying beyond the high, broad, and infertile Shenandoah Mountain, the time had come when it was too inconvenient to travel from 30 to 60 miles to reach the courthouse. Accordingly the State legislature passed an Act, December 4, 1787, for the formation of Pendleton county, Virginia.

Within the limits defined by the Act of 1787, the area of Pendleton was perhaps 850 square miles. On the east, north and west, the original boundaries had remained unaltered. On the south there had been two subsequent changes. The original boundary included the northern portion of the Crabbottom and all the rest of the present county of Highland that lies north of the watershed between the streams flowing into the Potomac and those forming the upper basin of the James. near Doe Hill the line therefore fell even northward of its present location.

The population and distribution of Pendleton inhabitants between the three valleys lived mainly along the larger watercourses with the mountains being an unbroken forest.

Seraiah Stratton house was decreed that the new county should be organized and the first term of court be held, laid about a fourth of a mile south of the Ruddle postoffice, only a few yards tot he west of the present highway, and close to a watering trough. The only present vestige of the dwelling was a mound of rocks marking the site of the chimney and from the midst of which rises a young tree. Tradition states that the court used the barn instead of the house. Whether the house or barn ws used, the charge of four dollars for the whole period of time during which the premises were used as a county seat does not look exorbitant.

The organization of the county government was described in the records as such: "Be it remembered that at the house of Seraiah Stratton, in the county of Pendleton, on the 2nd day of June and in the year of our Lord 1788, and in the 12 year of the Commonwealth, Commissions of the peace and of Oyer and Terminer, directed to Robert Davis, John Skidmore, Moses Hinkle, James Dyer (NW Okie's 5th great grand uncle), Isaac Hinkle, Robert Poage/Poague, James Skidmore, Matthew Patton, Peter Hull (NW Okie's 4th great grand uncle), James Patterson, and Jacob Hoover, Gentlemen, was produced and read and thereupon the said Robert Davis took the Oath appointed by the Act of Assembly giving assurance of fidelity to the Commonwealth, and took the Oaths of a Justice of the peace, of a Justice of the county court in Chancery, and of a Justice of Oyer and Terminer, all of which Oaths were administered to him by the said John Skidmore and Moses Hinkle. Robert Davis administered all the aforesaid Oaths to the said John Skidmore, Moses Hinkle, James Dyer, Isaac Hinkle, James Skidmore, Matthew Patton, and James Patterson."

"A commission from his excellency the Governor to Robert Davis, gent. to be high sheriff of this county during pleasure was produced by the said Robert Davis and read, thereupon together with Seraiah Stratton, Francis Evick, Roger Dyer (NW Okie's 6th great grandfather), James Davis, Isaac Hinkle, and George Dice, his securities, entered into and acknowledged two Bonds for the said Robert Davis's due and faithful performance of his office, which are ordered to be recorded. And then the said Robert Davis took the oath for giving assurance of fidelity to the commonwealth and was sworn sheriff of said county."

Of the eleven justices, Davis, Dyer and Patton were brothers-in-laws. The Hinkles were of one family, and the Skidmores were of one other, and were related to the Hinkles. It is quite probable that still other relationships existed.

The organization of the county government was perfected by the following selections: President of the court, John Skidmore; Clerk of court, Garvin Hamilton; Prosecuting Attorney, Samuel Reed; Deputy sheriffs, John Davis, and John Morral.

Overseers of the Poor, James Dyer, John Skidmore, Christian Ruleman, Ulrich Conrad, John Dunkle.

Constables, Gabriel Collett, George Dice, Jacob Gum, Johnson Phares, Isaac Powers, William Ward, George Wilkeson. County Lieutenant, James Dyer. Regimental Militia Officers: Colonel Robert Poage/Poague; Lieutenant Colonel, Peter Hull; Major Henry Fleisher.

Overseers of Roads: North Fork; (north to south) Michael Eberman, Abraham Hinkle, Isaace Hinkle, Moses Hinkle, South Branch; George Fisher, Michael Alkire, Francis Evick, Christian Pickle, Nicholas Harper, McKenny Robinson, George Nicholas, South Fork; John Wortmiller, James Dyer, Roger Dyer, Henry Swadley, Jacob Hoover, Christian Ruleman.

After building the courthouse on the lands of Francis Evick, and to hold the next court at his house, James Patterson was directed to attend the surveyor in laying out the courthouse grounds. He was also appointed jailer. To make the seat of local government more accessible, road surveys were ordered to Roger Dyer's, to brushy Fork, and to the North Fork at Joseph Bennett's.

The first grand jury met September 1, with Jacob Conrad being foreman. The other members were Michael Arbogast, Lewis Bush, Jacob Coplinger. Abraham Eckard (paternal grandfather of wife of NW Okie's great grand aunt), Nicholas Harpole, Isaac Hinkle, George Kile, Adam Lough, Robert Minniss, Frederick Propst, George Puffenbarger, Jacob Root, Joseph Skidmore, John Sumwalt, Philip Teter, and Peter Vaneman. With Hardy and Hampshire, Pendleton became a judicial district with the court sitting at "Hardy Courthouse."

Robert Davis was of a welch family that settled in North Carolina and moved to Virginia. He may have been the son of Robert Davis, an early settler of Augusta and its first constable. He settled a half mile below Brandywine, at least as early as 1764, purchasing land in that year of Matthew Patton. About this time he married Sarah, daughter of Roger Dyer and widow of Peter Hawes. His older brothers, John and William, settled also on the South Fork.

Whether John Davis was the one who was a justice of Rockingham and was appointed to let the building of its first courthouse was not really known, though. William died in 1773, and Robert was his executor. Robert was a major in the Continental army and saw active service, especially among the Indians west of the Alleghanies. He was present at the killing of Big Foot, a noted chief.

In 1779 he was commissioned Captain of militia for Rockingham, resigning in 1781. He was one of the first justices of that county, but owing to his military duties, he was not present to take his oath of office until May 25, 1779. In 1780 and 181 he was the leader if the South Fork patriots against the Tory faction. The disturbance was brought to an end by a truce he arranged with Ward and Hull. In 1784 he was recommended as coroner. In 1785 he and James Davis were the committee to view the repairs on the new Rockingham courthouse. In 1786 he became sheriff of Rockingham, and held this office until he became the first sheriff of Pendleton. He was again sheriff in 1804, and served his county as member of the house of delegates in 1793-94. He was a justice of the peace from 1778 until his death in 1818 at an advanced age. he was frequently called upon in the settlement of estates and in other matters of public business, thus indicating a high degree of practical judgment. he was one of the substantial residents on the South Fork. On his land stood with one exception the first mill in that valley and probably the very first schoolhouse.

Matthew Patton was one of the very first members of the Dyer Settlement, and after the murder of Roger Dyer he became a leading citizen of the Pendleton territory. he was commissioned a justice of the peace, August 19, 1761, and for a number of years he took the lists of tithables for this portion of Augusta.

James Dyer, brother-in-law to Patton, has been elsewhere mentioned. he was a prominent and well-to-do citizen, and much concerned in the public affairs of the county. The Skidmores of the South branch were enterprising citizens and large landholders. Captian John Skidmore had a military career in the Indian wars and doubtless also in the Revolution. He was wounded in the battle of Point Pleasant, and is said on one occasion to have killed an Indian in single combat.

Moses and Isaac Hinkle, cousins to Captain Skidmore, were progressive and energetic and of more than usual ability. Isaac was a sheriff of Rockingham a little prior to 1783. View/Write Comments (count 0) | Receive updates (0 subscribers) | Unsubscribe
---
Highland County Virginia - Civil War 1861
Vol 14, Iss 14 Highland County, Virginia - This week we explore Highland county of Virginia and it's history and attitude of Highland people and the militia companies and the Battle of Camp Alleghany (13 December 1861, 105 acres, Pocahontas County, West Virginia) in the war of 1861 (Civil War) and how it affected Highland.


View Larger Map
This is a Google interactive map of Monterey, Virginia that you can zoom in and out to get a view of the surroundings.

In the presidential contest of 1860 the two great sections of the Union were arrayed against one another, each having a radical and a conservative candidate. The North presented Lincoln and Douglas. The South presented Breckenridge and Bell. Lincoln and Breckenridge represented the extremes in the four-sided contest. Only a handful of Southern men, and these in the border states, voted for Lincoln (Republican). Only a handful of Northern men, except in the small area where a fusion of the Douglas and Breckenridge followers was attempted, voted for Breckenridge. The conservative Douglas had a considerable number of votes in the South and the conservative Bell a considerable number in the North. Lincoln won the election because he was the successful candidate of the more populous section. Lincoln lacked a million votes of having a majority over the other three men.

It was the temper of the times that caused the political fight be be followed by the appeal to arms. In each section the conservative element came over to a more or less complete support of the radical, except in portions of the border states.

Highland gave a majority of more than 100 to Douglas, the Northern conservative. The vote in Highland was significant of the feeling of the people. It was Unionist from the Southern viewpoint. Secession was not in favor. Nine-tenths of the people were white, and the organization of society was more Northern than Southern.Yet the political sentiment was Southern. The river bottoms were largely held by a wealthy and influential class of slave holders. The commercial outlets were eastward, where the distinctive Southern feeling was still more pronounced. Unlike many counties west of the Alleghany, its social and industrial contact with the North was slight.

When the crisis came, in April of 1861, the people of Highland Valley followed their honest conceptions of civic duty, just as people did in all sections of the Union, both North and South. The mass of the Highland people sided with the action of their state, but there were some persons of undecided convictions. Some could not bring themselves to uphold secession and kept out of military service or went within the Federal lines.

George W. Hull was a delegate to the convention of 1861, opposed secession until President Lincoln's call on Virginia for 2,700 volunteers to help put down the revolution in the cotton states brought matters to a crisis. George Hull reluctantly, supported the measure.

George W. Hull/Hohl was a my 1st cousin 5 times removed through the following ancestors:
Hannah KEISTER (1757 - 1837), Mother of George W.
Frederick KEISTER (1730 - 1815), Father of Hannah Esther KEISTER (1767 - 1825) Daughter of Frederick
Esther (Hester) HULL (1804 - 1853), Daughter of Esther
William Fechtig WARWICK (1822 - 1902), Son of Esther (Hester)
John Robert WARWICK (1857 - 1937), Son of William Fechtig
Constance Estella WARWICK (1882 - 1968), Daughter of John Robert
Gene M MCGILL (1914 - 1986), father of Linda Kay McGill Wagner.

For the May term of court all the justices were summoned, and of the 20 the following were present: John Bird, Thomas L. Brown, Cornelius Colaw, Samuel C. Eagle, William W. Fleming, William Hevener, Josiah Hiner, Felix H. Hull, Henry C. Jones, Peter H. Kinkead, Franklin McNulty, John H. Pullin, Henry Seybert, Adam C. Stephenson, David Stephenson, Edward Steuart, and Zachariah Tomlinson.

The Highland company was mustered into service at Monterey, May 18, 1861. Its officers were Felix H. Hull, Captain; J. William Myers, 1st Lieutenant; Samuel A. Gilmor, 2nd Lieutenant, and Jesse Gilmor, 3rd Lieutenant. It marched the same day to join the army under Porterfield in its advance on Grafton. It was in the skirmish at Philippi and the small battles of Laurel Hill and Rich mountains. The defeated army had to move down the Cheat to the Northwestern Turnpike, follow that road into the South Branch Valley at Petersburg. It then marched up the river, reaching Monterey July 19, 1861. In this retreat the men suffered severely from bad weather and roads, hard marches, and a lack of equipment and provisions.

It was by this time that re-enforcements reached Monterey. The Highland company was over 100 strong, but it was divided. All the men front he east of Highland were put into a separate company, styled B, with Robert H. Bradshaw, Captain; William R. Keister, 1st Lieutenant; Andrew S. T. Davis, 2nd Lieutenant; and Harrison H. Jones, Orderly sergeant. At West View, in May of the 1862, there was a reorganization, where Bradshaw being re-elected. W. R. Lyman, a cadet of the Virginia Military Institute who had acted as drillmaster and had volunteered as a private, was now elected 1st lieutenant. Jones was promoted to be 2nd Lieutenant, and William C. Kincaid became 3rd Lieutenant. After the death of Bradshaw at Port Republic, Lyman became Captain. He resigned in the early spring of 1864, and the company was thereafter commanded by its Lieutenants, Kincaid and Pullin.

The other company was designated as E. Its captain was S. A. Gilmor, later succeeded by J. C. Matheny. The Lieutenants were J. S. Gilmor, A. F. Swadley, and David Bird. The two companies were attached to the 31st Regiment, Virginia Infantry.

General Robert E. Lee took command in this section, and while in Monterey his headquarters was in the old corner house opposite the Methodist Church. He advanced to the Greenbrier, whence, September 11 and 12, he moved against General Reynolds, in position at Cheat Mountain and Elkwater. Finding the Federal position too strong he fell back after some skirmishing in which Colonel Washington was killed and some prisoners taken on each side. Some say that the orders of Lee were not properly followed. Son afterward he returned to Richmond leaving six regiments and two batteries not eh Greenbrier.

Finding transportation to the Greenbrier to difficult, Edward Johnson fell back up the Alleghany to pass on the turnpike a mile west of the Highland boundary. Here is where he established a fortified camp and went into winter quarters. Possession of this important thoroughfare was of much interest to each party.

On December 13th, guided by deserters, Milroy assailed Camp Alleghany at day break. Milroy's two columns of 900 men each failed to strike simultaneously and were repulsed and driven back after a hot engagement of eight hours. The Confederate force at this time consisted of the 25th, 31st and 52d Virginia Infantry, Hansborough's Battalion, the 12th Georgia, and the batteries of Lee and Miller; in all about 1,400 men. Four days after the battle the county clerk of Highland was ordered to remove his papers to a place of greater safety. The court protested against the use of its jail as a military prison, and orderd the commandant at Monterey to remove a Federal soldier named Thomas Carr.

The beginning of April the Army of the Northwest under Johnson consisted of 3,000 men and 12 guns. There were six regiments of infantry, the 12th Georgia, and the 25th, 31st, 44th, 52d and 58th Virginia, and a small force of cavalry. The main army was at Camp Alleghany, but there were small commands at Franklin, Crabbottom, Monterey, and Huntersville.

After the Civil War, the first county court after the close of hostilities met September 21, 1865. Eighteen members were present. During a subsequent period, ending with the restoration of local state government in 1870, many citizens were ineligible of local state government in 1870, many citizens were ineligible to office, being unable to act because of the nature of their connection with the Confederate army or government. Citizens on assuming office took the oath of allegiance to the Federal government.

View/Write Comments (count 0)

| Receive updates (0 subscribers) | Unsubscribe
---
Claud Baird
Vol 5, Iss 12 Patriotic and Other Poems 1917 - Alva, Oklahoma
That is "McGill Bros." handwritten, upside-down on the cover of the little booklet. It came to me through my Grandmother's treasure trunk of Okie Legacies. -- LKMcGill-Wagner View/Write Comments (count 0) | Receive updates (0 subscribers) | Unsubscribe
---
John Glen Smith Obit - 1926-2009
Vol 11, Iss 4 Last weekend our Uncle John Smith died, January 19, 2009. His obituary can be viewed at this link: Redinger Funeral Home - John Smith Obit. I do have a phone number where you can contact the oldest daughter of John & Geneva (Paris) Smith: Jeanette (Smith) Engle phone number: 405-352-4083.

IF ... you missed the memorial service January 24, 2009 in Seiling and burial in Orion, Oklahoma, you can sign the online guestbook. It allows you to send private condolences to the family. Type your name, address and message; click the SUBMIT button at the bottom of the obituary. Your message will be sent to the family via their secured guestbook. Only family members will have access to viewing your message.

Did you know the Paris family of Chester, Oklahoma? Are they related to you? Share your memories of Uncle John and Chester (Cottonwood Corners) with the OkieLegacy eZine!

Memorial Video of John Glen Smith -- Here is John Glen Smith's Obit below:

JOHN GLEN SMITH, son of Earl and Effie (Maxwell) Smith, was born May 10, 1926 at Freedom, Oklahoma. He departed this life on Monday, January 19, 2009 at the Oklahoma Veterans Center in Clinton. He was 82 years of age.

John was two years of age when he was taken to an orphanage in Helena following tragedy with his parents. Soon after entering the orphanage, Lawrence and Cora Kragh brought him to their home in Chester where he began his school years at Gardenvale School.

At the age of eleven years, John went to live with Fred and Esther Strecker in Chester. He attended Seiling High School until the age of seventeen when he entered the United States Navy and served in the "Asiatic-Pacific Campaign" and the "Philippine Liberation Campaign" during World War II. He was honorably discharged April 20, 1946 at which time he returned to his home in Chester.

He was united in marriage to Geneva Paris August 2, 1947 at Alva. They made their home at Chester where they raised their three children: Jeanette Kay, Ronald Scott and Barbara Gayle.

John and Geneva owned and operated John Smith Mobil Service Station nineteen years. John was also a self employed welder and operated Johns Welding for several years.

He was a life member of the Veterans of Foreign War, a member of the American Legion and a 32nd degree Masonic Lodge member. He enjoyed hunting, bowling and playing cards. He attended the Elm Grove Community Church.

He is survived by two daughters: Jeanette Engle of Minco and Barbara Walton of Fairview; one son: Ron Smith and wife Karen of Chickasha; seven grandchildren and one great grandchild; one foster sister: Vickie Jones and husband Ron of Yukon, besides many other relatives and friends. He was preceded in death by his biological parents, both sets of foster parents and his foster brother, Karl Kragh.

The funeral service will be held at 1:30 p.m. Saturday, January 24, 2009 at the Elm Grove Community Church with Pastor Orville White, officiating. Interment will follow in the Orion Cemetery with military honors provided by the United States Navy. Services are under the direction of the Redinger Funeral Home in Seiling.

Linda McGill Wagner
PO Box 619, Bayfield, CO 81122
paristimes@earthlink.net -- or -- mcwagner.lk@gmail.com
View/Write Comments (count 0) | Receive updates (0 subscribers) | Unsubscribe
---
April Blizzard of the 1930's...
Vol 6, Iss 10 Another reader would like some information concerning a blizzard snow storm that hit Northwest Woods County (Oklahoma) sometime in April, in the 1930's. Has your ancestors ever spoken, written in a journal about a big snow storm in Woods county in the 1930's around March or April? We went back to look at some notes Grandpa Bill McGill kept in his journal during the 1930's and his notes mentions something around, "27 & 29 March 1931 -- That night there was snow in and around Alva, Oklahoma. Altogether there was 12 inches of snow that year."
Could this be the 1930's, April snow that the reader speaks about? If you go to Grandpa's 1930's Notes, you can read more of his journal he kept in the '30s. If any of this jogs some memories, drop us a note and share it with us. Do you remember the "Black Blizzard" of the Dust Bowl Days around 1930's? Do you have some ancestral journals of Okie Legacies that you would like to share with us? Send us a copy by snail-mail (Linda Wagner, P.O. Box 18998, OKC, OK 73154) or email (paristimes@earthlink.net). Thanks!
View/Write Comments (count 1)
| Receive updates (0 subscribers) | Unsubscribe
---
Shawnee Chief Cornstalk...
Vol 6, Iss 8 Another reader sent us some information he found online concerning the Shawnee Chief Cornstalk and the Battle around Point Pleasant and Lord Dunmores battle in Virginia in the late 18th century. The reason that tidbit of information is interesting to this writer is because one of my Warwick ancestors (Jacob Warwick the 2nd) was a captain in that battle. Jacob, II and John Warwick were two of the sons of Lt. Wm Jacob Warwick. I believe I figured that Jacob, II was my 5th-Great-Uncle and John was my 5th-Great-Grandpa. My 4th-Great-Grandpa (Wm. Warwick) married Nancy Agnes Craig and they settled in Greenbriar county above Sinking Creek near the Richlands. As the lineage progresses back to this writer it is as follows... Robert Craig Warwick & Esther Hull (3rd-Great-Grandparents)- Wm. Fechtig Warwick & Phebea Anthea Pray (2nd-Great-Grandparents) - John Robert Warwick & Signora Belle Guinn (Great-Grandparents) - Constance Estella Warwick & Wm. J. McGill (Grandparents) - Gene McGill & Vada Paris (Parents) - Linda McGill & David Wagner - Michael & Robert Wagner (sons). You can find out more about the Warwick's, Point Pleasant Battle starting over at ParisTimes.com/ Warwick/.
View/Write Comments (count 1)
| Receive updates (0 subscribers) | Unsubscribe
---
Historical Crystal Park Colorado
Vol 12, Iss 52 Crystal Park, Colorado - Back in July 1909, my grandmother Constance Estella Warwick (before she married my grandpa Wm. J. McGill, march 24, 1910) traveled to Colorado Springs and toured Crystal Park and other sites around that area in Colorado.

Because of the scrapbook Grandma kept and that I scanned and put up on my Oakiepics Webshots, I have heard the following from the Historical committee for the Crystal Park, in Colorado.

Mike Doughty commented, "I am on the Historical Committee in Crystal Park Colorado. I found your photos of your ancestor on a burro ride to Crystal Park very interesting. We would love to get scans of these photos for our archives. Let me know if that is at all possible, please. Thank you."

Mike Doughty ran across our OkieLegacy, Vol. 5, Iss. 12 concerning Grandma's July, 1909 Vacation in Colorado -- Constance Warwick & Friends - On the Road to Helen Hunt's Grave - 27 July 1909Did I forget to mention last week about the 1909 Vacation Photo Album that I have included on Oakie's Webshots? These were photos that my Grandmother Constance (Warwick) McGill put together of her trip to areas around Colorado Springs, Crystal Park, Helen Hunt's Grave and Seven Falls in Colorado back in 1909.

From looking through the photos, things were rugged back then without paved roads -- mules, horse and buggy were used as their mode of travel. I love viewing the fashion of that time. They were still wearing the long, floor-length dresses, skirts. 27 July 1909 - Constance Warwick at Helen Hunt's grave. Helen Hunt was buried on the summit of Mount Jackson, Colorado (a Cheyenne peak named for her, about four miles from Colorado Springs. oakiepics webshots - 1909 - Old Family Vacation Photos - 1909 - Old Family Vacation Photos

Here is another link to our Picasa Album concerning Grandma's 1909 trip to Colorado:

View/Write Comments (count 0) | Receive updates (0 subscribers) | Unsubscribe
---
1941 San Francisco CA - Skyline Room/China Town
Vol 11, Iss 8 I found a couple of pictures that I had of Uncle Bob McGill during WWII and him at Tank training school in Kentucky (I believe). I have uploaded them to my website and put a link to them for you to view

This photo is, I believe, taken while Uncle Bob McGill was on his way to Hawaii with a stop in San Francisco, CA, China Town, Skyline Room 1941. On the backside of picture is handwritten in ink: "The Skyline Room in China Town. The woman is the "bubble" Dancer without her costume; or rather a different costume."

From left to right: 1st on left is ????; 2nd on left is ????; 3rd on left, 2nd Lt. Bob McGill; fourth from left is ????; fifth from left is ????; sixth from left is ????; on the right is ????; and the bubble dancer is sitting on chair in front of the officer on the far right.

If anyone out there recognizes any of the unknown officers in this picture, please contact Linda (NW Okie) at mcwagner.lk@gmail.com. Thanks for your help!
View/Write Comments (count 0) | Receive updates (0 subscribers) | Unsubscribe
---
1926 NSTC Yearbook - Northwestern High School
Vol 18, Iss 23 Alva, OK - Director of Secondary Education - Dr. J. V. L. Morris - Equipped as he is, with the ability to get results, and with progressive determination to have the best, Dr. Morris stands the department of Secondary Education in position to bid fair for recognition of strongest High School in the Northwest District.

Foreword - In presenting this glimpse of our High School we are stimulated by a degree of pride in our department and our accomplishments. It is our constant ambition to be a deserving part of the great Northwestern State Teachers College. We believe that our position has made itself felt in the past and we are determined to exert even greater efforts in the future. Fostered as we are by Alma Mater we do not meet all of the vicissitudes of High School life. Neither do we suffer all the calamities of the venture which so violently and surely assail, we feel ourselves particularly fortunate in that we are in attendance at a high school which affords a college environment. We are one hundred per cent for Northwestern, her victories and her glorious defeats are as sure of our support as the spring is of the flowers. On Northwestern!

Appreciation - It is said of youth that we do not appreciate true friendship until in after years. Perhaps this is right philosophy (sic), but we cannot will see how it is going to be possible for us to have greater appreciation, then than now for our esteemed friend and benefactor, Dean Minnie Shockley, upon whose wisdom and sincere interest in our welfare we so confidently rely. Her gracious and persuasive stimulus to higher, ever higher endeavor and scholarship creates for us an atmosphere which we cover for Northwestern.

Knights of Rangers & Knights of Castles - Knights of old in oft spun story - Craved events and deeds of glory, - That they might in greater measure - Show their courage, -- thereby treasure - For an age then fast declining - Valor -- their true souls pining. - So today our theme of story - Full recounts the deeds of glory - Done by knights, not of the castle - With the drawbridge and the wassail, - Plumed, draped, gold spur and tassel, - But of modern knights besieging - Evasive Education, - In her "castle on the hill."


Mixed Chorus - Zona Hufford, Accompanist.

High School Queen & King - Helen Lockhart, Senior & Halbert Brown, Senior Campus Photos:


Director & Prinicipal of Junior High School - Miss Ann K. Wilke, A.B. -- At the establishment of a Junior High School in conjunction with the courses offered at Northwestern for furnishing means of actual experience for potential teachers, a more capable person than Miss Wilke could not be found. In spite of the fact that this is the first year of the Junior High School marked advancement has been realized and Miss Wilke has great plans for its future.


Junior High School - The 7th, 8th and 9th grades have been reorganized as a Junior High School. Some of the advantages accruing are an increase in the flexibility of the curriculum to better meet individual needs large room and an opportunity to commence secondary instruction somewhat earlier where the pupils capacity permit.


Superior Model Training School - W. H. Wood, A.B., A.M., Professor of Elementary Education. -- It was in 1910 that Mr. W. H. Wood came to Northwestern as director of elementary education. His sixteen years of service have only served to endear him to the thousands who have worked in his department.

Hundreds go out each year with the two-year State Certificate. These go into the rural and village schools. To train these more effectively, Mr. Wood after many projects had been worked out, succeeded in getting the Training School rated at 1663 points -- more that 400 points in excess of the requirements for a Superior Model School. This high rating which was near the maximum capacity of the score card has added greatly to the capacity of the Training School to train effectively for the grades and for the Junior High School.


Training School - Primary Education - Primary Department, 1st & 2nd grades; Intermediate Department, 3rd & 4th grades; Grammar Grades.


Appreciation - Students: The merchants who have patronized the Commercial section have made your 1926 Ranger possible. These are the firms who have shown that they appreciate your presence in Alva and at Northwestern. These are the men who are willing to admit that Northwestern is an asset and not a liability to this community. These are the best merchants, with the most honest goods and the biggest hearts. These people have proved to be true friends to the students at Northwestern. There may be others but we have no way of directing your attention to them. These are the dealers who deliver satisfaction or your money back. Let us give them the same deal. Make a list of these and hang it on the foot of your bed or prop it up against the molasses pitcher and memorize it. Then let your conscience be your guide.

Community Ads - Chamber of Commerce, Northwestern State Teachers' College, Lane's Confectionery, Mountain Oil Co., Woods County Officials, Crouch Studio, J. C. Hess Ins., R. I. DeGeer Groceries, Monfort-Smith Jewelers, Marcum & Branson Goodyear Tires, Schnitzner Market, Alva Laundry & Dry Cleaners, The Band Box Millinery, The City Bakery, Hurd Motor Co., Fettke & McHugh Real Estate & Ins., Alva State Bank, Ford Sales & Service, Tyree Brothers Clothiers, Tanner Bros. Clothing Co., E. W. Tanner Co., The Tea Store, Crowell Bros Lumber & Coal, W. B. Fowitz Funeral Home, Palace Barber Shop, Dr. A. W. Clark Dentist, R. J. McCormick Jeweler, Pood;s Shining Parlor, Farmer's Independent Oil Co., Rexall Drug Store, Bynum's Hamburger Stand, Schaefer-Doolin Mtg. Co., Alva Building & Loan Assoc., South Side Barber & Beauty Parlor, The Bobbing Shoppe, W. E. Eutsler Grocery & Meat Market, Cochran Drug Co., L. A. Wagner Cash Grocery, Pullman Cafe, The Ranger Shop, Majestic Theatre, Hughey & Kennon Ins, Real EState & Loans, J. A. Renfrew & Co. Furniture, New Racket Store, The Alva Record, Bell's Ice Cream Co., Unique Confectionery, W. W. Starr, W. C. Wilkinson, Bradbury's College Book Store, Alva Motor Co., City Tailors, Oklahoma Cigar Store, pribble Hotel, Amsden Lumber Co., McHenry Cafe, Winter Brothers, J. D. Umber, Alva Storage Battery Co., W. B. Johnson, Elk Barber Shop, E. I. Sams Monuments, Maxwell printing Co., Hub Tailor Co., Carrell Music Co., First National Bank, Joe Edwards Motor Co., Alva Roller Mills, J. C. Penney Co., Central National Bank, McGill Bros. Furniture & Swimming Pool, Monfort Drug & Bookstore, Ellis Studio, Kavanaugh & Shea, Weinrich Clothing Co., Southwest Power Co.,High Grade Oil Co., Sears' Bootery, Illinois Cigar Store, Alva Motorcycle & Bicycle Shop.

Published by - Northwestern State Teachers' College, Alva, Oklahoma; Printing by - Thompson Brothers, El Dorado, Kansas; Engraving by - Mid-Continent Engraving Co., Wichita, Kansas
View/Write Comments (count 0) | Receive updates (0 subscribers) | Unsubscribe
---
NW Okie's Distant Craighead Ancestors
Vol 13, Iss 19 Tennessee - Well! I have finally found a connection to the Craighead ancestors that I have been researching, but have NOT found the connection to Nancy Craighead (1757-1867) that married Edward Luttrell.

Distant ancestors of NW Okie (Linda Kay McGill Wagner):
Rev. Thomas Craighead (1664 - 1739), relationship to this NW Okie: 2nd great grandfather of husband (Samuel Geddes Craighead) of 2nd great grand aunt (Nancy McGill, daughter of William Nathan McGill, Jr. and Anne Nancy Luttrell).
Rev. Alexander Holmes Craighead (1706 - 1766), Son of Rev. Thomas Craighead
Capt Robert Craighead (1751 - 1821), Son of Rev. Alexander Holmes Craighead.
William CRAIGHEAD (1778 - 1835), Son of Capt Robert Craighead
Samuel Geddes CRAIGHEAD (1814 - 1889), Son of William Craighead
Nancy MCGILL (1814 - 1898), Wife of Samuel Geddes Craighead
Anne Nancy LUTTRELL (1787 - 1860), Mother of Nancy McGill
David Milton MCGILL (1808 - 1850), Son of Anne Nancy Luttrell
William Pearson MCGILL (1835 - 1918), Son of David Milton McGill
William Jacob "Will" MCGILL (1880 - 1959), Son of William Pearson McGill
Gene M "Merle" MCGILL (1914 - 1986), Son of William Jacob McGill & Constance Estella Warwick; married Vada Eileen Paris 24 March 1940; Children: Connie Jean, Dorthy Eileen, Linda Kay, Amber Ann.
I am still wondering about Nancy Craighead (1757-1867) that married Edward Luttrell. How does Nancy Craighead fit into the Craighead ancestors?

View/Write Comments (count 0)

| Receive updates (0 subscribers) | Unsubscribe
---
History of McKeever School
Vol 12, Iss 21 McKeever School, Oklahoma - The History of McKeever School, written and researched by Milt Lehr, Professor Emeritus, NWOSU. The Cherokee Outlet of the territory of Oklahoma was opened to settlement by the Land Run of 1893. After securing a homestead, the pioneers' immediate concern was the education of their children. The first schools were often a soddie or log building and later schools were built using clapboard, stucco, of wood and plaster construction.

The one-room school played an important role in educating the children of this state. In 1900 there were 200,000 one-room schools in the United States. In 1897 the Oklahoma Territory had 1,909 organized school districts of which 224 of these school districts with schools meeting an average of 70 days a year. It was not unusual for 40 pupils to attend these schools since farm families were large and each quarter section of land had a family living on it.


Records located in the Woods County Courthouse show that the McKeever school was organized in August 30, 1894, and that its district numbers were both 191 and 23.

School was first held in the dugout home of Mr. and Mrs. Hulet, which was located about one-third of a mile south of the present McKeever school, which is located on the southwest corner of section 24 six miles west of Alva. The dugout home was 12 feet by 18 feet with a dirt floor and was four feet deep into the ground. Sod was laid above the ground two feet deep. The roof was composed of dirt laid over branches and poles.

Click the John McKeever family as written by Dorothy McKeever in 1986 for the Pioneer Footprints Across Woods County history book, pg. 454.

During the 1894-1895 school year, Dick McKeever purchased the Hulet claims and donated the southwest corner of section 24 for a school building.

Maggie Shiel was the first teacher of this school and 23 students were enrolled. Teacher salaries at this time were $20 to $25 per month. By 1902, the salary paid to Nettie Courtner had increased to $35 per month and school was being held for 100 days. The total budget for that year was #311.67, according to Woods County Courthouse records. The value of the school was $600 and other property was valued at $100.

According to a newspaper clipping dated January 29, 1895, and preserved by Harvard and Sue Litton, lifetime residents of a farm home located a short distance north of McKeever school, the first 23 students included Harry Benton, Johnie Benton, Myrtle Cocohm, Glevie Kinney, Mary Kinney, Tomie Kinney, Amon McKeever, Phoebe McKeever, Cora Messmore, Evert Litton, Jim Litton, Thomas Litton, Orwell Shirley, Bertha Smith, Clair Smith, Earl Smith, Melvin Smith, Cora Turner, Bessie Vincent, Dora Wiggins, Della Wiggins, and Gracie Wiggins.

The members of the first school board were Frank Spurgeon, Dale Smith, and Jim Benton. The second term of school was held in a frame box house that was moved to its present site from four or five miles northwest of Alva. This building was a wooden structure 14 feet wide and 28 feet long with a wooden floor made of 1x12 planks. Desks were fashioned from this same kind of wooden boards.

The original building that is standing today was constructed at a cost of $300, which was financed by bonds. All labor was donated by residents of the district except the plastering, which was done by Nick Edwards who was hired to do this work. A. B. Messmore was overseer of the carpentry work. The school bonds were paid off in five years. The American elm trees that encircle the school ground were planted about 1915. The members of the school board at that time were Nate Litton, John Parsons and Clayton Hyde.

The teacher salaries were sometimes paid in cash obtained from donations and some salaries were paid in warrants, which could be cashed at banks for 60 cents on the dollar. Sometimes teachers were paid in sod breaking since most of them owned nearby land or had a claim.


The original building underwent extensive remodeling in 1938 when WPA funds were provided by the federal government to modernize school buildings. A basement was constructed a few feet west of the building and it was then moved overonto the completed basement after the anterooms at the front and a coal bin at the back were removed. A few years later, a highline was constructed nearby along Highway 64 and electric lights were added to complete the modernization.

The teachers of McKeever School were as follows:

Maggie Shiel 1894-1895; May Park 1895-1896; A. C. Parsons 1896-1897; Grace McKitrick 1897-1898; Cora Murray 1898-1900; Birdie Vorhies 1900-1901; Nettie Courtner 1901-1902; W. P. Bosserman 1902-1903; W. J. McGill 1903-1904; Phoebe McKeever 1904-1906; Pete Exell 1906-1908; Agnes Murray 1908-1910; Dena Salesman 1910-1911; Hattie Jarred 1911-1912; Frankie Callison 1912-1914; Lester Maddox 1914-1916; Jess Sears 1916-1917; Homer Bloyd 1917-1918; Margie Callison 1918-1920; Myrtle Martin 1920-1921; Lillie Callison 1921-1922; Pearl Martin 1922-1925; Fay Faulkner 1925-1927; Dolores Fuller 1927-1930; Clara Brown 1930-1931; Helen Tallman 1931-1932; Ada Taylor 1932-1933; Josephine Fisher 1933-1937; Hulda Groesbeck 1937-1939; Hazel Smith 1939-1941; Ruth Frazier 1941-1943; Fay McAlpin 1943-1948.

After the opening of the Cherokee Strip, the rapidly expanding rural school system created a demand for trained teachers. By 1897 there were 1,792 organized school districts in the Oklahoma Territory of which 726 districts with 25,858 pupils were interested in seeing the establishment of a normal school in Alva to meet the demand for qualified teachers.

In 1897, after a two-year struggle the Northwestern Territorial Normal School was authorized by the Oklahoma legislature. Classes were first held in the Congregational Church in Alva until a building later called the Castle on the Hill was constructed.

When Oklahoma became a state in 1907, the school was renamed Northwestern State Normal School (NSN). In 1919 its name was changed to Northwestern State Teachers College (NSTC) and in 1939 it was given the name of Northwestern State College (NSC). Finally, in 1974 it was renamed Northwester Oklahoma State University (NWOSU).

It should be remembered that for most of its history the primary purpose of Northwestern has been the preparation of teachers for schools in this section of Oklahoma.

McKeever school remained in use until 1948 and then served as a community building for several years. In 2000 the school was given to NWOSU by Dean and Patty Nusser, farmer-ranchers, who own the land on which the school stands. Restoration efforts were soon started and the school was moved to its site on the NWOSU campus in the summer of 2001 where it will assume an important role in the preparation of teachers at Northwestern and the education of the public in general to the importance the one-room school played in the education of farm children in early Oklahoma.

[Note by webmaster: There was restoration efforts and repainting going on this summer of 2001, As of this writing, the building is no longer standing on the NE corner of Hwy 64, 6 miles west of Alva. It has been moved to the campus of Northwestern Oklahoma State University, in Alva, OKlahoma. The only reminder that the building existed 6 miles west of Alva on hwy. 64 is the basement left behind. -- LK Wagner] View/Write Comments (count 0) | Receive updates (0 subscribers) | Unsubscribe
---
March Winds
Vol 9, Iss 9 [Transcribed by OkieLegacy & LK McGill Wagner from Scott Cummins book, "Musings of the Pilgrim Bard," page 13.]

When the old house keeps a rockin',
Like as if 'twas goin' to fall;
And the pebbles keep a knockin' --
Knockin' 'gainst the fragile wall,
Sets a tired feller thinkin'
Of fell goblin, wraith or fiend,
Fancy into fancy linkin',
Yet 'tis nothin' but the wind;
Roar, roar, rattle door,
Through each cranny in the floor.
Through each crack and crevice small,
Where a chigger scarce could crawl,
Every seam 'tis sure to find,
O beshrew, the bleak March wind.
All day long, to feed the critters,
I have tried my level best;
Tears my fodder into fritters.
Splits the endgate of my vest;
Almost sets a feller cussin',
Yet to well I understand,
If I ope' my mouth a fussin'
'Twould soon fill with dust and sand;
Shriek, Shriek, creak, creak --
Seven long days in a week;
Though my language seem unkind,
Devil take the bleak March wind.
Now adieu, my lamp burns dimly,
Sleep and rest I needs must try;
Let the roaring round my chimney
Be a soothing lullaby.
This my pray'r before undressin,
Hopeless pray'r with pathos filled,
That the wind may cease caressin'
Nature, and a while be still'd;
Scream, scream, while I dream
'Till the sun with lurid gleam
Wakes me to resume the fight
With the hurricanish sprite,
Respite body, respite mind,
From the raging of the wind.
View/Write Comments (count 0) | Receive updates (0 subscribers) | Unsubscribe
---
Greetings, Alva High Goldbugs...
Vol 8, Iss 25 "The Class of '53 now has a website - www.goldbugs53.org - Hopefully, we can remember the address. It has reunion information (in case you can't remember where you put the one you got in the mail), pictures of the 50th and a whole page of pictures that might look familiar to you and other info.

Through a page my daughter found while she was tutoring me on computers, I've been in touch with a woman who has a page of pioneer stories, history, memories, etc of Alva and the surrounding area. She listed our missing members in her newsletter that was sent out Saturday night, and by noon Sunday we had Bob Shoemaker's address in Lubbock (TX) and will have Robert Shoemaker's address in a few days. We'll get mailings out to them. She will also put a link on her pages to our website (SEE 2000 AHS Goldbug Reunion Aftermath). In her newsletter, she has the history of the Runnymede Hotel from it's construction to it's present day renovation. There's a link to her site on our Goldbug site. It's under Goldbugs link - Northwest Oklahoma History .... Her name is Linda McGill Wagner.

Incidentally, by 9:45, Sunday morning, I had heard from the son of one of the gas company employees who lived 1/2 block from us. The internet really is amazing! Hopefully, we'll hear from others. We're only missing 6 of those who were at AHS (Alva High) our senior year, and Stanley Westfall who started in first grade and was with us for many years. He's still on the class list, but we haven't located him.

You have probably heard by now that Rita Mae Cox McMurphy passed away a few weeks ago. Rose Darr Elmore has gone through some serious heart problems and complications. Hopefully, she will be started rehab in the next few weeks. Glad to hear that Don Devine is better than he was when we had our 50th.

New email addresses that weren't on the earlier info are for Larry Johnson - lljohn@pldi.net and Leta Jo Millege Sparkman - LetaSparkman@aol.com. You may notice Janet Woodward Holland email - Janet@goldbugs53.org (my old ones are still good). We can have a lot more email addresses using goldbugs53.org as the address. Perhaps you know someone who gets their mail on their children's computer or the library. If they just let me know, I can add them to this address. It won't hold a lot of mail, but it might work for some people.

Don't forget to write Joni on what's happening in your life and send a more or less recent picture - anything in the last 10-15 years will do - digital or snail mail a print will be fine. We'll be getting together in mid-July to put the directories together - with pictures if people send them to Joni.

SHOW UPDATE - Lost in the 50's is now a morning show. The Platters will be appearing in the show. There'll be lots of that good old music from the 50's. See you in Branson (Missouri), and please send me any suggestions, problems, additions, ideas, etc for the website. It's ours -- so please feel free to contribute to it - pictures, websites, should we have a blog?, etc. See you Branson." -- Janet View/Write Comments (count 0) | Receive updates (0 subscribers) | Unsubscribe
---
Woods County Borders In 1906
Vol 8, Iss 33 "Linda, I have contacted Donna. Thanks for the message. In talking to Donna and questions from others I beleive the attached Map may be helpful to some of your readers." -- Earl Fugit

[EDITORS NOTE: The dark bold, black lines inked on this map show what the Woods County (M county) borders of 1906 were before statehood in 1907. -- LK McGill Wagner]
View/Write Comments (count 1) | Receive updates (0 subscribers) | Unsubscribe
---
Businesses In Alva, Okla. - May, 1947...
Vol 7, Iss 18 Some of you out there might remember some memories of some of these businesses that could be found in the Alva (Oklahoma) area, around May 1947:
Rialto Cafe
Tony's Cafe
Babcock's Cafe
Coffman's Cafe
Wright's Cafe
Shorty's Cafe
The National Farm Loan Ass'n of Alva
Schaefer-Doolin Mortgage Co.
Alva Building & Loan Ass'n
Fred J. Fash, Abstractor
Alva State Bank
Central National
Goodrich Plumbing Co.
The Railways Ice Co.
Home Electric & Appliance
Stephenson-Traverse Clinic
F. C. Green's Osteopathic Hospital
Dr. W. S. Walcott, Veternarian
Brunsteter Motor Co.
Ticer Equipment Co.
Bittner's Tractor & Implement Service
Farmer's Co-Operative Association
W. B. Johnston Grain Co.
Harry's Body & Fender Works
Knox Auto Store
E. A. Greford Motor Co.
Couch Auto Repair Shop
Moore & White Oil Co.
Alva, Tire & Supply
Continental Oil Co.
Chick's Auto Service
Oklahoma Tire & Supply
Wnninger Motor Supply
Marcum & Marcum
Devery Implement Co.
Paul & Sons Implement Co.
Ridgway-Nash
Speery & Weathers Imp. Co.
Bloyd Implement Co.
Deere Brothers
A. C. Houston Lumber Co.
Brown & Brown
Gordon's Paint & Wallpaper
McClain Brothers
City Cleaners
Hillcrest Dairy
Anthony's
Runnymede Hotel
Carmel Corn Shop
Courtest Cab Co.
Deluxe Courts
Snider's Cigar Store
Jett Mercantile Co.
Ferguson Laundry
Grayson Laundry
Monfort Jewelry
Monfort Drug
Powder Puff Beauty Shoppe
Louise's Beauty Shop
Belle's Beauty Shop
Wagner Grocery
Double 'B' Grocery
Anthony Wholesale Grocery Co.
East Side Grocery
Groceteria
Stiles-Howerton Funeral Home
C. E. Loomis Furniture
Cummings Furniture & Transfer Co.
Colony Furniture Co.
McGill Bros. Furniture
Shafer Radio Service
Kirkbride & Cutter (Auctioneers & Real Estate)
W. E. Lane Insurance Co.
G. L. McClure Loans & Insurance
Kent W. Johnson Insurance
Alvin Paris Insurance
Haworth Insurance
Zenith Gas Co.
Warrick's
Alva Roller Mills
Bird Pontiac Sales & Service
Munson Hatchery
Dr. Pepper Bottling Co.
Dimitri Kosmena Studio
Rialto, Ritz, Ranger Theatre
Alva Office Supply
Sneary & Kline
Alva Monument Works
W. W. Starr Lbr. Co.
Wood-Appleman Home & Electrical Appliances
View/Write Comments (count 0)
| Receive updates (0 subscribers) | Unsubscribe
---
Col. Kirkbride's Peanut Brittle Legacy
Vol 10, Iss 52 Fred Neuman's Boys choir tradition of making and selling peanut brittle makes news in Iowa. KWWL.com - TV

Another NW Okie has been spreading Col. Kirkbride's famous peanut brittle recipe in SW Colorado this holiday. NW Okie has printed out the history and story of Col. Kirkbride, "Candy Bob," recipe for large batches of peanut brittle that he started making for the youngsters in norhwest Oklahoma during WWII. See recipe and history below:

Col. Bob ?Candy Bob? Kirkbride Peanut Brittle
This peanut brittle came from Col. Bob Kirkbride?s recipe that he used back in northwest Oklahoma during the 2nd World War when sugar and other groceries were rationed. Candy Bob would make big batches of candy (peanut brittle & taffy) for the children. Colonel Bob Kirkbride's recipe for peanut brittle as given to Fred Neuman of the Neuman?s Boys Choir, in Alva, Oklahoma. Fred and the Boys Choir would make thousands of pounds over the last 50 years to raise money for the boys choir.

Col. Kirkbride?s Original Recipe
In a large (3 gal or larger) cast aluminum kettle add: 5 lb raw peanuts; 5 lb sugar; 2-32-oz bottles Griffins Corn Syrup; 1/4 cup water. On a large burner at full blast bring the sugar-peanut mixture to 287 degrees (hard crack stage) stirring constantly with a wood paddle. Take the kettle off the fire and immediately add the following pre-prepared ingredients: 1/4 cup vanilla (the real stuff from Mexico); 2/3 cup baking soda; 1/2 stick real butter. Mix the ingredients with a paint mixer in an elecric drill for about 5-10 seconds. The mixture will foam up to several times its volume. Pour a 3 to 4-in. wide string from the kettle onto a strip of aluminum foil about 15-ft. long. Quickly trowel the mixture with a Pam-coated mason's trowel to one peanut thick. The fewer passes with the trowel the better. Let sit until cool then break up into pieces. Makes about 15 lb.

Smaller Version of Candy Bob?s Peanut Brittle - from NW Okie?s Mother?s recipe file:

1 Cup hot water
1 Cup White Karo syrup
2 Cups Sugar
2 Cups Raw Peanuts

Mix into a ball and set aside:
2 Tbsp. Real Butter
2 tsp. Baking Soda
? tsp. Salt
1 tsp. vanilla

Mix butter, baking soda, salt & vanilla in to a ball and set aside. Mix Karo in hot water and add to sugar in heavy pan. Cook over high heat until boiling. Add peanuts and cook to hard crack (290 degrees). Quickly, but thoroughly, stir in butter, soda, salt & vanilla mixture. Quickly pour and spread evenly on buttered aluminum foil that you have laid out on your counter top. Using a buttered spatula or spreader to one peanut thickness. Buttering the aluminum foil and spatula helps keep the brittle from sticking to the foil and spreader. Let Cool! Break into pieces.

Happy Holidays!
David & Linda McGill Wagner & The Pugs (Duchess & Sadie)
View/Write Comments (count 0) | Receive updates (0 subscribers) | Unsubscribe
---
Old Opera House Mystery - Chronology...
Vol 8, Iss 18 We have been working slowly to put together a "Chronology" for the "Old Opera House Mystery" for those who are interested. It is a venture in progress. So... bookmark these links for further updates. Thanks! -- NW Okie (a.k.a. Linda McGill Wagner)
View/Write Comments (count 0) | Receive updates (0 subscribers) | Unsubscribe
---
A Prairie of Dreams (Castles of NW Oklahoma)...
Vol 8, Iss 13 by - LK Wagner

"If you can imagine it, you can achieve it. If you can dream it, you can become it." -- William Arthur Ward. Another saying I like is, "If you build your prairie of dreams (your Castle on the Hill), they will come!"

We all have dreams! All we need is the determination and support to carry out some of those dreams. What if our ancestors had not followed their prairie of dreams to the new world? What would life have been like back in January, 1895 if the pioneers of the growing city of Alva and the county of "M" (Woods, Alfalfa and Major) in this northwest Oklahoma territory had not had their dream of a Northwestern State Normal School and the determination of a community to accomplish that dream?

There would have been NO unique and splendid "Castle on the Hill" March 12, 1897 that stood until March 1, 1935 when it was ravished completely by fire. One of those dreamers was James E. Ament who helped structure the architectural outline of the Norhtwestern Normal school building after the outlines of the Norman Castles of France that he loved so much. Ament was the first President of Northwestern State Normal College when he came to Alva in September 20, 1897.

It took the support and organization of the Commercial Club of businessmen and citizens of the community to unite and "Push" for the lobby of the bill through the State Legislature from January, 1895 to March 12, 1897. After much maneuvering on both sides, Governor Renfrew reluctantly signed the bill granting a Normal School for this determined community of Alva, Oklahoma.

While the committee was faced with several long, maneuvering and bitter fights lobbying the legislature, the citizens back home were gathering land and finances. They were beginning to build on their dream. That is how determined they were to fulfill their dreams of higher education in this growing farming town and county of "M" in Oklahoma territory. They had a dream and as a community they came together to build it.

For more details concerning the "Castle on the Hill", you may go to my Okie Legacy web site at Building of the Northwestern Normal School and read more about it.

The early morning hours of March 1, 1935, Friday, will live in infamy for many of the Old Timers of this NW Oklahoma community. That is when their beloved "Castle on the Hill" burned down. The cause of the fire has been largely a matter of speculation ranging from faulty electrical wiring -- To spontaneous combustion in a janitor's closet -- To a carelessly tossed cigarette.

From a journal that my Grandpa McGill kept this is what he wrote March 1, 1935 -- "The old Administration building burned down -- Boy! Was everybody sick! March 14, 1935 -- $300,000 passed by both houses to rebuild. Only 4 opposition -- Parade by everybody at noon, March 14, 1935."

The pioneers of the growing city of Alva and county of "M" (Woods, Alfalfa and Major) in Oklahoma territory had their prairie of dreams. One of those dreams was to see their children educated. They set their goal to build their "Castle on the Hill" for themselves, their children and their children's children. It began with 166 students in September, 1897 and grew to 2,000 students in 1999. They accomplished their prairie of dreams with the pioneer spirit and determination that drove so many to this new land of opportunities -- And they came in droves from the eastern and western seaboards and across the oceans for a new beginning.

Don't give up on your dreams. Where would we be if our pioneers had given up on their dreams. There may be times that you take a step back, but there will always be times when you take two steps forward to seeing your dreams fulfilled. What we need is more dreamers and people with determination to ease and move us progessively forward in the evolution of our life.
View/Write Comments (count 0) | Receive updates (0 subscribers) | Unsubscribe
---
nwOKTechie
Create Your Badge