Alva Rest Room Guestbook --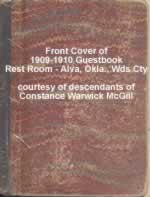 1909-1910 Alva Rest Room Guestbook
A little history about the Rest Room back then. It was a place that travelers, country folks and others used as a stopping off place to rest before the long journey back home. Some would come in by train from other states, but most were from around Northwest Oklahoma and a few from the other parts of the State of Oklahoma.
The Matron of the Rest Room from February, 1909 to around October, 1909 was Mrs. Thompson. Mrs. Conner took her place after Mrs. Thompson moved away. It sounds like the Alva businessmen had something to do with the Rest Room and that train travelers often used it as a stop over between train depots. Also farm families coming to town to do shopping also used it before the long journey back home.
A few Clips out of the Rest Room Guestbook
August 2, 1909 -- Notation of "Closed for painting" underneath the first couple of signatures.
August 5, 1909 -- "Mrs. W. T. Beadles, Avard, Oklahoma finds the rest room nice. A comfortable and enjoyed a rest very much and think the city of Alva a nice place to trade."
August 19, 1909 -- "Mrs. Hary Zacher, Dacoma, Okla. We find the rest room a great advantage over sitting on the street or walking in the hot sun and especially for children. We sincerely hope it may continue for the benefit of everyone."
"How pleasant it is to go and rest yourself. It is very nice of the business men of Alva to furnish a rest room for the tired mother and children. - Grace Bartlett"
August 26, 1909 -- "so thankful to the merchants of Alva for providing such a nice place to rest."
"Mrs. L. A. Swisher, 316 S. 4th St., OK. City - This rest room of Alva is certainly a neat quiet home like place for a weary tired traveler. And the good ladies & citizens who contribute to this are to be commended for their work. Mrs. Swisher is in city a few days in interest of the Oklahoma children's Home Cociety. This Society has placed 350 dependent & homeless little ones in good homes. It is located at Guthrie & State wide in its work."
Sept. 9, 1909 -- "The Rest Room is certainly a blessing to tired country folk. The instigator of the rest room proposition is certainly to be complimented on her good judgment in proposing such a refuge. - Mrs. I. T. Strickland, Ashley (Oklahoma)"
Sept. 10, 1909 -- " Mrs. McMillen - Being strangers in Alva and our friends failed to meet the train, we were setting around on the street when the matron of the rest room came and gave us a most cordial invitation to the rest room. We were certainly glad to find such a lovely place to rest and received kindly treatment at the hands of the matron."
"Jan. 8, 1910 -- During my recent visit through southern Kansas, I found nothing that compared to our Alva Rest Room for usefulness for our country friends, much credit should be given to our few aggressive women who have labored so earnestly for its support. Also our businessmen who give so L____ly to keep it going & the matron who we always find in her place who keeps things all in fine order. -- Mrs. E. T. McKnight"
Location Unknown, BUT... one of my much older friends thought that it was located closer to the downtown square where the Chamber of Commerce building is located now. I am still searching for the Rest Rooms location... With your help.
I have scanned the pages of the 1909-1910 Alva Rest Room Guestbook that my grandmother Constance Warwick McGill saved in her memory box of family treasures. Some of the pages were so light -- I hope these scanned PDF Files make it easier viewing. When I scanned them they came out sideways, BUT... don't fret -- Adobe Acrobat Reader has a little tool that lets you flip the pages.
These are the Links to the PDF files of Alva's 1909-1910 Rest Room Guestbook. When you get to the File #7, look on the last page, notice the circled name & address -- A Mrs. Nettie P. Self, 120 Barnes Ave., Alva, OK, phone No. 196 is circled. I do NOT know if this was a guest who signed ... OR... a possible location of the Rest Room.
Just CLICK each file link to open or save to your computer. If you know of someone or see some familar names that others might be interested in --- Let them know about these files. Hope it helps someone out there located a relative that passed through NW Oklahoma between 1909 and 1910.
Guestbook PDF Files...
1909-10 Rest Room Guestbook PDF File #1
1909-10 Rest Room Guestbook PDF File #2
1909-10 Rest Room Guestbook PDF File #3
1909-10 Rest Room Guestbook PDF File #4
1909-10 Rest Room Guestbook PDF File #5
1909-10 Rest Room Guestbook PDF File #6
1909-10 Rest Room Guestbook PDF File #7