Paris Family Legacy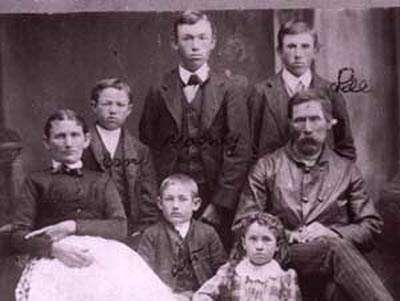 Henry Clay PARIS
According to family members, Henry was born 6 July 1844 in Foxtown, Kentucky, Madison County. He was the Youngest of nine (9) Children. He moved from Kentucky to Illinois to live with an older brother during the Civil War. One of Henry's brothers that lived in Kentucky was James Franklin PARIS.
During the Civil War Henry served as a Private with Company b-30 Illinois Infantry from 1861-1865 on the side of the North while another brother fought on the side of the South. Henry was discharged 4 June 1865.
Henry married Sarah Frances CONOVER on 12 September 1869 in Petersburg, Illinois by the Rev. Benjamin Watts of Cumberland Presbytarian Church.
Henry & Sarah moved to Audran, Missouri in 1875. From there They moved to Elk County, Kansas and then on to Pratt County, Kansas. They spent 21 years around the Kansas area before moving on to Woods County, Oklahoma in 1896 and finally settling in Major County. Henry died 25 August 1918 at the age of 74 years. He is buried in the Orion Cemetery in Chester, Oklahoma, Major County.
Obituary - Henry C. Paris
According to the Fairview Newspaper dated 29 August 1918, page 5, column 2 --- Henry C. Paris was born in Madison County, Kentucky, July 5th, 1844 and died at his home near Chester, Oklahoma, August 25th, 1918, aged 74 years, 1 month and 20 days.
He was married to Sarah F. Conover, at Petersburg, Illinois, September 1869.
To this union, seven children were born, two of which died in infancy. His wife and remaining children, Mrs. Myrtle Hedrick, Decatur Paris, Ernest Paris, of Chester, Volney P. Paris and Arthur H. Paris of Dacoma, Oklahoma, were with him during his last sickness.
He was the youngest of nine children, seven boys and two girls, all had preceded him to the better world.
He served his country during the Civil War and was converted to the faith of Christ in 1879 and has lived a Christian life ever since.
The funeral services were conducted by Rev. J. C. Shuck and the remains laid to rest in the Orion Cemetery, Monday.
Sarah Frances CONOVER-PARIS
Sarah Frances "Fannie" CONOVER was born 12 June 1848 (or 1846) the Oldest daughter of Peter Conover and Melinda PIERCE in Menard County, Petersburg, Illinois. Fannie and Henry had seven Children, 5 boys and 2 girls. The Oldest Son, Joseph, and the Middle Daughter, Mary E., died when they were almost 2 years-old (approx.). Fannie died 20 February 1924 at the age of 76 years. She is buried in the Orion Cemetery in Chester, Oklahoma, Major County next to her husband. SEE CONOVER Connections for MORE History on CONOVER.
MORE About the Paris Siblings
Henry C. PARIS
Henry Clay Paris was the youngest of 9 children (
7 boys and 2 girls
). His oldest brother was Bennett Paris, born ca. 1822, married Permelia R. Perkins in Kentucky. Bennett was in the Mexican War. He died in Illinois, 1866 and is buried there. Permelia is buried in Kansas.
We do know that Henry Clay had one brother who fought on the Confederate side in the Civil War, but don't know his name.
Another brother was William who married Emily Jones in Kentucky. They had 2 children and later moved to Illinois.
James Franklin PARIS (another of Henry's older brothers) lived in Kentucky and had five children:
Oliver:
Joe Paris married Lizzie Smith. They had six children (Albert, Orie, Roy, Charlie, Lucy, Stella,); Robert married Kitty. They had five children (Omar, Floyd, Orville, Bertha, Fred married Odrel. Fred and Odrel had three children [Frank, Willard, Flora]);
Effie married Robert Dietsch;
Eulie adopted out after her mothers death
Paris Links
H.C. Paris Family Photo
Ezekiel Paris
William Hudson Paris
Our Genealogy Databases:
Ancestry.com - paristimes
Geneanet - Paris Family