Beginning Search of HURT Ancestry
My search for the HURT surname began Memorial Day 1997. I was visiting a small, rural cemetery (
Orion
) just north and east of Chester (
a.k.a. Tailholt
), Oklahoma, in Major County.
My maternal grandparents, great grandparents, great-great grandparents, and other family members are buried there or around there close by. While I was there I walked through and jotted down names of those names familiar with my families.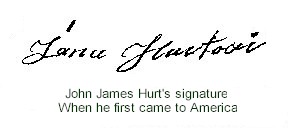 It has been told amongst the HURT Family stories that these Bohemians left their native lands in 1876 and came over to America with their family in tow. There were some that stayed in Bohemia area for reasons yet to be discovered.My Grandmother (Mary Barbara Hurt) was born 5 September 1893, Nebraska to Joseph P. Hurt and Anna Wallman. From the info on my Great-Grandfather Joseph P. Hurt's death certificate I know that he was 79 years old and a retired farmer living in Major County, Fairview, Oklahoma before he died 18 March 1936.
Joseph died one day short of his Eightieth birthday. He was married to his second wife (Hannah Alice Marsh Kachel) at the time. His first wife (Anna Wallman) had died in 1902 when she was struck by lightening while gathering her chicks out in the backyard during a thunderstorm. Joseph married Hannah around 1910 when all their children were raised. [If someone reading this has another version to the story, please send me a copy.]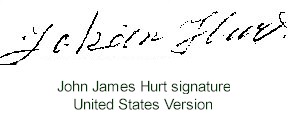 Joseph was born in Bohemia (
a part of Austria-Hungary
) to John James Hurt (
Hurtosci, Hurtoovi, or Hurtosic, not sure of the spelling
) and Mary Markvicka. Joseph came over with his parents, an Uncle Anton and Eloize Hurt) and John and Anton's nephew (Vaclav Hurt). They boarded the ship Weser and left Bohemia and landed in New York on 14 March 1876. Then they headed Westward towards Nebraska and settled in Posen (
now known as Farewell
), Nebraska.
>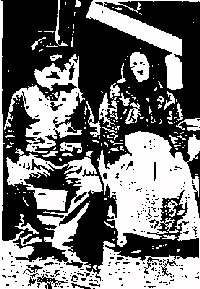 John James Hurt and Mary Markvicka
This is a photo of John James Hurt (
b. May 1825, bohemia
) and Mary Markvicka (
b. June 1839, Bohemia
). The parents of Joseph who was the oldest of seven (7) children (
4 girls and 3 boys
) of John James and Mary Hurt. Joseph P. Hurt (my G-Grandpa) b. September 1856, m: (1) 1879, Anna Wallman b. 1865, Bohemia, d. 1902, Oklahoma (my G-Grandma) & (2) 1909, Hannah Alice Marsh Kachel.
Anna Hurt - b. 1862, Bohemia, m: Buresh
John Hurt - b. 1867, Bohemia
Frank Hurt - b. 1868, Chesamf, Bohemia, m: (22 yrs of age) 11 Feb 1890, Maggie Szkudlacek (19), Nebraska. (Clara Hurt Case's father)
Barbara Hurt - b. 1869, Bohemia, m: Jos. S. Bukowski
Anton Hurt - b. 1873, Ujezdec, Bohemia; m: 21 Feb 1895 , Nebraska, Cecilia Shebeski (19)
Mary Hurt - m: Wasielewki
Joseph and Anna Hurt
Joseph, as I mentioned before, married Anna Wallman and they had seven (
7
) children (
5 girls and 2 boys
) before Anna died in 1902. The info that I'm giving you in this article came from Joseph's and Mary Barbara Hurt's death certificates and from information received from Ersel Hedrick, Alice Shook's granddaughter, Betty Martin and Vernon Case.
Children of Joseph & Anna listed below:
1. John Hurt - b. Sept. 1880, Nebraska; married Clara Kachel. They had three (3) children
2. Jospeh "Joe" Hurt - b. Mar. 1885, Nebraska; married Anna (?). They had one (1) child
3. Carrie Hurt - b. Jan 1887, Nebraska; married James Holub. Eight 8 children
4. Matilda "Tillie" Hurt - b. Mar. 1888, Nebraska; married Martin Hamilton
5. Emma Hurt - b. Aug 1889, Nebraska; married Sam Louthan. Six 6 children
6. Mary Barbara Hurt - b. 1893; married Ernest Claude Paris (my grandparents). Nine (9) children
7. Lucy Hurt - b. May 1899, Nebraska; married Cary Pope. Three (3) children
The Hurt Family Cemetery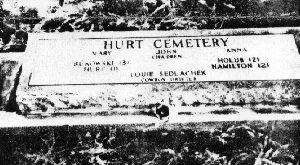 I have enclosed with this biography a picture of a family tombstone that the Case's erected on the "Old Hurt Place" located two (2) miles west, 1/4 mile southeast of the Orion Cemetery in Major County, Oklahoma.
The names on the tombstone are John and Mary Markvicka Hurt, Anna (Joseph's first wife), several children of family members, and one was a Cowboy Drifter (Louie Sedlacher) who just happened by and died while there. [It would really be interesting to know more about that Cowboy Drifter. That would be an interesting story in itself.]
The other family names on the tombstone were mentioned only by last names of the family members and in (...) how many there were. There were three (3) Bukowski, one (1) Hurt, two (2) Holub, and two (2) Hamilton.
My Grandparents
So far we know that my G-Grandfather Joseph's Vital Statistics are: b. 19 March 1856, Bohemia, d. 18 March 1936, Fairview, OK, Major Co., USA. m. (
1st-wife
) Anna Wallman until her death in 1902. m. (
2nd-wife
) Hannah A. Kachel in 1909 in later years after they had raised their families. Joseph was a retired farmer when he died of a Coronary Occlusion and Hypertension (
heart disease
). His attending doctor was John D. Campbell, MD in Fairview, Oklahoma, Major Co. My Grandmother's (
Mary Barbara Hurt Paris
) Vital Statistics are: b. 6 Sep. 1893, Nebraska, d. 5 Nov. 1966, Fairview Memorial Hospital, Fairview, Oklahoma, Major Co, USA. m. Ernest Claude Paris. Mary's parents were Joseph P. Hurt and Anna Wallman Hurt. Her Grandparents were John James Hurt and Mary Markvicka Hurt. Mary Barbara's cause of death was a Cerebral Hemorrhage and coma, Myocardial Degeneration, and Artereosclerosis and Hypertension. This has just been a starting place for our Hurt Generations. As I get more information I will be adding on more pages.
I'm trying very hard to share this information with my sisters and their families that are connected online and for some reasons aren't able to communicate with the rest of the family.
For those not connected online, I will in the near future be printing out these pages and forwarding them to those family members. If you know of any that would like to see this information, please print out a copy and give it to them.
You may send me feedback on anything you see here. I'm expecially interested in Old Family Stories and Other Family Members that I can add to my Family Tree database.
Hurt Legacy Links
Anton & Eloise Hurt
Anton & Louise Hurt
B C Hurt family
Bukowski family
Dan Hurt family
Frank Hurt
Frank Hurt Marriage certificate
Hurt Migration
Slideshow
Our Genealogy Databases:
Ancestry.com - paristimes
Geneanet - Paris Family