Gwin/Guinn - Coat of Arms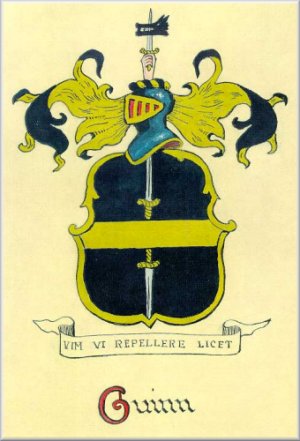 "Vim vi repellere licet"
(It is permissible to oppose force with force")
[May NOT be the Gwin / Guinn coat of arms]
Origin of the name "Guinn"
The name Guinn goes back to Wales to the Gwydir Castle. The names of Gwin, Gwinn, Gwyn, Gwynn, Gwynne, Guin, Guinn, Wynn, Wynne are all derivitates of the original name of Gwynedd.
The earliest known "Gwin" who came to America was Capt. Owin Gwynn, Esq., son of Sir John Wynn of the Wynn family of the Gwydir Castle, Wales in 1611. His son Col. Hugh Gwynne was the first to permanently settle in the US. (Owin returned to Gwydir Castle when his father died to succeed to the baronetcy.) Source: "History of the Gwin Family", by Jesse Blaine Gwin, Fairfax, Va. 1961. The name Gwin is also found in records as Guinne, Guin, Guinn, Gwinn, Gwinne, Gwyn, Gwynn, and even Gowan. This name has often been confused with the name of Given, sometimes spelled Givin.
"The Early Western Augusta Pioneers" by Geo. W. Cleekhttp://okielegacy.net.
The Gwin Family is of ancient Welsh origin, and the name in Welsh means "white" or "candid." The Gwin coat-0f-arms bears the legend, "vim vi pellere licet" -- "It is permissible to oppose force with force."
Different emigrants bearing this name appeared at various times in early Virginia. We are concerned with the descendants of the emigrant bearing the name of Robert Gwin.
Gwin/Guinn Links
1939 Gwin Deed
Gwin Family Postcard
Gwin/Guinn Connectiony
Signora Belle Gwin Obituary
Robert Gwin
Kincaid Family
Our Genealogy Databases:
Ancestry.com - paristimes
Geneanet - Paris Family