---
I didn't know you couldn't pump your own gas in Oregon, but at least until two years ago, when I visited my daughter in New Jersey, there was no self serve gasoline there [more]...
~Charles M. Cook regarding Okie's story from Vol. 9 Iss. 52 titled UNTITLED
Would be interested in knowing where Ken graduated in 1951. I have shirt-tail relatives that lived in Miller (some still do)in that era.
~Dixie Lee Kennedy regarding Okie's story from Vol. 8 Iss. 24 titled UNTITLED
---
NW Okie's Journey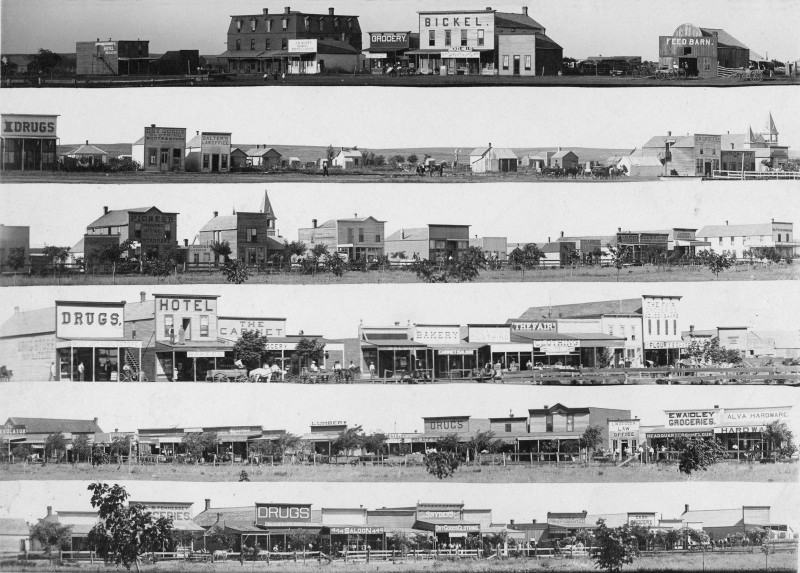 Alva, OK - This is an old postcard, of Alva, Woods, Oklahoma businesses that lined the downtown square of Alva. Each view shows a different side (North, South, East and West) of the square with businesses across from the square during the early days of Alva. Not quite sure of the date, though.

Thanks to Joy Sherman for sharing her grandfather's legacy with the OkieLegacy a few years ago. We had the information on another page, and decided to move it to the OkieLegacy Ezine database.

Joy's father was Prof. John Cameron, Physics, NW State College. Her grandfather was Tom Dyer, one of the pioneer cowboys in the Woods and Alfalfa County, Oklahoma Territory in Barber and Kiowa County, Kansas during the Cherokee Strip Cattle Pool days. Her great-grandfather was none other than Scott Cummins, known as the "Sage of the Nescatunga" or the "Pilgrim Bard." Thanks to Joy Sherman for sharing the pioneer material concerning the early days of the Northwest Oklahoma Territory (O.T.).

These are some of the Northwest Pioneers of O.T.:

Charles F. Colcord - An obituary written by Tom Dyer in memory of Mr. Colcord. The Colcord ranch was not far from Coldwater, Kansas and it was from here that the "Salt Haulers" set forth from when they wound up being killed by Little Wolf's and Dull Knife's Cheyennes during their flight back to the Dakotas.

Wiley Cowan - Obituary penned by Tom Dyer. One of Wiley's daughters is Opal Nighswonger, a principal at Longfellow School in Alva during 1947-1951.

Ed Hinton - Another of Dyer's tributes to the passing of an old-timer. The name is variously spelled as "Hinton" and "Henton" in the article.

Alpha G. Updegraff - Another Tom Dyer's tributes to one of his old saddle mates, Alpha G. Updegraff.

Horse Thieves - by Judge T. J. Dyer, Jan. 31, 1933. Tom Dyer reminisces about various horse thieving incidents that he was aware of.

Elm Springs & Shady Grove - by T. J. Dyer, April, 1931 & Peoples Forum, October 2, 1934

Good Night! Good Luck!
View/Write Comments (count 0) | Receive updates (0 subscribers) | Unsubscribe
---
Walking With Sadie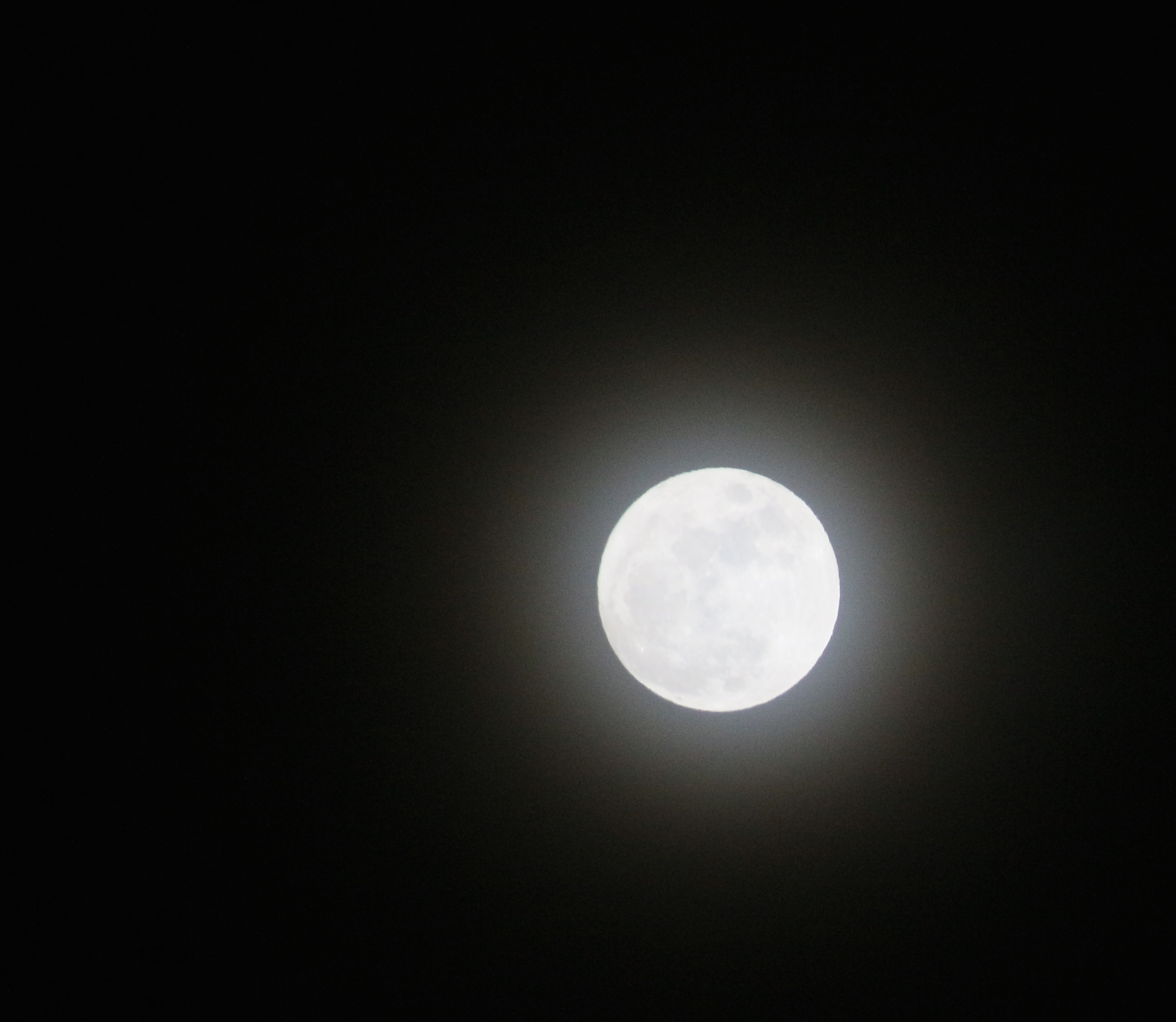 Bayfield, CO - Sunday night, at 11:53 P.M. EST (9:53 MST), was the FULL WOLF MOON! January is the month of the Full Wolf Moon. It appeared when wolves howled in hunger outside the villages. It is also known as the Old Moon. To some Native American tribes, this was the Snow Moon, but most applied that name to the next full Moon, in February.

Did you know . . . "Full Moon names date back to Native Americans, of what is now the northern and eastern United States. The tribes kept track of the seasons by giving distinctive names to each recurring full Moon. Their names were applied to the entire month in which each occurred. There was some variation in the Moon names, but in general, the same ones were current throughout the Algonquin tribes from New England to Lake Superior. European settlers followed that custom and created some of their own names."

Full Wolf Moon of January - Amid the cold and deep snows of midwinter, the wolf packs howled hungrily outside Indian villages. Thus, the name for January's full Moon. Sometimes it was also referred to as the Old Moon, or the Moon After Yule. Some called it the Full Snow Moon, but most tribes applied that name to the next Moon.

Names of Full Moons By Month

-- Full Snow Moon of February - Since the heaviest snow usually falls during this month, native tribes of the north and east most often called February's full Moon the Full Snow Moon. Some tribes also referred to this Moon as the Full Hunger Moon, since harsh weather conditions in their areas made hunting very difficult.

-- Full Worm Moon of March - As the temperature begins to warm and the ground begins to thaw, earthworm casts appear, heralding the return of the robins. The more northern tribes knew this Moon as the Full Crow Moon, when the cawing of crows signaled the end of winter; or the Full Crust Moon, because the snow cover becomes crusted from thawing by day and freezing at night. The Full Sap Moon, marking the time of tapping maple trees, is another variation. To the settlers, it was also known as the Lenten Moon, and was considered to be the last full Moon of winter.

-- Full Pink Moon of April - This name came from the herb moss pink, or wild ground phlox, which is one of the earliest widespread flowers of the spring. Other names for this month's celestial body include the Full Sprouting Grass Moon, the Egg Moon, and among coastal tribes the Full Fish Moon, because this was the time that the shad swam upstream to spawn.

-- Full Flower Moon of May - In most areas, flowers are abundant everywhere during this time. Thus, the name of this Moon. Other names include the Full Corn Planting Moon, or the Milk Moon.

-- Full Strawberry Moon of June - This name was universal to every Algonquin tribe. However, in Europe they called it the Rose Moon. Also because the relatively short season for harvesting strawberries comes each year during the month of June . . . so the full Moon that occurs during that month was christened for the strawberry!

-- The Full Buck Moon of July - July is normally the month when the new antlers of buck deer push out of their foreheads in coatings of velvety fur. It was also often called the Full Thunder Moon, for the reason that thunderstorms are most frequent during this time. Another name for this month's Moon was the Full Hay Moon.

-- Full Sturgeon Moon of August - The fishing tribes are given credit for the naming of this Moon, since sturgeon, a large fish of the Great Lakes and other major bodies of water, were most readily caught during this month. A few tribes knew it as the Full Red Moon because, as the Moon rises, it appears reddish through any sultry haze. It was also called the Green Corn Moon or Grain Moon.

-- Full Corn Moon or Full Harvest Moon of September - This full moon's name is attributed to Native Americans because it marked when corn was supposed to be harvested. Most often, the September full moon is actually the Harvest Moon, which is the full Moon that occurs closest to the autumn equinox. In two years out of three, the Harvest Moon comes in September, but in some years it occurs in October. At the peak of harvest, farmers can work late into the night by the light of this Moon. Usually the full Moon rises an average of 50 minutes later each night, but for the few nights around the Harvest Moon, the Moon seems to rise at nearly the same time each night: just 25 to 30 minutes later across the U.S., and only 10 to 20 minutes later for much of Canada and Europe. Corn, pumpkins, squash, beans, and wild rice the chief Indian staples are now ready for gathering.

-- Full Hunter's Moon or Full Harvest Moon of October - This full Moon is often referred to as the Full Hunter's Moon, Blood Moon, or Sanguine Moon. Many moons ago, Native Americans named this bright moon for obvious reasons. The leaves are falling from trees, the deer are fattened, and it's time to begin storing up meat for the long winter ahead. Because the fields were traditionally reaped in late September or early October, hunters could easily see fox and other animals that come out to glean from the fallen grains. Probably because of the threat of winter looming close, the Hunter's Moon is generally accorded with special honor, historically serving as an important feast day in both Western Europe and among many Native American tribes.

-- Full Beaver Moon of November - This was the time to set beaver traps before the swamps froze, to ensure a supply of warm winter furs. Another interpretation suggests that the name Full Beaver Moon comes from the fact that the beavers are now actively preparing for winter. It is sometimes also referred to as the Frosty Moon.

-- The Full Cold Moon or Full Long Nights Moon of December - During this month the winter cold fastens its grip, and nights are at their longest and darkest. It is also sometimes called the Moon before Yule. The term Long Night Moon is a doubly appropriate name because the midwinter night is indeed long, and because the Moon is above the horizon for a long time. The midwinter full Moon has a high trajectory across the sky because it is opposite a low Sun.

Good Night! Good Luck! Woof! Woof!
View/Write Comments (count 0) | Receive updates (0 subscribers) | Unsubscribe
---
Tribute To Alpha G. Updegraff
Alva, OK - This tribute was written by Thomas Jefferson Dyer, son-in-law of Scott Cummins. Another one of Tom Dyer's tributes to one of his old saddle mates. Thanks to Joy Sherman for sharing her grandfather's writing with our Okie Legacy website.

Alpha G. Updegraff

Alph Updegraff is dead. These words caused a tremor of sadness to pervade my entire being when first I heard them uttered.

It had been scarce two weeks ago that I met and talked with him in Alva, and in his usual way he greeted me with that kindly smile, and cordial "Howdy do, Tom." The friendly hand shake made you realize he was your friend.

I visited the mortuary where his lifeless remains lie in the cold embrace of the "Reaper whose name is Death." After looking for a few moments on that inanimate clay, I could only say these parting words: "Good-bye, Old Boy, good-bye."

Alpha Updegraff is gone. What does this really mean? It means that a real pioneer has gone from among us.

In number of years spent in Woods County, Alph was second only to one other person, I refer to our good friend Wiley Cowan.

It is more than a half century since Alph came to what is now Woods County, Oklahoma. He spent the winter of 1873 in a cow camp just north of the present site of Alva, in what was then called Ash Grove. Later he became foreman of the Major Drumm Ranch, with headquarters camp located at the mouth of the Medicine River.

Alph Updegraff was a trustworthy and painstaking representative of the public, always looking after the interests of his constituents, as well as the interests of the territory and state at large.

In 1900 he was chosen as a member of the council from the twelfth district, and served as a member of the sixth and seventh assemblies of the territorial legislature. In 1907 he was returned as a state senator, and served in the first and second sessions of the state legislature, after statehood, 1907, 1908 and 1909.

After the opening of the Cherokee Strip, he secured a claim near the town site of old Augusta. Selling this place he later secured a home in the Fairvalley neighborhood and followed farming and stock raising until a few years ago.

The passing of this man is a distinct loss to our county. He numbered his friends by those who knew him, as he was a friend to everyone. This is best illustrated by those beautiful lines by Samuel Foss: "Let me live in a house by the side of the road, and be a friend to man." Such a person was Alph Updegraff. Next to his children, and immediate relatives, he will be missed most by the old time cowboys who knew him best.

No more will he saddle his favorite cayuse (saddle horse), and attend the old time round up. He has crossed the great divide. We boys who are left will sooner or later answer to this same summons which called or friend Alph, and when we have all been gathered in that Great Beyond, and have attended the last great roundup, may we meet again, and throughout eternity be permitted to live in the valley called Paradise.
View/Write Comments (count 0) | Receive updates (0 subscribers) | Unsubscribe
---
Wiley H. Cowan Obituary
Alva, OK - Written by Thomas "Tom" Jefferson Dyer. Another obituary penned by Tom Dyer. Opal Nighswonger is listed as one of Wiley's daughters and was the principal at Longfellow School in Alva during 1947-1951. Thanks to Joy Sherman for sharing these Tom Dyer writings with the Okie Legacy.

Wiley H. Cowan

On Monday morning, November 11, 1935, the news was broadcast throughout our city and county that another of the old-time pioneers had answered the last roll call, and that great reveille had tolled for our old time friend, Wiley Cowan. Perhaps it would be more fitting to say that he was a pioneer of pioneers having spent the major portion of his long life on the early frontier of what was called the Great American Desert. He was born in the state of Illinois in October, 1847. At the age of 15 years he left the parental home to seek adventure in the west. His first venture was from Westport Landing near Kansas City, where he engaged himself as a teamster to drive an ox team in one of those overland freighters caravans over the old Santa Fe Trail to Santa Fe, New Mexico. This was in the year 1863, more than 72 years ago. While on a visit to his eldest daughter, Mrs. Hazel Wiebner (sic), and husband, Fred Wiebner (sic), who at that time were living near Springer, N. M., Wiley located the place where the old trail had been over which he had traveled more than a half century before.

After his experience as a teamster and freighter, Wiley Cowan chose the life of a cowboy, and in the following year made five trips from Texas, across the wild wastes of the Indian Territory to the wide expanse of Kansas prairies, and the markets of Kansas towns. Two of the trips were with herds of cattle and three were made with herds of horses. At this time he was in the employ of a man named Col. Leroy M. T. Pope, who by the way was the grandfather of one of our genial fellow-townsmen, Roy Day, manager for the Kavannaugh (sic) and Shea hardware company.

This man Pope was an old trail driver who followed the business for years, and who also owned a ranch in Sedgwick County, Kansas on the Ninnescah and Cowskin near Mount Hope. It has been suggested to me that it was at this ranch where Wiley first met the girl who in later years became his wife and companion. About the year 1874 he came to Old Kiowa in Barber County to engage in the cattle business. These were perilous days in that part of the country, Indians were on the warpath, stockades were being built at old Kiowa and Medicine Lodge to protect the white settlers who had come to Barber County to find homes. He had associated with him the late Clark Bunton, with whom he had worked on ranch and trail, sharing each others trials and hardships, they became life-long friends.

Wiley Cowan, the cowboy, none better I'll own,
Astride a cayuse, has ever been known,
He started out in his youthful years,
To follow the droves of long-horn steers,
In the early spring when the grass was green,
-- ¨From San Antonio up to Abilene,
Across rivers, mountains, through woodland and vale,
He traversed the famous old Chisholm Trail,
And many times, on his trusted steed,
-- ¨He pointed the herd in a wild stampede.

On December 22, 1882, he was united in marriage to Manda Day near Anthony, Kansas. It was a happy union of congenial lives. Life took on a more serious side as the problems of life confronted them. Five children came to bless this union, three of whom are still living: John Cowan, of Buffalo, Okla., and Mrs. Hazel Wiebner (sic) and Mrs. Opal Nighswonger of Alva, Oklahoma.

After their marriage they followed the vocations of ranch life in the year 1883. The Salt Fork and Eagle Chief pool was organized, its personnel was composed of the following members: D. R. Streeter, M. J. Lane, Frank Shelly, Billy Powell, Charles Moore, A. W. Rumsey, Charles Stowell, Major Moderwell, D. Donovan, Wiley Cowan, Clark Bunton, Henry Wick and Frank Stacy. Wiley Cowan was chosen as foreman of the organization. He remained in the cattle business until the Cherokee Strip Livestock Association was disbanded, and the cowmen were driven out of the Cherokee Outlet. At the opening of the Outlet to settlement in 1893, Wiley Cowan secured a fine homestead in the Ashley community where the family resided for something like 12 years. Here he organized the first Sunday school in that neighborhood, and was chosen as its superintendent, assisted by his good wife as co-worker in this laudable undertaking. It is related that not all of the adult population attended the school at first, but the children (God bless them) they were there, and going home gave such glowing accounts of the Sunday school that the parents were induced to go. It became known far and wide as the most earnest organization of its kind. It was a union Sunday school. Wiley Cowan's philosophy of life was to do good, his creed, the Golden Rule. Whatsoever ye would that others should do unto you, do ye even so to them. This was exemplified in his everyday life, as many of his old time neighbors and associates will gladly tell you when they recall the many kindly acts and liberal generosity of their old time friend, Wiley Cowan.

Selling the old homestead, he bought land and established a ranch near Buffalo and Selman in Harper County, Oklahoma, and which they still own. Bereft of his wife and loving companion on February 24, 1924, he divided his time among his children. In the early part of 1927, he was stricken with paralysis at his ranch near Buffalo, at the home of his son, John Cowan. The malady did not readily respond to any treatment, later he was brought to the home of his daughter, Mrs. Opal Nighswonger, at Alva. Here he spent the remainder of his life a helpless invalid until an all-wise heavenly father released him and said, "-- Tis enough, come up higher." His age, 88 years and 14 days.

Eighteen years beyond the allotted span
The Lord accorded to mortal man
-- ¨He lived, his later years so weak and frail,
Ere he reached the end of the long, long trail.
-- Twas in the early dawn, a fitting time,
To leave this earth to a happier clime,
When the angels came and wafted away
His imprisoned spirit from its home of clay,
The realms of that eternal day.

With many of his old friends and neighbors, I attended the last rites to pay a tribute to the respect to our departed friend who was beloved by all who knew him best. At the Maughlin and Howerton funeral parlor where it was held, the casket was banked with many beautiful wreaths of flowers, his inanimate form reposing among them as if only asleep. A fitting eulogy was given by Rev. Phil Deschner, pastor of the First Methodist Church, while the music by the ladies quartet was beautiful and appropriate.

Six of his grandsons were the pall bearers, a splendid tribute by these young men to their grandfather. Their names, Orville Wiebener, Anadarko, Okla., Paul Wiebener, Alva, John Nighswonger, Alva, Hal Cowan, Woodward, Burt Wenel, Hardtner, Kansas, Bob Selman, Woodward. There was one grandson, J. Wiley Cowan whose home is in Glendale, Calif., who could not be present at his grandfather's funeral. His remains were laid to rest by the side of his wife in the beautiful A.O.U.W. cemetery overlooking the city.

Many old time cowboys, gone on before,
Await his coming on that golden shore.
To him they extend a welcome hand,
A reunited and happy band. ~~ T. J. DYER
View/Write Comments (count 0) | Receive updates (0 subscribers) | Unsubscribe
---
Charles F. Colcord Obituary
Alva, OK - An obituary written by Tom Dyer in memory of Mr. Colcord. The Colcord Ranch was not far from Coldwater, Kansas and it was from here that the "salt haulers" set forth from when they wound up being killed by Little Wolf's and Dull Knife's Cheyennes during their flight back to the Dakotas.

Charles F. Colcord

Again are the ties of friendship broken,
That binds old friend to friend while here,
Once more those sad words must be spoken,
That record the passing of another pioneer.
Oh, thou Death, relentless Death!
Can'st thou not withstay thy hand?
Can'st thou not withhold thy chilling breath,
And spare a remnant of our band?
No, no, poor mortal you ask in vain,
Your days, your years, are numbered here.
This life you covet shall be rent in twain,
Although you may hold it a thing most dear.

In the going of this old time pioneer we are reminded of that era of western civilization in which he had and was a part of that great drama of life as portrayed in the days of the cattleman and the cowboy.

The writer first knew him at Medicine Lodge, Kansas in the early '80s (1880s). At that time he and his father were embarked in the cattle business, and were associated with other in what was then know as the Comanche Pool, one of the largest cattle ranches which comprised in part most of the present boundaries of Comanche county, Kansas and a small part of western Barber County, besides that part south of Kansas and north of the Cimarron River in what was at that time known as the Cherokee Outlet.

Their headquarters camp was on the Salt Fork, in Kansas, and was called Evansville. The Colcords, however, had another camp down near the state line. This camp, most likely, was established here prior to the headquarters camp, as Charlie Colcord was one of the boys at this camp as early as 1878. There were a number of other occupants of this camp.

There was an old wagon trail that led from this camp to the little Salt Plains. Two of the boys had been sent to the plains for salt.

At this time, old Chief Dull Knife of the Cheyenne tribe, and who was a prisoner at one of the military posts, took a hurried leave of absence between two suns without the knowledge of the military authorities, to make his escape from captivity, and with a considerable number of his people, young braves, old men and women and children. They were traveling across the country trying to make their way back to their old habitat in the northland.

The main body of the Indians no doubt crossed the Cimarron River near the Salt Plains in what is now Woods County, Oklahoma. Thence they went in a northwesterly direction into Comanche County, Kansas.

As is the custom with the Indians, there were scouting parties ranging on either side of the main body, whose business it was to secure food, and also to report if they were being followed by government troops. One of these scouting parties came upon the two boys unawares, and to satiate their inordinate thirst and desire for blood and revenge, they murdered these two boys and went on their way.

The boys at camp, learning of the presence of the Indians in the immediate vicinity, became alarmed for the safety of the two men. A searching party was sent out, and Charlie Colcord was its leader. Guided by their knowledge of the country, it was not long before they came upon a gruesome sight, their comrades lying along the old wagon trail. They were buried where found. A grave was dug and their remains lowered therein.

But here an incident occurred that so vividly portrays the human as well as the divine instincts of man. How could they consign these two comrades to mother earth without some religious rite being performed? A minister was not to be had, no orator to deliver a fitting eulogy. Yet these boys bowed their heads in earnest reverence to their Maker while Charlie Colcord offered up a fervent prayer for the souls of their departed friends.

Who would say today but what that humble cowboy prayer was wafted to the very courts of heaven and that eternity only may reveal. Perhaps these two boys had many times while seated around their campfire helped to sing that old familiar song:

"O bury me not on the lone prairie,
Where the wild coyote may howl o'er me.
Where a blizzard wails, and winds blow free,
O, bury me not on the lone prairie."

There was not a tree near to cast its shadow, or to scatter a pleasant sunbeam, or where a song bird in his flight might rest among its branches and warble forth sweet music o'er their last resting place.

Most likely the wild coyotes gathered near this lonely spot and chanted a weird requiem, or the lobo wolf would howl in ominous tones a solemn dirge. I first saw this grave in 1883, and again in 1907. At this later date it was enclosed with a wire fence with high posts at each corner.

The last time that I met my friend Charles Colcord was at the unveiling of the Andrew Drumm monument on the old Drumm ranch some three years ago. We had not met in more than 40 years, yet he was that same genial, whole-souled fellow of years gone by. He recognized me at once. He did not appear to be aged in looks, or point of years, but his hair was white as the snow drift. Yes, time changes all things. He is gone. His spirit perhaps is holding a glad reunion with the other spirits of the old boys who have preceded him to the great beyond. There will be Alph, Lige, Red Houser, Oliver, Joe, John, Oakley, Jim, Bob, Hi, Ike, Bud, Tip, Jeff, Charley, Ed, Happy Jack, Bill, Frank, Newt, Oscar, and an innumerable host of others who have gone over the great divide. They are gathered in one great bivouac, awaiting the last roundup.

This story of the burial of the two boys as related in the foregoing story was told by Mr. Colcord at a reunion of old-timers held at Medicine Lodge, Kansas, last February. ~~ T.J. DYER.
View/Write Comments (count 0) | Receive updates (0 subscribers) | Unsubscribe
---
Ed Hinton Obituary
Alva, OK - The name is variously spelled as "Hinton" and "Henton" in the article. This is another one of Dyer's tributes to the passing of an old-timer. Thanks to Joy Sherman for sharing these Tom Dyer writings with the Okie Legacy.

Like the golden leaves of autumn that are falling, one by one to earth, so with my erstwhile friends who are passing down the valley, one by one to the endless shores of eternity.

The last one to answer to the roll call of time was my old time cowboy friend, Ed Henton of Capron. It is something like a half century or more since I first met him. Ed was born and reared in the state of Missouri until he had attained to the age of 14 years. In the fall of 1878, the Henton family left that state and emigrated to Kansas, settled in Barber county in the beautiful valley of Sharon, October, 1878. Here they secured a fine tract of land and built a home.

In the early part of the month of November, 1881, while in the employ of Gregory, Eldred and company, I was making my first trip to Harper City, Kansas, for a load of freight for this company. Harper was the nearest railroad station, and was the terminus of the old Southern Kansas Railroad before it was taken over by the Santa Fe. Gregory, Eldred and company bought their supplies by wholesale, had them shipped to Harper and then freighted to the ranches.

Leaving the headquarters ranch in Barber County, I passed the place known as Last Chance, situated on the banks of the placid waters of the stream called Little Mule Creek. Traveling northeast from this place, I crossed the Medicine River at what was then known as the old Landis ford. Continuing on in the same course, I passed the north edge of the Cedar Hills. Dropping down into the Sharon Valley, I pitched my camp on the bank of a small stream, whose crystal waters were coursing their way down toward the sea. About 100 yards distant from my camp was a farm house, which I learned later was the home of the Henton family.

After unhitching, watering and feeding my four-horse team, I was building a fire on which to cook something to eat, when a young man perhaps 17 years of age came from the nearby house down to my camp. After the usual western greetings, we were soon engaged in conversation as if we had known each other always. He told me his name in answer to my inquiry. I also told him who I was, and for whom I was working, and before we separated, I had promised this young fellow in response to his request to try and secure for him a job with the outfit for whom I was working. This young man was none other than Ed Henton, who was ever after my life long friend.

I made numerous other trips over this same route, and often camped near the Henton home, and was always a welcome visitor in this home. In the course of time, and human events, Ed was hired by this company to work on their Barber County ranch. Some months later he was transferred to the ranch south of the Cimarron River. Here he was furnished with a mount of horses. He participated in the roundups and became a full-fledged cowboy. He was a trusted employee of this company for a number of years, was one of a half dozen of the old boys who helped to drive the last herd of longhorns that were shipped to market from the stockyards here, only a short time before the opening of the Cherokee Strip to settlement.

At the opening of the Cherokee Strip to settlement the Hinton family secured a fine claim one-half mile south and three miles east of the present site of Capron, but at that time it was called Warren. Here the family resided until the death of the father. Some years later the family disposed of the farm, secured property and built a home in Capron. Ed lived with and cared for his mother until her death. Since that time he has resided in this home alone. For 20 years he has served the Capron schools as janitor, and the large concourse of people, relatives, friends, and acquaintances that filled the Methodist Church at that place, to its capacity, attest the esteem in which he was held by the neighbors and folks who knew him best.

He will be missed from his accustomed place by the faculty and students of the school for whom he labored so long and faithfully. He was always on the job. Ed was of a modest and retiring disposition, yet possessed a fund of droll humor that was interesting and instructive. His remains were interred in the Capron cemetery, where repose the remains of his father and mother.

Like many of the old boys with whom he was associated in days long gone by, he has crossed the great divide that separates life and death, and call it what you may, the spirit, soul, or the immortal and invisible mind of man is now traversing new and unknown realms, and on that great day when the last great roundup is staged, our friend Ed will be there, on that day will occur a reunion of these kindred spirits. ~~~ T. J. DYER
View/Write Comments (count 0) | Receive updates (0 subscribers) | Unsubscribe
---
Elm Springs & Shady Grove
Elm Springs, OK - Written by T. J. Dyer, April, 1931 - Elm Springs, for more than half a century this name has clung to this memorable and historic place. It was in the spring of 1879 that Stith and Watkins established a cow camp at these springs, which was later moved over to Buffalo Springs, about one-half mile east, now known as the Ellis (?) homestead.

Many and varied were the experiences of the cowboys who kept this camp. Like all good cowboys they returned to camp after their day's work was done, perhaps attending some roundup or riding the range. The evening repast being over, singing their favorite cowboy songs was in order, and I wish to impress upon the minds of my readers that there were some mighty good singers among those boys and that their music was far superior to some of the hi-falutin' jazz music of the present day. Here at Elm Springs was a camping place for buffalo hunters and for freighters in the early days before the advent of the cattlemen and when the country was filled with countless herds of buffalo, before the coming of the longhorn herds from Texas.

Legend has it, that prior to this and for ages gone by this was the camping ground of many tribes of wild Indians that roamed the country from the frozen wastes of the north to the Gulf of Mexico on the south.

Perhaps the Pawnees, the Osages, the Sioux, Comanches and Kiowa, Cheyenne and Arapaho tribes have each in turn availed themselves of the advantageous facilities and have pitched their teepees here to drink of the cool and exhilarating waters of the bubbling springs that come forth from the hillside on either side of the small canyon and where their tired ponies could slake their thirst clear crystal rivulet that coursed its way from the springs down toward the Nescatunga.

This stream was also called the Salt Fork but was charted on the very earliest maps of the country as the Nescatunga or the Red Fork of the Arkansas, so-called by reason of the redness of the water which coursed down this stream while on one of its periodic rampages of overflow.

In April, 1885, during the high waters in this and other streams, I rode from my home on Little Mule Creek in Barber County, Kansas to view this raging torrent racing its way down to the sea, its waters reached from hill to hill on either side of this stream and as I stood on this historic camping ground of which I write the waves of water would reach within two hundred feet of where I was.

And this was the highest mark reached by this river since I have any knowledge of it. On this historic spot councils of war were held. The great medicine man of the tribes, he whose powers it was to dig the different herbs found here in abundance, and in pots and pans stew his decoctions (sic) that were supposed to heal all manner of ailments that the Indians were heir to, and also, when the tribe as preparing to go on the warpath, like the great oracle of the Greek God of Delphi his advice was sought in matters pertaining to war, and if he said the time was not opportune for such an undertaking it was abandoned for the time being. Yet always in event they did go to war with some neighboring tribe, the medicine man was their constant companion, and if any of the warriors were seriously wounded he was the one to treat the patient with some lotion supposed to contain healing properties for all occasions.

Here also was held (if they were successful in bringing back a few scalps of the enemy from the forays of war), the weird and hideous scalp dance. A pole was erected and from this pole dangled the scalps, trophies of war, while a circle of warriors clad only in breech clout and girdle, and varied colored war paint, danced, keeping step to the discordant beat of the tom tom, and all the while chanting their incantations, giving vent occasionally to the hideous and bloodcurdling war whoop, rending the midnight air until the coyote, the lobo wolf, bear, catamount, and mountain lion slink away taking refuge in their lairs in the fastness of the surrounding hills and canyons, while this place was being used as a camping ground by the many Indian tribes it was here in some shady nook of this sylvan grove that the dusky warrior and his sweetheart sitting there while the twilight shades of evening were deepening, and all nature seemed at rest he poured forth into here ears the story of his exploits of the hunt or chase or mayhap his daring deeds of prowess and valor while in battle with some neighboring tribe.

In 1884 after the railroad had reached Kiowa, Kansas, these springs were used as a camping place by the famous Indian scout Amos Chapman, hero of the Buffalo Wallow Fight. While hauling government freight to old Camp Supply over the old Camp Supply trail Chapman, who was engaged in this work, made two changes in the old trail between Kiowa, Kansas, and Supply. After reaching the divide at the head of Greenleaf Creek instead of following the divide from this point west, he turned southwest, crossing Redhorse at the Redhorse spring. From there over the divide between this point and Anderson Creek, here he crossed this stream about where R. I DeGeer located his homestead, and intersected the old trail again just east of where Old Freedom was located. The other change was made from a point where the trail first entered Sleeping Bear Creek, instead of following up the creek her crossed it here, going southwest along Granger Creek, went out on the divide at the head of Bent Canyon. These were the two changes made by Amos Chapman.

About the same time a stage or hack line was established between Kiowa and Camp Supply, which also passed by this historic lace and my old time cowboy friend, Cleve King, now living in Alva, was one of the drivers.

But, alas, Destiny, what a meaning is wrap up in this one small word. It was destined that at this historic place in coming years the Red Man would surrender his rights of imminent domain, and the paleface was to come into possession of this land. And the Great White Father at Washington, D. C., calling in all the great medicine men from all the states of the United States, and also inviting some of the noted Red Men of the Cherokee Nations, a great conclave was held, and at its conclusion an agreement was reached whereby the Indians were to receive six million, five hundred thousand dollars in lawful money of the United States in lieu of the six million acres or more contained in what was then known as the Cherokee Outlet. And thus it was that the Indian title was extinguished and the government became the sole owner.

He authorities at Washington set about immediately to open this land to settlement, and September 16, 1893 was the date for this occasion and on that date almost all this entire body of land was taken by homesteaders on that day.

It was on this date that one Jonathan C. Fuller staked the claim on which was situated the historic Elm Springs. Here he had a store and post office called Winchester, after the place where General Sheridan made his famous ride of twenty miles. Here he dispensed sugar, coffee, flour and other household necessities, and here the old settlers would gather at close of day to await the arrival of the mail and incidentally to listen to Mr. Fuller recount some of his thrilling experiences of the Civil War. He was General Grant's handy man, or perhaps his aide-de-camp. He took great delight in telling how by his keen foresight and timely advice he had kept the general and his army out of many a tight place.

In an old history which contained an account of the Civil War, I remember a picture of General Grant sitting on a log on the banks of the Rapidan River in Virginia, penciling an order or telegram to some of the other officers, and nearby was an orderly standing, holding his horse, waiting the writing of this order, and after meeting and becoming acquainted with this stalwart soldier of Winchester, I've wondered if this might not have been a picture of our own Jonathan C. Fuller. But in the course of time this old veteran answered the last roll call, and the family continued to live here for some years, but the title of the old homestead passed into the hands of others, Ed McGarry, of Alva, Okla. Ed is converting this place into a summer resort, is constructing some dams to impound some of the water which will make an ideal place to fish. The lake, or lakes, are to be stocked with all varieties of game fish. Many other improvements are under way, and when completed will afford an interesting and pleasant place to enjoy an outing, to recline, and rest in the inviting recesses of Shady Rest, as this is the name by which Ed now calls this beautiful and historic place. Here in the same shady nook where the Indian warrior and his sweetheart had used as a trysting place, will be gathered the modern pale-faced young man, and his sweetheart while he is crooning into her ears sweet nothings, as he has none of the exploits of his predecessors either in the chase or in war to recount.

Thus hath time changed all things.
T. J. DYER, Alva, Oklahoma, March 30, 1931.

PEOPLE'S FORUM (October 2, 1934)

To the old timers who have gathered from day to day during the hot days of the past summer, when a blazing sun cast its burning rays upon this parched earth, while hot winds scorched and withered all vegetation: We met under the spreading branches of the trees in the court house park, there to enjoy their immense shade in the coolest place in the city. There was neither class nor distinction, all met upon a common level.

Here we discussed the issues of the times, some were cussed depending entirely on the person occupying the floor. The topics ranged all the way from defending the policies of the Roosevelt administration to the defense of the bootlegger, everyone having a chance to say his say.

Many of those hot afternoons were made more tolerable by reason of Uncle Dean Murrow, and his irrigation system. The water running in small ditches, or standing in pools around each tree served as a cooling system. But cooler weather is coming and soon these meetings must close for a time. Even now the crowds have diminished to a mere dozen or so.

I have enjoyed these meetings, and will be loathe to give them up, even for only a few months, and I'm quite sure most every one has derived some benefit from these gatherings, but . . .

Hush, old timer, cease your repining,
Each somber cloud has a silver lining,
Soon will cease old winter's cold and snow,
Up from the south-land warm breezes blow,
Until all nature will be seen,
Decked out in robes of verdant green.
Then again beneath this leafy bower,
We'll meet to spend a pleasant hour,
May not there be one vacant chair,
But each familiar face be there.
To each familiar voice we'll bark
When we meet next year, in the court house park.
View/Write Comments (count 0) | Receive updates (0 subscribers) | Unsubscribe
---
Great Event Recalled By Pioneer
Alva, OK - Written by T. J. Dyer, September 16, 1933 - On Saturday, September 16, 1933 will occur the 40th anniversary of the opening of the Cherokee Strip to white settlement. Time and space forbid the telling of the many changes that have taken place, but the intervening 40 years have been years of progress and development.

No state has ever achieved such magnitude in so short a time as has Oklahoma, and I might add that in no part of the state has this progress and development been greater than that exemplified by this part of the state known as the Cherokee Strip or Outlet. It is comprised for the most part of the finest farms in the state, with commodious dwellings, many of them modern, and other substantial improvements which constitute a real home.

And its cities, towns and villages will stand comparison with any other portion of our great Oklahoma. As I look back over these 40 years, my mind goes still farther back, and memory calling up the past. I vision this country as it was when first I came to the then Indian Territory in 1870.

Out here, where we now live, in Woods County, buffalo, elk, deer, and the antelope held supreme and unlimited sway, while the black bear, cougar, lynx, catamount, lobo wolf, and coyote sang their hideous incantations for a midnight reverie. The wild turkey was here in countless numbers. But I must hasten on.

Later in the early 80's this part became home of the cattle barons, ranges were mapped out, ranches built, while the longhorn cattle in almost countless numbers roamed the country o'er hillside and plain, fattening on the luscious buffalo grass that grew everywhere, and then were shipped to the markets of the east.

With these ranges, ranches and cattle came the cowboy, and for a number of years they lived here, that carefree and happy life known only to the old-time cowboy.

In that beautiful poem by Elizabeth Akers Allen, entitled, "Rock Me to Sleep," occur these words:

Backward, turn backward, O time in your flight,
Make me a child again, just for tonight.
(I fain would change the last line to read thus: "Make me a cowboy again, just for tonight.")
Bring back the old days, of long, long ago, in this do not fail.
Bring back the longhorns, and the old Chisholm Trail.
Bring back the old chuck wagon, and a cook named Red,
Who could make good black coffee and sourdough bread.
O, for those old days, the cowboys still yearn,
But never, no never, will they ever return.
There were a number of contributing factors which hastened the opening of the lands now embraced in the western half of the state to settlement by the white race. First, Old Oklahoma, so-called, was really government land and was never ceded to any tribe of Indians. David Payne discovered this while in Washington, D.C. and sought to colonize this particular tract of land. He made numerous excursions with white settlers, called Payne's Oklahoma boomers, into this territory, but each time was ejected b y federal troops. Occupancy of the Cherokee Strip by the cattlemen, called cattle barons by the home-seekers, was one of the prime factors.

The same conditions existed in other Indian reservations. Times were hard, the people as a rule were poor, having lost their farms in Kansas and other states, were mortgage-ridden, without any hope of redemption. These people were now clamoring for new worlds to conquer. This caused the administration at Washington to sit up and take notice. Some statesmen and others became interested and sought a solution of the problem. The cattlemen were ordered out of the Cheyenne and Arapaho reservation. The Alliance and Populist movement had been inaugurated.

Populism was at its peak. Old Oklahoma was opened to white settlement April 22, 1889. The cattlemen were ordered from the Cherokee strip, and negotiations were under way to purchase this land from the Cherokee Indians.

Although the cattlemen had been ejected from the strip, there were quite a number of them, contrary to orders, who still held herds here, and when discovered by the troops were escorted to the borders of Kansas. Once the soldiers were gone the return of the herd was an easy matter.

Walter Fulton, now living near Fairvalley, told me of an experience with a squad of these gentry. They came upon him while in charge of one of these herds. The commanding officer was very emphatic in telling Walter to move on to other pastures. Walter good-naturedly assured the officer he had no place to go with his herd, but if he, the officer, knew any good grazing land, he, Walter, would be glad to profit by such knowledge, whereupon the officer immediately rounded up Walter and his outfit and proceeded to Camp Supply. The federal authorities having charge of the herd had to see that they were provided with water and grass, and thus relieve Walter of this responsibility.

Perhaps there were a few herds that never entirely evacuated the country.

Among the first cattle ranches to be established in Woods and Woodward Counties, after the opening of the Strip, was by Cion Floyd, Jim Hale, Clothier and Miles, Alph Updegraff, Lige Gaskill, Ishmael and Rudolph, Ewell and Justice, J. E. Fritzlen, and many others whose names I do not now recall.

There are quite a few of the oldtime cowmen and cowboys circulating around on this mundane sphere but many have passed on to the cowman's paradise.

Among those living in this county I recall Wiley Cowen, Gene Pardee, Walter Fulton, Jim Bridges, Price Fulton, Lew Parker, Bob Beal, Cion Floyd, Jim Hale, Gus Hadwiger and B. O. Haines.

This anniversary occurs on the same day (Saturday) as the original opening day, 40 years ago.

It is well that we celebrate this, the 40th anniversary of the opening of the Cherokee Strip. It will be a fitting tribute to the pioneer settlers, who braved the drouth and hot winds, besides enduring many hardships in order to subdue a semi-wilderness, which today, after the lapse of 40 years, is one of the most fertile and productive areas. Many of the old pioneers have gone to their reward, but their descendants, their kith and kin, a younger generation, still imbued with that pioneer spirit of their ancestors, are left to carry on to even greater and nobler achievements.

Thus, we as a pioneer people have made history, and plenty of it.

Respectfully submitted, ~~ T. J. DYER
View/Write Comments (count 0) | Receive updates (0 subscribers) | Unsubscribe
---
Horse Thieves
Alva, OK - Written by Judge T. H. Dyer, Jan. 31, 1933 -- This is another of Tom Dyer's articles, in which he reminisces about various horse thieving incidents that he was aware of in Oklahoma Territory.

Horse Thieves -- Horse thieves have become almost obsolete, but the time was when even the thoughts, or hearing the word "horse thieves" would send a chill coursing up and down one's spinal column.

The writer well remembers when, with his father, mother, brothers and sisters, we first settled in what is now Osage County, Okla., on the Big Cana (Caney) River , some five miles from the town of Elgin, Kansas, in April, 1870.

At that time there was in operation a gang of these light-fingered gentry who plied their trade along the border of Kansas and the Indian Territory, from southwest Missouri to Colorado. Their mode of operation was carried on systematically, in squads of two or more. Squad No. 1 stealing horses in Missouri, would travel the entire night to make connections with squad No. 2. Here an exchange of stolen animals would take place, and after a day of rest in some secluded rendevouz, the back track was taken very much after the fashion of the underground railroad in operation just prior to the Civil War.

Many Horses Stolen

Many a poor settler awakened in the morning to find that his team of horses or mules had mysteriously disappeared during the night. Perhaps his team was his all or main dependence for a living. Having come out west to secure a home for his wife and children, he had erected a house on the claim, breaking out a few acres preparatory to going back after his family that they might share with him the new home.

But, alas, their fond hopes were often blasted by horse thieves. Recovery of the stolen animals was out of the question.

Becoming disheartened, they would sell or trade the few effects left for something to aid them to return to their families in the east.

None Lost

We had quite a number of horses, and when not in actual use we kept close watch of them both day and night. At night, we always secured them with lock and chain, setting large posts in the ground with about four feet out of the ground. To these posts was bolted a large pole. On either side of this hitch rack, we called it, were grouped the animals. The chain used was the old-fashioned trace chain being looped around the pole and the other run up through the ring of the headstall, and then around the horse's neck and padlocked.

We never lost any stock by theft. However, the losses through out the country were quite frequent and numerous, until the settlers became so incensed over the depredations they formed vigilante committees whose business it was to look out for these fellows, and when caught, summary justice was meted out to them.

First Party

The first of these necktie parties near us included three Negro horse thieves. All were hanged on one limb near the town of Elgin, Kansas, about 1869.

A band of these thieves passed near where we lived on their way westward. Joe Vannoy, then a United States Marshal, learning of this, took up the trail and tracked them until they were located on Grouse Creek, in Cowley County, Kansas. He had with him his brother, Will Vannoy, and another man whose name I do not recall.

Approaching the camp early in the morning while the men were preparing breakfast, the officers demanded their surrender. The thieves replied with a volley of shots. Then three of their number dived for cover under the bank of the creek and reached their horses and escaped, while the other took refuge behind a large log on the ground.

Uses Log

Joe Vannoy also had taken advantage of a fallen tree. The thief was armed with a double-barrel shotgun while Vannoy had only his trusty .44 revolver.

While the thief was leveling his gun over the log to take a shot at Vannoy, the marshal wounded his man in the shoulder. The thief's gun fell from his grasp, but not until he had discharged both barrels, the muzzle of his gun had been lowered, however, so the shot entered the log behind which Vannoy had taken refuge.

Being wounded and his gun out of reach, the fellow surrendered. Search was made for his comrades but they had escaped. After administering first aid to his prisoner, Vannoy and the posse started on their return trip to Elgin, but not until he had extracted the bullet from the log as a souvenir of his escape.

It was about 40 miles to Elgin from where the capture was made. Vannoy and his prisoner were on horseback and he intended to reach his destination just after nightfall. All went well until they were about one and a half miles from Elgin when he was halted by a band of vigilantes who demanded the prisoner be given over to them. It being dark, and Vannoy seemingly powerless to resist, acceded to their demands, and he was told to ride on, while the vigilantes were making preparations for the hanging.

There had been a cyclone through that country some time prior to this happening, and a large redoak tree had been blown down. It was twisted off some 15 feet above the ground, and the top was lying on the ground while the trunk remained hanging to the high stump. On this leaning tree they hanged their man.

In their haste to complete the job and get away, they had overlooked a small hickory sapling growing nearby. A number of citizens going next morning to cut down the body, found that the fellow had not expired as readily as the vigilantes had anticipated, but in his struggles he had got hold of this sapling, and had he not been wounded he would have freed himself and made his escape.

His grave was dug beneath the spot where he was hanging and the body lowered to its last resting place. A large headboard was erected and placed at the head, on which was written in large black letters an inscription, and though 60 years have intervened, this epitaph was so indelibly imprinted on my memory that I can repeat it word for word.

Often my older brother, Oscar, and I were sent to the mill by our parents, sometimes with a team and other times we drove a yoke of oxen. The mill to which we took our grist of wheat or corn, some times both, was known as Hart's mill and was situated on the Cana River, some 12 miles up the river from Elgin. The road we had to travel to and from this mill went directly by the place where this man died. If the mill was crowded, as was often the case, sometimes we were belated on our return trip, and we had to pass by this place after nightfall.

Though I cannot plead guilty to being cowardly, I must confess that a rather uncanny feeling would creep over us while passing this spot in the dark.

Some eight or nine years ago I met the late Beecher Crawford, who lived some five miles east of Alva. Beecher had lived in Elk County, Kansas. He had heard of and perhaps had seen this inscription. He said to me, "Tom, what was that inscription on the grave of that horse-thief hung in the early days just west of Elgin?"

I at once quoted the words to him verbatim, and this is what they were: "This individual came to his death by falling into the hands of people who have an abhorrence for horse-thieves and murderers."

Directly beneath this was a picture of a skull and crossbones used by pharmacists on labels of bottles containing various chemical compounds. It signifies "poison."Perhaps this is what it stood for in this case, or perhaps it signified "death to evildoers."

A Second Hanging

Another hanging that I well remember happened about five miles from where we lived. It was on the road leading to the town of Peru, Kansas. A gang of horse thieves were operating in that vicinity, and being closely pursued by the vigilantes, they met a boy perhaps 15 or 16 years old, traveling on foot. The thieves hired the boy to take the horses to a designated place. They furnished him horse and saddle to ride, while he led the others, the thieves taking to the wooded hills and canyons. The boy was soon overtaken by the vigilantes.

He told his story as to how he happened to be in possession of the horses, but plead as he might the horses were in his possession, which to these men was proof of his guilt. He was taken a short distance from the roadside and hanged, still protesting his innocence.

Here, I have always believed, was an instance where an innocent boy paid the penalty for a crime of which he was nowise guilty. Nothing was ever known as to who he was or where he was from. However, he was somebody's boy, and perhaps a lonely mother passed anxious days and sleepless nights awaiting his return.

This tragedy was enacted on a place belonging to a man by the name of Ned Spurlock. The grave was at the head of a small creek that left off towards the southeast and was a tributary of Hickory Creek. In the summer of 1904, with my family I made a visit to Chautauqua County to visit my brother, John Dyer, and family, who were keeping a boarding house in the oil fields on what was known as the Spurlock Lease. While visiting there I went one day to try to locate the place where the boy had been buried, and although it was near the same roadside, on the same old road that was there at that time, I was unable to find any trace of it. The contour of the ground was much the same. Fire had been kept out of the timber until only large trees grew, and smaller trees and underbrush had entirely obliterated all signs of the place which I thought could be readily located, proof that Old Father Time changes all things.

Another hanging in the extreme southwest corner of what is now Elk County, Kansas, but at the time of which I write was Howard County, another of these hangings took place. It was at the bottom of a deep canyon, surrounded by rugged walls of stone and underbrush. Some trees grew in the bottom of this canyon, the sides of which were almost devoid of trails for ingress or egress, yet the place was probably used as a hiding place for horse thieves. Suffice to say, a man was hanged at this place on one of the trees which grew in the bottom of this canyon.

A ranch house was located some miles from here. One morning a strange horse came to this ranch with saddle and bridle on, the bridle reins dragging the ground. Realizing something must have happened, the men at the ranch instituted a search which resulted in finding the man's body hanging on one of the trees.

He had been dead for several days. No one seemed to know anything as to who he might have been or where he was from. He was buried beneath the tree on which he was found. This was in the early '70s, and yet at this date, January, 1933, the place bears the name given it at that time. It is called "Dead Man's Gulch." It was a beautiful and picturesque place, carved by the hand of nature.

I have no doubt that long since this the place was made into a pleasure resort where tourists, lovers of natural scenery, pleasure seekers, and even the curiosity seekers make pilgrimages for rest, recreation, and sight-seeing.

The border counties of Labette, Montgomery and Howard (now Chautauqua) and Elk, Cowley and Sumner were infested with bands of horse thieves during the early '70s, even extending into the early '80s. Often perhaps a friendly neighbor furnished a hangout for these marauding bands of robbers.

Frequent hangings took place near Wellington, Oxford and Caldwell until the climate did not exactly agree with the health of these individuals and they sought more congenial regions; and even the neighbor, their accomplice, was invited to vacate, amose, move on, and usually one invitation was sufficient.

They did their vacating more often than not between two days, that is, between dark and daylight.

While the horse thief has practically been put out of business, we now have in their stead, the hijacker, auto thief, bank robber. These fellows make the old-time horse thief look like 30 cents in comparison. Why this change? There is some underlying, unexplained cause for existing conditions, for they do not apply to any one community or state. It is prevalent throughout the country. A great problem. What is its solution?

In the first part of my story, I said the words "horse thieves" had become obsolete, but I have only recently read in the papers where a man had been sentenced to the penitentiary for life by a judge in the staid old town of Boston for stealing a horse.

I also read of another case of horse stealing which happened near Ponca City, and still another in Oklahoma City, where a mere boy had not only stolen the horse, but the wagon to which it was hitched. The boy was using the horse and wagon to earn some needed money by hauling wherever he could get a job of work. The property was restored to the owner and the boy was not prosecuted.

Down near Duncan I read an article where two boys had purloined a couple of horses. They were soon recovered.

The last case to come to my notice was where a fellow in Pontotoc County had stolen three head of horses trying to make a getaway, but near the old town of Stonewall, he had evidently changed his mind, and had started to return the horses to their owner. The officers met him in the road while on his return trip. Seeing the officers and most likely knowing them, he at once abandoned the horses and made good his escape.
View/Write Comments (count 0) | Receive updates (0 subscribers) | Unsubscribe
---
nwOKTechie
Create Your Badge