---
Sandy Wimmer says the house is located at the 5 mile corner south of Coldwater, Ks. It belongs to the Coulers by inhertance.
~Trixie Leslie regarding Okie's story from Vol. 9 Iss. 3 titled UNTITLED
Does she possibly have a website where we could look at some of her items? The picture included in the ezine is a bit difficult to really see. Looks very interesting though and if I could see more, would be easy to decide which to purchase. Thanks for any help.
~Karel regarding Okie's story from Vol. 7 Iss. 49 titled UNTITLED
---
Duchess Mtn Spring Domain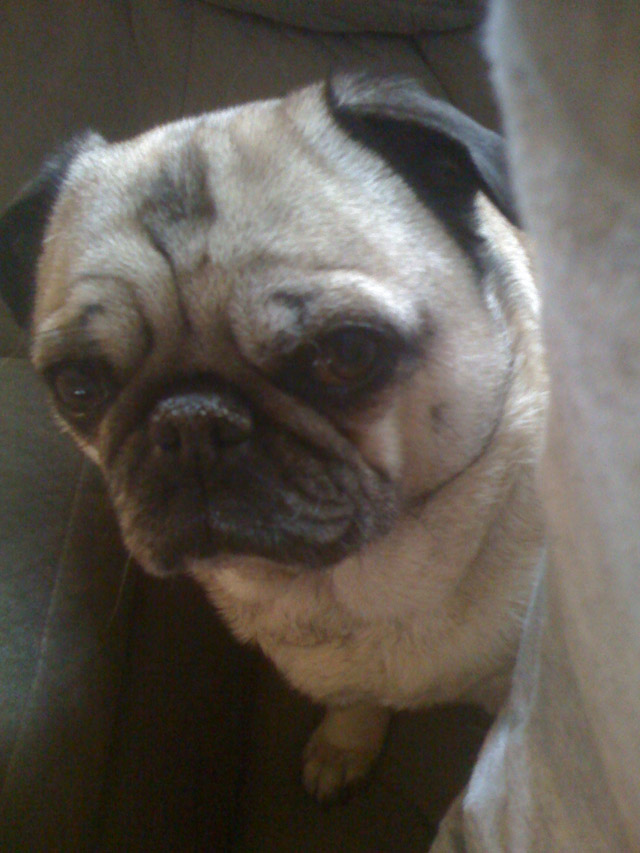 Vol 12, Iss 14 Does anyone out there remember when Sand Plums ripen?

It seems like it is around the last of June or first of July when the sand plums are ready for picking, but I could be wrong on that. I am only a Pug Dog, you know!

If anyone from Kansas or Oklahoma knows for sure when sand plums ripen for the pickin', please inform us! The Prairie Connection would also like to have your sand plum recipes, stories, etc... for a future issue in The Prairie Connection. Contact: Rosalea Hostetler at Email: wepreserve@balmerfund.org with your sand plum recipes and stories.

A 7.2 earthquake shook up northern Mexico along the border between California and Mexico this weekend.

Los Angeles and San Diego were fortunate to escape Sunday's 7.2 earthquake without much damage, BUT ... Calexico, the California city right along the Mexican border, was not so lucky. Calexico, Mexico took more damage than any other American city, with old buildings from the 1930s and 1940s taking damage.

They say, "Buildings are tipped up. Cars are smashed. It's horrible. Everyone is running," said one eyewitness. Things were even worse in its twin Mexican border city, Mexicali, where both of the earthquake's reported deaths occurred.

As we leave you to finish off this first full week of April 2010, we leave you with the memory of a great civil rights leader, Dr. Martin Luther King Jr., who was assassinated over forty years ago (42 years), at 6:01 p.m. on April 4, 1968, as a sniper shot rang out in Memphis, Tennessee, as Dr. King, Jr., was standing on the balcony of his room at the Lorraine Motel in Memphis, Tennessee. That sniper's shot left Dr. King sprawled on the balcony's floor, with a gaping wound that covered a large portion of his jaw and neck.

Dr. Martin Luther King, Jr., was a great man who had spent thirteen years of his life dedicating himself to non-violent protest.

The quote we leave you with today from Dr. Martin Luther King, Jr. is, "Hatred paralyzes life; love releases it. Hatred confuses life; love harmonizes it. Hatred darkens life; love illuminates it."

Good Night and Good Luck!
View/Write Comments (count 3) | Receive updates (1 subscribers) | Unsubscribe
---
NW Okie's Journey
Vol 1, Iss 7 NW OK - It was Thursday, August 5, 1999, that NW Okie wrote this piece concerning the "Dog Days of Summer" in Northwest Oklahoma.

The mild, wet winter and spring has been replaced with the Dog Days of Summer -- finally! We knew it was coming but we were so enjoying the coolness of spring that we wanted it to last forever.

If you look out over the neighborhoods in your areas, you will probably find shade trees, sprinklers and swimming holes a favorite gathering place for those seeking some relief from the heat index going around this time of year.

It isn't just in Oklahoma. Those neighbors of ours to the south, east, west and north have been experiencing the tremendous 3-digit heat indexes as well. Except for Mexico where they got some snow.

Why do they call it the "Dog Days?" This is what I found out, "It is the name for the most sultry period of summer, from about July 3 to August 11. Named in early times by oversevers in countries bordering the Mediterranean, the period was reckoned as extending from 20 days before to 20 days after the comjunction of Sirius (the dog star) and the sun."

The dictionary gives this description of the Dog Days, noun -- 1.) the sultry part of the summer, supposed to occur during the period that Sirius, the Dog Star, rises as the same time as the sun: now often reckoned from July 3 to August 11. 2.) a period marked by lethargy, inactivity, or indolence.

The Dog Days of summer have crept upon us and the nation is entering dangerous heat indexes. So...Drink your ice water--keep cool in the shade and air conditioning the best you can. Don't over do it out in the heat. Take Cool breaks once in awhile if you have to be out in it.

To all you community volunteers in Waynoka and Freedom, Oklahoma, working on preparing the rodeo arenas for you "Biggest Little Rodeo & Cowhand Reunions" (Waynoka's August 12-14); (Freedom's August 19-21) and Freedom's "Junior Rodeo", July 31.... Take care and take plenty of ice water and cool breaks. We know you all are working hard to make it another great Rodeo season in NW Oklahoma. We love you for that.

Another Dog Day activity many are experiencing is the scouring the country side for sand plum thickets and wild grape vines to make their summer jellies and jams. Speaking of sand plums, Fair Valley has been blessed with a huge abundance of Sand Plums this year. Does anyone out there have a fantastic Sand Plum recipe for Jelly or Jam? I would love to have it to share with the rest of my readers.

I love driving in the country side around Fair Valley. Especially if you are among the friendly companions of an extended family shooting the breeze, telling tales and laughing a lot. It does a heart good now and then. It is kind of a retreat. It's a great place to collect your thoughts and contemplate your days (past, present and future). I also have another place I like to frequent now and then and that is a "dandelion field with friends." A peaceful, serene place to think about something or nothing at all.

Towards eveing around dusk is the best time to spot a deer crossing out at Fair Valley. Watching the wildlife in the evening out there can be spectacular and soothing to a weary soul. Yes! In NW Oklahoma we do have real wildlife besides cowboys, cowgirls, grasshoppers and buffaloes.

Let me leave you with this final quote to give you something to think about, "The beauty and value you see around you is already inside you."
View/Write Comments (count 0) | Receive updates (0 subscribers) | Unsubscribe
---
Bent Canyon North of Woodward, OK
Vol 13, Iss 23 Benton Canyon, Woodward, Oklahoma - Jack Rutledge is searching for the origin of "Bent Canyon" near Woodward, Oklahoma. In an OkieLegacy Ezine Comment concerning Oklahoma Wild Sand Plums (though it does not related to sand plums at all) Jack says, "About 10 miles north of Woodward is a large and well-watered canyon with local name "Bent Canyon." I suspect it is named for the Bent brothers who traded in Kansas, Colorado and Indian Territory in the mid 1800's, but I have no proof."

Jack goes on to say, "Their main post was at Bent's Fort in Colorado, and they traded all along the Arkansas and its' tributaries. Can anyone help in tracking down the origin of this place name? Thanks!" ~Jack Rutledge. View/Write Comments (count 1) | Receive updates (1 subscribers) | Unsubscribe
---
Nescatunga, Comanche County, Kansas
Vol 15, Iss 6 Nescatunga, Kansas - Nescatunga was located in Comanche county, Kansas, at Latitude 371415N, Longitude 0991307W. It was the second town in the county. Nescatunga had a good location, none not even its enemies would deny. The following information was found in the Nescatunga Enterprise, published in 1886, Coldwater, Comanche county, Kansas.


View Larger Map

Our Town

Nescatunga possessed as many if not more advantages than any other town in the Comanche county. It was surrounded upon every side with a rich agricultural and grazing region of county. The supply of good wholesome water was unlimited and easy of access. There was an inexhaustible bed of a good brick clay as could be found in the state of Kansas, within the city limits.

It was thought that all that was necessary to convince the skeptically inclined is to point them to the brick kiln in the south part of town and to their splendid two story brick school building. Evansville, fifteen miles distant and Nescatunga were the only towns on the east side of the county. On the west side there were four. Fuel could be purchased cheaper in Nescatunga than in any other town in the county, excepting Evansville.

The growth of Nescatunga had been steady and permanent, and if it continued to grow in the future as it had in the past year, it was thought that in two years it would be a town of two thousand inhabitants. The citizens were encouraged to bring some kind of manufacturing establishment, that would give employment to a number of hands. They were also offered inducements to branches of business that were not represented there. They turned their attention to public improvements, built sidewalks, set out trees on either side of their streets, secured ten acres of ground and laid it out for a public park and planted it to trees. They were also encouraged to secure twenty acres of ground for a college site and after awhile incorporate the town and vote bonds for the erection of a college building, and donate it to parties who would establish a school at this place.

Looking back over the years, they apparently had not made their efforts in the proper direction, and used their means to the best advantage, but it would do no good to growl and pout over past mistakes.

Brutal Murder

Nescatunga Enterprise, July 10, 1886 -- "Last Tuesday, near the town of Comanche City, John Nelson was brutally murdered by one Willis. It seems that there was some feeling of animosity existing between Nelson and Willis. Nelson having been a witness against Willis in a land contest case, as results show the feeling engendered only needed slight provocation to stir up deadly strife.

The facts as near as we can get them regarding the trouble, which resulted in murder, are about as follows: There is a patch of sand plums on Nelson's place; Willis persisted in going there to gather plums, notwithstanding Nelson had notified him that he wanted the plum himself.

On Monday preceding the murder, Nelson's father found Willis gathering plums, and asked him to desist. Willis used abusive language and informed the old man that he would quit when he got ready.

Tuesday, Nelson and Willis met in the patch; what occurred between them is unknown. A couple of men who were gathering plums some distance from where the murder was committed, say they heard the report of a gun and a minute afterwards saw Willis running, gun in hand towards Cavalry creek.

About 2 o'clock in the afternoon some of Nelson's family discovered his dead body. He was laying on his back with his hands over his face: there was a bullet hole in his neck; his forehead had been crushed in with some heavy instrument, and his body had been terribly beaten.

We understand that the two men who saw Willis running away have been arrested. Willis is still at large, a reward of $250 is offered for him. View/Write Comments (count 0) | Receive updates (0 subscribers) | Unsubscribe
---
Oklahoma Wild Sand Plums
Vol 12, Iss 42 Oklahoma - How many have driven out in the country in search of wild sand plums? We found this Oklahoma Wild Sand Plums video that takes you through the search fro wild sand plums through the process of making sand plum jams/jellies. You can view it over at okieprepper's YouTube.com site.

View/Write Comments (count 1) | Receive updates (0 subscribers) | Unsubscribe
---
Sand Plum Jelly Recipe
Vol 12, Iss 24 Oklahoma - It is June! Sand Plums are ripening in Oklahoma now! We did a search back through our OkieLegacy archives and found this recipe for Sand Plum Jelly that we received from a lady a few years ago. My mother (Vada Paris McGill) used semi-ripened sand plums along with ripened plums which gave an excellence blend of tart, sweet to the jelly.

Helen Ruth's Sand Plum Jelly
4 pounds sand plums, 3 pounds ripe and 1 pound under-ripe; 1 cup water; 1 package powdered pectin (1 3/4 ounces); 7 cups sugar.

The cherry-sized sand plum of the American Southwest is kin to the beach plum, that favorite for preserves from the sandy coasts of the Northeast up into the Canadian Maritimes.

The sand plum is ripe in early June; the season for beach plums starts around the middle of August; the sand plum is a lovely pink when ripe, the beach plum is purple for conserve later in the month but is picked red for jelly. Both varieties gel better if at least one-fourth the amount of fruit is not quite ripe, thus having more natural pectin.

Wash and pick over the plums; do not pit or peel. Crush them in the bottom of a large enameled kettle with the 1 cup water, bring to a boil, and simmer for 15 minutes. Crush again with a vegetable masher as the fruit softens. Strain juice. Return juice to the kettle, reserving 1 cup in which to mix the pectin; combine pectin mixture with juice and bring to a full boil, stirring constantly.

Add the sugar, continue stirring, and boil hard for 2 minutes. Remove from heat, skim, and immediately pour into hot 1/2-pint canning jars, leaving 1/4 inch of headroom. Cap with two-piece screwband lids. Give a 5 minute B-W bath." View/Write Comments (count 1) | Receive updates (0 subscribers) | Unsubscribe
---
Request For Sand Plum Jelly & Other Recipes
Vol 12, Iss 14 The Prairie Connection (Email: wepreserve@balmerfund.org) through Rosalea Hostetler is requesting, "Sand Plum Jelly and other recipes to feature in the near future issue of the Prairie Connection.

Rosalea also says, "Yesterday (Easter) I took the slow, back road south of Anthony, thru Manchester, Nash and Carrier on my way to OK City for Easter dinner with my sister-in-law, Lawanda McClaflin Hostetler Allison (my brothers widow). The roadsides were filled with the most amazing lush large bushes of blooming sand plums! They were simply stunning and beautiful, like a gigantic picture book!

"I can't remember what month they will be ripe for plucking, but my mouth was watering thinking of some of the jellies, jams and butters I've had in the past. Also, does anyone have any recipes where they are used in baking?

"Yes, I could probably get some off the Internet, but it's a lot more fun to have REAL people make the suggestions! Also, if there is a small rural gift shop that sells jars of the goodies, it would be fun to mention it!"
View/Write Comments (count 1) | Receive updates (0 subscribers) | Unsubscribe
---
nwOKTechie
Create Your Badge