---
If you are speaking of our Warwick West Web publishing name, that Warwick name came from our father's mother's side of the family [more]...
~NW Okie regarding Okie's story from Vol. 8 Iss. 33 titled UNTITLED
Such a coincidence! I was looking at the Alva cemetery records, came across Alba Rose's name, and wondered how she died so young.
~SBW regarding Okie's story from Vol. 9 Iss. 24 titled UNTITLED
---
John James & Mary (Markvicka) Hurt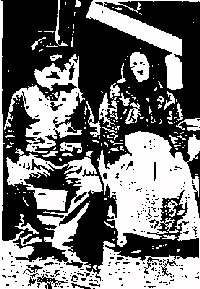 Vol 1, Iss 1 My search for the HURT surname began Memorial Day 1997. I was visiting a small, rural cemetery (Orion) just north and east of Chester (a.k.a. Tailholt), Oklahoma, in Major County.

My maternal grandparents, great grandparents, great-great grandparents, and other family members are buried there or around there close by. While I was there I walked through and jotted down names of those names familiar with my families.

John James Hurt's first signature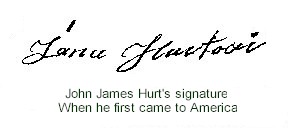 It has been told amongst the HURT Family stories that these Bohemians left their native lands in 1876 and came over to America with their family in tow. There were some that stayed in Bohemia area for reasons yet to be discovered.My Grandmother (Mary Barbara Hurt) was born 5 September 1893, Nebraska to Joseph P. Hurt and Anna Wallman. From the info on my Great-Grandfather Joseph P. Hurt's death certificate I know that he was 79 years old and a retired farmer living in Major County, Fairview, Oklahoma before he died 18 March 1936.

Joseph died one day short of his Eightieth birthday. He was married to his second wife (Hannah Alice Marsh Kachel) at the time. His first wife (Anna Wallman) had died in 1902 when she was struck by lightening while gathering her chicks out in the backyard during a thunderstorm. Joseph married Hannah around 1910 when all their children were raised. [If someone reading this has another version to the story, please send me a copy.]

John James Hurt's USA version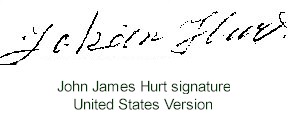 Joseph was born in Bohemia (a part of Austria-Hungary) to John James Hurt (Hurtosci, Hurtoovi, or Hurtosic, not sure of the spelling) and Mary Markvicka. Joseph came over with his parents, an Uncle Anton and Eloize Hurt) and John and Anton's nephew (Vaclav Hurt). They boarded the ship Weser and left Bohemia and landed in New York on 14 March 1876. Then they headed Westward towards Nebraska and settled in Posen (now known as Farewell), Nebraska.

John James Hurt and Mary Markvicka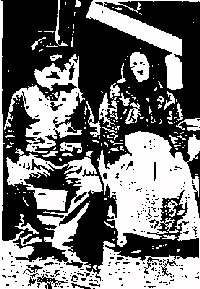 This is a photo of John James Hurt (b. May 1825, bohemia) and Mary Markvicka (b. June 1839, Bohemia). The parents of Joseph who was the oldest of seven (7) children (4 girls and 3 boys) of John James and Mary Hurt. Joseph P. Hurt (my G-Grandpa) b. September 1856, m: (1) 1879, Anna Wallman b. 1865, Bohemia, d. 1902, Oklahoma (my G-Grandma) & (2) 1909, Hannah Alice Marsh Kachel.

Anna Hurt - b. 1862, Bohemia, m: Buresh
John Hurt - b. 1867, Bohemia
Frank Hurt - b. 1868, Chesamf, Bohemia, m: (22 yrs of age) 11 Feb 1890, Maggie Szkudlacek (19), Nebraska. (Clara Hurt Case's father) Barbara Hurt - b. 1869, Bohemia, m: Jos. S. Bukowski
Anton Hurt - b. 1873, Ujezdec, Bohemia; m: 21 Feb 1895 , Nebraska,
Cecilia Shebeski (19)
Mary Hurt - m: Wasielewki
Joseph and Anna Hurt

Joseph, as I mentioned before, married Anna Wallman and they had seven (7) children (5 girls and 2 boys) before Anna died in 1902. The info that I'm giving you in this article came from Joseph's and Mary Barbara Hurt's death certificates and from information received from Ersel Hedrick, Alice Shook's granddaughter, Betty Martin and Vernon Case.

Children of Joseph & Anna listed below:
1. John Hurt - b. Sept. 1880, Nebraska; married Clara Kachel. They had three (3) children
2. Jospeh "Joe" Hurt - b. Mar. 1885, Nebraska; married Anna (?). They had one (1) child
3. Carrie Hurt - b. Jan 1887, Nebraska; married James Holub. Eight 8 children
4. Matilda "Tillie" Hurt - b. Mar. 1888, Nebraska; married Martin Hamilton
5. Emma Hurt - b. Aug 1889, Nebraska; married Sam Louthan. Six 6 children
6. Mary Barbara Hurt - b. 1893; married Ernest Claude Paris (my grandparents). Nine (9) children
7. Lucy Hurt - b. May 1899, Nebraska; married Cary Pope. Three (3) children.

The Hurt Family Tombstone, Hurt Cemetery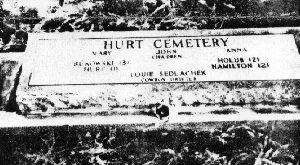 I have enclosed with this biography a picture of a family tombstone that the Case's erected on the "Old Hurt Place" located two (2) miles west, 1/4 mile southeast of the Orion Cemetery in Major County, Oklahoma.

The names on the tombstone are John and Mary Markvicka Hurt, Anna (Joseph's first wife), several children of family members, and one was a Cowboy Drifter (Louie Sedlacher) who just happened by and died while there. [It would really be interesting to know more about that Cowboy Drifter. That would be an interesting story in itself.]

The other family names on the tombstone were mentioned only by last names of the family members and in (...) how many there were. There were three (3) Bukowski, one (1) Hurt, two (2) Holub, and two (2) Hamilton.

My Grandparents
So far we know that my G-Grandfather Joseph's Vital Statistics are: b. 19 March 1856, Bohemia, d. 18 March 1936, Fairview, OK, Major Co., USA. m. (1st-wife) Anna Wallman until her death in 1902. m. (2nd-wife) Hannah A. Kachel in 1909 in later years after they had raised their families. Joseph was a retired farmer when he died of a Coronary Occlusion and Hypertension (heart disease). His attending doctor was John D. Campbell, MD in Fairview, Oklahoma, Major Co. My Grandmother's (Mary Barbara Hurt Paris) Vital Statistics are: b. 6 Sep. 1893, Nebraska, d. 5 Nov. 1966, Fairview Memorial Hospital, Fairview, Oklahoma, Major Co, USA. m. Ernest Claude Paris. Mary's parents were Joseph P. Hurt and Anna Wallman Hurt. Her Grandparents were John James Hurt and Mary Markvicka Hurt. Mary Barbara's cause of death was a Cerebral Hemorrhage and coma, Myocardial Degeneration, and Artereosclerosis and Hypertension.

This has just been a starting place for our Hurt Generations. I'm trying very hard to share this information with my sisters and their families that are connected online and for some reasons aren't able to communicate with the rest of the family.

You may send me feedback on anything you see here. I'm expecially interested in "Old Family Stories" and "Other Family Members" that I can add to my Family Tree database at paristimes @ Ancestry.com and "oakiebelle" @MyHeritage.com.
View/Write Comments (count 0) | Receive updates (0 subscribers) | Unsubscribe
---
NW Okie's Corner
Vol 15, Iss 34 Bayfield, CO - [Hurt sisters: Anna, Emma, Tillie and Mary.]

Things are beginning to settled in around here while I do some catching up on medical checkups and updating of our websites. Also heard via email from a distant HURT cousin, Melissa Prohaska from Omaha, Nebraska. I have since added the below information to my Paris/Hurt genealogy at ancestry.com (Paris Pioneers-Master file. The image on the left is just one of many HURT family photos that Melissa sent me.

Melissa says, "On my mother's father's side there is a HURT connection. I have the names of John Hurt and Anna Wallman as our great great grandparents, but didn't have much else about them except a list of all of their children and spouses. Nothing about when those two would have immigrated to America. My brother-in-law gets on their computer, and Googles something and comes up with your "ParisTimes website. This is where you start out saying you began your search for HURT relatives on Memorial Day 1997 in a cemetery by Chester, Oklahoma. I am reading your article about my relatives There is a serious omission in your infer, and it's about the part that connects us."

Melissa goes on to explain, "YOu list 7 children for Joseph and Anna and start with John who was born in 1880 in Nebraska, married Clara Kachel. According to my family tree, Joseph and Anna's first child was Anna Hurt who was born in 1880. My chart shows John was born in September 1882. My chart then goes on to match your info re: Joseph, Carrie, Mathilda, Emma, Mary and Lucy. Ann Hurt was my great grandma. She married Victor Shihan Sr. in 1896. They had 3 children: Victor Jr, Anna and Helen. Victor Jr was my grandfather. They all stayed in Nebraska. I know that Anna's brothers and sisters eventually settled in Oklahoma."

Anna Wallman and Joseph Hurt Family. They had 8 children, the oldest being Anna and youngest was Lucy.

Anna Hurt married Victor Shihan, Sr. They had 3 children: victor Jr., Anna Helen. Victor Jr. married Sylvia Tichy. Sylvia was 100% Czech. Victor and Sylvia Tichy had 7 children: Betty, Alice, Dorothy, Richard, Genevieve, Robert and Helen Ruth. Betty Shihan married Marlowe Olson, and they had 3 children: Melissa, Maria and Melora.

Melissa says, "The only relatives I have listed above my line that are still alive are Richard, Genevieve and Helen Ruth. They are 80, 79 and 73, and live in Lincoln or Omaha, Nebraska."

I am still updating our website at ParisTime Pioneers, adding Grandma, Grandpa, Uncle Bob's Legacy, Gene's Legacy and Vada's Diary to that site from the okielegacy.org"> OkieLegacy website. Until we get these pages done, some pages may show up with an unorganized formatting. We do have Gene and Vada's legacy pages updated, and are still working on Uncle Bob's, Grandma and Grandpa's pages.

We heard from a new HURT cousin this last week, and got to fill in some much needed genealogical blanks in our maternal HURT family genealogy.

Thanks Goodness for Obamacare, Medicare, Social Security and AARP!

Good Night & Good Luck throughout your Life! View/Write Comments (count 0) | Receive updates (0 subscribers) | Unsubscribe
---
Millennium Edition
Vol 3, Iss 1 Slapout, Oklahoma - Here it is a week into the New 21st Century! Thanks for all the memories you have sent in the past Volumes of "Oakie's HTH." I am working on some Slapout, Oklahoma 2001 photos I took this week and hope to have them ready for you next week. Send me some history and memories of Slapout... If you get a chance.

We ate our good luck black-eyed peas in Buck's Hoppin John Recipe on New Years Eve for good luck to follow us into the New Millennium. I have stuck the recipe link below just in case someone wants to check it out.BucksHoppinJohn.doc

New Years Day found this Oakie on the road again back to Oklahoma, January 1, 2001. As to New Years traditions & black-eyed peas... Scott says, "My family always ate black-eyed peas on New Year's Day. Why? I haven't a clue."
< br /> My family also ate black-eyed peas on New Years for good luck. I don't know why or when the black-eyed peas tradition started. Does anyone out there have any clues to this mystery?

Some of you NW Oklahomans and Paris family relations out there might remember my Uncle Alvin. On our way back through Colorado to Oklahoma, we stopped and visited with my mother's older brother, Alvin Paris. Alvin worked with the McClure Loans & Insurance Company, in Alva back in the 1930s. Alvin & Naomi married in 1935 and lived in the Monfort Apartments before moving to 718 4th Street. I'm not quite sure where the Monfort apartments were located, but Alvin and Naomi moved from those apartments to the 718 4th Street home sometime shortly after the Castle on the Hill burned down. Does anyone have any clues to where the Monfort Apartments were located? Alvin and Naomi also lived in the two-story, framed, white house on the southeast corner of Choctaw & Third Street, across the street south from the Old Armory. Alvin Paris was born 1 Nov. 1912; married Naomi Warren (b. 1910), 3 February 1935. They will be celebrating their 66th anniversary, Feb. 3, 2001. Alvin is the next to the oldest of nine siblings of Ernest Claude Paris and Mary Barbara Hurt. Of the nine siblings (Leslie, Alvin, Vernon, Vada, Zella, Kenneth, Sam, Geneva and EJ)... the three remaining are Alvin (88, in Colorado Springs, CO), Sam (76, in Sand Pointe, ID) and Geneva (72, in Chester, OK).
OkieLegacy/image/alvin-naomijan01-01.jpg

Everyone knows about Pikes Peak and Colorado Springs, but what about the Cave of the Winds. These caverns are located near the small community of Manitou west of Colorado Springs, Colorado. You use a steep, winding, corkscrew mountain road to reach the entrance of the Cave of the Winds. The caverns have been around for over one hundred years.

They were temporarily lighted with electric lights 11 October 1904. On 4 July 1907 a new electric light system with arc lights were installed in the larger rooms of the cave for the first time. The entrance building was built in the spring of 1906 with a veranda for views of Williams Canyon and Manitou.
caveofthewinds.com/cave2000/timeset.htm

We stopped to take the tour so I could walk in the footsteps of my grandmother Constance Warwick who took the same tour in the early 1900s (1907-1909) before she married my grandfather, Bill McGill. I found this great old photo of the "Cave of the Winds" taken sometime during the early 1900s. There were NO names or dates written on the photo. The only clues to the dated items in photo are the long skirt and white blouse worn by the lady; the two horse drawn carriages in the sloping foreground; and the sign on the front of the building over the steps that reads, "Brilliantly Electrically Lighted." OkieLegacy/image/cavewinds.jpg
< br />You can view a January, 2001 view of the "Cave of the Winds" for comparison. OkieLegacy/image/cavewinds-jan01a.jpg OkieLegacy/image/cavewinds-jan01b.jpg OkieLegacy/image/cavewinds-jan01c.jpg OkieLegacy/image/cavewinds-jan01d.jpg

Nearby is a free public park called "Garden of the Gods." It has towering sandstone rock formations against a backdrop of snow-capped Pikes Peak and blue skies. In 1909, Charles Elliott Perkins' children conveyed his 480 acres to the City of Colorado Springs. It was/is known as the 'Garden of the Gods' and free to the public and maintained as a public park.
gardenofgods.com/history.htm
< br /> I did get a few shots of the 'Garden of the Gods' when we traveled through there January, 2001. If you look really hard, you might spot this Oakie leaning on a rock wall with the sandstone formations in the background at one of the overlooks.
OkieLegacy/image/gardengods1.jpg OkieLegacy/image/gardengods2.jpg

For the week of January 1 thru January 5... from SW Colorado to Oklahoma, the gas pump prices ranged from $1.55 (Durango, CO) all the way down to $1.19 at a Texaco, in central Oklahoma. The first of the week in Colorado Springs gas prices were $1.39. Boise City, out on the very tip of the Oklahoma panhandle, saw a $1.39 gas as did Guymon, OK. The gas prices in Alva during the mid-week came in at $1.35. Ames, OK which is southeast of Ringwood and norhtwest of Hennessey, Kingfisher and Okarche all sported a $1.34 price tag. A Texaco gas station in NW Oklahoma City showed a price of gas on Friday, January 5, 2001, at $1.19. What are the gas pump prices doing in your neck of the woods?
< br />Next week I will try to get the pictures of Slapout, Oklahoma ready for you to see what it looks like today. If anyone out there has any old photos, history or memories of Slapout to share, just attach them to an email and send along to Linda at mcwagner.lk@gmail.com. View/Write Comments (count 0) | Receive updates (0 subscribers) | Unsubscribe
---
Thanksgiving Weekend & End of November 2008
Vol 10, Iss 48
Did you get your fill of turkey & dressing, mashed potatoes, noodles, and all the holiday comfort foods this last Thursday? We did!

Morning after Snow of Thanskgiving 2008. Here is hoping you had a great Thanksgiving holiday where ever you found yourself this year! We did!

This NW Okie made three (homemade from scratch) pies: apple, cherry and pecan. I used my grandmother Mary Barbara (Hurt) Paris' flaky pie crust recipe that she passed down to my mother, Vada Paris McGill. It was almost as good -- it was also flaky.

The cherry pie still had a tart, but sweet flavor, as well as the apple pie. The pecan pie was filled with pecans and bubbled over during the cooking. Good thing I put it on an aluminum foiled cookie sheet when cooking, huh?

The best part of Thanksgiving besides being with family was the huge, wet snow flakes that began to fall just before noon on Thanksgiving day, November 27, 2008. I uploaded a movie clip of that Thanksgiving snow on my OkieLegacy - YouTube site for your viewing special viewing. You can also see the family dogs Roughing It With the Pugs while you are browsing my YouTube site.

Today... the snow is melting in the sunny condition of SW Colorado while SE Colorado and NE New Mexico have been getting more snows around Raton, NM and I25. Will it head for the No Man Lands of the Oklahoma Panhandle?

Four more weeks of 2008!
View/Write Comments (count 0) | Receive updates (0 subscribers) | Unsubscribe
---
Giving Thanks & Genealogy Info
Vol 10, Iss 47 As a dry, cold front settled through Southwest Colorado by mid-week we encountered gas prices falling below the $2 mark in Durango, Colorado.

Also... Nugget, Quoti and Maggie were caught on film this week with friends at Clark's West Ranch in Northwest Oklahoma.

Meanwhile, NW Okie has been busy updating and moving her genealogy database to a new site. We deleted our Gencircles.com genealogy database.

NOW... Our Paris-Conover-Hurt (Geneanet.org) can be found at these two links - myheritage.com (Paris Family Site).

When you click the MyHeritage site link you will be able to pick between the "Paris-Conover-Hurt" pages and the McGill-Warwick-Gwin-Hull & Wagner-Williams-Zimmerman .

I also received this week some Louthan family history and information from Tom Fetters in Illinois. I haven't got it all transcribed yet, but I am still working on merging that information into my maternal genealogy data for the Paris/Conover/Hurt family file.

There are two different genealogy sites we are trying out, the MyHeritage site, which allows photos and comments, and the Geneanet.org site which has the traditionally, indented family tree form -- which makes for easier viewing and navigating.

See what you think and let me know which one you like the best. If you have a genealogy site that doesn't cost an arm and a leg to use, we would love to hear from you.

HAPPY THANKSGIVING is just around the corner. Take a few moments and reflect on things around you, and for what you are thankful for this year.
View/Write Comments (count 2) | Receive updates (0 subscribers) | Unsubscribe
---
Oakie's Albums - Webshots..
Vol 7, Iss 24 We were looking at our summary of our " Oakie's Webshots Albums" at Webshots.com to see what albums most viewers were checking out. The top albums seem to be: (The numbers after each are the Total views.)
Political Legacies 1960s (5,363)
Windmills of Oklahoma (3,419)
Freedom Rodeo 2001 (3,138)
Old Postcards II - Oklahoma (2,973)
Grandpa's Baseball Days (2,468)
Alva - Old Studio Photos I (2,241)
Old Postcards I - California & WWI (2,210)
West Virginia & Virginia Family - 1930s (1,905)
McCarrick's Alva Memories - (1944)
Freedom Rodeo 2003 (1,971)
Old Postcards III - Oklahoma (1,854)
Old Postcards IV - Virginia (1,823),/li>
1909 - Old Family Vacation Photos (1,781)
Alva Downtown Square 2002 (1,540)
Seiling, Oklahoma & Murals (1,483)
Paris-Hurt Photos (1,209)
View/Write Comments (count 0)
| Receive updates (0 subscribers) | Unsubscribe
---
Our Family Genealogy Database...
Vol 7, Iss 16 This Genealogy & Family Tree stuff is like "A Neverending Story" ... There is NEVER a Finishing point. Meanwhile our work on updating our genealogy files to our family database is progressing rapidly on our MCGILL / PARIS / WAGNER Family Tree. We spent the week inputting our PARIS/CONOVER (our mother's side of the family) into the database. We still need to input our HURT family. There are CONOVER / COUWENHOVEN / KOUWENHOVEN / VAN KOUWENHOVEN ancestors that date back to the mid-1500s, in Holland (Netherlands). Our PARIS family tree has over 1500 persons so far. Stay Tuned for Updates in the next few weeks! View/Write Comments (count 0) | Receive updates (0 subscribers) | Unsubscribe
---
Oakie's Ancestors...
Vol 7, Iss 14 A lot of Okie's ancestors on her father's side of the family were from Old Augusta County, Virginia. The McGILL's stretched down into Tennessee. We are finding out that the HULL/HOHL ancestors came down to Virginia from Lancaster & York (now Adam) Counties, Pennsylvania.

The farthest back on the HULL side of the family leads us to a Peter Thomas HOHL/HOLL born in Rhineland Palatinate (Rheinland-Pflaz), Germany. In 1741 (May 30), Peter (age 28, a miller) migrated to the Philadelphia area of America on the ship Francis & Ann, from Rotterdam, Netherlands. Next we find Peter Thomas HULL/HOHL moved to Cub Run, present day Rockingham County, Virginia prior to 1755. Our HULL side of the family married into the WARWICK clan through Esther HULL when she married Robert Craig WARWICK.

The quest for our WARWICK, GWIN/GUINN/GWINN, HULL/HOHL/HOLL has lead us to Old Augusta County, Virginia that we speak of in the next feature story. There was a lot of misinformation about the HULL/HOHL side of the family that got passed down from when our grandmother Constance (Warwick) McGill did her research. If you search through Geo. W. Cleek's book, Early Western Augusta County, you need to becareful what you use. There are some families with misplaced children and no documentations. Another path to take is to read through Lyman Chalkley's compilation of Virginia's court records.

We are hoping that when we get through refreshing, rebuilding, updating our family database, we will have an organized idea of where to continue the research. We haven't even starting putting the PARIS/CONOVER/HURT families into the database. Okie says, "Let's just work this side of the family first. Otherwise, we will be overwhelmed by all the surnames. Sometimes... when you run onto an unidentified photo, you wish you could go back in time -- ask your grandparents more about the family ancestors. All I have now are old faded notes, newspaper clippings, letters, postcards, unmarked old photos. Trying to put some order, organization into it all for the next generation keeps me preoccupied lately. It is addictive. AND... a never-ending... journey!"

Maybe someday Okie will pack this Precious Pug into the Pickup and venture back through Old Augusta County for a few weeks, month of digging for family roots.

View/Write Comments (count 0) | Receive updates (0 subscribers) | Unsubscribe
---
Our NEW Grand Niece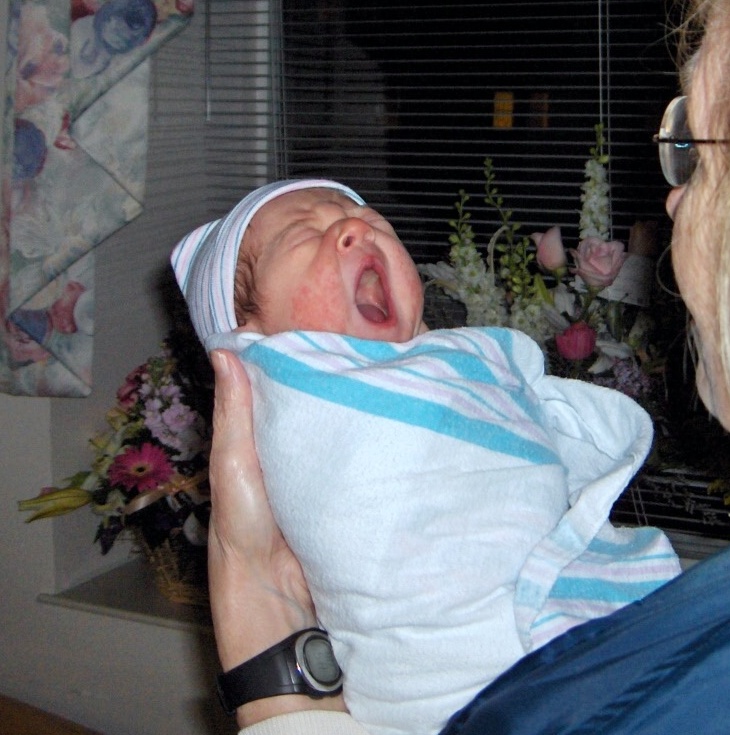 Vol 7, Iss 13 March 24, 2005 we received news that our NEW grand niece made her appearance known. That's our grand-niece on David's side of the family. Erin Lillian was born 0743 EST, March 24, 2005, in Atlanta, GA, weighing in at 6lb. 14 oz., 21 inches. We hear that Mother and baby Erin are doing well. Welcome, Erin, into our family!

That has spurred this family historian to dust-off the family genealogy program and do some updating. BUT... I have had to start from scratch to rebuild the family genealogy database. Since I've changed computers over the last few years, I can't seem to find any of my "gedcom" files. I've had to print out my webpages and start inputting families in from scratch -- starting with my "Family Tree Legend" -- GenCircles.com -- MCGILL Genealogy. I'm hoping to get the WARWICK, HULL/HOHL, GWIN/GUINN/GWINN, PARIS, HURT & WAGNER families added in the coming weeks. I know there are programs (ged2html) out there that translate gedcom files to gendex.txt files to use on your webpages. BUT... is there any program out there that will translate the gendex.txt files back to gedcom files? It seems like a few years ago there was something like that. It would sure help about now in the rebuilding the family genealogy database. View/Write Comments (count 0) | Receive updates (0 subscribers) | Unsubscribe
---
NW Okie's Ramblings & Sculpture
Vol 12, Iss 34 Bayfield, Colorado - Well! Another week of August 2010 has quickly passed and the "Dog Days" of Summer winding down, hopefully. Where have those days gone? Why do we seem to fly through the months so quickly?

I have been working on my Eagle totem sculpture now for 21 days. You can view my updates at the link listed here.

Recently I have started laying in some details in the wings and tail feathers. I removed the background trees in the sculpture because I did not like the way they were turning out. Besides that, they were getting in the way of working on the eagle. So I changed a few things. An artist can do that!

Someone on my Facebook site asked me, "Linda, how are you at carving Eagles as in the Bald kind?"

My reply, "To be truthful, this is my first at carving anything and I am still learning." And I have a lot to learn from those more experienced than myself. But I shall do it in a way that is my own style and not a copycat of someone elses. By the way, I am looking for a stone eye that looks like an eagle's eye. Where can I find one for my eagle?

This week we connected on Facebook from someone who lived around Chester and Orion, Oklahoma, where my mother's PARIS and HURT family grew up and went to school.

Bill Bowers says, "I left Chester (Oklahoma) in November of 1949, so I knew John and Geneva Smith very well. I went to grade school at the Orion school at least one year (maybe more) with E J, Sammy and Geneva Paris. My Mother was Verna Hamilton. Her mother's maiden name was Sarah Louthan, so our families are mingled quite a bit between the Louthan, Bensch, Paris, Hurt, Holub, Hamilton and Bowers families. I wish I would have ask more questions while I was growing up."

Any other PARIS / HURT / CONOVER family descendants out there? View/Write Comments (count 1) | Receive updates (0 subscribers) | Unsubscribe
---
Hurt Genealogy - Mary Hurt Wasielewski
Vol 6, Iss 50 "I have been totally consumed today by the OkieLegacy.org page, with all the Hurt family information. Wow, what a superb job of putting all that together. Every now and then I found an email address, but didn't click on them.

I am connected, though, not a blood relative, through John James and Anna (Mrkvicka) Hurt's daughter, Mary Hurt (b. 1864). She is listed as being married to Wasielewski. This Wasielewski is my gg-grandmother's brother, John. He died in 1905 and Mary remarried in 1907 to Stanley Stephen Nutowc (later Newtoff).

Mary Hurt Wasielewski's descendants are spread from Oregon to Chicago to Farwell, Nebraska and Omaha.

She had one daughter who went to Fairview, Oklahoma about 1911. This was Sophie Wasielewski Gould. She married Earl Gould and they lived in Ponca City, Oklahoma.

I am just now catching up here and trying to find descendants of Sohpie. I know she had two sons, Albert and Stephen Thomas from her first marriage (actually Tomaskiewicz) and an adopted daughter, Gladys Gould Miller.

I have spent many years researching the Polish settlers of Nebraska. The Czechs are somewhat married into the Polish families, but perhaps less often than you might think. At least early on.

If you or anyone else in your family would be interested in the descendants of Mary Hurt Wasielewski, just let me know and I'll send a file. I have been working on it a lot, and luckily, I keep updating it nearly every day lately.

Well, I must say again how much I enjoyed the OkieLegacy website. I spent WAY too much time there yesterday. The data there filled in a lot of blanks I had in my Wasielewski research. And the Hurt family, oh there were so many with the same names and I get so confused. The website really helped me straighten it all out. Merry Christmas." -- Laura - Email: kalkowski@mindspring.com View/Write Comments (count 0) | Receive updates (0 subscribers) | Unsubscribe
---
Treadling On A Singer Redeye
Vol 11, Iss 44 Are there any Singer Treadlers out there? Have you ever tried treading on a Treadle sewing machine like your grandmother or great-grandmother might have used? Would you like to try?


Treadling on a Treadle sewing machine is lots easier than those dang electrically machines -- Treadles also conserve on electricity.

Quite a few months back I picked up a Singer Treadle machine to add to my own collection of Treadles. It was a Singer 66-1, serial number G0268595, sometimes called "Redhead" or "Redeye" that dates back to between 1924 thru 1926, has various gold ornamentation on it. The model 31 was similar to the design to the model 66.


The photo on the left shows the attachments that came with the Singer Model 66-1. Some are labeled and some are not. Have not ventured in to using each attachment yet, but gradually I will get it figured out.

Anyway ? I recently cleaned and oiled my new Singer treadle machine so this amateur treadler could begin to learn to treadle on a Singer. At first this treading was not as easy as it looked. If you aren't careful, you might find yourself sewing backwards and breaking threads. BUT ? once I got the hang and rhythm of it, the frustration ceased.

Operating Treadle & Machine

The instructions state, "First loosen the stop-action clamping screw, outside of the balance wheel. Then place your feet upon the treadle with the instep directly over its center; turn the balance-wheel toward you without the right hand while allowing the feet to move freely with the motion thus commenced. Continue this motion by an alternate pressure of the heel and toe until a regular and easy movement is obtained. Keeping the balance wheel going in a forward motion towards you.

It says do not attempt to learn to sew until you are proficient in the use of the treadle so that you can step and start it without turning the balance-wheel in the wrong direction.

After becoming familiar with the treadle movement, tighten the stop-motion clamping screw, raise the presser-foot with the lifter, start the balance-wheel towards you and continue the motion with the feet as described above.

After becoming proficient in this motion place a piece of cloth between the feed and presser foot, let the foot down upon it and operate the machine in this way until you have become accustomed to guiding the material.

Treadling Tips

I did go online in search of tips on "How To Teadle." NOW ? If I had only paid more attention to my Grandma Mary Barbara (Hurt) Paris when I was just a younger Spring chick. BUT ? how do we know to do that in our young innocent years when playing with our young cousins kept us occupied most of the time and out from under our parents gaze?

I doubt if any of us had lessons, unless it was from grandma. They say at some of the online treading web sites that you are not going to hurt the machine by using it. You might frustrate yourself, maybe ? but not ruin the machine. Treadling is a lot like roller skating or bicycling ? you learn by getting the feel of it, and that can only be done by wading in and falling a few times. BUT ? instead of falling, you might head backwards instead of making the wheel go forward.

To this NW Okie it seems a lot like coordinating your heel/toe movement and getting your instep position just right on the treadle so you can get your rhythm down pat.

Some say the suggested exercise is to remove the thread from the top and the bobbin from the machine. Start the hand wheel in the direction that would move the cloth forward. In other words turn the balance wheel towards you. With your feet on the treadle get the feel of the movement underneath your feet.

They also say, "Do whatever you have to do with your feet, either one or two, to keep the machine going."

Sew a bunch of imaginary seams on real pieces of cloth. Stop the machine, turn the work, etc., but without thread. Once you get used to that, thread it properly, put the bobbin back in and make sure the machine is threaded right and will make stitches. You can do that by hand, just turning the wheel by hand.

Are you ready to sew some seams? NOW ? they suggest you try back and forth, long seams. If you are ready, see how fast you can go. See how slowly you can go without losing the movement. Try some patterns, large squares gradually diminishing inwards ? circles the same.

How tiny can you get in the middle and still keep the seams evenly spaced, corners square or curves smooth?

You can try all this type of stuff by turning the wheel by hand and let the pressure of your foot act as a brake.

Another hint they talk about is ? "You can turn the wheel by putting your finger in a spoke, but DO NOT put it in too far ? trust me ? something will happen that hurts!"

The absolute best advice I found online was that when treading and finishing a seam, to end with the treadle pedal down at the front. When starting up again you push the pedal forward and this almost always starts the wheel in the correct, forward direction. Many sites have mentioned it. I have found it works! You can even watch the wheel out of the corner of your eye and catch it if it does go backwards.

Still another hint is to draw straight lines on typing paper, DO NOT thread the machine or bobbin and practice sewing along the straight lines. I found that if I take my eyes off the sewing area and glance towards the balance wheel, that I tend to drift off my line. Kind of like driving a car, huh?

If there are any professional treadlers out there reading this and thinks of something substantial to help all novice treadlers and beginners, please post your suggestions below.

We need all the treading help that we can find out there. I think I have mastered the the threading of the top thread and the bobbin, and fixing the length of the stitch. That was the easy part! I have not tried the other attachments that came with the Singer Model 66-1, yet! BUT ? I will get around to it! Treadling works best on a hardwood floor, also. The piles on todays rugs interfer with the peddling.

NOW ? I just need to learn to scratch my head and rub my tummy while I heel and toe the treadle on my Singer Model 66-1, Redeye. That is where my coordination and practice comes into play. Good exercise on the feet, ankles nod calves, also.
View/Write Comments (count 3) | Receive updates (0 subscribers) | Unsubscribe
---
OkieLegacy - A Passion
Vol 8, Iss 31 Yes! We are still doing The OkieLegacy Ezine. It is just a couple of days late this week. Our OkieLegacy ezine can NOW be viewed, read at two different links in different formats. See which one of the following sites that you prefer and then let us know by either leaving a comment or emailing the NW Okie - OkieLegacy Ezine & OkieLegacy Tabloid.

Like we told someone earlier this week last week, "This is not a business, but a passion of ours for learning and preserving our heritage, history and genealogy. The NW Okie was born and raised in NW Oklahoma, the third daughter of Gene M. & Vada (Paris) McGill. So... our roots run deep through our Warwick/McGill/Hurt/Paris genealogies through the Oklahoma Territory. Although, NW Okie is semi-retired and living part-time in southwest Colorado, she continues her quest for learning, preserving our northwest Oklahoma history, heritage and family legacies."
View/Write Comments (count 0) | Receive updates (0 subscribers) | Unsubscribe
---
Paris, Hurt & Louthan Info
Vol 10, Iss 46 Since my ParisTimes Genealogy database had very few LOUTHAN family data, I did some genealogy research on how my PARIS, HURT and LOUTHAN's were possibly related.

Through my Ancestry.com account I found lots of LOUTHAN connections and information on Gilbert Shirley LOUTHAN.

It looks like John Cope LOUTHAN was the grandfather of Gilbert Shirley LOUTHAN through John's 2nd wife Mary Ann HALE.

Florence T. (LOUTHAN) PARIS' father was Robert Hiram & Belle Claircy (COKERHAM) LOUTHAN.

My Grandmother, Mary Barbara (HURT) PARIS had a sister Emma Jennie HURT who married Samuel Oscar LOUTHAN.

Mary Barbara (HURT) PARIS had a son, Leslie Martin PARIS that married Florence T. Louthan.

Anyway... Samuel Oscar and Robert Hiram Louthan were brothers through John Cope LOUTHAN's 1st wife, Jane HADDOW.

Samuel Oscar Louthan
As for Samuel Oscar Louthan, he was born 20 Aug. 1872, in Missouri and died 21 Dec. 1951, in Chester, Major, OK, and married Emma Jennie Hurt, born 28 Nov. 1890, Omaha, NE and died Sep. 1974, Chester, OK. Emma Hurt was a daughter of Joseph & Anna (Wallman) Hurt.

Anna Wallman, born 1869 in Czecoslovakia, died 1906 in Orion, Major County, OK.

Joseph and Anna (Wallman) Hurt had the following children: Emma Jennie (b. 28 Nov. 1890, NE), Edward "Joe" (b. 1884, NE), Carrie (b. 9 Apr. 1886, NE), Christine Tillie (b. 1889, NE), Mary Barbara (b. 6 Sep. 1893, NE), Eddie J. (b. 1894, NE), Anna (b. 1895, NE), Lucille Marie (b. 28 May 1899, Orion, OK)

Samuel Oscar & Emma Jennie (Hurt) Louthan had the following children: Annabelle Maude, Howard Raymond, Arthur, Lester Leroy, Floy Edwin, Lucille.

So... How do your PARIS, HURT & LOUTHAN surnames match up with mine?


View/Write Comments (count 2)

| Receive updates (0 subscribers) | Unsubscribe
---
About The NW Okie
---
Ranger Album 1917, NSN Societies & Local Pan Hellenic
Vol 18, Iss 22 This is a page showing the NSN Societies and Local Pan Hellenic organizations that were a part of Northwestern State Normal School, in Alva, Oklahoma.

Sigma Sigma Sigma (Founded at Farmville, Va., 1898) - Catharine Serviss (Pres.), Edna Conway, Neva Wilkinson.

X Chapter - Active member: Lenna Burr, Cleo Lewellen, Rose Walker, Dorothy Calloway, Edna Conway, Thelma Lambert, Henrietta Pyle, Ruth M. Miller, Neva Jane Hanford, Catharine Serviss, Ruby Skeen, Carre Phillips, Bell McCormick, Mae Hobbie, Hazel Ketchem, Katherine Monroe, Reed Loving Watt. 1916 Alumnae - Hazel Martin, Neva Wilkinson, Rachael McClure Vickers, Alta Dearing.

Active Chapters
Alpha - SNS, Farmville, Va.
Sigma Phi - Union U., Jackson, Tenn.
Kappa - Miami U., Oxford, Ohio
Zeta - SNS, Buffalo, NY
Phi - Ohio U., Athens, Ohio
Iota - SNS, Greeley, Colo.
Lambda - SNS, Indiana, Pa.
Mu - SNS, Kirksville, Mo.
Nu - SNS, Warrensburg, Mo.
X - SNS, Alva, Okla
Omicron - SNS, Ypsilanti, Mich.
Pi - SNS, Emporia, Kans.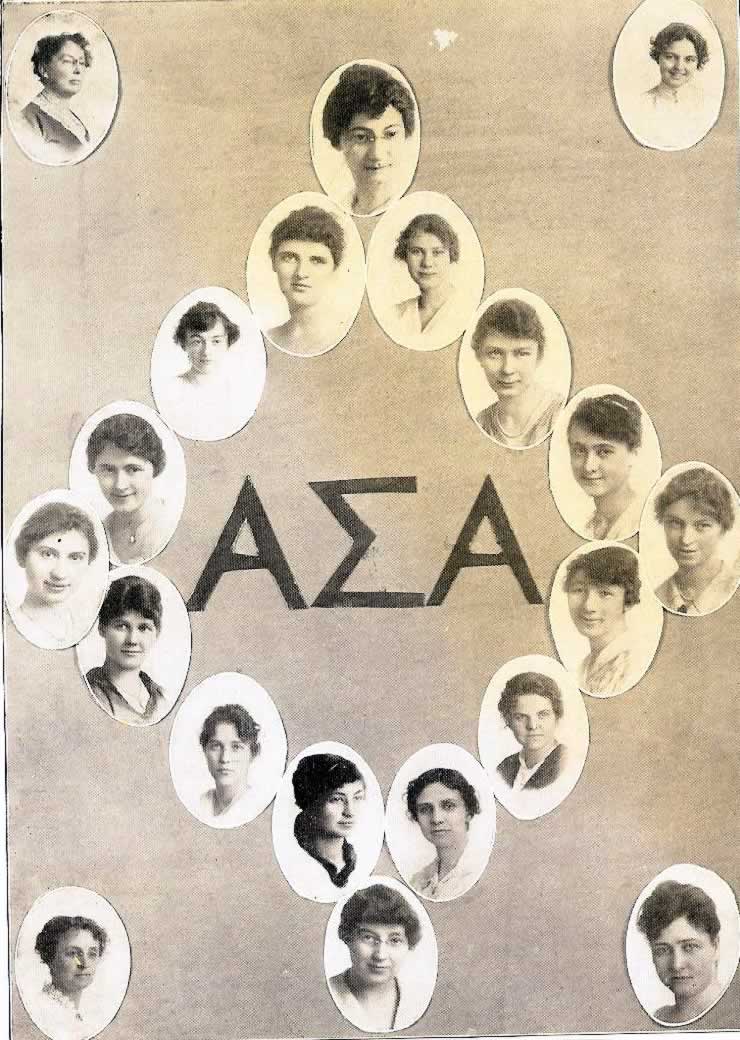 Alpha Sigma Alpha -(founded 1901) - Ada Titus, Grace Mauntel, Ada Smith

Chapter Roll
Alpha - State Normal School, Farmville, Va.
Alpha Alpha - Miami University, Oxford Ohio
Alpha Gamma - State Normal, Indiana, Pa.
Beta Beta - Teacher's College, Greeley Colo.
Gamma Gamma - State Normal, Alva, Okla.
Colors - pearl white, Crimson, Pale green, gold
Flowers - Astor, narcissus
Jewels - Pearl, Ruby
Open Motto - "Aspire, Seek, Attain"
Patron - Hermes
Insignia - Crown, Star, Palm Tree, Phoenix

Gamma Gamma Chapter Roll
Jennie Smith, Bess Davis, Mildred Foster, Nellie Cole, Blanche Rackley, Edith Harris
Alumnae - Mayme Spurrier, Jennie Vinson Fisk, Irene Rebber Quinlan, Ethel Feese, Louise Miller, Edith Heaton, Blanche Woolman, Ruth Long, Edna Brockway, Mary Bowling Wagner, Fern Clifton, Ada Smith, Gertrude Wetz, Ruth Pettit, Lorinda Mason
Ex-Schola - Helen Fitzgerald, Goldie Foster, Lucy Reed, Irene Rolf, Esther Delzell, Bernice Fitzgerald, Elsie Solf, May Grimm, Agnes Warriner, Stella Hunt
Faculty Advisor - Miss Minnie Shockley

Patronesses - Mrs. Frank Munson, Mrs. C. C. Share, Mrs. E. A. Haines


Pi Kappa Sigma (Founded Michigan State Norma, 1894) Alice Fennessey, Inez Beattie, Anne Wilke

Beta Chapter established 1900
Colors - Turquoise blue and Gold
Flowers - Forget-me-not and Jonquil
In Facultate - Saran Crumley, Nettie hardy, Isabell Vessey, Maude Reichman
In Urbe - Mrs. Guy Lisk, Mrs. W. E. Sloat, Phoebe McKeever, Mrs. Oscar Hampton, Mrs. M. C. Mason, Mildren Dauner, Edith Norris, Nellie Watson, Cora Wiggins, Mrs. Burdie Loventhal, Justine Harms, Carrie Schaefer, Mrs. Hurston Tuck, Mrs. C. S. Warren, Nellie Wiggins, Lois Wiggins, Marguerite Fennessey, Zelma Shilds, Ann Wilke

Members - 1917: Alice Fennessey, Edna Talbot, Della Brunstetter, Pearl Boling, Elizabeth Springer, Minnie Bridges, Velma Rae Dunn. 1918... Dora Curl, Inez Beattie, Ruth Greenlee.
Pledges - Margaretta Fulton


Delta Sigma Epsilon (Founded Miami University, 1914) - Nora Autsler, Fern Welsh, Maud Morris

Delta Chapter - established 1916
Colors - Cream and Pea Green
Flower - Tea Rose
Patroness - Mrs. Walter Ferguson
In Facultate - Pearl Ellen Crawford, Maude Morris, Pearl Esther Crawford
Members - Nora Eutsler, Irene Woodmansee, Marie McElhiney, Maude Every, Ruth Ranck, Eunice McCluney, Ruth Moyer, Mercedes Moyer, Veronica Hollen, Fern Welsh, Fern Williams, Beulah Hoffsommer, Jessie Hoefer, Elsie Lee Stein, Mable Willis, Edna Weeks
Pledges - Larkie Temple, Mable Cameron, Neola Hurt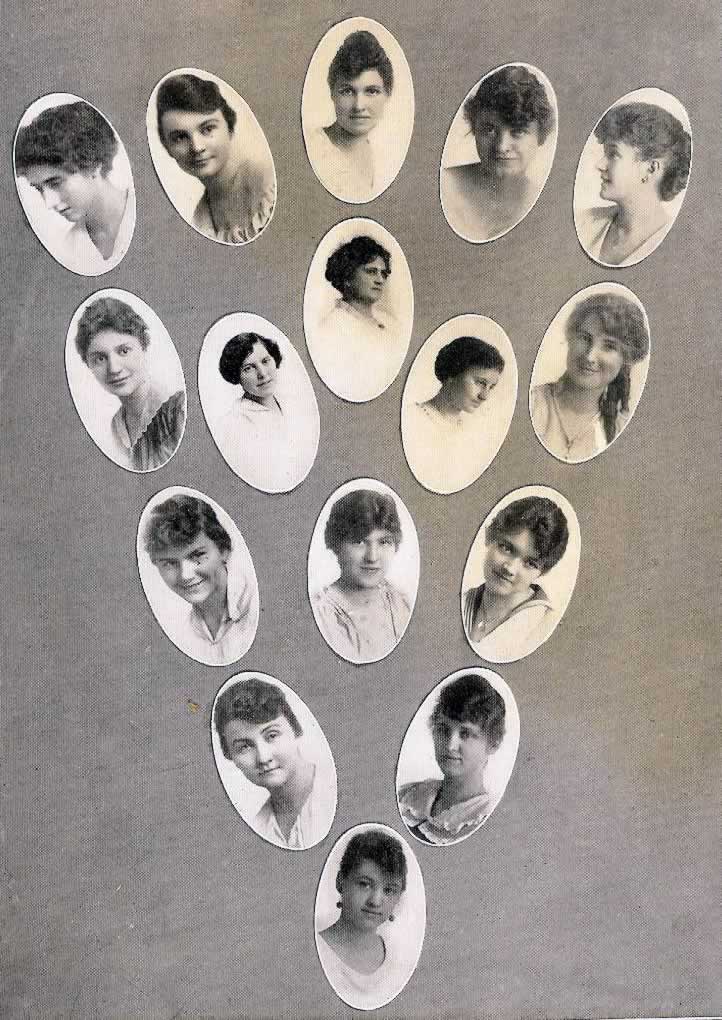 Saturday Night Club Organized 1906.

Colors: Sea shell pink and ashes of roses.
In Faculate - Grace Stegal & Sarah Crumley.

Members - Cora Davis, Vie Abbott, Inez Beattie, Eugena Huddleston, Pearl Boling, Margaretta Fulton, Mrs. Agnes Sloat, Luella Harzman, Dora Curl, Ruth Greenlee, Bernice Henderson, Rose Walker, Elizabeth Herold, Bertie Harney, Gladys Crawford, Etta Creech, Helen Smith.

Officers - Ine Beattie, President; Bertie Harney, Vice-President; Helen Smith, Secretary; Luella Harzman, Treasurer; and Ruth Greenlee, Reporter.


The Philomathean Club

The Philomathean Club is an energetic literary club of Northwestern. It has gained in membership and prestige ever since its organization. It has one of the most competent and most amiable members of the faculty, Mrs. Fallon, for its club Mother, and President Graves for Parliamentarian. It also recognizes the social side of things, and has its share of "stunts."
Members - Audrey Bainum, Lera Bainum, Lorena Bainum, Gladys Bingham, Marie Dale, Verda Dale, Bess Davis, Mrs. Fallon, Bernice Fogle, Marie Hartshorn, Nina Hopper, Viola Martin, Maud McMurtrey, Mildred McMurtrey, Letha Pryor, Sibyl Wilson.
Present Officers Bess Davis, Pres.; Audrey Bainum, Vice-Pres.; Gladys Bingham, Sec.; Viola Martin, Treas.; Nina Hopper, Chaplain; Verda Dale, Sergeant;Mrs. Fallon, Critic; President J. W. Graves, parliamentarian.



Parliamentary Debating Club Officers: Bert Raney, pres.; Harry Brown, Vice-pres.; E. A. Sandefur, Sec.; Joe Bagenstos, corresponding sec.; Wm. Eagan, Treas.; George McClure, Reporter; Critic, Ralph Beegle, Critic; Fant Word, parliamentarian;Chester Duncan, marshal; Sabin C. Perceful, coach of debate; V. C. Sheldon, coach of oratory. Club Colors - pink and green.

The Parliamentary Debate Club is the oldest organization of the kind in Northwestern and possibly in the state, and it has always held the debate honors of the club and school far above reproach, when given an opportunity to do so. This club now has hanging at its belt scalps from Oklahoma, Kansas, Missouri, and Texas. The Lone Star State was the last to fall a prey to the attack of the P.D.C. but they followed in the paths of all her other victims. This club has the remarkable record of having never lost a debate on its home floor in seventeen years. Among the schools with which the P. D. C. has held debates in the past are the Warrensburg State Normal of Missouri, the Emporia Normal of Kansas, Phillips University of Enid, Oklahoma, and the Original Tri-Angular. This club was one of the originators of the Original Tri-Angular and was the only organization.

The debate this year with the Methodist College of Clarendon, Texas, was the first debate the P.D.C. has had in three years, but it showed that the old debating ability was not lost. The debate was hotly contested at both places. The home team got a unanimous decision while the team which invaded the land of the longhorns carried off one judge, thus giving the club four out of the six judges, and making the P.D.C. the winner of the series. The men representing the club this year were Bob Lasley, Leonard Schaefer, Chester Duncan, and Elbert Mariatt.After the debate the leading social event of the season was celebrated by the club and its visiting friends. This seventeenth annual banquet was a great success. It consisted of a seven course luncheon.The banquet hall was elaborately decorated in pink and green, and while the banqueters dined Shaw's Orchestra furnished beautiful music.

At the close of the banquet the P.D.C. Octet rendered a few selections and the occasion closed by the singing of "The Star Spangled Banner," by the entire crowd.Not only does the P.D.C. take exceptional interest in their club and social work, but it is found that their members are among the foremost boosters of N.S.N. They support all worthy moves which are brought forth in the interest of Old Northwestern and are found on the firing line all the time when the interest of their Alma Mater is at stake.



N.S.N. Debating Club first row: Dunning, Kammerzell, Soliday, Arnote, Porter, Sockwell, Clark, Sears. Second Row: Watkins, Veatch, Smithson, Carey, Kuntz, Bruner, Graves. Third Row: Prentiss, Presnall, Coffman, Vinson, Coach, Baird, Ruggles, Mosshart,

Walker.Officers: Floyd Porter, Pres.; Harry Soliday, Vice-pres.; Everett Veatch, Sec.; Enos Walker, Assistant Sec.; Foster Stockwell, corresponding sec.; Frank Bruner, Tras.; Claude Baird, reporter; Carl Smithson, Marshal; Harry Dunning, Critic; Foster Stockwell, asst. Parliamentarian; A. G. Vinson, Parliamentarian. Club Colors - purple and gold.There is a spirit in every well balanced school which finds its expression in debating. The mental development gained from this practice of the science of argumentation is just as essential to the thorough education the individual as is the physical development furnished by athletics. To satisfy this need the N.S.N. Debating Club was organized in September, 1907, by a group of young men, students of Northwestern, who believed that there was enough material in school to support two debating organizations.The sound judgment of its founders has been proven by the record which the Club has made for itself in the ten years of its history.In 1913 it came off victor in the double debate with the Kansas State Normal School at Emporia, besides gaining the Normal School Championship at home by winning both the preliminary and final contests of the double Triangle of Oklahoma. In 1914, the inter-collegiate debates were thrown open to the school, and in that year the N.S.N. Club furnished seven of the eight debaters who handled the dual Emporia debate and the "Triangular" of Oklahoma. In 1915-16 the leading speakers of both Triangular teams were N.S.N. men and this year the four men selected for the State debate are all N.S. N.'s.The membership of the N.S.N. Debating Club consists of loyal, enthusiastic young men who are at Northwestern for the purpose of getting the splendid training afforded by this institution, and after graduation they are unanimous in the statement that more beneficial than any other one factor of their education is the training afforded them as members of the "N.S.N."Most notable among the social affairs given by the Club this year were: a Hallowe'en picnic, at which time the Club members and their friends motored to the bat caves twenty-five miles west of town, and the Seventh Annual Banquet of the Club, given on the evening of March 6.The successful record of the Club in the past has been due to the hard work and loyalty of every member. It now has among its members some of the most energetic workers and ablest debaters in the school, and as its coach Professor A. G. Vinson, whose capabilities are known throughout this part of the state. With these advantages the Club hopes to make its future even greater than has been its past, and invites the students of Northwestern to attend its meetings and lend their aid toward its further success.



Excelsior Literary Society - Standing: Martin, Green, Curtis, Caach Perceful, Clark, Callison, Karn, Grantham, Lambert. Sitting: Allen, Hurt, Hollen, Stone, Moyer, Ranck, Hollen, Coach Crawford, Moyer, Callison. Among the several clubs of Northwestern is one which was organized during the summer months of 1916. A band of about thirty teachers and students organized themselves into a club for the purpose of working out on general literary lines, as music, debate, public speaking, the study of authors, parliamentary law, etc. This was enjoyed so much by the young people, that they put on a play under the direction of Miss Crawford, at the Rex Theatre. Many of the members left school during the fall term to teach a various places over the state, but the few who remained worked diligently and at this time the club has sixteen members.Professor Perceful and Miss Crawford have been selected for the Club Coaches, and with their help, a debate team was able to enter the preliminary contest for the Triangular debate. We hold that the future has many things in store for this young society and though we have not the history of the past of which to boast, we will have in the future a club that will train both boys and girls along lines which will not only interest them, but will prepare them for their work outside of school.

The Ranger Rooter's Club
The "Rooters" club met and organized on Friday Sept. 2, 1916, nearly every student being present. A president was elected then yell leaders and various other officers. Much of the success of Old N.S.N.'s athletics, was due to the ardent support of this band of enthusiastic students. Every team which clashed in any sort of athletics with "The Rangers" on home grounds was always given a hearty reception by the "Rooters Club." All such courtesy speaks well for the school first and secondly it shows that each student is as a committee of one vitally interested in "Our" school. When the first "Ranger Basket Ball squad" left for the coast, they were given a sendoff, in which every student, who was physically able to attend; did so. This occasion will live only second in the memories of the students and townspeople in comparison to the grand reception given the quintette on their return home. The Rooters club supports as well, all forms of school activity, always having a grand majority of the students present at debate and reading contests. If it takes spirit and support to win, in school contests which we're sure it does, then the "Rooters Club" is an immense success.



The Science Club of N.S.N. The Science club was organized in 1906 by Professor G. W. Stevens who was chosen President of the Club and afterwards elected president each succeeding year as long as he remained in the school. Much interest was manifested and a great deal of work done under the leadership of Professor Stevens.During the present school year the Science Club was reorganized and the following officers were elected; T. C. Carter, President; Professor A. G. Vinson, Vice-President; Professor M.C. Mann, Secretary; Professor S. C. Perceful, Treasurer.The present active membership consists of about forty students and teachers who are interested in scientific work.Among those who have presented scientific papers recently are: Professor Perceful, Bert Raney, Professor Mann, Fant Word, Professor Geyer, Ben Rackley, Lleslie Wilcox, Frank Hess, Gladys Bingham, Carlos McGill and W. L Eagan.It has been the custom of the club to secure the services of a noted lecturer sometime during the year the proceeds being given to augment the "Students Loan Fund."The primary objects of this organization are to discuss subjects of scientific interest and for the encouragement of scientific research.

Y.W.C.A Cabinet
Audrey Bainum, Loine Floyd, Berice Fogle, Ione Clark, Nina Hopper, Etta Creech, Emma Donaldson, Luella Harzman, Ethel Albright.Among the many organizations which have helped to make school life at N.S.N. pleasant and worth while is the Young Womens Christian Association. While the sororities, clubs and classes have their distinct phases of work, it is the Y.W.C.A. which upholds Christian standards of the school. The intimate association with girls whose ideals are high, whose efforts are to attain the best in life for themselves and others, has an influence that is ennobling and which cannot be attained anywhere else in school.The Young Womens Christian Association is a world-wide movement.

In being a member of the Y.W.C.A. at Northwestern one is, first, a part of the Southwestern Field with headquarters at Dallas, Texas, then, the National Board of New York City, and lastly the Christian Federation of the World.The purpose of the Association is... "To unite the women of the institution in loyalty to Jesus Christ, to lead them to accept Him as their personal Savior, to build them up in the knowledge of Christ, especially through Bible study and Christian service, that character and conduct may be consonant with their belief. It shall thus associate them wit the students of the world for the advancement of the Kingdom of God.

It shall further seek to enlist their devotion to the Christian Church and to the religious work of the institution."

Y.M.C.A Cabinet
Walker, Julian, Baird, Schnitzer, Rackley, Raney, Stockwell, Sheldon.Among the many organizations that have helped the put N.S.N. on the map is the Y. M. C. A. The object of this society is to provide a home-like resort with good influences for young men. It advises its members to religious, social and moral advancement. Of all the forces for wise training and uplift for young men and boys, none have achieved a greater success than the Y.M.C.A. The close association with young men whose ideals are high, whose every effort is expended in the direction of higher and greater attainments for themselves and others, has an ennobling influence not to be found elsewhere in school life. The examples of young men and the high moral tone evidenced in school activities speak in clarion tones of the achievements of this band of young men.The support of the faculty has been of unspeakable help since the beginning of this association. Among the foremost are Pres. Graves, Professors Vinson, Carter and Sheldon.The present outlook for the coming year is brighter than ever with Dewey Mosshart, President; Claud Baird, vice-president; Enos Walker, Treasurer; and Everet Veach, Secretary, there is no reason why the Y.M.C.A. of Northwestern will not be one of the most active and helpful of any school association in the state.As no school can be ranked among the first without a Y.M.C.A., it is the duty of every loyal young man and student to get behind it and make what it stands for -- a developer of body, and and soul.
View/Write Comments (count 0) | Receive updates (0 subscribers) | Unsubscribe
---
NW Okie's Corner
Vol 15, Iss 12 Bayfield, Colorado - Let us reflect back to the day of our graduation from high school. Some of us who graduated from high school in the year of 1966 while listening to the following music on KOMA Radio.



Remember the Beach Boys; Beatles - "Nowhere Man" and "Yellow Submarine;" Bob Dylan - "Rainy Day Women;" Bobby Fuller Four - "I Fought The Law And The Law Won;" Brenda Lee; Capitols - "Cool Jerk;" Diana Ross & The Supremes; Herb Albert & The Tijuana Brass; Herman's Hermits; Lou Rawls; Mitch Ryder & The Detroit Wheels - "Devil With A Blue Dress On;" Paul Revere & The Raiders; Rolling Stones; and that leads us to remembering Sgt. Barry Sadler with his "Ballad Of The Green Berets."

Samuel Euguene Paris (1924-2013)

Sammie Eugene Paris, 88, passed away on Saturday, March 16, 2013 in Sandpoint, Idaho in the loving embrace of his granddaughter Sheena Paris-Collins. A celebration of Sam's life was held at 11:00 a.m., Saturday, March 23, 2013 at the Lakeview Funeral Home with Paul Graves officiating, with military honors. Sam would be laid to rest with his wife Cecelia at Pinecrest Cemetery at a later date.

Sammie was born in Chester, Major County, Oklahoma on April 12, 1924 to Earnest and Mary (Hurt) Paris. In 1943, Sam joined the United States Navy. He was stationed on the SS Francis W. Parker in the Pacific Islands. He was awarded the Asiatic Pacific Area Campaign Medal, American Area Campaign Medal, World War II Victory Medal, and the Philippine Liberation Medal. He completed his naval career at Farragut Naval Station.

He married the love of his life Cecelia Mae Snyder on February 10, 1946, in Thompson Falls, Montana. They spent their lives together camping, hunting, fishing and bowling. The love and devotion that Sam and Cecelia shared was absolutely a magical gift. Their love will live on forever in the lives of their family. Together they raised Cecelia's two daughters: Celia Mae Kirkland (now deceased) and Annette Purcell; their daughter Jody Paris-Nichols; and son Sam Paris.

In his younger years Sam sang and played his "Ole Friend" guitar with his band on the Panida stage every weekend. He loved his guitar and the magic of the Panida stage. Sammie will always be remembered for his happy smile, charismatic chuckle and the way he would nod his head and blink his eyes when he greeted you. The Paris family would like to extend their thanks to the many people who shared in Sammie's life.

Sam is survived by one son Sam ( wife, Tammy) Paris of Sandpoint, Idaho; two daughters Jody Nichols (fiance, Larry Heath) of Funny River, Alaska and Annette (husband Bob) Purcell of Lakewood, California; 13 grandchildren Sheena (Derek) Paris-Collins, Sasha Paris, Casey (Starla) LaMarche, Jessica Stevens, Paul (Julie) Gooby Pavone, Natalie Pavone, Tiffany Pavone, Sunny Purcell, Bunny Ann Purcell, Rocky (Patty) Pavone, Jennifer Kirkland, Heather Kirkland, and Gregory G. Brown; and 10 great grandchildren Chloe, Isaiah, Samuel, Janel, Joshua, Jennifer, Ashlyn, Dylan, Ammon, and Arielle.

Sam was preceded in death by his parents, beloved wife Cecelia Mae Paris, daughter Celia Mae Kirkland, five brothers, and three sisters.

Please sign Sam's guest book of your memories of Uncle Sammy E. Paris.

Good Night & Good Luck throughout your Life! View/Write Comments (count 0) | Receive updates (0 subscribers) | Unsubscribe
---
NW Okie's Corner
Vol 14, Iss 45 Bayfield, CO - [Great grandparents, Sarah Frances Conover & Henry Clay Paris, with children: Ernest, Volney, Decatur "Dee," Arthur and Myrtle.]

We have put some of our paternal lineage on here more so than we have shared our maternal lineage. Our maternal ancestry surnames included the following: PARIS, HURT and CONOVER (Van Kouwenhoven, Couwenhoven) connections. We have traced our Van Kouwenhoven back to the 15th Century, Netherlands.

Willem VanKouwenhoven (1468 - 1543), is my 12th great grandfather. Willem had a son, Jan Willemsz Van Kouwenhoven (1495 - 1550). Jan Willemsz son was Gerritt Jansz Van COUWENHOVEN (1529 - 1604). At some point the spelling changed and they dropped the "Van" and spelled Kouwenhoven with a "C" instead of a "K."

To finish following our lineage down to this NW Okie we find that Gerrit Jansz Van Couwenhoven had a son, Wolfert Gysbertsen Van Couwenhoven (1579 - 1660). The next link of our lineage was Gerret Wolfertse Kouwenhoven (1610 - 1645), son of Wolfert Gysbertsen. The surname has again taken on another spelling of Kowenhoven with Willem Gerretse Kowenhoven (1636 - 1728), Son of Gerret Wolfertse. That lineage brings us to Jan Willemse COUWENHOVEN (1681 - 1756), son of Willem Gerretse.

Continuing down our family tree we find Dominicus John Covenhoven (1724 - 1778), son of Jan Willemse, with yet another spelling of the surname. Somewhere between this time the surname got switched to "Conover" with Peter CONOVER (1769 - 1835), our 4th great grandfather, who married 9 January 1787, Hannah Coombs (1770-1846), in Marlboro, Monmouth, New Jersey.

Peter Conover was the son of Dominicus John (1724-1778). Peter and Hannah's son, Jonathan Coombs CONOVER (1797 - 1859), I show born in Versailles, Woodford, Kentucky; married 16 September 1818, to Martha Davison Bergen, in Woodford, Kentucky. Jonathan and Martha had a son, Peter CONOVER (1821 - 1900), my 2nd great grandfather, born in Kentucky and migrated to Longston, Elk, Kansas with his wife, Melinda Pierce (1845-1896), where he died in 1900, and Melinda died in 1896.

That brings us to my great grandmother, Sarah Frances "Fannie" CONOVER (1848 - 1924). Fannie and Henry Clay Paris married in Petersburg, Illinois, 12 September 1869 and had the following children: Joseph B. (1870-1872), Volney Peter (1872-1960), Mary E. (1876-1878), Decatur Ray (1877-1947), Ernest Claude PARIS (1879 - 1959), Arthur Henry (1882-1960), Myrtle Mae (1885-1965).

That brings us to my grandfather, Ernest Claude PARIS (1879 - 1959), who married Mary Barbara Hurt, 4 December 1909, in Clear Creek, Stafford, Kansas. Ernest and Mary Barbara Paris had the following children: Leslie Martin (1910-19820, Alvin Riley (1912-2002), Vernon Russell (1914-1972), Vada Eileen (1916 - 1992), Zella Marie (1919-1983), Kenneth Harding (1921-1954), Sam Eugene (1924-), Geneva Lucille (1928-2002), and Ernest "EJ" Jr. (1930-1989). To finish off this lineage, Vada Eileen Paris married Gene M. McGill (1914-1986), 24 March 1940, in Anthony, Kansas. This NW Okie is the third daughter of Vada and Gene McGill.

You can read more about our Van Kouwenhoven Family History in this week's OkieLegacy Ezine.

We leave you with this quote online attributed to Theodore Roosevelt (1858 - 1919), Labor Day speech at Syracuse, NY, Sept 7, 1903 - "The death-knell of the republic had rung as soon as the active power became lodged in the hands of those who sought, not to do justice to all citizens, rich and poor alike, but to stand for one special class and for its interests as opposed to the interests of others."

Good Night & Good Luck researching your family ancestry! View/Write Comments (count 0) | Receive updates (0 subscribers) | Unsubscribe
---
NW Okie's Corner
Vol 14, Iss 23 Bayfield, Colorado (CO) - With the mini-series of the Hatfields & McCoys Feuds this last week, we gathered from the Hatfields-McCoy feud, it was what seemed to this writer a consequence, aftereffects of a war between the North & South, where communities were divided, struggling for economic power as men returned to their homes never forgiving those that deserted the cause or fought on the Union side.

We find in the TV mini-series that Ole Ran'l McCoy saved Captain "Devil Anse" Hatfields life during the war, but "Devil Anse" repaid McCoy by deserting him and the Confederates so Capt. Hatfield could return home. It seems Ole Ran'l McCoy never really forgave Hatfield afterwards. McCoy was taken prisoner by the North, during the Civil War, as the only survivor in his combat group after Hatfield deserted. Asa Harmon McCoy death was by the hands of relatives of the Hatfields. Asa Harmon McCoy fought on the Union's side and was discharged early for a broken leg. This was another trigger of the infamous family feud.

The Hatfields and McCoy feud has become a modern metaphor for the perils of family honor, justice and vengeance. I would suppose that we could all look back and find our own little family feuds over minor things -- some significant; some not so significant -- concerning honor, justice and yes . . . vengeance. Are there any Hatfields or McCoys in your ancestry?

Just glancing through my ancestral tree I found a few Hatfields (mostly in-laws) running through my maternal CONOVER-PARIS-HURT lineage, but have not connected them to the infamous Hatfields. I also found a Jemima McCoy that married Alexander Burner HINER (my paternal lineage) in Virginia. BUT . . . are any of them related to the West Virginia Hatfields and the Kentucky McCoys of the Appalachians? We have not made any connections as of yet.

In the Arizona Weekly Journal-Miner, dated 1 April 1891, in Prescott, Arizona, we found this small headline, Hafield-McCoy Feud. This story was out of Wheeling, West Virginia, 25 March 1891, when Captain "Devil Anse" Hatfield, leader of the West Virginia faction, who was figured in so many bloody engagements during the 20 years of war between the two families and their branches, brought about the conferences which had resulted in a declaration of peace. Capt. Hatfield announced the conclusions of negotiation in the following card, which he had sent to the newspapers of the southern section of the state:

"A general amnesty has been declared in the famous Hatfield-McCoy feud, and I wish to say something of the old and new. I do not wish to keep the old feud alive and I suppose everyone, like myself, is tired of Hatfield-McCoy words that mean warfare in time of peace. The war spirit in me has abated and I sincerely rejoice at the prospects of peace I have devoted my life to the fearful loss of noble lives and valuable property in the struggle. We, being like Adam, are not the first transgressors. Now I propose to rest in the spirit of peace."

It was reported on that day, "This letter has caused a great feeling of relief among good the people of the southern section of the state."

Why cannot the GOP Congress abate their feuding agenda of "Obstructionism" and "War On Women" to declare a truce; work together with the other side and the Presdient? Where's the Jobs, Boehner?

Let's Move FORWARD with Solutions and Equality for ALL!"
Good Night & Good Luck searching your family ancestry! View/Write Comments (count 0) | Receive updates (0 subscribers) | Unsubscribe
---
NW Okie's Corner
Vol 13, Iss 50 Bayfield, CO - This last week we were remembering one of those dates (7 December 1941) that has lived in infamy for 70 years and our World War II (WWII) Veterans. Did you have a WWII veteran in your family? Are you doing genealogy research for those veteran ancestry?

Then you will need to check out what Ancestry.com has added to it's research tools. You can search all the WWII records and learn more about your family's connection to "a date which will live in infamy" by searching their WWII Draft cards of young men, 1898-1929 and other WWII military records.

Bill Barker sent us some photos and research he has been doing in Georgia concerning the Georgia Chapter of the Trail of tears and where Sequoyah lived while doing his syllabary. Since we are running late to night and can not get everything in to this week's OkieLegacy Ezine, we will include more of Bill Barker's research and findings in next week's OkieLegacy Ezine.

I have been busy learning a new web design software app (RapidWeaver) for the Mac and giving my Paris Times Pioneers (genealogy) a NEW LOOK for 2012. You might want to check it out, also! I am still adding some pages to the HURT Legacy pages, but most of everything is uploaded so far. Bookmark the web site and keep checking back momentarily.

Good Night & Good Luck searching your ancestry! View/Write Comments (count 0) | Receive updates (0 subscribers) | Unsubscribe
---
NW Okie's Ancestrial Lineage
Vol 13, Iss 16 Flatbush, New Amsterdam ( - [Photo on the left, seated down front, left to right: Sarah Francs Conover, Henry Clay Paris and Arthur; backrow, left to right: Volney, Decatur, Myrtle and Ernest]

Last week we brought you one of our maternal side of our ancestors via the HURT / HURTOSCI family lineage. This week we venture into yet another maternal family lineage of the CONOVER / COUVENHOVEN / KOUWENHOVEN / COVENHOVEN ancestors that married into our Henry Clay PARIS family lineage.

Our Great Grandmother, Sarah Frances "Fannie" CONOVER, was born 12 June 1848, in Petersburg, Menard, Illinois, the daughter of Peter CONOVER (1821-1900) and Melinda Pierce (1826-1896). Sarah Frances was the oldest child and daughter of Peter and Melinda CONOVER>. Sarah died 20 February 1924, Chester, Major County, Oklahoma, and is buried in the Orion Cemetery, northeast of Chester, Oklahoma.

Before we give our family lineage, let us take you to our 5th Great Grandfather, Dominicus Covenhoven (a.k.a. Dominicus Conover, Dominicus Van Kouwenhoven), who was born ca. 1724 at near, Freehold, Monmouth County, New Jersey; baptized on 7 June 1724 at Dutch Reformed Church, Freehold-Middletown, Monmouth County, New Jersey; this was possible, unnamed child baptised this date same parents, Jan Willmse Kowenhoven and Jacoba Cornelisse Vanderveer. Dominicus Covenhoven married Mary Updike ca. 1747.

During the Revolutionary War, Dominicus Covenhoven served as a Private in Capt. Robert Nixon's Troop of Light Horse, Middlesex County Militia. He left a will on 18 April 1778 at Windsor Twp., Monmouth County, New Jersey. In his Will dated April 18, 1778, Dominicus Covenhoven of Windsor Township, yoeman, mentioned his wife Mary and five sons, John, William, Garret, Levi, and Peter. The executors were his wife and sons John and William. The witnesses were Moses Groom, Elisha Cook, and William Slayback. His estate was proved on 23 June 1778. He died on 28 June 1778 at Windsor Twp., Middlesex County, New Jersey, at age 54. Dominicus was killed by lightning and his funeral was held on June 28, 1778, the day of the Battle of Monmouth (American Revolutionary War, 28 June 1778, New Jersey).

COUWENHOVEN Family Lineage:
* Jan Van Kouwenhoven (1495-1550), 11th great grandfather
* Gerritt Jansz COUWENHOVEN (1529-1604), 10th Great Grandfather
* Wolphert Gerritsz2 VAN KOUWENHOVEN (1579-1662), 9th Great Grandfather
* Gerret Wolfersen VAN KOUWENHOVEN (1610-1645), 8th Great Grandfather
* Willem Gerretse COUWENHOVEN (1636-1663), 7th great Grandfather
* Jan Willemse COUWENHOVEN (1681-1756), 6th great Grandfather
* Dominicus John Covenhoven (1724-1778), 5th great Grandfather
* Peter CONOVER (1769-1835), 4th great Grandfather
* Jonathan Coombs CONOVER (1797-1859), 3th great Grandfather
* Peter CONOVER (1821-1900), 2th great Grandfather
* Sarah Frances CONOVER (1848-1924), 1st great Grandmother
* Ernest Claude PARIS (1879-1959), Grandfather
* Vada Eileen PARIS (1916-1992), Mother
* Linda Kay MCGILL, 3rd daughter of Vada Eileen

Good Night, and Good Luck Searching Your Roots! View/Write Comments (count 0) | Receive updates (0 subscribers) | Unsubscribe
---
NW Okie's Ancestrial Lineage
Vol 13, Iss 15 Bayfield, Colorado - [Sometime back Linda Hurt and Jeanine Baringer sent us some HURT information and photos. The photo on the left is one of those photos of the HURT men.]
5th Great Grandfather, Edward PARIS (1699-?), which we are still working to gather more information.

Have you been watching, keeping up with the NBC/Ancestry.com series Who Do You Think You Are? Each episode of the series gives you some hints to help find out more information about the lives of your ancestors and what their lives were like as immigrants and pioneers of the New World!

Did you know that Ancestry.com is featuring the 150th Anniversary of the Civil War by giving you access to search for your Civil War ancestors in millions of new records so you can discover the stories you will not find in the history books?

This week we are still looking to share some more family lineage on NW Okie's Maternal side of the PARIS/HURT family connections. The HURT (HURTOSCI) lineage married into my mother's family.

John James HURT born 16 May 1832, in Oujezdec, Kutna Hora, Caslov, Czechoslovakia (Bohemia), arriving in the New World (America) around 1876. John James HURT, I am told was a Doctor and his wife, Mary Anna Mrkvicka, was a nurse over in Czechoslovakia, before coming to America.

John James & Mary Anna HURT had the following children: Joseph P., Anna, Mary, James, John A., Barbara Carrie, Frank James, Antona, Anton Charles, Ben.

HURT/HURTOSCI Family Lineage:

John James HURT (1832 - 1915), 2nd great grandfather
Joseph P. HURT (1854 - 1936), 1st great grandfather;
Mary Barbara HURT (1893 - 1966), grandmother;
Vada Eileen PARIS (1916 - 1992), mother;
AND . . . Me, Linda Kay MCGILL, 3rd daughter of Vada Eileen PARIS & Gene M MCGILL.

You can view more of our HURT Legacy & HURT Ancestors by clicking these hyperlinks. We hope some of our research might help some distant relatives discover their ancestors through what we have come across. AND . . . help us add to and correct some of our ancestor's information with stories and photos.

Good Night, and Good Luck Searching Your Roots! View/Write Comments (count 1) | Receive updates (0 subscribers) | Unsubscribe
---
NW Okie's Ancestrial Lineage
Vol 13, Iss 14 Bayfield, Colorado - [ Photo on the left -- The younger years of Henry Clay & Sarah Frances CONOVER Paris Family: seated down front, between Sarah Frances CONOVER & Henry Clay PARIS, Myrtle Mae & Arthur Henry; Standing left to right, Ernest Claude (my grandfather), Volney Peter, Decator Ray "Dee"; Seated on the right front, Henry Clay Paris; Seated on the left front,: Sarah Frances Conover.]

This week we bring you another part of NW Okie's ancestral lineage with the PARIS / PEARIS / PARRIS ancestrial lineage. My PARIS / PARRIS / PEARIS Lineage:
* Edward PARIS (1699 - ?), 5th great grandfather.
* Moses PARIS / PEARIS, Sr. (1722 - 1792), 4th Great Grandfather.
* Ezekiel PARIS (1752 - 1820), 3rd Great Grandfather.
* Ezekiel (Jr.) PARIS (1785 - 1856), 2nd Great Grandfather.
* Henry Clay PARIS (1844 - 1918), Great Grandfather.
* Ernest Claude PARIS (1879 - 1959), Grandfather.
* Vada Eileen PARIS (1916 - 1992), mother.
* Linda Kay MCGILL, 3rd daughter of Vada Eileen Paris & Gene M McGill.

According to family members, our Great Grandfather, Henry Clay PARIS, was born 6 July 1844, in Foxtown, Madison County, Kentucky, the youngest of nine children. During the Civil War years he moved from Kentucky ti Illinois to live with an older brother, James Franklin PARIS.

Great Grandfather, Henry Clay PARIS, served as a Private with Company b-30, Illinois Infantry from 1861 to 1865 on the side of the Union (North) while another brother fought on the side of the South. Henry was discharged 4 June 1865.

Henry married Sarah Frances CONOVER, 12 September 1869, in Petersburg, Illinois by Rev. Benjamin Watts of Cumberland Presbytarian Church. Henry and Sarah moved to Audran, Missouri in 1875. From there they moved to Elk County, Kansas and then on to Pratt County, Kansas. Henry and Sarah's family lived around the Knasa area 21 years before moving on to Woods "M" county, in Oklahoma Territory, in 1896, settling in Major county, around Orion and Chester, Oklahoma.

Good Night, and Good Luck searching your roots! View/Write Comments (count 0) | Receive updates (0 subscribers) | Unsubscribe
---
NW Okie's R & R In San Juan Mtns
Vol 12, Iss 52 Bayfield, CO - We have put up some younger year photos of Dorthy & Connie McGill at the ranch, a few miles north of Waynoka, OK and at 703 7th Street, in Alva, Oklahoma. The photo on the left is a picture of the Ernest Claude & Mary Barbara (Hurt) Paris siblings. You can see a slideshow of the whole collection of Dorthy and Connie's earlier years in the slideshow below.



We would love to find someone who can identify some of the little friends of Dorthy and Connie in these earlier photos. If you go to our Picasa website albm and leave a comment of possible indenties, it would help a lot.

Here's counting down to January 1st, 2011, Saturday -- Wishing you all a Happy New Year 2011!

Good Day & Good Luck! View/Write Comments (count 0) | Receive updates (0 subscribers) | Unsubscribe
---
NW Okie's Ramblings
Vol 12, Iss 37 Alva, Oklahoma - Where has the month of September gone. I know it is only reaching mid-way, but why do the days past so quickly?

Only a little over a week plus a few days until Northwestern OSU has their Fall Homecoming 2010. How many homecoming does this make for NWOSU (a.k.a NTN, NSTC, NSC)? 1899? I have lost track, but know that I have run across the first homecoming somewhere in my notes and research. Maybe someone out there reading this could enlighten all us Northwest Oklahomans.

In less than two weeks we will be stomp, clapping to the school bands marching around the Alva downtown square. The YouTube video was taken 1 November 2008 of the marching bands.



According to our research on Northwestern, in Volume II, Issue 81, dated 21 October 2000, titled "A Homecoming Mystery Bands, Floats & Celebrations," a celebration with floats in a great parade was being planned as far back as 1 July 1899. Was this the first homecoming? July 1, 1899 -- The work on the building of the famous Castle on the Hill had so advanced that a committee began the preparations for laying the corner stone under the main tower in front. The program consisted of the usual ceremonies, led by the Masons. Governor Barnes and several other territorial officers, and Grand Master E. M. Bamford were present. President Ament introduced Governor Barnes as the first speaker. He was followed by Judge McAtee, S. L. Johnson and Hon. Temple Houston.

The following is a list of articles that were placed within the corner stone -- Roll of officers and members of the grand lodge and local lodge A. F. & A. M.; same of the Alva Commercial Club; same of the legislature 1897; copies of the Alva Pioneer, Courier, Review and Cleo Cheiftain; copy of program of the day's exercises and names of President Ament, Miss Bosworth and Mrs. DeLisle.

The day was one of general celebration, the businesses of the town being represented by floats in a great parade. The crowd present was guessed at 4000 to 6000. Some More Normal History can be found on our website at this link Northwestern Normal School, 1895-1935 - beginning & conception

Barry Kelsey remembers, "We used to call it Northwestern State Teachers College. When my Grandfather went there it was called something like Northwestern Normal School."

Monet Monfort Lion says, "Yes, I believe it started out as Northwestern Normal School. I have many photos of The Castle on the Hill and a painted plate depiction made for Monfort Drug Store's China department! Rod reminds us that, "The original title of the institution was Northwestern Territorial Normal School, founded in 1897, 10 years before Oklahoma's statehood."

Marvin Henry says, "There are probably others who remember attending NSC while still in elementary school and jr high school. During the time Washington School was being rebuilt, about 1945, my 3rd grade class was held in the upstairs, first room on the left in what was known as Horace Mann building, now the education building. Junior High, 7th & 8th grade was on the second floor of the Horace Mann building. Industrial Arts (Shop for the boys) ground floor and Home Ec (girls) second floor of the Fine Arts building."

Off the subject of NWOSU and onto our family genealogy that I have at MyHeritage.com - Wagner genealogy, the subscription runs out around October 10, 2010, and I have decided not to renew that genealogy site. BUT it will not be a loss, because I have that information over at my Ancestry.com family genealogy for the Warwick, McGill, Paris, Conover, Hurt and Wagner families.

Until November 21, 2010 our Paris-McGill-Warwick family genealogy will still be up for awhile at MyHeritage for the Paris-Conover-Hurt-Warwick-Gwin-McGill-Wagner Family. I may or may not renew this site in November, 2010, because a more updated version is over at my Ancestry.com genealogy site. We shall see!

David, the two Pugs and myself are going to try to make it back for Northwestern's Homecoming. While there we need to check out our new little 2010 filly, black and white paint horse that grazes with her momma paint horse at Clark's East Farm, in Alfalfa County, Oklahoma. I hear it is a beauty!

Happy and Best Wishes to your September and Northwestern Homecoming 2010! View/Write Comments (count 0) | Receive updates (0 subscribers) | Unsubscribe
---
Immigrants Make Up America
Vol 12, Iss 27 America - With the talk of Independence Day, and this being the day after the 4th of July 2010, We ask you, "Aren't we all immigrants or Descendants of Immigrants?"

America is a land of immigrants and Native Americans. What would America be today if immigrants from all ver the world had not set foot on the eastern shores of the 13th Colonies, pushing the Native Americans westward onto reservations. Killing and slaughtering their buffalo beyond extinction?

What part did my migrating ancestors play in the westward movement of the Native Americans? I did some searching back through my family genealogy to figure out where each of my ancestral immigrants came.

We start with our paternal ancestors. The Warwick ancestors were English. The Gwyn/Gwin/Guinn were from Wales. The Hull/Hohl ancestors came from Rhineland Palatinate (Rheinland-Pfalz), Germany. The McGill's were Scottish from Scotland, migrating to Ireland and finally making their way to the America's.

Our maternal ancestors were the Conover (VanKouwenhoven), Dutch and settling in New Amsterdam (also known as New York, Flatlands). The Paris/Parris were English. The Hurt/Hurtosci were from Czechoslovakia (Bohemia), known also as Austria-Hungary. That brings us to our Great Grandmother, Anna Wallman (1863-1902), who married our Great Grandfather, Joseph P. Hurt, who migrated from Czechoslovakia around 1876. I do not know much about her because she died at the young age of 39 when she was struck by lightning in 1902.


I always thought that our Wallman ancestors were also from Czechoslovakia, but I found a 1880 U.S. Census that shows an Anna Wallman (born 1863, Russia) the daughter of Jacob Wallman (born 1833, Russia) and Maria (born in Russia). Could this be another Anna Wallman or could it be my Great Grandmother Anna Wallman Hurt?


The 1900 US Federal Census shows Joseph P, and Anna Wallman Hurt (born in Bohemia) and their family living in Bishop, Woods, Oklahoma Territory.

Great Grandmother Anna Wallman arrived in the USA around 1876 or 1877 through Bremen, Germany. At the young age of 16, Anna married Joseph P. Hurt, in Nebraska, about 1879. As I said earlier, Anna Wallman Hurt died in 1902, in Bishop, Woods, Oklahoma Territory, at age 39 when she was struck by lightning. She is buried in the Hurt family cemetery, on the Martin property, North of Chester and West of the Orion Cemetery.

That brings us to my husbands ancestors, which includes Wagner's from Germany.

Have you ever looked back to see where your ancestors originated? Let us know your ancestral makeup. Thanks! View/Write Comments (count 0) | Receive updates (0 subscribers) | Unsubscribe
---
Making A Connection
Vol 8, Iss 49 We have heard from several interesting persons who signed our guestbook within the last week.

One in particular connection was made with Judy Weeks. Judy is the daughter of Merle and Sadie Mae Brady. Merle Brady and Eithel (Brady) Jaquith were brother and sister from the Seiling, Oklahoma area.

Vada Paris (our mother) lived with the Jaquith family while she was going to high school in the 1930's.

We also made another connection with another HURT family member. This time it concerns the Frank Hurt family line. This Frank Hurt was the son of Anton and Louise Hurt.

It is always great when we do finally make a conection with someone from the past, isn't it?! Anyway, you can see those guestbook entries in the "Mailbag" corner below.
View/Write Comments (count 0) | Receive updates (0 subscribers) | Unsubscribe
---
Paris Memories of Col. Kirkbride...
Vol 6, Iss 5 We received an email from a Paris family cousin (Stan) this week. Some of you Northwest Oklahoman's might remember Stan and his brother's, Lynn and Phil Paris, sons of Alvin and Naomi Warren Paris (both deceased). Alvin sold insurance in and around the Alva area way back when. You can read Stan's message in the Mailbag Corner. BUT... to give you a bit of a clue he was sharing some of his memories of Col. Kirkbride and his candy making (peanut brittle, old fashion taffy pulls, etc...). Stan also sent us some of his tweaked recipes for Peanut Brittle, Toffee and Grandma Mary Barbara Hurt Paris' Apple Pie. We have added these recipes to our ParisTimes cookbook. Thanks, Stan, for sharing your memories with us.
View/Write Comments (count 0)
| Receive updates (0 subscribers) | Unsubscribe
---
Willard Charles & Lillie Opal Lasley Paris
Vol 12, Iss 32 On our Ancestry.com site for Paris - Conover - Hurt - Wallman, we have the following Family Group Sheet for Willard Charles and Lillie Opal Lasley.

We received this information concerning Willard Charles and Lillie Opal (Lasley) Paris from Beth Ann Edmondson.

Beth asks, "Do you have more information about this person that you could share with me? They are my grandparents. I have their two daughters birth, marriage and death records. My name is Beth Ann Edmondson-Cosselmon. If you would like that information, my email address is cosselmon@sbcglobal.net. Thank you."

For more information on NW Okie's Paris genealogy concerning Willard Charles and Lillie Opal Lasley you can click the following link: Ancestry.com - paristimes. View/Write Comments (count 0) | Receive updates (0 subscribers) | Unsubscribe
---
1905 Orion School Major County, OK

Vol 17, Iss 6 Orion, OK - The following information on the 1905 Orion School Pupils was submitted by Alice Shook via her granddaughter. To see more History go toBukowski History

Orion School In 1905 -- submitted by Alice Shook, 1998. The children all attended the Old Orion School. School only lasted for a few months in the winter time, as the pupils were all farmers children and were needed a home to work. The children all attended school at the old Orion school house which was located north and east of their home. Walking was the only means of school transportation in those days. During the early years of the 1900's, there would be anywhere from 40 to 50 pupils attending the one-room rural school at Orion. The pupils were all ages and all grades, and one teacher was in charge of all of them. The Teacher of the Orion Community School in 1905 was Margaret Engles.

List of Pupils in 1905: from left to right

1. Roy Holman]
2. Ed Bukowski (1st row)]
3. Phillip Bukowski]
4. Fred Hurt (1st row)]
5. Frank Hurt]
6. Ira Painton]
7. Mabel Kachel (1st row)]
8. Mary Bukowski]
9. Sam Kachel]
10. Albert Kachel (1st row)]
11. Ruby Gould]
12. Gertie Gould]
13. Leona Patterson]
14. Lizzie Cossell]
15. Johnny Eddingfield]
16. Jimmy Eddingfield]
17. Mary Eddingfield]
18. Erma Holman]
19. Nellie Eddingfield]
20. Earl Gould]
21. Lillie Cossell]
22. Johnny Hurt]
23. Grace Gould]
24. Walter Eddingfield]
25. Bessie Patterson (back row)]
26. Plato Patterson (holding sign)]
27. Ray Holman]
28. (?-boy behind Ray Holman)]
29. Claude Eddingfield]
30. Maude Eddingfield]
31. Charley Eddingfield]
32. Albert Ring]
33. (?) Holman]
34. Roy Ring]
35. Mary Shaffer]
36. (girl) Secrite]
37. (girl) Paris]
38. (girl) Levitt]
39. (girl) Levitt]
40. (girl) Levitt]
41. Hattie Painton]
42. Clara Kachel]
43. Myra Turner (right side, back)]
44. Tillie Hurt (right side, back)]
45. Emma Hurt]
46. Mary Barbara Hurt (right side, back)]
47. Floyd Painton]
48. (boy 1st row, end) Secrite]
View/Write Comments (count 0) | Receive updates (0 subscribers) | Unsubscribe
---
Matoaka (Amonute, Pocahontas & Rebecca Rolfe)
Vol 16, Iss 44 Virginia - Thinking back to my early schooling and the history we were taught it was nothing like the Powhatan Indian history of Poncahontas. We shall try to present the other side of that history here.

Pocahontas was born Matoaka, also known as Ammonite and later known as Rebecca Rolfe, about 1595, with her death in March 1617. Mattock was a Virginia Indian Known for her association with the colonial settlement at Jamestown, Virginia. She was also the daughter of Powhatan, a paramount Indian chief of a network of tributary tribal nations in the Tsenacommacah, surrounding the Tidewater region of Virginia.

The name Pocahontas was a childhood nickname that probably referred to her frolicsome nature; according to the colonist William Strachey, it meant "little wanton." The 18th-century historian William Stith claimed that her real name, it seems, was originally Matoax, which the Indians carefully concealed from the English and changed it to Pocahontas, out of a superstitious fear, lest they, by the knowledge of her true name, should be enabled to do her some hurt. According to the anthropologist Helen C. Rountree, Pocahontas revealed her secret name to the English only after she had taken another religious, baptismal name, Rebecca.

Pocahontas's capture in the First Anglo-Powhatan war, a conflict between the Jamestown settlers and the Native Americans that began late in the summer of 1609. In the first years of war, the English took control of the James River, at its mouth and at the falls. Captain Samuel Argall, in the meantime, pursued contacts with Native American groups in the northern portion of Powhatan's paramount chiefdom. The Patawomecks lived on the Potomac River were not always loyal to Powhatan, and living with them was a young English interpreter named Henry Spelman. In March 1613, Argall learned that Pocahontas was visiting the Patawomeck village of Passapatanzy and living under the protection of the weroance lapses, also known as Japazaws.

Superman helped translate to Argall, who pressured lapses to assist in Pocahontas's capture by promising an alliance with the English against the Powhatns. They tricked Pocahontas into boarding Argall's ship and held her for ransom, demanding the release of English prisoners held by her father, along with various stolen weapons and tools. Powhatan returned the prisoners, but failed to satisfy the colonists with the number of weapons and tools he returned. There was a long standoff that ensued, during which the English kept Pocahontas captive.

During the year long wait, she was held at Henries, in modern day Chesterfield County, Virigina. Some suggest or asserted that Pocahontas was raped during this time, citing oral tradition survived and instead argued that any mistreatment of Pocahontas would have gone against the interests of the English in their negotiations with Powhatan. Others wrote that Pocahontas received extraordinary courteous usage.

According to Helen Rountree, "Other historians have disputed that such oral tradition survived and instead argue that any mistreatment of Pocahontas would have gone against the interests of the English in their negotiations with Powhatan."

It was during this time period the mister of Henricus, Alexander Whitaker, taught Pocahontas about Christianity and helped her to improve her English. That was also about the time of her (Pocahontas) baptism, that she took the christian name of Rebecca.

In March of 1614, the standoff built up to a violent confrontation between hundreds of English and Powhatan men on the Pamunkey River. At Powhatan's capital of Matchcot, the English encountered a group of some senior Native American leaders, but not Powhatan (who was away). They say the English permitted Pocahontas to talk to her countrymen. She reportedly rebuked her father for valuing her less than old swords, pieces, or axes, and told the Powhatan she preferred to live with the English.

A current Mattaponi tradition holds that Pocahontas's first husband was Kocoum, brother of the Patawomeck weroance Japazaws, and that Kocoum was killed by the English after her capture in 1613. Today's Patawomecks believe that Pocahontas and Kocoum had a daughter, Ka-Okee, who was raised by the Patawomecks after her father's death and her mother's abduction.

Kocoum's actual identity, location and even existence have been widely debated among scholars for centuries with several historians arguing that the only mention of a Kocoum in any English document was taken from a brief statement written about 1616 by William Strachey in England that Pocahontas had been living married to a "private captain called Kocoum" for two years.

Since 1614 is certainly when she married John Rolfe, and no other records even hint at any previous husband, it has been suggested that when Strachey wrote of the "private captaine called Kocoum" he was mistakenly referring to Rolfe himself, with the reference being later misunderstood as one of Powhatan's officers.

However there was a Powhatan military rank called Kokoraws, sometimes translated captain, and debate has also raged whether Strachey could have meant this as one of his famously divergent spellings, as a gloss to Captayne. The date of Strachey's original statement has been widely disputed by numerous authors, that Pocahontas had been previously married. If there was such a marriage and Kocoum was not murdered, it likely ended, according to Poshatan custom, when Pocahontas was captured.

During Pocahontas' stay in Henricus, she met John Rolfe, who had an English born wife, Sarah Hacker, and child, Bermuda Rolfe who had died prior to his journey to Virginia. Rolfe was a pios man who agonized over the potential moral repercussions of marrying a heathen. Rolfe wrote a long letter to the governor requesting permission to wed Pocahontas, and he expressed both his love for her and his belief he would be saving her soul claiming he was: "motivated not by the unbridled desire of carnal affection, but for the good of this plantation, for the honor of our country, for the Glory of God, for my own salvation ... namely Pocahontas, to whom my hearty and best thoughts are, and have been a long time so entangled, and enthralled in so intricate a labyrinth that I was even a-wearied to unwind myself thereout."

It was April 5, 1614, Pocahontas married the tobacco planter, John Rolfe, at Jamestown. But there is in fact no surviving record indicating where the ceremony took place. Possible sites include Henricus, Bermuda City, and Jamestown. Richard Buck presided. Rolfe and Pocahontas lived two years on Rolfe's plantation, Varina Farms, which was located across the James River from the new community of Henricus. Their son, Thomas Rolfe, was born January 30, 1615. Their marriage was not successful in winning the English captives back, but it did create a climate of peace between the Jamestown colonists and Powhatan's tribes for 8 years.

With the conversion of Pocahontas and her marriage to an Englishman -- all of which helped bring an end to the First Anglo-Powhatan War -- the company saw an opportunity to promote investment. The Virginia Company of London decided to bring Pocahontas to England as a symbol of the tamed New World savage and the success of the Jamestown settlement.

In 1616, the Rolfe family traveled to England, arriving at the port of Plymouth on June 12, 1616. Pocahontas was presented to English society as an example of the civilized savage in hopes of stimulating investment in the Jamestown settlement.

Pocahontas and Rolfe lived in the suburb of Brentford, Middlesex, for some time, as well as at Rolfe's family home at Heacham Hall, Heacham, Norfolk.

In March 1617, the Rolfles set sail for Virginia. The ship had only sailed as far as Gravesend on the river Thames when Pocahontas became gravely ill. She was taken ashore and died in John Rolfe's arms at the age of twenty-two. It is not known what caused her death, but theories range from smallpox, pneumonia, or tuberculosis, to her having been poisoned. According to Rolfe, she died saying, "All must die, but tis enough that her child liveth." Her funeral took place on March 21, 1617, in the parish of Saint George's, Gravesend.

Pocahontas has many living descendants. Descendants of many First Families of Virginia trace their roots to Pocahontas and Chief Powhatan, including such notable individuals as Edith Bolling Galt Wilson, wife of Woodrow Wilson; George Wythe Randolph; Admiral Richard Byrd; Virginia Governor Harry F. Byrd; fashion-designer and socialite Pauline de Rothschild; former First Lady Nancy Reagan; actor Glenn Strange; and astronomer and mathematician Percival Lowell. Her "blood" was introduced to the Randolph family of Virginia via the marriage of her great-great-granddaughter, Jane Bolling, to Richard Randolph.
View/Write Comments (count 0) | Receive updates (0 subscribers) | Unsubscribe
---
25 February 1948 News
Vol 16, Iss 8 Czechoslovakia, - Sixty-six years ago today, Wednesday, 25 February 1948, the day in early morning that NW Okie was born in Northwest Oklahoma. It was also when the Communists were taking power in Czechoslovakia.

NW Okie's Maternal ancestors (HURTOSCI or HURT)on the HURT's side of the family were from the Austria-Hungary (Bohemia & Moravia) area. These Bohemians came to America in 1876, settling in Nebraska and some settling in Northwest Oklahoma Territory, near Orion, Oklahoma in Major county.

The Wikipedia webite states, Czechoslovakia (or Czecho-Slovakia; Czech and Slovak: Ceskoslovensko, Cesko-Slovensko) was a sovereign state in Central Europe that existed from October 1918, when it declared its independence from the Austro-Hungarian Empire, until its peaceful dissolution into the Czech Republic and Slovakia on 1 January 1993.

From 1939 to 1945, following its forced division and partial incorporation into Nazi Germany, the state did not de facto exist but its government-in-exile continued to operate. On 29 June 1945, a treaty was signed between Czechoslovakia and the Soviet Union, ceding Carpatho-Ukraine to the USSR.

It was this day, 25 February 1948, that President Eduard Benes was pressured from the Czechoslovakian Communist party, and he allowed a communist dominated government to be organized. But the Soviet Union did not physically intervene. Western observers decried the virtually bloodless communist coup as an example of Soviet expansion into Eastern Europe.

We find the political scene in Czechoslovakia following WWII was complex. Eduard Benes was head of the London based Czech government in exile during the war, and returned to his native land in 1945 to take control of a new national government following the Soviet withdrawal in July of that year. National elections in 1946 resulted in significant representation for leftist and communist parties in the new constituent assembly. Benes formed a coalition with these parties in his administration.

Czechoslovakia was not formally within the Soviet orbit, though, and American officials were concerned with the Soviet communist influence in the nation. They were also particularly upset when Benes' government strongly opposed any plans for the political rehabilitation and possible rearmament of Germany. In response, the United States terminated a large loan to Czechoslovakia. Moderate and conservative parties in Czechoslovakia were outraged, and declared the U.S. action was driving their nation into the clutches of the communists. The communists made huge electoral gains in the nation, as the national economy spiraled out of control.

When moderate elements in the Czech government raised the possibility of the nation's participation in the U.S. Marshall Plan (a massive economic recovery program designed to help war torn European countries rebuild), the communists organized strikes and protests, and began clamping down on opposition parties. Benes tried desperately to hold his nation together. By February 1948, the communists had forced the other coalition parties out of the government. On February 25th, Benes gave in to communist demands and handed his cabinet over to the party. Rigged elections were held in May to validate the communist victory. Benes resigned and his former foreign minister, Jan Masaryk died under very suspicious circumstances. Czechoslovakia became a single party state.

Both the United States and Great Britain denounced the communist seizure of power in Czechoslovakia, but neither took any direct action. Putting too much faith in Czechoslovakia democratic traditions, or possibly fearful of a Soviet reaction, neither nation offered anything beyond verbal support to the Benes government. The Communist party, with support and aid from the Soviet Union, dominated Czechoslovakia politics until the Velvet Revolution of 1989 brought a non-communist government to power. View/Write Comments (count 0) | Receive updates (0 subscribers) | Unsubscribe
---
Joseph Hurt Family Home
Vol 13, Iss 42 Chester, Oklahoma - Back in July, 2001 we ran an article showing the old homestead of the Joseph Hurt family home north and east of Chester, Oklahoma and west of the Orion cemetery a few miles. The photo on the left was sent to us by Alice Shook and Dolly Barr of the Joseph Hurt Homestead.


The picture to the right is a photo I took a back in 1999 when I was visiting the old cemetery and homestead of Joseph Hurt, NE of Chester, Oklahoma, located on the Betty Martin farm.

Joseph (listed as #9 in the photo ) is standing in the middle with the white suspenders. You can Click the photos above to view the larger versions of the photographs.

Alice's Uncle Joe was my Grandmother's (Mary Barbara Hurt Paris) father (Joseph P. Hurt). Which (I think) would make him my Great-Grandpa Joe. Joe's father is listed as #14, Grandpa John Hurt, sitting on the right side near #18, Grandma Anna Hurt.

As to the rest of the family . . . Beginning with #1, my grandmother, Mary Hurt (Paris) and going from left to right to #18:

1. Mary Hurt (Paris); 2. Mabel Kachel; 3. Carrie Holub; 4. Tillie Hurt (Hamilton); 5. Tena Holub; 6. Jim Holub; 7. Clara Hurt; 8. Albert Kachel; 9. Joe Hurt (Alice's uncle & My G-Grandpa); 10. ?; 11. Anna Holub; 12. Little John Hurt; 13. Dora Hurt (In arms); 14. Grandpa John Hurt; 15. Grandma Kachel-Hurt; 16. Henry Kachel; 17. Barbara Bukowski; 18. Grandma Anna Hurt; 19. Anna Bukowski. View/Write Comments (count 0) | Receive updates (0 subscribers) | Unsubscribe
---
VanDerVeer Family In Netherlands
Vol 13, Iss 31 Netherlands - I was doing some ancestry work this week and found this interesting bit of information attached to Cornelius Janse VanDerVeer (1623-1703), my 7th Great Grandfather, on my mother's paternal side of the Conover-Paris ancestry.

Origins of Cornelius Janszen VanDerVeer
The origins of Cornelius VanDerVeer is in question at present, one version based on the book "The Van Der Veer Family in the Netherlands" Louis P. DeBoer - Published 1913 and work by John J. Van Der Veer in 1912, which indicates that Cornelius came from Allkmaar, Holland, The Netherlands. While DeBoer's book is a good match for the movements of the Dutch people during the colonial period, the connection to the Van Borsselen family is probably optimistic. Curious is that the village of Borssele is just a few miles from Kloetinge where the other opinion indicates he's from.

The second opinion is that he may have been called Cornelius Jansz Dominicus based on a document from Dordrecht, The Netherlands dated 20 Jun 1706. This document states that Dominicus Domincussen Van Der Veer of Midwout, New York is to recover monies owed his father Cornelius Dominicus by a brother named Jacob Dominicus living near the city of Goes. Clearly within this document it refers to Cornelius Van Der Veer's family in New York and lists him as using the name Cornelius Dominicus and Cornelius Leeuw. Cornelius used the name Cornelius De Seeuw on several occasions in New York, but the use of Leeuw is somewhat of a question however since that translates to Cornelius Lion and Cornelius Seeuw translates to Cornelius of Zeeland. Zeeland being a providence in south part of the Netherlands, containing the villiages of Veere, Kloetinge, Goes, Welmelding, and Borssele, all of which have been associated with the Van Der Veer and Dominicus names.

From other unconfirmed references found, Cornelius Dominicus of Kloetinge, did have a brother Jacob Dominucus of whom was selling land on Cornelius Dominicus's behalf. In a reference to a land transaction dated 15 Feb 1658 in Wemeldinge, it refers to Cornelius being out to the county and in another reference it refers to his being out of the country and his property was heavily in debt. This may have prompted him to leave for Niew Amsterdam to seek his fortune.

Passenger list of the ship De Otter landing 17 February 1659:

Captain Cornelius Reyers Van Der Beets
Carel Bevois, from Leyden, wife and three children, 3, 6, and 8 years old
Marten Warnarts Stoltin, from Swoll
Cornelius Jansen Van Der Veer, farmer
Jan Luycas, shoemaker, from Oldenzeel, wife and young child
Roeloff Dircxsz, from Sweden
Sweris Dirxsz, from Sweden
references: Year Book of The Holland Society of New York 1902. Cornelius Janse VanDerVeer (1623-1703)
Cornelius VanDerVeer arrived in America, February 17, 1659 on the ship De Otter, landing at Midwout, what is now Flatbush, New York. In February 1678 he purchased a farm in Flatbush for about 2600 guilders ($1274 current US dollars). In 1683 The Assessment Roll of Midwout lists him as having 100 acres. This land became known as the 26th and 32nd ward of Brooklyn and was owned by his descendents until 1906. Cornelius and his son-in-law Daniel Polhemus, erected a grist mill on Fresh Kill in Flatbush, which came into the hands of his son Dominicus, and later his grandson Cornelius. He died in February, 1703 in Flatbush, NY.

In 1672, Cornelius married Tryntje [Grietje] De Manderville b.1654 in Guildeland, Holland, daughter of Gillis De Manderville and Eltje Hendrickson. She died in Flatbush, New York. She arrived the America in 1659 with her parents. Different records refer to her father leaving Holland 12 Feb 1659 on the ship De Trouw (Faith) or arriving on April 1659 on the Moesman (The Market Gardener). A ship listing of the Moesman in April 1659 show Gillis Mandeville as a passenger.

Cornelius VanDerVeer and Tryntje Grietje de Mandeville had the following children:

Cornelius Van Der Veer b.~1673
Neeltje Van Der Veer, born in Flatbush, Kings, NY. m. 13 Aug 1685 Daniel Polhemus b~1662 d. ~1730 in Flatbush, NY
Dominicus Van Der Veer b.~1679 d. 1755 New Utrech, NY
Jan Cornelise Van Der Veer, b. abt 1671 Flatbush, NY d. 23 Nov 1732 in Flatbush, NY m. Femmetje Bergen
Jacobus Cornelise Van Der Veer, b. 20 Oct 1686 in Flatbush, Kings, NY
Michael Van Der Veer, born Flatbush, Kings, NY [m. Beletje ]
Martje Van Der Veer, born Flatbush, Kings, NY and christened 30 Jul 1682 d. abt 1718 m. 1699 John Dorlant, ch. John Darland Oct 1707, Joris Darland b. Apr 1711, Issac Darland b. Apr 1717 all in Brooklyn, Richmond, NY
Hendrickje [Cornelissen] Van Der Veer, born Flatbush, Kings, NY and christened 7 May or 27 Aug, 1684. m.(1) Issac Remsen [ (2) Johanus Wyckoff.]
Jacoba Van Der Veer, born Flatbush, Kings, NY and christened 20 Apr 1686. m. Jan Van Kovenhoven [ d. Monmonth, NJ ]
Pieter Van Der Veer, born Flatbush, Kings, NY

Cornelius Janse VanDerVeer and Tryntje Grietje de Mandeville had a daughter, Jacoba Cornelisse Vanderveer (1686-1735) who married Jan Willemse Couwenhoven (a.k.a. Covenhoven, Conover) and had a son, Dominicus John Covenhoven (1724-1778). Dominicus married Mary Updike (1732-1835).

Dominicus and Mary Couwenhoven (a.k.a. Covenhoven, Kovenhoven, Conover) had a son Peter (1769-1835) and the name had changed at some point to Conover. Peter Conover married Hannah Coombs (1770-1846), and out of that union came my 3rd Great Grandfather, Jonathan Coombs Conover (1797-1859). Jonathan Coombs Conover married Martha D. Bergen (1801-1839), and had a son (Peter Conover, 1821-1900), my 2nd Great Grandfather who married Melinda Pierce (1826-1896), in Sangamon, Illinois, 12 March 1845.

That brings us down to my Great Grandmother, Sarah Frances "Fannie" Conover (1848-1924), who married Henry Clay Paris (1844-1918) in Petersburg, Illinois, 12 September 1869. Sarah and Henry Paris' children were Joseph B. (1870-1872), Volney Peter (1872-1960), Mary E. (1876-1878) Decatur Ray (1877-1947), Ernest Claude (1879-1959), Arthur Henry (1882-1960), and Myrtle Mae (1885-1965).

My mother's father, Ernest Claude Paris married, Mary Barbara Hurt (1893-1966), 4 December 1909, Fairview, Major County, Oklahoma. Their children were Leslie Martin (1910-1982), Alvin Riley (1912-2002), Vernon Russell (1914-1972), Vada Eileen (1916-1992), Zella Marie (1919-1983), Kenneth Harding (1921-1954), Sam Eugene (1924-), Geneva Lucille (1928-2002) and Ernest "EJ" Paris, Jr. (1930-1989).

Vada Eileen Paris (1916-1992) Married Gene M McGill 24 march 1940, Anthony, Kansas, and from 1942 to 1949 had four daughters. One of those daughters was this NW Okie, Linda Kay.

View/Write Comments (count 0)

| Receive updates (0 subscribers) | Unsubscribe
---
Phroso, Oklahoma
Vol 12, Iss 35 Phroso, Oklahoma - Phroso, Oklahoma was considered a Hamlet and situated in Major county, Section 21, Township 21N, Range 15 West Indian Meridian (1 mile north, 19 miles west of Fairview, Oklahoma.

The Post Office ran from September 19, 1900 through May 29, 1937. Phroso, OK (Mapqquest view) shows Phroso located east of US 281, Northeast of Chester and Northwest of Orion, Oklahoma (where my PARIS and HURT ancestors settled.


View Larger Map

Phroso is somewhat typical of numerous hamlets that developed in the dryer and rougher western part of the Cherokee Outlet. Soon after the Outlet was opened for settlement, a small store was started. The area had no roads, and transportation, either on horseback or in a horse or ox drawn vehicle, was slow.

The store prospered and expanded as those living in the vicinity traded there because of the difficulty of getting to a larger place. Accordingly, other businesses were attracted. Soon a blacksmith shop had located nearby, and in 1900 a post office was located at the site.

By 1905 a second blacksmith, a doctor who also started a drugstore, a shoe and boot maker, and a livestock dealer made their headquarters in Phroso. A few farmers bullet homes near the hamlet. A school was organized and a church started. In 1908 Phroso had a population of about sixty persons.

With the changing economic conditions and the technological advances since the late 1920s plus the movement of population from rural to urban areas, hamlets like Phroso have disappeared. Much of the land formerly in crops has reverted to pasture. There is no longer a need for the sotre or the garage that eventually replaced the blacksmith shop. All that now remain are the unused school, its outbuildings and a storm cave that stood in 1975. Does it still stand today in 2010? View/Write Comments (count 0) | Receive updates (0 subscribers) | Unsubscribe
---
Orion & Its Cemetery Listings As of Late 1990's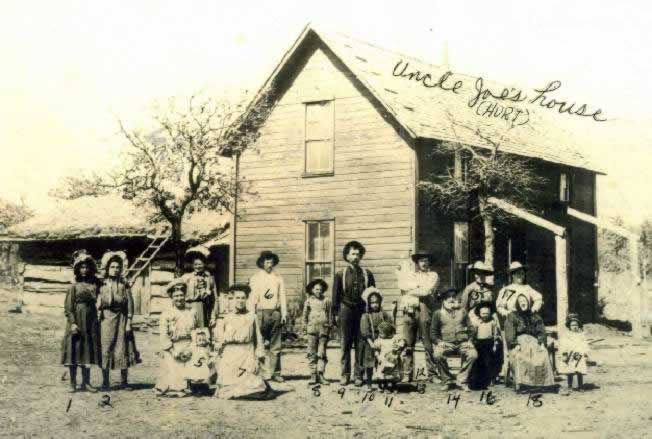 Vol 17, Iss 6 Orion Cemetery, OK - Photo on the left is a photo of the old homestead of the Joseph Hurt (NW Okie's Great grandparent's, Joseph and Anne Wallman Hurt), family home north and east of Chester, Oklahoma and west of the Orion cemetery a few miles.

Beginning with #1, my grandmother, Mary Barbara Hurt (Paris) and going from left to right to #18: 1. Mary Hurt (Paris); 2. Mabel Kachel; 3. Carrie Holub; 4. Tillie Hurt (Hamilton); 5. Tena Holub; 6. Jim Holub; 7. Clara Hurt; 8. Albert Kachel; 9. Joe Hurt (Alice's uncle & My G-Grandpa); 10. ?; 11. Anna Holub; 12. Little John Hurt; 13. Dora Hurt (In arms); 14. Grandpa John Hurt; 15. Grandma Kachel-Hurt; 16. Henry Kachel; 17. Barbara Bukowski; 18. Grandma Anna Hurt; 19. Anna Bukowski.

Orion was located a few miles Northeast of Chester, Oklahoma, in Major County. The following is a listing of the Orion Cemetery listings. You can view a table graphic of the Orion Cemetery listing by clicking this link.


View/Write Comments (count 0) | Receive updates (0 subscribers) | Unsubscribe
---
Pioneer History - Hurt Genealogy & History
Vol 16, Iss 12 KY - Doing a research on the surname HURT, we find it was an English name with several possible origins. It could come from the Middle English HERT and Old English HEOROT, meaning stag, in which case it originated as a nickname for a swift runner.

Alternatively, it could be derived from the Middle High German word HURT, meaning woven fence or hurdle, given to people who lived near such a fence. HURT family history is first recorded with one Aelfric HORT (an alternate spelling), who lived in Hampshire in 1060. The HURT family motto (mane prcedam, vespere spoilum) means game in the morning and a feast at night.

HURT Family History

The following is an interesting HURT family history copied from Rollin HURT's notebook written in the year of 1907 by him and loaned to Ruby Taylor in 1962 by Mrs. Ralph HURT.

I find no known connection to this HURT family history and NW Okie's Maternal HURT ancestor being a part of this Rollin's HURT family history.

NW Okie's HURT's were from Dubina, Caslav County, Austria-Hungary (Czechoslovakia), coming over to America in 1874, and settling in Nebraska, Oklahoma. View/Write Comments (count 0) | Receive updates (0 subscribers) | Unsubscribe
---
Camp Polk, Louisiana
Vol 14, Iss 17 America - Fort Polk is a United States ARmy installation located in Vernon Parish, 10 miles east of Leesville, Louisiana and 30 miles oath of DeRidder, Louisiana. It was named in honor of the Right Reverend Leonidas Polk, the first Episcopal Bishop of the Diocese of Louisiana, and a distinguished Confederate general in the American Civil War.

The post encompasses 198,000 acres. of this, 100,000 acres are owned by the department of the army and 98,125 acres by the US Forest Service, mostly in the Kisatchie National Forest. Fort Polk is the only combat training center that also trained and deployed combat units. It began as a base for the Louisiana Maneuvers in the 1940s.

Construction of Camp Polk began in 1941. Thousands of wooden barracks sprang up quickly to support an Army preparing to do battle on the North African, European and Pacific fronts. Soldiers at Polk participated in the Louisiana Maneuvers, which were designed to test U.S. troops preparing for World War II.

Until 1939, the Army had mostly been an infantry force with supporting artillery, engineer, and cavalry units. Few units had been motorized or mechanized. As U.S. involvement in World War II became more likely, the Army recognized the need to modernize the service. But it also needed large-scale maneuvers to test a fast-growing, inexperienced force. That is where Fort Polk and the Louisiana Maneuvers came in. The Maneuvers involved half a million soldiers in 19 Army Divisions, and took place over 3,400 square miles (8,800 km2) in August and September 1941. The troops were divided equal armies of two notional countries: Kotmk (Kansas, Oklahoma, Texas, Missouri, Kentucky) and Almat (Arkansas, Louisiana, Mississippi, Alabama, Tennessee). These countries were fighting over navigation rights for the Mississippi River.

German POWs . . . While primarily a training facility, Camp Polk also served as a military prison for Germans captured during World War II. The first prisoners of war (POWs), who began arriving in Louisiana in July 1943, were from the Afrika Korps, Field Marshal Erwin Rommel's troops who fought in North Africa. They were housed in a large fenced-in compound in the area now encompassing Honor Field, Fort Polk's parade ground. Finding themselves captured, transported across the ocean, and imprisoned in the middle of summer was made to hurt their spirits.

The POWs picked cotton, cut rice, and cut lumber. They also helped sandbag the raging Red River in the summer of 1944. Prisoners were not forced to work, and some refused. Those who worked earned scrip for their labor, with which they could buy such necessities as toothpaste or snacks at their own Post Exchange. View/Write Comments (count 0) | Receive updates (0 subscribers) | Unsubscribe
---
Family History & Sammy Paris
Vol 11, Iss 51 Vernon says, "Hi, Linda! Received your newsletter today and found it interesting as always. A Question -- Is Sammy still alive and living in Idaho? Of all the second generation children of Joseph Hurt and Ann Wallman only three remain: myself and my sister Marianna and Sammy. All of the Louthans, Holubs, E.J. Hurt, & Eddie Hurt ancesters are gone. I lost track of the Hamiltons. Aline lived with us for a short time after her mother died in 1927. She had two brothers, Bennie and Scott. Anna Hurt remained in Nebraska and married a Shilhan. I understand they had three children, Victor, Anna and Helen. I remember that my mother and Uncle Joe (EJ) went to Nebraska some where around 1930 and visited her sister. At that time I had no interest in cousins living so far away. We use to go to Oklahoma at least once a year but old age is settling in and our travel days are about over. I will be 89 next month and my wife is 86 and not in very good health. Merry Christmas to you and your family."

[Editors Note: In response to Vernon Pope ... As far as I know Uncle Sammy Eugene Paris is still alive and living at Sandpointe, Idaho. I just learned recently that his wife Cecelia Mae Snyder Paris died last year, !4 December 2008.]
View/Write Comments (count 0) | Receive updates (0 subscribers) | Unsubscribe
---
Geneva Lucille Paris Smith (1928-2002)
Vol 15, Iss 5 Chester, OK - My journey during February, 2002, took me to the small community of Seiling and Chester, Oklahoma, in Major County, to celebrate the life, legacy and memories of my mother's younger sister, Geneva Lucille Paris Smith. Aunt Geneva had passed away 15 February 2002, Friday evening, in Fairview, Oklahoma, but her legacy was to be remembered by her family, friends whose lives she touched during her 74 years and 10 days, back in February, 2002.

Geneva Lucille Paris Smith (born February 6, 1928, at Chester, Oklahoma) is the second on the left between Mary Barbara (Hurt) Paris and Ernest Claude Paris. The lady on the right is one of her older sisters (Zella, a.k.a. Auntie Jim).

As the sun set in the NW Oklahoma skies, Friday, 15 February 2002 and rose again Monday, 18th of February, the Ernest Claude and Mary Barbara (Hurt) Paris' family were gathering to celebrate the Life, Legacy and share memories of the next to the youngest sibling, Geneva Lucille Paris Smith, who passed away Friday evening, in Fairview, Oklahoma.

I would like to think that Aunt Geneva, Auntie Jim (a.k.a. Aunt Zella) and Vada Eileen have found a great fishing pond near a green, grassy hill to stretch out, wall away the hours fishing, joking and reminiscing about the good old days. I would even suppose Grandma and Grandpa Paris would somehow be nearby with Grandma Mary baking her Bohemian goodies that filled the air everyday and especially during the holidays with the smell of the fresh, warm aroma of pies, homemade rolls, breads, noodles and kolaches.

Uncle Alvin (the next to the oldest son of Ernest and Mary Paris) came to Chester in 2002 all the way from Colorado Springs with his youngest son, Phil Paris, and his wife Milcy. When I was visiting with Uncle Alvin during Aunt Geneva's funeral. Alvin mentioned that "Grandma would bake bread everyday of the week, even though she wouldn't have flour."

Geneva Lucille Paris Smith Obit

The Sunday Enid News & Eagle, dated 17 February 2002, pg-C3 had Geneva's Obit. A "Celebration of Our Mom" was written, read by the her youngest daughter Barbara Paris Walton. A beautiful tribute written with love to celebrate Geneva Paris Smith's life & legacy.

For those of you who did not know, at the crossroads corner of northwest Oklahoma, in a little community sometimes called Cottonwoods Corners, Tailholt and named Chester, Geneva Paris settled with her Husband John Glen Smith and raised three children (Jeanette, Ron and Barbara).

Besides being a wife and super-mom, Geneva was a Justice of the Peace, Tag Agent, Tax Accountant and a Reporter for the Tailholt News. Some of you northwest Oklahomans out there, dig through your basement, attic treasures and find us some of those stories from the "Tailholt News." View/Write Comments (count 0) | Receive updates (0 subscribers) | Unsubscribe
---
Grandson of Joseph Stanley Bukowski
Vol 6, Iss 45 Canada - "Very very interesting. I am the grandson of Joseph Stanley Bukowski (SEE: Bukowski History). His daughter (Pauline Annette) was my mother. I am leaving Canada on 8 November for a holiday down to see my cousin Greg Finney (Violet's son) who lives in Corinth, Texas. Also on a fact-finding mission to such places as Momence, Illinois to see what other information I can find out about my grandfather.

I am 45 yrs. young, traveling single, and hoping to meet as many people I can to relay any story or myth. My Uncle Julian is very curious as well. Thanks. Great site." -- Ronald Knox - Email: ron_knox@hotmail.com View/Write Comments (count 0) | Receive updates (0 subscribers) | Unsubscribe
---
OkieLegacy Louthan Info (Vol. 10, Iss. 46)
Vol 11, Iss 15 Louthan Info, Vol. 10, Iss. 46 -- This is what I found through my Ancestry.com account. We found lots of LOUTHAN connections and information on Gilbert Shirley LOUTHAN.

John Cope LOUTHAN was the grandfather of Gilbert Shirley LOUTHAN through John's 2nd wife Mary Ann HALE.

Florence T. (LOUTHAN) PARIS' father was Robert Hiram & Belle Claircy (COKERHAM) LOUTHAN.

My Grandmother, Mary Barbara (HURT) PARIS had a sister Emma Jennie HURT who married Samuel Oscar LOUTHAN.

Mary Barbara (HURT) PARIS had a son, Leslie Martin PARIS that married Florence T. Louthan.

Samuel Oscar and Robert Hiram Louthan were brothers through John Cope LOUTHAN's 1st wife, Jane HADDOW.

As for Samuel Oscar Louthan, he was born 20 Aug. 1872, in Missouri and died 21 Dec. 1951, in Chester, Major, OK, and married Emma Jennie Hurt, born 28 Nov. 1890, Omaha, NE and died Sep. 1974, Chester, OK. Emma Hurt was a daughter of Joseph & Anna (Wallman) Hurt.

Anna Wallman, born 1869 in Czecoslovakia, died 1906 in Orion, Major County, OK. Joseph and Anna (Wallman) Hurt had the following children: Emma Jennie (b. 28 Nov. 1890, NE), Edward "Joe" (b. 1884, NE), Carrie (b. 9 Apr. 1886, NE), Christine Tillie (b. 1889, NE), Mary Barbara (b. 6 Sep. 1893, NE), Eddie J. (b. 1894, NE), Anna (b. 1895, NE), Lucille Marie (b. 28 May 1899, Orion, OK).

Samuel Oscar & Emma Jennie (Hurt) Louthan had the following children: Annabelle Maude, Howard Raymond, Arthur, Lester Leroy, Floy Edwin, Lucille.
View/Write Comments (count 0) | Receive updates (0 subscribers) | Unsubscribe
---
Seiling High School Seniors of 1936
Vol 5, Iss 11 Taloga, Oklahoma - "While surfing. I stumbled upon your website (Vada Paris' High School graduation) while looking up the words, 'Chester, Oklahoma' and 'Bland.' I found the page for your mother's high school graduation. Her name was very familiar to me because my mother graduated from that same class. Her name was Gladys Hedrick.


Her parents were George and Susie Hedrick and she grew up on a farm north of Chester (Oklahoma). She had two brothers, Clyde and Doyle.

My mother married my father, Emil Grade, of Taloga, in 1941. Both of my parents died in 1995. I grew up in Taloga but have lived in Topeka Kansas since 1965.

Cecil Condreay was my mother's first cousin and also graduated from that same class.

I will attach my mother's high school graduation picture here. There were a lot of Hedricks and Blands around Chester. My mother's mother was a Bland.

I used to hear the name Paris when my mother would talk about people. I don't recall hearing Hurt. I was in Chester a few days after Thanksgiving for the first time in 4 years at least. I went to the Taloga High School reunion.

There sure aren't many people out that way. My aunt Lois Hedrick still lives outside of Chester as does her son Mickey Hedrick. Bill and Frank Hedrick were my grandfather's brothers. I think Leota was a sister.

I'll get back to you after I look it up. I've heard Eunice Bland's name a lot. She was probably a first cousin of my mother. I think all of the Blands and Hedricks around Chester were relatives." -- Gloria - Email: golson@cox.net View/Write Comments (count 0) | Receive updates (0 subscribers) | Unsubscribe
---
Inquiry - Tressie Lorene Paris Jordan
Vol 11, Iss 39 Mary Jordan Pollack says, "My mother's name is Tressie Lorene Paris. I am trying to trace her family for her 90th birthday party next month. This is a longshot but here goes. Her father's name was Albert Paris. Her mother's name was Maude Bell Franklin Paris. Her sisters were Lela Paris, Zella Paris, Mary Paris, Treila Paris and her twin sister Tessie Morene Paris. Tressie Lorene Paris was born on October 9, 1919, in Pratt, Kansas.

If there is any relationship I would be thrilled to hear from you. Thanks a lot. I am looking for family history for my mother?s 90th birthday party. I would appreciate any information. Thanks." -- mehellen@neo.rr.com

[Editor's Note: NW Okie's PARIS connection to Albert & Maude Bell Franklin Paris is as follows:

NW Okie shows, "Albert Franklin Paris, b. Mar 6, 1880, Harrison, MO; death Feb 14, 1958; son of Zeaphanie "Zeph/Sephanie" Paris, b. Jul. 25, 1856, Chandlerville, Cass Co., IL; death Dec. 26, 1926.

Zeaphanie was son of James Franklin Paris, b. Apr. 25, 1830, Madison Co., KY; death Jan. 31, 1913, Chandlerville, Cass Co., IL.

James Franklin Paris was a brother to Henry Clay Paris(NW Okie's great grandfather), b. Jul. 5, 1844, Foxtown, Madison Co., KY. Vada Paris McGill and Albert Franklin Paris were cousins.

So ? Albert Franklin PARIS is NW Okie's 2nd cousin once removed. Here's how:
1. Vada Eileen (PARIS) MCGILL is my mother
2. Ernest Claude PARIS is the father of Vada Eileen (PARIS) MCGILL
3. Henry Clay PARIS is the father of Ernest Claude PARIS
4. James Franklin PARIS is a brother of Henry Clay PARIS
5. Zeaphanie "Zeph/Sephanie) PARIS is a son of James Franklin PARIS
6. Albert Franklin PARIS is a son of Zeaphanie "Zeph/Sephanie) PARIS

Here is a link to myheritage.com paris/hurt/conover genealogy. If your have some dates or information that needs to be included or corrected, please let me know.]
View/Write Comments (count 0) | Receive updates (0 subscribers) | Unsubscribe
---
HURT Genealogy...
Vol 7, Iss 20 "I have been working on identifying the location in Bohemia where the HURT and MRKVICKA families originated. Ujezdec is a Czech village, a suburb of Klattau and the German Name is Aujestel, a Suburb of Klattau with the Bezirk of Kleintaus. Kutna Hora (Kuttenberg) in SE of Prague and a German Village. Caslav is another Village SE of Kuttenberg. I have been chastised severely by a member of the GERMAN-BOHMEIAN-LIST on roostweb for trying to call this one location when it is actually three. Attached is a map that shows all three locations. You need to update the information on your website. I want to visit Howard County Nebraska this fall, but I may go ahead and write to them so I can figure out why the area of origin for this family was recorded in this way. The MRKVICKA family is Czech and the HURT family is German. You can learn more by going to the website for German Bohemians. I contacted the Library of Congress and used the Ask a Librarian feature to find maps showing the areas. I received the black and white photocopies in the mail FREE! I am excited to learn more about our German-Bohemian and Czech ancestors! Your cousin." -- Kathy View/Write Comments (count 0) | Receive updates (0 subscribers) | Unsubscribe
---
OkieLegacy Guestbook Entries
Vol 8, Iss 49 12/9/2006 - Vada Paris -- "A friend told me about Vada's page. I am the daughter of Merle and Sadie Mae Brady. Ray and Eithel Jaquith were my Uncle and Aunt. Eithel Jaquith and my Dad, Merle Brady, were brother & sister. So far, I have just read the month of January but plan on reading all 12 months." -- Judy Weeks - Email: jude1@pldi.net

12/8/2006 - "I was born and raised in guymon, now I live in Bartlesville, just wanted to look around, thanx." -- dona bellar hadley - Email: donajbellar@yahoo.com

12/7/2006 - "My father Billy Richard Beeler got me interested in Alva history since he was born in Alva and lived there since then." -- Shane Beeler - Email: shane_beeler_33@hotmail.com

12/7/2006 - "I live in Dacoma still. It's been quite some time. I love living there b/c, it's a little quiet town, and not that much people get lost in it. I plan on living in Dacoma till the day i DIE." -- Katlyn Thomas - Email: hersheypuppy1992@yahoo.com

12/6/2006 - "Grandson of Ray and Lola Vore. My mother was Joan. It's been a long time since we had drawings in front of Billy's store." -- Micky Moore - Email: MicPat50@hotmail.com

12/3/2006 -- Hurt family - "I am researching the line of Frank Hurt son of Anton and Louise. I have found them on passenger lists and census records. I wasn't sure if you had that info or not. Alot of the names are same/similiar ... due I'm sure to the language barrier on their arrival. The dates of birth all match up etc ... Let me know if you need any of this." - Jaeme Bruckner = Email: waznebraska@msn.com
View/Write Comments (count 1) | Receive updates (0 subscribers) | Unsubscribe
---
Col. Kirkbride Memories - Peanut Brittle...
Vol 6, Iss 5 "As a kid, I used to go over to Bob Kirkbride's house, along with other kids, and watch him make candy. He would do the old fashioned taffy pull, and of course, peanut brittle, which he would pour onto a slab of marble to cool. It is by far the best peanut brittle recipe out there, and I've tried almost all of them. Of course, I've tweaked it over the years, by adding a little more butter, salt, and soda, but it still is essentially the same. Each year, for the last thirty years or so, I have made around 80 batches of candy (peanut brittle and toffee), and got quite a reputation. Fortunately, it was something I loved to do. Each year, just before Thanksgiving, I would line the kitchen with foil (guard against splatter), and end just before Christmas. Also, I haven't told you this, but I thoroughly enjoy the Paris Times (OkieLegacy)... it really brings back memories, and you do an outstanding job... what dedication!!!! I've attached the candy recipe's, and Grandmother (Mary Barbara Hurt Paris') - Apple Pie Recipe, which Dad was still making up to a year or so before he died." -- Stan Paris - Toffee & Peanut Brittle Recipe View/Write Comments (count 0) | Receive updates (0 subscribers) | Unsubscribe
---
Anna Helen Hurt Family...
Vol 7, Iss 45 "Found this site - Hurt Legacy - JJ Hurt - It was special to see my Grandmother's (Anna Helen Hurt) family information in this. Will share with the rest of the family." -- Jay Welsh - Email: jwelsh@peakinterests.com View/Write Comments (count 0) | Receive updates (0 subscribers) | Unsubscribe
---
Great-Grandparents (HURT/MARKVICKA)
Vol 9, Iss 37 "My name is Diana Anne Hoffmann-Rodriguez, my maiden name is Bazar and we have a connection in common. John Hurt and Mary Markvicka's daughter, Mary, married John Wasielewski and they had my great-grandmother, Mary Cecelia, and she married Anthony Walter Bazar (Antanas Bazaras) and they had 10 children and their first born is John Maximilian, my grandfather. I would love to hear from you and share information. I am overwhelmed with the info on okielegacy and am working my way thru.

Here is info I did not see on your genealogy site for Hurt/Markvicka surnames -- John Wasielewsky was born March 1857 near Swiecie, Poland. John and Mary married about 1880. John died in 1905 and Mary remarried to Stanley Nutowc (daughter Vernie also married a Nutowc)Daughters - Mary Cecelia was born 2 Nov 1881 in Posen, NE. She died 29 Dec 1954 In Chicago, IL, Sophia born 15 May 1883; Anna born Feb 1885; Vernie 30 May 1888; Amelia and Emma and one son, John N. born 1897.

Mary Cecelia and Anthony Bazar had the following children -- John, Frank, Elizabeth, Mary, Henrietta, Helen, Julia, Genevieve, George, and Frances. I will add the dates I have if you would like them.

Just a little about myself, I was born on 21 June 1971, I have 3 boys, Christopher, Tyrone and Jarrett. I have lived, in Nebraska, Iowa and Germany--where I still live at present." -- Diana - Email: d.rodriguez@arcor.de

[Editor's Note: Paris/Conover/Hurt/Markvicka genealogy information.} View/Write Comments (count 0) | Receive updates (0 subscribers) | Unsubscribe
---
Paris, Hurt & Louthan Info
Vol 10, Iss 47 "I am a Louthan, desending from Robert Hiram and Belle Cokerham. I have done some research on the Louthan family you mentioned. It would appear that you are right on the money. John Cope had a third son with his 1st wife, Jane Haddow. Son's name was Edwin (Eddie)." -- Cindy (Louthan) Powell - OkieLegacy Comment
View/Write Comments (count 0) | Receive updates (0 subscribers) | Unsubscribe
---
John James & Mary Markvicka Hurt...
Vol 6, Iss 17 Their son, Joseph P. Hurt (my G-Grandpa), was born September 1856, married his first wife in 1879, Anna Wallman (born 1865, Bohemia (my G-Grandma )). He married his second wife in 1909, Hannah Alice Marsh Kachel.
John and Mary's other children: Anna Hurt - b. 1862, Bohemia, m: Buresh; John Hurt - b. 1867, Bohemia; Frank Hurt - b. 1868, Chesamf, Bohemia, m: (22 yrs of age) 11 Feb 1890, Maggie Szkudlacek (19), Nebraska (Clara Hurt Case's father); Barbara Hurt - b. 1869, Bohemia, m: Jos. S. Bukowski; Anton Hurt - b. 1873, Ujezdec, Bohemia; m: 21 Feb 1895 , Nebraska, Cecilia Shebeski (19); Mary Hurt - m: Wasielewki.
Joseph and Anna Hurt -- Joseph married Anna Wallman and they had seven (7) children (5 girls and 2 boys) before Anna died in 1902. This information came from Joseph's and Mary Barbara Hurt's death certificates and from information received from Ersel Hedrick, Alice Shook's granddaughter and Vernon Case.
The Children of Joseph & Anna listed below:
1. John Hurt - b. Sept. 1880, Nebraska; married Clara Kachel. They had three (3) children;
2. Jospeh "Joe" Hurt - b. Mar. 1885, Nebraska; married Anna (?). They had one (1) child;
3. Carrie Hurt - b. Jan 1887, Nebraska; married James Holub. Eight 8 children;
4. Matilda "Tillie" Hurt - b. Mar. 1888, Nebraska; married Martin Hamilton;
5. Emma Hurt - b. Aug 1889, Nebraska; married Sam Louthan. Six 6 children;
6. Mary Barbara Hurt - b. 1893; married Ernest Claude Paris (my grandparents). Nine (9) children;
7. Lucy Hurt - b. May 1899, Nebraska; married Cary Pope. Three (3) children.
-- Courtesy of ParisTimes.com, The Hurt legacy & Linda "Oakie" Wagner View/Write Comments (count 0) | Receive updates (0 subscribers) | Unsubscribe
---
nwOKTechie
Create Your Badge