---
It was a find. We only bid $8. On ebay they were going for $150. So.... it was find and we were lucky in our bid.
~NW Okie regarding Okie's story from Vol. 11 Iss. 19 titled UNTITLED
Today, Sunday, October 12th., the Conoco price was $2.49.9! What next I wonder?
~Roy Kendrick regarding Okie's story from Vol. 10 Iss. 41 titled UNTITLED
---
NW Okie's Journey
Vol 18, Iss 24 Oklahoma - Remember the stories your folks, grandparents might have told about "Black Sunday," 14 April 1935, when the sun was blacked out during the black dust storm during the Spring of 1935?



This PBS video on "The Dust Bowl Episode" was published on Nov 13, 2012. Ken Burns and Dayton Duncan discuss making "The Dust Bowl" and the myriad hardships facing those in the Panhandle during the 1930s. The Dust Bowl aired November 18 and 19, 2012.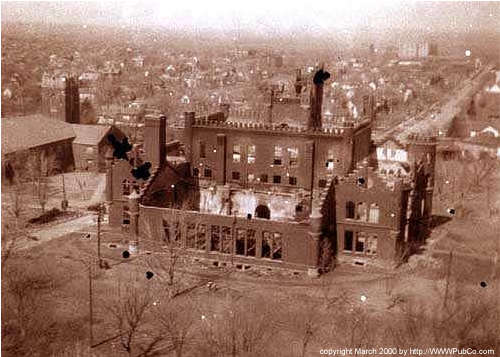 It seems about a month before the dust bowl era hit in April 1935, that 1st of March 1935 brought a devastation to northwestern Oklahoma, Alva particularly when the "Castle on the Hill" (Northwestern Normal School) burned to the ground.

It was in The Iola Register, Iola, Kansas, 1 March 1935, Friday, page 1, that we found this headline: "Fire Guts School Building At Alva." Oklahoma's largest educational structure was mass of ruins.

Found on Newspapers.com

Alva, Okla., March 1 (1935) -- Fire destroyed the main administration building at Northwestern state teachers college here early today (1 March 1935), causing damage estimated at more than 1/2 million dollars.

Origin of the fire was not determined. The building, built i 1898, was constructed in the form of a Spanish castle and was the largest educational structure in the state of Oklahoma.

Three students, sleeping on the top floor of the three-story building, were trapped when the flames started and were rescued by firemen.

They were Floyd Anthis, and Clyde Friend, both of Cushing , and Tom Anderson, Picher.

To Petition Legislature
A mass meeting was called for 10 o'clock that morning to prepare a petition to the legislature requesting an emergency appropriation to replace the razed building.

Students, instructors and townspeople were asked to attend the gathering.

The huge, rambling administration building housed 40 large classrooms, in addition to the college library, the music department, the museum and the fine arts and industrial arts departments.

The library contained 60,000 volumes, valued by L. S. Ward, librarian, at $180,000. All were destroyed. br />br /> Instruments valued in excess of $10,000, soared int he music department, were a total loss. Value of the museum contents could not be determined.
In Good Condition
Present value of the building, built of heavy stone at a cost of $110,000, was estimated at $200,000 by contractors. It was in excellent repair, they said.

The walls were still standing, but everything inside them was destroyed. The fire started at 3 a.m.

Bill Noah, who operates a restaurant (Noah's Ark) across from the building, turned in the alarm.br />
The Alva fire department was summoned to aid the college fire fighting organization and hundreds of volunteers quickly gathered.

The flames, fanned by a strong wind, had gained considerable headway when the three boys sleeping on the third floor were spied on the roof of the building, where they had climbed. Ladders were hastily thrown against the side of the building and firemen climbed to the roof and led the smoke-blinded youths to safety.

The fire was brought under control only after it had spread to nearby buildings, destroying a tneroom home and damaging two smaller houses. View/Write Comments (count 0) | Receive updates (0 subscribers) | Unsubscribe
---
NW Okie's Journey
Vol 18, Iss 15 Houston, TX - Ever heard your ancestors speak of the "dust bowl" or "dirty thirties?" About the dust storms that hit the western states in the 1930's when the sun was blocked during mid-day with black clouds of dust that reached 10,000 feet?

Found on Newspapers.com

It was in The Cincinnati Enquirer, Cincinnati, Ohio, dated 18 February 1937, Thursday, that we found this front page headline: "Dust Turns Day Into Night, Closes Schools, Blocks Roads."

Guymon, Okla., Feb. 7, 1937 -- Swirling "black blizzards" bringing threats to crops and health, turned day into night in parts of Oklahoma while wind blown top soil spread its haze over sections of Kansas, Texas and Colorado.

Several Oklahoma Panhandle farmers demanded government relief as the dust storm, fourth in as many days, reached serious proportions.

Schools were closed as the dust gloom enveloped Texas county, in the Oklahoma Panhandle. Visibility was zero. Busses were stranded. Highway traffic was paralyzed. Street lights burned dimly throughout the day. There was a shortage of dust masks. Guymon stores sold out their supply the day before. Southwestern Kansas residents donned the masks for the first time that season at Liberal. Hugoton schools were closed.

Health authorities banned all public gatherings and the Stevens county Red Cross Chapter wired a request for nurses to help doctors handle flue and pneumonia which, aggravated by dust, had caused 11 deaths in the last few days in Hugoton, a town of 1500. The blowing top soil moved into Lamar, Colorado, but the dust area of New Mexico reported clear skies.

C. D. McBratney, farmer, living near Guymon, said four days of continual dust had filled up wheat lands between hard ridges thrown up to prevent the soil from blowing.

Layers of dust settled in Guymon school rooms as students were dismissed. Teachers said the gloom of the "black blizzard' made it impossible for the pupils to study.

As Oklahoma wheat blew out farmers called on the government to "give us jobs so we can eat while we battle the dust."

"Texas county gave more than $1,000 for flood relief when it needed the money itself," said J. S. Palmer, a farmer living near Tyrone. "The government comes in after foods to rebuild homes. Now we are as bad off as the flood sufferers and nothing has been done for us."

Back in the 1930's "Black Blizzards," or "dust storms" had again had caused distress in Western states with Texas, Oklahoma, Kansas, and cColorado having received the brunt of the red brown haze, which darkened a prairie town, top. In 1936 the storms were so severe that pedestrians in Kansas City, Missouri, were forced to resort to dust masks.

Good Night! Good Luck!
View/Write Comments (count 0) | Receive updates (0 subscribers) | Unsubscribe
---
Oakie & Duchess' SW Corner
Vol 6, Iss 52 HAPPY NEW YEAR 2005!
Since this is the last day of December, 2004, we thought perhaps we could catch many of you tonight before, after and/or at midnight to ring in the New Year for 2005. I guess you could say that this is a No frill or "vanilla" version of the OkieLegacy in Summary.
The Pilgrim Bard (Scott Cummins) says it best in his 1926 poem about New Years Eve & New Years:
"Another year its shuttle threads
The twelve month spool we all unwind;
Fate's calendar hangs o'er our heads,
Time's scythe is mowing close behind;
Yet enter we the glad New Year,
Filled with fond hope devoid of fear"
-- by The Pilgrim Bard (Scott Cummins)
We saw where last year at this time that our OkieLegacy visitor counter clocked a total of 200,000 visitors. I believe our counter today was something like 325,000 plus.
January 2004 -- Remember Fort Reno, Oklahoma? Fort Reno - fortreno.org - a military camp in 1874 -- was established as a military post in 1875 with construction of permanent buildings began in 1876. The Fort and Darlington Agency served the Cheyenne and Arapaho Indians across the Canadian River. Together they preserved the peace and directed the orderly transition of that part of Indian Territory from reservation to individual farms and ranches. Troops from Fort Reno supervised the first Great Land Run of 1889 that opened the Unassigned lands for settlement. Buffalo Soldiers of Fort Reno (Companies of the 9th & 10th U.S. Cavalry) were made up of Six black regiments, two of cavalry and four of infantry, and were authorized by congress in 1866 and stationed at Fort Reno. The name was given by the Indians to the black regiments for the color and texture of hair between the horns of the buffalo. The Buffalo Soldiers had the reputation for effective, consistent fighting against the lawless whites, Mexicans and Indians.
Then later in mid January we experienced the Red Hat Ladies (Okie Dokies) in Alva (Oklahoma). It was their monthly group gathering for dinner at the Alva Bowl Cafe. The ladies included in this "Red Hat Club" are: Barbara Case, Liz Stanaway, Ginny Hubbert, Eleanor Ring, Rose Elmore, Verla Vogts, Viola Marquette, Betty Cushenbery, Joan Nelson, Agnes Pemberton, Doris Marcus, Phyllis Devery, Leona Corbin, Dottie Gatz, Emily Rathgeber, Jane Gaskell, Jean Rose.
Also, in January we learned of another NW Oklahoma mystery of an abandoned boy in Waynoka between 1939 or 1940. Nancy Eddy was wondering, "If anyone had ever heard any stories about a small boy being abandoned in Waynoka, Oklahoma? I now live in Topeka, Kansas and just started doing some Genealogy work. My step-father, Jack Beaman, is from Waynoka. He was adopted about 1939 or 1940. He was abandoned by his father with last name Ray when Jack was about 3-years-old. We know they came from California and stayed at an apartment in Waynoka for about 2-months. One morning little Jack Ray woke-up and his dad was gone. He never heard or saw his father again. The people who owned the apartment had the last name of Beaman which they gave to Jack at age 13 or 16 when they adopted him, thus he became Jack Ray Beaman. Maybe there might be old registers around somewhere? I know at some point Jack went into the airforce, his social security number comes from Kansas. Even his own children don't remember anything. To them that was in the past. I don't know if I told you he was a twin. He also remembered that they (he and his dad) came from California and his mother was a concert piano player. Now... how hard would it be to find a concert piano player who gave birth to twin boys." -- Nancy Eddy -- Email: neddy1115@hotmail.com
January brought us a new connection via a descendant of Harry Short. Harry had played on the Austin Senators (South Texas League) baseball team at the same time as our grandfather (Wm J. "Bill" McGill) in 1906. The great-grandson of Harry Short was Andrew Short that had contacted us. This is what Andrew had written, "My name is Andrew Short. I believe my great-grandfather, Harry Short, was a teammate of Will McGill's on the 1906 Austin Senators. I wanted to send you a note to thank you for the wonderful website you have put up - oakielegacy.org - honoring among other things your grandfather, his life, and his baseball career. In trying to do some research on my family history, I found your website and with it a great deal of history about my great-grandfather as well. I was wondering if it would be okay for me to download a copy of the 1906 team photo (backside of photo with names of players) so that I might be able to add it to the documents I am collecting about our family history? There is a story in my family that, like Will, my great-grandfather at one time was called up to play with St. Louis in the Major Leagues. Although, for which St. Louis team I'm not sure. When he told his wife, she refused to move to St. Louis, thus ending Harry's Major League baseball career. He became a player/manager in the Texas leagues instead, in addition to other careers. I have at home some newspaper clippings and stories from various Texas newspapers in the early 1900s about Harry's baseball career. I will go back and review them to see if any of them mention Will McGill as well. If they do, I would be happy to copy them and send them along to you. In addition to playing baseball in Texas, I know that my great-grandfather and other relatives also lived for awhile in Oklahoma. Again, I simply wanted to thank you for all the hard work and effort you've put into your website. In doing so, you have allowed me to reclaim a piece of my family history. Best regards." -- Andrew H. Short
February 2004 -- We thought we had found the whereabouts of the old Woods County fountain that once graced the downtown courthouse square, but it was not the three-tiered big fountain after all. It turned out to be only the Dragon Head fountain that now resides in a prominent Albuquerque, New Mexico private courtyard. We found out from one of our readers, "It (Dragonhead fountain) was a drinking fountain that stood on the walk outside the west steps of the courthouse and adjacent to the goldfish pond. The fountain, pond and dragonhead drinking fountain were located on the westside of the old Woods County courthouse square in downtown Alva, Oklahoma. We do NOT know where the towering, three-tiered fountain that once graced our courthouse park is located today? Jim Barker sent us a picture of his brother and sister (Bill & Ruby) posing on the railing of the courthouse fountain.
The 75th Anniversary of the Great Race/Run of 1893 in Oklahoma Territory brought back memories when we shared tidbits from a local newspaper printed in Alva, September, 1968, commemorating the 75th Anniversary of the "Great Race of 1893. -- okielegacy.net/75thanniversary-1968.html
Remember when one of our readers sent us a doc-file of his father's memories during WWII when he was stationed at the prisoner-of-war camp in Alva, Oklahoma from September 28, 1944 to September 17, 1945. Memories of Cpt. Miles W. Kelly's Year in Alva... "After service in North Africa and Italy during World War II, my father, Dr. Miles William Kelly, was stationed at the prisoner-of-war camp in Alva, Oklahoma from September 28, 1944 to September 17, 1945. He was one of the medical officers at the facility. For the most part, this account is based on the letters that he wrote home to my mother. At least one local history, newspaper articles, and a small amount of government documents also added much to this narrative. Before relating his story, however, a few words must be said on the history of the prison camp itself. The following paragraphs are largely a paraphrase of a section of the camp in Alva, Oklahoma: The First 100 Years, 1886-1986 (1987) by Seekers of Oklahoma Heritage Association augmented by some of the government documents mentioned above. -- Bruce - Email: brucekelly@hotmail.com -- okielegacy.org/WWIIpowcamps/Alva Year.doc
Towards the end of February we learned from a 1939 news article in the Waynoka News, dated Thursday, June 15, 1939 about the biggest privately owned man-made lake in the state that was in the Dust Bowl of area of Oklahoma's Panhandle, on the 3200 acre farm of O. W. Tucker, in Cimarron County. It's dam was 45 feet high and would hold 900 acre feet of water and would irrigate 300 acres of alfalfa (started in 1937) through ditches running from both sides of the dam. The 1939 news article mentioned that C. T. Sturdevant was extension service engineer of Oklahoma A & M College back in 1939 and was assisted by someone called "Uncle Bill" Baker (Cimarron County agent) and Tucker's two sons when they made the original survey for the lake, dam.
Remember the link to the 1930's Dust Bowl Stories with excerpts from The Dust Bowl, Men, Dirt and Depression by Paul Bonnifield. The 1930's Dust Bowl was a term born in the hard times from the people who lived in the drought-stricken region during the great depression. The term was first used in a dispatch from Robert Geiger, an AP correspondent in Guymon, and within a few short hours the term was used all over the nation. The Dust Bowl Days, also known as the Dirty Thirties, took its toll on Cimarron County. The decade was full of extremes: blizzards, tornadoes, floods, droughts, and dirt storms. Early Thirties Economy -- In 1930 and 1931, the decade opened with unparalleled prosperity and growth. NATION'S BUSINESS magazine labeled the panhandles of Oklahoma and Texas as the most prosperous region. The Panhandle was a marked contrast to the long soup lines of the Eastern United States. -- www.ptsi.net/user/museum/dustbowl.html
April 2004 -- Alva was in the process of beginning another mural (Castle on the Hill) at 5th & Oklahoma Blvd. with local artists, Jim Richey, Warren Little and Rod Dunkin. They began by outlining the design for the Castle on the Hill mural at the corner of Fifth Street and Oklahoma Boulevard.
It was in April 2004 when K101 Radio Early Morning Show, 20 April 2004, talked about the OkieLegacy and the Ann Reynolds Story mysterious fiery death in 1956. -- okielegacy.org/mystery/annreynolds/index.html
May 2004 -- The artist, Don Gray, and the Alva Mural Society finished the Charles Morton Share Mural on the Professional building in downtown Alva, OK.
July 2004, Waynoka, Oklahoma celebrated seventy-five years (July 8, 1929) when transportation history was changed for travelers from the east and west coasts when a 2-day air and rail trip was established that would take them across America in 48 hours. Charles Lindbergh was an officer in Transcontinental Air Transport (TAT). TAT was the company that developed the service and selected Waynoka as the western terminus of the eastern division. It was a place where passengers would switch between trains and planes, morning and evening -- eating breakfast, dinner at the Harvey House. It began in June and continued into July when we made our move from Oklahoma to SW Colorado. This was one of those months that found us on the move between Oklahoma andColorado. Duchess' favorite spot outside was sitting, waiting by the pickup door for hints of our next journey.
September 2004, We received 1926, 1937 and 1938 Northwestern State Teachers College yearbooks that we began transcribing shortly afterwards (beginning with the 1926 yearbook). We are still transcribing on the '38 yearbook from Northwestern's College, in Alva. Check out our Old Albums -- OkieLegacy.net -- http://community.webshots.com/album/187403166kaVbcy
We did finish scanning the 1926 NSTC Ranger Album. We learned that 1926 was the first year of the Junior High School (7th, 8th, 9th grades) on the campus of Northwestern with Miss Ann K. Wilke as Director & Principal. The large room on the second floor of the Science Hall was formerly occupied by the library and had been assigned as a study hall for this department. October 2004 -- We started transcribing the 1937-38 Student Directory of Northwestern State Teachers' College and found our mother's name, address where she was living in '37 & '38 while going to College. We also recognize lots of other names listed in the student directory. We had started transcribing the 1937 Ranger album. By mid-October we were still transcribing the 1937 Ranger annual. -- okielegacy.net/NSTCRanger1937/index.html -- okielegacy.org/DOC files/StudentDirectory37-38.doc
We finished the transcribing of the 1937 Ranger yearbook, learning that the Northwestern Alumni Association was established in the spring of 1934? A banquet was held at the Presbyterian Church to organize an alumni organization to include the alumni back to 1921. In the spring of 1935 the alumni association enlarged the group to include the classes receiving degrees, diplomas each year from 1900 to 1937. In 1936 the alumni held its annual banquet in the Bell Hotel dining room, and included all the graduating classes from 1900 to the present day in the mid-1930s. They held their alumni banquets each spring and sponsored the biggest event of the year for Alva and Northwestern -- the annual Homecoming event.
Remember When Thelma DeGeer Lippincott celebrated her 100th year in June, 2004 and past away Oct. 28, 2004 as her family and friends gave celebration to her 100+ years.
November 2004 -- The latter part of November we were trying to find the descendants/families of the 1930s NSTC Students so we could return the original photos taken at Ellis Studio in Alva and Saunders Studio in Woodward, in NW Oklahoma during the 1930s. Most of them have a firstname signed on the photo while others might have a first and lastname. BUT there are two photos that had NO names on them - unknown male and unknown female. We hope someone out there can help us locate their descendants. We did find a couple of homes for a few of the photos. -- www.okielegacy.net/slideshow.htm
December 2004 -- We did have some success in finding a home for the Roberta Edwards and Reo McVicker 1930s photos with descendants of the Edwards and McVicker families.
Also, in December we found out that the 1st graduating class of Northwestern High School (NWHS) was 1937? It was located in the NEW Horace Mann building on Northwestern's College Campus. We found this little tidbit in the 1937 Ranger Album when she was reading about the Training School they had on the Northwestern State Teachers' College campus to train future teachers. You can read more about the Demonstration School & Class History of NWHS over at our NW OkieLegacy website - 1937 Ranger Album.
We didn't get started transcribing the 1938 Ranger yearbook until around mid-December. We also put the 1926, 1937 & 1938 Ranger yearbooks into a pdf file for your Christmas present to share with you all. You can now view them over at pbpartnersllc.org by clicking on the "Old Albums" link. We are still in the process of scanning the 1938 Ranger yearbook. -- pbpartnersllc.org/OldAlbums.html -- pbpartnersllc.org/pdf-files/Ranger-1926.pdf -- pbpartnersllc.org/pdf-files/Ranger-1937.pdf -- pbpartnersllc.org/pdf-files/Ranger-1938.pdf
Duchess and The OkieLegacy family would like to wish you all a Happy, Healthy and Prosperous New Year 2005. We thank you for sharing your Okie Legacies throughout the past year and hope to hear from you in 2005. See you next weekend and next year with our regular HTML format. View/Write Comments (count 0) | Receive updates (0 subscribers) | Unsubscribe
---
No Man's Land
Vol 3, Iss 2 Slapout, Oklahoma - This week's epistle, as some would say, concerns some history of "No Mans Land," tidbits and pictures of Slapout (aka Nye), southeast corner of Beaver County, easterly part of the Oklahoma Panhandle, along highway 270. Slapout, OK

BUT... Before we get to Slapout in nowhere, let us explore some history of this place they call "No Mans Land." Where Buffalo used to roam, before squatters, cattlemen, farmers, and homesteaders seeked this area for new adventures. Speaking of buffalo, I just had to throw in a picture of a white buffalo that I captured in Colorado and brought back to Oklahoma. Of course it is NOT a real buffalo, but what a beautiful rendition of this famous white rarity of good luck that now graces my fireplace mantle with honors. White Buffalo white buffalo

According to "The Panhandle History - Northwest Flats Heritage, 1890-1990", published in 1990, the panhandle is a little more than 34 miles wide and a fraction longer than 168 miles. It contains 5738 square miles and is larger than Connecticut and 4-1/2 times the size of Rhode Island.

The Panhandle is bordered on the east by Oklahoma; the north by Kansas and Colorado; the west by New Mexico and the south by Texas. It was a part of the Texas territory until 1850, when Texas gave it up because everything north of the 36th parallel went with the Union and Texas permitted slavery.

The south boundary line of the Kansas territory was established around 1854... The east and west lines established previously by land grants. The Act establishing the Kansas southline completely legislated the panhandle strip of land out of the Union and left "No Mans Land" to fend for itself.

By 1885... The Supreme Court decision come out stating that this strip of land was NOT part of the Cherokee Outlet. The Secretary of Interior at that time stated it was "Public Domain" and subject to "Squatters Rights."

Until 1891... The six-shooter was law of the land and the strip became a "No Mans Land" haven for criminals and outlaws. May 2, 1890 and the Enabling Act signed by President Benjamin Harrison attached the strip to Oklahoma Territory. Then the farmers and the ranchers were at it because of the fence the farmers were building around their crops.

Finally, "No Mans Land" found it's permanent home and was the last territory to be given final claims and ownership in Oklahoma. It was divided into three (3) counties -- Cimarron, Texas and Beaver.

Cimarron County... Is on the westerly side of the strip with Boise City as the county seat. Cimarron County is known for good farm lands and rough rugged grassland. There are only 3070 counties in the USA, but only one called Cimarron County. It touches four (4) states and in 1990 there was NOT a stop light in the county. Also thirty (30) miles northwest of Boise City you will find the "Black Mesa State Park"; Dinosaur bones that have been dug up and tracks still visible in the creek beds. Did you know that Boise City is the only city in the continental USA that was bombed during WWII? Sounds like another mystery to unravel, huh? I am NOT sure why it was bombed, but maybe someone out there reading this could enlighten us with their own little "epistle of knowledge."

Texas County... After traveling through Cimarron County, we come to Texas County. It is the middle county and one of the most prosperous counties in the midwest. It is the center of the largest sweet gas field in the USA. They do cattle feeding, irrigation and dryland farming. The main line of the Rock Island RR from Chicago to Los Angles runs through Guymon, which is the county seat. Highways 54 and 64 also intersect this panhandle metropolis in the middle of nowhere. Texas County was the geographical center of the 1930s Dust Bowl. Parts of "Grapes of Wrath" were filmed north of Guymon.

Beaver County... If you keep headed east on the highway in No Mans Land, you will reach the easterly county named Beaver. The town of Beaver is a small agricultural community with it's share of oil & gas production and is also famous for it's "World's Champion Cowchip Throwing Contest." It is also the county seat of Beaver County. If you head east along highway 270 in the southeastern part of Beaver County, you will come to our next stop... Slapout (a.k.a. Nye).

As the story goes... According to a written family history of one of the pioneers (Joseph L. Johnston), written by his son and namesake, Joseph L., for the "History of Beaver County Pioneer Families," Vol. I & II, published in 1970 by the Beaver County Historical Society... Joseph L. Johnston came to Beaver County in 1902 and filed on a quarter section now known as the Slapout community. He brought is bride, Edith, to the claim in 1904. They raised wheat, dairy cattle and six sons and one daughter... Sidney N., Maxwell L., Jessie M. (daughter who married Grover Mettler, 1st male child born after statehood), Joseph L., James F., Arlie W., Donald E.

Slapout was built on part of Joe and Edith's claim. Joe was one of the early store owners of the General Store and Gas Station. Joe and Edith were well known throughout the country for helping travelers, friends and neighbors in need during WWII. Joe died in 1950 in an untimely auto accident and Edith died in 1965.

November 1, 1997, http://www.kwtv.com with Randy Renner reporting, aired a segment on "Oklahoma's Strangely Named Towns" concerning Slapout (a.k.a. Nye). Follow the link to see how Joe "Slapout" Johnston and Tom "Nye" Lemmons were both stubborn enough that neither of them would give in. How in 1949, a tornado blew through the town... All of Tom's "Nye" signs were blown down and Joe's "Slapout" signs survived through a divine intervention which settled the issue once and for all in Slapout, Oklahoma. View/Write Comments (count 0) | Receive updates (0 subscribers) | Unsubscribe
---
Duchess & Sadie's Spring Domain
Vol 12, Iss 18 Bayfield, Colorado - Sadie and I join you on this 3rd day of May from SW Colorado in the higher elevations of the San Juan mountains, North of Bayfield, Colorado, where we awoke to a thin cover of snow on the ground Sunday morning. They say the first half of this week should see temperatures in the 60's degrees around here during the day.

We hope your first week of May is good for you in your neck of the woods. It is still a bit on the chilly side for May flowers, but usually this is the time to put out those hummingbird feeders, isn't it?

We are asking if you all got one copy of The OkieLegacy Ezine last and this week?

We know of one person that did not receive his subscribed copy last week, but that was our "Bad." It seems there was a typo in his email submitted to our mailing list of subscribers. That has been corrected and fixed, though. If someone is having trouble receiving their subscription, please let us know. Thanks!

This week we bring you a group of old cast iron toys that NW Okie picked up at a moving sale this Saturday, May Day, 2010, in Bayfield, Colorado.

We asked around to some of our network connections, "How to preserve, clean these old rusty cast iron toys. Thanks to those who gave us advice. The consensus was, "To leave as is! If you decide to clean them someday, use a liquid/gel rust remover, not a wire brush."

Brian Wilson Notified us that he has some Old Oklahoma newspapers, old documents dating back to 1910 thru 1930. Brian is looking for someone who buys old newspapers & paperwork. For more information on Brian's old papers, see Old Oklahoma Papers in the features below.

We also bring you some history of the Great Depression and Drought that contributed to the Dust Bowl Days of 1930's.

I am going to sign-off now and curl up beside my NW Okie while she puts the finishes touches on this week's OkieLegacy Ezine. One reason is because every once in awhile she (NW Okie) reaches over, gently rubs and scratches me behind the ears. Aaaaahhhhhh! It is a Dog's life, isn't it!

Good Night and Good Luck!
View/Write Comments (count 0) | Receive updates (0 subscribers) | Unsubscribe
---
Chronicles of Oklahoma...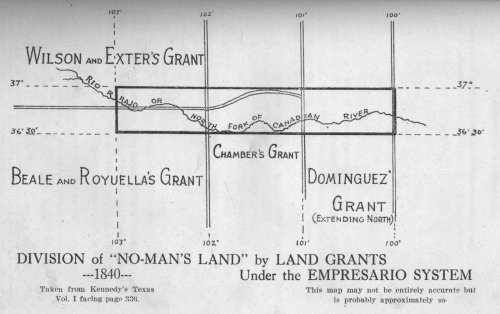 Vol 7, Iss 30 We were glancing through the Chronicles of Oklahoma over at the Oklahoma Historical Society website. We found an interesting article about "Old Beaver County" (No-Mans Land). Did most of you know that "Old Beaver County" was comprised of Beaver, Texas and Cimarron counties? AND... this Old Beaver county was included within the territory of Texas and incorporated within some early Land Grants made between the years of 1820 and 1840.

If you subscribe to the Oklahoma Historical Society's Chronicles of Oklahoma, check out Volume LXXXIII, No. 1, Spring, 2005. It has an article "Researching Tom Joad: John Steinbeck, Journalist, 1936." by Paul Bailey.

Steinbeck began his articles with a short history of California agriculture... its evolution from a livestock-based agricultural economy to one comprised predominantly of fruit and vegetable production. Steinbeck then presented a brief history of migrant labor in California, noting that Chinese, Japanese, Filipino and Mexican immigrants had all been employed in agriculture. The influx of migrant laborers known as the "Okies" during the 1930's were the poverty-stricken small farmers from the drought-ravaged midwestern and southwestern United States and could not be deported. The Dust Bowl refugees were Americans. They were not from a peon class, but were former landowners or hired hands with close cultural ties to their employers. They desired to buy land. After enduring drought and hardship, they were not easily intimidated. An Okie family arriving in California, usually netted less than $400 for a year's work and spent most of their income on food, gasoline required to travel to the next job. In terms of housing, there were federal government camps, private camps provided by the farmer or squatters' camps.

The private camps on large farms provided a place to pitch a tent or rented tiny huts for four to eight dollars per month and provided one toilet and shower for every 200 to 300 campers.

A squatters' camp consisted of an irrigation ditch or riverbank around which several hundred people were crowded and sanitation was nonexistent and disease was epidemic. The migrants were tolerated only until the crop was harvested, then urged to move on, sometimes forcibly.

The Arvin was a Federal Security Administration (FSA) camp on the outskirts of Bakersfield, California. This camp was popularly known as Weedpatch and the camp's manager was Tom Collins. Collins was a dedicated humanitarian and efficient administrator. Collins knew that the migrants coming into the FSA camps had been intimidated and insulted, and he tactfully worked to restore their dignity. The FSA depended on Collins to establish the camps and to train managers to maintain them.

The Okies realized that they should organize for their own safety, they had encountered stiff resistance from the Assoicated Farmers who accused those desiring a fair wage of being communists. The Okie migrants were intimidated by deputy sheriffs and vigilantes, as well as by rumors of poison gas being used on picketers and water supplies being infected with typhoid germs. View/Write Comments (count 0) | Receive updates (0 subscribers) | Unsubscribe
---
Walking With Sweet Silly Sadie
Vol 18, Iss 25 Alva, OK - This week NW Okie is continuing her research on the "Dust Bowl" era with the dreaded "suitcase farmers" who came from the big cities; bought land, hiring tenant farmers to plow up the buffalo grass to plant wheat during the war.

The definition of suitcase farmer: a grower of wheat or other crops who lives outside the community except during the plowing, seeding, and harvesting seasons, often has a farm without buildings, and does much of the farming by hired custom operators.



The term "sidewalk farmers" refers to individuals who live in urban areas and drive to the country to care for their crops and livestock. In 1935 the federal census of agriculture recorded 213,325 Oklahoma farms, but by 1980 there were only 72,000. In the 1997 census, due to a change from the Standard Industrial Classification System (SIC) to the North American Industry Classification System (NAICS), aligning Canada, Mexico, and United States enumeration categories, the number of farms in Oklahoma increased to 74,214. However, 41,154 of these owners claimed their primary income came from something other than farming. There are thousands of these part-time agriculturalists in the state, and they spend much of their weekend taking care of the family farm.

Less numerous are "suitcase farmers," who reside great distances from their land but tend it a few weeks annually at planting and harvesting time. This type of hobby farming lends itself to wheat, one of Oklahoma's most popular crops. Sidewalk and suitcase farms help many of their owners rekindle a sense of rural identity while enjoying the benefits of waged incomes in urban environments. This often allows families to continue their long relationships with the ancestral farm, which may have been in the family for generations. The fact that city dwellers retained strong agricultural roots was recorded in the census of 1920, when farm population made up half of the state's population.

Suitcase farming was, and to a limited degree still is, carried on by farmers living more than one county away from the land they farm. The term was used as early as 1930 by the county agent for Greeley County, in western Kansas, although its characteristics were not defined. The pattern, or basic ecology, of early suitcase farming can be generalized in this way: Cheap level grazing land in a zone of recurring drought, a moderate distance west of established wheat country that was already largely mechanized, was invaded by farmers with tractors and other farm machinery in a speculative westward advance. The plow-up was so substantial that a suitcase-farming frontier can be recognized that included most of west central and southwestern Kansas and small areas in Colorado.

View more on The Dust Bowl. Would the Dust Bowl happen again? Have we learned our lessons of past mistakes?

Good Night! Good Luck!
View/Write Comments (count 0) | Receive updates (0 subscribers) | Unsubscribe
---
Walking With Sweet Sadie
Vol 18, Iss 24 Oklahoma - Looking through the old newspaper archives of the 1930s we are researching the day the sun was blacked out across parts of the Texas and Oklahoma panhandle, northwestern New Mexico, southeastern Colorado and southwestern Kansas, on 15 April 1935.

Found on Newspapers.com

An associated staff writer, Robert Geiger, traveled the dust bowl area gathering stories of the devastation and on the 15 April 1935 his famous headlines of "If It Rains" was printed and reprinted by various newspapers throughout the area.

Shifting of dirt and sand made regions appear desolate but most residents were determined to stay. Rain was reported the only solution. Moisture would still bring remarkable crops, many believed, basing hope on history.

Dust Area Looks Like Big Desert
This article appeared in The Emporia Gazette, Emporia, Kansas, 16 April 1935, Tuesday, page 9: "Dust Area Looks Like Big Desert," written by Robert Geiger.
Springfield, Colorado, April 16 (135) -- A man unfamiliar with the high plains dry-farming region, birthplace of the black blizzard, might see only despair and desolation in wind-scoured fields and dust-drifted roads and farmyards.

It does look pretty desperate, and some families have given up hope and moved away. Not many. Drylands farmers have been through dust storms before and most of them echo the anonymous old timer, a veteran of the panhandle, who said, "It takes grit to live out here - let 'er blow!"

As a matter of record, they had storms a century ago much like those of 1935.

The Rev. Isaac McCoy, pioneer surveyor and missionary, reported one in Western Kansas in November, 1830, which cut visibility to 30 yards, made hoof-prints invisible and masks imperative.

Again, in 1913, sand and dust drifted to the eaves of isolated farm buildings in one section, and in spots the region looked as it does today (April, 1935).

With this background of experience and endurance, and the knowledge that, given water, they can get remarkable crops, the dry-landers are hard to discourage.

Traveling through the dust sector - through Southeastern Colorado, Southwestern Kansas, the west end of the Oklahoma panhandle and the north tip of the texan Panhandle - ye see a region which now has the appearance of a vast desert, with miniature shifting dunes of sand. A rain might turn it green overnight, but that is how it looks now. There are spots where wheat fields will were green last week.

Tumbleweeds Cause Drifts
Many of the fields that were planted to wheat last fall give the illusion of a great colony of ants, with hills marking spots where tumbleweeds have caught the dust drifted around them. These little dunes are about a foot high.

In other places the drifts are as high as fences, especially in corners. Snow fences that have held virtually no snow for four winters are drifted to the tops with sand, and one can walk over them.

Road Surfacing Gone
Roads are blown clean of sand (surfacing material) for miles at a stretch, and in many parts of the region a powdery white silt covers the countryside.

On the roads can be seen an occasional car, loaded with a farm family, usually with a truck following carrying household goods. Some are headed for Eastern Kansas or Missouri, or Eastern Oklahoma, where rainfall has been normal, or to the Colorado mountain country.

Postmaster Herman Davis, of Springfield, Colroad, says about a dozen families have moved away, but most of them made a temporary change of address, planning to return when rain comes.

One farmer stated the dust clouds that hung over the repeatedly hit Oklahoma panhandle on 14 April 1935 created a darkness as deep as that of the cellar in which he sought refuge - fearing a cyclone.

Good Night! Good Luck!
View/Write Comments (count 0) | Receive updates (0 subscribers) | Unsubscribe
---
Walking With Sweet Silly Sadie
Vol 18, Iss 15 Houston, TX - Seventy-seven years ago this month, in April 1939, John Steinbeck's The Grapes of Wrath was first published. The novel tells the story of the Joads, a struggling family that makes their way to California after being forced to leave their Oklahoma farm by financial hardship and the Dust Bowl.

The Joads were representative of hundreds of thousands of Great Plains residents during the 1930s who struggled to make a living during the Dust Bowl, when massive dust storms caused by drought and poor farming techniques swept across the American and Canadian prairies, destroying crops and livestock and thus the livelihoods of many.

Found on Newspapers.com

It was the greatest dust storm on record that drifted across more than half of the Untied sTates on this date to the Atlantic Seaboard. It added to the devastation of a prolonged drought in the mid-western grain land and caused wide discomfort in eastern states.

Meteorological authorities said the storm's extent was almost unprecedented and that the dust clouds, raised by winds from the scorched plains of the west, might continue to drift high in the air for many miles.

The dust cloud was estimated in the west at 1,500 miles long and almost 1,000 wide at one time. It made the sky a haze, sifted through tiny window cracks and laid a fine coat of dust inside countless skyscrapers of New York, homes and stores.

Besides injuring, killing many head of cattle int eh west, the dust caused human discomfort and injury. Many hospitals reported twice the normal number of patients seeking removal of foreign matter from their eyes.

The visibility was strictly limited, but airfields reported flying as usual. The western skies were clear Friday, 11 May 1934 after the dust cloud passed eastward, but in the course of its formation the storm affected many states, including: North and South Dakota, Minnesota, Iowa, Illinois, Indiana, Wisconsin, Michigan, Missouri, Kansas and Nebraska.

It was May 11, 1934, a gigantic cloud of dust 1,500 miles long, 900 miles across and two miles high buffeted and smothered almost one-third of the nation in a spectacular climax to a drought more damaging than the 1927 floods which made 600,000 persons homeless.

It was more than 36 hours arid winds from the plains of Western Canada swirled tons of sand and grit eastward. Cattle in parched fields sickened and died as dust blanketed grass and fodder. Thousands of persons suffered seriously from ye and nose irritations. Health authorities were warning of the danger of dust carried epidemics.

Pilots of commercial airlines climbed to heights of almost 15,000 feet to reach clear air. That's how high the dust cloud reached. The dusty storm covered the country between the eastern slope of the Rock Mountains and the eastern end of the great Lakes, reaching from north of the Canadian border.

Good Night! Good Luck!
View/Write Comments (count 0) | Receive updates (0 subscribers) | Unsubscribe
---
Walking With Sadie
Vol 17, Iss 24 Texas - Woof! Woof! Well! I hope the "Dog Days of Summer" aren't be to hard on you humans and your animals. NW Okie is keeping great watch over this short-nosed Pug in Houston's hot, humid climate. I'm just glad it isn't like the "Dirty Thirties" NW Okie has me researching right now.

Did you know ... The worst storm of the Dust Bowl occurred on April 14, 1935, known as Black Sunday. Carrying dust up to 200 miles off the Atlantic coast, the storm blackened cities and traveled at over 100 miles per hour. Animals and insects fled south and a woman believing the storm marked the beginning of Armageddon, killed her child to spare her the horror. And while Hugh Hammond Bennett was delivering a speech to Congress about soil preservation, dust rained down on Washington D.C. and blackened out the sun. Congress passed his legislation.

They say this was also around the same era of the infamous Bonnie and Clyde, famous bank robberies. I suppose many farmers did admire the duo for their sense of justice, because people were feeling like banks had robbed them of their savings during the bank crisis, deserving to get a taste of their own medicine.

Another tidbit of Oklahoma history for you from the 1930's concerns the then governor of Oklahoma, "Alfalfa Bill" Murray running for president in 1932 under the platform of "Bread, Butter, Bacon, Beans." Alfalfa Bill's platform was not powerful enough to beat Franklin Delano Roosevelt for the Democratic nomination, though.



Remember Woody Guthrie's song he wrote about the Dust bowl - "So Long, It's Been Good to Know Ya."

Good Night! Good Luck! Woof! Woof!
View/Write Comments (count 0) | Receive updates (0 subscribers) | Unsubscribe
---
1937-38 Catching the Train - Woodward To Alva
Vol 12, Iss 22 Woodward, Oklahoma - We received a fabulous photo of our mother, Vada Eileen (PARIS) McGill this week from a family that Vada stayed with back in the 1930s. Ylova Jean Jaquith Mayes daughter and son-in-law sent us this following message with the photo attached, "Here is a photo of Vada and Ylova Jaquith taken in Woodward, Oklahoma. Ylova sent us this photo. She lives in Arizona and is 78 years old. She said they had taken Vada to the train station in Woodward to catch a train to Alva to go to College. Hope you like the photo. The photo was not dated, but Ylova was born in 1932. She looks like she is maybe 4-5 in the photo? So, 1937-1938 time frame would be about right. Her name now is Ylova Jean (Jaquith) Mayes."

The photo shows a young Vada Paris (left) in her flowery, Spring dress, hat and white sandal heels holding the hand of a young girl (Ylova Jean Jaquith) while standing in front of passenger train in Woodward, Oklahoma. The Jaquith had brought Vada to Woodward from Seiling to catch the train to Alva, Oklahoma, where Vada was attending NSTC (Northwestern State Teachers College). We know that Vada was a sophomore at NSTC in Alva. We believe she attended in 1937 as a freshman.

Let us take you back to April 18, 1932 (as written down in Vada's 1938 diary as an anniversary) when a sixteen year-old-girl named Vada Eileen Paris came to live with the Ray and Eithel Jaquith family who lived in Seiling, Oklahoma. Also, it was during the Depression, Dust Bowl era. Besides the anniversary of when Vada went to live with Jaquith's in Seiling, Vada had made a notation in her diary May 25th for Ray and Eithel Jaquith anniversary, May 25, 1926.


While living with the Jaquith family, Vada graduated from Seiling High School with the Class of 1936 Seniors whose motto was "Hitch Your Wagon to a Star." For reasons unknown to this writer, Vada laid out a year or so before graduating high school during the Depression, Dust Bowl days. She should have graduated in 1934, but graduated in 1936, instead.

We know that Black Sunday was April 14, 1935 when day was turned into night during the Dust Bowl era. About a month and a few weeks before that day, Northwest State Normal school's Castle on the Hill had burned down, March 1, 1935, in Alva, Oklahoma.

We are trying to piece together bits and pieces of Vada's life between 1932 thru 1937 before she attended college in Alva. We have been told that Vada's mother did not think Vada needed education after the eighth grade and should stay home and help take care of her younger siblings. We have also been told that Eithel Jaquith influenced Vada to graduate Seiling High School and continue her education at NSTC in Alva, Oklahoma.

Reading through Vada's diary, we know in 1938 she received a government grant to attend Northwestern State Teacher College (NSTC) where she was noted as a sophomore in the 1938 Ranger Yearbook. Vada also worked at Warrick's Shoe Store; did heavy housekeeping to make ends meet while attending NSTC. We believe Vada was a Freshman at NSTC (1937 Ranger Yearbook) in 1937.

Vada's older brother (Alvin Riley Paris) and his wife, Naomi (Warren) Paris, were living in Alva while Vada was attending Northwestern. Besides staying with her older brother, Vada did housekeeping for Naomi and Alvin while Naomi was expecting their first Child (Stan born February 25, 1938).

There were lots of entries in Vada's 1938 diary where she mentioned with enthusiasm of getting to go home to Seiling and seeing the Jaquith family (Ray & Eithel and their children: Kenneth and Ylova).

On one entry dated February 13, 1938, Sunday, Vada writes, "Saw Mrs. Jaquith. I'll tough it out where I am before borrowing money. Grand of her to offer to help." Times in the 1930s were tough on everyone back then.

Vada wrote about enjoying receiving letters from Eithel Jaquith. The Jaquith family was like a second family for this young woman, Vada Eileen Paris. Eithel being the one that encouraged Vada to continue her education and go to College at Alva, Oklahoma. We wonder sometimes what would Vada's life been like IF Vada had not been influenced by the Jaquith family? View/Write Comments (count 0) | Receive updates (0 subscribers) | Unsubscribe
---
Boise City - Cimarron County, No Mans Land
Vol 8, Iss 36 Have you ever heard the story of how Boise City, Oklahoma came about? Do you have any No Mans Land stories to share? How does this version stack up to what you have been told so far to date?

According to Timothy Egan's book, The Worst Hard Time, Boise City was founded in 1908 on fraud by promoters of the Southwest Immigration & Development Company (J. E. Stanley and A. J. Line). They pronounced it "Boy-City" from the French words "le bois" meaning trees. BUT... there was not a single tree in Boise City -- not even a city.

The developers didn't even own the land, but they sold lots at $45 per lot, anyway. Flyers were sent all over the country showing a town as "ripe as a peach two days into its blush." It was a phantom town in the far west edge of No Mans Land, Cimarron County.

The brochures sketched Boise City as a city of elegant aged trees lining the streets -- a tower of cold, clean water gushing from an artesian well in the center of town (which was only a stock tank and windmill) -- businesses on main streets -- 3 railroads building lines to Boise city with a fourth on the way -- homes a banker would be proud to call home. It was not limited to town developers. According to Timothy Egan's research, "Railroads, banks, politicians and newspaper editors all played a variation of the scheme -- selling a windlblown piece of ground that was supposed to increase in value as more people saw a fledgling town emerging from a larva of forlorn dirt."

The developers (J. E. Stanley and A. J. Kline) were arrested for fraud with a two week trial and found guilty -- sent to Leavenworth Federal Prison. Kline died in his cell.

After that, settlement was a dare to some to see if they could defy common sense and the odds of developing this far reaching town on the farthest edge of "No Mans Land" into a city. By 1920 the population of Boise City was 250 with Cimarron County boasting 3,500 population. The depression and dust bowl went up through No Mans Land from Texas to the South to Kansas, Nebraska and southeast Colorado to the North. And parts of the northeast corner of New Mexico.

Have you ever heard this story before -- especially, some of your ancestors who might have settled in Cimarron County of No Mans Land, in the panhandle of Oklahoma? We would like to hear your stories about Boise City, Oklahoma and how its settlers survived the depression; dust bowl day of the 1930's and how the town of Boise City came about.
View/Write Comments (count 0) | Receive updates (0 subscribers) | Unsubscribe
---
1935 - The Dust Bowl .... If It Rains
Vol 18, Iss 24 Oklahoma - Let us take a trip back to the mid-1930s 15 April 1935, with this front page news article from the Miami Daily News-Record, Miami, Oklahoma, written by Associated Press Staff Writer, Robert Geiger: "Life In Dust Bowl of United States Being Ruled Today By Three Words ... "If It Rains."

Found on Newspapers.com

This was the first of three stories surveying the situation in the dust sector of the Southwest, but small in terms of the whole which had been swept by a series of spectacular dust storms. They were written by Robert Geiger, Associated press staff wit ere, who traveled through the greater part of the "dust bowl."

Guymon, Okla., April 15, (1935) -- Three little words - achingly familiar on a western farmer's tongue - rule life today in the dust bowl of the continent.

It it rains ....
Ask nay farmer, any merchant, any banker what the outlook is, and you hear them - if it rains ....

It it rains .... some farmers will get a wheat crop.

If it rains .... fresh row crops may flourish.

If it rains .... pasture and range for livestock may be restored.

If it rains .... fields quickly listed into wind-resisting clods may stop the dust.

If it rains .... it always has"

The next three weeks will tell the story.

Black and saffron clouds of dust, spectacular, menacing, intensely irritating to man and beast alike, choking, blowing out tender crops, and lasting without mercy for days, have darkened everything but hope and a sense of humor in the dust sector of the Southwest.

Only Small Part
The Southwest is big and the dust area is only a small chunk of it. Roughly, it takes in the western third of Kansas, southeastern Colorado, the Oklahoma Panhandle, the northern two-thirds of the Texas Panhandle, and northeastern New Mexico.

It always has been a region of sparse rainfall. The World war, with it high wheat prices and urgent demands, sen the the plow into the sod and turned this into wheat country. Before then it was range land, and the crop was native buffalo grass, which held the soil firm against insistent winds.

The last three years have been years of drouth, with this spring's field-eroding dust storms their stifling climax. But dust storms are nothing new in the Southwest. Forty years before - decades before the wheat farmers came with their combines - a dust storm of such violence swept western Kansas that stopped trains, just as they were stopped last week. "This is a tough, hardy country," its farmers say, "it will come back overnight."

Two Distinct Types
Dusters approach the prairie country in two ways. Sometimes they start when a gigantic yellow and red cloud floats across the country, high in the air, blotting out the sun.

The wind is gentle, growing in velocity very slowly. This type of storm carries a fine, powdery silt that seems soft and hazy - until you start breathing in it.

The other type starts with a blast, and a huge black cloud approaches across the plains at tremendous speed. It strikes all at once along a well defined front. It carries sand and on hands and face, feels like the blast of a chaff from a threshing machine.

When at tis height, bright lights in towns are invisible across the street, visibility is zero and within buildings lights must be turned on as at night.

The fine silt penetrates motor blocks, and, if motorists are unwary, grinds out bearings.

Bring Huge Drifts
These are the storms which leave drifts of dust along the highways and fences, some times dust drifts up to the eaves of farm buildings.

It can't be kept out of a house and dishes have to be washed not three times, but six times daily - before and after every meal.

But despite the hardship, and a generally encouraging prospect, not a single one of more than 100 farmers interviewed by your correspondent was leaving the country. Each on had hope a getting a crop.

Take Charles Hitch, an elderly rancher-farmer, living south of Guymon, who came here in 1886.

"For the first time since I have been on Goldwater creek - and I was the first settler - we are thinking of shipping cattle to greener pastures," he said.

Drought Is Worse
"Recent dust storms are not much more severe than others in former years," Hitch said, but the drought is worse. "My ranges have supported as many as 10,000 head, but I have only 800 head now and they cannot find sufficient feed. WE have to feed them cottonseed cake.

"But cattle prices are on the upgrade, and I am not discouraged. WE even will get a wheat crop if rains comes. If there is no rain, we will have to start shipping cattle in a few weeks."

A. L. Thereon lives one the line in Texas, and is a big wheat producer. He raised 90,000 bushels in 1931, got only 25 cents a bushel for it. The best he can hope for, he thinks, is a half-crop.

"But we are not suffering acutely," he added. "The government is paying better than a dollar an acre to us in wheat benefits, and in addition we can sell what wheat we raise. That will keep the farmers going. The federal wheat program is OK, and if it wasn't for that the farmers would be in an awful hole. They can hold on indefinitely with wheat payments."
View/Write Comments (count 0) | Receive updates (0 subscribers) | Unsubscribe
---
NW Okie's Ancestry Corner
Vol 13, Iss 26 Bayfield, Colorado - We all know that the Dust Bowl was the darkest moment in the twentieth-century life of the southern plains. The Dust Bowl took only 50 years to accomplish. People blazed their way across a once richly endowed continent with a ruthless, devastating efficiency. The white man coming to the plains talked of "busting" and "breaking" the land. AND . . . that is what they did. The Dust Bowl was the inevitable outcome of a culture that deliberately self-consciously, set itself that task of dominating and exploiting the for all it was worth. The Dust Bowl came into being during the 1930's, as fulvous dirt began to blow all the way from the plains to the East coast and beyond. It was also the age of the Great Depression.

Was there a close link between the Dust Bowl and the Depression? did the same society produced them both for similar reasons? Did both events reveal fundamental weaknesses in the traditional culture of America? One in ecological terms and the other in economic? Was there a reason, opportunity for substantial reform of that culture back then?

As the book (Dust Bowl: The Southern Plains In the 1930, by Donald Worster) below states, "In the spring of 1930 over 3 million men and women were out of work. They had lost their jobs or had been laid off without pay in the aftermath of the stock market crash of the preceding fall. Another 12 million would suffer the same fate in the following two years. Many of the unemployed had no place to live, nor even the means to buy food. They slept in public toilets, under bridges, in shantytowns along the railroad tracks, or on doorsteps, and in the most wretched cases they scavenged from garbage cans."



See you all next Monday, July 4th, America's Independence Day! View/Write Comments (count 0) | Receive updates (0 subscribers) | Unsubscribe
---
Black Sunday Blizzard 1935
Vol 11, Iss 26 Online at History.com I did a search for a show that was on this Sunday, June 28, 2009, concerning the "Black Sunday Blizzard of '35" that blew millions of tons of topsoil through the high plains and heartlands.

April 14, 1935, the day of "The Black Sunday Blizzard" blew millions of tons of topsoil eastward towards the east coast. Soil Conservation techniques were soon to follow to perserve the "Dust Bowl" years of the 1930s. Oklahoma, Colorado, Texas, New Mexico and South Dakota feeling the "worst hard times" of that era.

According to HISTORY.COM's Major Dust Bowl Storm Strikes, It was one of the most devastating storms of the 1930s Dust Bowl era that swept through the heartland and the over-grazed, over-farmed plains bringing millions of tons of dirt and dust so dense, dark that some eyewitnesses believed the world was coming to an end.

By the early 1930s, the grassy plains of the plains of western Kansas, southeastern Colorado, panhandles of Texas and Oklahoma, and northeastern New Mexico had been over plowed by farmers and overgrazed by cattle and sheep. Soil erosion, combined with an 8-year drought that began in 1931, created a a dire situation for farmers and ranchers.

With the failure of crops and businesses failing and dust storms making people sick, many residents fled westward in search of work in other states such as California. Those who remained behind struggled to support themselves and their families.

By the mid-1930s, President Franklin D. Roosevelt?s administration introduced programs to help alleviate the farming crisis, such as the establishment of the "Soil Conservation Service (SCS) in the Department of Agriculture. The SCS promoted improved farming and land management techniques and farmers were paid to utilize these safer practices. For many Dust Bowl farmers, this federal aid was their only source of income at the time."

By 1939, a year before my folks, Gene McGill and Vada Paris, were married (March 1940), the Dust Bowl era came to an end when the welcome rains returned as the drought ended. We only hope that the improved farming techniques of that "Dust Bowl" has reduced the problem of soil erosion and prevented a repeat of the 1930's Dust Bowl devastation. -- Maps of the Dust Bowl 1935-40.
View/Write Comments (count 1) | Receive updates (0 subscribers) | Unsubscribe
---
Remembering some NW Okie Legacies...
A few of our readers (including this writer) have sent us memories of the April, 1938 snowstorm that blocked the streets of Alva and the Northwest corner of the state. After re-reading Vada's 1938 Diary, we found where this writer's mother wrote... "April 7, 1938, Thursday - Snowed all day, cold and the wind is strong. April 8, 1938, Friday - Gosh, but is terrible outside. A real blizzard. Roads and streets are blocked. Cut all my morning classes. Didn't go to work. April 9, 1938, Saturday - Went to work early today. Sun is shining. Snow is melting almost. Need a boat to get downtown. Roads are still blocked."
In the Mailbag Corner you can read some other memories of the 1930's Blizzard and Dust storm stories. Alfalfa County Museum, in Cherokee, Oklahoma has stories, memories about the dust bowl days on file at the Museum for the public to read. Next time your in Cherokee, Oklahoma stop by and check them over.
It is that time to head out of here and get ready for another weekend of exploring in NW Oklahoma. We shall see you all next weekend with hopefully some undiscovered memories, legacies. Also... Congratulations goes out to Northwestern Oklahoma State University marching band... The 13th of March 2004, they traveled to Washington, DC to march in the St. Patrick's Day parade and won a large trophy for "Best Visiting Band." "A Ride Rangers Ride" and "Way to Go, Rangers" ... goes out to the Ranger Band of the Castle on the Hill (now NWOSU). See Y'all next weekend.
View/Write Comments (count 0)
| Receive updates (0 subscribers) | Unsubscribe
---
Dust Bowl Memories...
The "Dust Bowl" website link that we put in last week's newsletter had some interesting information. Do you have any similar legacies to share of your ancestor's "Dust Bowl Memories?" Did they ever mention "Black Sunday, April 14, 1935?" Here is some of what the 1930's Dust Bowl Stories - Excerpts from "The Dust Bowl, Men, Dirt and Depression" by Paul Bonnifield had to say about that...
"On Sunday, April 14, 1935, the sun came up in a clear sky. The day was warm and pleasant, a gentle breeze whimpered out of the southwest. Suddenly a cloud appeared on the horizon. Birds flew swiftly ahead of it, but not swift enough for the cloud traveling at sixty miles per hour. This day, which many people of the area readily remember, was named Black Sunday.
By May, it seemed like the wind and dirt had been blowing for an eternity. Rain was an event occurring only in dreams. It was a year of intensive dirt storms, gales, rollers and floods mixed with economic depression, sickness and disaster. It was a year of extreme hardship, but surprisingly the vast majority of the people stayed. By 1935, the unusual had become the usual, the extreme became the normal, the exception became the routine.
During 1936, the number of dirt storms increased and the temperature broke the 1934 record high by soaring above 120 degrees. On one pleasant June day in 1936, the ground began to tremble. A sharp earthquake shook the land from Kenton to Perryton and from Liberal to Stratford. By the fall of 1936, the rains began to return and the heat wave was broken. The following year, 1937 was another year of unprecedented dirt storms. Day after day, Dust Bowl farmers unwillingly traded farms as the land moved back and forth between Texas and Kansas. And of course there were the usual floods. 1938 was the year of the Snuster. The snuster was a mixture of dirt and snow reaching blizzard proportions. The storm cause a tremendous amount of damage and suffering.".
View/Write Comments (count 0)
| Receive updates (0 subscribers) | Unsubscribe
---
Grapes of Wrath & Okies
Vol 7, Iss 6 Since the talk of "Okie's," we have been browsing the web to refresh our memories of John Steinbeck's book (Grapes of Wrath) that was first published in the United States of America by the Viking Penguin, Inc., 1939. Steinbeck's idea for the book came to him on his first journalistic assignment in the Fall of 1936.

A liberal San Francisco Newspaper sent Steinbeck to cover the migrant situation in California. He went to the Arvin Encampment in Bakersfield, California to talk to Tom Collins, manager of one of the first of the government camps set up in California to alleviate housing problems for the Southwest migrants pouring into the state from the Dust Bowl regions.

Steinbeck interviewed Collins and the migrants. Steinbeck studied the situation first hand, after which he wrote a series of articles on the migrants' plight, published as "The Harvest Gypsies ." By December 1936 Steinbeck knew that his next "big book" would be the migrants' story.

The Grapes of Wrath is said to be Steinbeck's masterpiece. It was a portrait of "Dust Bowl" poverty -- an historical tract about homelessness in the 1930s -- the story of the migration of a people forced from their land for drought, economical conditions. The story begins as a conflict between man and nature, but soon the conflict is between man and man. The ecological disaster that had transformed Oklahoma into the "dust bowl" is only part of the tragedy, though.

When the migrants arrived in the blooming abundance of California, they were kept from the bounty of the land. The devastation of the land was as serious as the economic disaster of the stock market crash. Those tenant farm workers that worked the lands were finding themselves forced from the very land that they toiled, sacrificed their blood, sweat, tears, dreams and hopes in all those years.

They packed their families, belongings into their automobiles with hopes, dreams of finding jobs and a renewed dignity in California. All because of an ad in a "flyer" from California that promised jobs for migrant farm workers. Only to find out that the promise of jobs was fraudulent. It was a story of a family unit disintegrating -- of how power shifts from patriarchy to matriarchy -- Equally important is the relationship between Ma Joad and her self-absorbed daughter, Rose of Sharon. Like Tom, she must learn to look beyond herself and her needs to embrace the needs of others. The novel is thus a plea for empathy and understanding, as well as an indictment of a system that left so many destitute in a land where excess oranges were dumped in rivers in order to keep prices inflated.

There was a practice of passing on the blame for the misery that was occuring during the depression. The farmers had no one against whom to protest, for they find only figureheads dispossessing them, each a representative of a system against which all were powerless. All the people in the story are caught in the grip of forces larger than themselves and beyond their control. There is no traceable human will behind the evictions, merely an inhuman monster created by big business, and characterized by a dehumanizing greed and opportunism. The system plants cotton, knowing that it will devastate the land; the system uses tractors, knowing that they will dispossess the farmers. It is a time when men had created the monster, but could not control it. The farmers gave their blood to keep, work with the land, only for some to be driven from it in search of a renewed dignity and hope for a better life.

It has been brought to our attention that our grandparents, great-grandparents remained behind. Some may have even benefited to some extent from the drought, depression of the '20s and '30s. So... Do we really qualify ourselves being called "Okie" when our ancestors remained on, with the land? Whatever the case, does it really matter? Aren't we all in this together?

What's in a name or label anyway? Why not learn from the past so we are not condemned to repeat it! We would love to share and pay tribute to some of those families drought, depression stories of the '20s and '30s. If you know of anyone, please give them our Email address. Thanks! View/Write Comments (count 0) | Receive updates (0 subscribers) | Unsubscribe
---
Dust Bowl & Okie Lore
Vol 13, Iss 26 Oklahoma - Lois Guffy sent us the following information and links concerning the "Dust Bowl Lore" and the "Okies" term that was coined by Ben Reddick. Reddick, a newsman, coined the "Okies" term and was credited with first using the term Okie in the mid-1930's, to identify migrant farm workers. He noticed the "OK" abbreviation (for Oklahoma) on many of the migrant's license plates and referred to them in his article as "OKies."

Californians began calling all migrants "Okies," regardless of whether or not they were actually from Oklahoma. The term was made famous nationwide by John Steinbeck's novel, Grapes of Wrath. Read the following LA Times article. Ben Reddick was a free-lance journalist and later publisher of the Paso Robles Daily Press.

Lois says, "Linda, I read a lady's comment who took offense to being called Okies. I am great friends with Richard Reddick whose father coined the Okie title. Richard told me one of his dad's jobs as a newsman was to log all of the migrant workers by cars. He shortened the name Oklahoma to Okies as well as other states, so not to have to write the full long name on his chart. No offense was made by him, but others used it for all migrant workers as derogatory later."

Dust Bowl Lore
According to the Oklahoma Historical Society website on the Dust Bowl Lore, Oklahoma had less acreage in the area designated by the Soil Conservation Service as the dust Bowl than did the states around Oklahoma. Such as Kansas, Colorado, New Mexico and Texas.

It was a clear day, Sunday, 14 April 1935and the temperature was in the upper eighties. The citizens of Guymon, Oklahoma were in their 4th year of drought, and were packing the Methodist church for a "rain service." They were doing whatever they could do to seeking some sort of intervention for some much needed moisture. It was late afternoon that the skies were darkened, but not by rain much needed rain clouds. It was worst! The "Black Blizzards" hit Guymon, OKlahoma on the late afternoon of 14 April 1935.

The temperatures in the southern High Plains fell more than 50 degrees in a few hours as the 70 miles an hour wind blew black soil from Canada and northern plains states. The darkness lasted for 40 minutes and was followed by 3 hours of partial darkness. The relative humidity decreased to less than 10 percent.

An Associated Press staff writer, Robert Geiger, was writing a series of articles for the Washington, DC, Evening Star. geiger used the term "dust bowl" for the first time in print during that period of time. Geiger referred to the "western third of Kansas, southeastern Colorado, Oklahoma Panhandle, northern two-thirds of the Texas Panhandle and northeastern New Mexico. That area is the Dust Bowl boundary designated in 1939 by the Soil Conservation Service as the geographical extent of the severe wind damage by 1939.

Though the word "Oklahoma" quickly became synonymous with the term "DUst Bowl," the truth is that Texas and Cimarron counties suffered the worst damage, severe storms and most dramatic sand drifts. Journalists reporting the dust bowl and the "Black Easter" storm in April 1935 planted firmly the the "Oklahoma Dust Bowl" in the public's mind. Did you know that during the dust storms, singer-songwriter Woody Guthrie, lived in Pampa, Texas? Guthrie was an Okemah, Oklahoma native and occurred far from his Oklahoma home town. Guthrie's 1940 recordings released under the title of Dust Bowl Ballads made him known as "Oklahoma's Dust Bowl Balladeer." BUT . . . those songs actually drew upon his experiences in the Texas Panhandle in the early 1930's.

Woody's Guthrie's migrant heroes were the sharecroppers and tenant farmers forced off the land by improved mechanized farm equipment, extreme low prices for cotton and the Great Depression. The New Deal's crop reduction program paid the farms' owners to plow under their land. The sharecroppers and tenants who had actually worked the land were made homeless and became migrants.

Some of the critical statements and stories that came from Guthrie's songs and The Grapes of Wrath were, "Oklahoma has four seasons, often within the same week." Other stories circulated that even with all the doors and windows closed the dust was so thick . . . that a strong light bulb looked like a cigarette burring and you couldn't see your hand before your face.

One story claimed that a man's car was stalled by the sand. When he opened the door, he shot ground squirrels overhead tunneling for air. The wind velocity was so wicked that you could fasten a logchain to a fence post or tree, and if it isn't blowing straight out, it is a calm day.

Farmers were advised not to rotate their crops, because the wind would do it for them. Others referred to dust storms as "Oklahoma rain." You could hold your pans up to a keyhole and let the wind and sand clean them. Some characterized it as so dry for so long that frogs could not learn to swim and would drown when put in water. The wind blew the farm away. The wind blew away so much soil that postholes were left standing above the ground.

Have you ever heard the saying, "Dust sometimes gets so thick you can run your tractor and plows upside down. So dark you can't see a dime in your pocket, a shirt on your back, a meal on your table, or a dadgum thing. Only thing that is higher than that dust is your debts. Dust settles, but debts don't." View/Write Comments (count 1) | Receive updates (0 subscribers) | Unsubscribe
---
April Blizzard of the 1930's...
Vol 6, Iss 10 Another reader would like some information concerning a blizzard snow storm that hit Northwest Woods County (Oklahoma) sometime in April, in the 1930's. Has your ancestors ever spoken, written in a journal about a big snow storm in Woods county in the 1930's around March or April? We went back to look at some notes Grandpa Bill McGill kept in his journal during the 1930's and his notes mentions something around, "27 & 29 March 1931 -- That night there was snow in and around Alva, Oklahoma. Altogether there was 12 inches of snow that year."
Could this be the 1930's, April snow that the reader speaks about? If you go to Grandpa's 1930's Notes, you can read more of his journal he kept in the '30s. If any of this jogs some memories, drop us a note and share it with us. Do you remember the "Black Blizzard" of the Dust Bowl Days around 1930's? Do you have some ancestral journals of Okie Legacies that you would like to share with us? Send us a copy by snail-mail (Linda Wagner, P.O. Box 18998, OKC, OK 73154) or email (paristimes@earthlink.net). Thanks!
View/Write Comments (count 1)
| Receive updates (0 subscribers) | Unsubscribe
---
Great Grasshopper Gala (Festival At Fair Valley)
Vol 1, Iss 5 July 1999 was a dry year to some extent and the grasshoppers were taking over Fairvalley and other grasslands in Northwest Oklahoma. This is what NW Okie jokingly wrote about Thursday, July 1, 1999: "Great Grasshopper Gala (Festival At Fair Valley)."

The residing Mayor and City Commissioner of this unincorporated little Oklahoma grazing range known as Fair Valley are again in the process of holding their "2nd Annual Great Grasshopper Gala" for the Fair Valley inhaitants. BUT... This time the Mayor was well armed and waiting for the pesky young critters.

Again the Locustidae (or Acrididae) and Tettigoniidae with long hind legs gathered from origins unknown in the summer of 1999 for the second "Fair Valley Great Grasshopper Festival." They were feasting on fresh, Fair Valley vegetation of potatoes and tomatoes put up by the locals and their associates.

The Gala's menu consisted of a variety of vegetation delicacies planted each spring by the Whitney's & Associates within the "Camp Ground Gardens." Some of the vegetation included was the luscious, leafy leaves of the new red, white, and sweet potatoes; several tantalizing love fruits (or tomato vines); and a variety of succulent delicacies.

No one wished to comment concerning to the origins of Mr. and Mrs. Locustidae and their relatives. The Gorging Grasshoppers have chosen to hold their annual Festival and Reunion on Fair Valley's Finest vegetation for the entire Summer Celebration of 1999. Only to be interrupted by the monthly baptismal of newly vegetarian growth in the Fair Valley Garden.

In an earlier conversation between the Mayor and the Judge, the Judge had this to report, "We are still contemplating harvesting the gangly gorged grasshoppers and marketing them as Fair Valley's Finest Chocolate Covered Grasshoppers and perhaps extending the Locustidae crop to a FREE-for-ALL-Pick-Yur-Own-Bait Shoppe."

The Mayor had only this comment to say about that, "I'm ready for the critters this year! I've surprised a bunch of the young hooligans already and have taken steps to surprise some more."

The long hind legged tettiigoniidae hopped in from miles around to the "2nd Great Grasshopper Festival" and Reunion to be held at Fair Valley since the Dust Bowl days of the late 1920's and early 1930's.

Soggy Harvest & Oakie Legacies
The thundering, pouring rain and cooling (80 degree) Summer time weather has been rumbling through June into July... It's NOT like the hot, dry drought we had last year at this time. AND... June is almost gone. July with Firework Displays are almost upon us.

Last year a lot of firework displays were called off on account of the drought that was going on. What a change a year can make, HUH? Is it the El-Nina?

Although the cool... wet month of June is giving us great Summer time weather, the Farmers and Harvesters in the NW Oklahoma and Kansas areas are waiting for a sunny, dry spell to finish up their harvesting.

The Harvesters have been parked in fields for a week or so now just waiting... and waiting... and waiting! Some with just skeleton crews left behind while the rest of the crew has moved north and west into Kansas and Colorado to meet those harvesting obligations.

When asked how the harvest was going in NW Oklahoma... One of my farmers said, "We've had 9-inches of rain this June. The harvesters are hastening to pack-up and head out of town in droves with only 50% of the wheat crop harvested."

Sounds to me like Wellington, Kansas is bogged down in this wet stuff, also. AND... Wheat more than ready to cut.

Don't forget the "Big 3rd of July Blowout" in the Town Park of this rural community known lovingly as Dacoma, Oklahoma. Come and spend the evening with a community full of friends and family.

Experience the Volunteer Fire Department's Fantastic Fireworks and have a Family Picnic Under the Stars
View/Write Comments (count 0) | Receive updates (0 subscribers) | Unsubscribe
---
NW Okie's Thoughts
Vol 12, Iss 18 Alva, Oklahoma - Someone wrote us this week, "We are not OKIES. They went to Califonia (California) during dust bowl. We are Oklahomans & insulted. signed all Oklahomans"

First of all -- I know it was not signed by ALL Oklahomans, because I know some Oklahomans that do not mind being called an "Okie" and are not insulted by the use of the term.

Second -- I have a question and wonder why some Oklahomans would be insulted? The only thing Oklahomans should be insulted about is the black-eye that the State Legislature has given Oklahoma globally by recently passing legislation that discriminates against Women Rights to choose.

The Great Depression / Dust Bowl Days

The Great Depression and Dust Bowl of the 1930's is a part of our Great Plains history that we should all remember, least we be condemned to repeat it!

I did a YouTube.com search for original video clips of the Dust Bowl era of the 1930's so we could pay homage to the "Worst of Hard Times" and to the Dust Bowl Refugees. We found a few videos to share with you all.





I have and shall always consider myself an "Okie" in a proud sense. I am a Northwest Oklahoma Okie, born and raised. I choose to remember our past history, looking and learning from those "Worst of Hard Times." This NW Okie shall not look upon those who left in the 1930's as quitters as some still do today.

If you know your history, it was not only Oklahoma that was affected by the drought / depression of the 1930's. The Texas panhandle, Western Kansas, Eastern Colorado, and Nebraska also felt the "Worst of Hard Times" back in the 1920's and 1930's. They were forced to leave their homes looking for any kind of work. Many headed West towards migrant jobs in California.

Yes! I shall always consider myself an "Okie" in the proudest of sense.

Good Night and Good Luck!

-- A NW Okie
View/Write Comments (count 3) | Receive updates (0 subscribers) | Unsubscribe
---
The Dust Bowl Storms 1932-40
Vol 11, Iss 28 Remembering the 1930's Dust Bowl days of NE New Mexico, SE Colorado, Kansas, Oklahoma and the Texas Panhandle. It was on February 21, that a severe duster struck western Kansas from the north and rolled southward into Oklahoma and Texas.

The dust boiled up from the tinder dry fields, downed telephone lines, and brought traffic to a standstill. At Alva, Oklahoma, the storm sifted dust into the college gymnasium to such a degree that a basketball game in progress had to be stopped.

It was during March and April 1935, that Amarillo, Texas and Dodge city Kansas had 28 and 26 dust laden days respectively. March was a dirty month in eastern Colorado, where dust storms occurred frequently from March 12 to March 25. Dust formed drifts like snow from a few inches to more than six feet deep.

March, 1935, a black blizzard turned day into night in the Texas Panhandle, breaking glass windows, damaged railroad communication. At Alva, Oklahoma, city police blocked the highways and prohibited motorists from leaving town.

Four days before the notorious black blizzard of April 14, 1935, a severe dust storm rolled across the Texas and Oklahoma Panhandles and into Kansas. It was reported to have paralyzed traffic for more than 24 hours and set a record for the intensity and duration of a daytime storm.

In Boise City, Oklahoma, 49 mph winds accompanied the dust. At Guymon, the storm lasted 48 hours. In the heart of the Texas Panhandle at Amarillo, airport officials estimated that the dust cloud reached 15 thousand feet.

Absolute darkness lasted 15 minutes, May 22, 1937, in Boise City, Oklahoma. The Oklahoma Panhandle had only 12 dusty days from March to May of that year. It was reported that the Dust Bowl received subnormal rainfall in April 1938, but all of the severe dust storms occurred before the 15th. The dust storms that began in 1932 and peaked in 1935 continued intermittently during the spring months of the next 4 years, but by 1940 a return of the wet cycle ended them. -- An AGricultural & Social History - The Dust Bowl, by R. Douglas Hurt.

There is an Oklahoma Panhandle saying goes something like this, "Don't let this year make a damned fool of you next year."
View/Write Comments (count 0) | Receive updates (0 subscribers) | Unsubscribe
---
Dust Bowl: Southern Plains In the 1930's
Vol 13, Iss 26 Southern Plains - We found another book online at Google books entitled, Dust Bowl: The Southern Plains In the 1930's, by Donald Worster. It gives a history of the lives finding life sometimes easy and sometimes nasty under harsh, severe weather . . . just when things are getting to feel comfortable.

You have to be able to adapt to the extreme climate from day to day and season to season. The plains have become our cultural boneyard where the evidences of bad judgment and misplaced schemes lie strewn about like bleached skulls. Some have chosen not to live in the region because of too much wind, dirt, flatness, space, barbed wire, drought, uncertainty and hard work. BUT . . . there are some who have adapted and stuck out the fierce hardtimes of the Depression and Dust Bowl era.

The southern plains were/are a vast, sprawling area covering over more than 100 million acres, which include parts of five states: Kansas, Colorado, New Mexico, Oklahoma and Texas.

We all know that the plains have had their place in the American dream when the West was new and the grasslands offered unexplored possibilities. The plains, in fact were at the front edge of our collective imagination. View/Write Comments (count 0) | Receive updates (0 subscribers) | Unsubscribe
---
Living History Farm History of 1930's
Vol 12, Iss 18 The Living History Farm website states, "Farming in the 1930s on the Great Plains was perhaps the most difficult occupation in the world. Farmers not only faced a global economic slow down of historic proportions, but they also faced one of the worst, longest droughts in America's history."

"People around the world had no money to buy the crops and animals that farmers produced, and the drought made it almost impossible to plant and harvest the crops in the first place. As a result, many farmers lost their farms. Many moved West out of the Great Plains of the United States, looking for any kind of work they could find. Many became migrant farm laborers on the West Coast."

Things were not easy with the drought and depression that deepened on the Great Plains. Let us not forget the bank failures, stock market crash and how all of this affected the farmers / ranchers and others during the 1930's. People were forced off their lands looking for work and a better life for their families.

Farming In the 1930s gives this interesting insight/history of the 1930s Dust Bowl / Depression, "As the 'double whammy' of drought and depression deepened on the Great Plains, more and more farmers gave up or were forced off of their land and lost their land to foreclosures. There was the relentless march of new tractors, which meant that the farmers who were able to scrape together enough money to buy a tractor could buy out their neighbors. Fewer farmers farmed more land."

This website continues to say, "Some went to cities. But many decided to head west. In fact, during the 30s hundreds of thousands left the plains for the West Coast. So many migrated from Oklahoma that they were dubbed "Okies" in the popular press. For years, California, Oregon and Washington had been growing. Many who were pushed off of the plains were pulled west because they had relatives who had moved to the coastal areas. And the boosters of California had advertised that the state offered a perfect climate and an abundance of work in the agricultural industry."

BUT -- When the Dust Bowl Refugees arrived on the West Coast, they were not given the welcome and hope many were searching.

Black Sunday - 14 april 1935

I doubt that the young people will remember the "Black Sunday" of 14 April 1935, when the most visible evidence of how the Dust Bowl days struck the Great Plains and blew its top soil all the way to the East coast.

This NW Okie did not experience it either, but my parents and grandparents stayed and lived through it. I have read, heard stories of that day when tons of topsoil were blown off barren fields and carried in dusty storm clouds for hundreds of miles. Even as far as the East Coast. Day became night.

The driest regions of the plains were found around Southeastern Colorado, Southwest Kansas and the Panhandles of Oklahoma and Texas.

It affected the entire region and the entire country. In 1932, 14 dust storms were recorded on the Plains. In 1933, there were 38 storms. By 1934, it was estimated that 100 million acres of farmland had lost all or most of the topsoil to the winds. It was April, 1935 that saw weeks of dust storms. The cloud that appeared on the horizon Sunday, 14 April 1935 was said to be the worst. Winds were reportedly clocked at 60mph just before it hit.

The livinghistoryfarm.org quoted Avis D. Carlson, who wrote in a New Republic article, "The impact is like a shovelful of fine sand flung against the face. People caught in their own yards grope for the doorstep. Cars come to a standstill, for no light in the world can penetrate that swirling murk... We live with the dust, eat it, sleep with it, watch it strip us of possessions and the hope of possessions. It is becoming Real."

The impact of "Black Sunday" was felt all over the united States. The dust storm arrived in Washington, DC all the way from the Great Plains. The dusty gloom spread over the nation's capital and blotted out the sun. Congress passed the Soil Conservation Act to help this from happening again.

I know that the label "Okie" came about during the depression and dust bowl days when residents of Nebraska, the Panhandles of Oklahoma and Texas, Arkansas, Western Kansas, eastern New Mexico, Southeastern Colorado headed west toward California. BUT -- That doesn't mean that we have to accept and look at the word "Okie" as something degrading.

What is so wrong with re-defining the term "Okie" and remembering the reasons for so many heading West? They were not all Oklahomans. Texas, Kansas, Colorado, Nebraska and surrounding States were lumped into that term of "Okie."
View/Write Comments (count 0) | Receive updates (0 subscribers) | Unsubscribe
---
1936 - Enemies of the Earth
Vol 18, Iss 25 What Dust Storms and floods meant to America in the 1930s. This is what we found on page 3, of the Kentucky Advocate, Danville, Kentucky, dated 8 July 1936, Wednesday: "Enemies of the Earth, What Dust Storms and Floods Mean to America." This was the third in a series of six articles describing dust terms and floods and what they mean to America. The article was written by Charles Norman, associated press staff writer. The photographer was flying at an altitude of 12,000 feet when he caught this view of a dust storm 30 miles south of Denver, Colorado. The dust - pay dirt to the farmers who lost it - blew 8,000 feet in the air.

Found on Newspapers.com

The dust bowl was a martyr of sentiments of its people sacrificed temporarily in the interests of America's future.

Having their farms and towns loped together as part of a dust bowl did not set well with the people of southeastern Colorado, northeastern New Mexico, Western Kansas, western Oklahoma and northwestern Texas. That was easy to understand.

Yet science could and did use this area as a laboratory in which the causes of dust storms could be ascertained, and in which remedial and preventive measures could be perfected. Its farmers, cooperating with he government in vast experiments, were modern pioneers. In return, it was being shown how to hold tis soil down.

The men the southwest wore big hats, farmed big farms - a thousand acres was an average in the Texas Panhandle. The love of eheirland was in their speech.

Traitorous was he who exaggerates their plight, or he who packs up and slips away, or the "suitcase farmer" who came for a quick crop, quick profit, and couldn't "take it."

But the story of the dust bowl was important to every section of America because it was the story of wind erosion. And the dust bowl had no monopoly on wind erosion. What happened to the high, green plains of the southwest that once could swallow an army and show not a mark on its thick carpet to indicate a host had passed through? Coronado, in 1540-1541, brought an expedition from new Spain (now Mexico) northward into what is now New Mexico, eastern Colorado, western Kansas. Reported Castenada, his chronicler:

"Who could believe that 2,000 horses and 500 of our cows and more than 5,000 rams and ewes and more than 2,500 friendly Indians and servants in traveling over these plains would leave no more trace where they had passed than if nothing had been there - nothing?"

Thus thickly did the lush green grasses cover the plains. There the buffalo, starting northward int he spring, grazed each section in turn, yet left root and seed to the miracle of reproduction.

After the Spaniards int he southwest came the settlers on the eastern seaboard, the Revolution, the steady westward march of the pioneers, the influx of homesteaders who staked out their plots on the public domain.

Cattlemen and sheepmen drove their herds and flocks into the grassy plains of the southwest. Where cattle grazed, something remained; where sheep cropped, cattle could not follow and live. Into western Kansas, Nebraska, eastern Colorado they moved; to the Red desert country of Wyoming, up across Montana, the two Dakotas, clear to the Canadian border.

Had not General Luther P. Bradley reported, in 1868:

"I believe that all the flocks and herds in the world could find ample pasturage on these unoccupied plains and the mountain slopes beyond."

Soon no range remained unstacked Cattlemen and sheepmen warred against each other, but neither warred against the overgrazing which scientists, even then, realized would kill the soil.

Overgrazing leaves the soil without adequate cover to tie it down. (Even the Sahara and Gobi deserts were once green, say scientists; might even blossom again if the flocks that pasture at oases were checked or removed. Science holds it is the overgrazing o these nomad herds that halt the work nature - the march of trees in the wake of grass.)

It was the World War that brought a cry for more wheat. Thousands of acres were put to the plow, planted to wheat = acres which the conservationists say should have been left in pasture.

Better farmers are nowhere to be found says the soil conservation service, for if they did not farm their lands too wisely, they farmed them too well, making crops grow where perhaps nature never intended anything but native grasses marching in thick, green ranks across the plains.

Plowing the land to wheat turned up the clinging buffalo grass which protected the soil. Keeping the land in wheat, instead alternating wheat with other crops, depleted the mineral wealth of the soil and made the wheat less able to stand lack of moisture. With draught came crop failures, and crop failures left the land barren, ready to blow with the wind.

View/Write Comments (count 0) | Receive updates (0 subscribers) | Unsubscribe
---
Great Plains Dust Bowl of 1930's & Dust Bowl Blues
Vol 12, Iss 18 This next video is a segment from Discovery Channel's, Making of A Continent (1989-90) about the Dust Bowl wind erosion of the 1930's.



Dust Bowl Blues - Part 1

memchip - February 26, 2007 - Memories of the West - Images and Music of the post-depression era when poor land management practices and drought brought dust storms, displacement and the great western migration and the rebirth of hope.



SEE ALSO Dust Bowl Blues - Part 2
View/Write Comments (count 0) | Receive updates (0 subscribers) | Unsubscribe
---
The Great Dust Storms Videos
Vol 12, Iss 18 Photos and narratives of the dust storms of the 1930's, created by guerillabill - September 24, 2007 - on YouTube.com.



The Dust Bowl - Okies, Kansas, California & Route 66

amliterature - March 06, 2008 - This is an educational video of the Dust Bowl of the 1920's. Super to use in American History classes, but some use it with the Grapes of Wrath and Of Mice and Men. Photos are either freeware or from the Finney County Historical Museum in Kansas."


View/Write Comments (count 0) | Receive updates (0 subscribers) | Unsubscribe
---
1930s Civilian Conservation Corp (CCC)
Vol 12, Iss 23 United States - The Depression and Dust Bowl era of the 1930s had the Civilian Conservation Corp (CCC) that gave young men guidance, hope and pride. Many of those CCC workers went into the armed forces during WWII. The CCC workers and their families brought about a pride in our environment and preserving it. Do we need something of this sort of Corp today?

The Civilian Conservation Corps (CCC) was a public work relief program for unemployed, single men age 18-24, providing unskilled manual labor related to the conservation and development of natural resources in rural areas of the United States from 1933 to 1942. As part of the New Deal legislation proposed by President Franklin D. Roosevelt (FDR), the CCC was designed to provide relief for unemployed youth who had a very hard time finding jobs during the Great Depression while implementing a general natural resource conservation program on public lands in every U.S. state, including the territories of Alaska, Hawaii, Puerto Rico, and the U.S. Virgin Islands.

The CCC became the most popular New Deal program among the general public, providing jobs for a total of 3 million young men from families on relief. Implicitly the CCC also led to awareness and appreciation of the outdoors and the nation's natural resources, especially for city youth. The CCC was never considered a permanent program and depended on emergency and temporary legislation for its existence. On June 30, 1942 Congress voted to eliminate funding for the CCC, formally ceasing active operation of the program.

During the time of the CCC, volunteers planted nearly 3 billion trees to help reforest America, constructed more than 800 parks nationwide that would become the start of most state parks, developed forest fire fighting methods and a network of thousands of miles of public roadways, and constructed buildings connecting the nation's public lands.

The legislation and mobilization of the program occurred quite rapidly. Within ten days after being introduced to Congress the ECW Act was signed on 31 March 1933; on 5 April Director Fechner was appointed and War Department corps area commanders were given task to commence enrollment; the first CCC enrollee was selected 7 April and subsequent lists of unemployed men were supplied by state and local welfare and relief agencies for immediate enrollment.

The typical enrollee was a U.S. citizen, unmarried, unemployed male, 18â??20 years of age. Normally the family was on local relief. Each enrollee volunteered, and upon passing a physical exam and/or a period of conditioning, was required to serve a minimum six month period with the option to serve as many as four periods, or up to two years if employment outside the Corps was not possible. Enrollees worked 40 hours a week over five days, sometimes including Saturdays if poor weather dictated. In return he received $30 a month with a compulsory allotment $22â??25 sent to a family dependent, as well as food, clothing and medical care.

Decline and Disbandment 1941-1942 - Although the CCC was probably the most popular New Deal program, it never became a permanent agency. The program had been reduced in operations as the Depression waned and employment opportunities improved. Fewer eligible young men were available after conscription commenced in 1940.

Following the attack on Pearl Harbor in December 1941 all federal programs were revised to emphasize the war effort. Most CCC work, except for wildland firefighting, was shifted onto U.S. military bases to help with construction. The CCC disbanded one year earlier than planned, as the 77th United States Congress ceased funding, causing it to conclude operations formally at the end of the federal fiscal year on June 30, 1942.

Some former CCC sites in good condition were reactivated from 1941 to 1947 as Civilian Public Service camps where conscientious objectors performed work of national importance as an alternative to military service. Other camps were used to hold Japanese internees or German prisoners of war. After the CCC disbanded, the federal agencies responsible for administration of public lands organized their own seasonal fire crews, modeled after the CCC, which performed a firefighting function formerly done by the CCC and provided the same sort of outdoor work experience for young people. View/Write Comments (count 0) | Receive updates (0 subscribers) | Unsubscribe
---
Dust Bowl - Black Blizzard (14 April 1935)
Vol 12, Iss 18 windmill1947 put together, May 12, 2009, this documentary was shown on the History Channel. This took place in America's heartland from 1930-'40. Dust Bowl Alternately Called Black Blizzard Clip

Dust Bowl Memories

This video was found on pikespeaklibrary, August 29, 2008, Oliver Clibon, Harry Collier, and Chuck Bowman recollect their time spent in the Dust Bowl during the Great Depression.


View/Write Comments (count 0) | Receive updates (0 subscribers) | Unsubscribe
---
Air Castles & Dreamers
Vol 11, Iss 26 This NW Okie comes from a long line of dreamers with roots in Oklahoma. My grandmother, Constance Estella Warwick McGill, wrote in letters from a friend, John C. McClure, of the places she wanted to go and see when she was younger in the early 1900s. John accused Constance of building "air castles."

One of those places was San Francisco, Philippines, and other places around the world. It was not until the late 1930s thru 1950s that she saw some of her "air castles" developed into reality. She never made it to the Philippines, but did travel to England and back to New England.

Grandma mainly stayed around Northwestern Oklahoma Territory and saw it through it Drought, Depression and Dust Bowl days, raising a family of two sons and acquiring ranch and farm land. Marrying William J. McGill in March, 1910 and divorcing in the 1940s.

Grandma's younger son, Bob McGill, fought overseas in World War II and died at an early age in February, 1954 of lung cancer.

Constance's oldest son stayed around Northwest Oklahoma after his graduation from Oklahoma University in December, 1937, instead of going off to Washington, DC. His grandfather, John Robert Warwick made Gene and offer he could not refuse, "All this would be yours if you stayed and work the farm and ranching business."

Little did Gene know at that time that his mother would control everything and use young Gene as a hired hand. By-passing her remaining son in her Will & Trusts when she died in 1969 -- leaving mineral interests and the majority of landholdings to her four granddaughters, equally.
View/Write Comments (count 0) | Receive updates (0 subscribers) | Unsubscribe
---
Dust Bowl Disaster Slideshow & Refugees
Vol 12, Iss 18 gmbudt put this together September 20, 2009. They say, "This is a revised version of the slideshow so many of you have already watched (thank you!). I am discovering / learning new technology, hence the new version. Images of the 1930's Great Plains Dust Bowl, and the Black Sunday Dust Storm in particular, provide a chilling visual backdrop for Woody Guthrie's song Dust Storm Disaster."



Dust Bowl Refugees

dalecaruso - December 19, 2008 - Photos: The Dorothea Lange Collection, The Library of Congress, Hard Time Killing Floor Blues, Chris Thomas King, Can't Find My Way Home, Down to the River to Pray, Alison Krause.

(www.alisonkrauss.com, Presbyterian Guitar, Soggy Bottom Boys, This Land is Your Land, Woody Guthrie, conceived and produced by Dale Caruso.


View/Write Comments (count 0) | Receive updates (0 subscribers) | Unsubscribe
---
Man who invented 'Okie'
Vol 9, Iss 50 "I received this reply from Richard Reddick, Ben Reddick's son and thought it might be of interest to you." -- Lois

Email to Lois: "Probably truth to all points on the issue... but Dad was credited when, as a young journalist doing features on the Great Depression and the dust bowl emigrants to California's San Joaquin Valley. He was early to discover and point out in his photographic coverage, beginning in mid-1930s all those dust bowl refugees arriving here with Oklahoma license plates were not from Oklahoma, but in passing thru many obtained gasoline and licensing compliments of your state. The news folks and some Oklahomans credited him with creation of the moniker "Okie." My mother being one (Sapulpa born) probably helped or confused things." -- Dick - Man Who Invented "Okie" Dies
View/Write Comments (count 0) | Receive updates (0 subscribers) | Unsubscribe
---
Knowles (Sands City), Beaver Co., OK
Vol 10, Iss 20 Knowles (Sands City), was located in Beaver County, Sec. 25-5N-26E, Cimarron Meridian, 4 miles north, 17-1/2 miles east of Beaver, Oklahoma. The post office began March 16, 1907. The Newspaper was the Farmers News and the railroad was the Wichita Falls & Northwestern railway (Katy), abandoned 1972.

Knowles moved its location and changed its name, like many other towns in Oklahoma. It incorporated as Sands City in 1906, it moved about a half mile eastward in 1912 at the time the Wichita Falls & Northwestern Railroad laid its tracks through eastern Beaver County. The post office, Knowles, was established in Sands City before the founding of Knowles.

The new city of Knowles soon became a trading, marketing, and shipping center for eastern Beaver and western Harper counties.

In 1909 Sands City had nine business establishments. In 1913 Knowles had thirty businesses. In the four-year period the population increased from 25 to 254 persons. In addition to the various stores, the town had a good bank, an excellent grade school and high school system. active churches, and the widely read Farmers News.

Around the town was some of the best farming land in the state. Between September 1, 1928, and September 1, 1929, some 273 train cars of wheat, 43 cars of kafir corn and milo, 18 cars of broomcorn, 49 cars of cattle, 5 cars of hogs, and 14,480 gallons of milk were shipped. Turkeys, chickens, and eggs were sent to market by trucks. Most farms had small orchards, and all had gardens. Knowles was a growing agricultural center.

The 1930s changed all that. The depression ruined many farmers economically, and during the Dust Bowl period many saw their farms blown away. A long period of below average rainfall, dry topsoil, and strong winds dominated the weather of the mid-1930s just as it did other small farm towns in Oklahoma.

The most severe dust storm in the area started on sunday, April 14, 1935. On that date a reddish brown cloud moved over Knowles from the northwest. It was a large dust cloud carried eastward by a slowly advancing cold front. Light from the sun was blotted out, and visibility was reduced to a few feet. Even though houses were shut as tight as possible, and wet cloths were wedged around windows and doors, the fine silt covered furniture and floors. The storm continued the following day. Stores were closed, school was canceled, driving ceased, and meetings were postponed. Those who had to go outside wore masks to protect their mouth and nose and goggles to protect their eyes.

When the wind was not strong, such a storm could last two or three days. If the wind was strong the storm would move on quickly but often would have the effect of a sand blaster on a painted building or car. In the mid-1950s such dust storms again developed.

The town of Knowles struggled for existnece, bgut that struggle appeared to be a losing cause. So many people had moved from teh community that the schools were closed, railroad had been abandoned and the tracks removed, and only on grocery store and the post office continued to operate. US Highway 64 borders the eastern edge of the town, and cars sped by to larger towns and cities. Knowles was a victim of farm consolidation and the return to ranching, advancing agricultural technology, improved highway transportation, and the weather. The town was almost surrounded by a single ranch.
View/Write Comments (count 0) | Receive updates (0 subscribers) | Unsubscribe
---
1930's Dust Bowl Stories...
Vol 6, Iss 10 1930's Dust Bowl Stories... "Excerpts from "The Dust Bowl, Men, Dirt and Depression" by Paul Bonnifield. The 1930's Dust Bowl -- 'Dust Bowl' was a term born in the hard times from the people who lived in the drought-stricken region during the great depression. The term was first used in a dispatch from Robert Geiger, an AP correspondent in Guymon, and within a few short hours the term was used all over the nation. The "Dust Bowl Days", also known as the "Dirty Thirties", took its toll on Cimarron County. The decade was full of extremes: blizzards, tornadoes, floods, droughts, and dirt storms. Early Thirties Economy -- In 1930 and 1931, the decade opened with unparalleled prosperity and growth. NATION'S BUSINESS magazine labeled the panhandles of Oklahoma and Texas as the most prosperous region. The Panhandle was a marked contrast to the long soup lines of the Eastern United States....." View/Write Comments (count 0) | Receive updates (0 subscribers) | Unsubscribe
---
nwOKTechie
Create Your Badge