---
Re: Col. Kirkbride When I was about 4 years old, we lived in the Kirkbride Apartments. My clearest memory of that time is the taffy pull that he hosted in the back yard of the apartment building. The children were given lollipops made of bright red unpulled taffy. Too bad there's not muc [more]...
~Barbara Walters Hodges regarding Okie's story from Vol. 10 Iss. 39 titled UNTITLED
This is actualy a comment about a comment. There are still big parades. We were in Salt Lake City in July for their Pioneer day parade. Lots of floats and big marching bands. Steve Nicholson
~Steve Nicholson regarding Okie's story from Vol. 9 Iss. 40 titled UNTITLED
---
Duchess Snowy Domain
Here it is the 1st Issue of Volume 12 of The OkieLegacy for 2010! How time flies! We are slowly recuperating from the Holidays here in SW Colorado and still kind of on vacation. So ... this week's newsletter might be a bit short. It has been chilly, cold and sunny most of those days. We did add another 3 inches of snow a few days ago, though. BUT ... most of those days were sunny before and after. We hope here at The OkieLegacy that you had a safe and enjoyable New Years gathering and wish you all the best for this coming new year 2010!

My friend Ruff's human counter part took some photos of Vallecito Lake from the dam a few days ago and we took five of those photos and connected them into this panorama view of the lake and San Juan mountains in the background.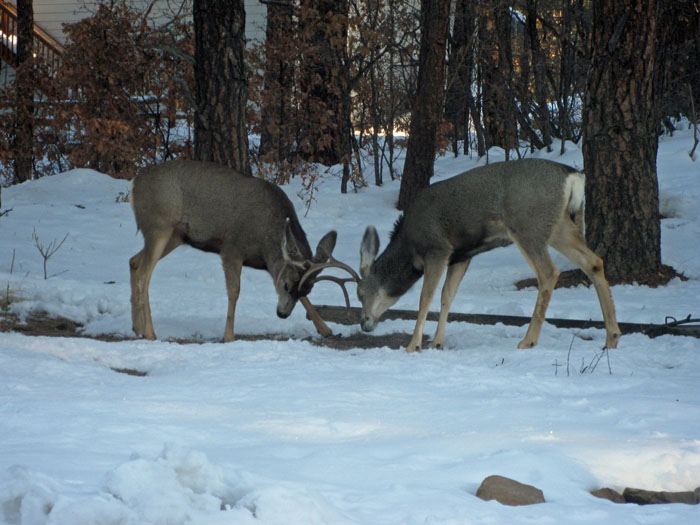 This morning NW Okie took some movie clips of a couple of bucks going at it with antlers entangled between a two-point and a three-point buck here in our backyard, North of Bayfield, Colorado. After a few minutes of entanglements of the two, the three-point buck was the first to back off and walk away.

Two Bucks Battle of Antlers...

View/Write Comments (count 2) | Receive updates (0 subscribers) | Unsubscribe
---
Kemper Military & Kentucky University 1937-1940s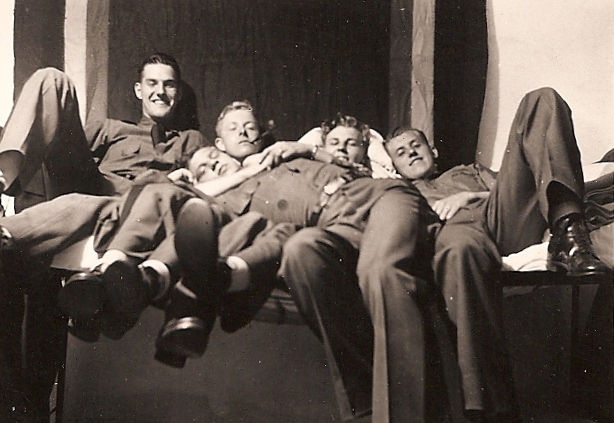 We heard from a descendant of another 1937-1939 Kemper Military student this last week. It is a small world with this media, isn't it?

NOW ... I need to look back through Uncle Bob McGill's old Kemper Military photos and album and see if he crossed path with Clyde W. Garrett. Meanwhile ... You can view some of Uncle Bob's Kemper classmates and Kentucky University classmates by Clicking HERE.

As I said earlier, towards the end of the photos are a few photos taken at Kentucky University where Uncle Bob McGill did his tank school training before going overseas in World War II.
View/Write Comments (count 0) | Receive updates (0 subscribers) | Unsubscribe
---
Readability Web Tool
SBW says, "READABILITY The single best tech idea of 2009, though, the real life-changer, has got to be Readability. It?s a free button for your Web browser?s toolbar (get it at lab.arc90.com/experiments/readability). When you click it, Readability eliminates everything from the Web page you?re reading except the text and photos. No ads, blinking, links, banners, promos or anything else. Times Square just goes away.

You wind up with a simple, magazine-like layout, presented in a beautiful font and size (your choice) against a white or off-white background with none of this red-text-against-black business.

You occasionally run into a Web page that Readability doesn?t handle right ? no big deal, just refresh the page to see the original. But most of the time, Readability makes the world online a calmer, cleaner, more beautiful place. Go forth and install it."
View/Write Comments (count 0) | Receive updates (0 subscribers) | Unsubscribe
---
2009 Oklahoma End of Year Snow
Roy in Perry says December 31, 2009, "This past week, our blizzard dumped more snow on Oklahoma City than ever before. Today they said it was only twelve and a half inches instead of the 13 they had claimed earlier, but our wind was so strong at the same time that I thought I was going to lose one of the massive wooden gates I have at the shop. Let's see if I can attach a couple of older pictures to this piece.

There are two large gates behind that sign (that's painted on four sheets of 4'x8' exterior 5/8:" plywood, and the gate farthest from the front door of the shop was leaning towards the street at a very steep angle because of the force of the north wind that day. Today, most of the snow is gone and it was calm so I added another chain to those gates to hold them closer at the top.

"I'm watching "The Piano Hour" on one of our PBS stations and they just played "Basin Street Blues" and are now showing older scenes of New Orleans and playing various New Orleans jazz tunes. It's fantastic!"

View/Write Comments (count 0) | Receive updates (0 subscribers) | Unsubscribe
---
Kemper Military Memories of 1937-39
Dan Garrett(email: dpgarrett390@hotmail.com) states, "My Dad attended Kemper Military Academy in the late 30's (37-39 I believe). His name was Clyde W. Garrett from Eastland,Texas. He was the son of the U.S. Congressman Clyde L. Garrett.

"My Dad was the fullback on the unbeaten Kemper football squads during these years. I have several photos of him at Kemper, write ups on their games from the Booneville paper, and his football letter.

"He served in WWII flying 29 combat missions in the Army. Please feel free to contact me if I can share copies of the photos, etc. My Dad loved Kemper. He went on to the University of Texas and then to law school after the war, but his days at Kemper were very fond ones."
View/Write Comments (count 1) | Receive updates (0 subscribers) | Unsubscribe
---
2010 Waynoka Historical Society Calendars
Waynoka 2010 Collectors Calendar Honors 100 Years for Santa Fe Depot, Harvey House.

It was 100 years ago, in 1909, that Waynoka witnessed the construction and opening of the Santa Fe Depot and the adjacent Harvey House. The 2010 Waynoka Historical Society Collectors Calendar is dedicated to to the special anniversary of the buildings. The colorful cover features nine photographs of the beautifully restored structures and their Spanish mission architecture.

Each month of the calendar has a different theme with multiple pictures. January's photos are from the Belva-Heman area west of the Cimarron River, and include Good's Dance Barn. February features nine Waynoka businesses in the 1950s or 1960s. Other themes are Harvey Girls and the Harvey House, sports, churches, the Santa Fe Depot, Transcontinental Air Transport, leisure, schools, farming and ranching, Santa Fe Railroad, and for December, a variety of winter scenes.

The calendars can be purchased at the Woods County Enterprise and the Museum Gift Shop, or can be ordered by mail. They are $8.66, each, tax included. For mailing, add $2.50 for one, $3.00 for 2, or $3.50 for 3 to the same address. Send payment to Museum Gift Shop, PO Box 193, Waynoka OK 73860. Visa and Mastercards are accepted with name, card number and expiration date.

The Waynoka Historical Society has published calendars since 1989. The 2010 collectors calendar has a new format, and contains almost 100 photographs. A few calendars remain at the Gift Shop from prior years. Please call 580-824-1886 with any questions or for Credit Card orders. Or email waynokahs@hotmail.com.
View/Write Comments (count 0) | Receive updates (0 subscribers) | Unsubscribe
---
nwOKTechie
Create Your Badge