---
Interesting photos make by Hugh T. Donnan. My name is Hugh H. Donnan, his grandson. I have quite a few That he took when he lived in Alva.Most are family related. Thanks.
~Hugh Donnan regarding Okie's story from Vol. 7 Iss. 8 titled UNTITLED
I think I'll claim "bragging rights" this time because Perry's gas prices dropped another dime this morning (Saturday, 8/26/06) to make it $2.59.9! Now that's impressive [more]...
~Roy Kendrick regarding Okie's story from Vol. 8 Iss. 34 titled UNTITLED
---
John James & Mary (Markvicka) Hurt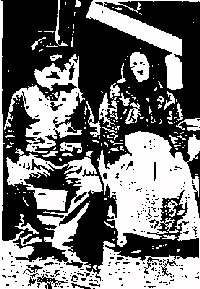 My search for the HURT surname began Memorial Day 1997. I was visiting a small, rural cemetery (Orion) just north and east of Chester (a.k.a. Tailholt), Oklahoma, in Major County.

My maternal grandparents, great grandparents, great-great grandparents, and other family members are buried there or around there close by. While I was there I walked through and jotted down names of those names familiar with my families.

John James Hurt's first signature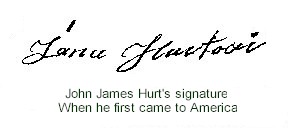 It has been told amongst the HURT Family stories that these Bohemians left their native lands in 1876 and came over to America with their family in tow. There were some that stayed in Bohemia area for reasons yet to be discovered.My Grandmother (Mary Barbara Hurt) was born 5 September 1893, Nebraska to Joseph P. Hurt and Anna Wallman. From the info on my Great-Grandfather Joseph P. Hurt's death certificate I know that he was 79 years old and a retired farmer living in Major County, Fairview, Oklahoma before he died 18 March 1936.

Joseph died one day short of his Eightieth birthday. He was married to his second wife (Hannah Alice Marsh Kachel) at the time. His first wife (Anna Wallman) had died in 1902 when she was struck by lightening while gathering her chicks out in the backyard during a thunderstorm. Joseph married Hannah around 1910 when all their children were raised. [If someone reading this has another version to the story, please send me a copy.]

John James Hurt's USA version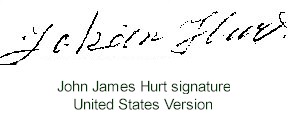 Joseph was born in Bohemia (a part of Austria-Hungary) to John James Hurt (Hurtosci, Hurtoovi, or Hurtosic, not sure of the spelling) and Mary Markvicka. Joseph came over with his parents, an Uncle Anton and Eloize Hurt) and John and Anton's nephew (Vaclav Hurt). They boarded the ship Weser and left Bohemia and landed in New York on 14 March 1876. Then they headed Westward towards Nebraska and settled in Posen (now known as Farewell), Nebraska.

John James Hurt and Mary Markvicka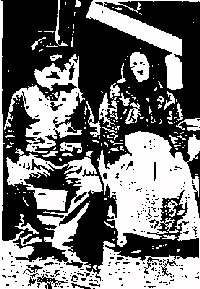 This is a photo of John James Hurt (b. May 1825, bohemia) and Mary Markvicka (b. June 1839, Bohemia). The parents of Joseph who was the oldest of seven (7) children (4 girls and 3 boys) of John James and Mary Hurt. Joseph P. Hurt (my G-Grandpa) b. September 1856, m: (1) 1879, Anna Wallman b. 1865, Bohemia, d. 1902, Oklahoma (my G-Grandma) & (2) 1909, Hannah Alice Marsh Kachel.

Anna Hurt - b. 1862, Bohemia, m: Buresh
John Hurt - b. 1867, Bohemia
Frank Hurt - b. 1868, Chesamf, Bohemia, m: (22 yrs of age) 11 Feb 1890, Maggie Szkudlacek (19), Nebraska. (Clara Hurt Case's father) Barbara Hurt - b. 1869, Bohemia, m: Jos. S. Bukowski
Anton Hurt - b. 1873, Ujezdec, Bohemia; m: 21 Feb 1895 , Nebraska,
Cecilia Shebeski (19)
Mary Hurt - m: Wasielewki
Joseph and Anna Hurt

Joseph, as I mentioned before, married Anna Wallman and they had seven (7) children (5 girls and 2 boys) before Anna died in 1902. The info that I'm giving you in this article came from Joseph's and Mary Barbara Hurt's death certificates and from information received from Ersel Hedrick, Alice Shook's granddaughter, Betty Martin and Vernon Case.

Children of Joseph & Anna listed below:
1. John Hurt - b. Sept. 1880, Nebraska; married Clara Kachel. They had three (3) children
2. Jospeh "Joe" Hurt - b. Mar. 1885, Nebraska; married Anna (?). They had one (1) child
3. Carrie Hurt - b. Jan 1887, Nebraska; married James Holub. Eight 8 children
4. Matilda "Tillie" Hurt - b. Mar. 1888, Nebraska; married Martin Hamilton
5. Emma Hurt - b. Aug 1889, Nebraska; married Sam Louthan. Six 6 children
6. Mary Barbara Hurt - b. 1893; married Ernest Claude Paris (my grandparents). Nine (9) children
7. Lucy Hurt - b. May 1899, Nebraska; married Cary Pope. Three (3) children.

The Hurt Family Tombstone, Hurt Cemetery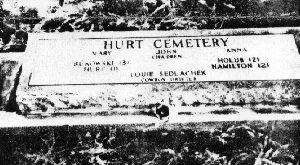 I have enclosed with this biography a picture of a family tombstone that the Case's erected on the "Old Hurt Place" located two (2) miles west, 1/4 mile southeast of the Orion Cemetery in Major County, Oklahoma.

The names on the tombstone are John and Mary Markvicka Hurt, Anna (Joseph's first wife), several children of family members, and one was a Cowboy Drifter (Louie Sedlacher) who just happened by and died while there. [It would really be interesting to know more about that Cowboy Drifter. That would be an interesting story in itself.]

The other family names on the tombstone were mentioned only by last names of the family members and in (...) how many there were. There were three (3) Bukowski, one (1) Hurt, two (2) Holub, and two (2) Hamilton.

My Grandparents
So far we know that my G-Grandfather Joseph's Vital Statistics are: b. 19 March 1856, Bohemia, d. 18 March 1936, Fairview, OK, Major Co., USA. m. (1st-wife) Anna Wallman until her death in 1902. m. (2nd-wife) Hannah A. Kachel in 1909 in later years after they had raised their families. Joseph was a retired farmer when he died of a Coronary Occlusion and Hypertension (heart disease). His attending doctor was John D. Campbell, MD in Fairview, Oklahoma, Major Co. My Grandmother's (Mary Barbara Hurt Paris) Vital Statistics are: b. 6 Sep. 1893, Nebraska, d. 5 Nov. 1966, Fairview Memorial Hospital, Fairview, Oklahoma, Major Co, USA. m. Ernest Claude Paris. Mary's parents were Joseph P. Hurt and Anna Wallman Hurt. Her Grandparents were John James Hurt and Mary Markvicka Hurt. Mary Barbara's cause of death was a Cerebral Hemorrhage and coma, Myocardial Degeneration, and Artereosclerosis and Hypertension.

This has just been a starting place for our Hurt Generations. I'm trying very hard to share this information with my sisters and their families that are connected online and for some reasons aren't able to communicate with the rest of the family.

You may send me feedback on anything you see here. I'm expecially interested in "Old Family Stories" and "Other Family Members" that I can add to my Family Tree database at paristimes @ Ancestry.com and "oakiebelle" @MyHeritage.com.
View/Write Comments (count 0) | Receive updates (0 subscribers) | Unsubscribe
---
Hurt Migration To Nebraska (Czechoslavkia)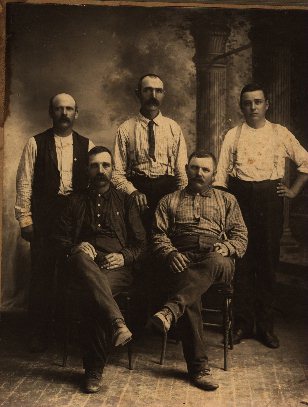 "The fellow on the far left is Jerry Joseph HURT (Garislaw). Two of the fellows look like the two in the wedding picture. After looking at the ages of the HURT men in Nebraska, it could be Vaclav, Frank (Jerry's brother), Anton Charles or even Joseph P. ??"

Jeanine Baringer says, "Our Hurt's came from the Village of Oujezdec (today Ujezdec), Town of Kutna Hora, County, Caslav. This is the way it is listed on the land records in St. Paul, Nebraska. They have the records for Howard County where the original homesteads were in Farewell, Nebraska." Jeanine goes on to state, "The town Kutna Hora is still there. It is very old and has about 22,000 people living there now."

Jeanine's sister was in Prague this summer and talked to a professor who gave a lecture and he said that the town was not destroyed during WWII or during the Russian occupation. There are still HURT's living there today.

Wedding Photo of Jerry Joseph and Anna Slavicek, 1897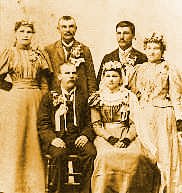 Wedding Picture (courtesy of Linda Hurt) - Jerry Joseph HURT (age 24) and Anna Slavicek (age 16). They were married 11 May 1897. Jerry Joseph's parents were Anton and Eloize Hurt.

Czech Immigration Passenger Lists
Linda Hurt ran across this information at the Library in Independence, Missouri. It is presumed to be the Czech Immigration Passenger Lists showing the immigration records of John and Mary HURT on the Ship (Weser).

Czech Immigration Passenger Lists - "New York Passenger Lists 1870-1880", by Leo Baca, Vol. V, pg 60, privately published, copyrighted 1993 shows the following:

HURT, Johann 41, Anna 14, Maria 9, Johann 8, Barbara 6, Franz 4, Anton 2, Maria 39, Bohemia; Weser 14 March 1876.

Nebraska/Kansas Czech Settlers'
Linda Hurt sent this information that she ran across in the Library in Independence, Missouri. The "Nebraska / Kansas Czech Settlers'" book written by Margie Sobotka, page 131, for Howard County Kelso District states:

"Mat. Mrkvicka from Lestina, Caslav, Ant. (Anton) Hurt, Vac. (Vaclav) Hurt, Jos. (Joseph) Hurt and Fr. (Franz) Hurt. Ant. and Fr. are from Oujezdec, Kutna Hora, Caslav and Vac. and Jos. are from Dubina, Caslav. "

They all owned farm land in Howard County. There is also a Jan Francl from Dubina in that District (precinct) and Vaclav married a Francl girl.

1880 Census, Lincoln, Nebraska
The 1880 Census for Nebraska lists Anton HURT as 8 years old and born in 1872. Their homestead's were in Farwell (Posen), Nebraska. There is a Czech cemetery in Farwell where some of Anton and Louise HURT's family is buried.

1885 Ag Census, Lincoln, Nebraska
According to the 1885 Ag Census Record that came from Lincoln, Nebraska states, "Anton and Eloize (Louise) Hurt owned their own land. 66Acres were improved and 94 Acres unimproved. They owned 2 cows, 10 pigs, and grew 24 Acres of Indian Corn, 8 Acres of oats and 24 Acres of wheat."

There is a book in the Lincoln Court House about early settlers and the HURT's are in it on page 210. It's called "Nebraska, Kansas Czeck Settlers, 1891 to 1895". The best book to read is "A History of Czechs (Bohemians) in Nebraska" compiled by Rose Rosicky. Both book's are in Lincoln, Nebraska Court House.
View/Write Comments (count 0) | Receive updates (0 subscribers) | Unsubscribe
---
Anton & Eloize Hurt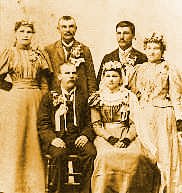 Wedding Picture - (courtesy of Linda Hurt) - Jerry Joseph HURT (age 24) and Anna Slavicek (age 16). They were married 11 May 1897. Jerry Joseph's parents were Anton and Eloize Hurt.

Anton & Eloize  HURT
Anton HURT was the brother of John James HURT and uncle of Vaclav HURT.  Anton married Eloize (Louise).   Anton & John James had a brother (Frank)   who did not make the trip to America. According to Jeanine, "Frank Hurt was a brother to our great-great-grandfathers, John and Anton.  Vaclav was Frank's son.   According to Vaclav's marriage record, his mother's maiden name was Anna Cynowa.  Frank and Anna didin't come to the US. "

One of Anton and Louise's children was Jerry Joseph.   Jerry Joseph married Anna Slavicek in 1897.  [See wedding photo at top of page.] Jerry and Anna had nine children born in Nebraska, Howard County.  The 1920 Census has Jerry J. Hurt (age 46) with wife Anna (age 38).  Only eight (8) of the children are listed in the 1920 Census.  The nineth child (Daniel Clayton) was born in 1924.   The 1920 Census also includes Anton HURT, relationship as father, age 77 years. Daniel Clayton HURT was the youngest of nine children born 30 June 1924 to Jerry Joseph HURT and Anna Slavicek.  Daniel married Betty Jane McCracken and had five children.   Daniel died in 27 December 1969 and Betty (b. 4 July 1925) remarried Mr. SHAW in 1970.

Daniel and Betty had five children:
Jerry James, m. Linda Rasmussen
Randal Ray, m. Debbie
Dale Daniel [Dale & Dwaine are twins], m. Lynette
Dwaine Clayton [Dale & Dwaine are twins] , m. Pam
Dineal Louise, m. Charles E. Olsen
View/Write Comments (count 0) | Receive updates (0 subscribers) | Unsubscribe
---
Anton & Louise Hurt & Family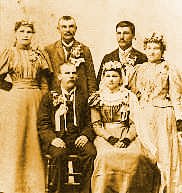 [The following letter and photo came from Linda Hurt, Missouri.]

Hi everyone! -- Dineal and I got together with the family on the Fourth at her mother's home. Mom's birthday is on the Fourth, also. I had been wanting to get to her house with my laptop computer and portable scanner ever since I got them in April! Well the wait paid off, because she had pictures that she didn't know she had and I am sending along the one that I believe Dineal and I agreed was the 'find of the day'.

The young man on the far left is our grandfather, Jerry Hurt (Garislav). The older couple are Anton and Louise Hurt. The young man in the middle is Frank Hurt. We are still not sure about which of the girls is which. The writing on the back of the picture looked like '1888'. As I look at the pencil marks, that are easier to read on the copied picture than they were in real life, the young girl in the middle the light color blouse, is 'Mrs. N'. That would be Anna that married Joseph Nesiba. The tallest girl is 'Mrs. B'. That would be Karetta that married James Bartunek. The far right girl is 'Mrs. F.'. That would be Clara that married Joseph Fisher. I'm pretty sure that's correct.
I gotta run........ till next time..... Linda Hurt
View/Write Comments (count 0) | Receive updates (0 subscribers) | Unsubscribe
---
88th Birthday & Reunion
21 February 1999 - Dolly Barr submitted a little bit of HURT family history. Do you have any stories that you would like to share? Dolly, her brother, sisters and families had a wonderful time at their "Mother's 88th Birthday party" last weekend in Elk City, Oklahoma at the Holidome.

What a great time to celebrate and record family histories. AND . . . Don't forget to bring the camera, notebooks, recorder, and especially the microphone (if needed) and film for the camera. I've been known to forget to load the camera and check batteries in the tape recorder. Maybe you can learn from my mistakes.

Anyway! After their meal on Saturday night, Dolly and her sisters visited with their mother about her mother and family histories. They had so much fun, laughing until they cried. As one sister was taking notes, another sister thought she was recording it all on her large tape recorder. Little did she know that she needed a microphone. Most tape recorders nowadays have built-in mikes.

You could hear her later proclaim, "After I returned home, I found that the large tape recorder I was using needed an external microphone. I was not taking notes very carefully, thinking I could transcribe it from the tape. Boy, was I disappointed."

Dolly mentioned that her mother has a sister who is soon to be 90 years-old.

Of course, they have heard the story before . . . BUT they are not sure how many more times they will have an opportunity to hear it. Dolly says, "Seems like there are different little details each time. What I do know is that my grandparents, Sam Kachel and Mary Hurt Kachel ended up being cousins from inter-marriage among family members. The older generation (after mates left) married after a younger generation had married."

There is to be a "Family Reunion" of the family of Mary Hurt Kachel's father who left and went to Canada; married the French woman and had another large family. Dolly's grandmother was the oldest of 21 children of that man. The details are sketchy for this writer with only the knowledge that it is in September in Nebraska.

Dolly states, "I think that this is the 'other side' of the family to most of you if our common link is Barbara Carrie Hurt. It is her husband (Bukowski) that left and went to Canada. That family of 11 children have been in contact, for years, with the other family down here. Some of them live in Ponca City and some have come from Canada and visited my mother."

Don't forget to sit down with your family today and pass along some family history and stories while you can.

Thanks to Dolly Barr for sharing some of her family stories with us.
View/Write Comments (count 0) | Receive updates (0 subscribers) | Unsubscribe
---
The Bukowski History

The following information on the Bukowski-Hurt was submitted by Alice Shook via her granddaughter. It should give you a feel for the lifestyle and hardships that the pioneers went through during that time. To see more Histgory go to Kachel History.

Joseph Bukowski - (submitted by Alice Shook, 1998)
In the Spring of 1890, at Grand Island, Nebraska, Barbara Carrie Hurt and Joseph Stanley Bukowski were united in marriage.

In the early 1870's Barbara Hurt migrated to the United States from Austria Hungary (now Czechoslovakia) with her parents, Mr. and Mrs. John Hurt, when she was only four years old.

The young couple established their first home on a farm near Ashton, Nebraska in Sherman County. The country was in one of its worst droughts. A contributing factor to the major depression of 1892-1893. Thousands of people were out of work and wages were extremely low.

In 1895 Joseph and Barbara Bukowski, and their young children (Mary, Phillip and Edward) left their home in Sherman County, Nebraska and set out for the newly opened Oklahoma Territory. They loaded all their worldly possessions in covered wagons and traveled in a caravan across country.

In the caravan with the Bukowski family were her parents, Mr. and Mrs. John Hurt; and her brothers (Joseph, Johnny and Frank Hurt families). Others were the Jim Holubs and the Divorak family, and possibly others. All of these families came from Sherman or Howard Counties in Nebraska.

There was still land to be homesteaded in Oklahoma Territory even tho they did not make the "Run". It quite possibly was the least desirable land, but in their hearts burned the desire to make a home in this new country, probably the first some of them ever had. All of them filed on claims, and proved up homesteads in the Orion Community of Major County. Living conditions were very hard, there was no money and very little to do with, but firewood could be had for the chopping!

Their houses were built of blackjack logs, usually just one big room with an attic. Later more rooms were added on. Water was hauled from springs, until cisterns were dug, or wells "put down" for their water supply.

Kerosene lamps and candles were used for lighting. The conquest of the land was not easy. Fields, gardens and orchards had to be "grubbed out" by hand, clearing the land of blackjack trees and brush before crops or gardens could be planted.

Tragedy wasn't long in coming to the Bukowski family. Two small children (William and Lillie) born on the homestead died from whooping cough. They were buried in the "Old Hurt Cemetery" on her parent's land.

The family returned to Nebraska where Joseph found work in a meat packing plant in Omaha. After a few years work and a little money ahead, Joseph went back to his Oklahoma homestead and put in a crop. Later he sent for his wife and family, now consisting of two more boys (Charley and Frank) who were born in Nebraska. Barbara and five children rode the train from Omaha to Alva, Oklahoma where they were met by Joseph driving a wagon and a fine team of horses. The family camped out that night close to the Cimarron River, driving the rest of the way to the homestead the next day.

All their farming was done with horse drawn implements. Gardens were worked and taken care of by hand. They always raised a big garden as they had to "put up" most all their food supply. They dug caves to store a lot of their vegetables in, as well as keeping the milk and butter in a cool place. Fruits were canned or dried.

After a few years of poor crops and other hardships, Joseph decided this was not his kind of country. he took his three oldest sons and went back to Nebraska. By this time two more children (Leo and Anna) had been added to the family, and another baby on the way.

Joseph left his sons (Philip, Edward and Charley) with his mother in Nebaska and went to Canada where he established a new home and never returned to the United States, except for a short visit or two to see his childern. Joseph Bukowski passed away in Saskatchewan, Canada, September 1942, leaving a family there.

Mrs. Barbara Bukowski and family continued to live on the homestead. The baby (Louie) was born and died within a few months time. Finally with help from some of her neighbors and relatives, she and the children went back to Nebraska where she got her three oldest sons. They rented a house in St. Paul, Nebraska, and she and the older children all worked in a cannery. After some time she decided her children would be better off on the farm, so she took her family and once again returned to the Oklahoma homestead to live. The boys worked out for the neighbors, pulling broomcorn for as little as $.50 per day. My (Alice Shook's) mother (Mary) cooked and cleaned in the old Floyd's Hotel in Fairview for $2.00 per week when she was only fourteen years old.

Times were very hard for the family. Uncle Ed remembers that they did get a milk cow some how, so they had milk, cream and butter. And they always raised plenty of sweet potatoes, squash, turnips, cabbage and pie-melons. He said, "Grandmother made some very tasty preserves out of the pie-melons."

When the boys were not busy in the fields, they enjoyed catching rabbits, quail, or squirrels, all which helped to put meat on the family table.

At the time there were several country stores scattered around the countryside, such as Orion, Chester or Phroso where the family could buy a few staple groceries and a gallon of kerosene for their lamps. There were also some old mills, where the family could take their corn and have it ground into meal. Very little wheat flour was used. Uncle Ed remembered an old mill that Mr. Cossel had that was run by windmill, so the family would always go to the mill with their sack of corn on a windy day! The Bukowski children all attended the Old Orion School. School only lasted for a few months in the winter time, as the pupils were all farmers children and were needed a home to work.

When her children were all grown, Barbara went back to Nebraska to make her home in St. Paul. A few years later she and son Frank moved to Oregon where three of her children were already living. Barbara passed away and is buried at Eugene, Oregon. Her son (Leo) had died while still a teenager and is buried in the Fairview, Oklahoma cemetery. Mary (Bukowski) Kachel passed away at Beaver, Oklahoma and is buried in the Beaver Cemetery. She and her husband (Sam) both died in the Summer of 1966.

Frank Bukowski died in 1972 and Phillip S. Bukowski died in July 1975, both in Cottage Grove, Oregon and are buried there. The three remaining children are Edward J. Bukowski of Harrisburg, Oregon; Anna Bush of Cottage Grove, Oregon; and Charles Bukowski who lives in Kearney, Nebraska.
View/Write Comments (count 0) | Receive updates (0 subscribers) | Unsubscribe
---
Descendants of Daniel Clayton Hurt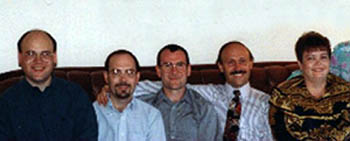 From left to right: (Children of Daniel Clayton Hurt & Betty Jane McCracken) ---- Dale, Dwaine, Randy, Jerry and Dineal.

1 Daniel Clayton HURT (youngest of nine children of Jerry Joseph HURT and Anna Slavicek b: June 30, 1924 in Farwell, Nebraska d: December 27, 1969 in Council Bluffs, Iowa.
+Betty Jane McCRACKEN b: July 04, 1925 on the farm, 6 miles SW of St.Paul, Nebraska m: September 01, 1944 in St. Paul, Howard County, Nebraska

Dineal Louise HURT
+Charles Edward OLSEN
2 Jerry James HURT
+Linda Leigh Rasmussen
2 Randall Ray HURT
+Debra Irene HAYES
2 Dale Daniel HURT
+Lynette Joy LININGER
2 Dwaine Clayton HURT
+Pam ROBINSON
View/Write Comments (count 0) | Receive updates (0 subscribers) | Unsubscribe
---
Frank James HURT Lineage
Generation No. 1
1. FRANK J.3 HURT (John JAMES2, ??1) was born May 1872 in Chesamf, Bohemia, and died Abt. 1943 in Chester, Major County, Oklahoma. He married Magdaline SZKUDLAREK (Maggie) February 11, 1890 in St. Anthony Church, Posen, NE, daughter of Mike SZKUDLAREK and Mary COLUMNBISKI.

Children of Frank HURT and Magdaline SZKUDLAREK are:
i. CLARA4 HURT, m. VERNON CASE.
ii. FRANK HURT, b. May 1892, Nebraska.
iv. FRED HURT, b. May 1897, Nebraska.
v. ANNA HURT, b. June 1898, Oklahoma
View/Write Comments (count 0) | Receive updates (0 subscribers) | Unsubscribe
---
nwOKTechie
Create Your Badge