Edith, Oklahoma Woods County
According to an article written by Darlene Farr, Edith, Oklahoma was "A little county town nestled along the north side of the Cimarron River facing the beautiful picturesque bluffs across the river south, and approximately six miles west of Freedom down the reailroad tracks. It is now only memories to the people of this area."
Darlene goes on to write, "The town was named for Edith Vincent, wife of W. W. (Dinky) Vincent, a resident of the area there. It was a place where farmers, and merchants lived with their families in a friendly and neighborly atmosphere. There were hard times, money was scarce, but happiness and love for their neighbors was never more abundant than at Edith, Oklahoma."
"The residents found time for pleasure and entertainment with their families and friends. Horse races, baseball games, dances, skating at Pancoast garage and foot races down main street. There was times of sorrow and tragedies also, but they were strong of heart and mind and determination."
"In 1919 W. W. (Dinky) Vincent was instrumental along with others in getting the Buffalo Northwestern Railroad in to Edith and on to Buffalo. After the railroad was finished, making it more convenient for the residents, it was not all jubilant. There was a train wreck just at the edge of Edith, with one train crew member killed."
Edith Depot
Another article in a newspaper mentions, "May 22, 1922 there was a devastating tornado swept down on some of the Edith area residents. The daughter (Cecil Bradt) of Mr. and Mrs. George Bradt was killed in the tornado; Elmer Bradt received a broken leg and Mrs. Laura Bradt, a broken hip. The homes of the George Bradt's and Frank Lile's were destroyed by the storm, as was the Santa Fe Salt Co. building. After the storm was over, they found a wagon with mules hitched to it standing in the Salt co. building. They were unhurt and the wagon undamaged.
Blasting Way for Railroad between Freedom & Edith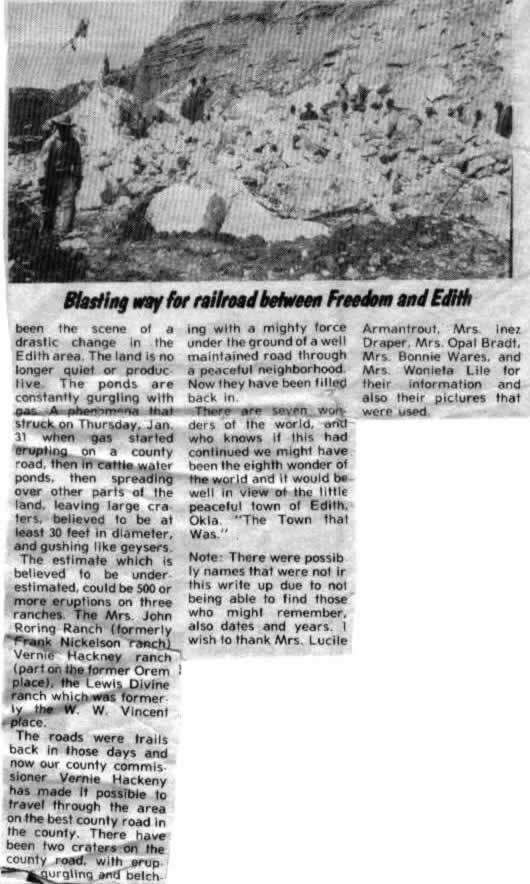 Another news article mentions that there has been drastic change in the Edith area. The land is no longer quiet or productive. The ponds are constantly gurgling with gas. A phenomena that struck on Thursday, January 31 (not sure what year) when gas started erupting on a county road, then in cattle water onds, then spreading over other parts of the land, leaving large craters, believed to be at least 30 feet in diameter, and gushing like geysers.
The estimate which is believed to be under estimated, could be 500 or more eruptions on three ranches. The Mrs. John Roring Ranch (formerly Frank Nickelson Ranch0 Vernie Hackney ranch (part on the former Orem place), the Lewis Divine ranch which was formerly the W. W. Vincent place.
The roads were trails back in those days and now our county commissioner Vernie Hackney has made it possible to travel through the area on the best county road in the county. There have been two craters on the county road, with eruption gurgling and belching with a mighty force under the ground of a well maintained road through a peaceful neighborhood. Now they have been filled back in.
There are seven wonders of the world, and who knows if this had continued we might have been the eighth wonder of the world and it would be well in view of the little peaceful town of Edith, Okalhoma. "The Town That Was."
Pictures of Early Day Residents of Edith, Oklahoma
Free DHTML scripts provided by
Dynamic Drive