Carmen IOOF Home
Carmen, Oklahoma, Alfalfa County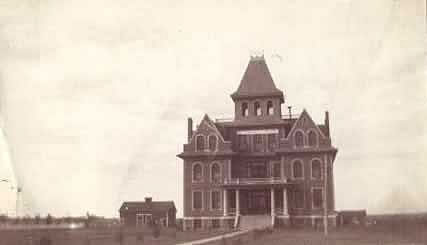 Edmund Roy Stevenson b. Washita Co. Okla., July 21, 1895
Photos are property of Clyde Stevenson E-mail: clydedean@bigplant.com>
Clyde Stevenson Dad (Edmund Stevenson) was at IOOF home in Carmen (date of admission - Dec. 25, 1907). Edmund had three sisters and one brother in Carmen. Chole Stephenson is buried at the cemetery and is Clyde's aunt (Chole Nellie Stevenson). Clyde also has pictures of this Home in a booklet that they made. Click photos for larger view
Odd Fellows Home - Lester Hachenberg, Superintendent - Annie Hachenberg, matron - Checotah, Oklahoma. Signed by L. E. Hachenberg, Supt.
The following is an exact copy. Oklahoma Odd Fellows Home, Carmen, Oklahoma, History and Record of Resident - page 22.
Number of Application: 26 Edmund Roy Stevenson
From what Lodge received: Cloud Chief #36
Date of admission: Dec. 25, 1907
Date and manner of departure: discharged and went to Oakwood where he found work, June 3, 1910
When and where born: Washita Co. Okla., July 21, 1895
Father's name and residence: L. C. Stevenson - dead
Mother's name and residence: Nellie Stevenson - dead
Guardian's name and residence: J. H. Rose, Cloud Chief
Permission as to adoption: No
Where is or was Father's membership: cloud chief #36
Name and residences of brothers and sisters: Shown on page 21 excepting Earl who is in Washita County.
Click Photos for Larger Views