Carmen, Oklahoma
Carmen Odd Fellows Home For Children
The Carmen Home (IOOF Home for Children) was empty for 10 to 12 years when it became the private residence of Jim and Naomi Davis from 1940 to late 1940s.
After that the Pentacostal Holiness Church purchased it around 1944 and made it into the Carmen Home for Elderly in 1954.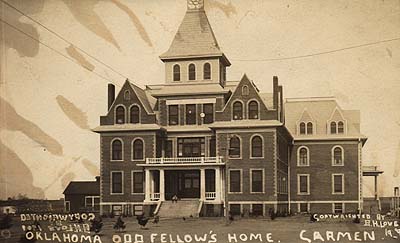 Oklahoma Odd Fellow's Home, Carmen, Oklahoma.
A NW Oklahoman, Vince Pettit, was raised there when it was an Home for Children.
This is a picture of the Carmen Home today that is used as the Carmen Nursing Home starting in 1954 and was still in use as of 2000. It is located half mile north of the town of Carmen, Oklahoma, Alfalfa County, in northwest Oklahoma.
Carmen Odd Fellas Home - Yesterdays & Today (1907-1944)
60th Anniversary of Carmen Home - Article from Enid Morning News, dated April 27, 1967, pg. 8
Carmen Parade - Parade through downtown Carmen.
IOOF Cemetery - North of Carmen, Oklahoma
IOOF Childrens Home - North of Carmen, Oklahoma (Photo)
Dairy Barn at the IOOF Childrens Home - North of Carmen, Oklahoma, destroyed by tornado June 2, 1949.
Carmen Home Roster of Families - 2002 List of those residents or spouses still living Page-1 -- Page-2 - Carmen Home Association.
Edmund Roy Stevenson Record - Dec. 25, 1907, discharged and went to Oakwood where he found work, June 3, 1910. Edmund Stevenson, b. Washita Co. Okla., July 21, 1895
Photos of the Carmen Home - Originals are property of Clyde Stevenson - E-mail: clydedean@bigplant.com - His dad (Edmund Stevenson) was at IOOF home in Carmen (date of admission Dec 25 1907). He had three sisters and one brother in Carmen. Chole Stephenson is buried at the cemetery is Clyde's aunt (Chole Nellie Stevenson). I also have pictures of this Home in a booklet that they made.