The Alva Review-Courier (19 Dec 1949)
Vol. LVI No. 82, four pages
The Official City Newspaper - Largest Paid Circulation in Woods County An Independent Daily Newspaper with a Consistent Editorial Policy for Alva and Woods County.
Frontpage
Highway Deaths Claim 9 -- by United Press - Nine persons lost their lives in Oklahoma traffic accidents yesterday, and State Safety Commissioner Paul Reed warned the 1949 Christmas season may go down as the bloodiest in history.

Eisenhower Is Attack Target of Left Wing - Democratic Action Organization Turns Wrath on General - Washington, Dec. 19 -- (UP) - A savage left wing attack on Gen. Dwight D. Eisenhower kept the political spotlight on him today as a likely 1952 Republican Presidential nominee. His old pals, the Americans for Democratic action, turned on Ike complaining that he had joined forces with the "advocates for the jungle state."
Stores Open 'Til 9 - Christmas Shopper - Alva Merchants to Keep Later Hours for Christmas Shoppers -- Maybe there is five days remaining to shop before Dec. 25, but one little Alvan has his gifts all ready to go. George Hackler, son of Mr. and Mrs. Loyd Hackler, is all loaded down with packages on his shopping day. For those who have not completed their shopping, the merchants of Alva will keep stores open until 9 p.m. today through Friday for the convenience of those who failed to heed the warnings to do their Christmas shopping early. The stores will close at 6 p.m. on christmas Eve Saturday....
Drys to Make Legislation Bid -- Oklahoma City, Dec. 19, (UP) -- The Untied Drys, who won't call it quits, will make another bid in the special session today for antibeer legislation. After a weekend of "missionary work" among members of the house of representatives, the drys hope to pass a resolution asking Gov. Roy J. Turner to open the session to the subject of county option on 3.2 beer.
Gary Zacher Improves -- Gary Zacher, 3, son of Mr. and Mrs. Fred Zacher of Carmen is reported to be some improved following an illness diagnosed as a ruptured appendix. he was admitted to the Young clinic hospital Thursday afternoon in a critical condition.
Van Buskirk Dies From Heart Attack - William Earl Van Buskirk, 62, died suddenly from a heart attack at 4:20 p.m. sunday at his home, 616 Santa Fe Street. Born March 28, 1887 at Hazelton, Kan., he came to Woods county in 1932, from Texas. Survivors are a brother, John Van Buskirk of Alva and two sisters, Mrs. Mary Heath of Guymon and Mrs. Elsie Fritz of Cuerto, Tex. Services and burial will be at Port Larcatia, Tex.

Weekend Plane Crashes Fatal To 11 Persons - Belgian Airliner Is Wrecked as 8 Die in Paris Aviation Mishop (sic) - by Untied Press Eleven persons were killed in two weekend plane crashes in the Untied States and France but 42 Americans were unhurt in three other aviation mishaps in this country. A Belgian Sabena airliner crashed into a small frame house in a Paris suburb yesterday, killing its four crewmena nd four passengers, including Foster White of Hartford, Conn.

Military Moves in On Syria... Beirut, Lebanon, Dec. 19 (1949) UP --The Syrian army moved in on the government today in the nation's third political upheaval this year. The army arrested its Chief of Staff and Foreign Office head, occupied key government buildings, and surrounded the home of President Hashem El Atassy....
Turner Charts Final Bond Compromise - Governor Assured of Special Legislative Session Soon -- Oklahoma City, Dec. 19 (1949 UP) Gov. Roy J. Turner today set what may be the final pattern for a $35,500,000 building program including a Neuro-psychiatric hospital and expansion of the Crippled Children's hospital here. The Governor said he has no doubt the legislature will finish the special session this week, although the question of changing the salary law is still hanging fire.

German Officer Found Guilty On 9 Charges - Von Mannstein Last To Face Allied War Crimes Court Session - Hamburg, Germany, Dec 19 (1949 UP) Nazi field marshal Erica Von Mannstein, last German to face an allied war crimes court, was found guilty crimes court, was found guilty on nine of 17 war crimes charges today and sentenced to 18 years imprisonment....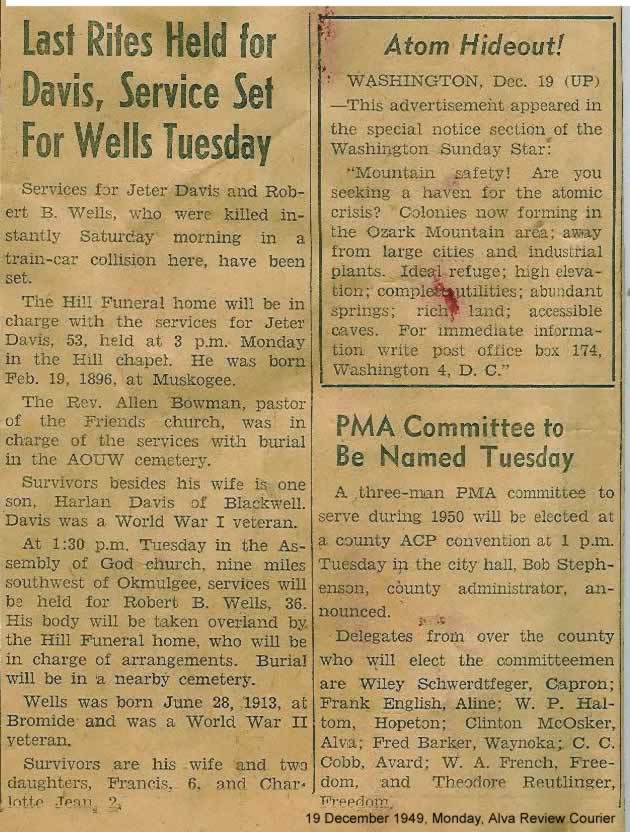 Last Rites Held for Davis, Service Set For Wells Tuesday -- Services for Jeter Davis and Robert B. Wells, who were killed instantly Saturday morning in a train-car collision here, have been set. The Hill funeral home will be in charge with the services for Jeter Davis, 53, held at 3 p.m. Monday in the Hill chapel. He was born Feb. 19, 1896, at Muskogee
Atom Hideout! Washington, Dec. 19 (1949) (UP) -- This advertisement appeared in the special notice section of the Washington Sunday Star: "Mountain safety! Are you seeking a haven for the atomic crisis? Colonies now forming in the Ozark Mountain area; away from large cities and industrial plants. Ideal refuge; high elevation; complete utilities; abundant springs; rich land; accessible caves. For immediate information write post office box 174, Washington 4, D.C."
PMA Committee to Be Named Tuesday A three-man PMA committee to serve during 1950 will be elected at a county ACP convention at 1 p.m. Tuesday in the city hall, Bob Stephenson, county administrator, announced. Delegates from over the county who will elect the committeemen are Wiley Schwerdtfeger, Capron; Frank English, Aline; W. P. Haltom, Hopeton; Clinton McOsker, Alva; Fred Barker, Waynoka; C. C. Cobb, Avard; W. A. French, Freedom, and Theodore Reutlinger, Freedom.
School Glee Clubs Set Program of Christmas Music Both the boys and girls glee clubs of the Alva highschool will present a program of christmas music at 9:30 a.m. Tuesday in the highschool auditorium, it was announced today. The combined 65-voice girls and 25-voice boys glee clubs will sing one selection, while the remainder of the songs will be done individually by the different groups, Miss Ruth Crockett, director, said. Both popular Christmas songs and old folk carols will be sung. Accompanists will be Nancy Joachim for the boys and Dorothy Keltch for the girls. The public is invited to attend the program.
Social Security Man Here Tuesday A representative of the Enid social security office will be at the city council room, City Hall, in Alva from 2 to 4 p.m., on Tuesday, Dec. 20. Woods county residents who wish to file claims for old-age and survivors insurance (social security) or have questions regarding the program are invited to get in touch with the representative. The benefits are based on wages earned in jobs covered by the Social Security Act. They are paid to retired workers who have reached the age of 65 and to families of workers who have died.
Page-Two…
Parking Meters In Vinita (1949 UP) -- Parking meters will go into operation here Monday. Mayor L. L. Stryker said the job of installing some 200 meters in the downtown area would be completed today.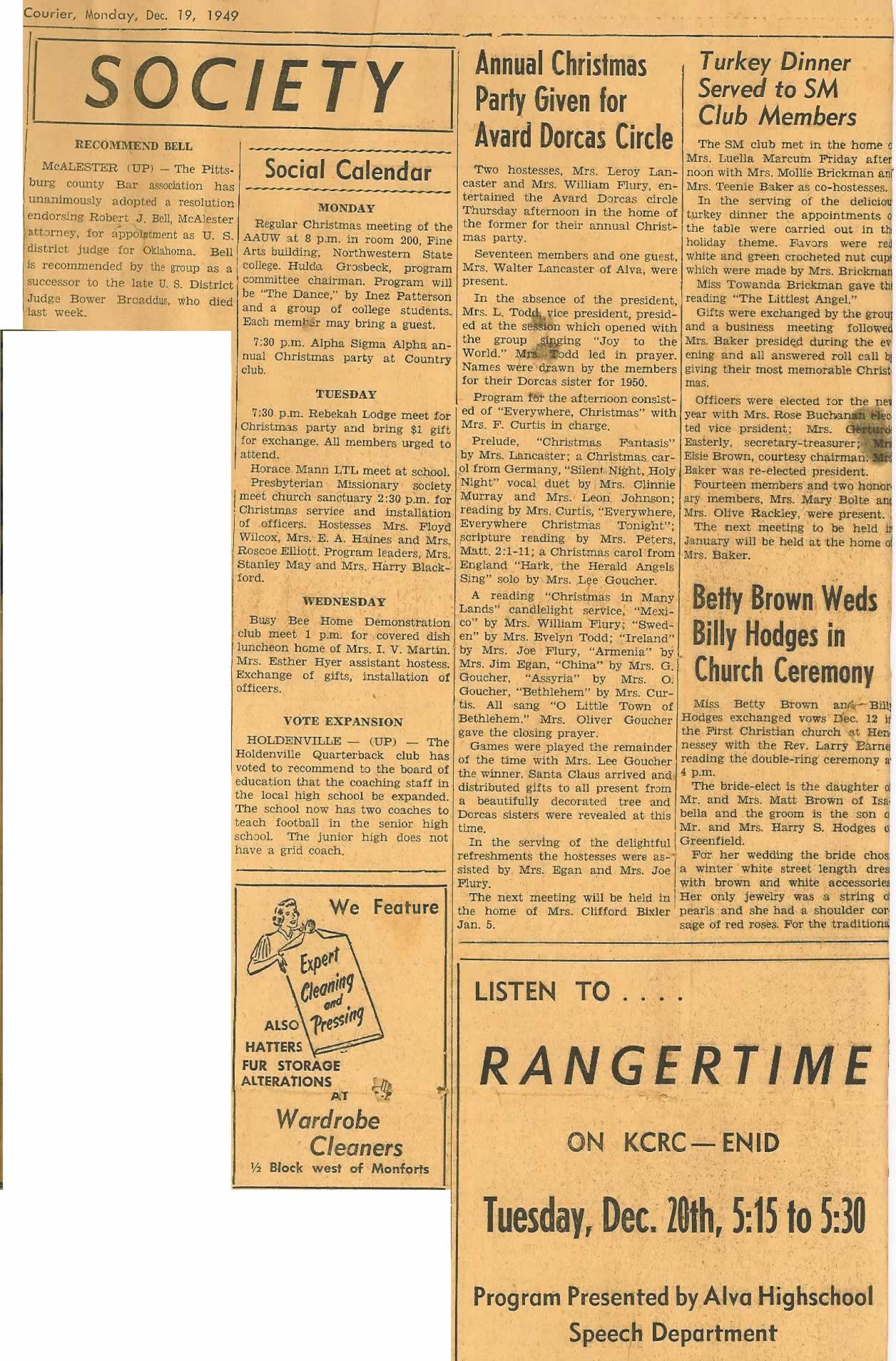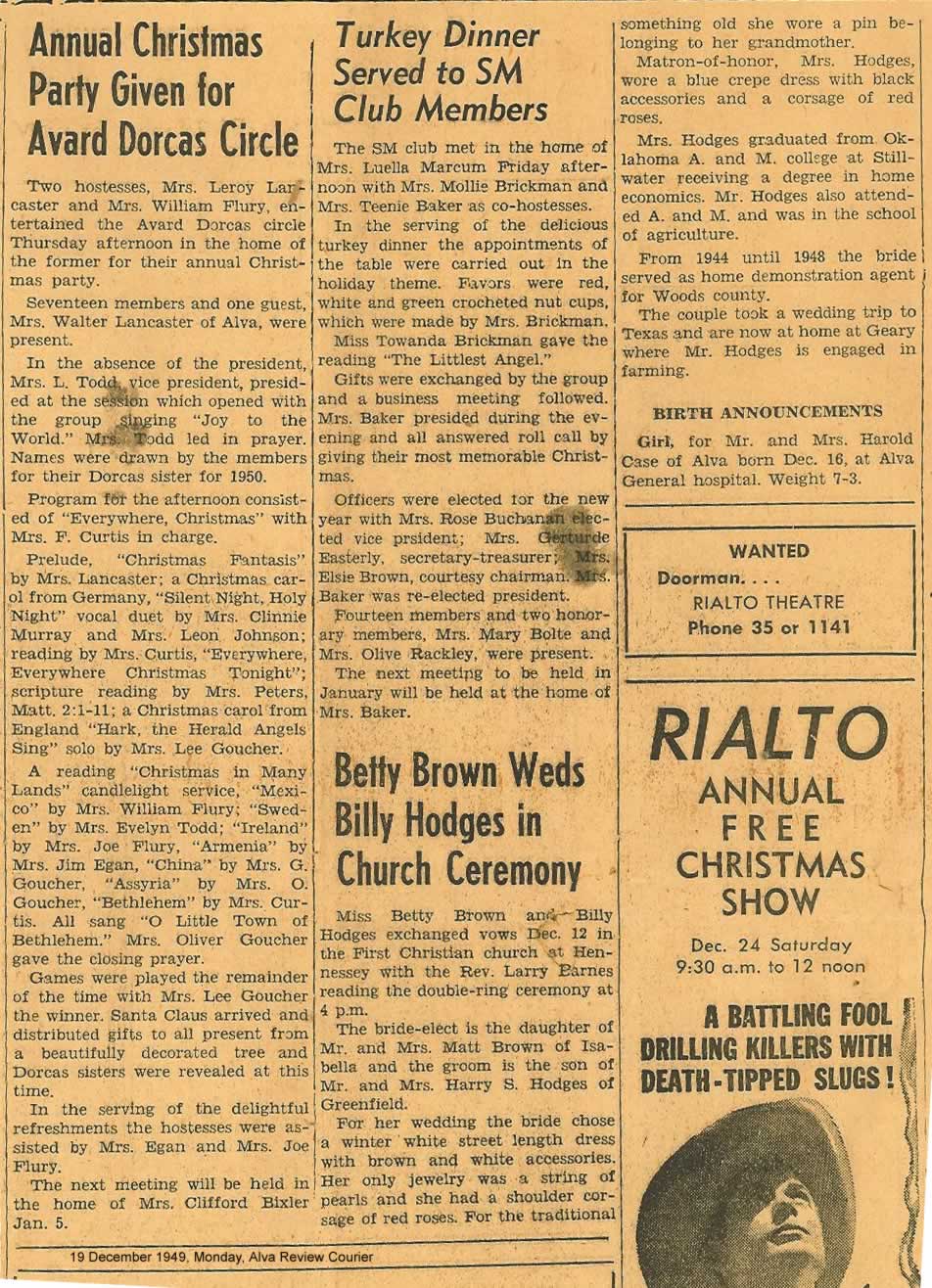 Society -- McAlester (UP) The Pittsburg county Bar association has unanimously adopted a resolution endorsing Robert J. Bell, McAlester attorney, for appointment as US District judge for Oklahoma. Bell is recommended by the group as a successor to the late US District Judge Bower Broaddus, who died last week." -- MORE Society News
Annual Christmas Party Given for Avard Dorcas Circle"Two hostesses, Mrs. Leroy Lancaster and Mrs. William Flury, entertained the Avard Dorcas Circle Thursday afternoon in the home of the former for their annual Christmas party"
Turkey Dinner Served to SM Club Member "The SM Club met in the home of Mrs. Luella Marcum Friday afternoon with Mrs. Mollie Brickman and Mrs. Teenie Baker as co-hostesses"
Betty Brown Weds Billy Hodges in Church Ceremony Miss Betty Brown and Billy Hodges exchanged vows Dec. 12 (1949) in the First Christian church at Hennessey with the Rev. Larry Barnes reading the double-ring ceremony at 4 p.m. The bride-elect is the daughter of Mr. and Mrs. Matt Brown of Isbella and the groom is the son of Mr. and Mrs. Harry S. Hodges of Greenfield. For her wedding the bride chose a winter white street length dress with brown and white accessories. Her only jewelry was a string of pearls and she had a shoulder corsage of red roses. For the traditional something old she wore a pin belonging to her grandmother. Matron-of-honor, Mrs. Hodges, wore a blue crepe dress with black accessories and a corsage of red roses. Mrs. Hodges graduated from Oklahoma A & M college at Stillwater receiving a degree in home economics. Mr. Hodges also attended A & M and was in the school of agriculture. From 1944 until 1948 the bride served as home demonstration agent for Woods County. The couple took a wedding trip to Texas and are now at home at Geary where Mr. Hodges is engaged in farming."
Birth Announcements "Girl, for Mr. and Mrs. Harold Case of Alva born Dec. 16 (1949), at Alva General hospital, weight 7-3."
Page-Three…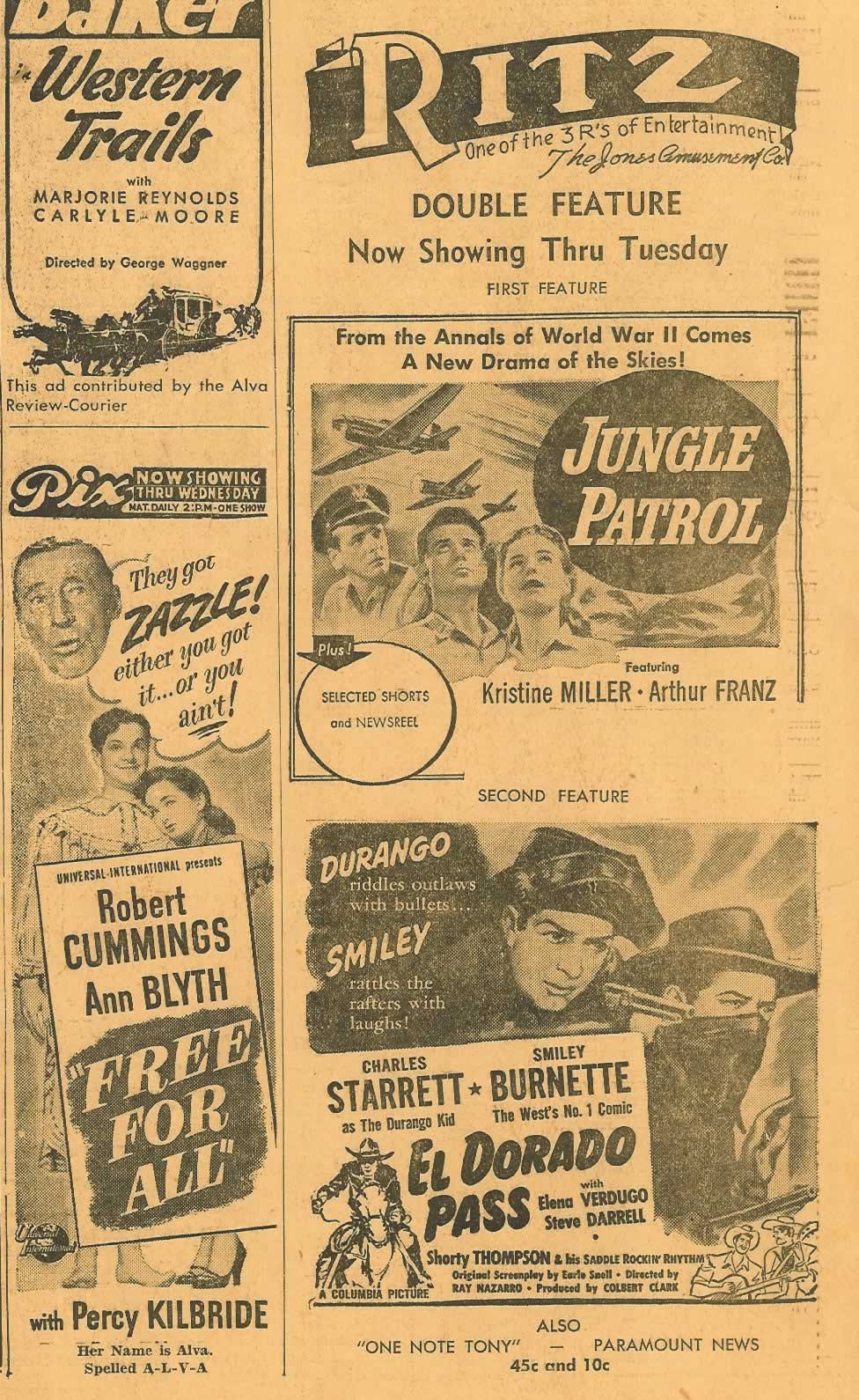 Bond Issue Clears Special Session Is Entering Last Week Oklahoma City, Dec. 19 (1949 UP) Here's how the legislation on the building bond program stacks up as the special session enters its fourth -- and probably final -- week today. $7,680,946 repair bill for all institutions -- passed by both houses and going to conference committee Monday or Tuesday. $10,749,010 new construction bill for colleges -- passed by the house, on second reading in senate Monday. $16,163,544 new construction bill for institutions under board of affairs -- passed by both houses and headed for conference Monday or Tuesday. Bond vitalization bill -- passed by house, on senate calendar for action Monday. $1,140,000 bill for neuro-psychiatric hospital and crippled children's hospital expansion -- advanced to final passage in house, no action in senate."
Page-Four…

Rangers Prep For Second Tilt Against Vance Sporting a 5-1 record to date this season, the Northwestern Rangers prepared today for their second encounter Tuesday night with the basketeers of Vance Air Base"
Sports Spasms by E. M. Barker "Most of the people will remember, whether they are sports minded or not, when the Notre Dame-Army football game became such a financial colossus that it got out of control and had to be de-emphasized"
Graves Tops List in Passing In Practices "In an effort to get his basketball players to pass quickly and accurately, coach Byron "Star" Roberts kept tabulations during the practice sessions the past two weeks to determine who passed the most accurately. Bruce Graves emerged as the winner in the friendly contest, passing 461 times with only 16 miscues for a .965 percentage of accuracy. Runnerup was Larry Hellman, who passed 765 times and made only 28 of them bad for a .963 percentage. At the halfway point in the contest, Hellman was leading the pack with a .967 while Graves had .960"